The classic Hot Toddy recipe is one that includes liquor, hot water, honey, lemon and spice. Drink one of these classic cocktails if you are feeling under-the-weather, to enjoy on a cold winter night or to give you a sleepy boost before bed.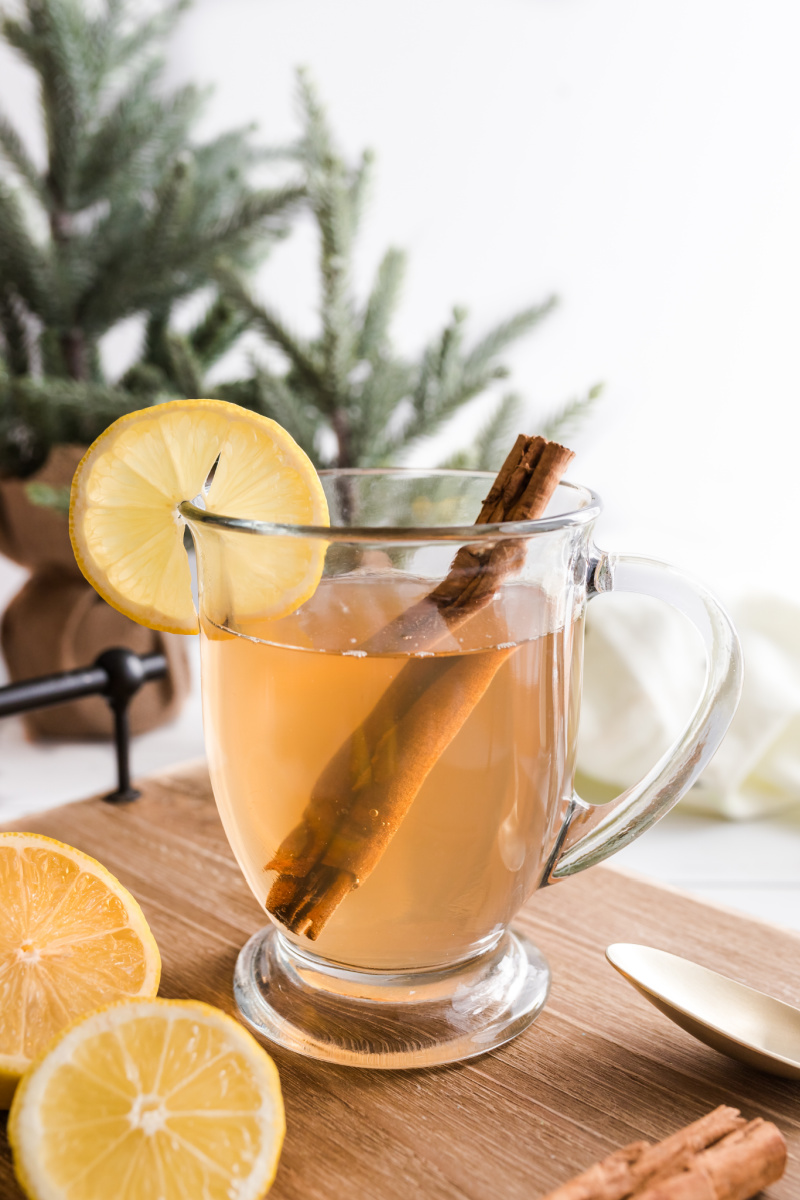 January 11th is National Hot Toddy Day. It's a day to celebrate by making this easy, warm and comforting cocktail. You don't have to be feeling blue to enjoy a delicious Hot Toddy! You also might like to try boozy hot chocolate for a similar cozy vibe.
Some say the Hot Toddy recipe originated in India in the late 1800's as an alcoholic drink with hot water, sugar and spices. Others say it was the creation of a doctor as a simple remedy for colds.
Although it's not a cure for sickness, it does help to replace fluids and offers warmth and comfort. Honey is soothing for a nasty cough, and the spices stimulate saliva, which is good for a sore throat and can help you sleep. Alcohol doesn't mix well with medications, so don't over-serve yourself. One Toddy will do!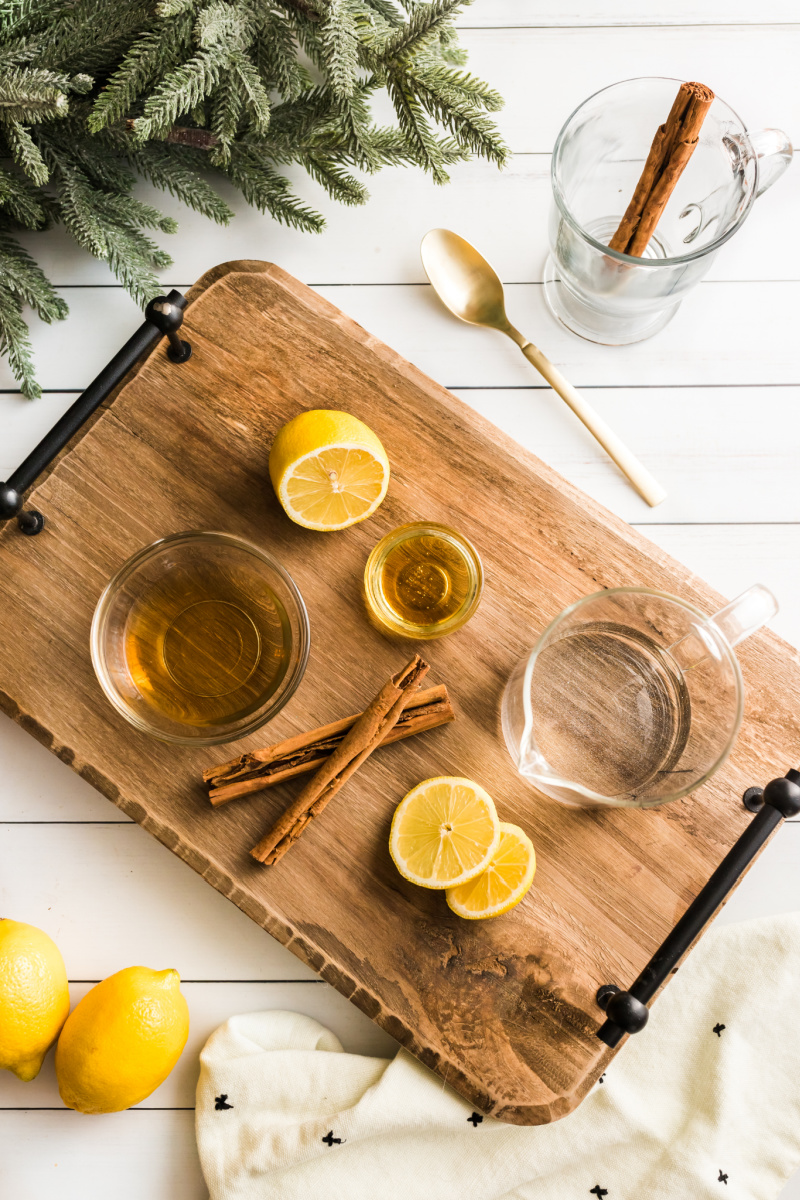 Ingredients needed:
bourbon
honey
freshly squeezed lemon juice
steaming hot water
slice of lemon
cinnamon stick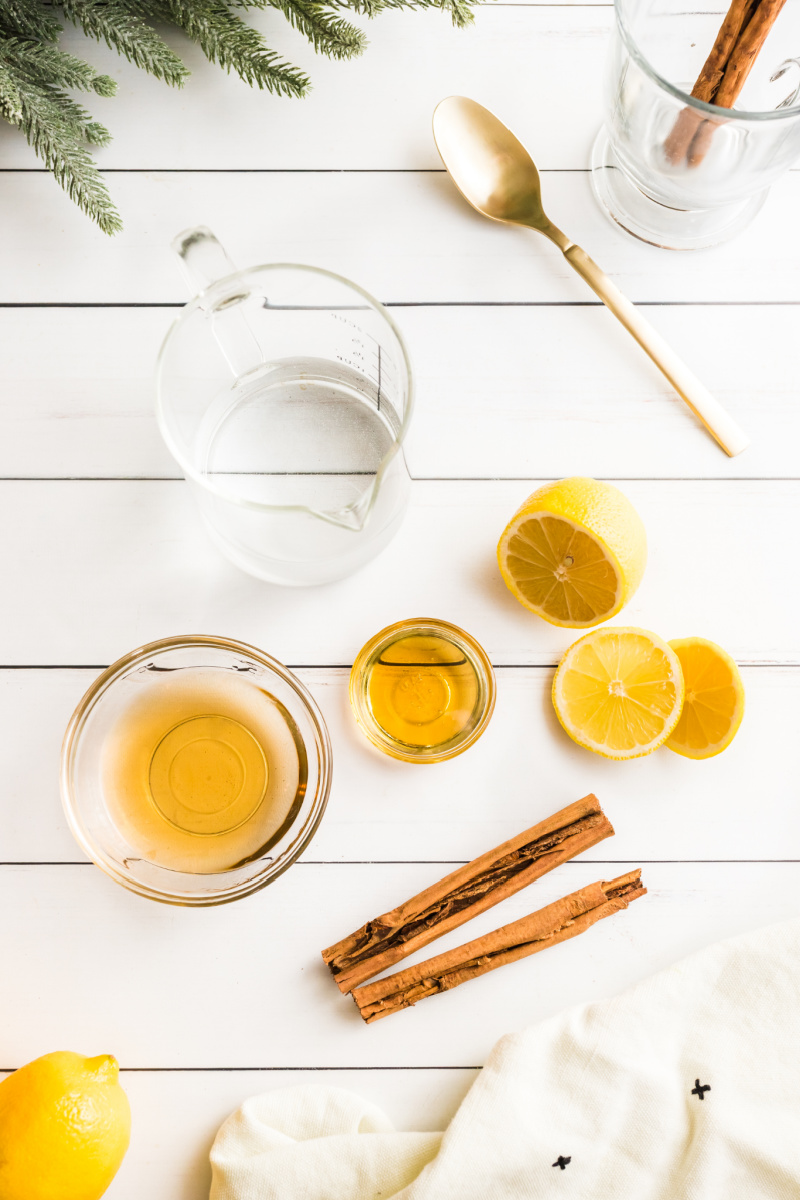 How to make a Hot Toddy:
Add bourbon, honey and lemon juice to your mug. Then add a cup of steaming hot water and stir to dissolve the honey.
Where to buy Glass Mugs:
You can use any mug you'd like for a Hot Toddy. But the glass mugs are my favorite since you can see what you're drinking and the garnishes are more visible too. You can find an inexpensive set of glass mugs on Amazon. We use them all the time for coffee at my house since they are more substantially sized than a normal coffee mug. And they are good for sangria too!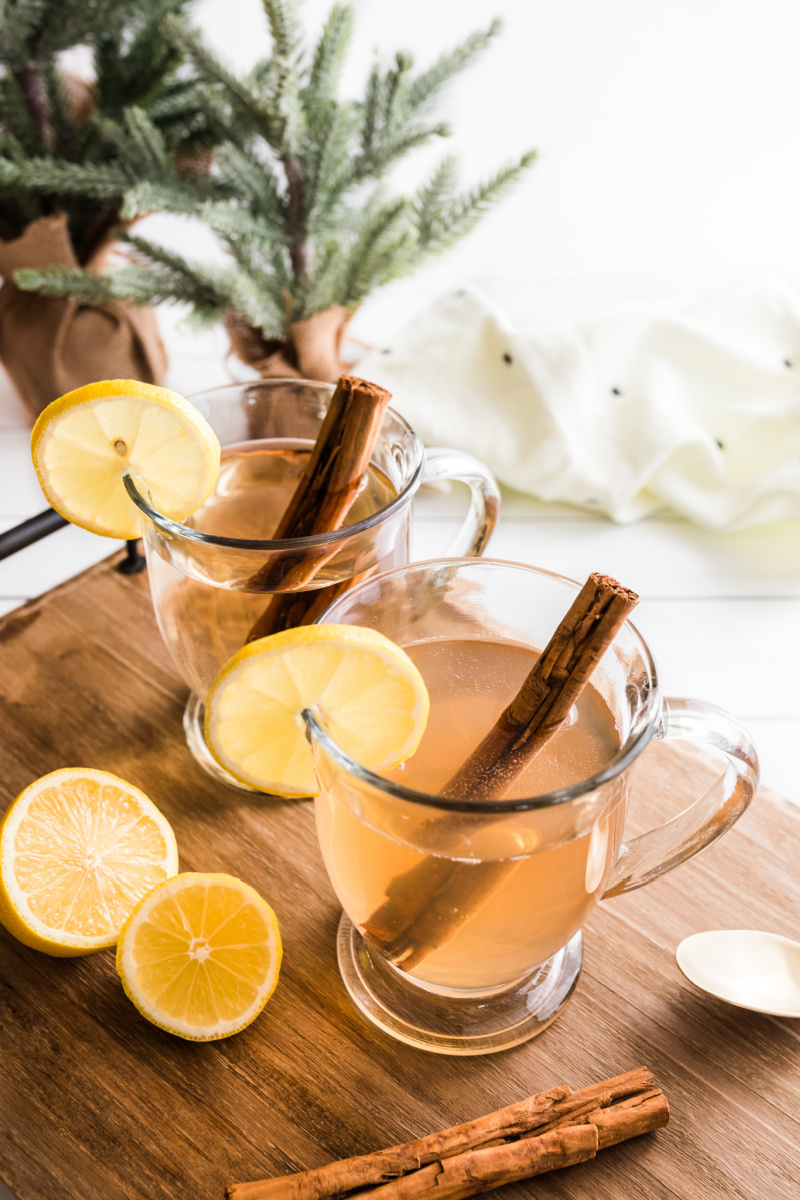 Garnish your Hot Toddy with a slice of lemon and a cinnamon stick. That's it! Make more than one to share with others.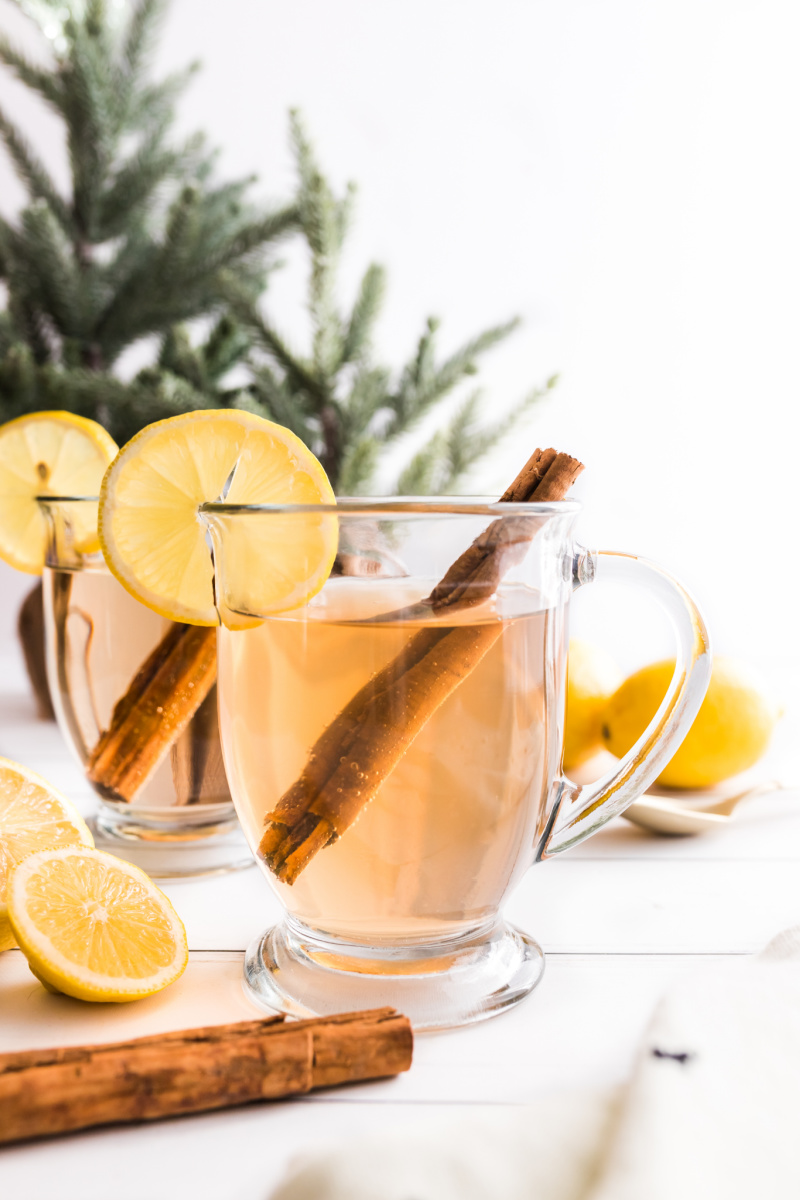 It is said that the best liquor to use for a Hot Toddy recipe is whatever you have on hand! No need to go out and buy anything fancy.
Fun Facts:
In Ireland, they use Irish whiskey. In Scotland, they use Scotch. And in the USA, we use whatever we can find!
How to make adaptations to classic Hot Toddy recipe:
Use whiskey, brandy or scotch in place of whiskey, if desired.
Add a little simple syrup or maple syrup and a couple of dashes of Angostura bitters.
Add orange instead of lemon.
Brew tea in your hot water, and then add tea instead of water to your cocktail.
Add apple cider and use apple whiskey.
Ditch the liquor, and make it a kid-friendly Toddy (maybe combine apple cider, water, honey and lemon/cinnamon).
Add cloves or star anise.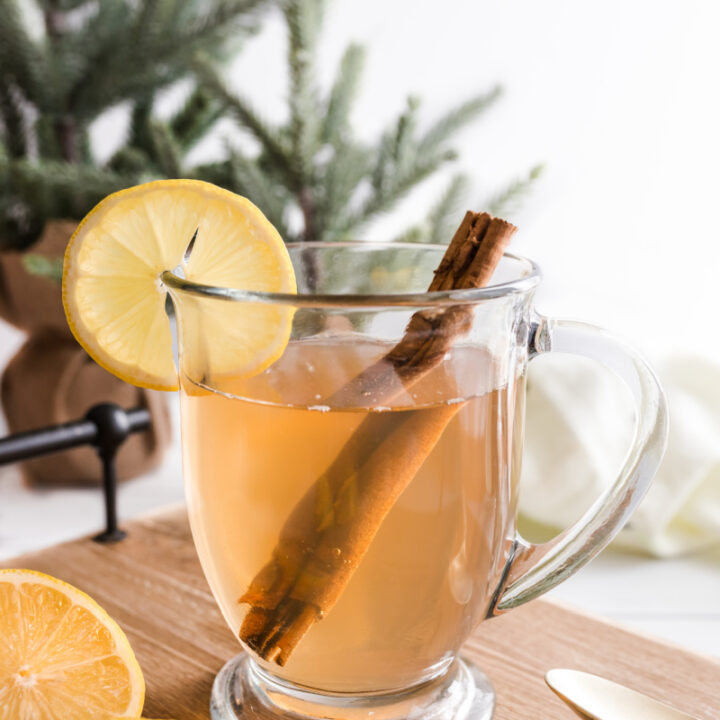 Hot Toddy
A lovely hot cocktail that's an old-time favorite!
Ingredients
1 1/2 ounces bourbon
1 tablespoon honey
2 teaspoons freshly squeezed lemon juice
1 cup steaming hot water
1 slice lemon, for garnish
cinnamon stick, for garnish
Instructions
Add the bourbon, honey and lemon juice to your mug. Add the hot water and stir to dissolve the honey.
Garnish with a lemon round on the side of the glass and a cinnamon stick inside the mug.
Notes
You can use whiskey, brandy or scotch in place of the bourbon, if you'd like.
Nutrition Information:
Yield:

1
Serving Size:

1
Amount Per Serving:
Calories:

167
Total Fat:

0g
Saturated Fat:

0g
Trans Fat:

0g
Unsaturated Fat:

0g
Cholesterol:

0mg
Sodium:

13mg
Carbohydrates:

20g
Fiber:

1g
Sugar:

18g
Protein:

0g
Nutritional information is estimated and may not be 100% accurate.