Apple Cranberry Sangria has all the flavors of fall and winter. Apple, cranberry, orange and cinnamon are infused in red wine to create the best sangria recipe!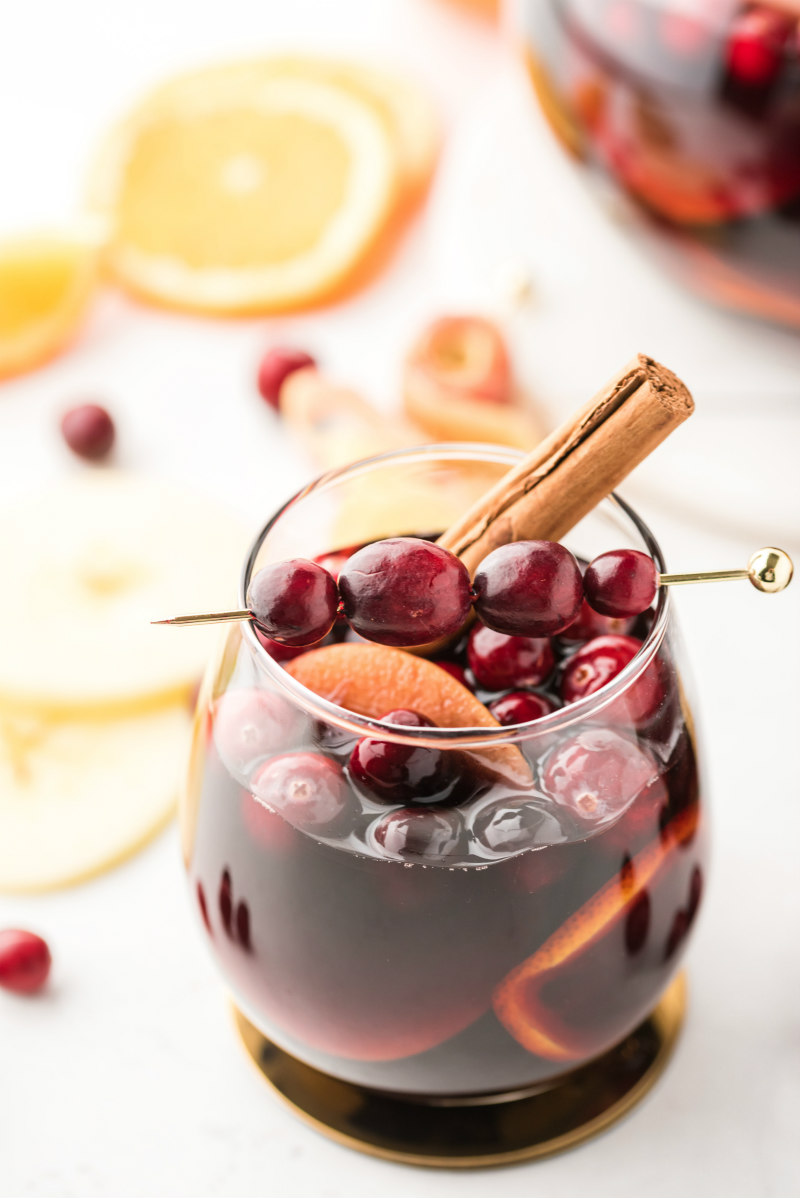 National Sangria Day: Dec. 20
Dec. 20th is a day to celebrate Sangria! Sangria originated in Spain and Portugal. It's characterized as a red wine beverage with additions of chunks of fruit. Sometimes sugar is added to sweeten it, and sometimes juice is added in too. Brandy, flavored liqueur or sparkling water are common additions to sangria.
Sangria is commonly served with Spanish cuisine, and you'll find it served at bars and festivities all over Portugal and Spain. Today, Sangria is a much-loved alcoholic beverage all over the world. Red Wine Sangria is most popular, and white wine sangria has surfaced in more recent years.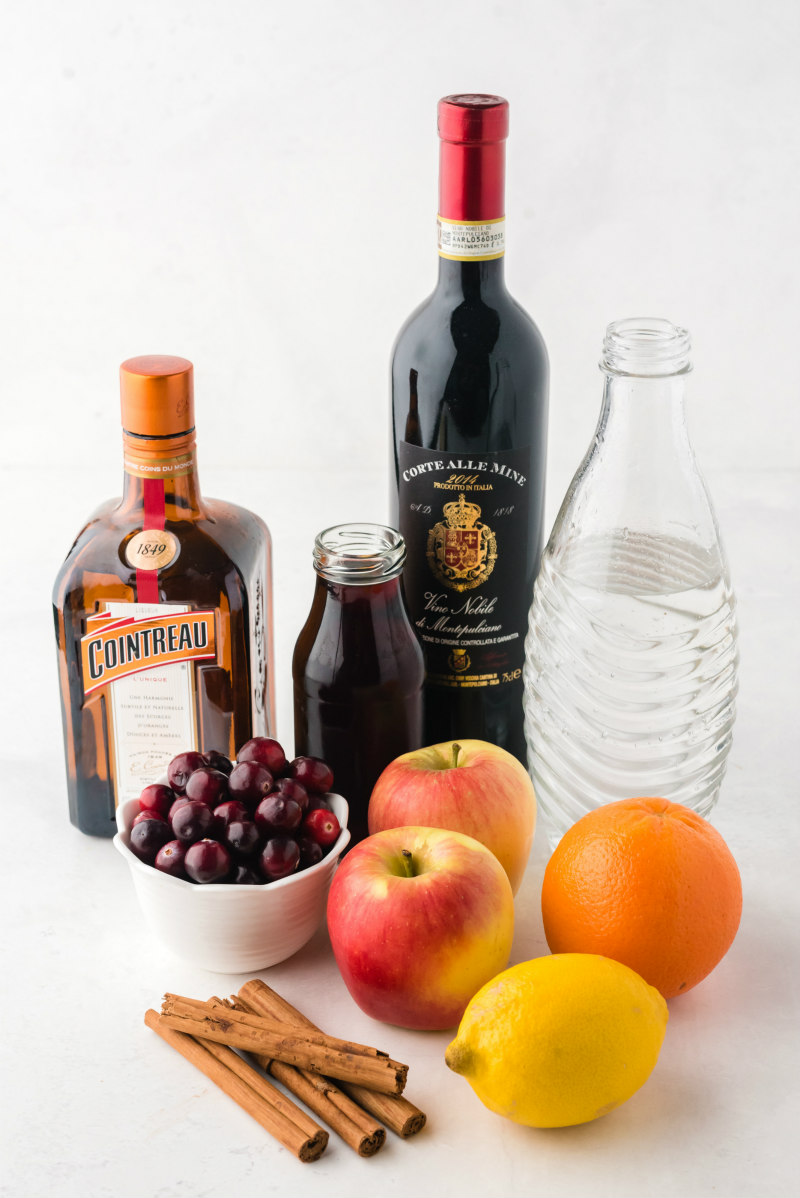 Ingredients needed:
red wine
triple sec
club soda
cran-apple juice
apples
oranges
lemons
cranberries
cinnamon sticks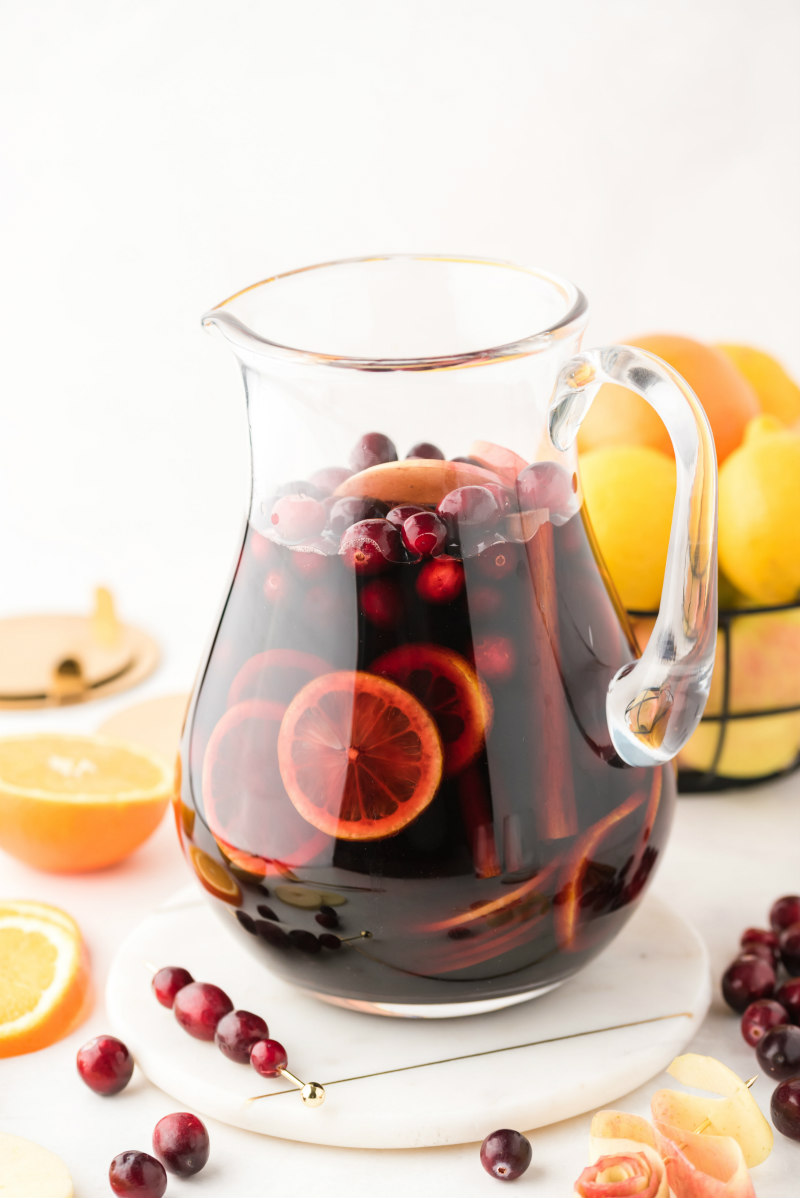 How to make Apple Cranberry Sangria:
Apple Cranberry Sangria is easy to make Start with a pitcher or a vessel that's large enough to contain a bottle of wine and the accompanying ingredients. Pour in a bottle of red wine. It doesn't have to be an expensive red wine since the other flavors in the sangria will enhance the flavor of the wine.
Add cranberry- apple juice. Then add sliced apple, orange, lemon and fresh cranberries. Triple sec and cinnamon sticks are added too.
At this point, the pitcher is put into the refrigerator to chill for several hours, or you can let it all marinate overnight. This is an important step in making sangria because the flavors all need a chance to blend for the best tasting sangria possible.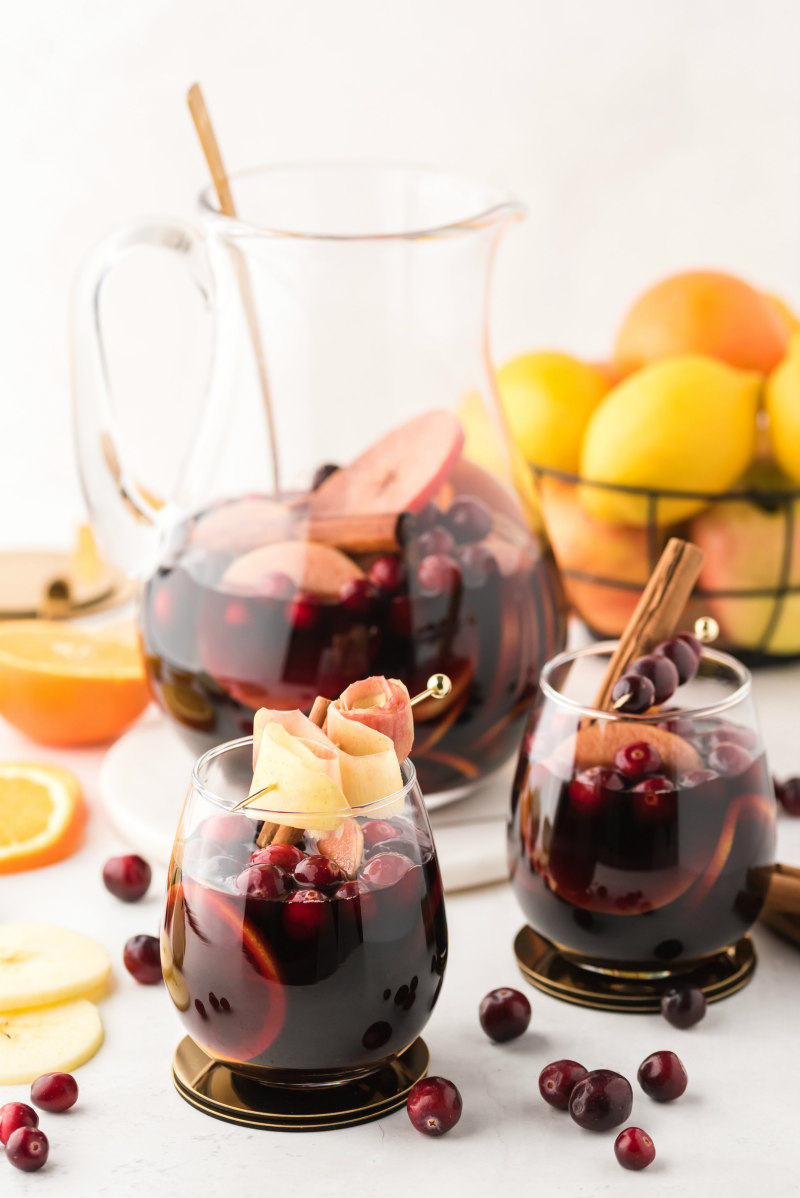 How to serve Sangria:
When you're ready to serve apple cranberry sangria, pour it into your favorite sangria glasses. No ice is needed since it will be well chilled. Be sure to spoon some of the wine-infused fruit into each glass. And you can use cocktail picks to add a pretty garnish using the fruit on the top, if you'd like.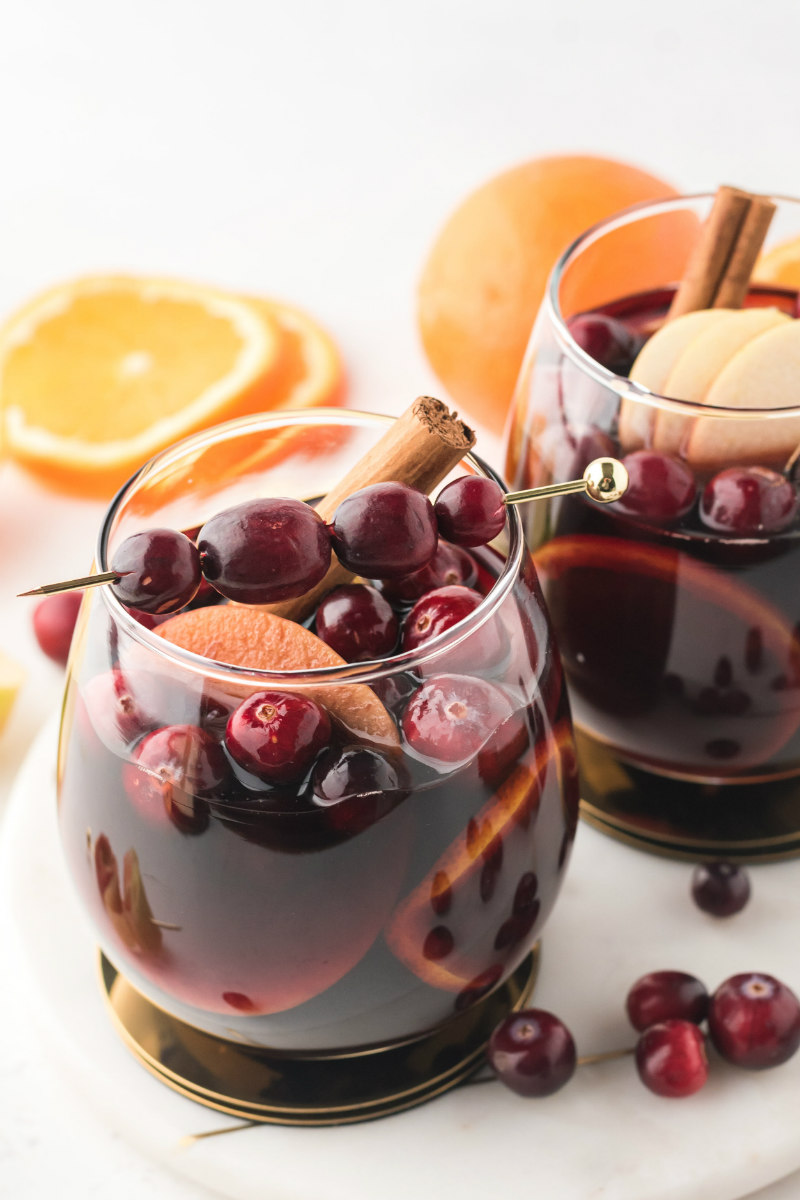 Types of Sangria:
Red wine sangria is the most common. There are so many different ways to make red wine sangria! You can go with a lightly seasoned winter spiced red wine sangria or a mixed berry red wine sangria. Sparkling red wine sangria adds some bubbly to your pitcher.
If you go with a white wine, you can make an easy white sangria or use summer fruit to make peach sangria. You can also use sparkling white wine to make apple cider sangria.
Use rosé to make a summer sangria with berries! The possibilities with making sangria are endless.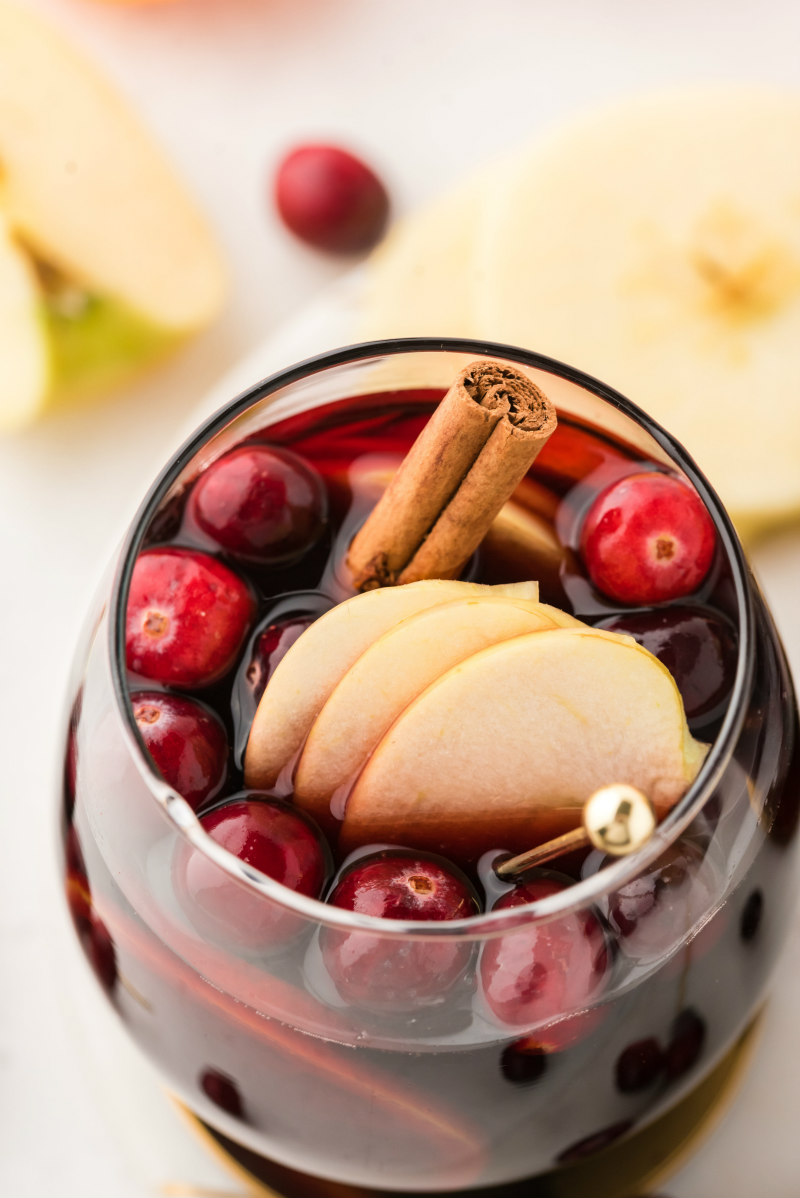 It's time to take a break from baking Christmas cookies and make a batch of apple cranberry sangria to enjoy. Put a pitcher of sangria in the refrigerator now, and you'll be able to take it out and enjoy it in just a few hours!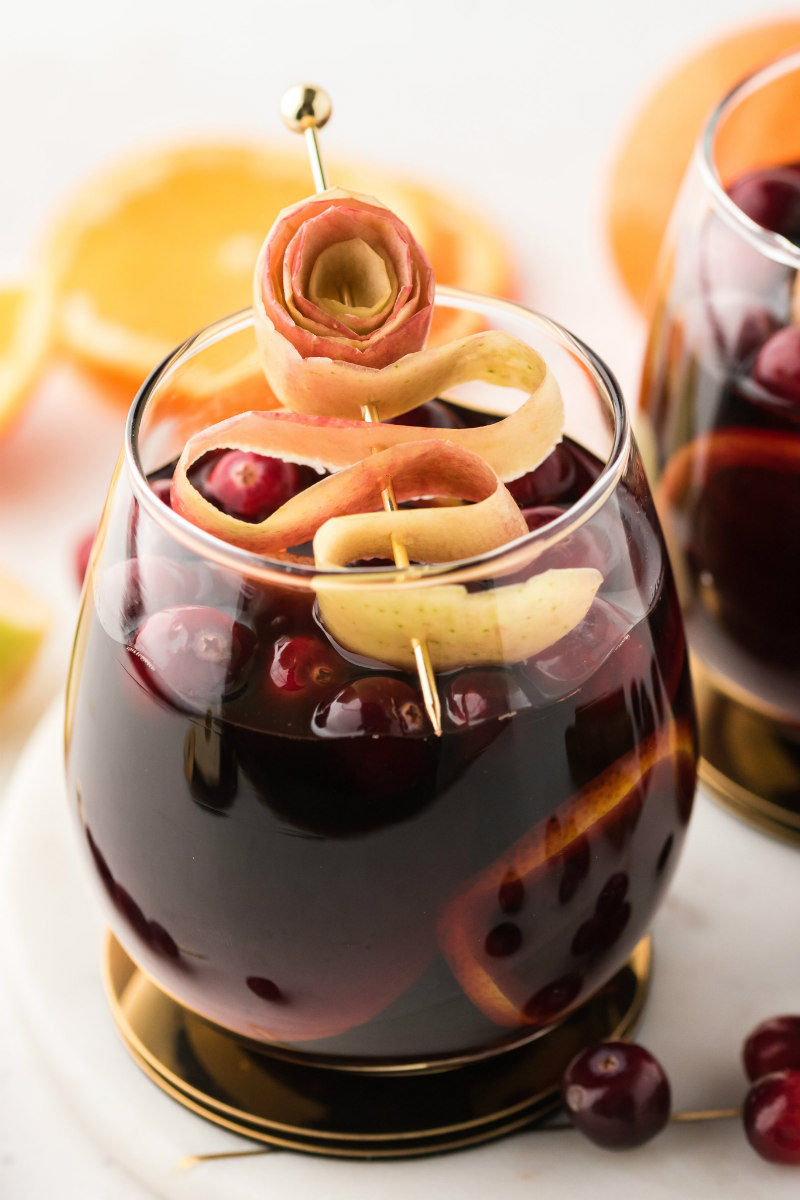 Sangria FAQ:
What's the best kind of wine to use for sangria?
You don't have to use an expensive wine to make sangria. In fact, sangria is a good disguise for making cheaper wine look good. That being said, it should still be a wine that is good to drink on its own. Try using traditional Spanish Rioja or Pinot Noir for red wine sangria. A fruity red wine is best. If you're making white wine sangria, try using a Riesling, Pinot Grigio or Moscato.
Can you use different types of fruit in sangria?
Absolutely! Experiment with using oranges, lemons, and limes in red wine sangria. Peaches, watermelon, strawberries, nectarines and other summer fruit are wonderful when added to white wine sangria.
Does sangria need to be refrigerated?
Sangria can stay at room temperature, if needed, while being served. Store it in the refrigerator to help slow down the souring of the wine and keep the fruit fresh.
How long does sangria last?
Sangria will last up to 5 days in your refrigerator.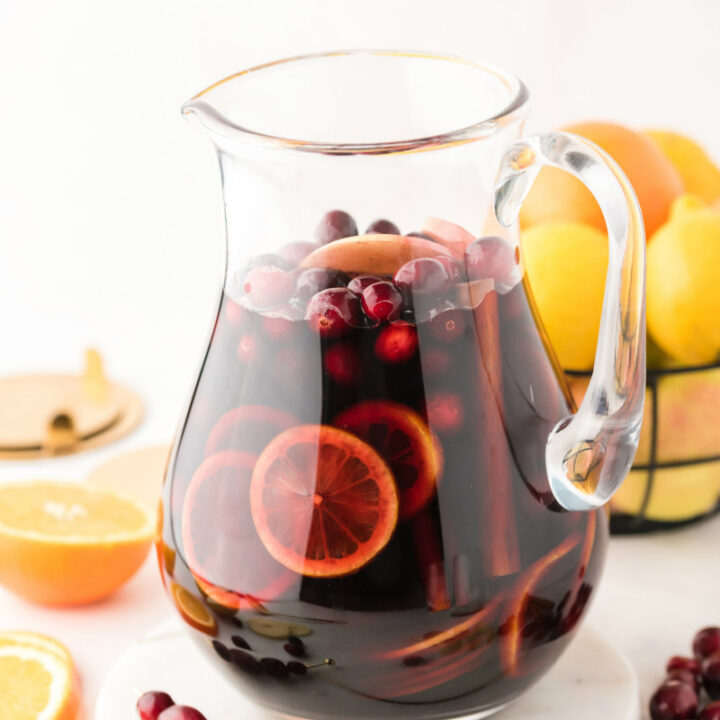 Apple Cranberry Sangria
Total Time:
2 hours
15 minutes
Perfect fall and winter holiday beverage!
Ingredients
One 750m. bottle red wine (under $10 is just fine!)
2 cups cran-apple juice
2 medium honeycrisp apples, sliced (leave peel on)
1 medium orange, sliced
1 medium lemon, sliced
1 cup fresh cranberries
¼ cup triple sec or Cointreau
4 cinnamon sticks
Cold club soda
Can garnish the glass with sliced apple and cinnamon stick
Instructions
Into a pitcher, add the red wine, juice, apples, orange
slices, lemon slices, triple sec and cinnamon sticks. Refrigerate for 8 hours, or overnight.
Pour into glasses to serve and top each serving with a
splash of club soda. Garnish with sliced apple and a cinnamon stick.




Nutrition Information:
Yield:

4
Serving Size:

1
Amount Per Serving:
Calories:

404
Total Fat:

0g
Saturated Fat:

0g
Trans Fat:

0g
Unsaturated Fat:

0g
Cholesterol:

0mg
Sodium:

13mg
Carbohydrates:

58g
Fiber:

6g
Sugar:

42g
Protein:

1g
Nutritional information was computed using a program, so it may not be exactly accurate.