Sweet tea is brewed tea (usually served iced) with added sugar, simple syrup or artificial sweetener. Here we are showing you how to make Southern Sweet Tea, which is an important regional staple of the southern part of the United States.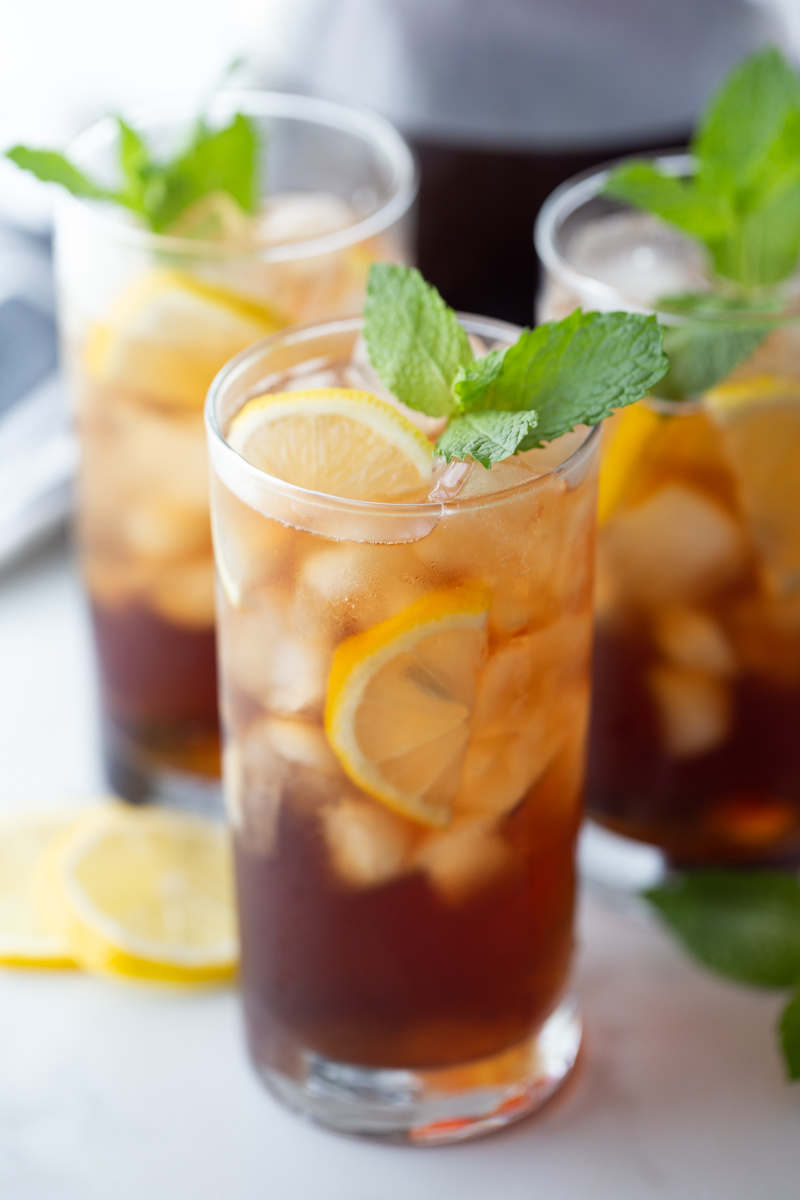 August 21st is National Sweet Tea Day! Pour yourself a tall glass of sweet tea to celebrate. And if you don't know how to make your own, then follow this recipe for how to make southern sweet tea. Share a photo of your beverage on social media today by using the hashtag #NationalSweetTeaDay, #SweetTeaDay and #RecipesForHolidays.
The History of Sweet Tea:
Sweet Iced tea began as a drink of luxury since you needed three basic ingredients (sugar, tea and ice) that were expensive in order to make it. The oldest known recipe for sweet iced tea was published in a community cookbook called Housekeeping in Old Virginia (copyright 1878) by Marion Cabell Tyree. That recipe called for using green tea, which was common at the time.
Sir Thomas Lipton began growing tea in Sri Lanka, and packaged it into paper packages to sell at an affordable price. In 1893, he sold 1 million packets of tea at the World's Fair in Chicago.
At the World's Fair in 1904 in St. Louis, iced tea was popularized and commercialized. Also in 1904, New York City tea importer Thomas Sullivan introduced the small cloth bags that are used to brew tea today.
In the early 1900's, teaspoons and tall glasses were developed specifically for iced tea drinking.
During prohibition, Americans searched for alternatives to illegal alcoholic beverages leading to an increase in the popularity of iced tea. During WWII, green tea wasn't imported from Japan. So black tea from British India became much more common.
In 1998, Snapple introduced a lemon iced tea flavor that boosted sales. Deans, Honest T, Arizona and Pure Leaf are just a few more iced tea brands that have been introduced over the years.
Along with fried chicken and lemon chess pie, sweet tea is now a beloved staple of the Southern states of the United States. It's also popular in Indonesia.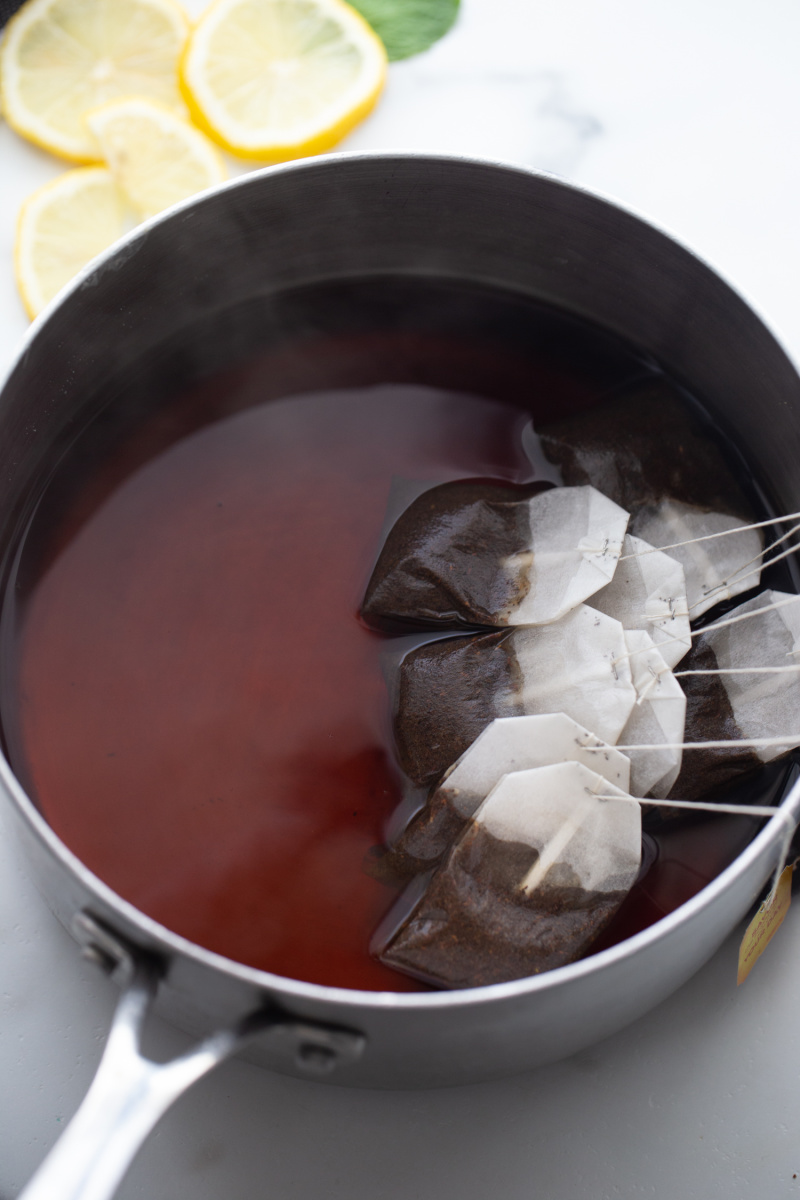 How to make Southern Sweet Tea:
The complete, printable recipe is at the end of this post.
Begin by making simple syrup (the sweetener for this sweet tea). Combine sugar and water and boil until the sugar has dissolved. Cool, pour into a container and refrigerate.
In a large saucepan, bring 4 cups of water to a boil. Remove from heat and add 8 black tea bags to the hot water along with a small amount of baking soda. The baking soda will reduce the bitter flavor of the tea. Let the tea steep for 10 minutes. Then remove the tea bags and stir in the simple syrup.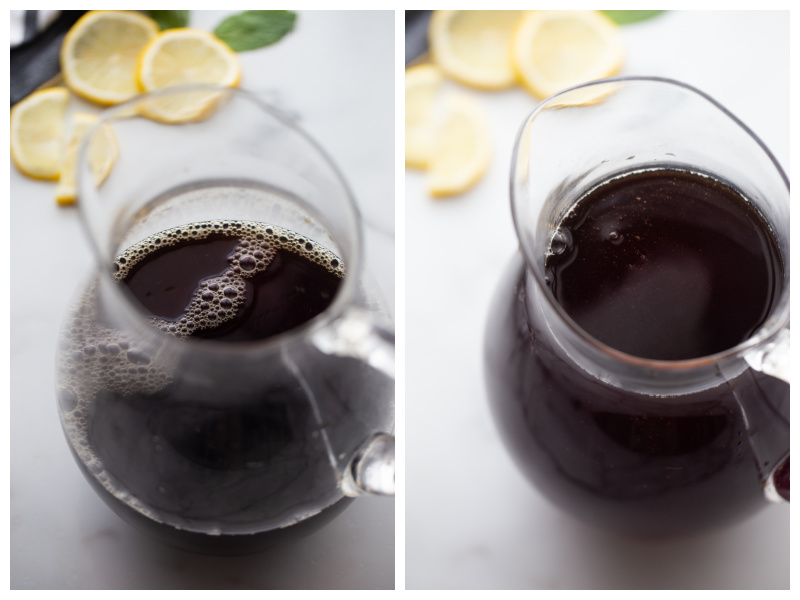 Pour the brewed, sweetened tea into a pitcher and add 4 more cups of water. Additional water can be added, to taste.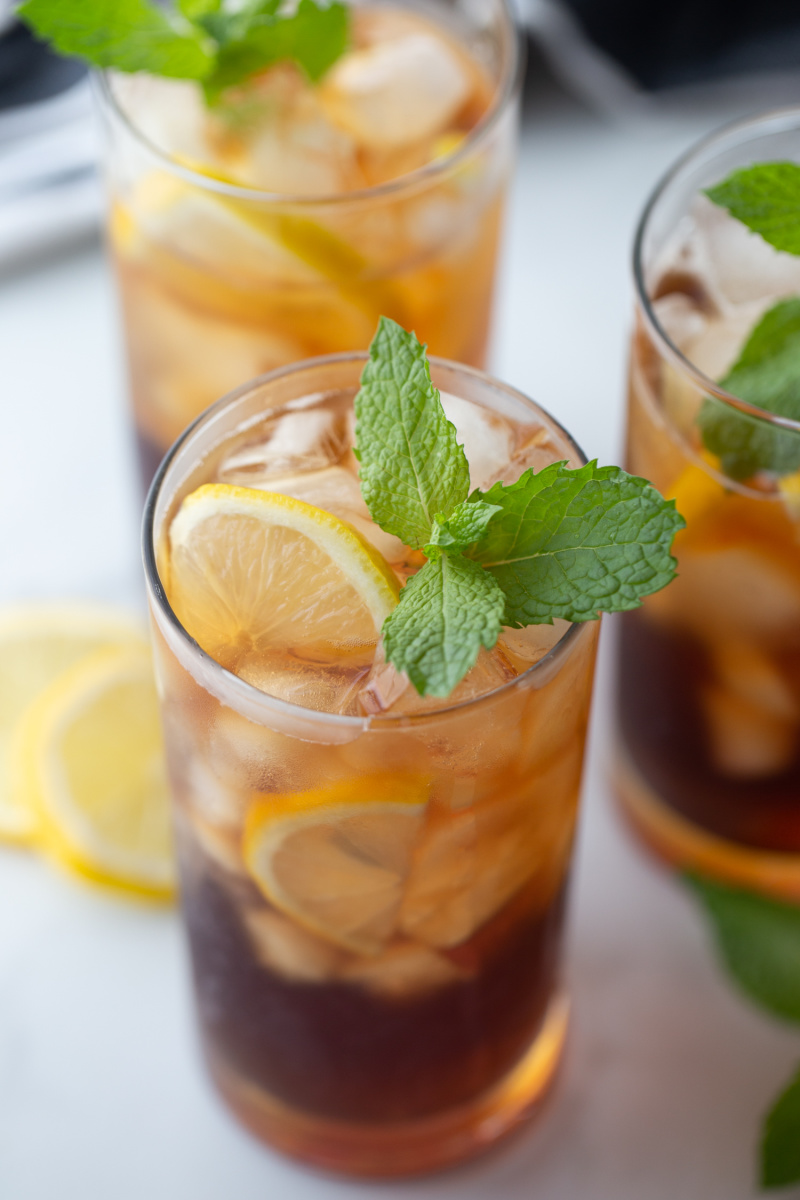 Pour the sweet tea over ice in a tall glass. Garnish with lemon and fresh mint. Now that you know how to make southern sweet tea, you can make it often and keep it chilled in your refrigerator to enjoy on a hot summer day!
The Southern Entertainer's Cookbook:
This recipe comes from The Southern Entertainer's Cookbook. This is a book by Southern entertaining expert Courtney Dial Whitmore. This book is full of traditional southern recipes. Favorite recipes for Shrimp and Grits, Ambrosia Salad, Buttermilk Fried Chicken, Crispy Fried Okra, Classic Southern Biscuits, Creamy Pecan Pralines, Banana Pudding, Sweet Potato Pie, Watermelon Mint Juleps and this Southern Sweet Tea are included in the book, along with so many more.
Fun Facts About Sweet Tea:
In most parts of the United States, tea is served without sweetener.
South Carolina adopted sweet tea as the state's Official Hospitality Beverage in 1995.
In 2003, supposedly as an April Fool's joke, the Georgia House introduced a bill making it a "…misdemeanor of a high and aggravated nature" to sell iced tea in a restaurant that did not also offer sweet iced tea on the menu. The bill never went to a vote.
Sweet tea was once consumed as a punch mixed with liquor with flavorings of mint and cream.
There is no actual tea in a Long Island Iced Tea.
If you enjoy a sugary glass of iced tea every day, you're putting yourself at risk for becoming obese and developing Type 2 diabetes. Drinking iced tea increases your sugar intake, which elevates your triglyceride level.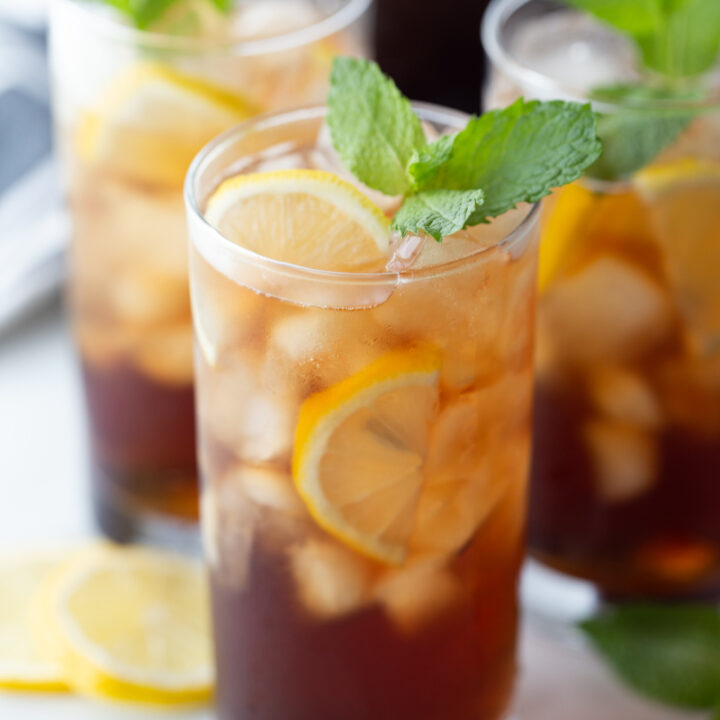 How to Make Southern Sweet Tea
Total Time:
1 hour
23 minutes
Everyone needs to know how to make a tall glass of southern sweet tea!
Ingredients
SIMPLE SYRUP:
SWEET TEA
2 quarts water, divided
8 regular-sized black tea bags
1/8 teaspoon baking soda
1 cup simple syrup
lemon slices and mint, for garnish
Instructions
MAKE THE SIMPLE SYRUP:
In a small saucepan, heat the sugar and water and bring to a boil; stir until the sugar dissolves and forms the simple syrup. Remove from heat, allow to cool, pour into a container and refrigerate until chilled.
MAKE THE SWEET TEA:
In a large saucepan, bring 1 quart (4 cups) of water to a boil. Once boiling, remove from heat and add the tea bags and baking soda. Allow to steep for 8 to 10 minutes. Remove the tea bags and discard. Stir in the simple syrup. Pour the tea into a large pitcher, and stir in the remaining 4 cups of water. Serve tea over ice, garnished with lemon slices and mint.
Notes
*Add more water, if desired (to taste)
*Create your own sweet tea flavor varieties by infusing with fresh fruit slices, such as peaches, pineapple or strawberries.
Nutrition Information:
Yield:

10
Serving Size:

1 serving
Amount Per Serving:
Calories:

140
Total Fat:

0g
Saturated Fat:

0g
Trans Fat:

0g
Unsaturated Fat:

0g
Cholesterol:

0mg
Sodium:

24mg
Carbohydrates:

36g
Fiber:

0g
Sugar:

35g
Protein:

0g
Nutritional information has been figured using a nutrition calculator. It's not likely to be 100% accurate.