Here's a collection of the 25 Best Ice Cream Pie Recipes. You'll want to hang onto these recipes for warm weather celebrations and indoor party fun too!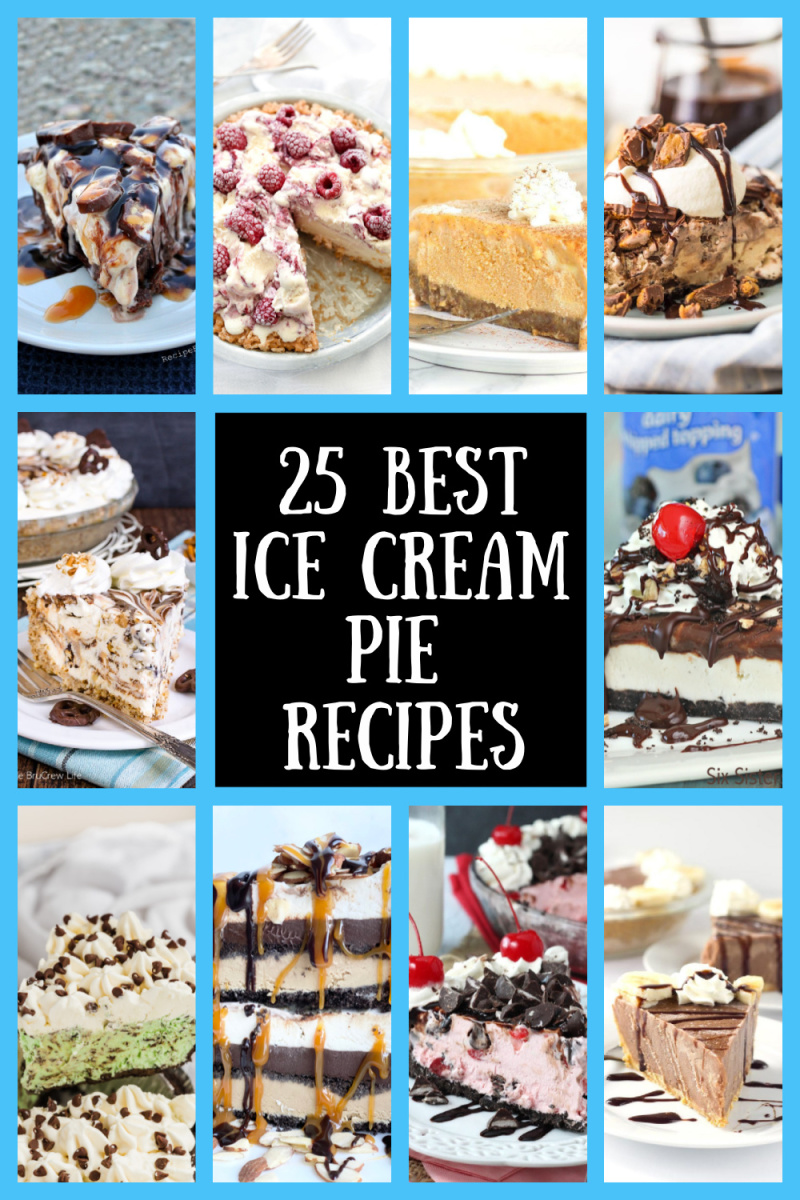 August 18th is National Ice Cream Pie Day! Celebrate by choosing a recipe from this bunch of the 25 best ice cream pie recipes and making an ice cream pie to enjoy! Share your ice cream pie on social media today using the hashtag #NationalIceCreamPieDay, #IceCreamPieDay and #RecipesForHolidays. Be sure to check out my August food holidays page so you can stay up to date on all the food holidays in the month of August!
History of Ice Cream Pie:
Pie a la Mode (pie served with ice cream) was how it all started. Eventually, someone got an idea for putting actual ice cream into a pie plate and making an ice cream pie!
There are so many kinds of crusts to use for an ice cream pie- chocolate wafer crust, oreo crust, graham cracker crust, cookie crust and more. And the fillings are endless. Any flavor ice cream will do. And an ice cream pie can be topped with chocolate and caramel syrups, candies, fruit, etc. Anything goes when it comes to making an ice cream pie.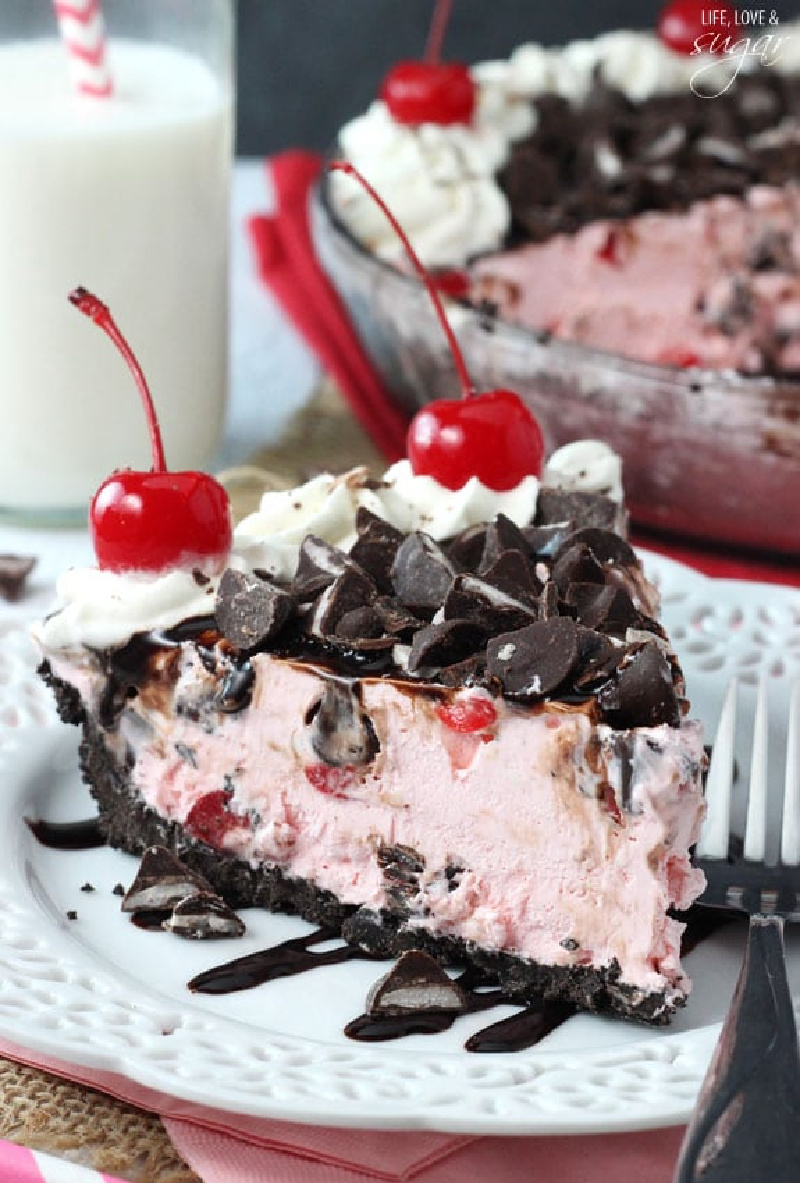 Chocolate Cherry Ice Cream Pie by Life, Love and Sugar. You will love the sweet, light cherry flavor of the ice cream mixed with the rich chocolate! It's a fool-proof flavor combination.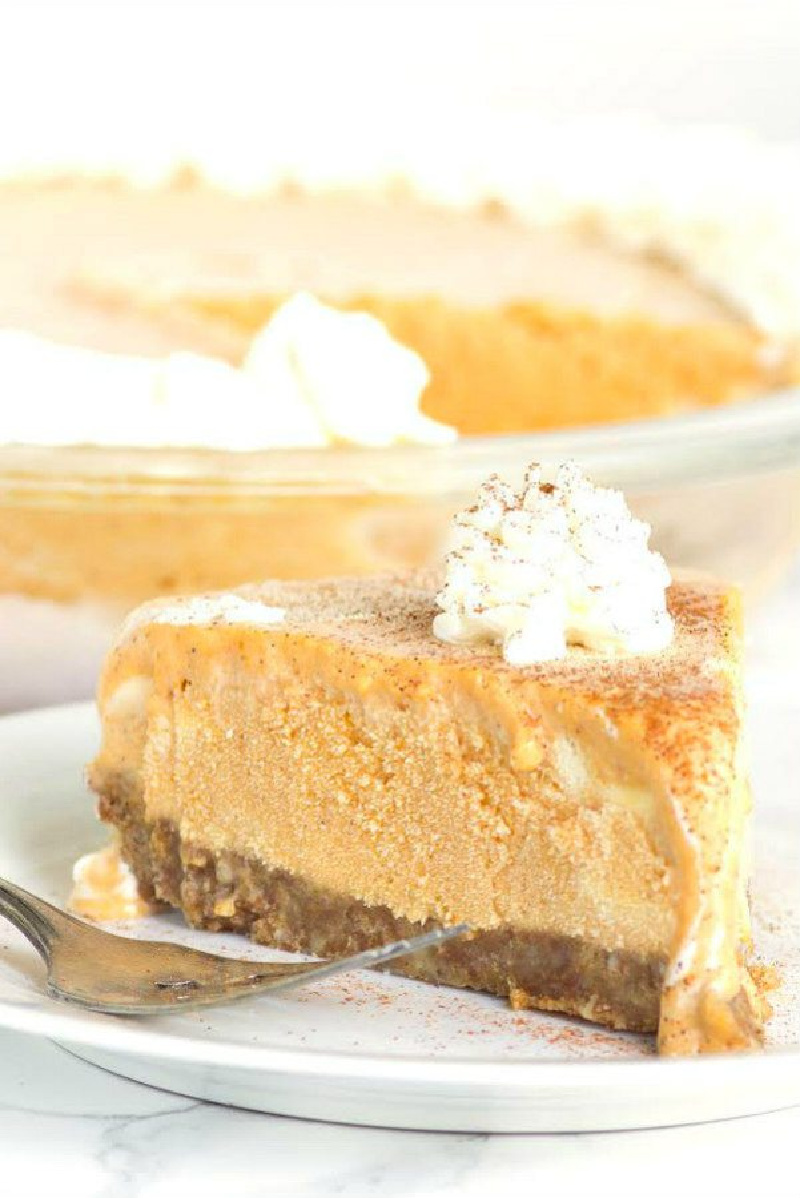 Pumpkin Ice Cream Pie by Recipe Girl. This easy ice cream pie recipe has a gingersnap crust and a spiced pumpkin ice cream filling. It's a good way to eat pumpkin for dessert!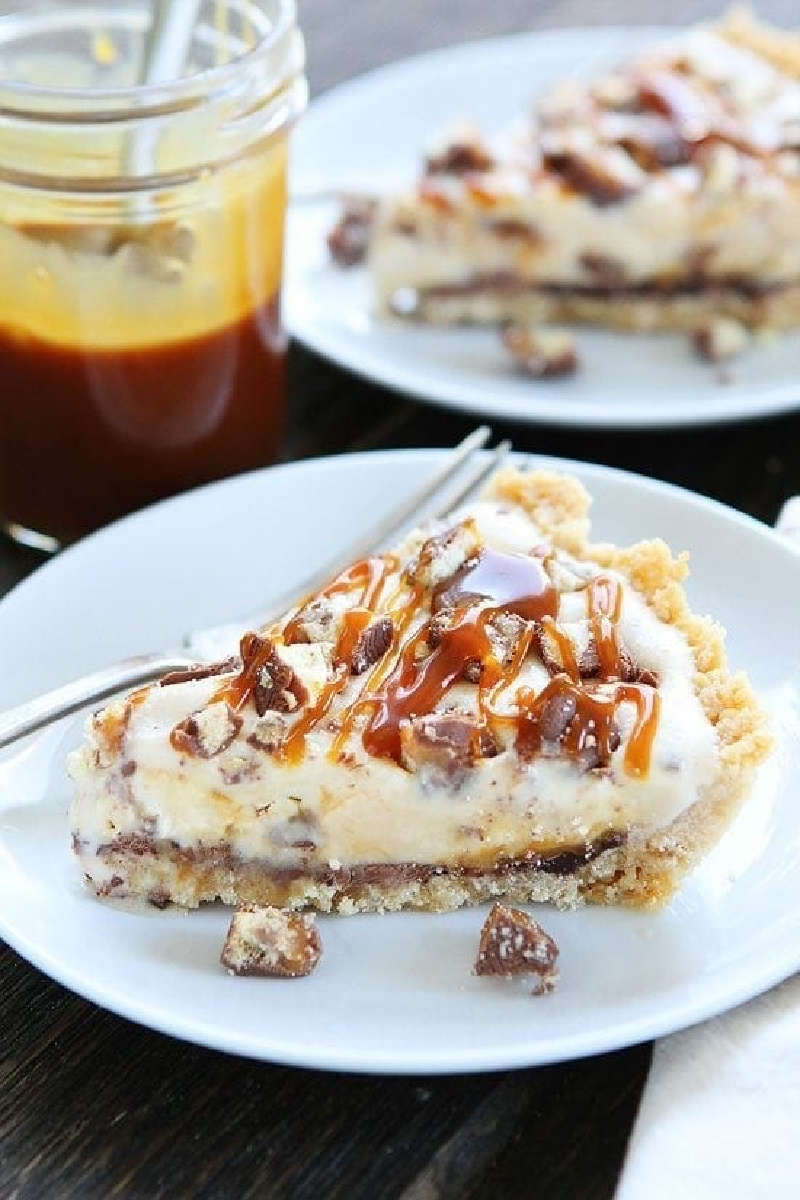 Twix Ice Cream Pie by Two Peas and Their Pod. This pie has a shortbread cookie crust with a layer of chocolate, vanilla ice cream, chopped Twix candy bars, and salted caramel sauce.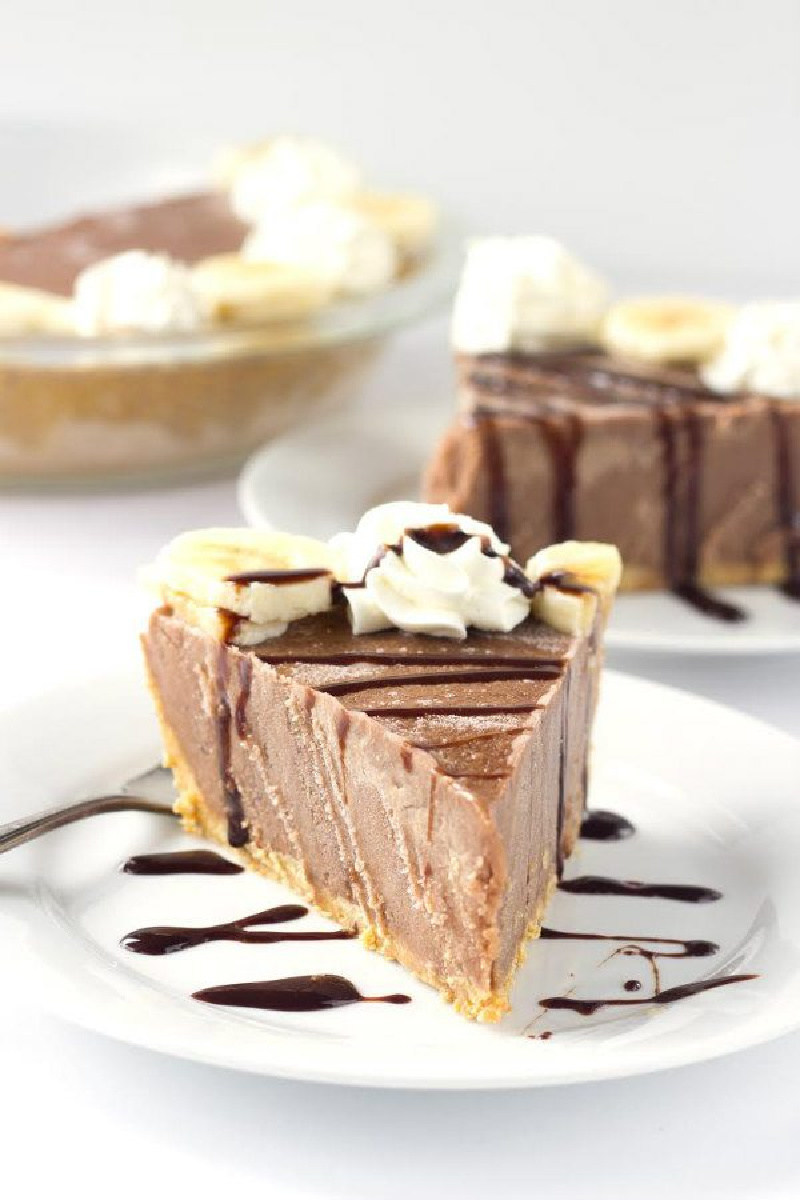 Chocolate Banana Ice Cream Pie with Peanut Butter Crust by Recipe Girl. This chocolate ice cream pie has the most amazing crust and is garnished with bananas, whipped cream and chocolate syrup!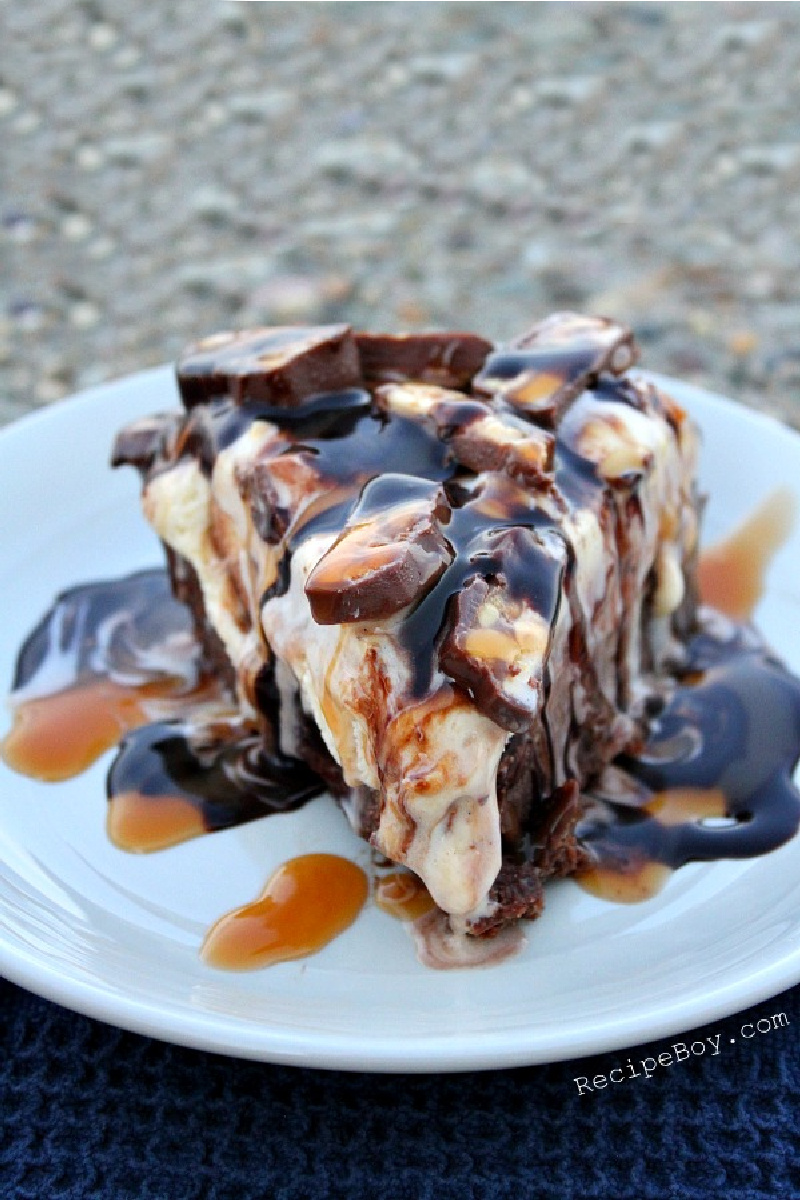 Snickers Ice Cream Brownie Pie by Recipe Boy. The first layer and crust is made of brownie, the second layer is vanilla ice cream mixed with chopped Snickers, and the top layer is chopped Snickers and chocolate and caramel.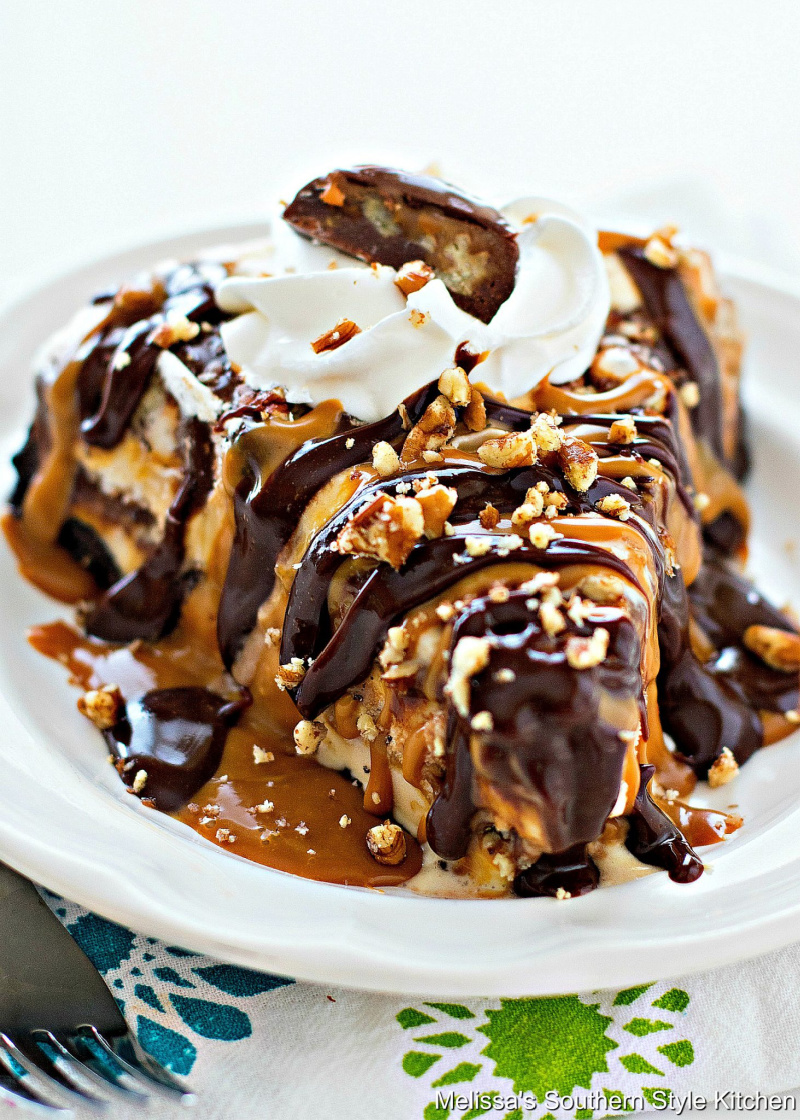 Turtle Ice Cream Pie by Melissa's Southern Style Kitchen. It features layers of caramel ice cream, toasted pecans, dulce de leche and hot fudge. Garnished with a dollop of whipped cream and turtle candy.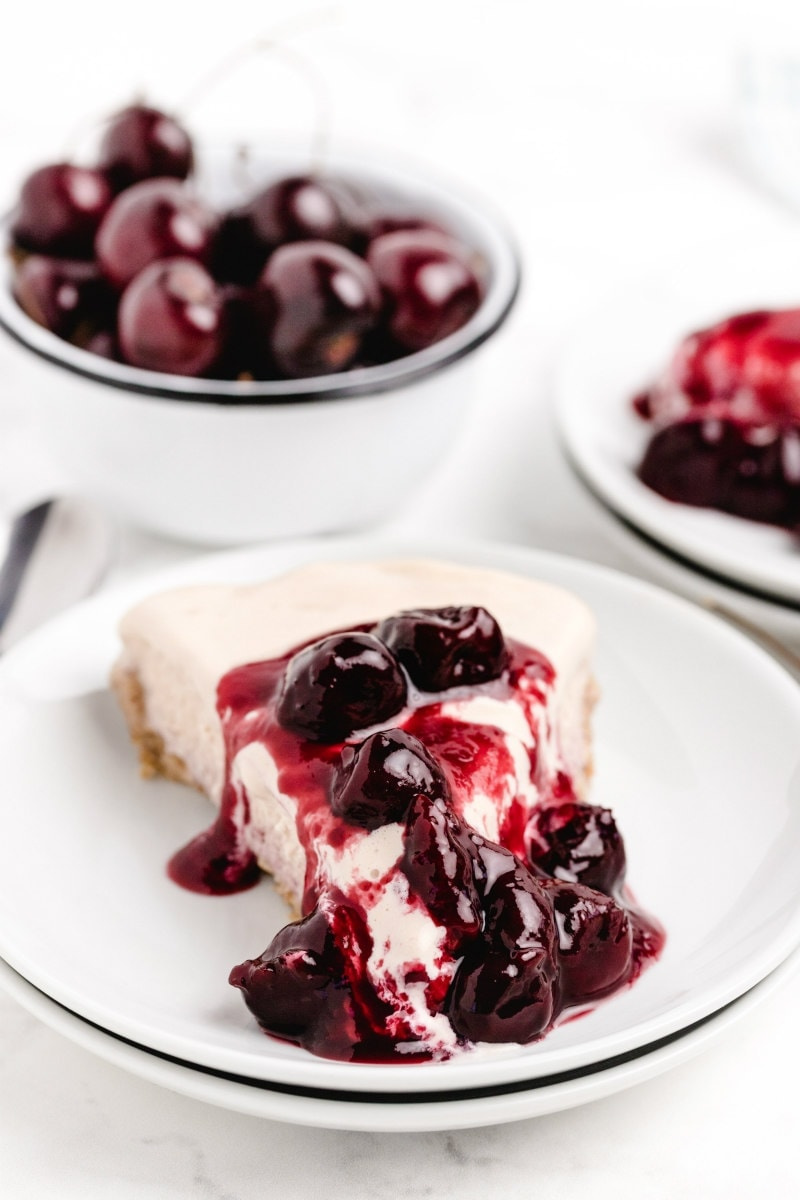 Cherries Jubilee Ice Cream Pie by Recipe Girl. Cherries are cooked with a little bit of brandy and swirled in with low fat vanilla ice cream to make the filling. Add in a crunchy, buttery graham cracker crust and you've got a dessert that will make everyone happy.
Sprinkle Ice Cream Pie by Rachel Cooks. This whimsical ice cream pie recipe is perfect for any summer party – kids will love the sprinkles and adults will love the vanilla beans and white chocolate ganache.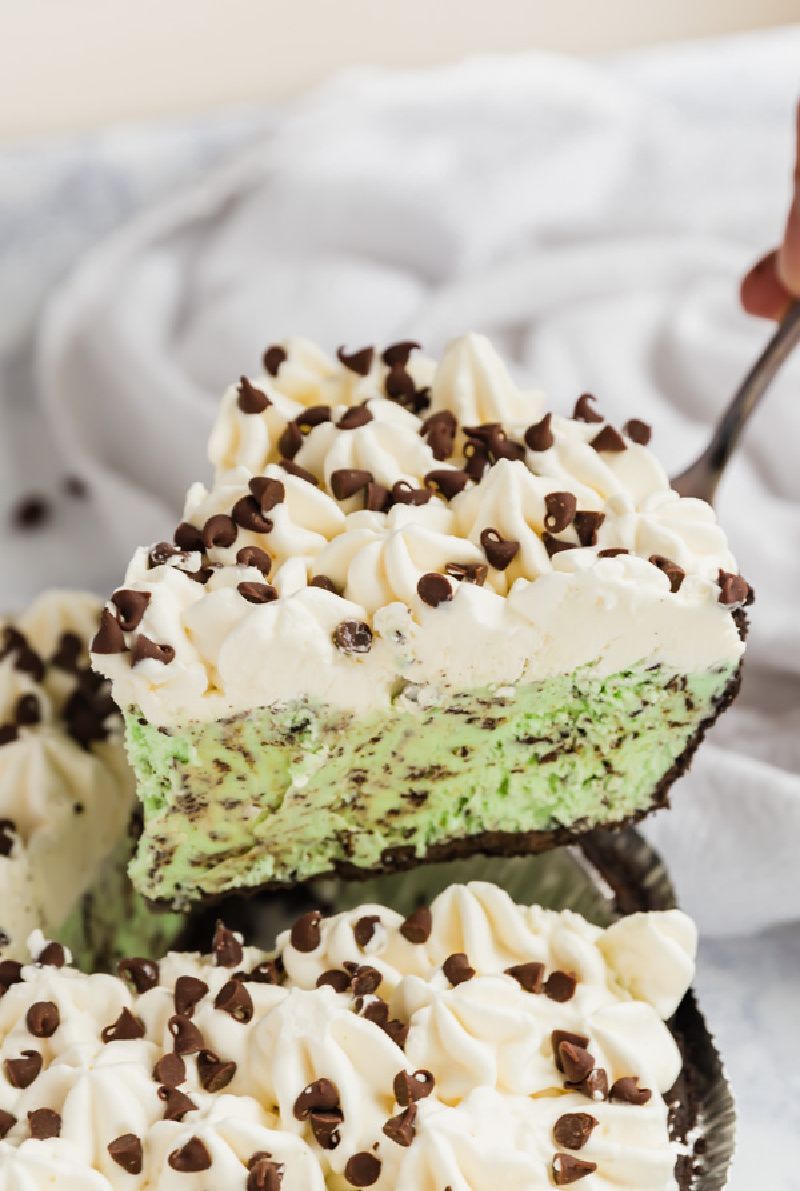 Peppermint Ice Cream Pie by The Life Jolie. It features a delicious Oreo crust, your favorite mint chocolate chip ice cream and whipped cream.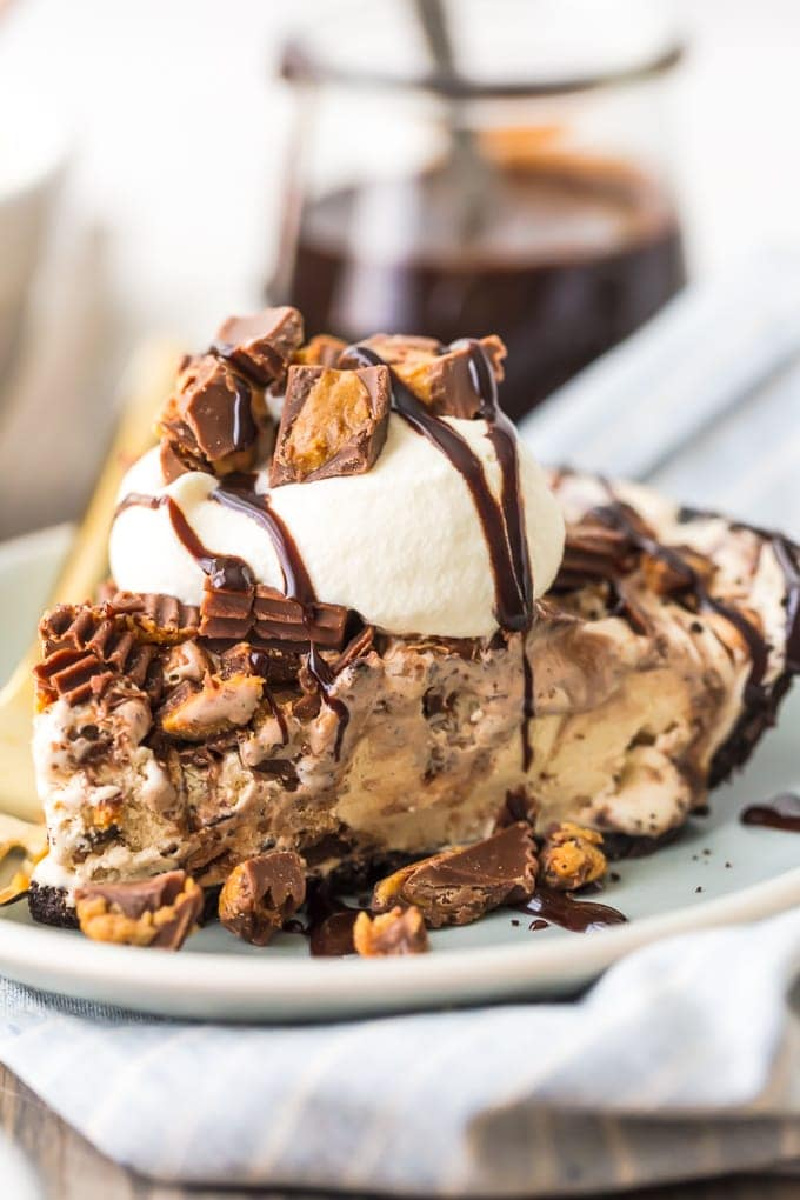 Peanut Butter Cup Ice Cream Pie by The Cookie Rookie. This pie only needs 5 ingredients, and it feature everyone's favorite Peanut Butter Cups.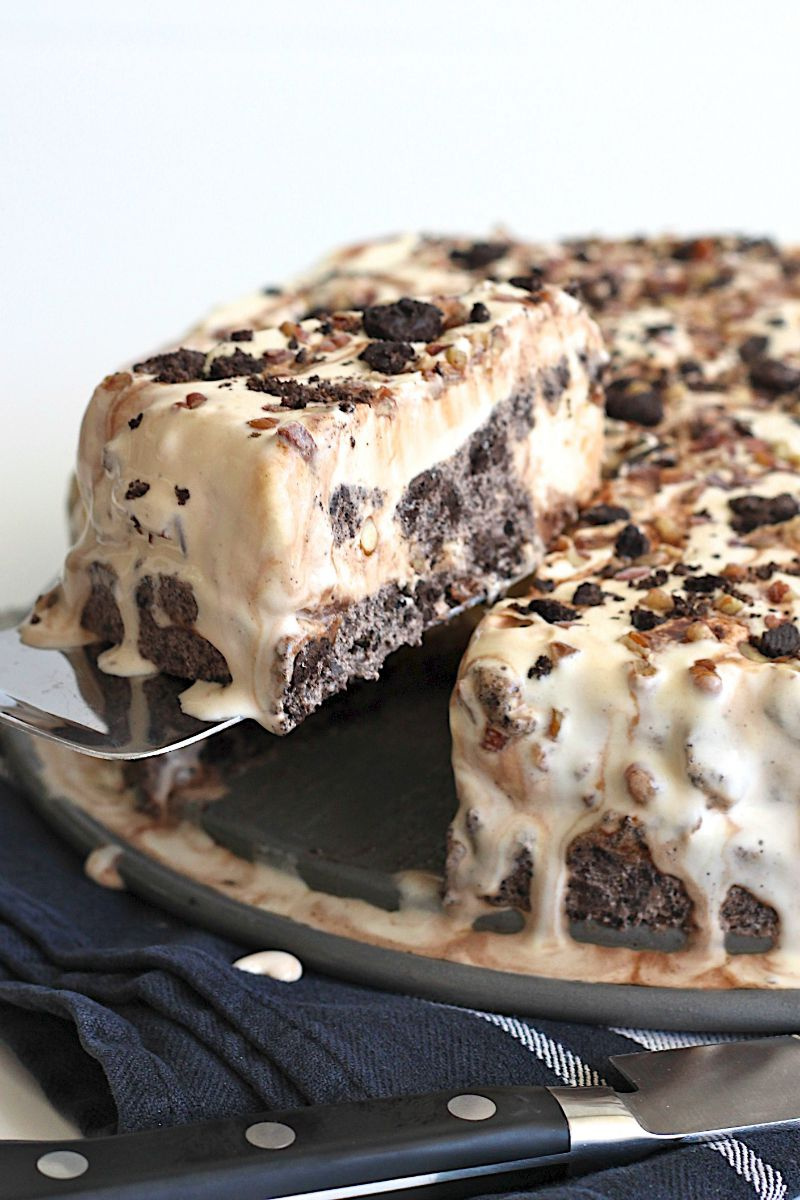 Oreo Ice Cream Pie by The Baker Mama. An easy 5-ingredient Oreo Ice Cream Pie that's loaded with crushed Oreos, chopped pecans and plenty of chocolate syrup to sanctify any sweet tooth and cool you off all summer long.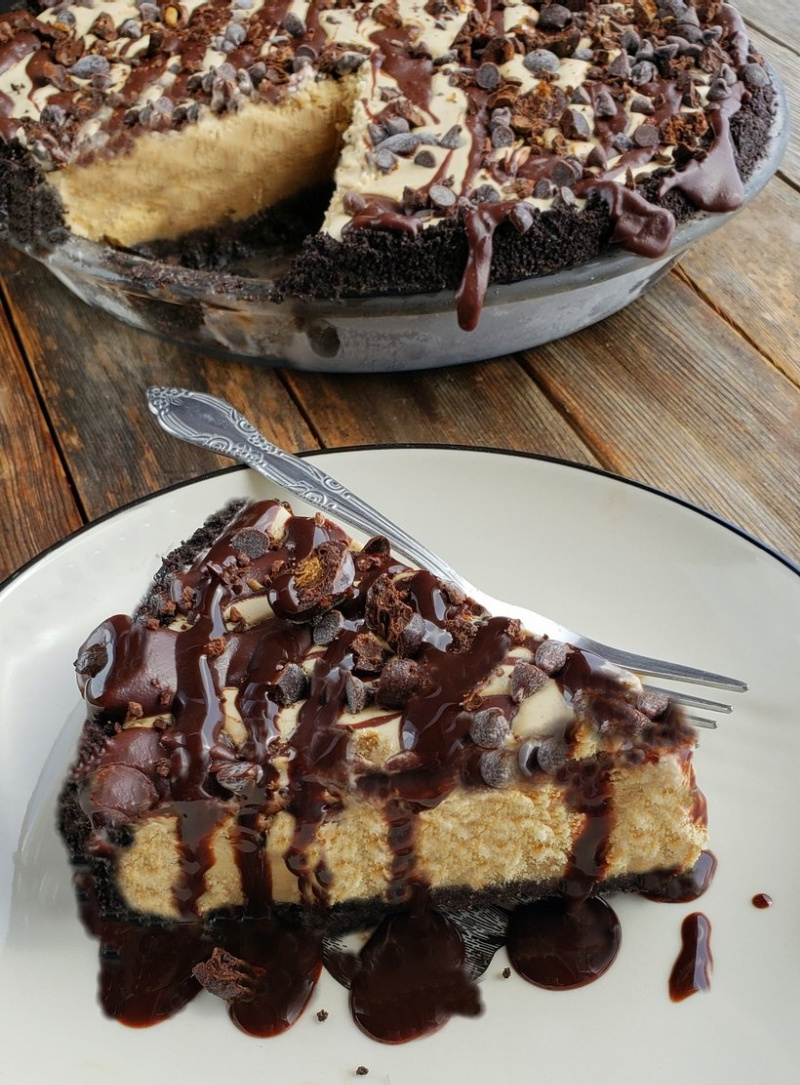 Mud Pie by Noble Pig. This popular Mud Pie recipe with coffee ice cream and plenty of chocolate is the perfect sweet ending to your next meal.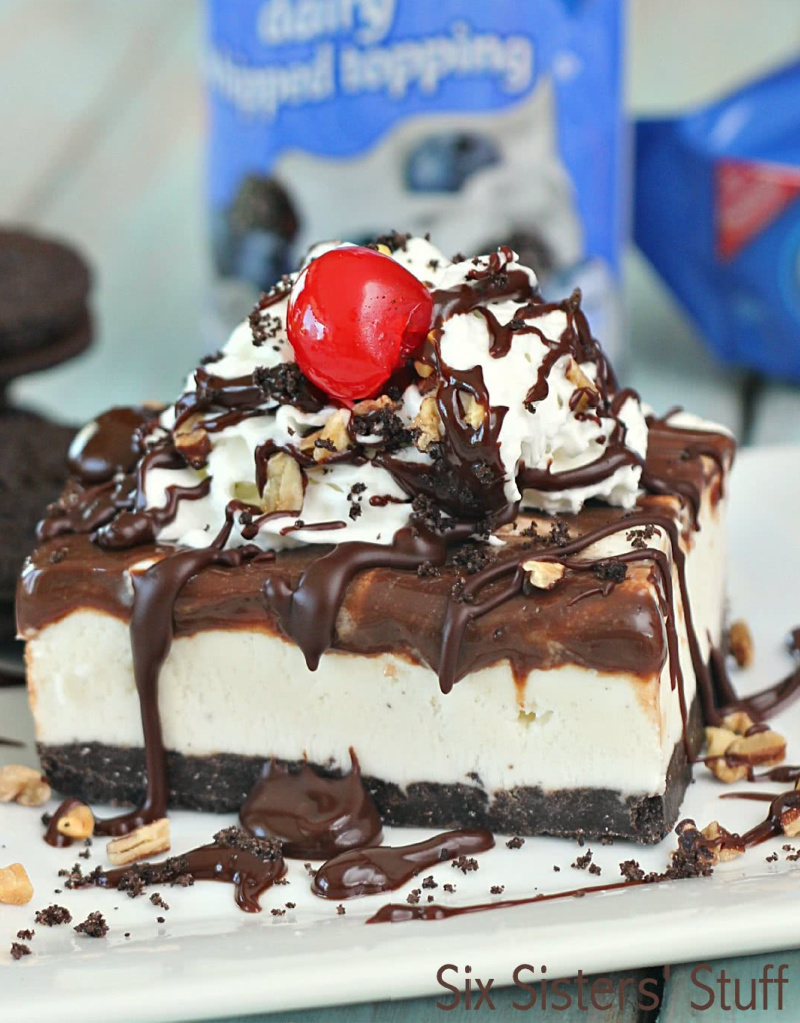 No Bake Mississippi Mud Pie by Six Sisters Stuff. This pie has layers of Oreo cookies, ice cream, and hot fudge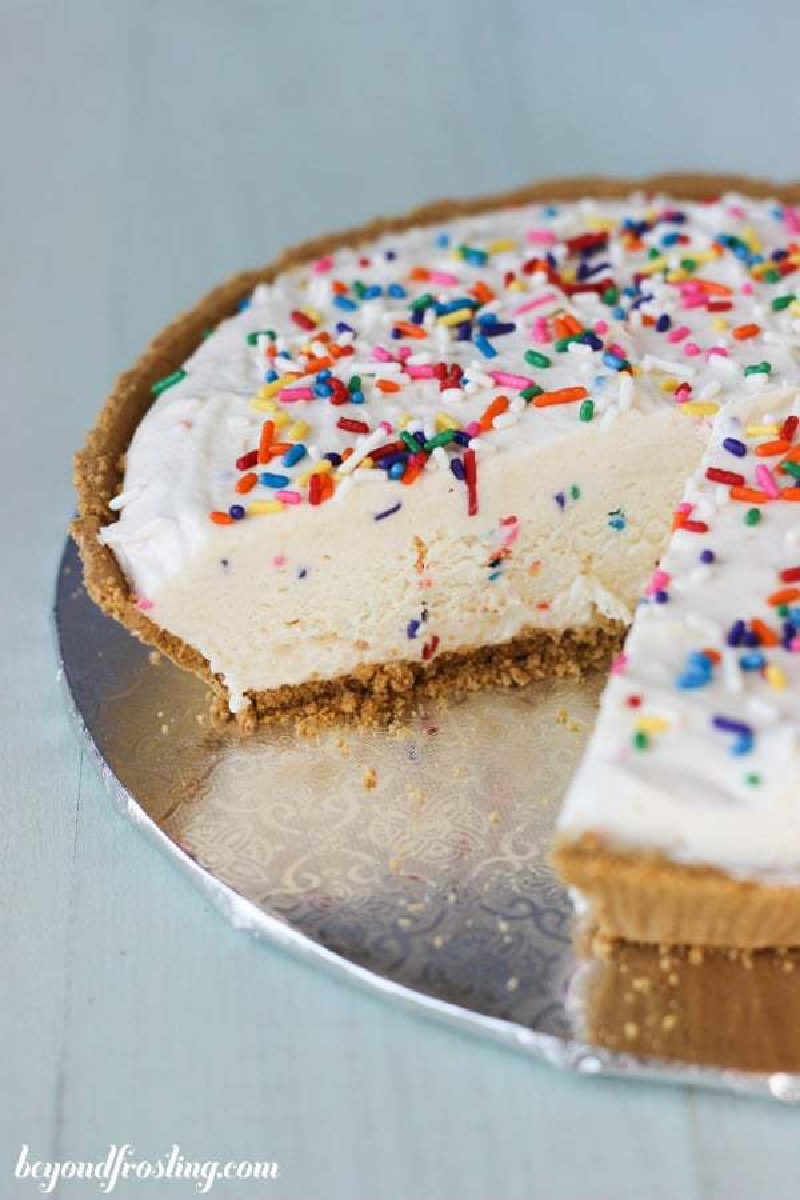 Low Fat Funfetti Cheesecake Ice Cream Pie by Beyond Frosting. It is made with a reduced-fat pie crust and a nearly fat-free funfetti cheesecake ice cream.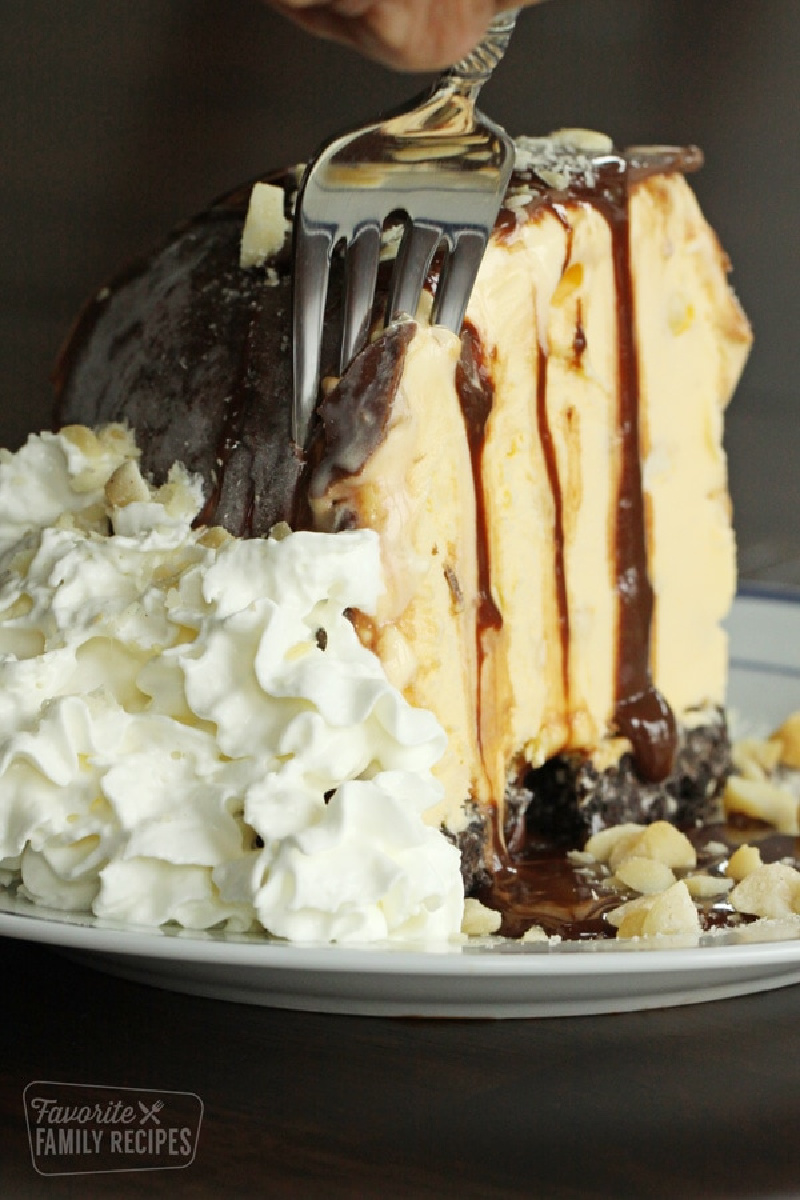 Duke's Hula Pie Copycat by Favorite Family Recipes. This pie has an Oreo pie crust, filled with ice cream that has been made with mix-ins, and topped with a frozen fudge topping. It's like having a little slice of Hawaii in your home without having to go to the original Duke's restaurant.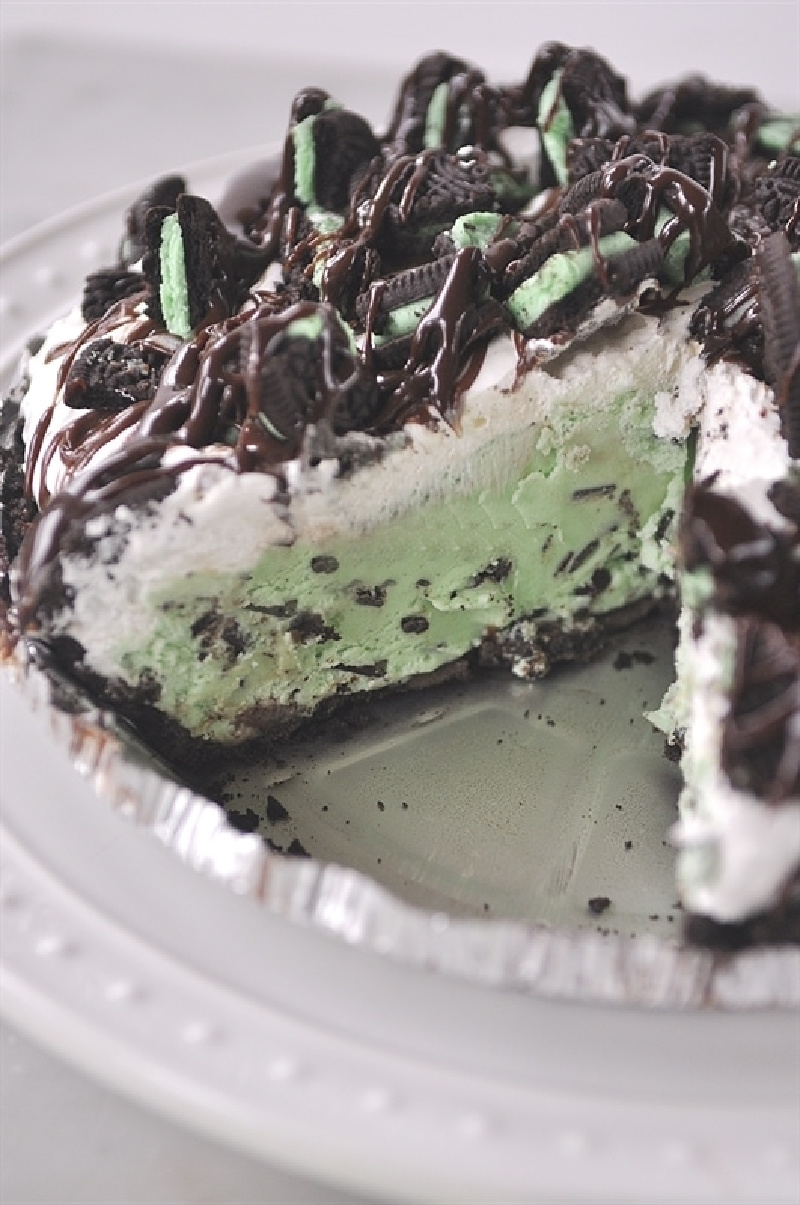 Grasshopper Ice Cream Pie by Your Home Based Mom. A chocolate cookie crust filled with mint ice cream and topped with hot fudge, Cool Whip and cookies!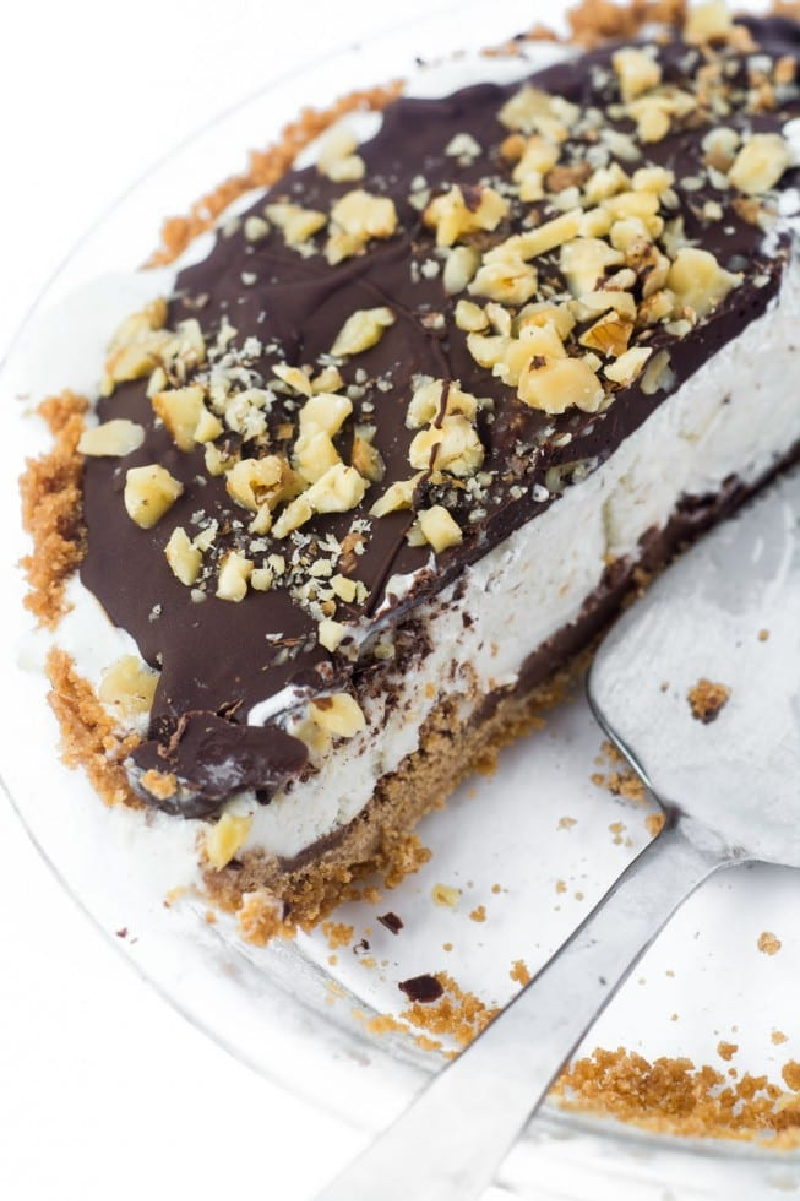 Drumstick Ice Cream Pie by The View From Great Island. This pie has a crushed sugar cone crust piled high with lots of ice cream, topped with a homemade Magic Shell and dusted with crushed nuts.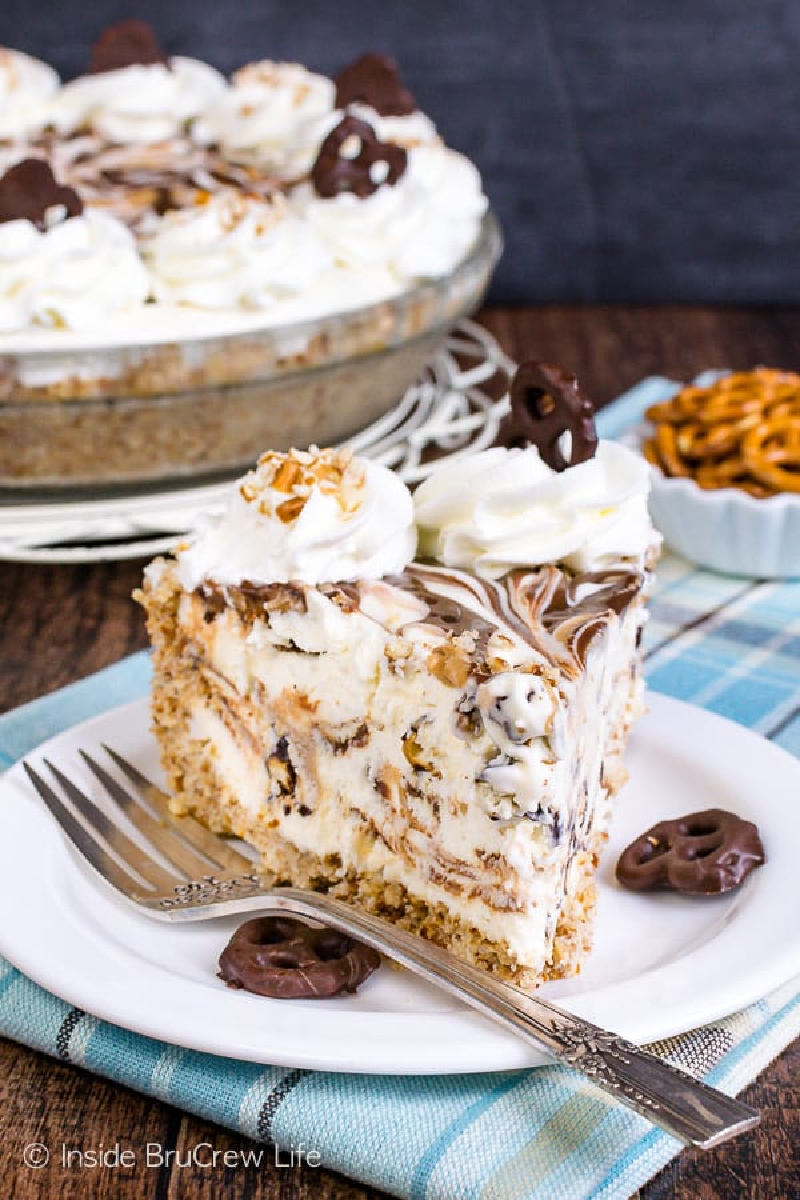 Chubby Hubby Ice Cream Pie by Inside BruCrew Life. Peanut butter swirls and chocolate covered pretzels add a fun flair to this Chubby Hubby Ice Cream Pie. This easy no bake pie is the perfect summer dessert!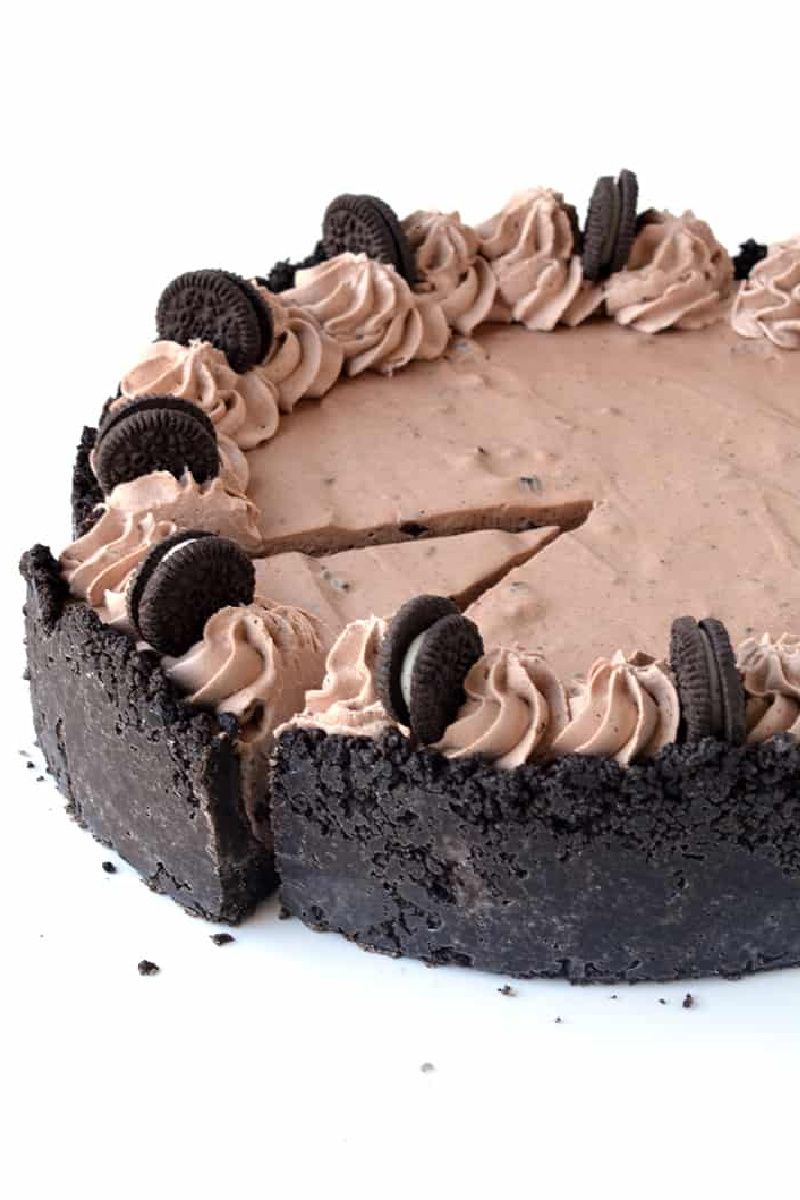 Chocolate Brownie Ice Cream Pie by Sweetest Menu. A gorgeous no bake Chocolate Oreo Ice Cream Pie made from scratch, with an Oreo crust and a creamy chocolate ice cream filling.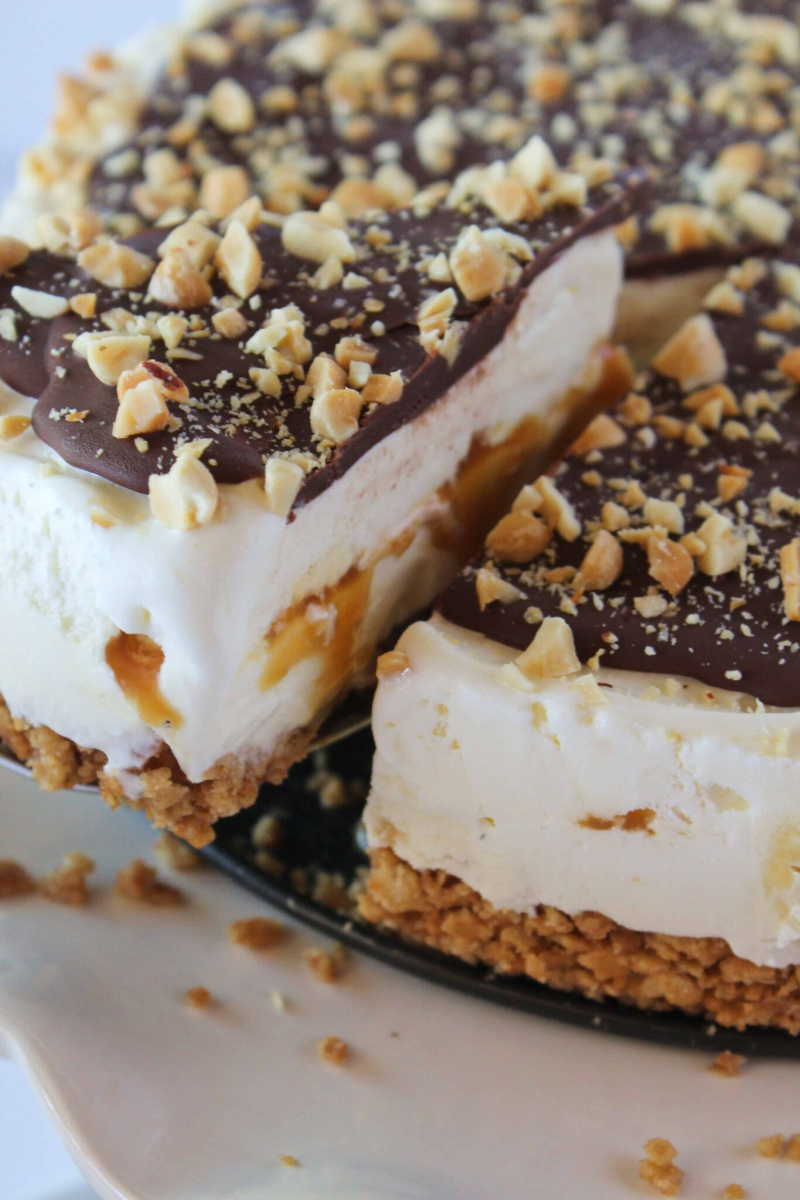 Caramel Drumstick Ice Cream Pie by Practically Homemade. A sugar cone crust piled high with layers of chocolate syrup, vanilla ice cream and caramel, topped with peanuts and tastes just like the iconic original.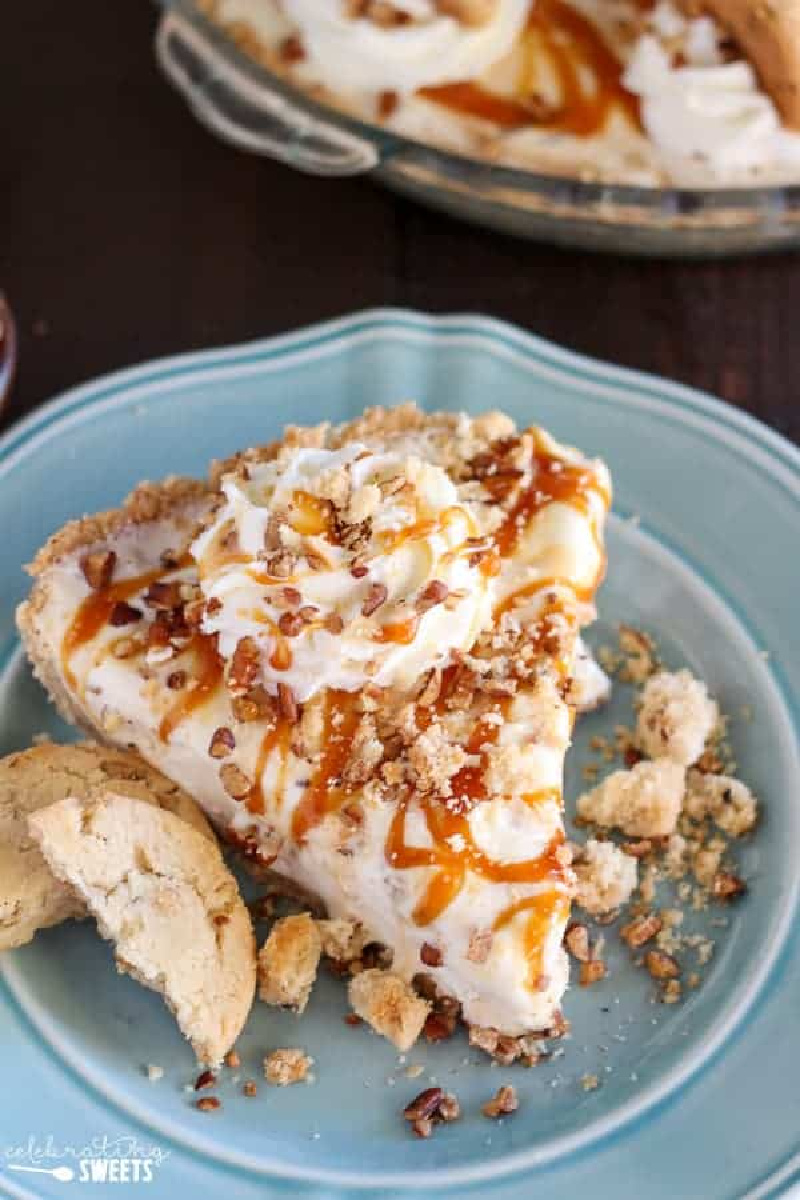 Caramel Butter Pecan Ice Cream Pie by Celebrating Sweets. A crushed pecan shortbread cookie crust filled with butter pecan ice cream and topped with caramel sauce, whipped cream, chopped pecans, and pecan shortbread cookies.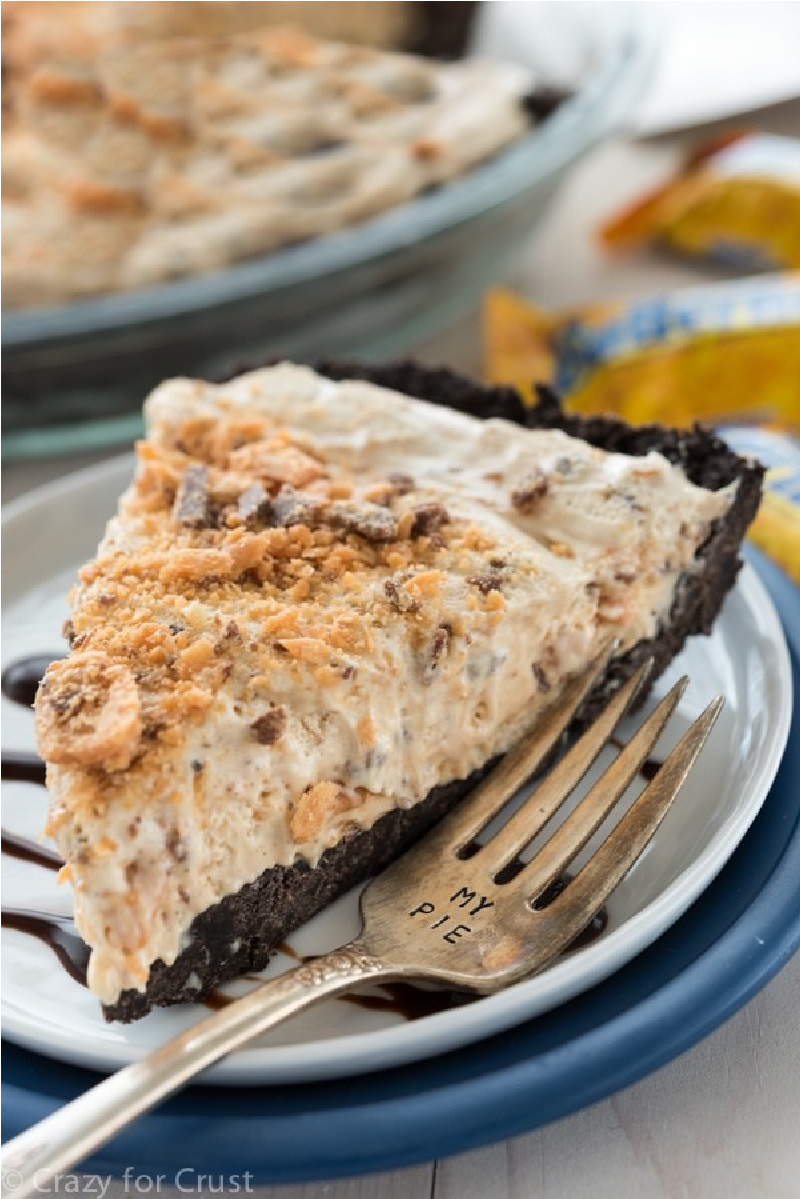 Butterfinger Ice Cream Pie by Crazy for Crust. Butterfingers, easy homemade ice cream, and an Oreo crust. Doesn't get much better!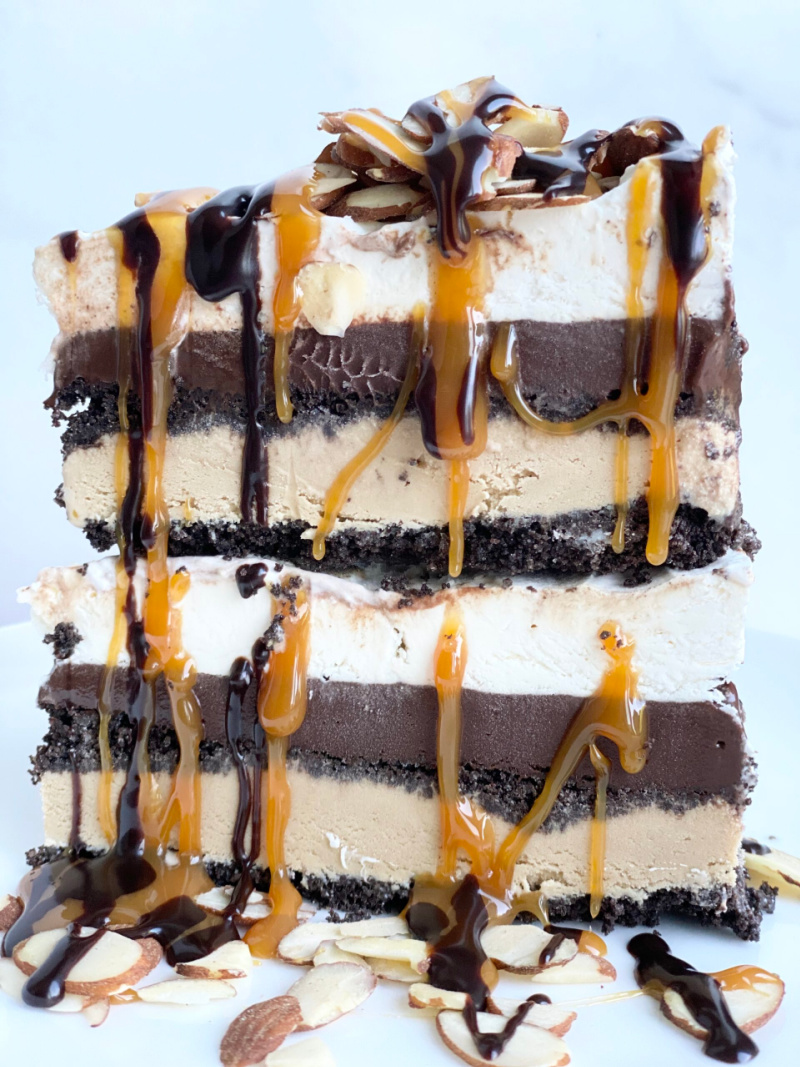 Billy Minor Ice Cream Pie by Food Dolls. Loaded with crushed cookie layers, a thick fudge layer, coffee ice cream, and whipped topping. Top with sliced almonds, caramel, and chocolate sauce!
Banana Split Ice Cream Pie by Will Cook for Smiles. Sweet graham cracker crust filled with bananas, strawberry, chocolate, and vanilla ice cream flavors, then topped with whipped cream, chocolate, and fruit.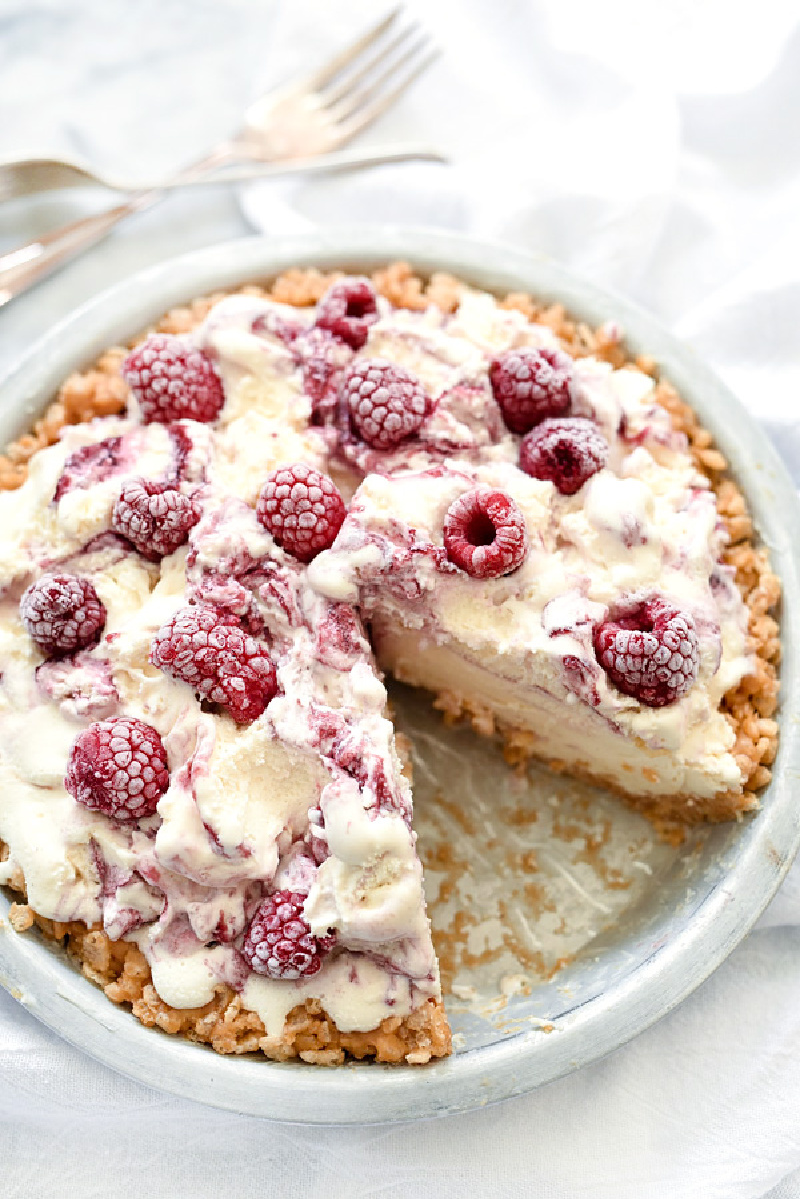 4-Ingredient Ice Cream Pie with Peanut Butter Krispie Crust by Foodiecrush. Use whatever store bought or homemade ice cream you desire to fill this crispy, peanut butter crust for a super easy dessert.