Traditional rocky road contains chocolate, nuts and marshmallows. Here are 36 Amazing Rocky Road Recipes. I think you might find the most delicious treats to choose from because rocky road isn't just an ice cream flavor anymore!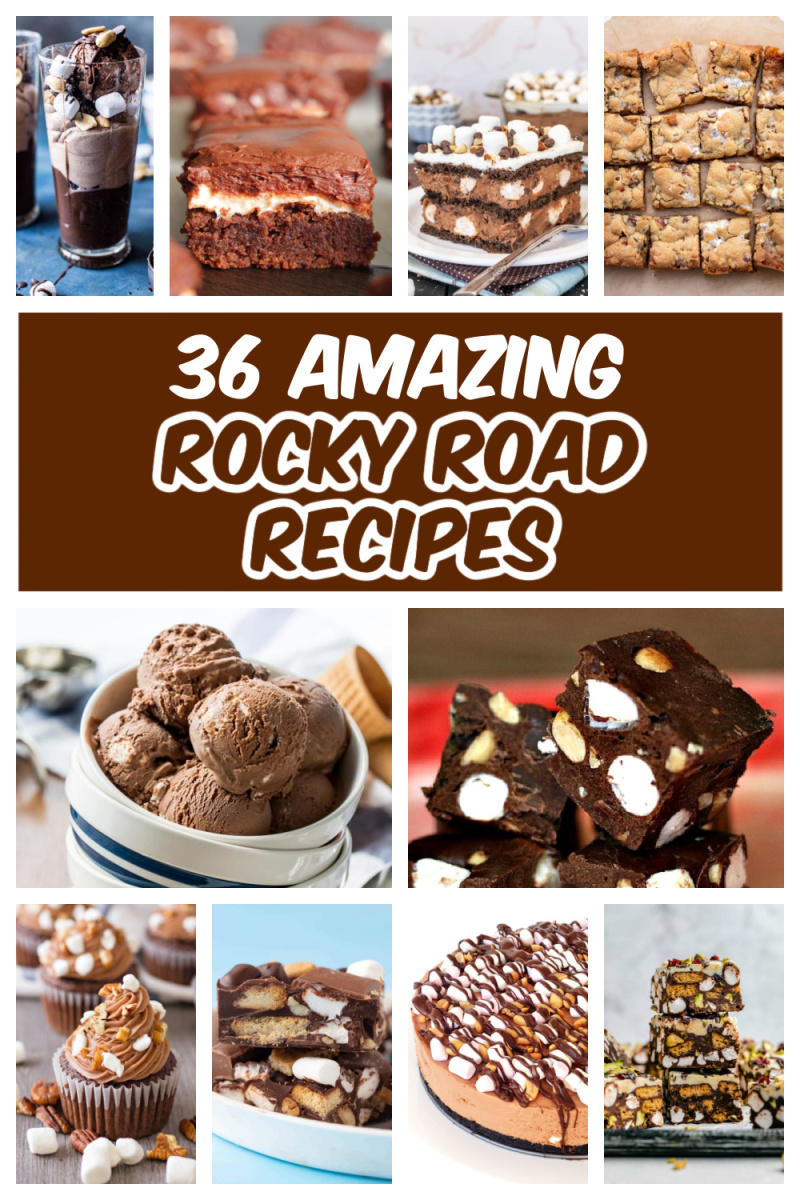 June 2nd is National Rocky Road Day! Celebrate this day by making your favorite rocky road dessert. I suggest you try one of these 36 Amazing Rocky Road Recipes! There are so many goodies in this collection such as ice cream, fudge, cupcakes, cake, cheesecake, bars, pie, cookies, and more! Alternately, you can visit your favorite ice cream shop and order a scoop of rocky road ice cream. Share your rocky road goodie on social media today using the hashtags #NationalRockyRoadDay, #RockyRoadDay and #RecipesForHolidays.
Be sure to follow my June Food Holidays page so you never miss a food holiday in the month of June!
"I hope your only rocky road is chocolate."

-Amanda Mosher
The History of Rocky Road:
The earliest mention of a "rocky road" type dessert was in 1853 in Australia. Unscrupulous businessmen created it as a way to sell confections that had spoiled during the long trip from Europe. Those confections were mixed with nuts and cheap chocolate to disguise the spoiled flavor.
In 1929, William Dreyer (of Dreyer's Ice Cream Company) is said to have created rocky road ice cream. During the Great Depression, he used his wife's scissors to cut up marshmallows and walnuts and mixed those into chocolate ice cream. When the stock market crashed, he named the ice cream and sold it as "rocky road." He said it was "to give folks something to smile about."
Fenton's Creamery claimed that Dreyer lifted their original idea for rocky road ice cream. So we're not entirely sure who the original creator was!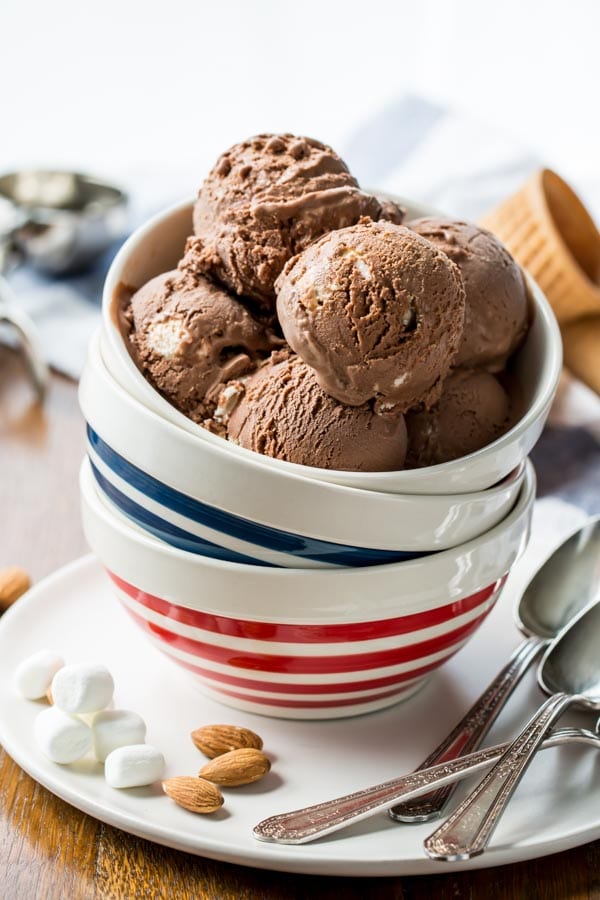 Rocky Road Ice Cream is a rich, smooth chocolatey bowl of deliciousness blended with fluffy mini-marshmallows and chopped roasted almonds.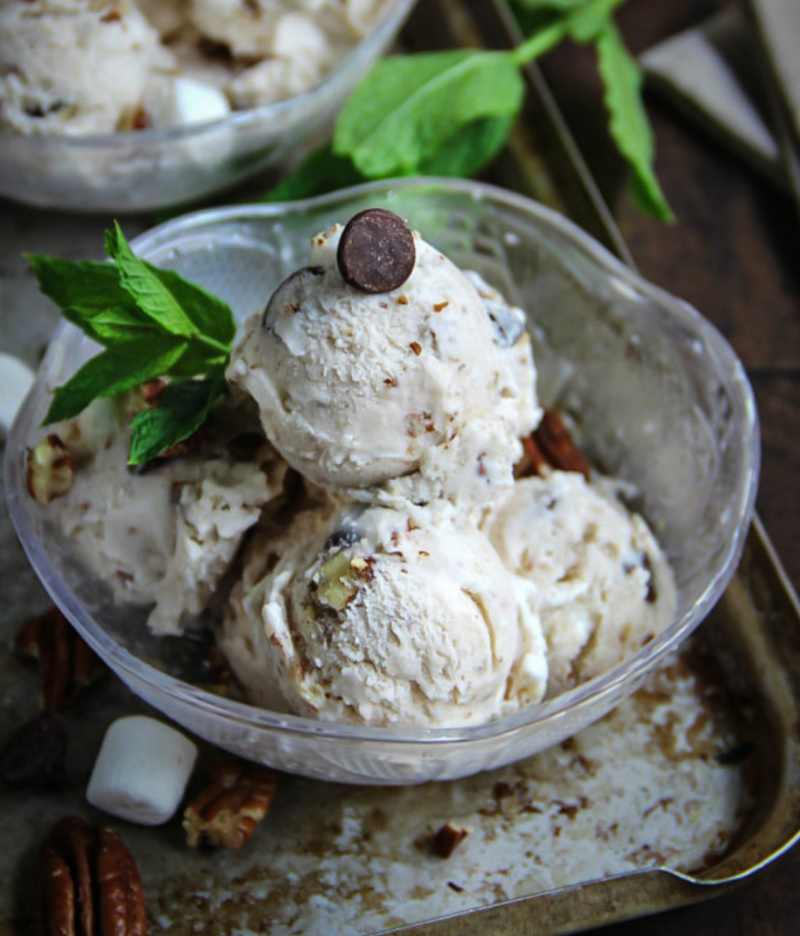 Vanilla Rocky Road Ice Cream is the vanilla version of the classic rocky road!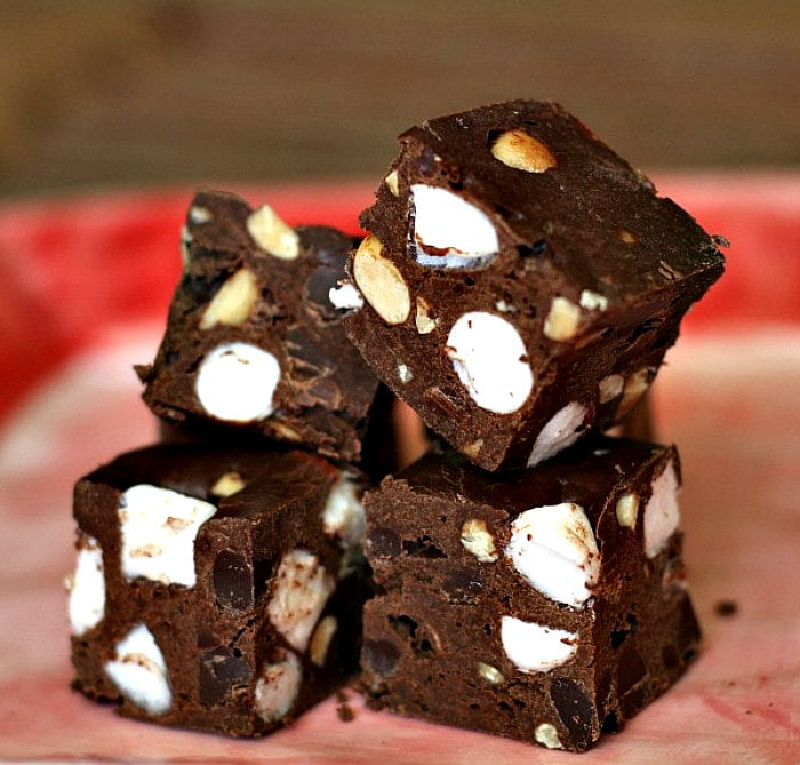 Rocky Road Fudge is the fudge version of rocky road ice cream. It's the perfect treat to add to treat platters!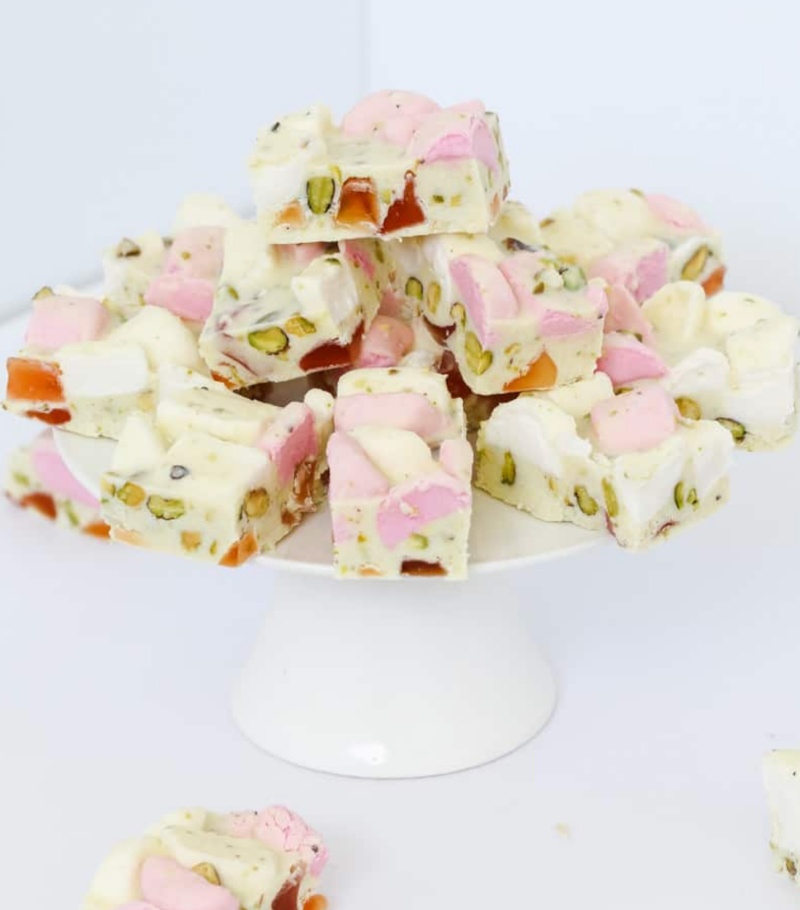 This is a delicious 5-ingredient White Chocolate Rocky Road recipe that is perfect for Christmas and the holidays! It's made in 10 minutes using white chocolate, marshmallows, Turkish delight, coconut and pistachios.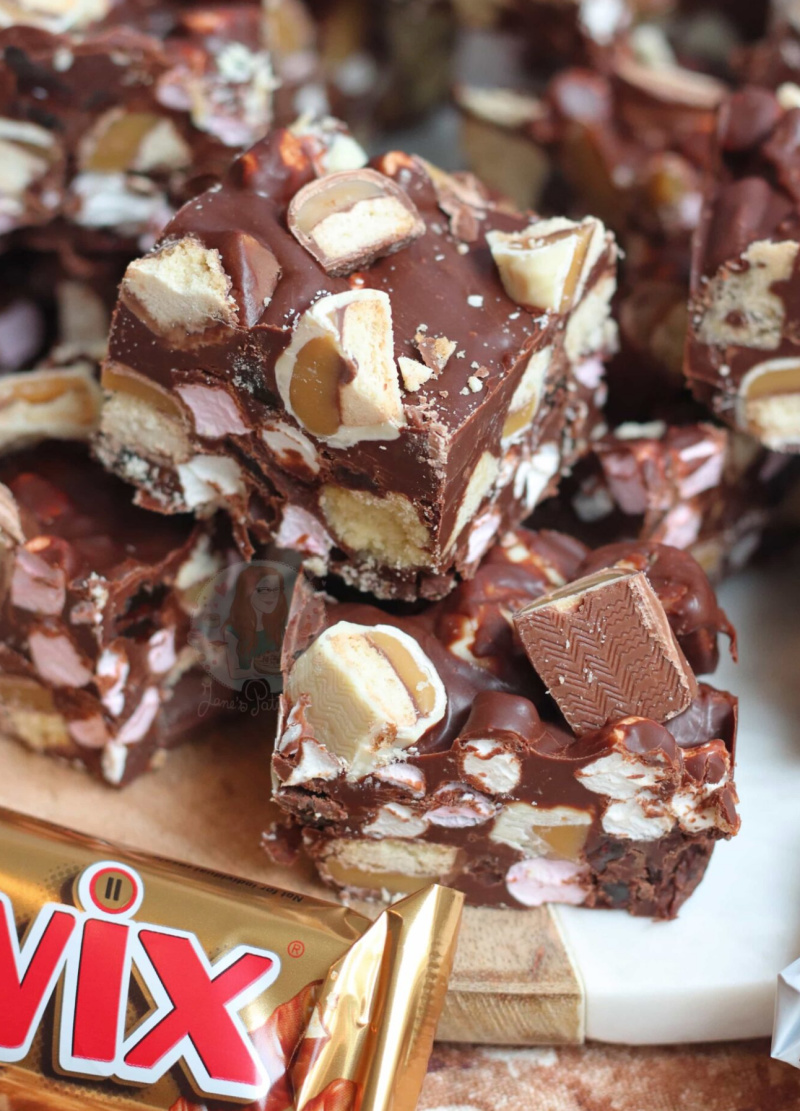 Easy No-Bake Twix Rocky Road with all the delicious chocolatey trimmings!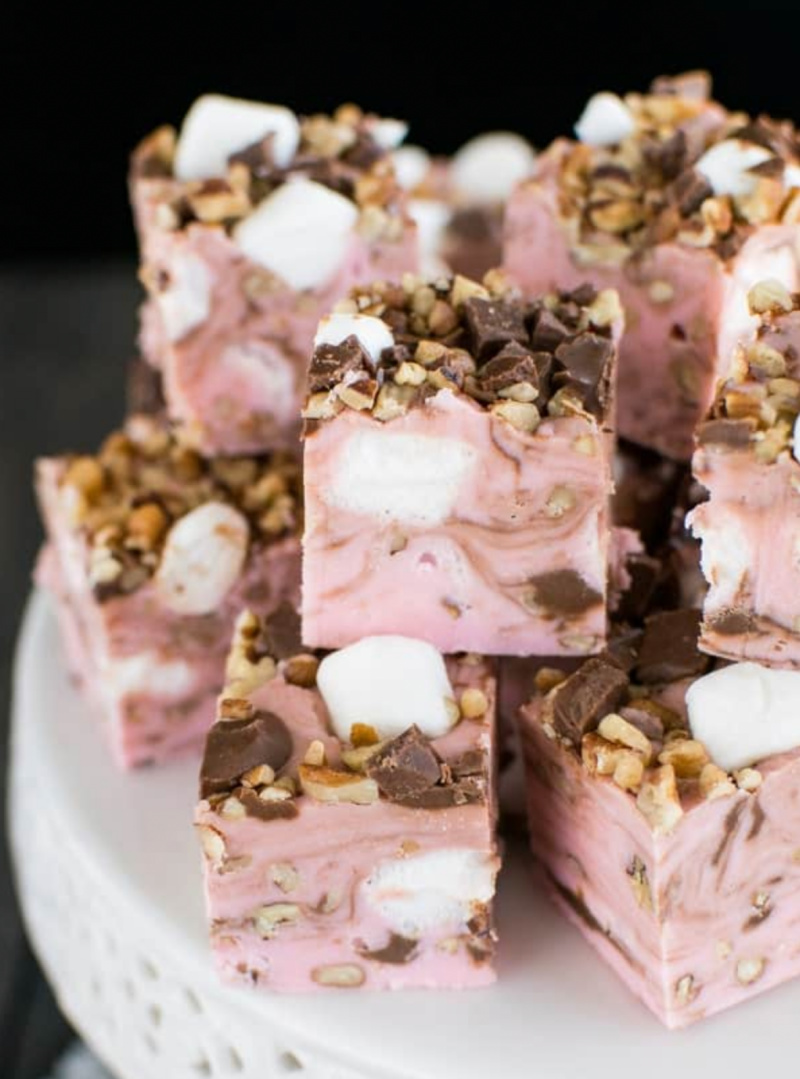 This easy Strawberry Rocky Road Fudge is loaded with marshmallows, pecans, and chocolate chunks. It's a great no bake recipe for when it is too hot to bake.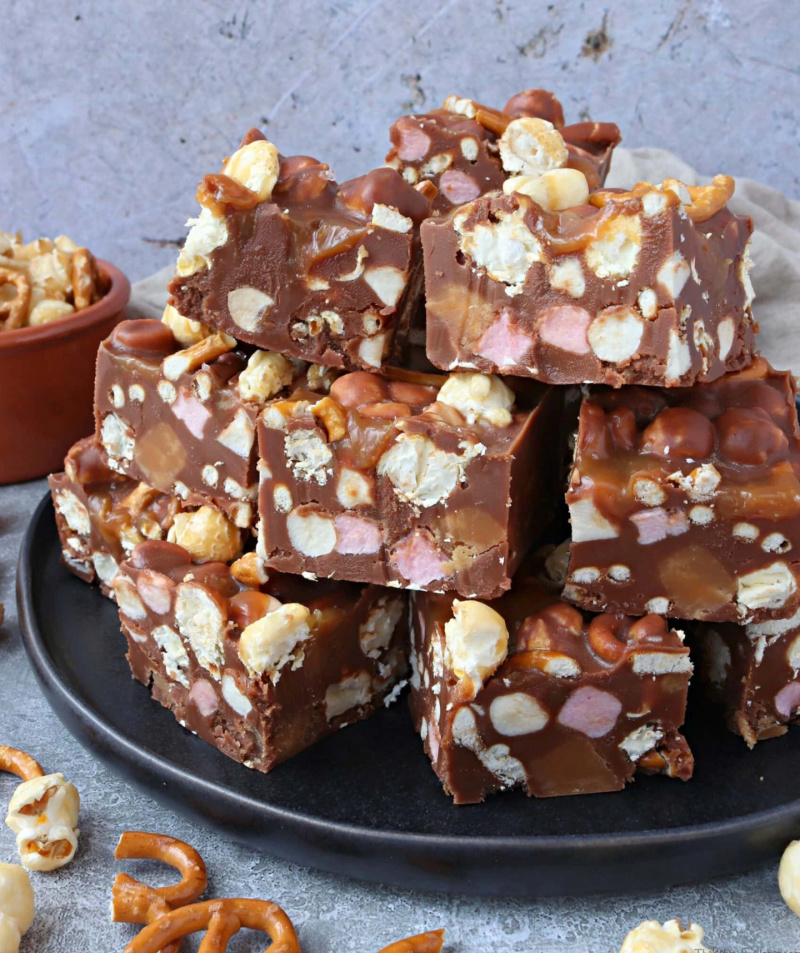 Salted Caramel Rocky Road is made with rich milk chocolate, toffee popcorn, salty pretzels, mini marshmallows, salted caramel fudge and salted caramel sauce.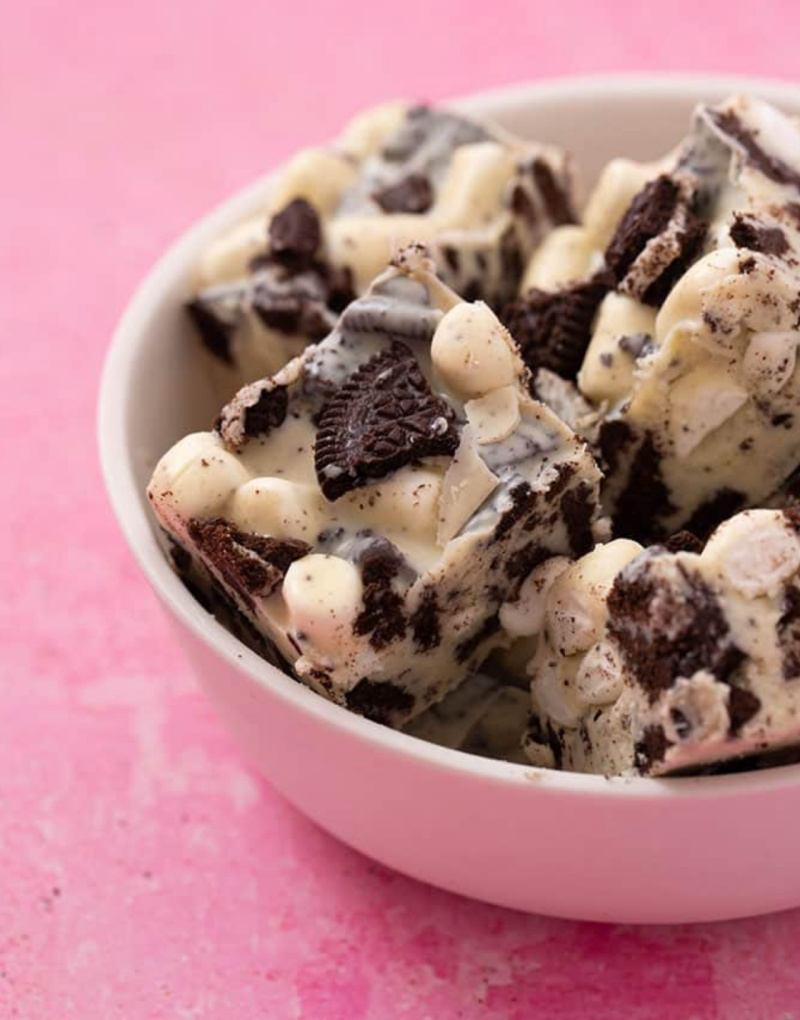 You'll love this easy 3 ingredient Oreo Cookies and Cream Rocky Road. Made with white chocolate, mini marshmallows and plenty of Oreo Cookies.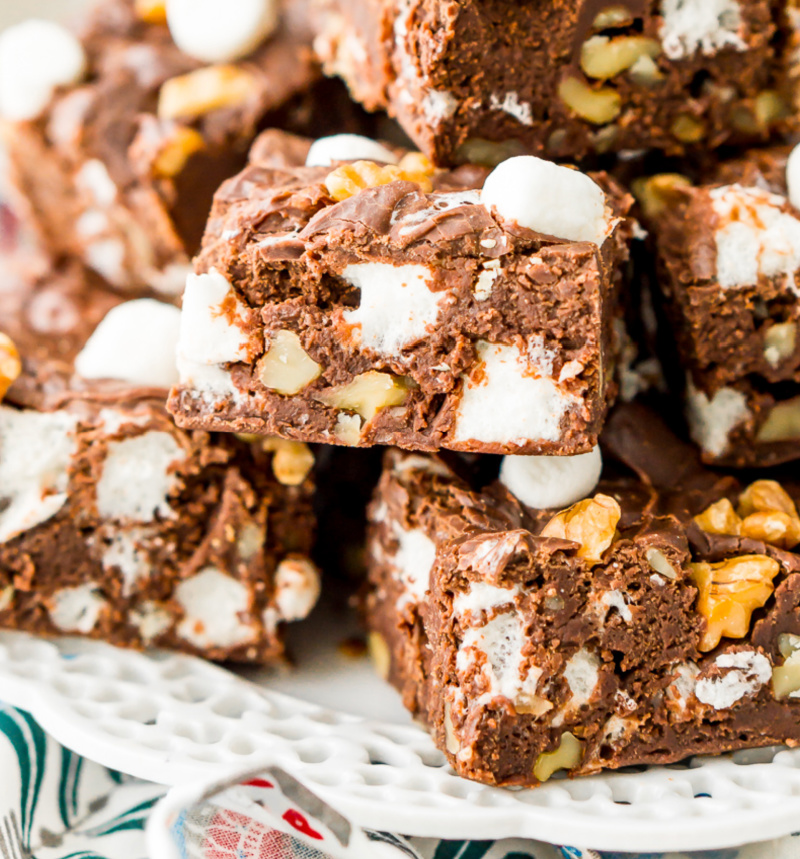 Nutella Rocky Road Fudge is perfect for Nutella and fudge lovers, alike! Chocolate fudge loaded with marshmallows, walnuts, and chocolate chips, it's an easy and delicious treat that everyone will love.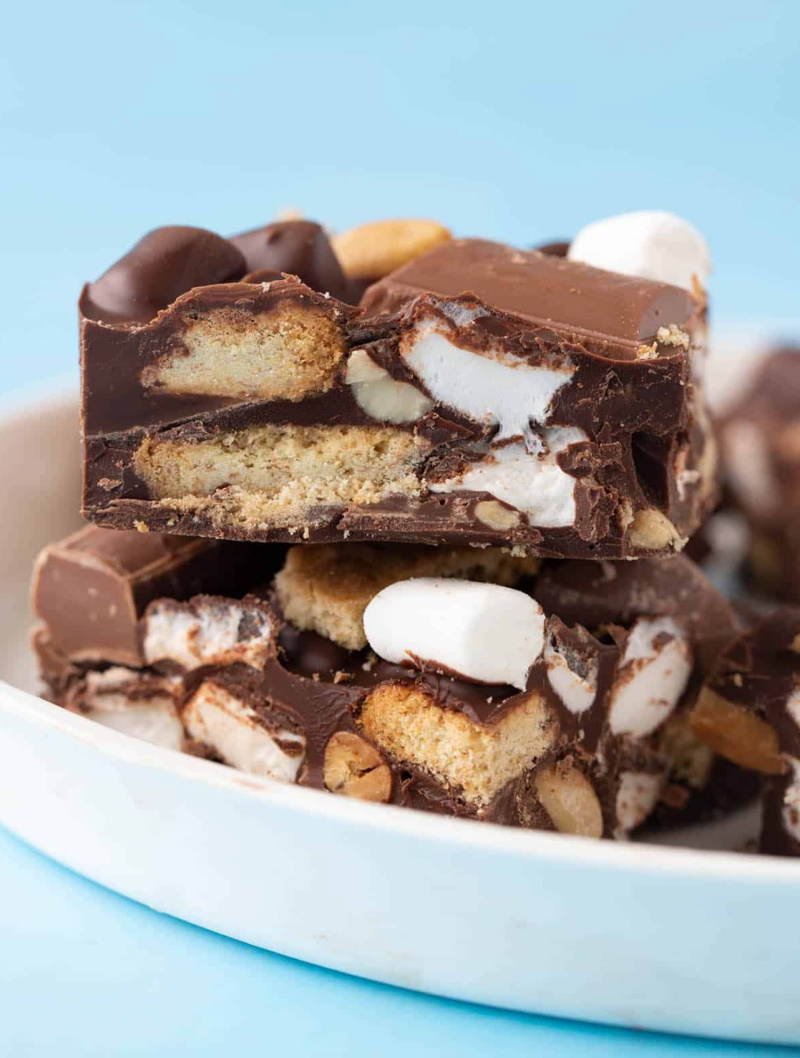 Love Smores? You'll love this Easy Smores Rocky Road! Stuffed with marshmallows, cookies and peanuts, it's the perfect no bake treat.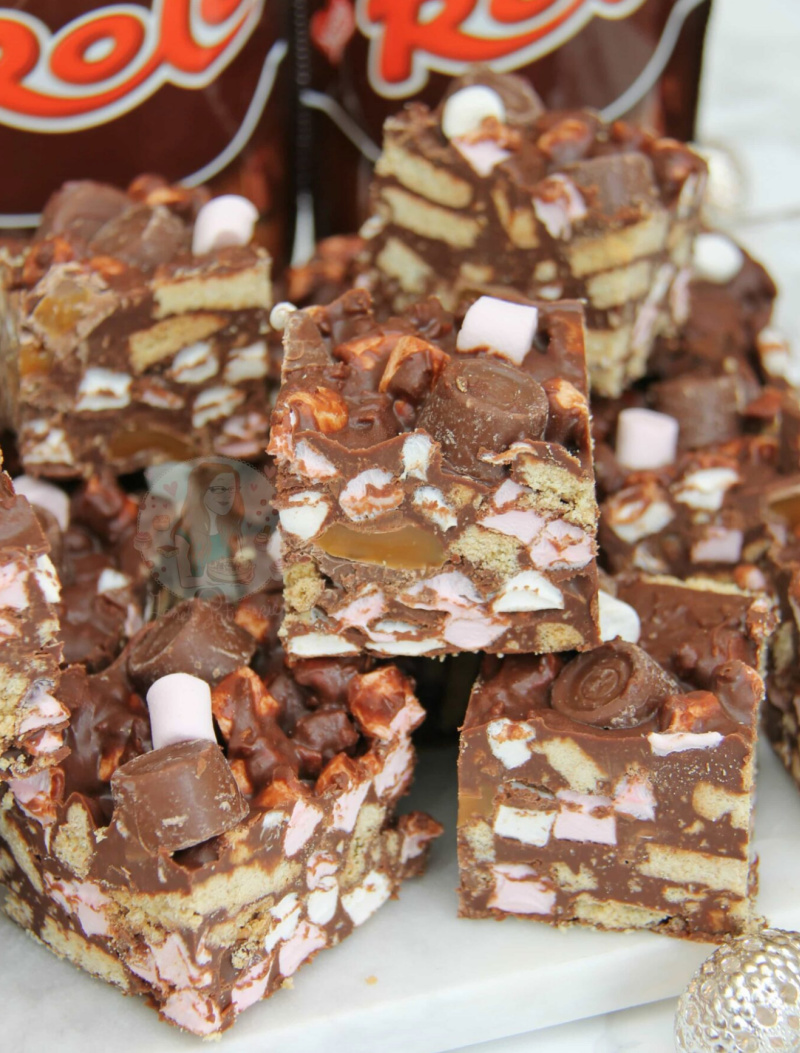 This is an easy no-bake dessert with marshmallows, digestives, and Rolos making the BEST Rolo Rocky Road.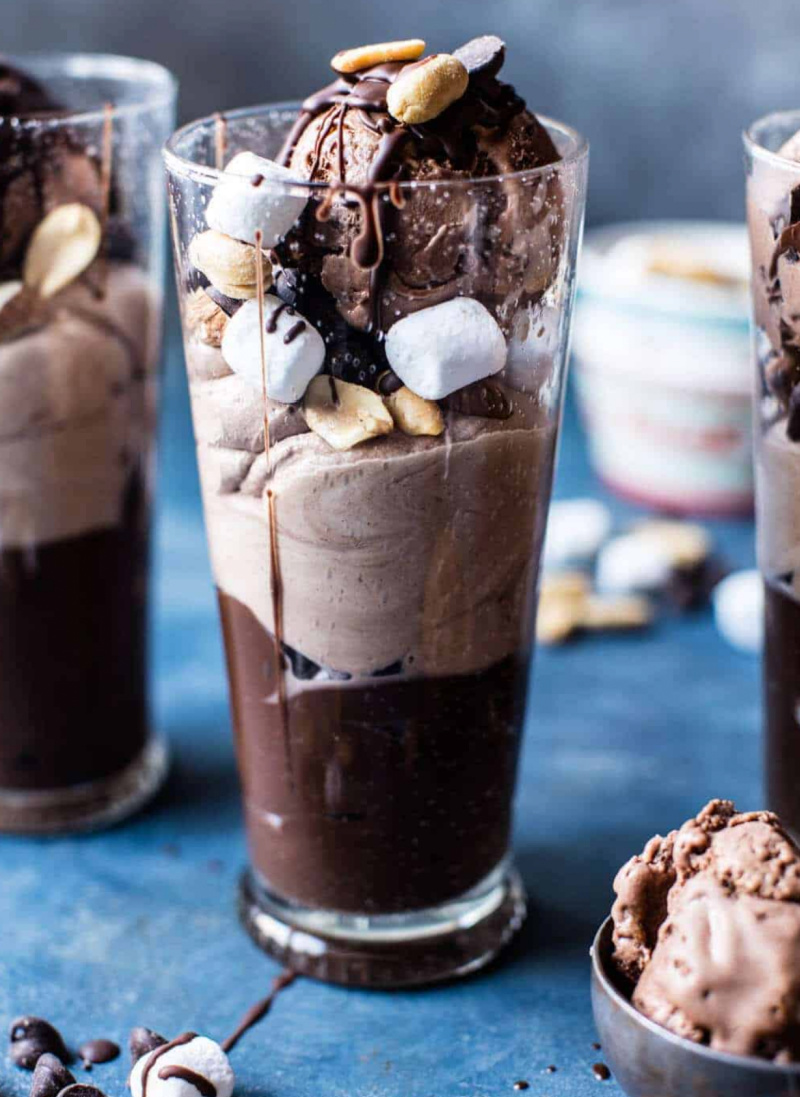 In these Rocky Road Pudding Parfaits, there are layers of pudding, roasted almonds, peanuts, mini marshmallows, semi-sweet chocolate chips and pretzels.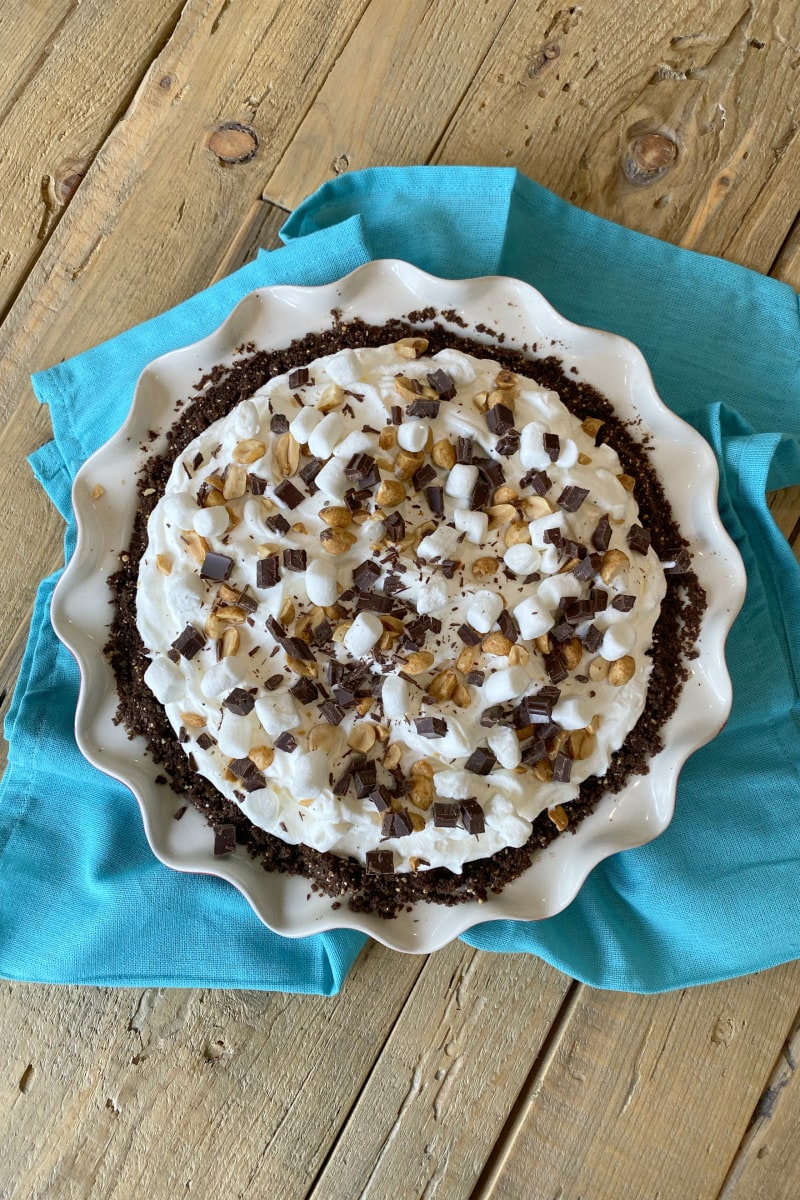 Rocky Road Pie has a rich chocolate filling that's dotted with chocolate chunks and mini marshmallows. It's piled into a chocolate graham cracker- peanut crust. And it's topped with whipped cream, chocolate, nuts and more marshmallows. What a pretty pie!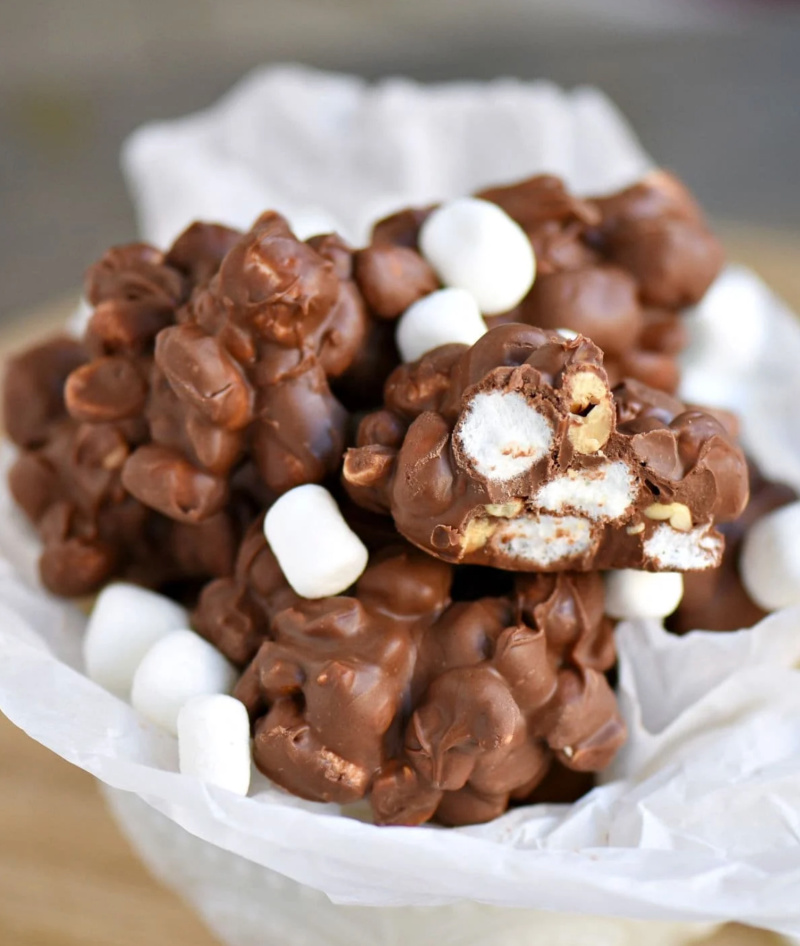 Rocky Road Peanut Clusters are made in the microwave and use only 5 ingredients.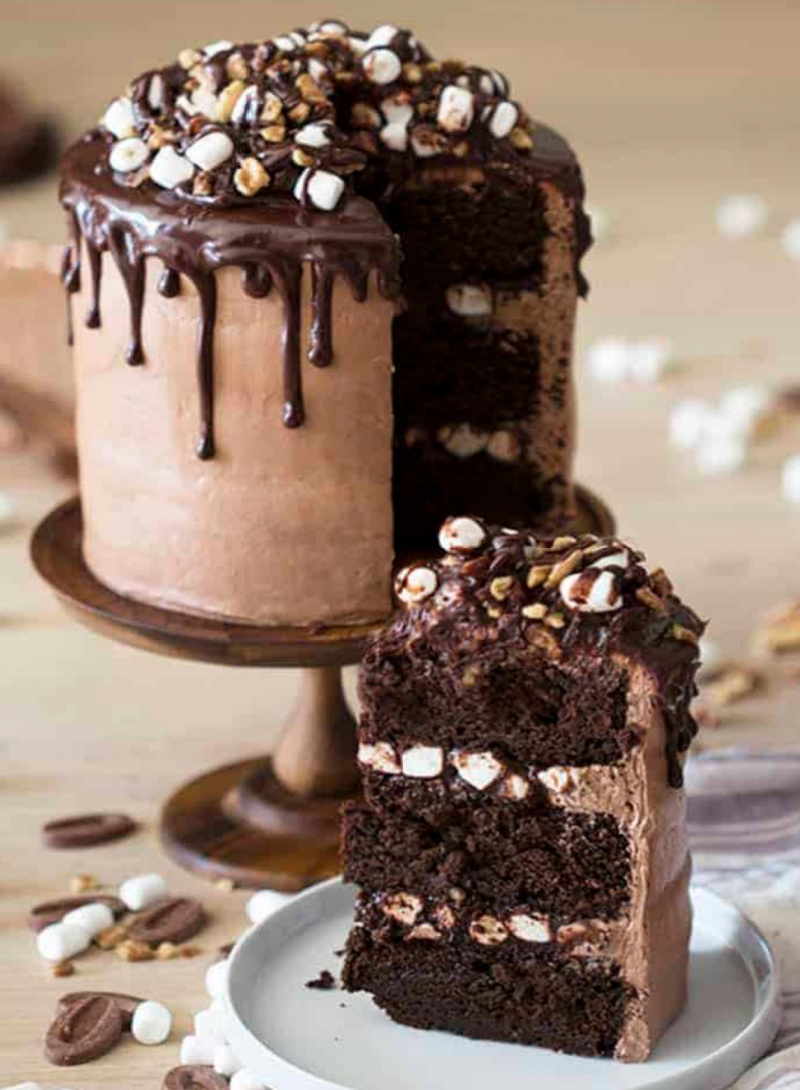 This is the most decadent Chocolate Rocky Road Cake possible! Chocolate covered marshmallows and nuts fill and top this decadent and moist chocolate cake.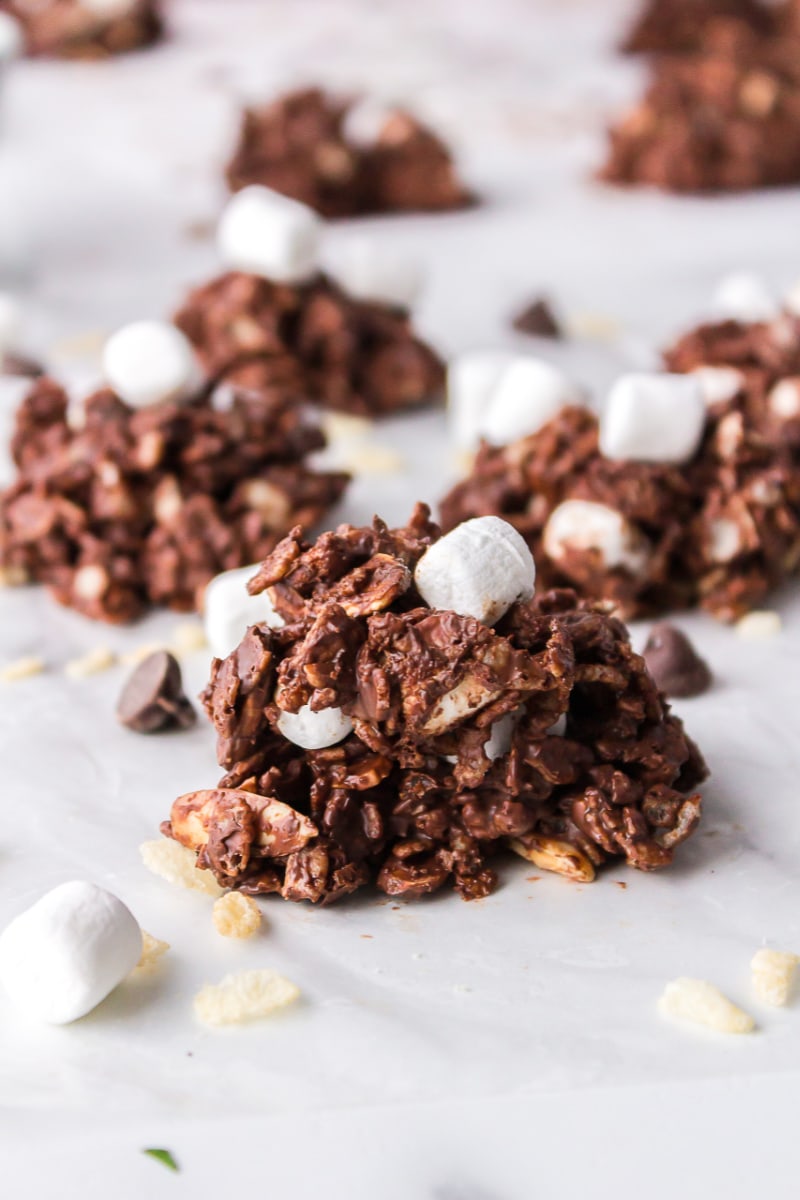 Rocky Road No Bake Cookies are made with just five ingredients. They have the typical, classic rocky road flavors of chocolate, marshmallow and almond.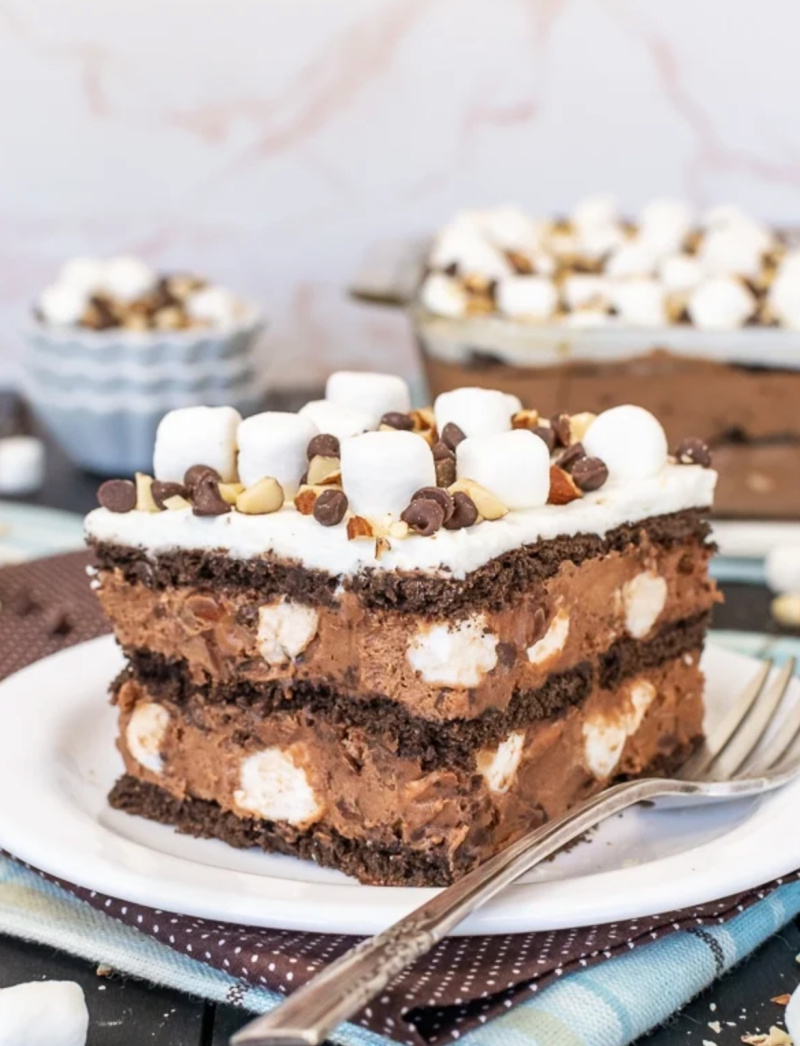 This Rocky Road Icebox Cake has layers of chocolate graham crackers and chocolate filling that come together in minutes. It's such an easy and delicious summer treat.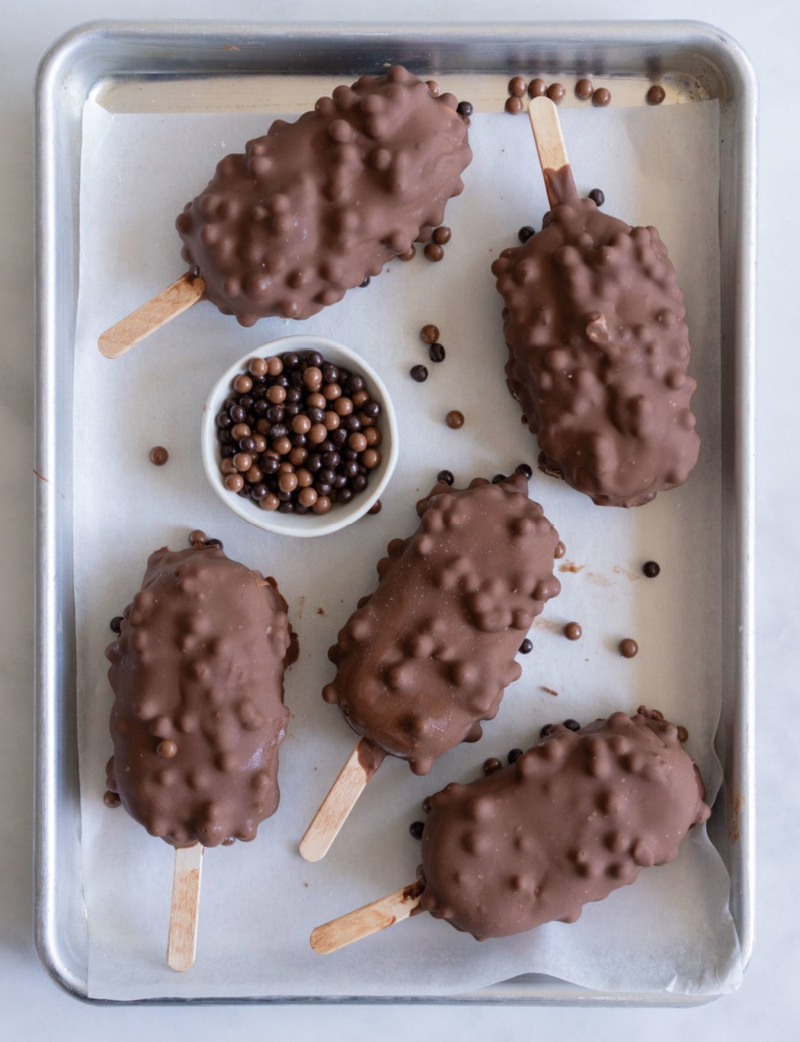 All of the great flavors of rocky road are in these Rocky Road Ice Cream Pops!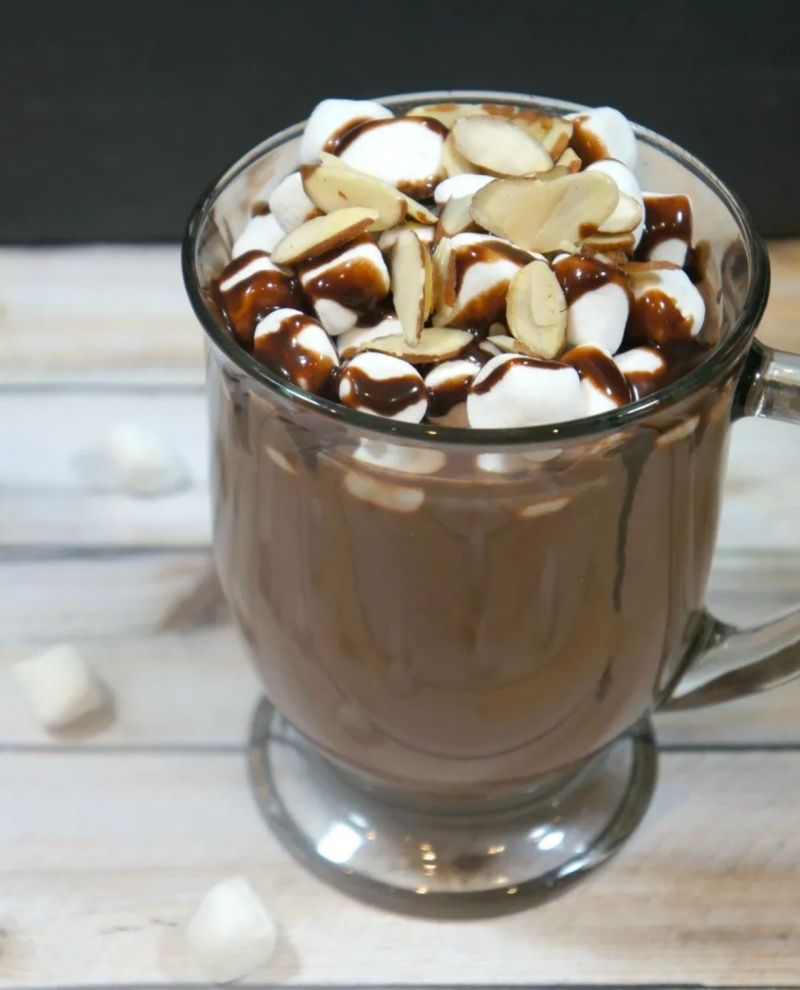 This Gourmet Rocky Road Hot Chocolate recipe is so easy to make and absolutely delicious! If you love a good hot cocoa recipe, try this one at home.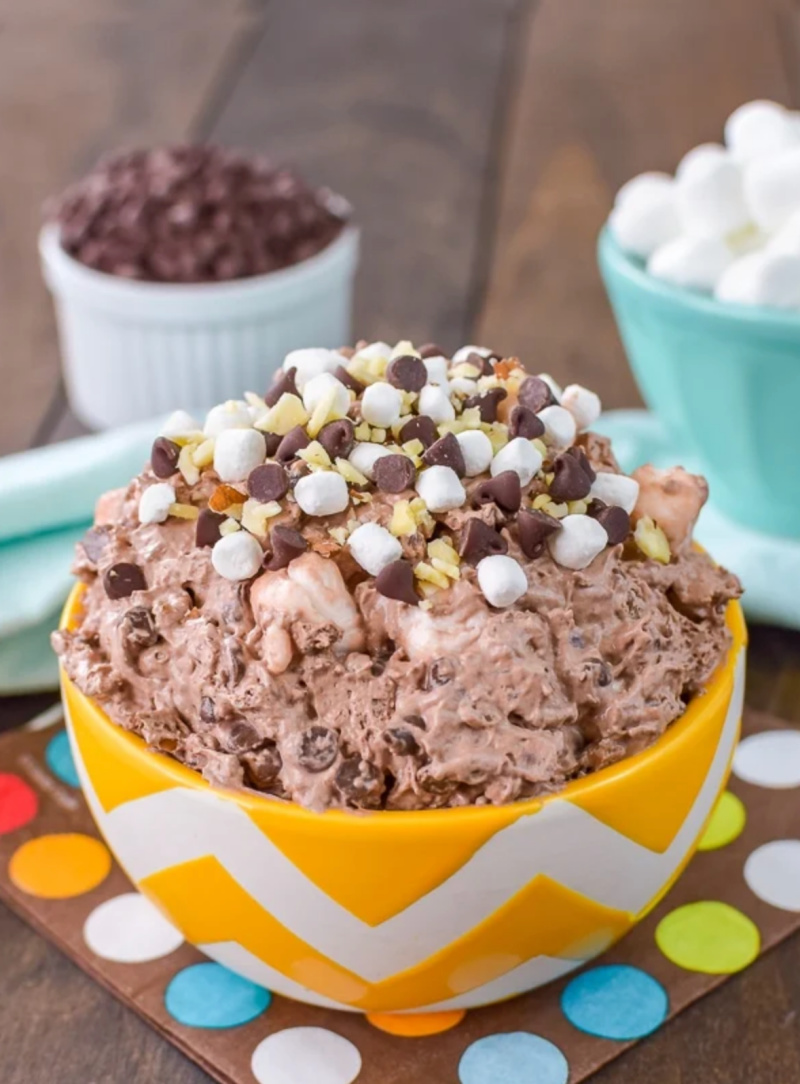 Rocky Road Fluff Salad is an easy chocolate mousse loaded with nuts, chocolate, and marshmallow goodness. If you love Rocky Road ice cream, you will love this pudding dessert.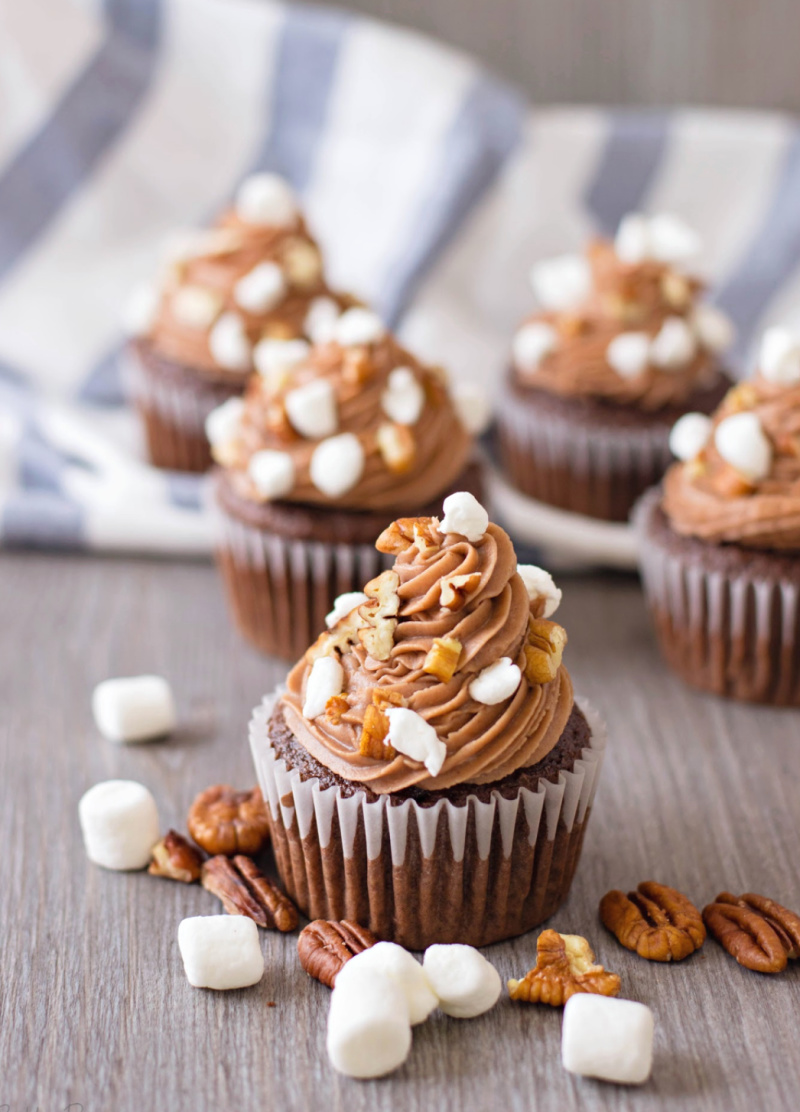 This Rocky Road Cupcakes recipe is loaded with rich chocolate, gooey marshmallow and crunchy pecans for a dessert that is out of this world!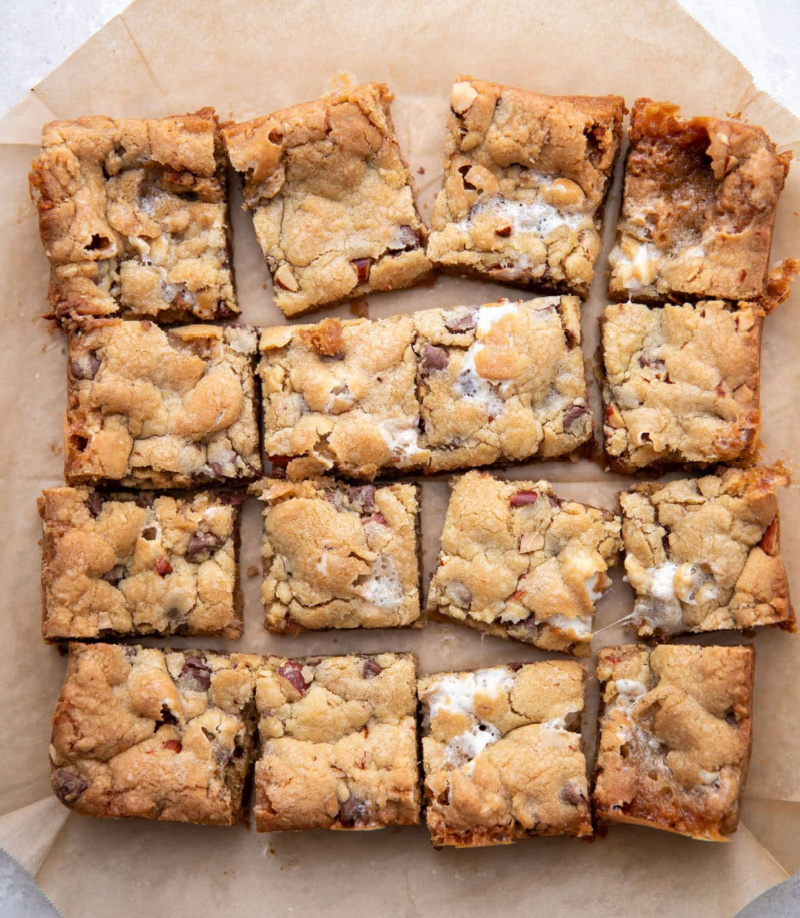 This recipe for Rocky Road Cookie Bars is the perfect answer to your rocky road craving! It has all of your favorite rocky road flavors: chocolate chips, marshmallows and almonds.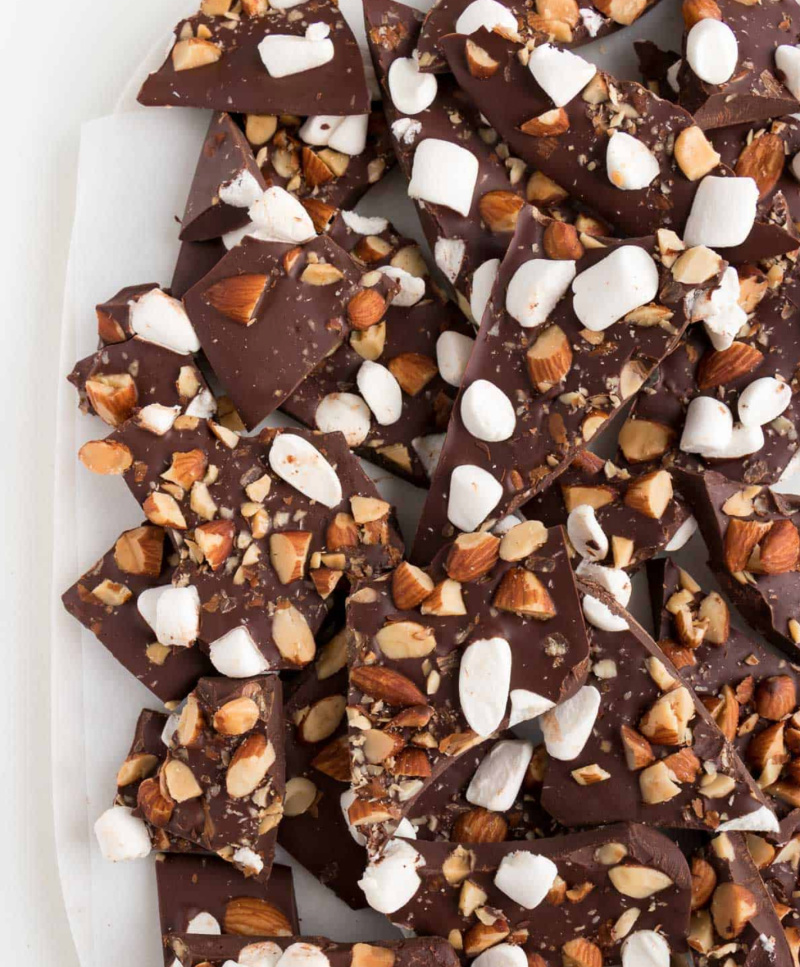 This Rocky Road Chocolate Bark contains creamy chocolate, roasted almonds, and mini marshmallows.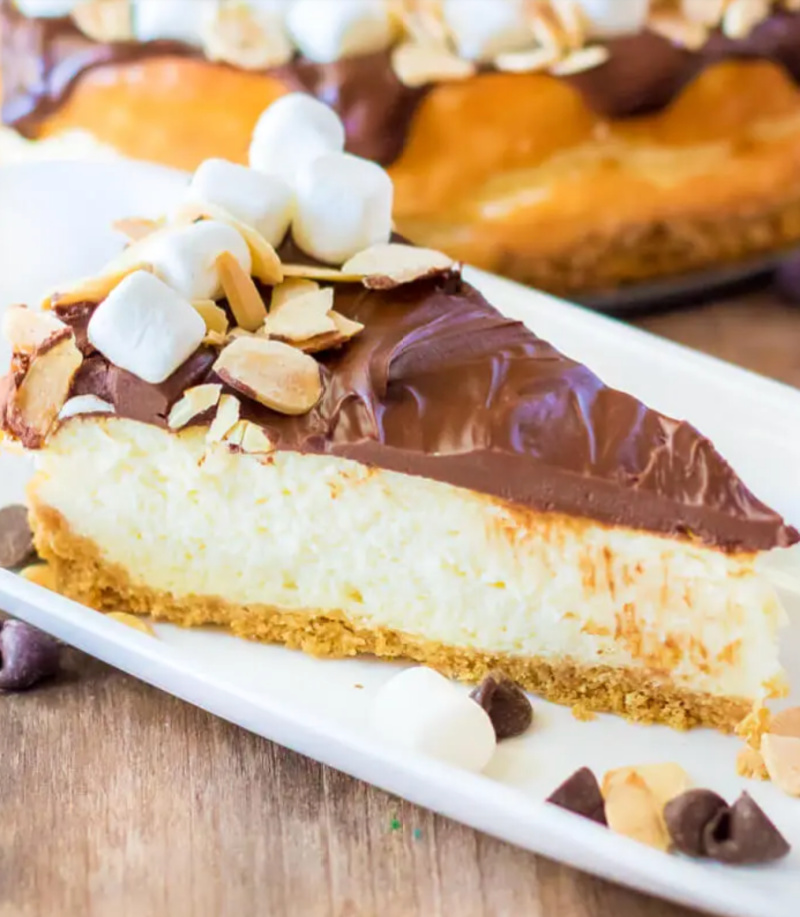 Rocky Road Cheesecake, made with a delicious chocolate topping, marshmallows, and toasted almonds, is a fun twist on cheesecake!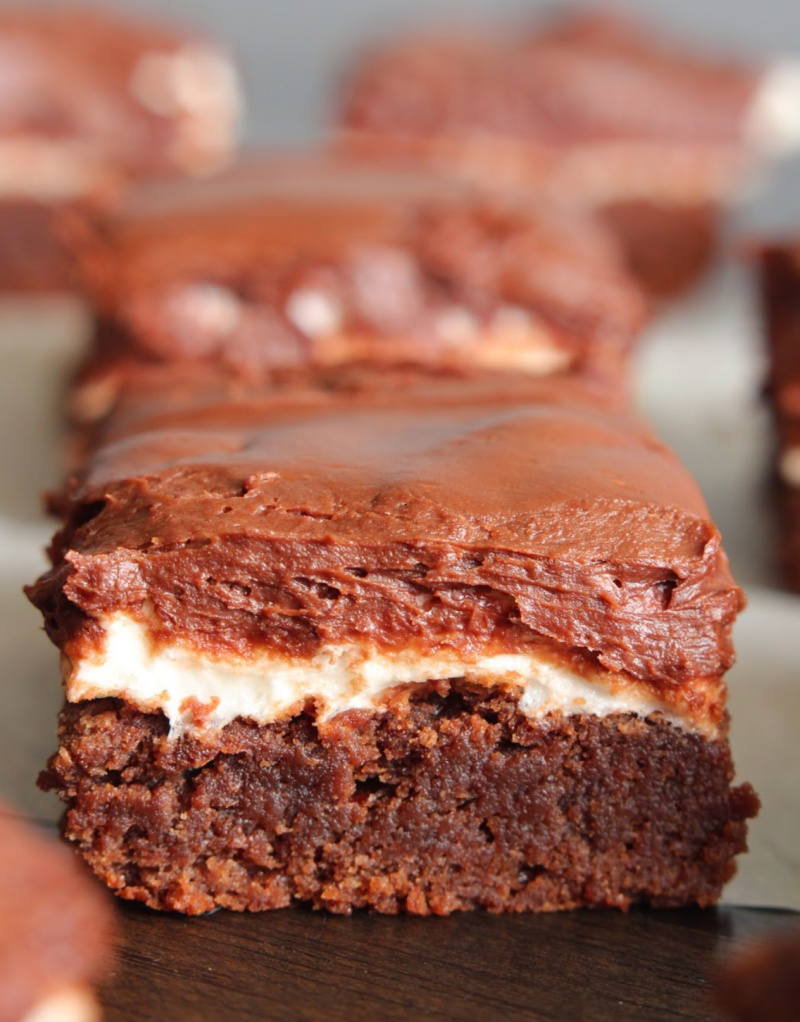 Rocky Road Brownies are so soft and chewy. The marshmallow layer is sticky and amazing and the chocolate icing is rich and creamy.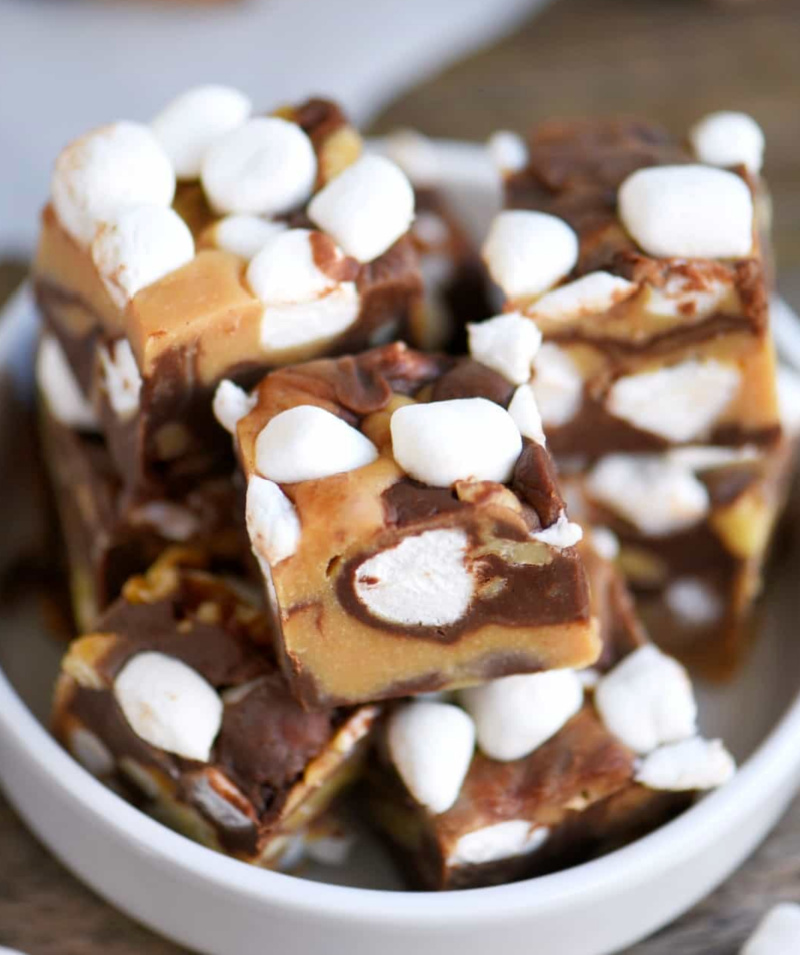 This easy, 5 Minute Peanut Butter Rocky Road Fudge is guaranteed to be a hit with the peanut butter lovers in your life! So easy to make and no candy thermometer needed!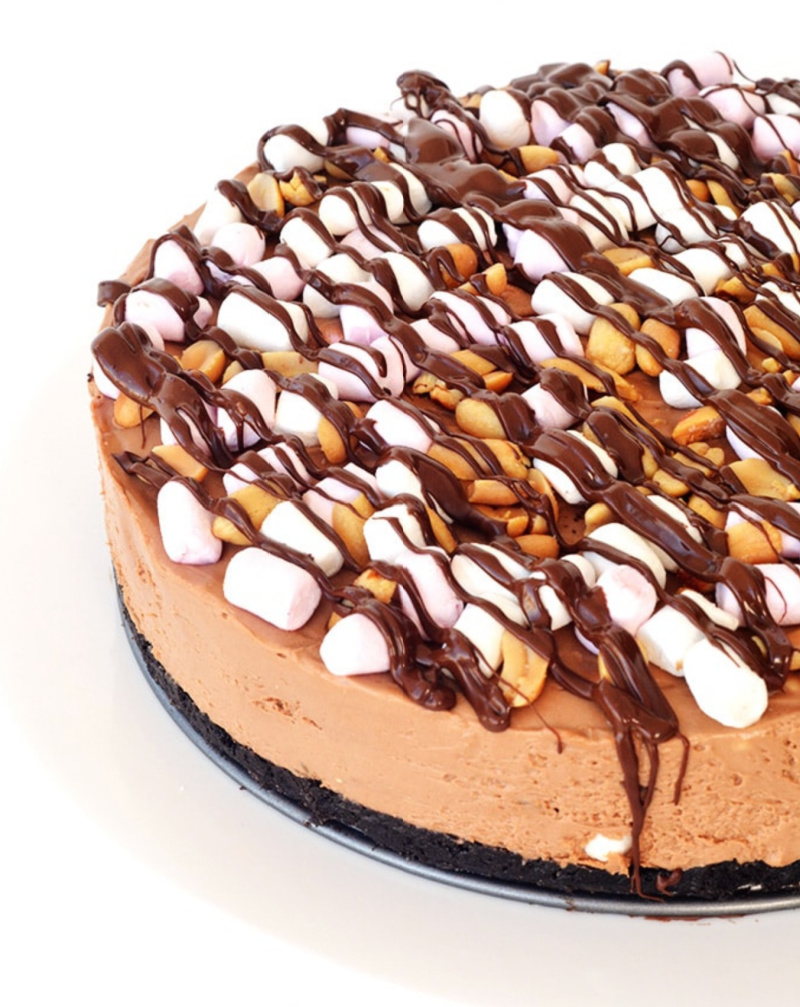 Chocolate Rocky Road Cheesecake is a creamy no bake chocolate cheesecake filled to the brim with roasted peanuts and mini marshmallows, all on top of a sweet Oreo cookie crust!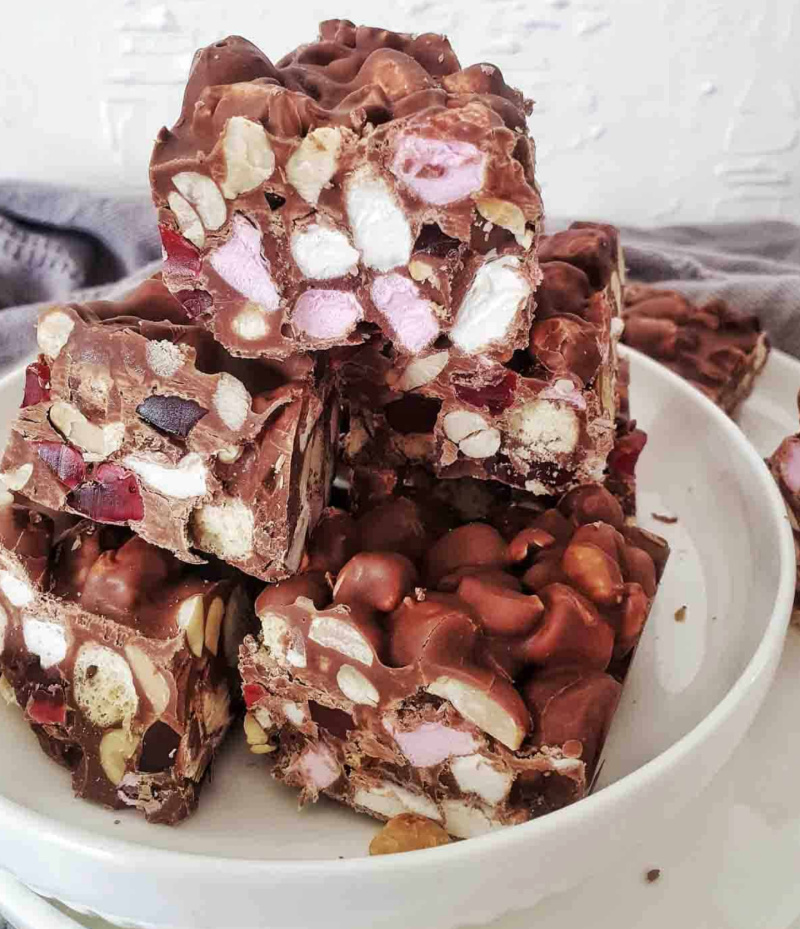 Malteser Rocky Road is quick and easy! With soft marshmallows and crunchy Malteser's this rocky road is an all time favorite!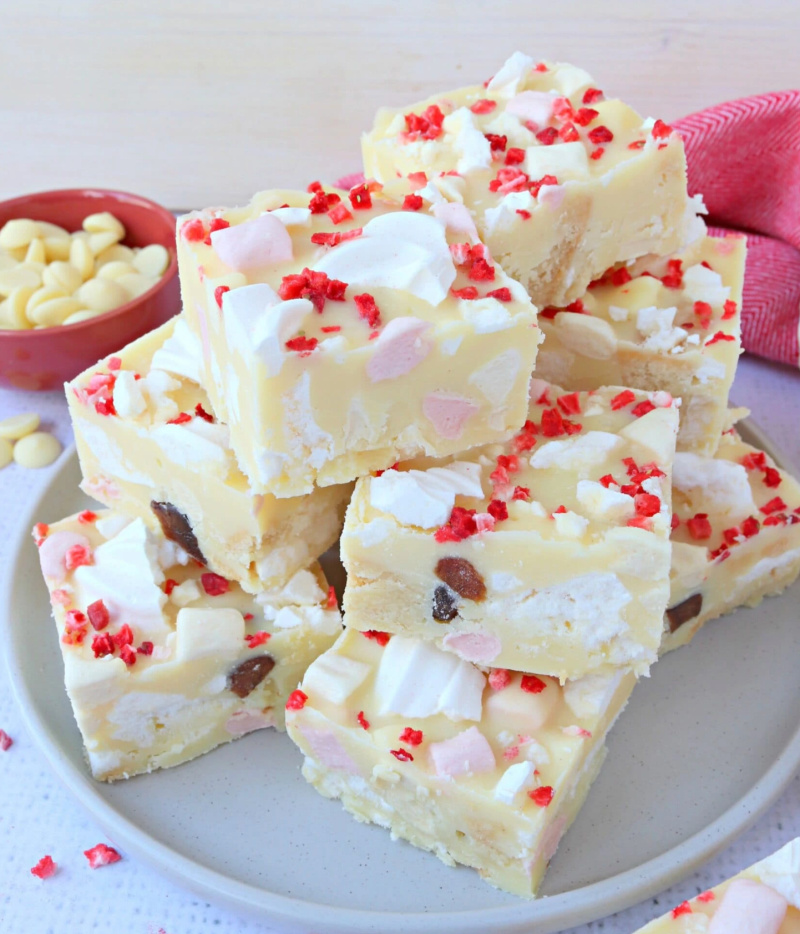 Eton Mess Rocky Road is packed this rocky road with shortbread biscuits, meringue pieces, mini marshmallows, dried strawberries and also some freeze dried strawberries on top.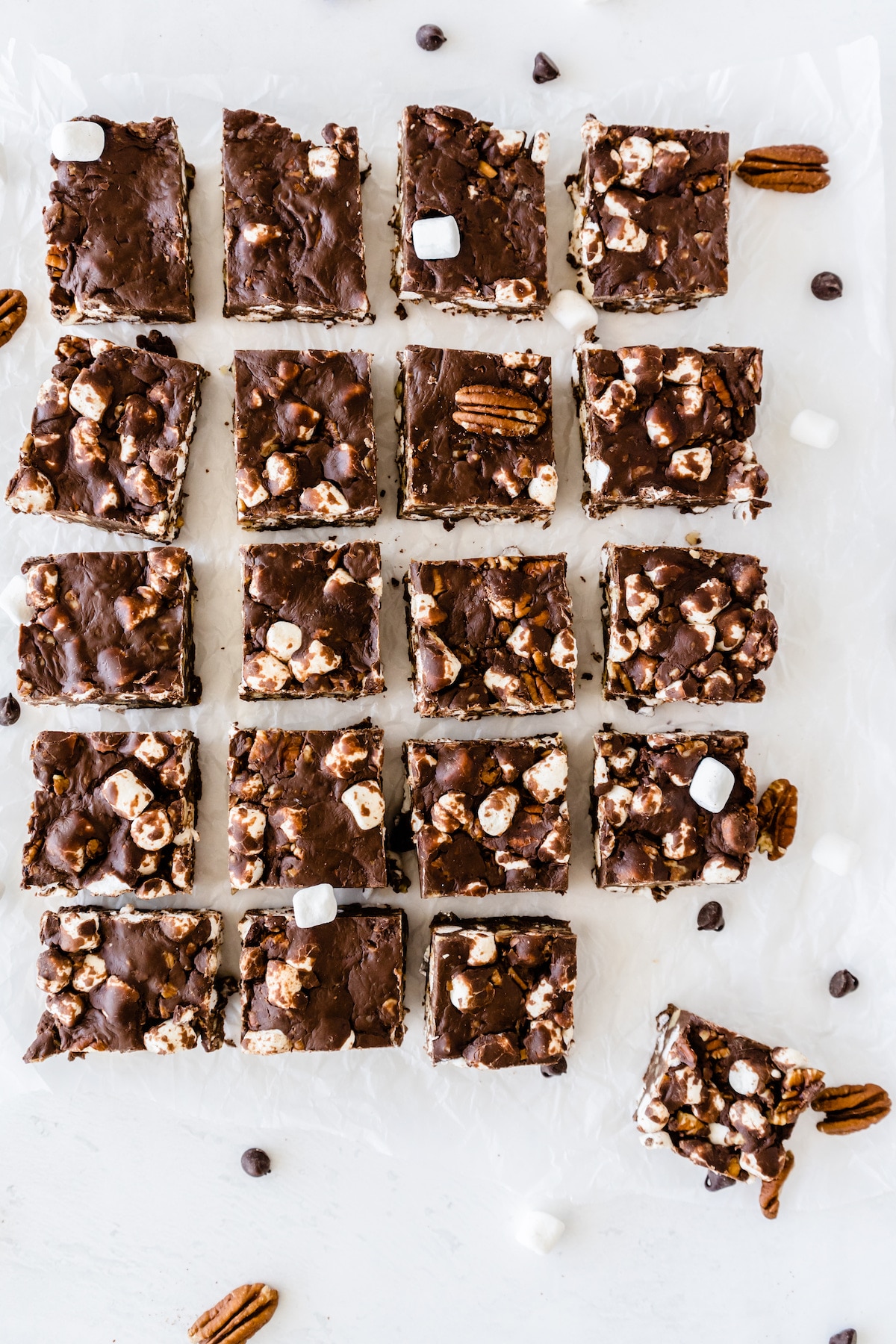 Easy no bake Rocky Road Bars are loaded with chocolate, pecans, and marshmallows!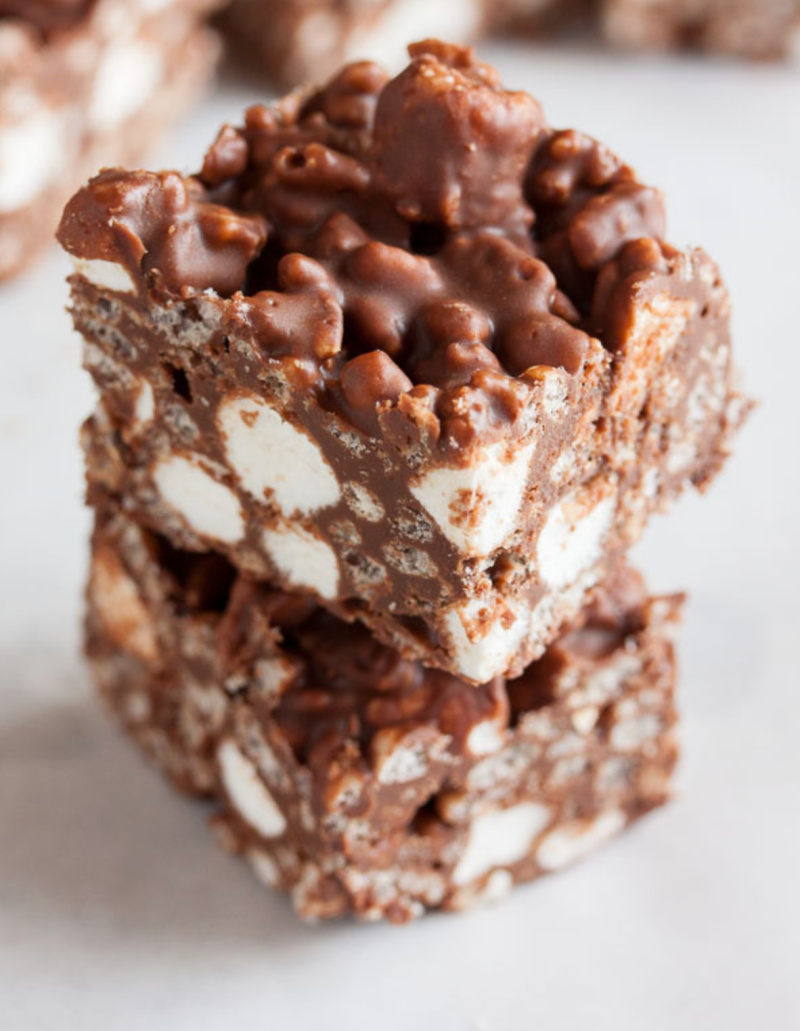 Crispy Rocky Road Bars are a crispy twist on classic rocky road.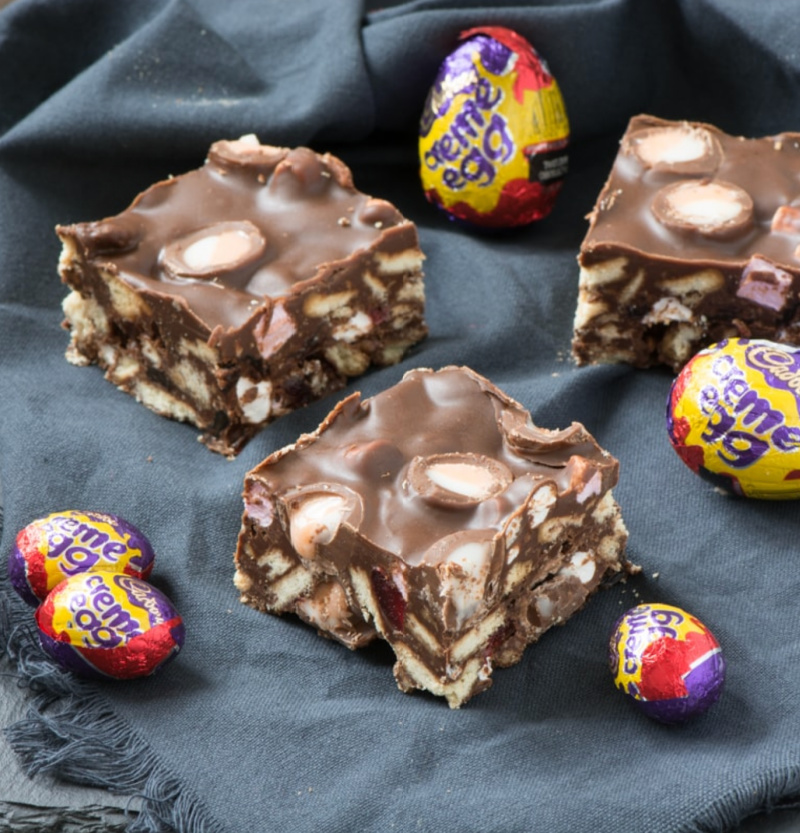 Creme Egg Rocky Road is the Easter version of an easy rocky road recipe featuring Cadbury creme eggs.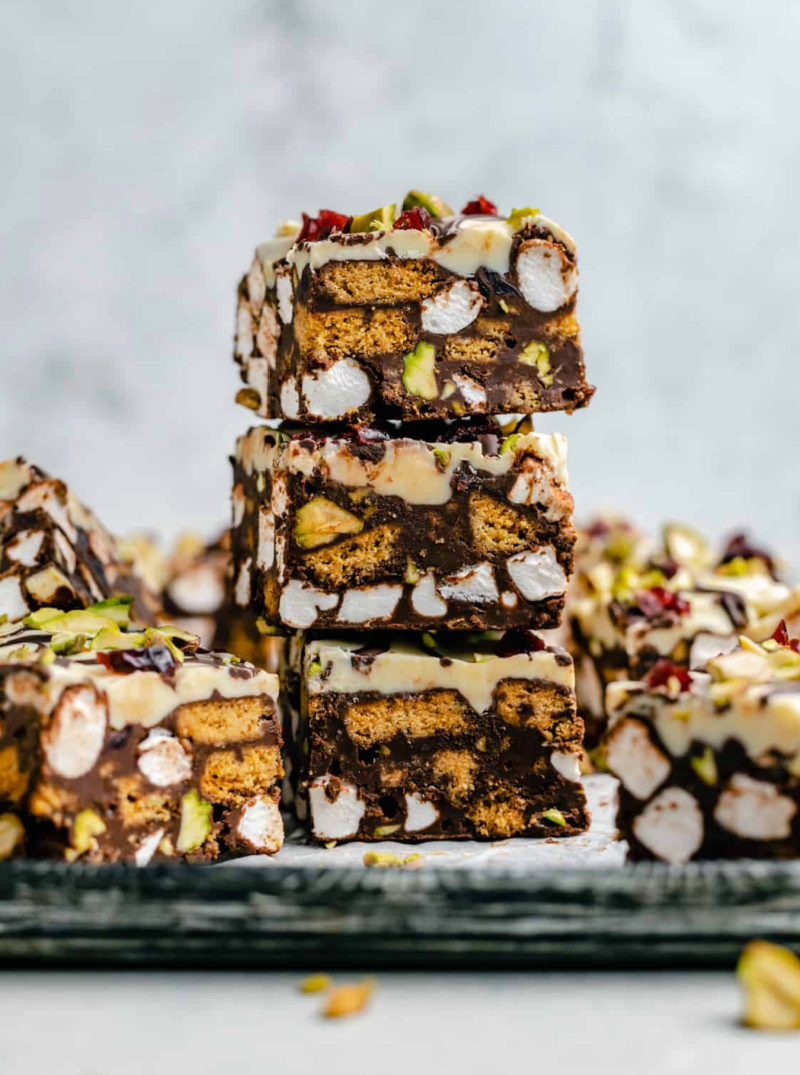 This Christmas Rocky Road is loaded with dark and white chocolate, ginger nuts, mini marshmallows and a few festive add-ins. These make the perfect edible gift for the festive season!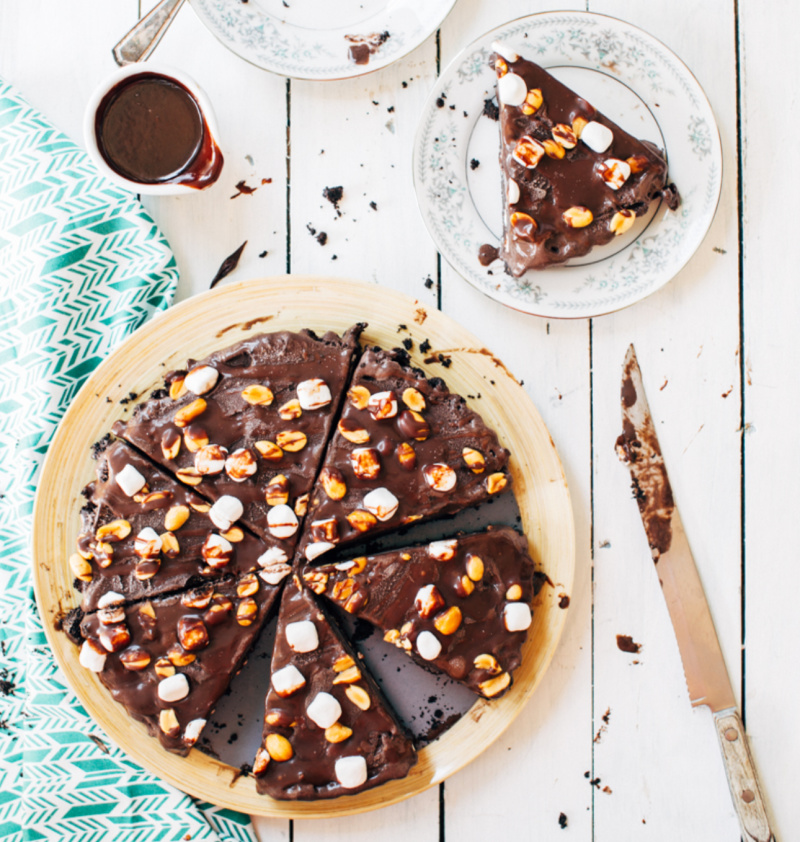 Chocolate Rocky Road Ice Cream Cake has a crushed chocolate wafer crust, a layer of gooey fudge sauce, salty peanuts, and chewy frozen marshmallows, topped with chocolate ice cream.. and then more fudge, peanuts and marshmallows.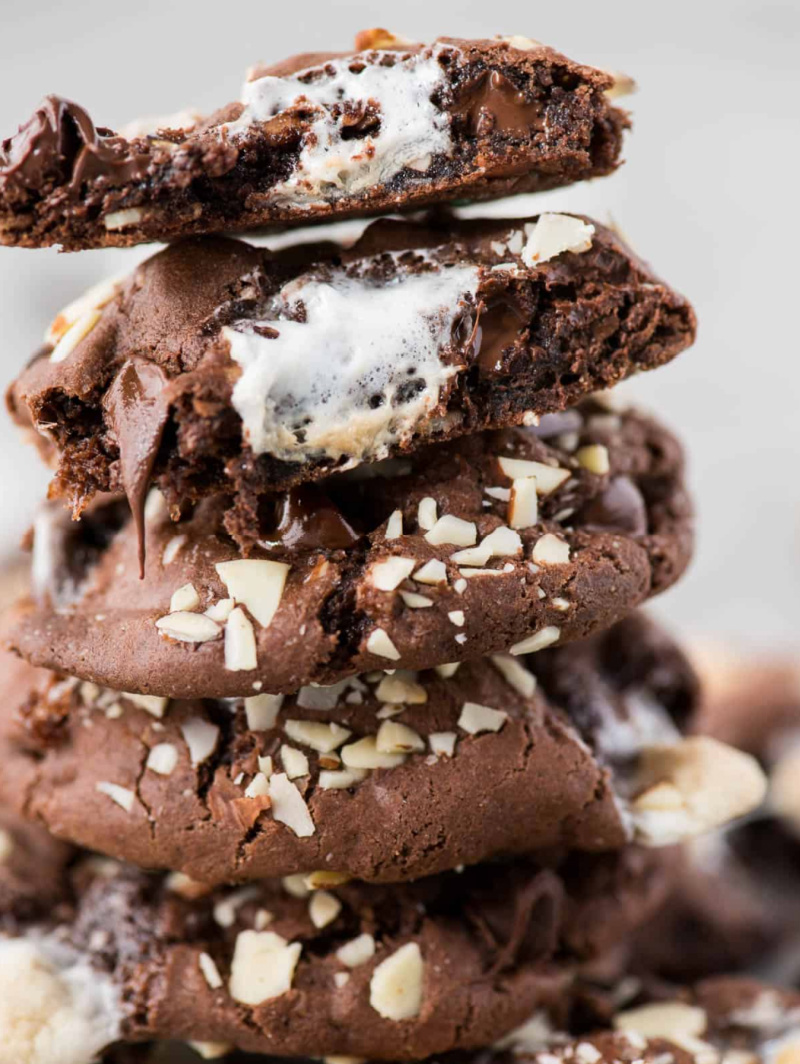 Soft and chewy Rocky Road Cookies will hit the spot and remind you of your favorite rocky road ice cream. These chocolate cookies are packed with almonds, chocolate chips and marshmallows!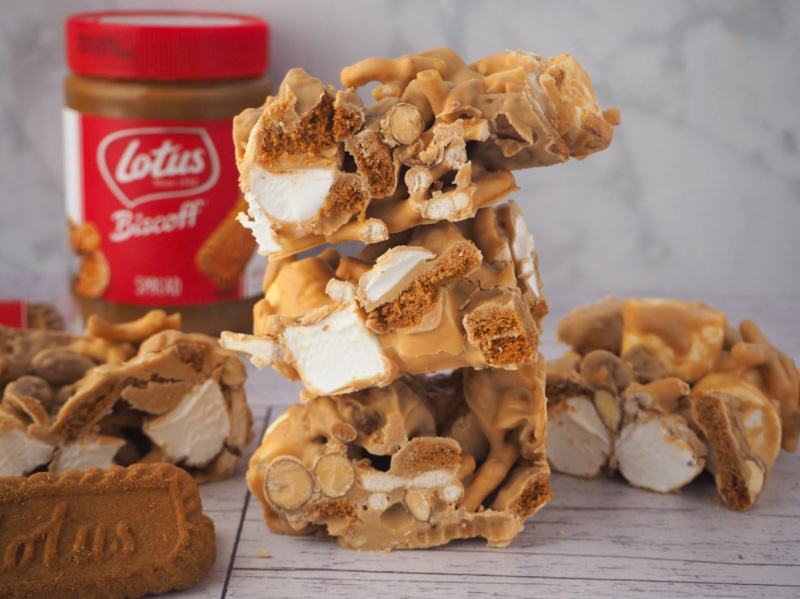 This Biscoff Rocky Road has all the good stuff: crunchy Biscoff pieces, soft pillowy marshmallows and crunchy salty goodness, all smothered in Biscoffy chocolate.
Fun Facts About Rocky Road:
The rocky road candy bar was invented in 1918.
Almonds and walnuts were the original nuts used for rocky road.
The most popular version of rocky road is ice cream, followed by slabs of fudge.
In 1983, Weird Al Yankovic released a song called, "I Love Rocky Road." This was a parody of Joan Jett's song, "I Love Rock n' Roll."