This collection of the 25 Best Ice Cream Cake Recipes is perfect for when you need to make an ice cream cake for a special celebration! An ice cream cake is a cake assembled with ice cream and already-baked cake. There are so many different varieties to choose from in this bunch.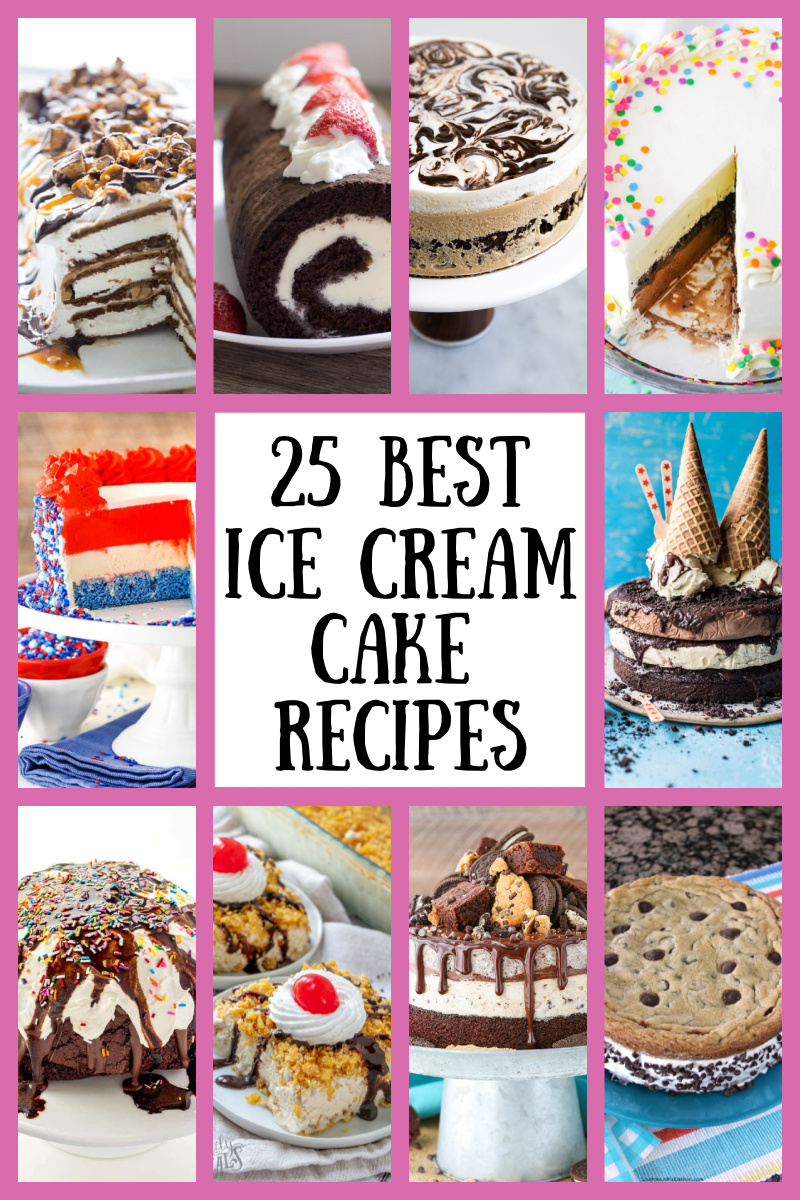 June 27th is National Ice Cream Cake Day. Celebrate by choosing one of these 25 Best Ice Cream Cake Recipes to make at home. Or visit your favorite establishment and order ice cream cake for dessert! Share your indulgence on social media by using the hashtag #NationalIceCreamCakeDay, #IceCreamCakeDay and #RecipesForHolidays. Be sure to check out my June Food Holidays page so you can follow all of the food holidays for the month of June!
The History of Ice Cream Cake:
Historians say that ice cream cakes date back as early as the 1600's. They were originally made with biscuits and cream. In the 1700's, wealthy English folks were the ones who were able to enjoy this frozen confection.
Recipes for ice cream cakes have been found from the 1870's. These recipes were typically made using a decorative mold lined with cake or biscuits. They were referred to as "bombes."
Ice cream cakes became popular after the first World War- when refrigerators and freezers became more widely available.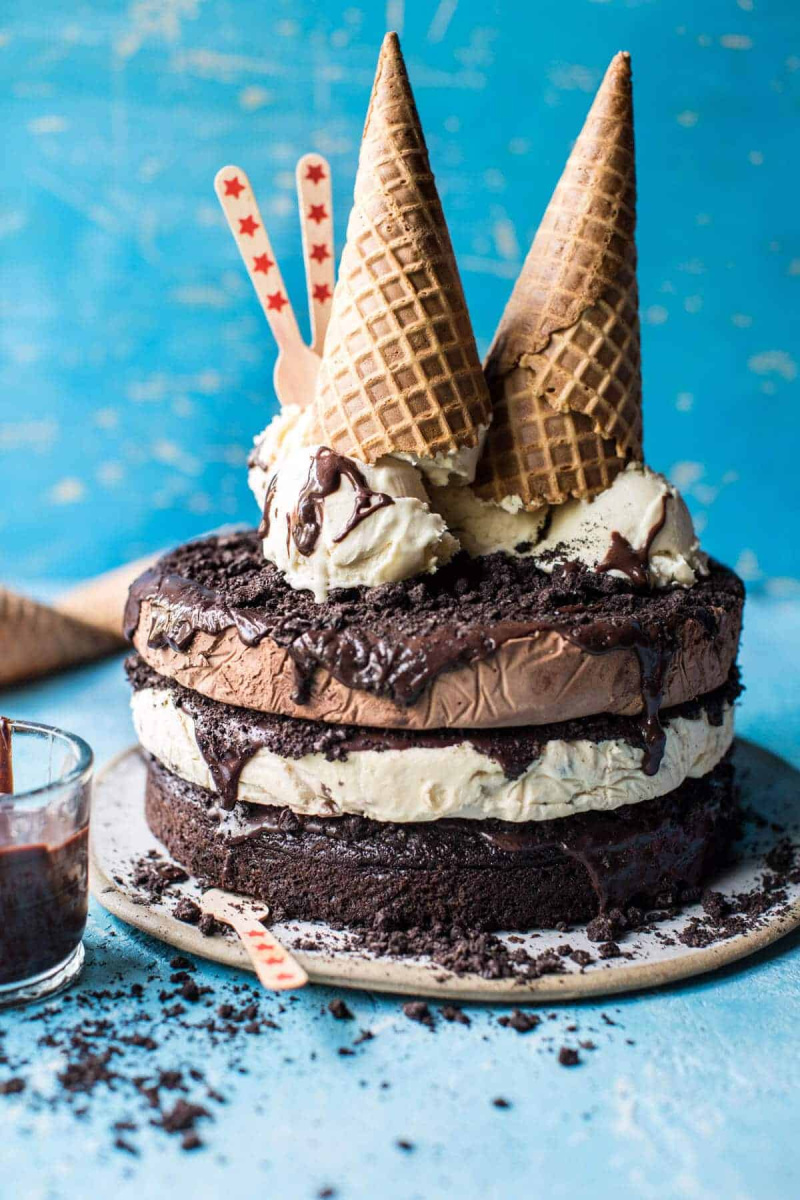 Triple Layer Chocolate Fudge Ice Cream Cake by Half Baked Harvest. This is chocolate cake layered with hot fudge sauce, cookie crumbs, and vanilla and chocolate ice cream.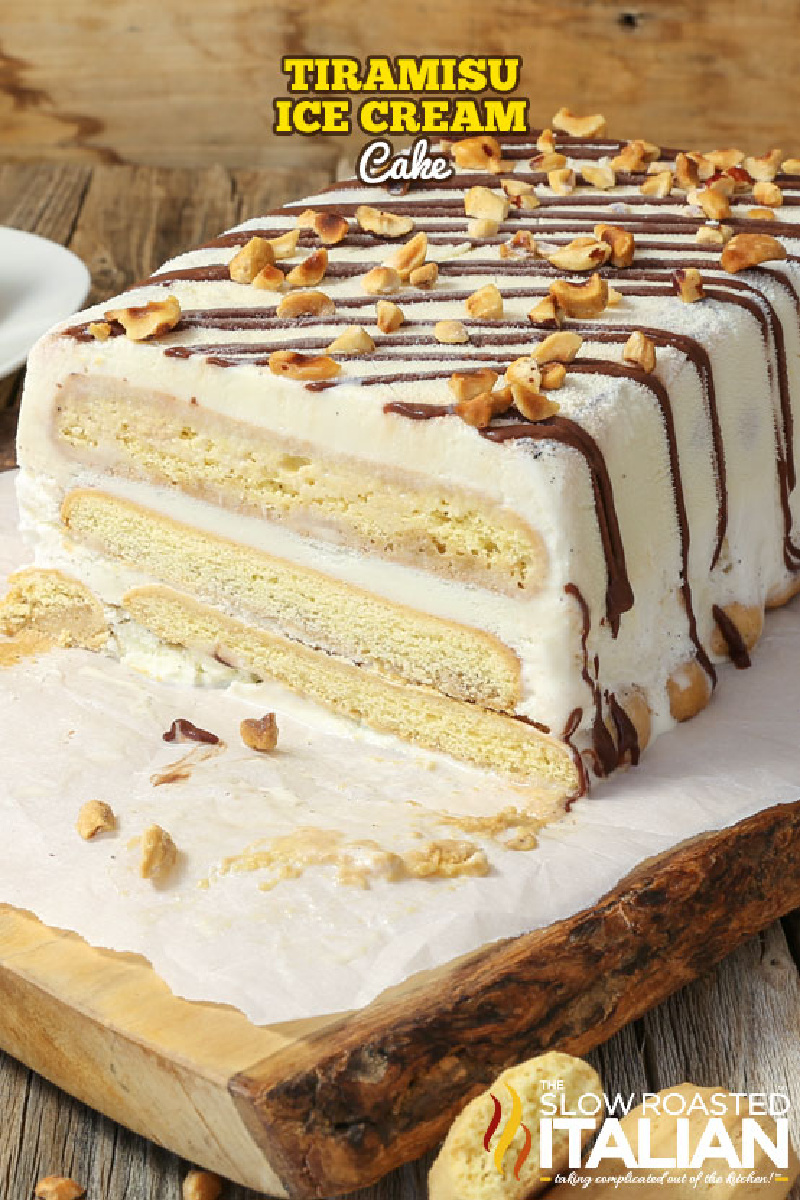 Tiramisu Ice Cream Cake by The Slow Roasted Italian. This is an unforgettable transformation of the classic Italian dessert into a simple recipe for a glorious ice cream cake unlike anything you have had before.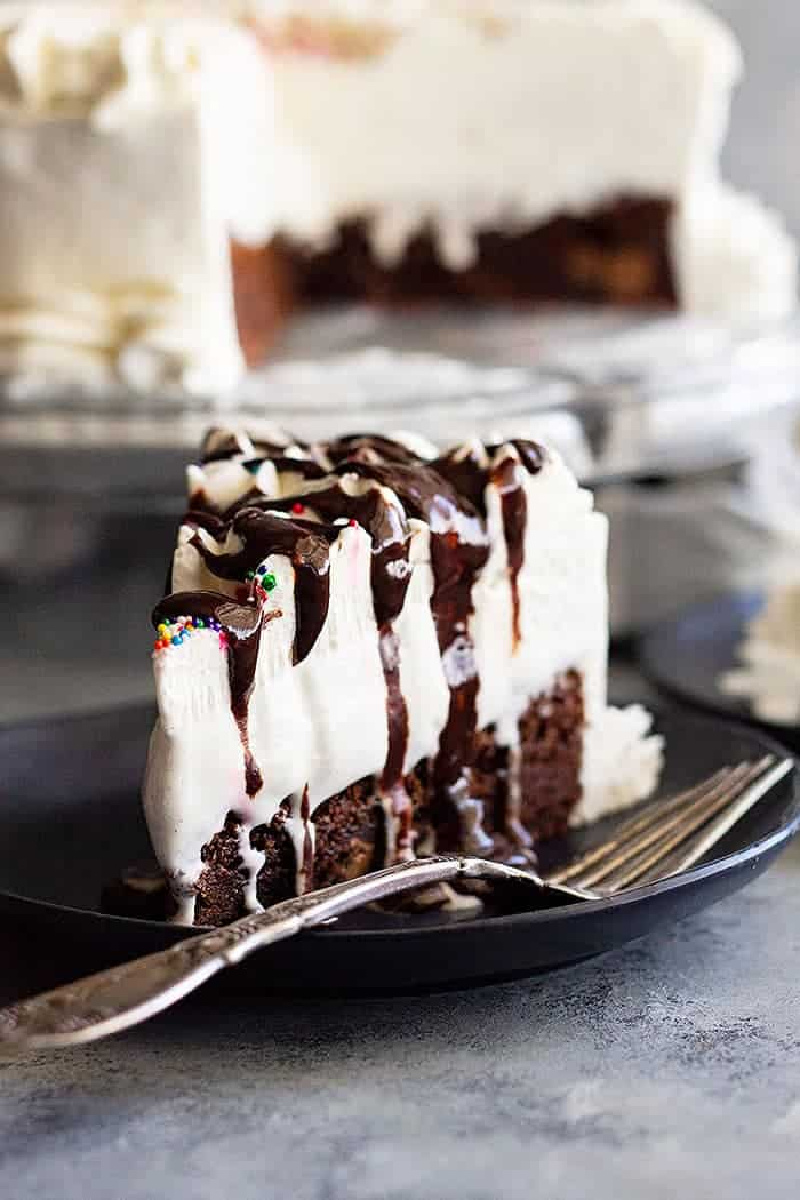 Brownie Ice Cream Cake by Countryside Cravings. It has a chewy brownie bottom layer, hot fudge, vanilla ice cream, and a homemade whipped cream topping!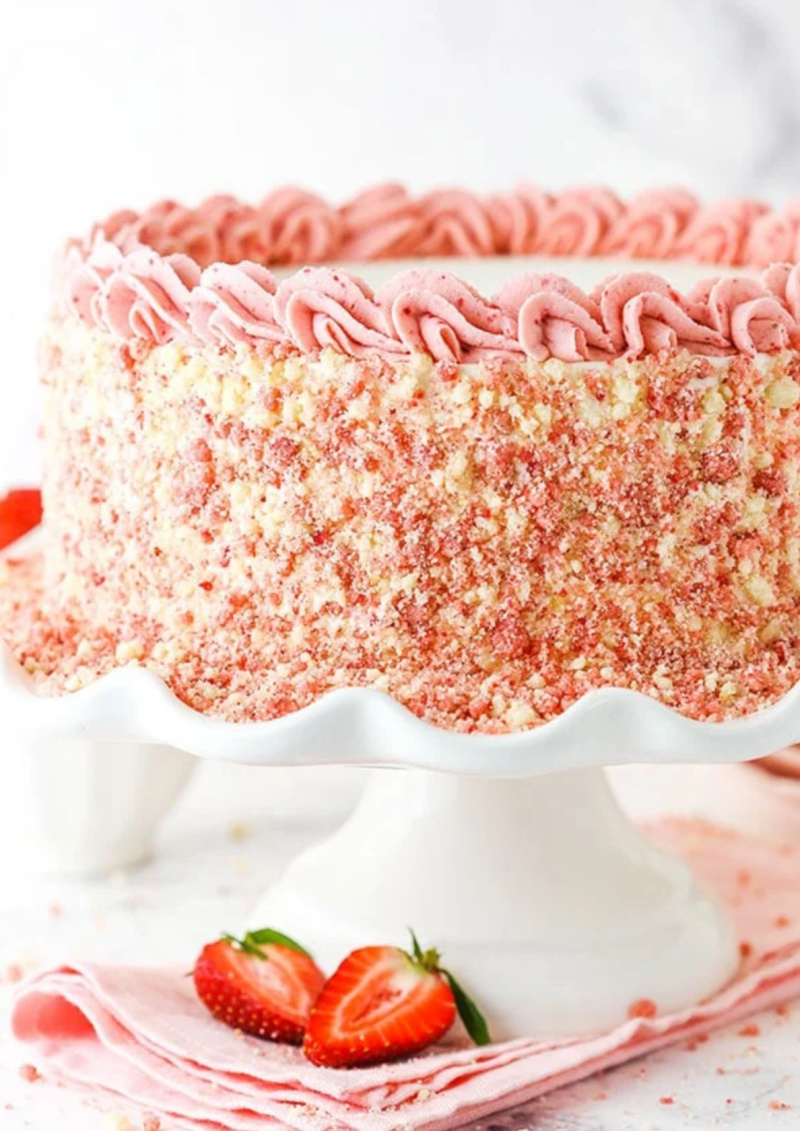 Strawberry Crunch Ice Cream Cake by Life, Love and Sugar. This cake is made with strawberry and vanilla ice cream, plus strawberry shortcake crunchies!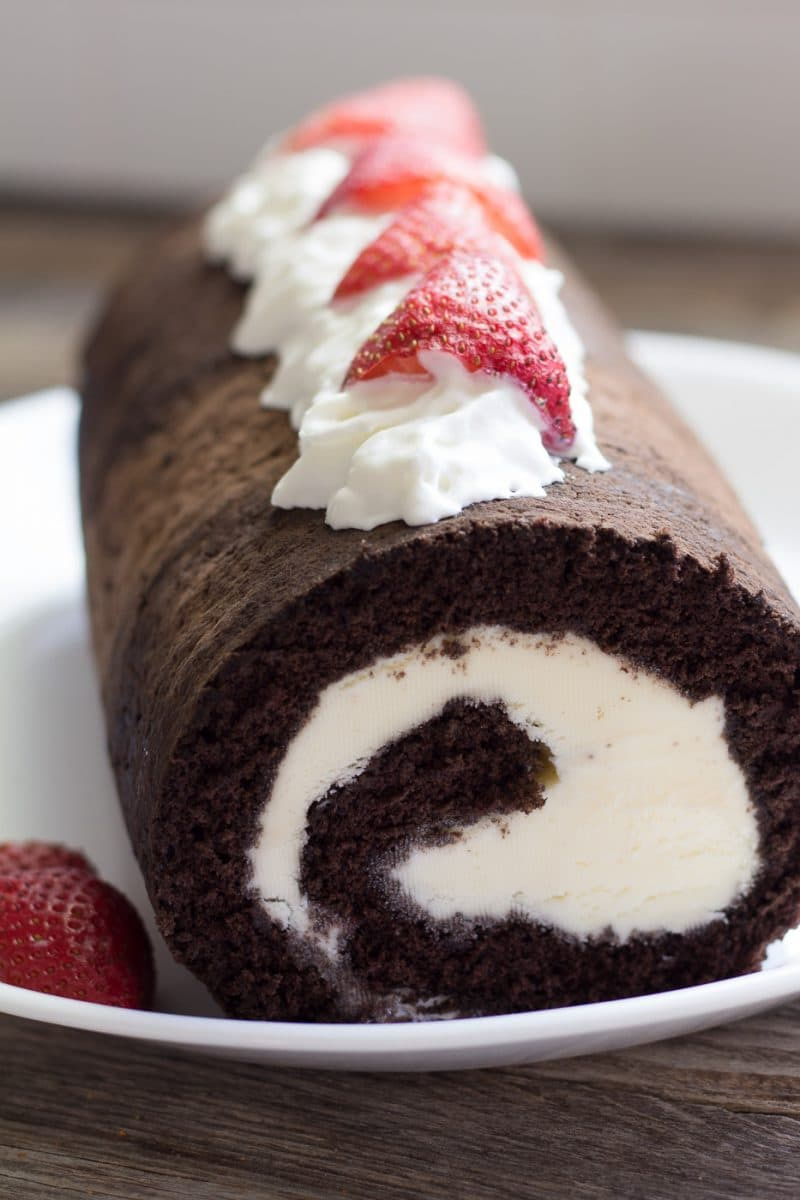 Chocolate Ice Cream Cake Roll by Pear Tree Kitchen. This is chocolate cake filled with ice cream. It tastes like vintage NewlyWed Ice Cream Cake of days gone by.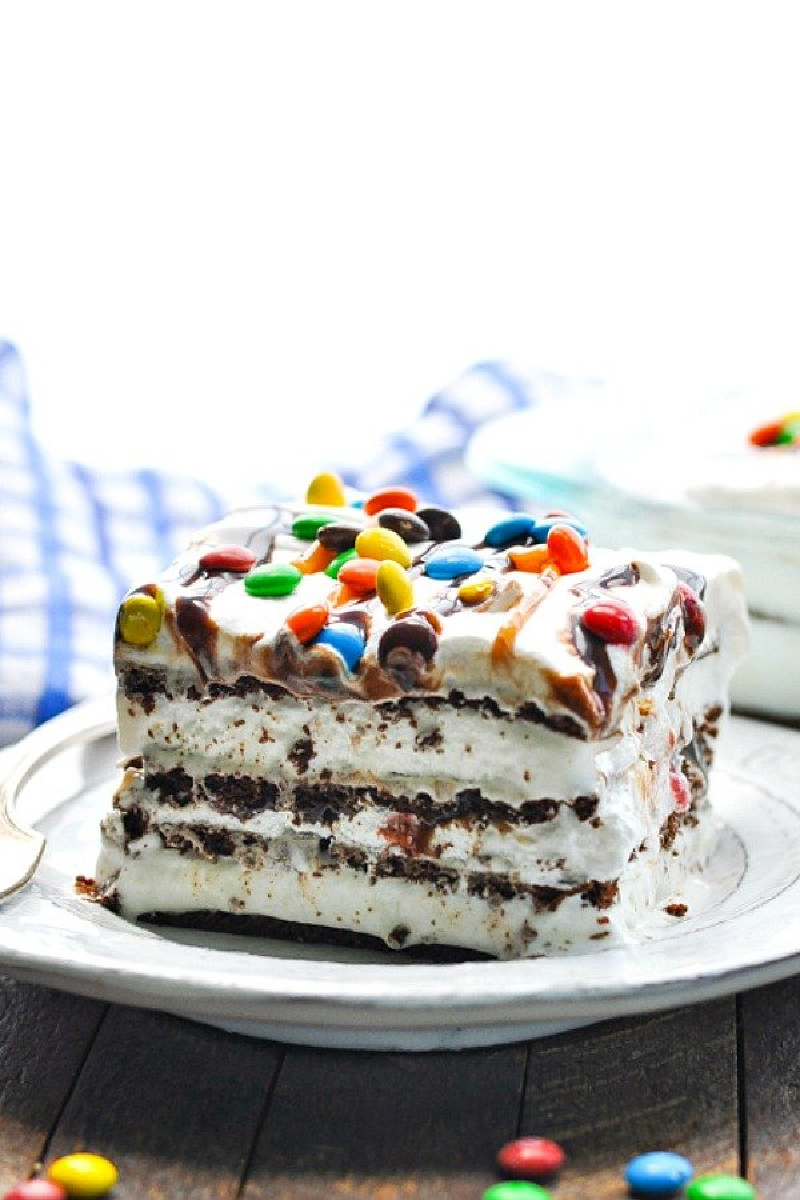 Ice Cream Sandwich Cake by The Seasoned Mom. This cake is a no-bake treat that's ready with just 10 minutes of prep.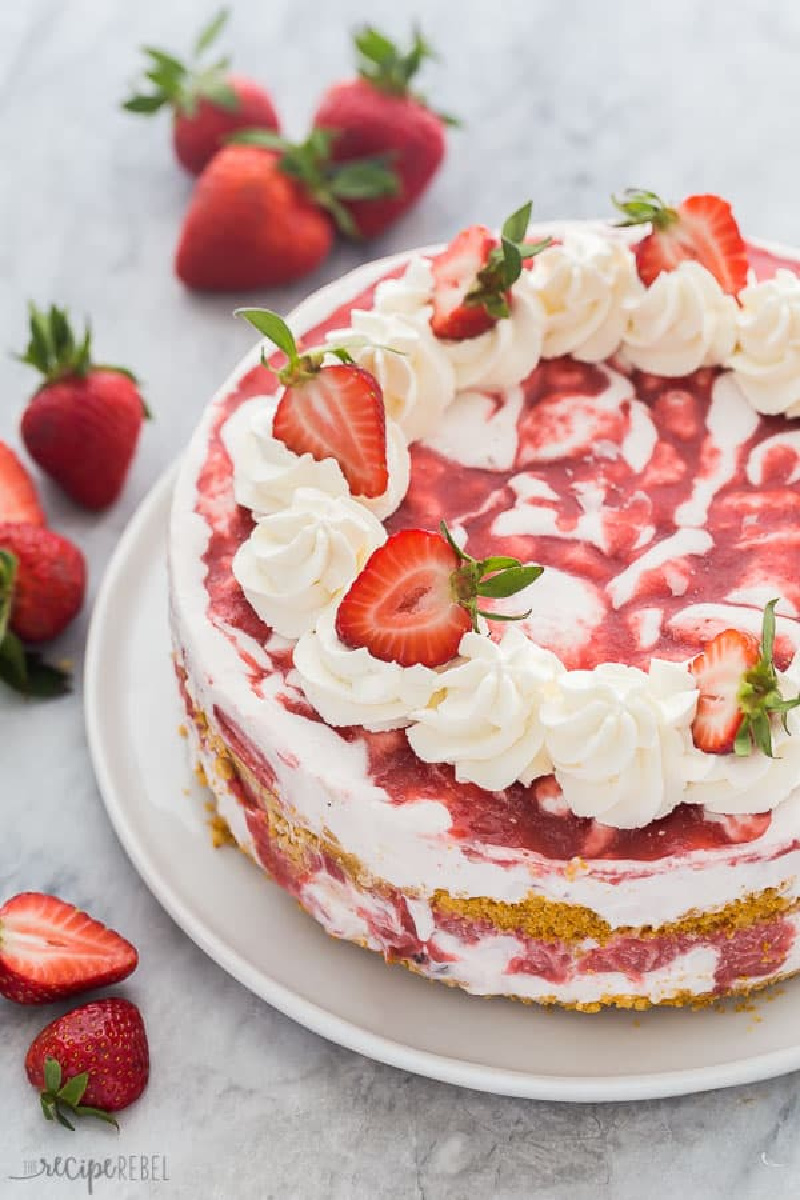 Strawberry Shortcake Ice Cream Cake by The Recipe Rebel. This is a no bake cake made with crushed shortbread cookies, strawberry shortcake ice cream, and homemade strawberry sauce.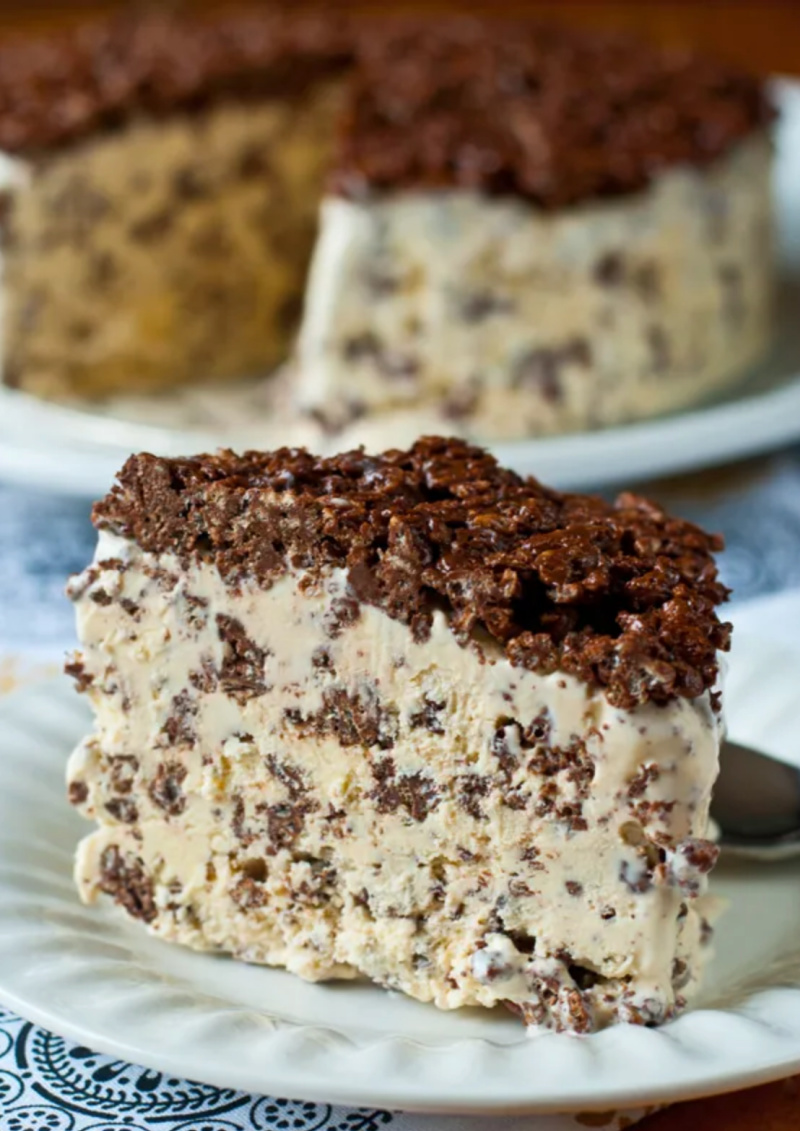 Nutella Crunch Ice Cream Cake by A Family Feast. Three simple ingredients make up this Nutella crunch ice cream cake – Nutella, Rice Krispies cereal, and vanilla ice cream – all combined together into one fantastic, and super easy-to-make dessert!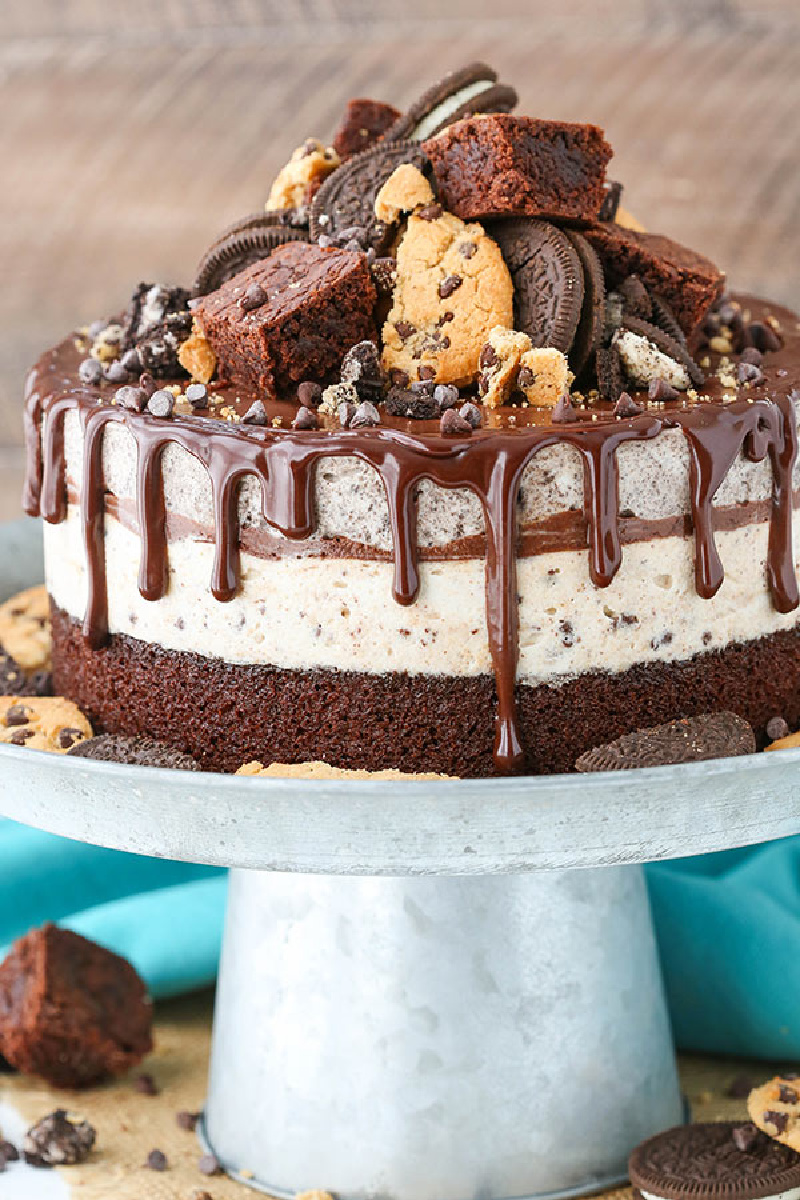 Oreo Brookie Ice Cream Cake by Life, Love and Sugar. This cake is made with layers of fudgy brownie, chocolate chip cookie ice cream, chocolate ganache and Oreo ice cream.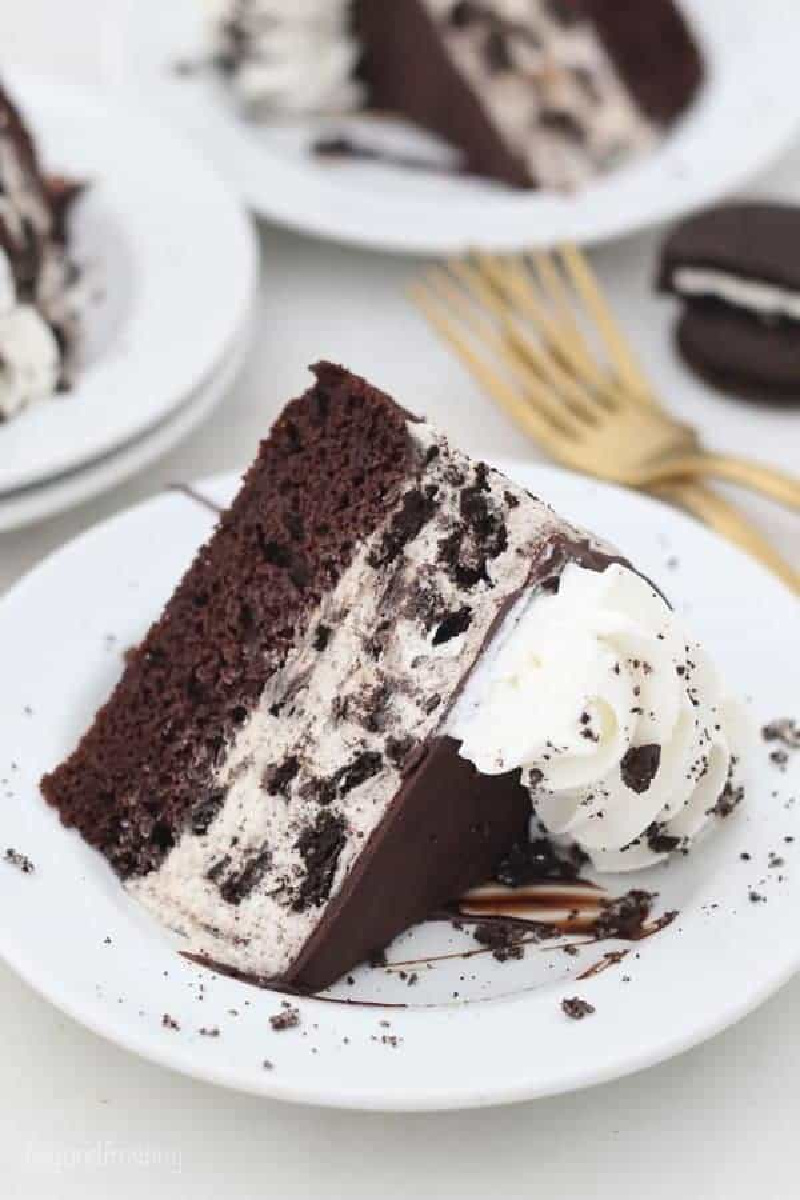 Oreo Ice Cream Cake by Beyond Frosting. This cake has a layer of homemade chocolate cake with a layer of no-churn Oreo ice cream on top.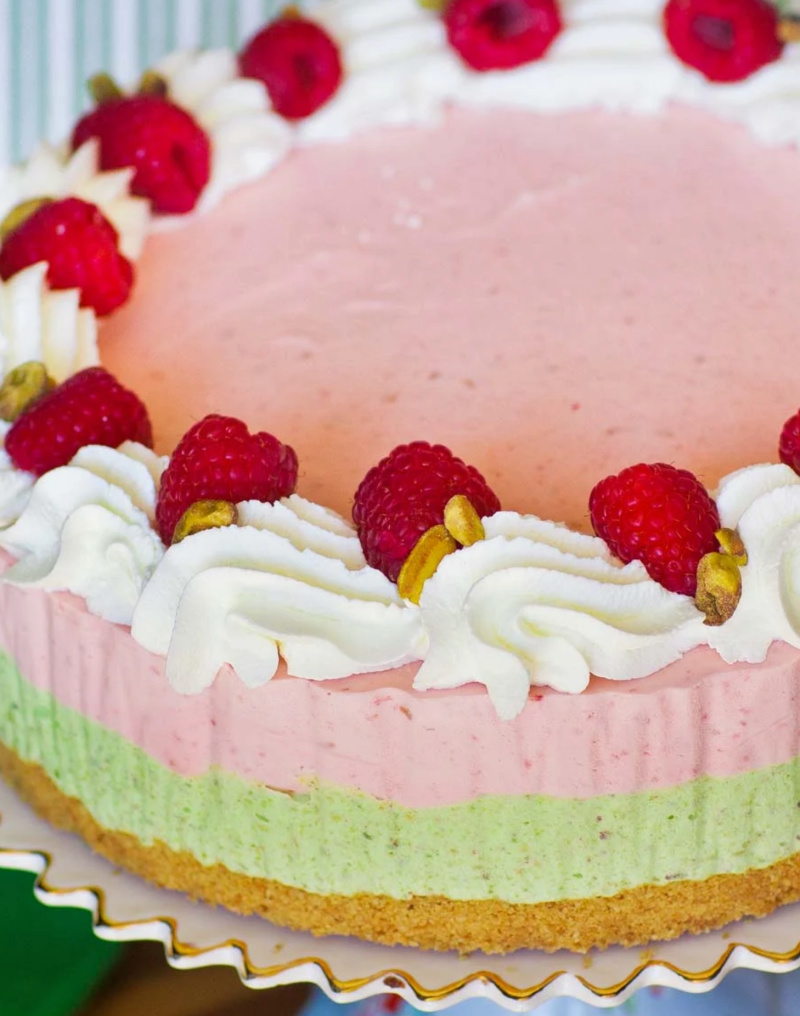 Pistachio Raspberry Cake by Tatyana's Everyday Food. This cake is made with fresh raspberries and a graham cracker crust. It has the perfect balance of sweetness and fruity flavor.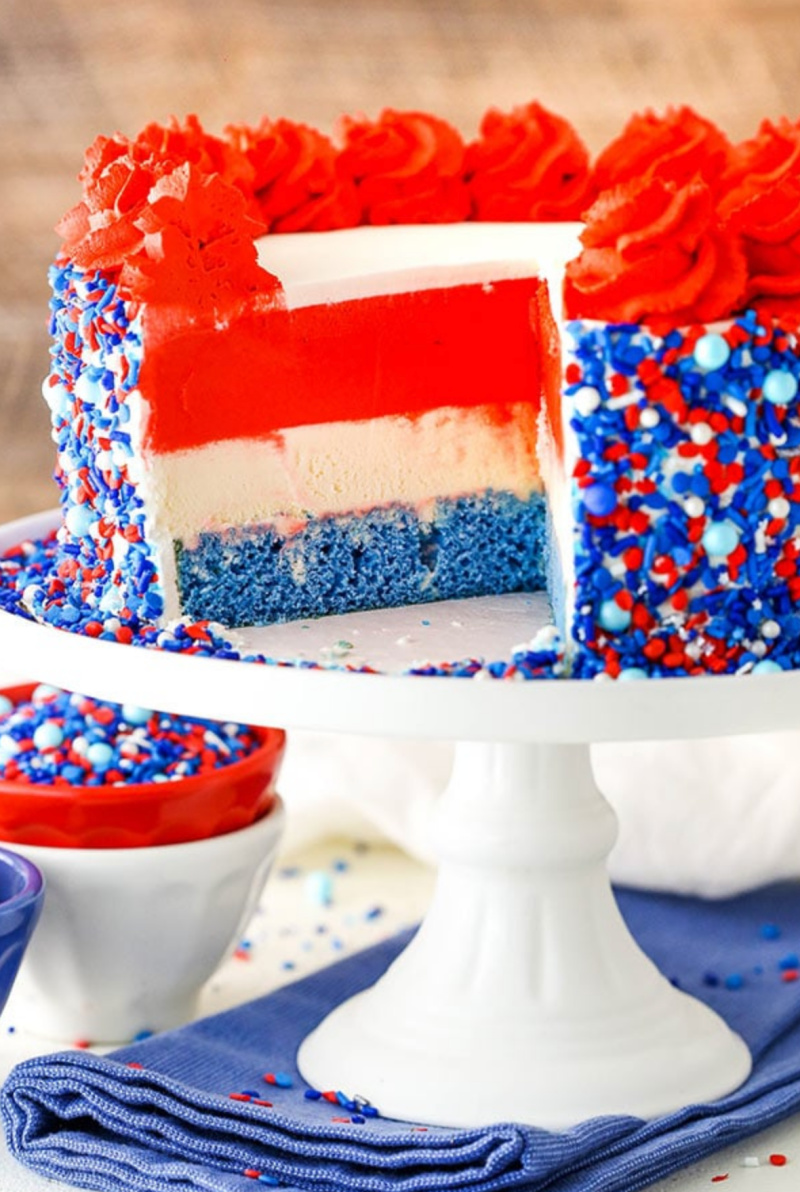 Red, White and Blue Ice Cream Cake by Life, Love and Sugar. With blue vanilla cake on the bottom and white and red ice cream layers on top, it's a delicious and patriotic cake for the holidays!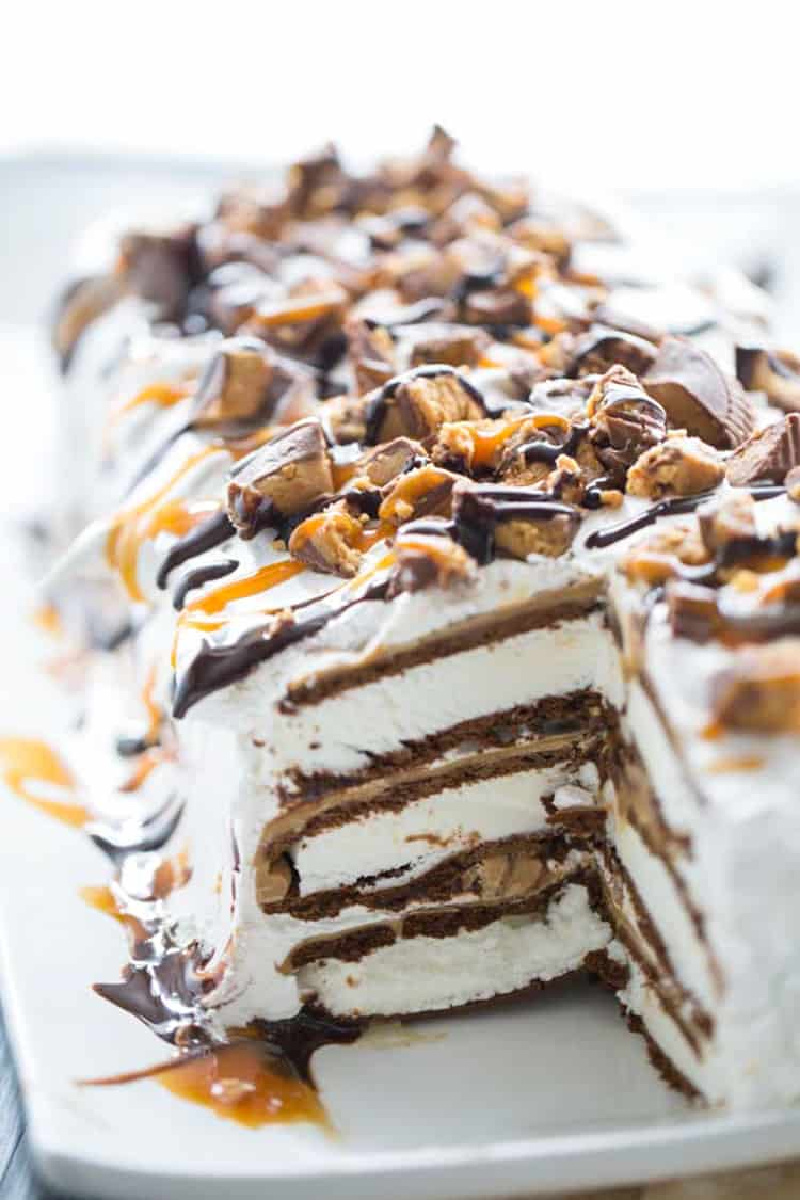 Reeses Ice Cream Cake by Lemons for Lulu. Reese's peanut butter cups, caramel sauce, peanut butter, and chocolate sauce are layered between ice cream sandwiches in this easy ice cream cake!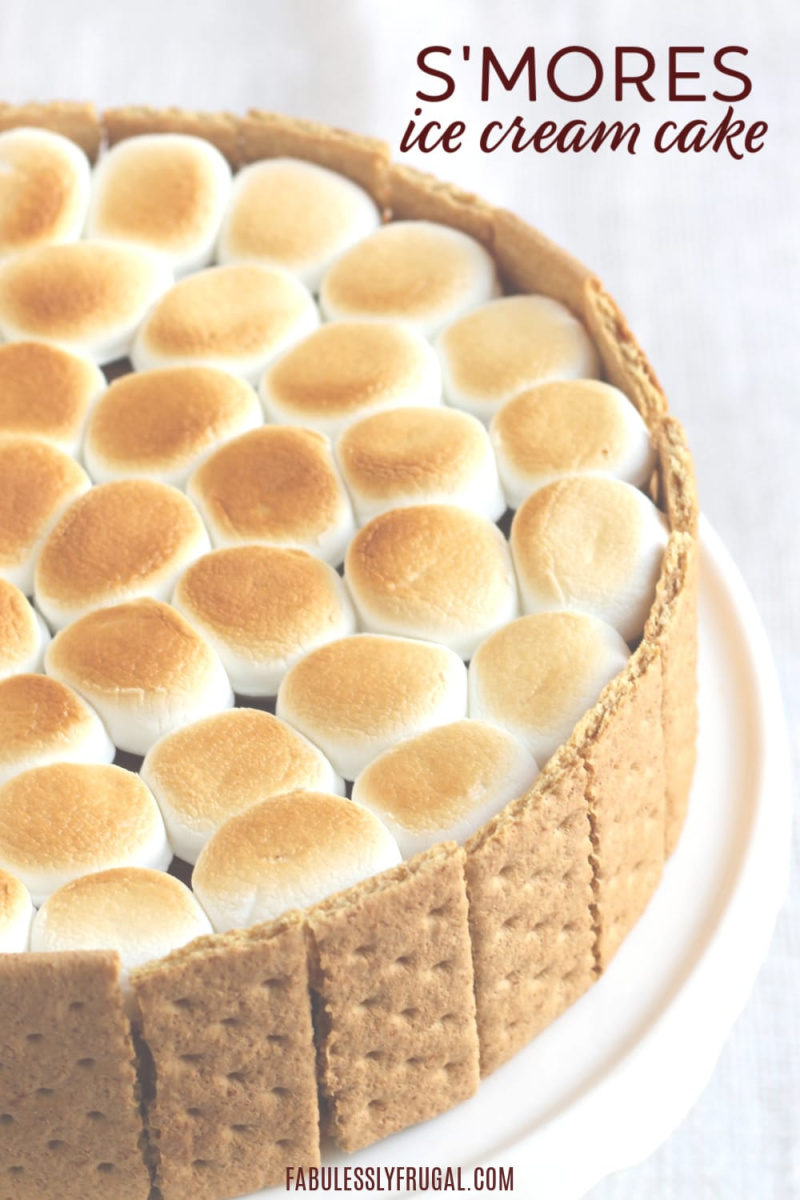 S'Mores Ice Cream Cake by Fabulessly Frugal. This cake consists of ooey gooey toasted marshmallows on top of a delicious ice cream layer with fudge and graham crackers.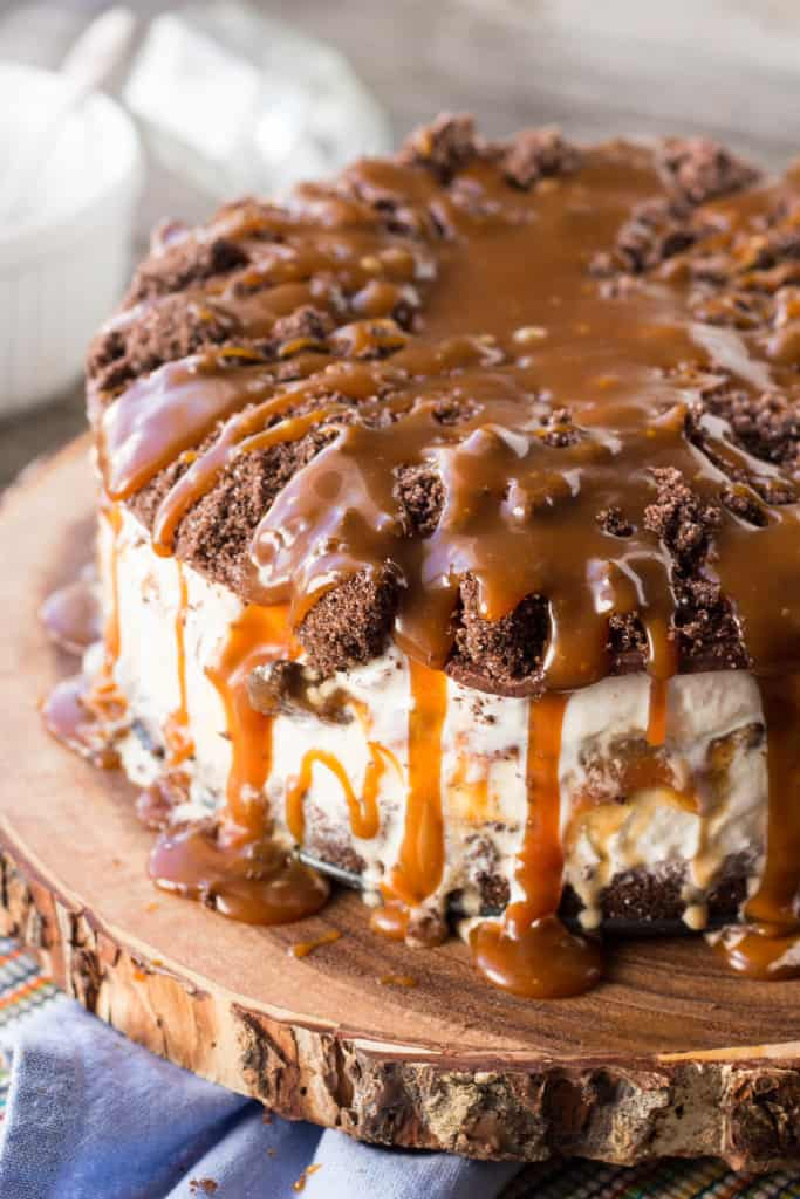 Salted Chocolate Caramel Ice Cream Cake by Coley Cooks. This easy ice cream cake recipe makes a great birthday cake and feeds a crowd!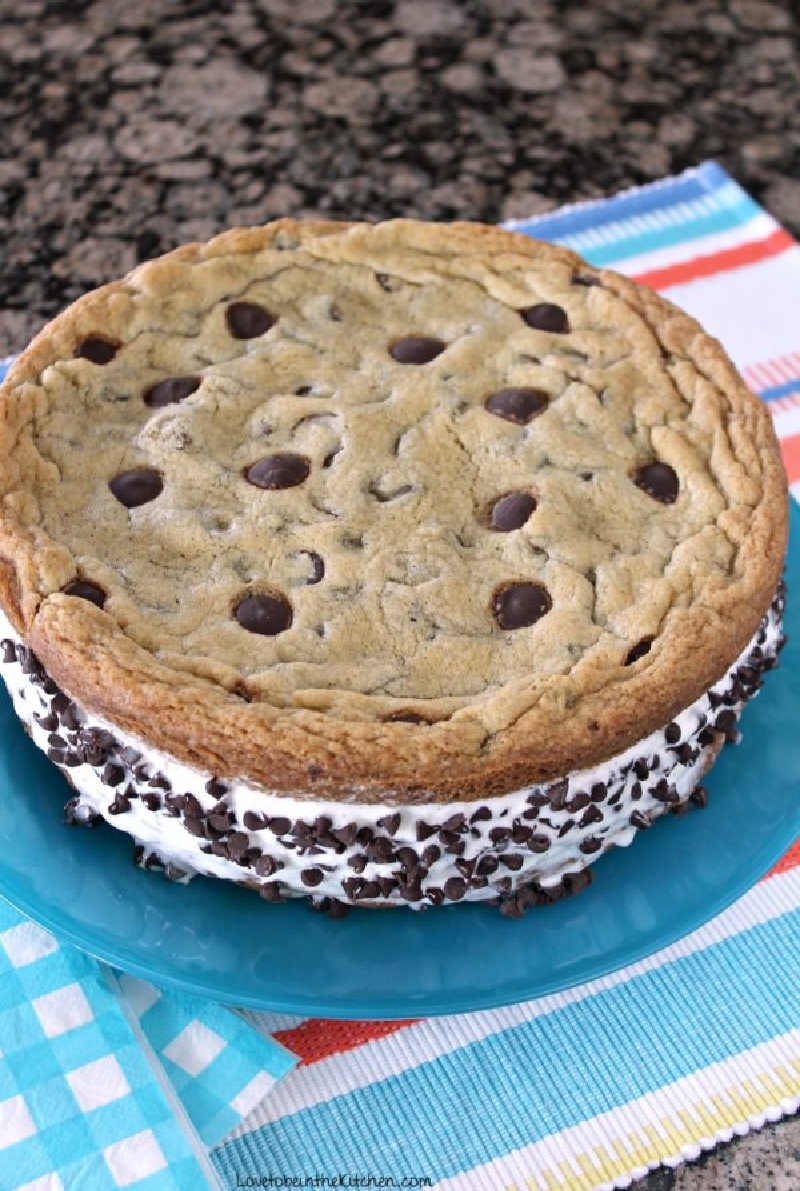 Giant Chocolate Chip Cookie Ice Cream Sandwich Cake by Love To Be In The Kitchen. This is an amazing show-stopping dessert that's perfect for celebrating birthdays, enjoying with a crowd, and more!
Fried Ice Cream Cake by Family Fresh Meals. What makes this dessert so special is the contrast between the warm, crunchy, cinnamon-spiced coating and the cold, smooth, sweet vanilla ice cream.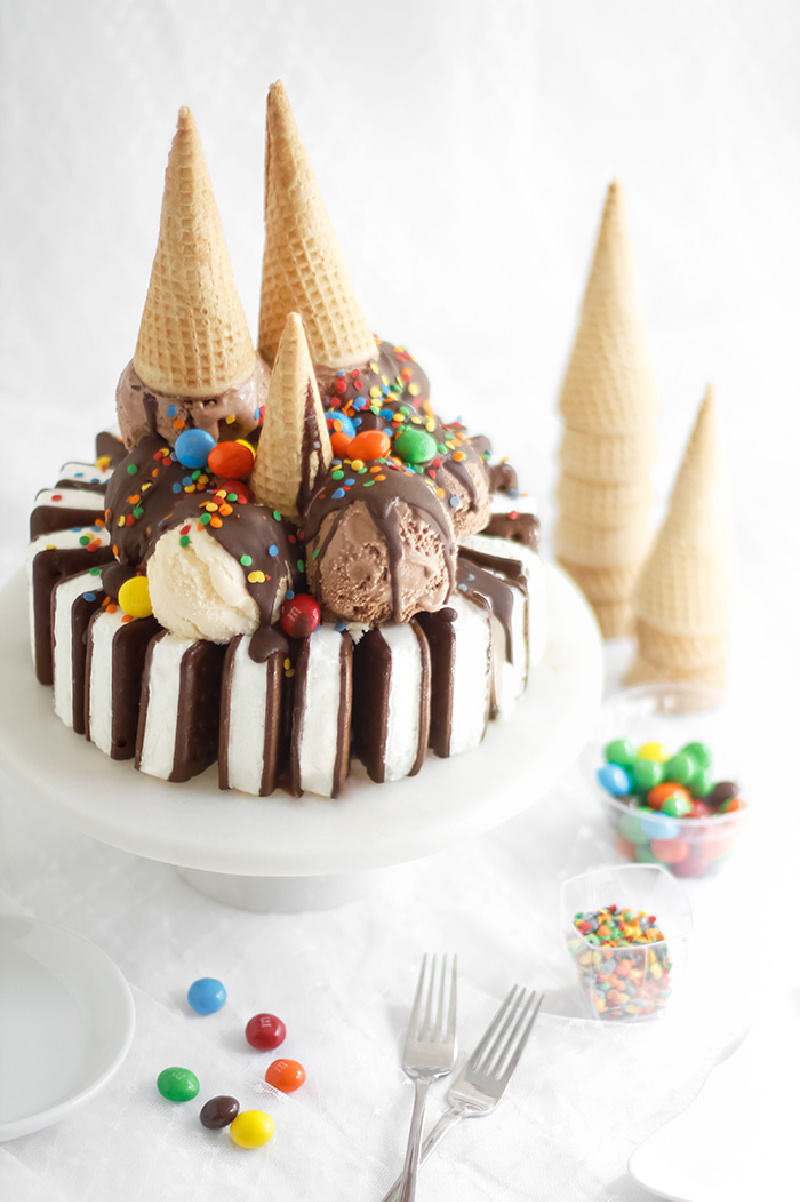 Easy Ice Cream Sandwiches Cake by Sprinkle Bakes. This cake takes just four ingredients to make: ice cream, ice cream sandwiches, sugar cones and chocolate ice cream topping – all other garnishes are open to interpretation.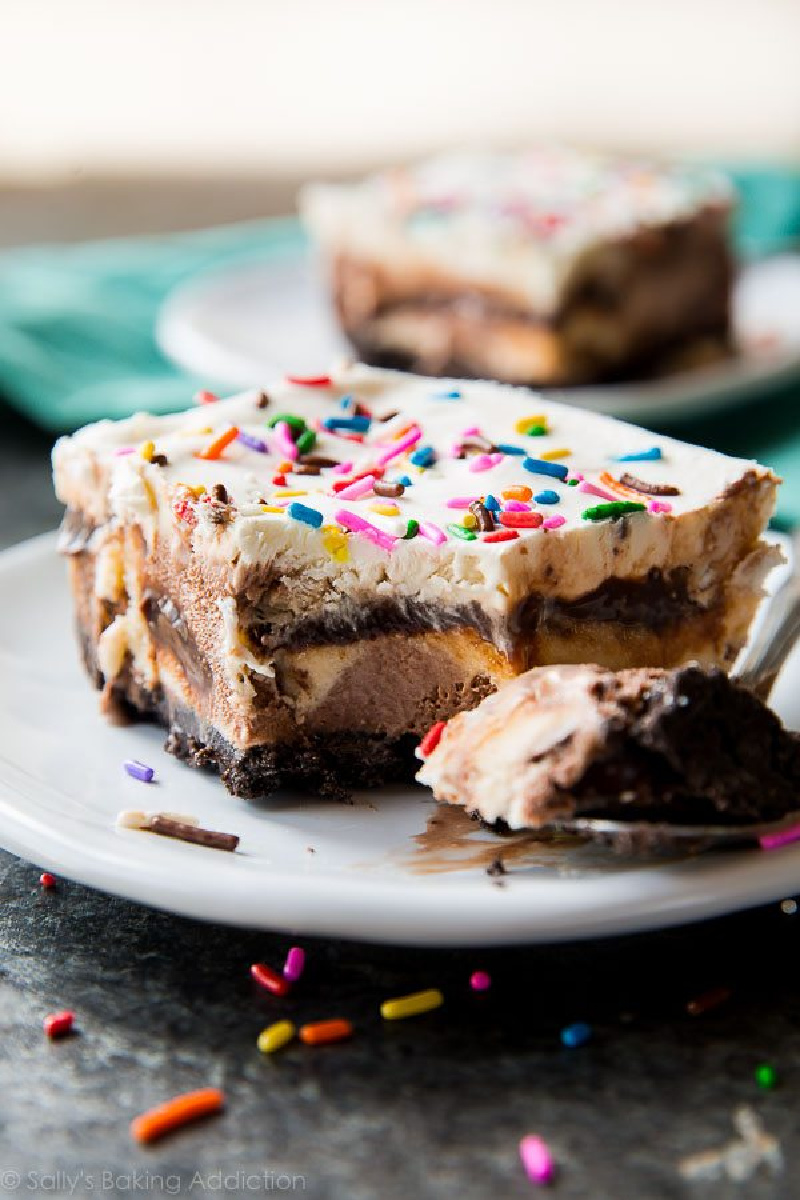 Easy, 5-Layer Ice Cream Cake by Sally's Baking Addiction. This easy summertime treat combines two of your favorite ice cream flavors, hot fudge, homemade whipped cream, and sprinkles– all on top of an Oreo cookie crust.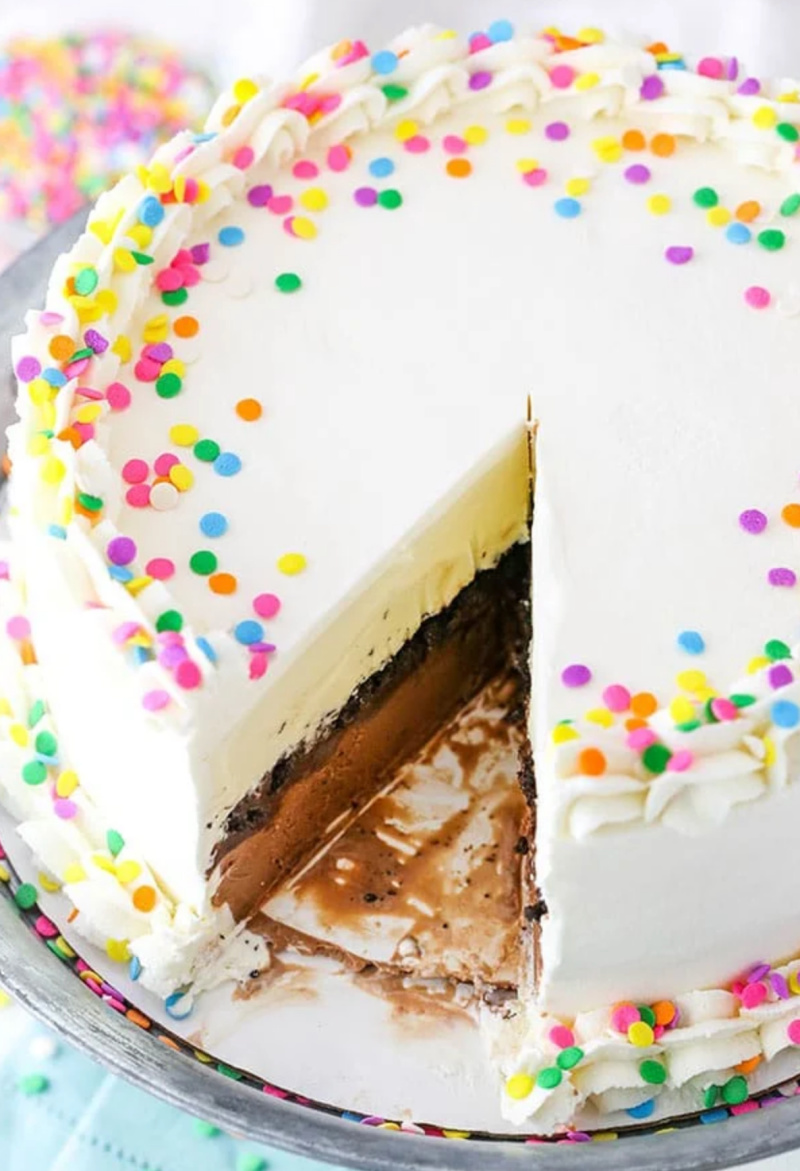 Copycat Dairy Queen Ice Cream Cake by Life, Love and Sugar. This cake has layers of chocolate and vanilla ice cream around the iconic layer of chocolate crunchies and chocolate fudge.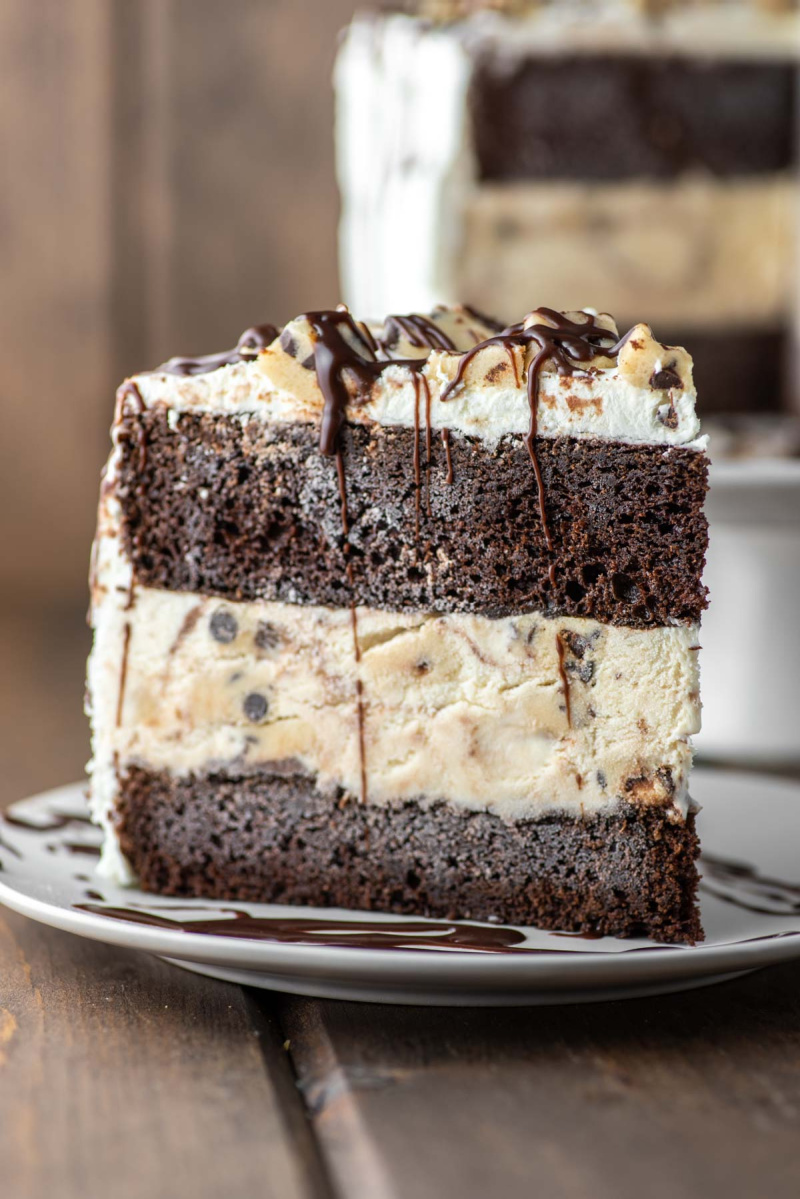 Cookie Dough Ice Cream Cake by Chisel and Fork. If you love cookie dough, ice cream and chocolate cake, then this is the ice cream cake recipe for you!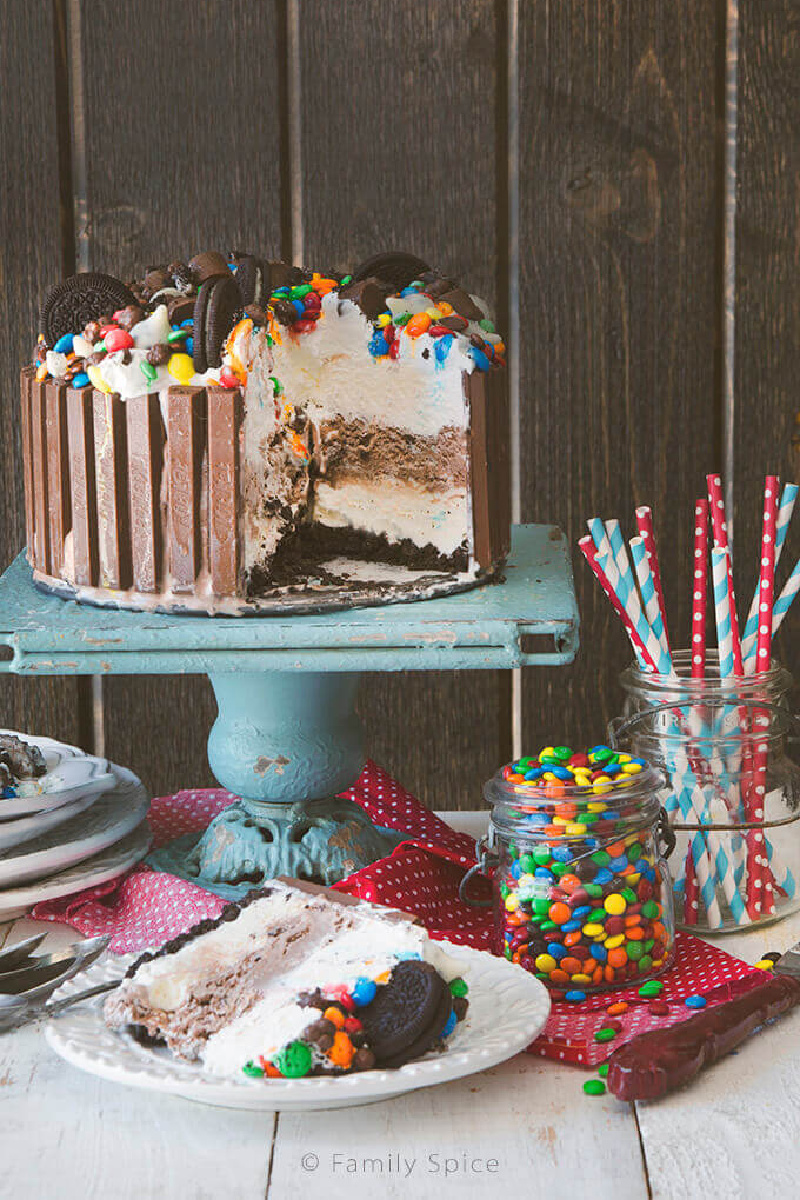 Candy Shop Ice Cream Cake by Family Spice. This is a heavenly dessert smothered with your favorite candies.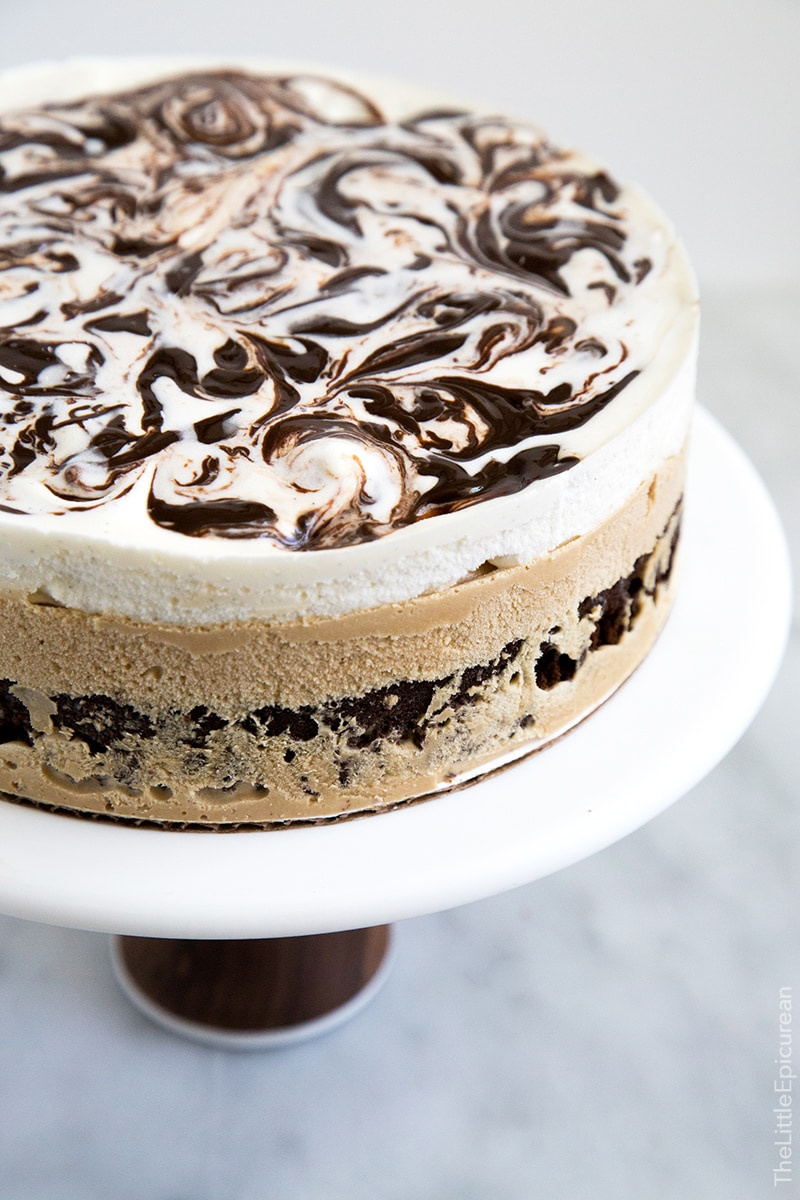 Coffee Ice Cream Cake by The Little Epicurean. This coffee ice cream cake has a decadent brownie bottom topped with coffee ice cream and a layer of vanilla ice cream swirled with fudge.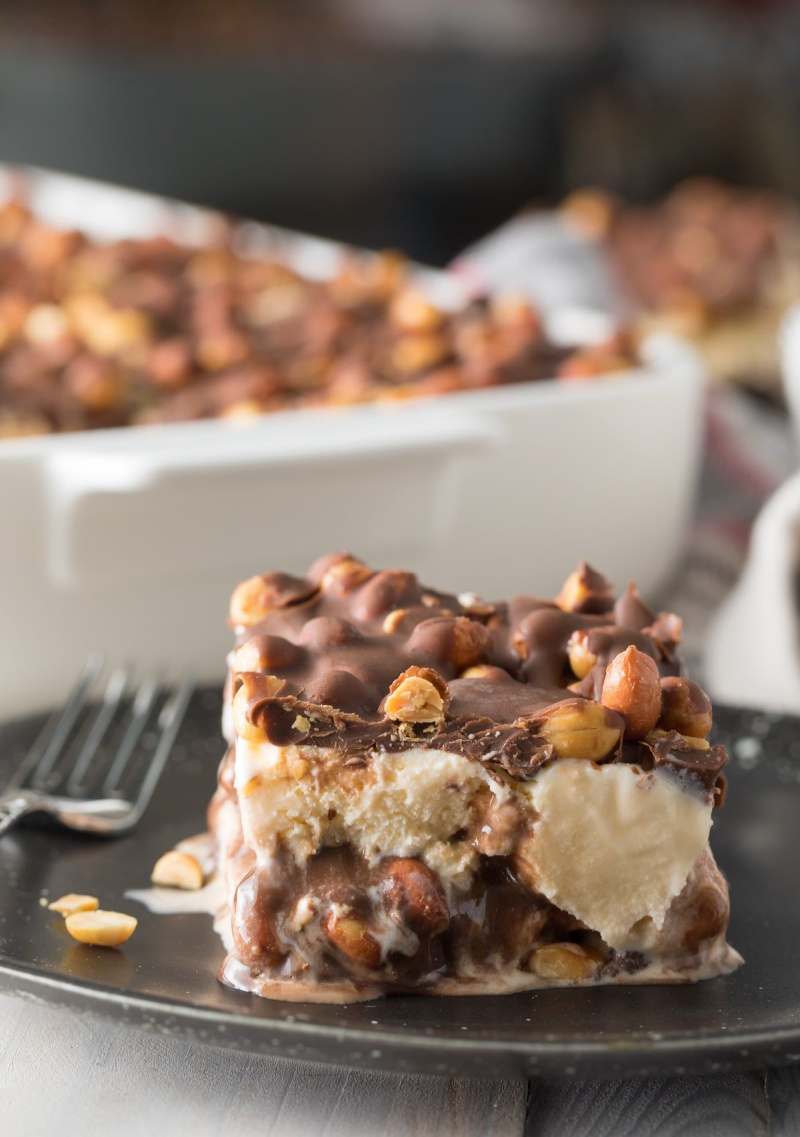 Buster Bar Ice Cream Cake by A Spicy Perspective. All the amazing layers of Dairy Queen Buster Bars in a quick 5-ingredient treat! Ice cream, fudge, red skinned peanuts, and chocolate coating pressed into easy-to-cut bars.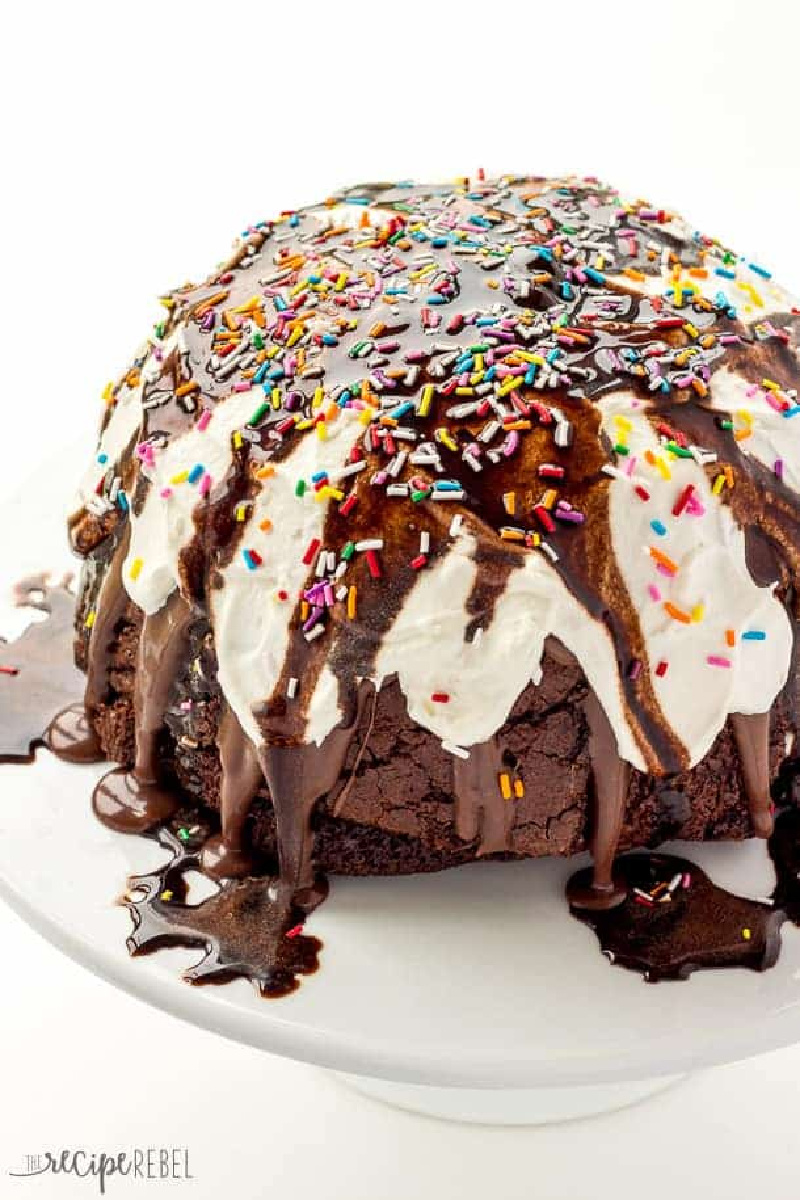 Brownie Mountain Ice Cream Cake by The Recipe Rebel. Rich, fudgy brownies are filled with homemade ice cream and topped with chocolate ganache, whipped cream, chocolate sauce and sprinkles
Fun Facts About Ice Cream Cakes:
Inspiration for the first ice cream cakes probably came from trifle desserts and the Baked Alaska.
Ice cream cakes are popular in North America and Australia. They are not as common in Europe.
Carvel is well known for selling ice cream cakes, but Baskin Robbins, Dairy Queen, Friendly's and Cold Stone Creamery sell them too.
In 1977, Carvel debuted the (still popular) "Fudgie the Whale" ice cream cake for Father's Day. It was advertised as a cake "for a whale of a Dad."
There are some people who argue that ice cream cakes are "not really cake!"