Beer Battered Onion Rings are the most delicious way of making onion rings to eat and enjoy!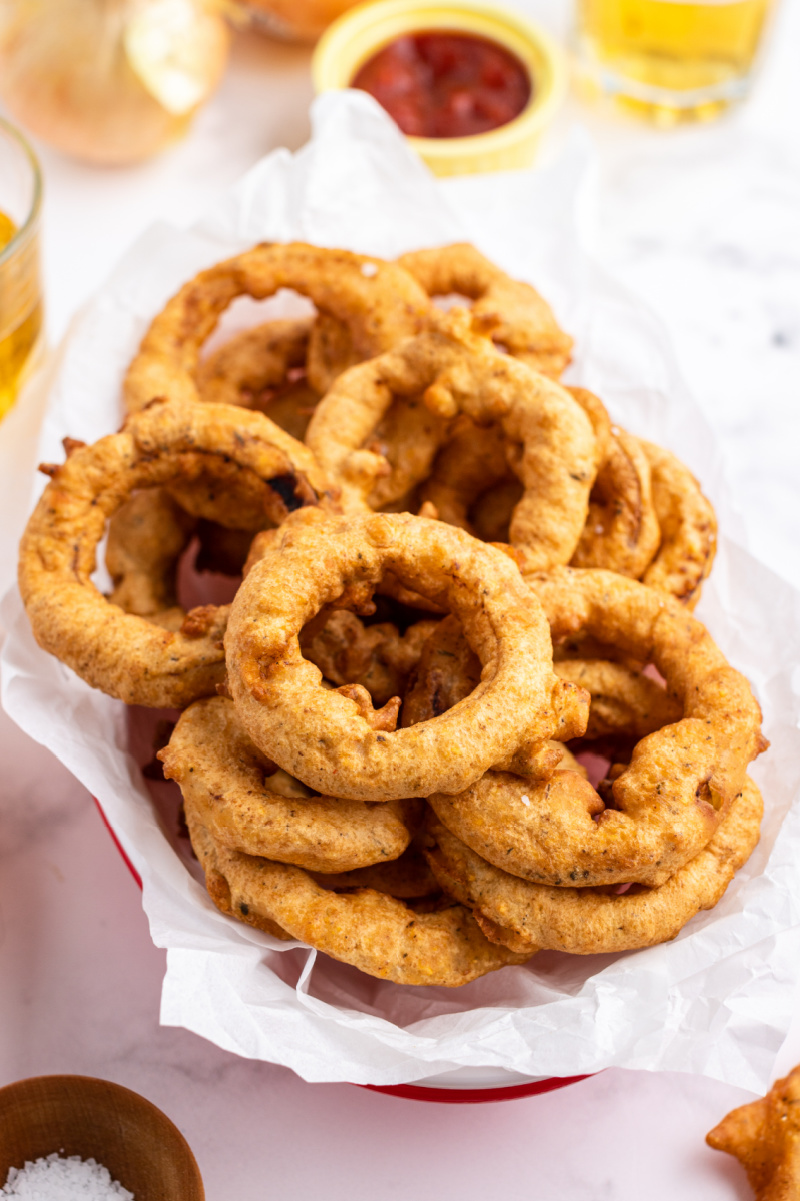 June 22nd is National Onion Ring Day! An onion ring is characterized by a ring of onion dipped in batter or bread crumbs and deep fried. Celebrate this day by visiting your favorite establishment that serves onion rings, or make these beer battered onion rings at home! Share your onion ring indulgence on social media today by using the hashtags #nationalonionringday, #onionringday and #recipesforholidays. Be sure to check out my June Food Holidays page for a complete list of all food holidays celebrated in the month of June!
History of Onion Rings:
The earliest we are aware of mentioning something similar to onion rings is in John Mollard's 1802 cookbook, "The Art of Cookery Made Easy and Refined." There is a recipe in the book for Fried Onions with Parmesan Cheese. That recipe describes cutting onions into rings, dipping them in batter and frying them in boiling lard.
A restaurant in Texas (Kirby's Pig Stand) claimed fame as being the originator of onion rings in the 1920's.
In a 1933 advertisement for Crisco in New York Times Magazine, there was a recipe for onions dipped in milk, then flour and then deep fried in Crisco oil.
In the 1960's A&W Drive In Restaurants made onion rings soar in popularity when they added them to their menu.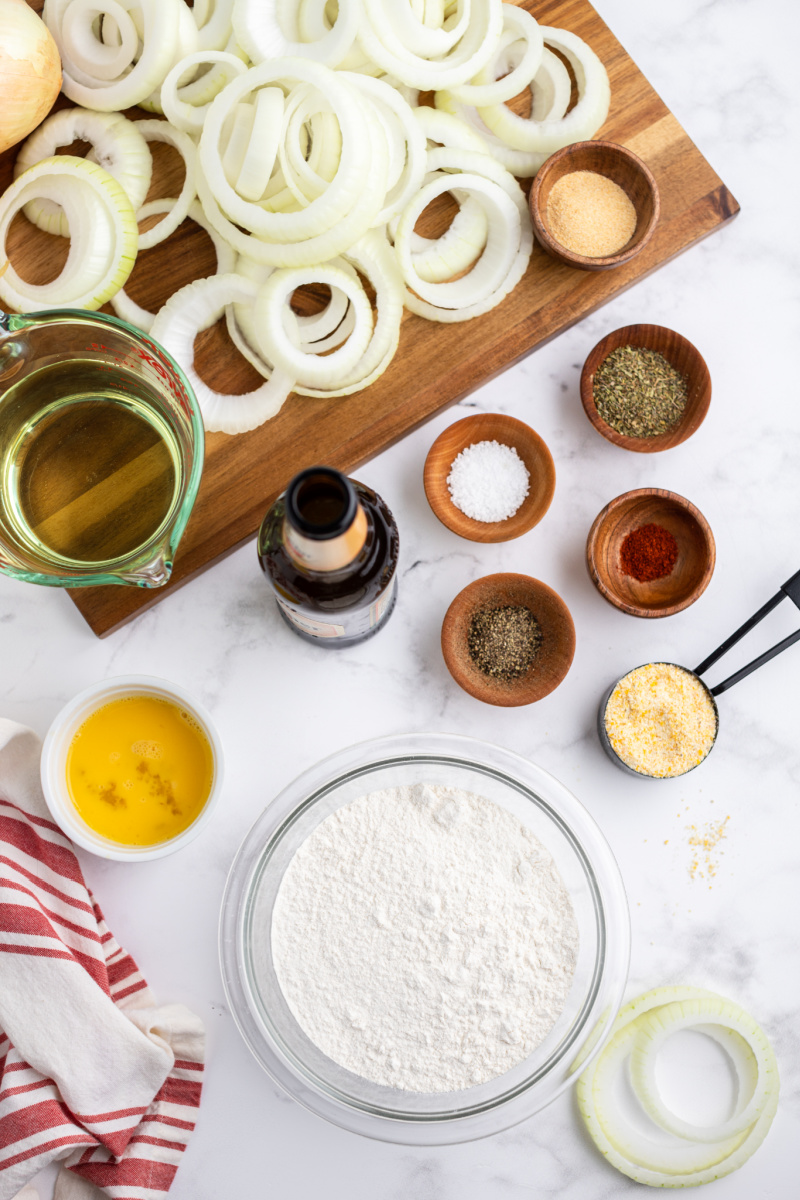 Ingredients needed:
all purpose flour
cornmeal
garlic powder
Italian seasoning
cayenne pepper
beer
egg
onions
canola or vegetable oil
salt and pepper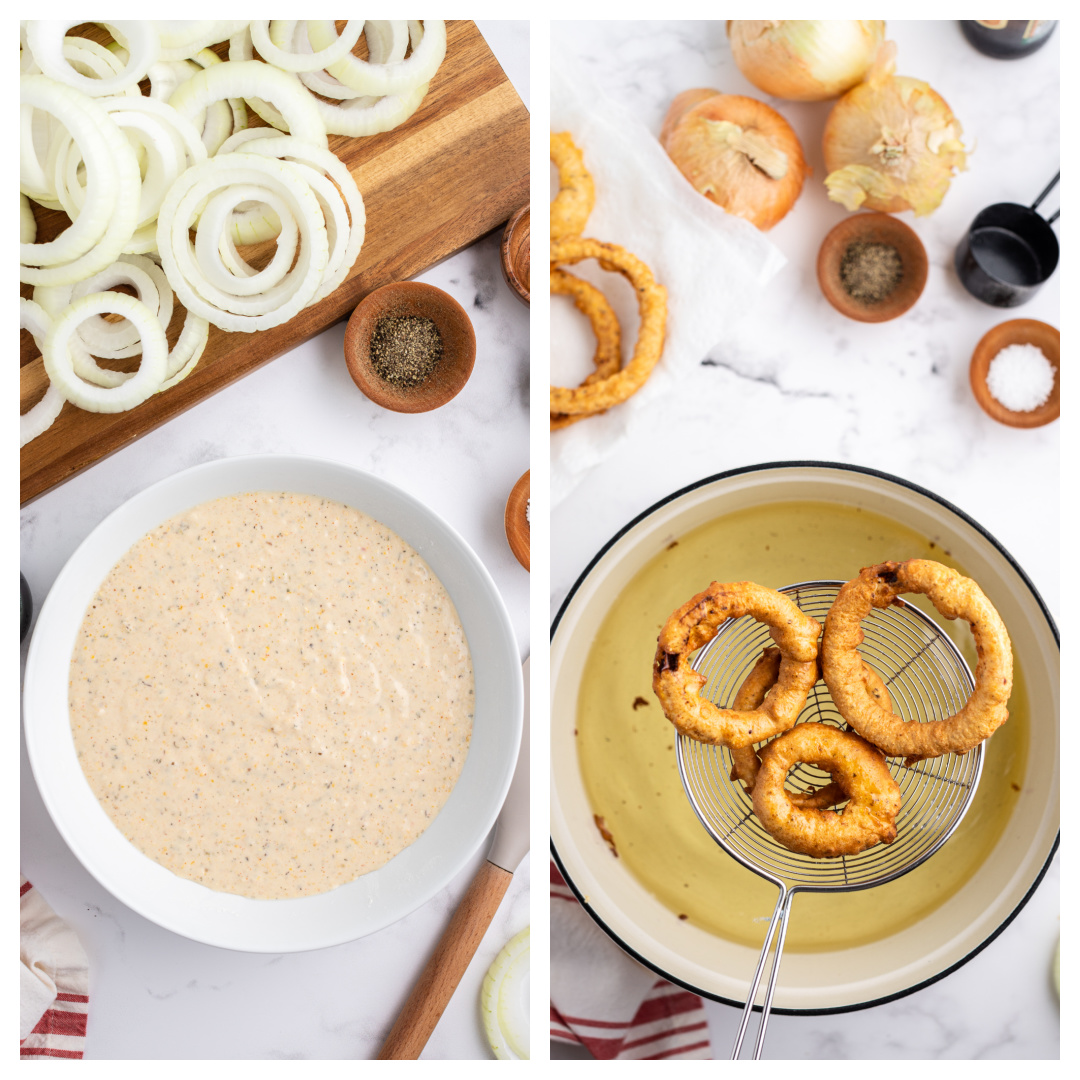 How to make Beer Battered Onion Rings:
Line a large plate with paper towels. This will be the place where you will put the onion rings after frying so they can drain on the paper towels.
Next, make the dipping batter. This is a mixture of flour and cornmeal with garlic powder, salt, Italian seasoning, beer and egg.
Heat two inches of oil in a pan. You will know that it's hot enough for frying when you flick a couple drops of water into the oil and the oil sizzles. Dip the onion rings into the batter, and fry on both sides until golden brown.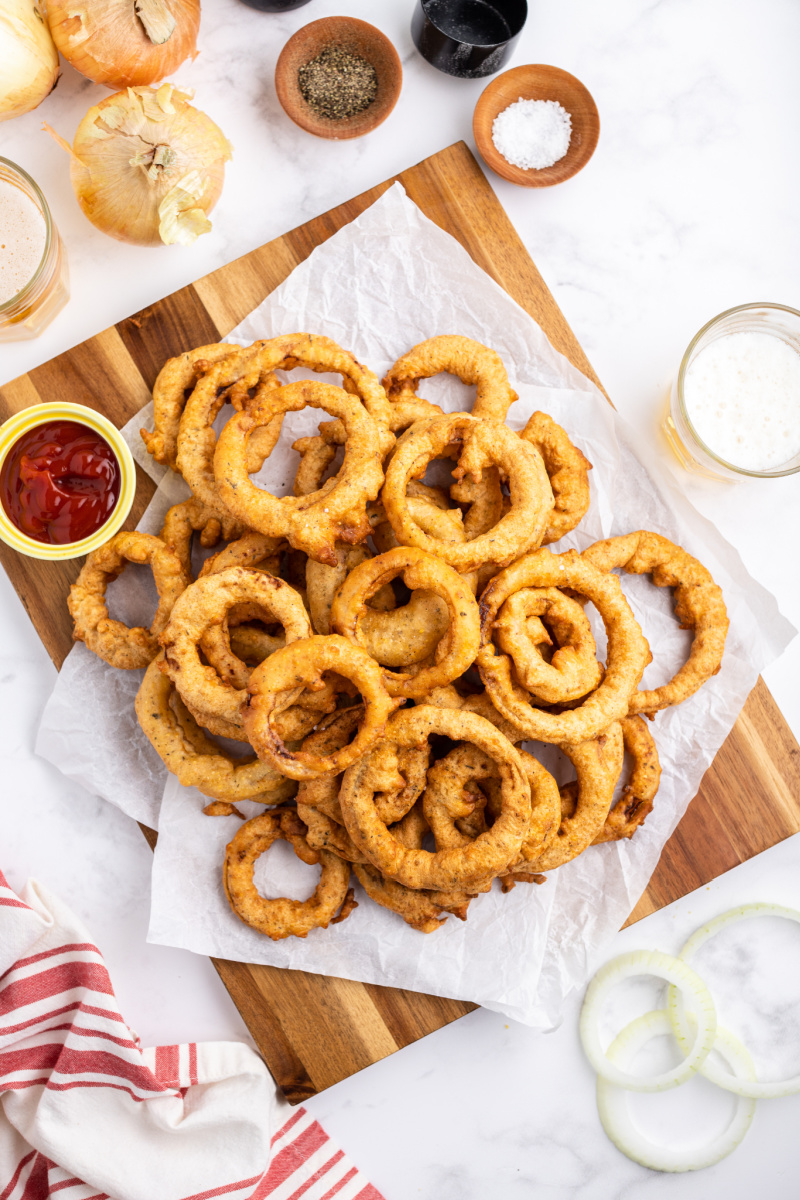 While the onion rings are still hot and oily, sprinkle them with salt and pepper so they have a chance to absorb the flavors.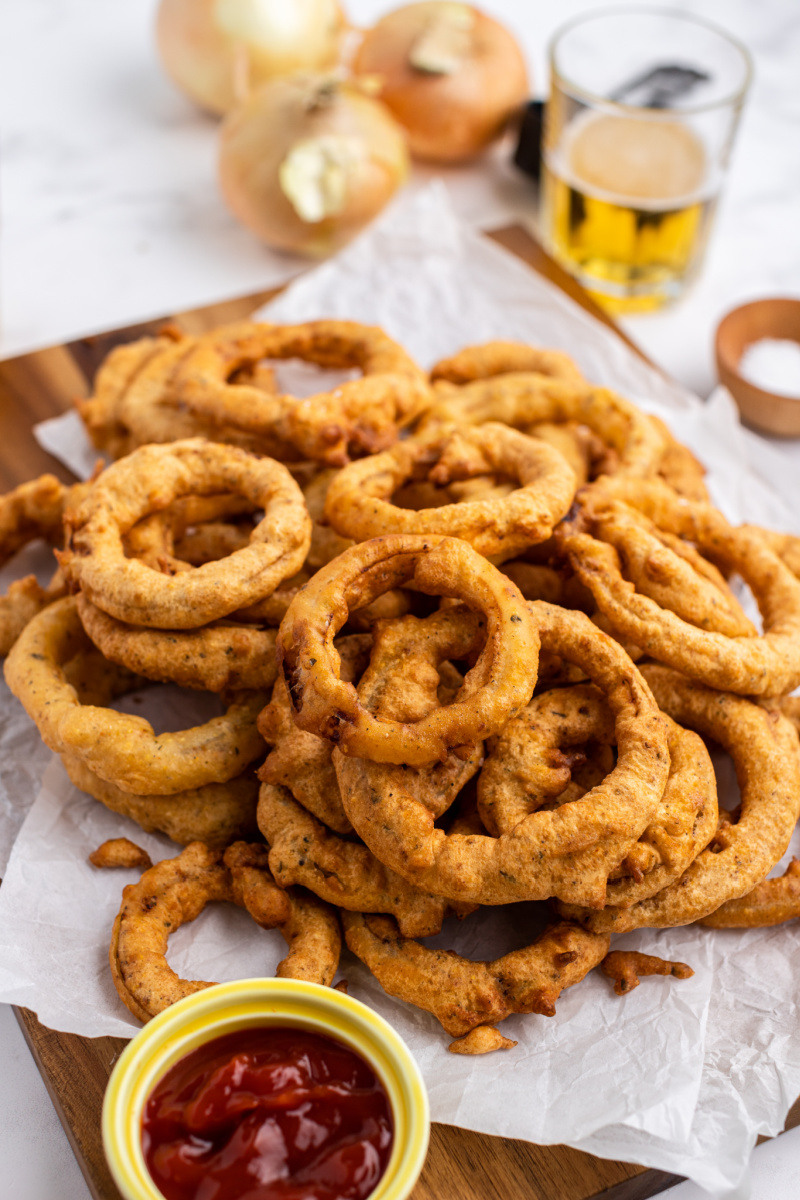 Serve Beer Battered Onion Rings with your favorite dipping sauce. Ketchup is the most popular condiment to serve alongside onion rings, but you can also dip them into burger sauce or chipotle ranch dressing. Or you can eat them on their own too. Enjoy!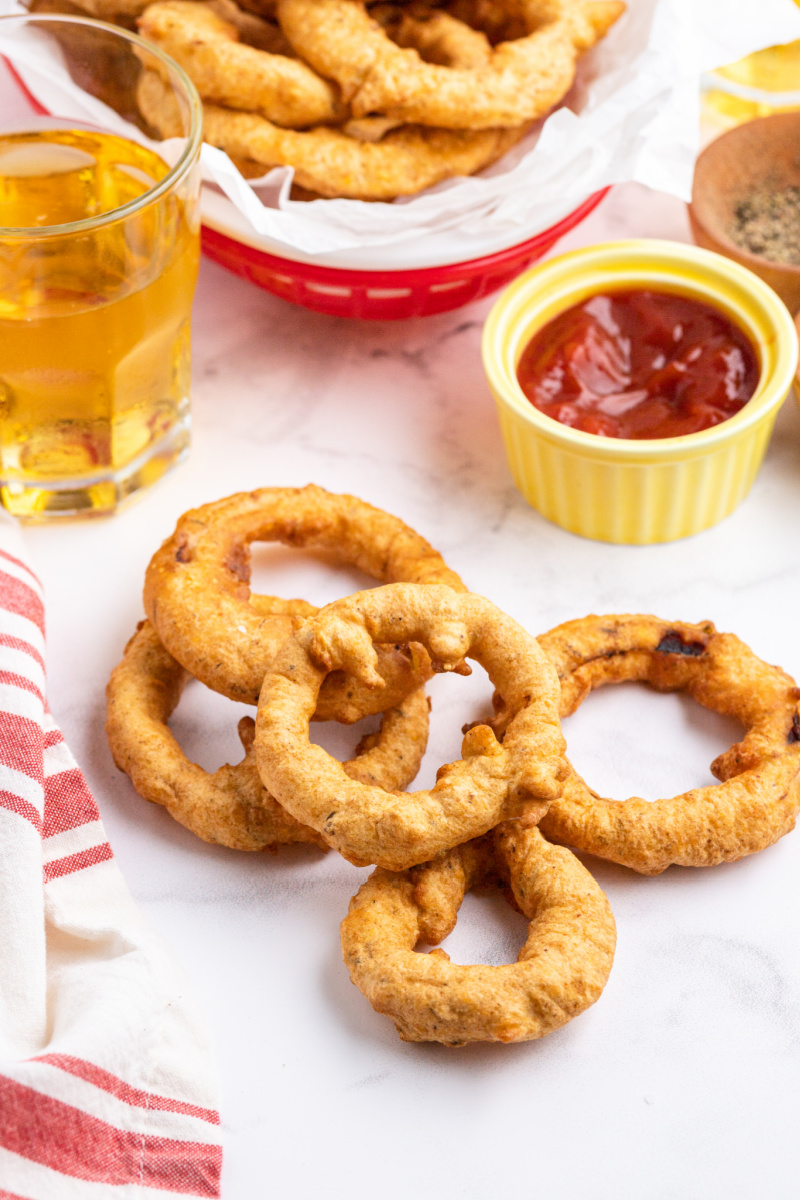 Fun Facts about Onion Rings:
Onion rings are popular in the United States, Canada, Ireland, Australia, the United Kingdom and in some parts of Asia.
The United States produces over 2 million tons of onion rings per year.
20 pounds of onion rings per person are consumed each year.
Onion rings can be battered, floured or breadcrumbed before being deep fried.
Chewing on parsley helps to get rid of onion breath.
China is the world's largest producer of onions.
An Outback Steakhouse Bloomin' Onion appetizer has 1948 calories and 160 grams of fat.
Sometimes an onion ring "accidentally" makes it into a bag of fries in your order from Burger King. This is to help remind you that BK has more options than McDonalds.
McDonalds discontinued their "onion nuggets" in 1979, which were nugget-shaped instead of ring-shaped. They never tried getting into the business of making onion rings after that.
Sonic Drive In is said to have the best fast food onion rings (they are hand made).
Hil's Burgers in Canyon, Texas claims to have the best onion rings on planet Earth.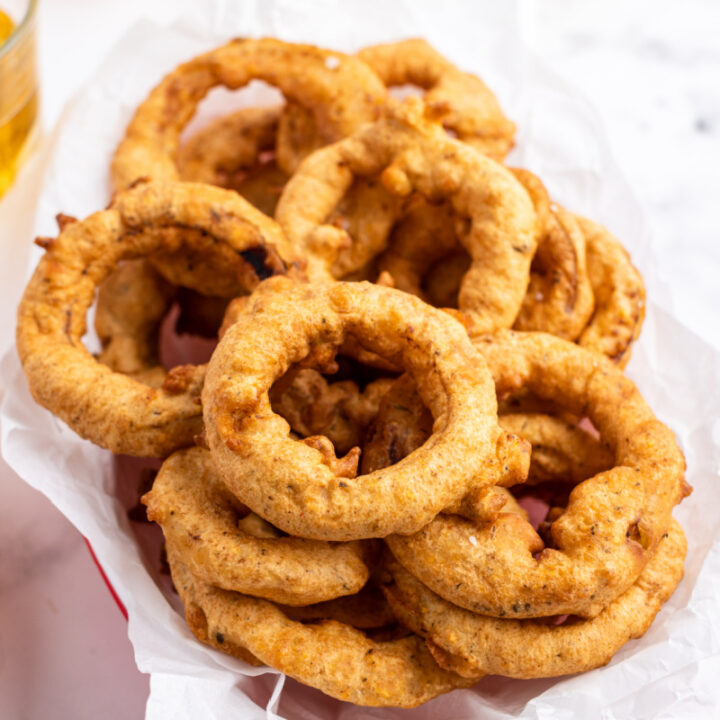 Beer Battered Onion Rings
Totally delicious way to make onion rings!
Ingredients
2 cups all purpose flour
¼ cup cornmeal
2 teaspoons garlic powder
2 teaspoons Italian seasoning
½ teaspoon salt
¼ teaspoon cayenne powder
1 bottle of beer
1 large egg, beaten
3 large onions, sliced into rings (the rings must be completely dry)
Canola or vegetable oil, for frying- enough to have a couple of inches of oil in the pan that you use
Salt and pepper, to finish
Instructions
Line a plate with paper towels.
In a shallow bowl, whisk together the flour, cornmeal, garlic powder, Italian seasoning, salt and cayenne. Pour in the beer a little at a time, stirring along the way, until a pancake-like batter forms. It should be pretty thick, and you might use the whole bottle of beer. Stir in the egg too.
In a heavy pan, heat 2 inches of oil over medium-high heat. The oil will be hot enough when you flick a drop of water into it and it sizzles.
Dip the onion rings (a few at a time) into the batter, and fry until medium-brown- turning them over halfway through cooking. When done, move the onion rings to the prepared plate to drain, and immediately salt and pepper them while they're still hot and oily.
Serve with your favorite dipping sauce.
Nutrition Information:
Yield:

6
Serving Size:

1
Amount Per Serving:
Calories:

481
Total Fat:

29g
Saturated Fat:

2g
Trans Fat:

1g
Unsaturated Fat:

25g
Cholesterol:

31mg
Sodium:

196mg
Carbohydrates:

45g
Fiber:

3g
Sugar:

3g
Protein:

7g
*Nutritional information for this recipe is greatly estimated. It cannot be 100% accurate because it is unknown how much of the frying oil in the recipe is absorbed in the rings.