This collection of 25 Red, White and Blue Recipes for Patriotic Parties is also a great resource for hosting a summer barbecue, 4th of July celebration, Memorial Day barbecue and Flag Day. These are fun, festive recipes to enjoy all summer long!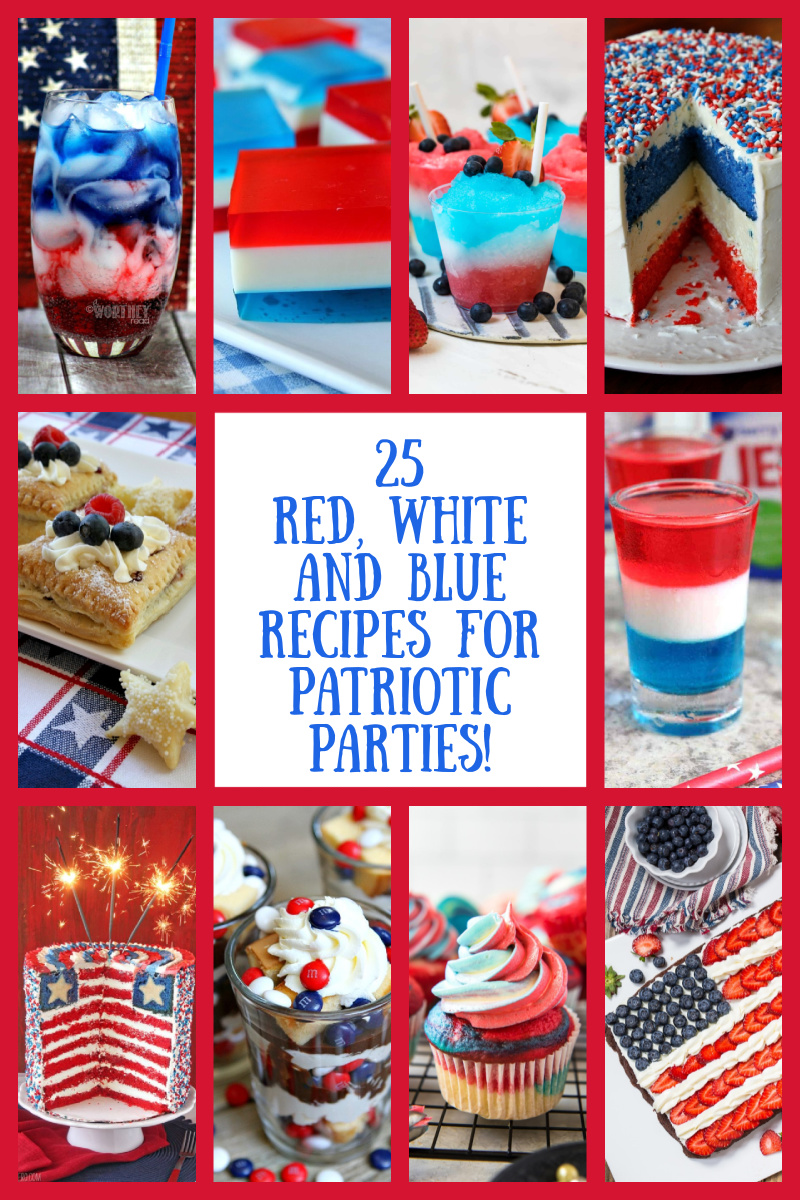 The red, white and blue colors of the United States tend to evoke strong emotions among USA residents. People proudly fly the flag on their doorsteps in the summer months, and the flag flies high in many places all year long.
Making recipes that feature red, white and blue colors is a popular thing to do in the summer months. Browse these 25 red, white and blue recipes, and share your favorites on social media by using the hashtags #redwhiteandbluerecipes, #happy4thofjuly and #recipesforholidays.
Be sure to check out my July Food Holidays page to keep track of all food holidays for the month of July!
The History of Red, White and Blue:
Back in 1777, the Second Continental Congress resolved, "the flag of the United States be 13 stripes, alternate red and white; that the union be thirteen stars, white in a blue field representing a new constellation."
Five years later, Founding Father Charles Thomson presented the Great Seal to Congress. That Seal was created to represent the values and beliefs as well as sovereignty of the new nation.
"The white signifies purity and innocence. Red, hardiness and valor and blue signifies vigilance, perseverance and justice," Thomson said.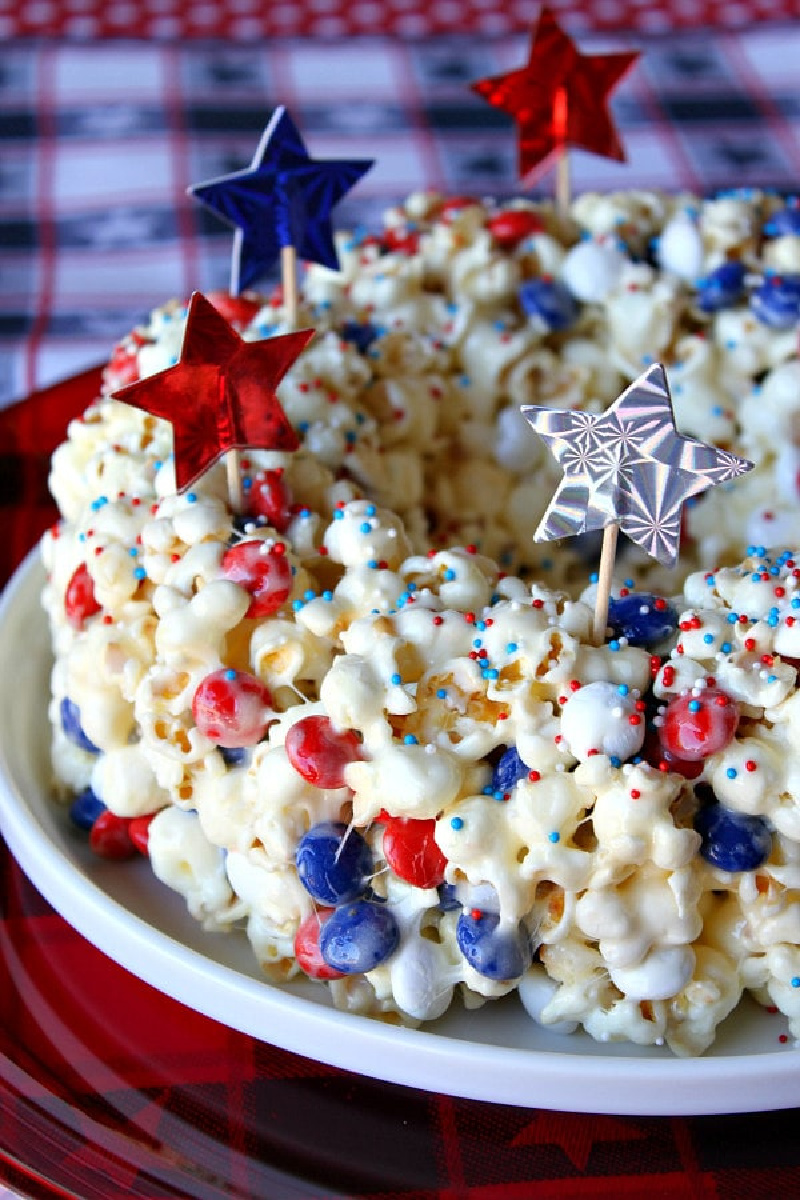 Patriotic Marshmallow Popcorn Cake by Recipe Girl. Buttered popcorn is coated with melted marshmallows, and candy coated chocolate pieces are swirled in too to create a fun bundt cake for a party!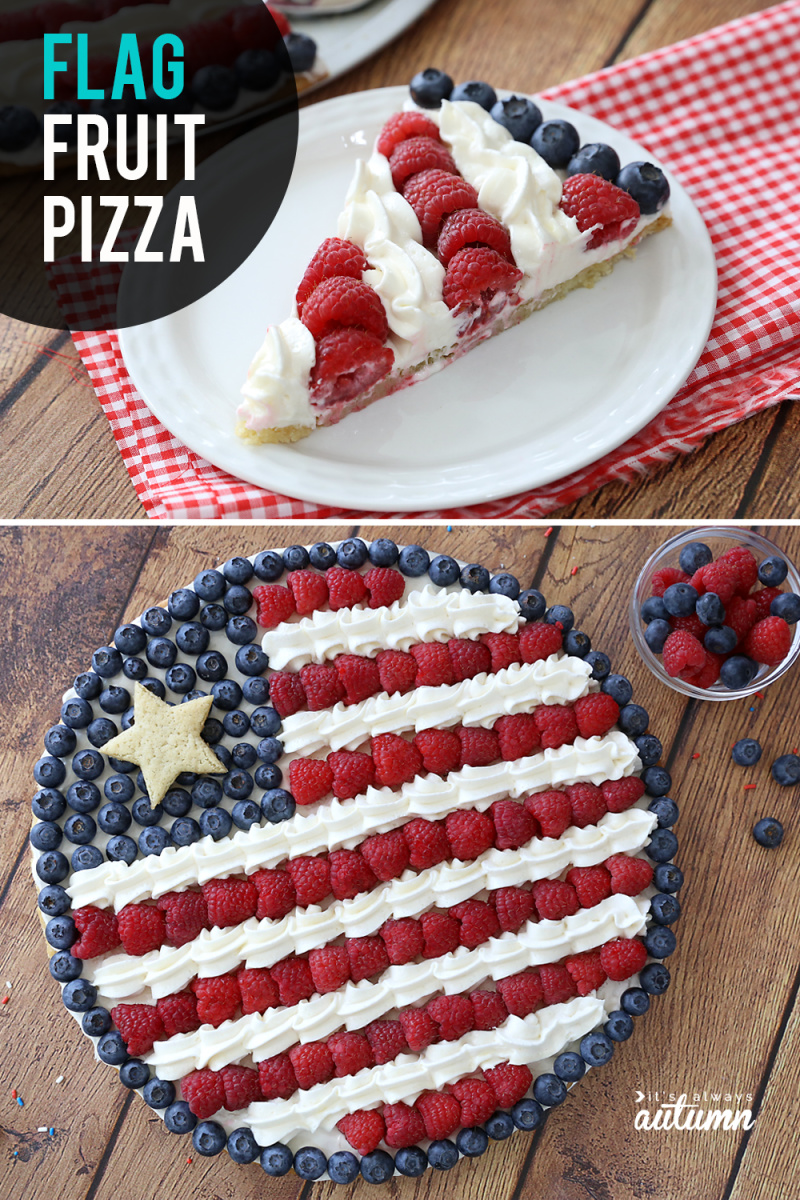 American Flag Fruit Pizza from It's Always Autumn. The base, or "pizza crust", is a great big sugar cookie made from refrigerated cookie dough (easy!). The creamy filling is a super simple no bake cheesecake mousse (yum!) and then the flag is created with fresh blueberries and raspberries.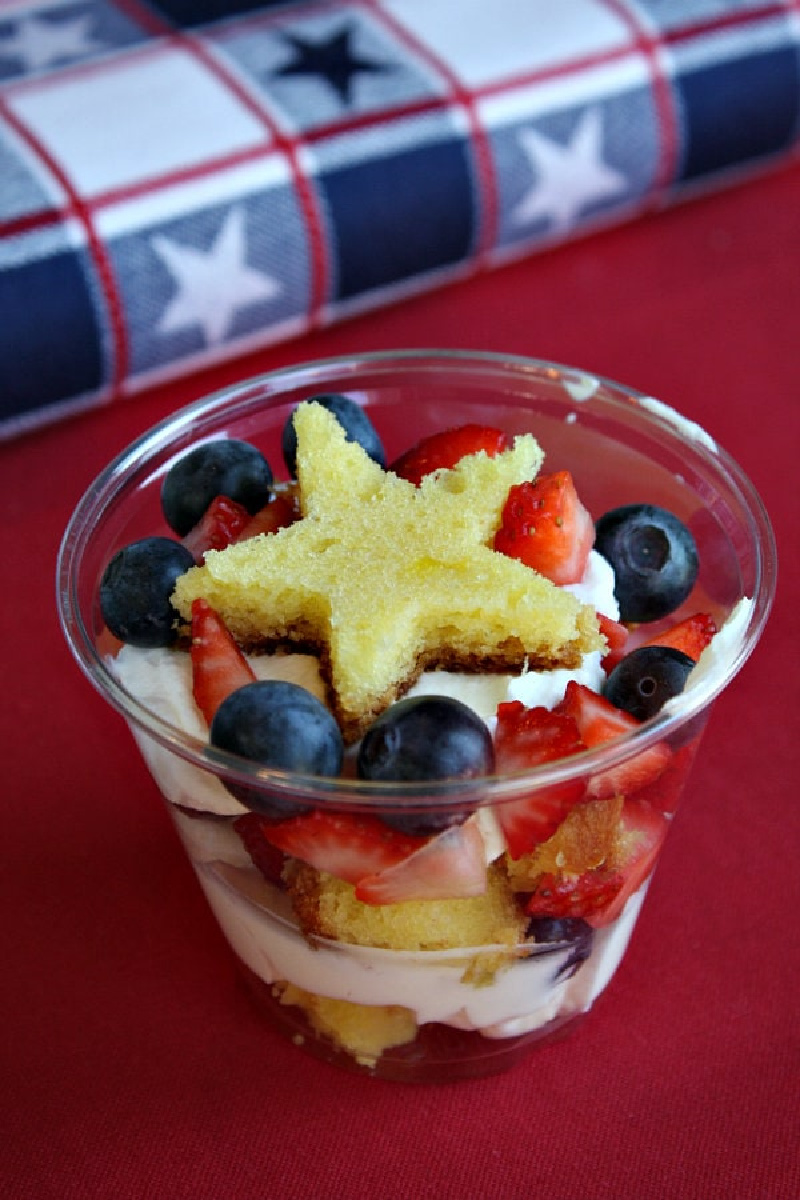 4th of July Fresh Berry Trifles by Recipe Girl. Layer cake pieces, cream, berries, more cake pieces, more cream and more berries. Then place a cute little pound cake star on top.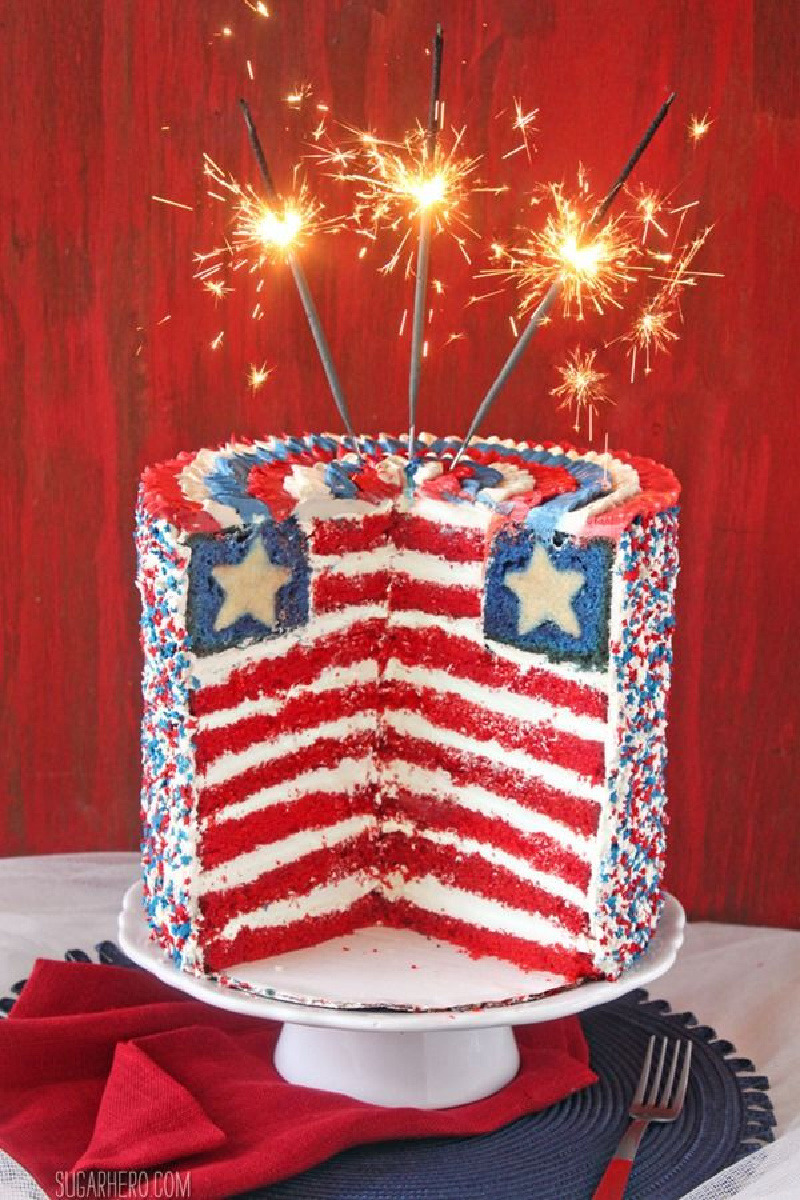 American Flag Layer Cake by Sugar Hero. This monster of a cake has over a dozen red and white layers, a blue corner, and a white star baked right into the cake. It's a show stopper!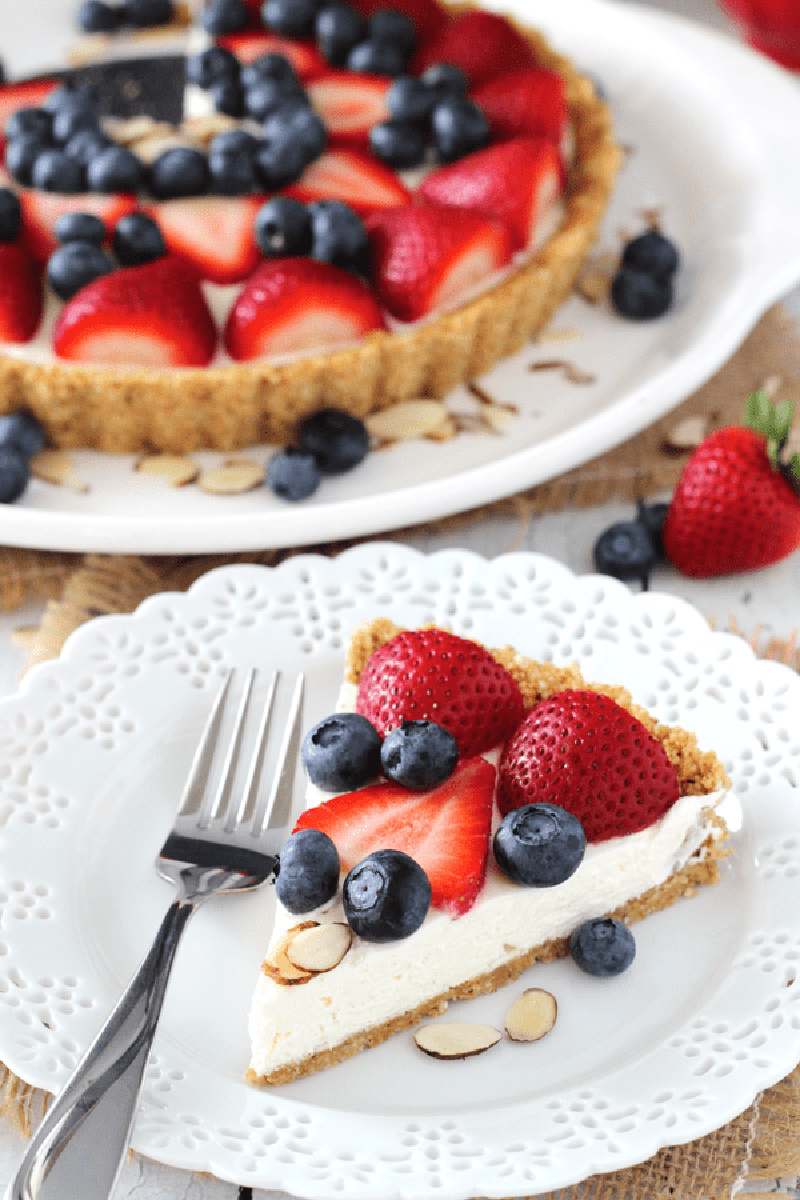 No Bake Berry Almond Tart by Recipe Girl. It's a light, fruity, no bake dessert that is perfect for summer!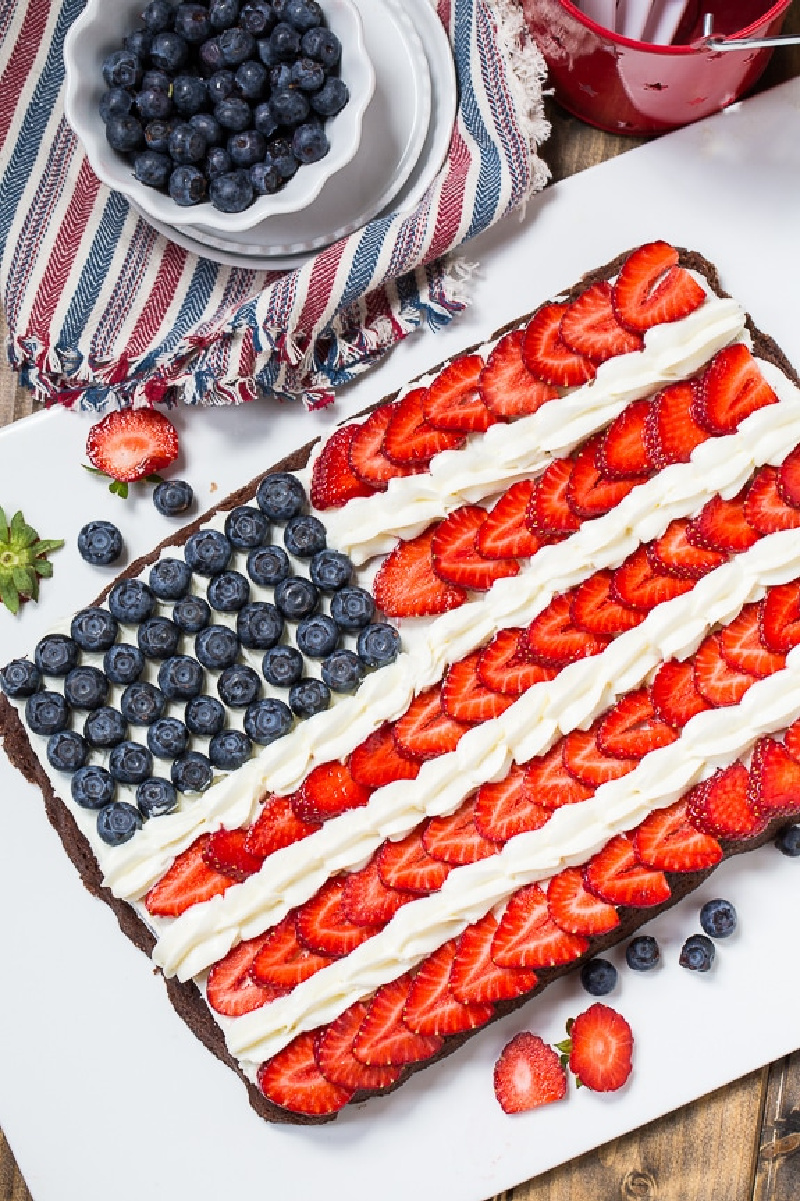 Brownie Flag by Spicy Southern Kitchen. The combination of chocolate, frosting, and fresh fruit makes a delicious and festive party dessert.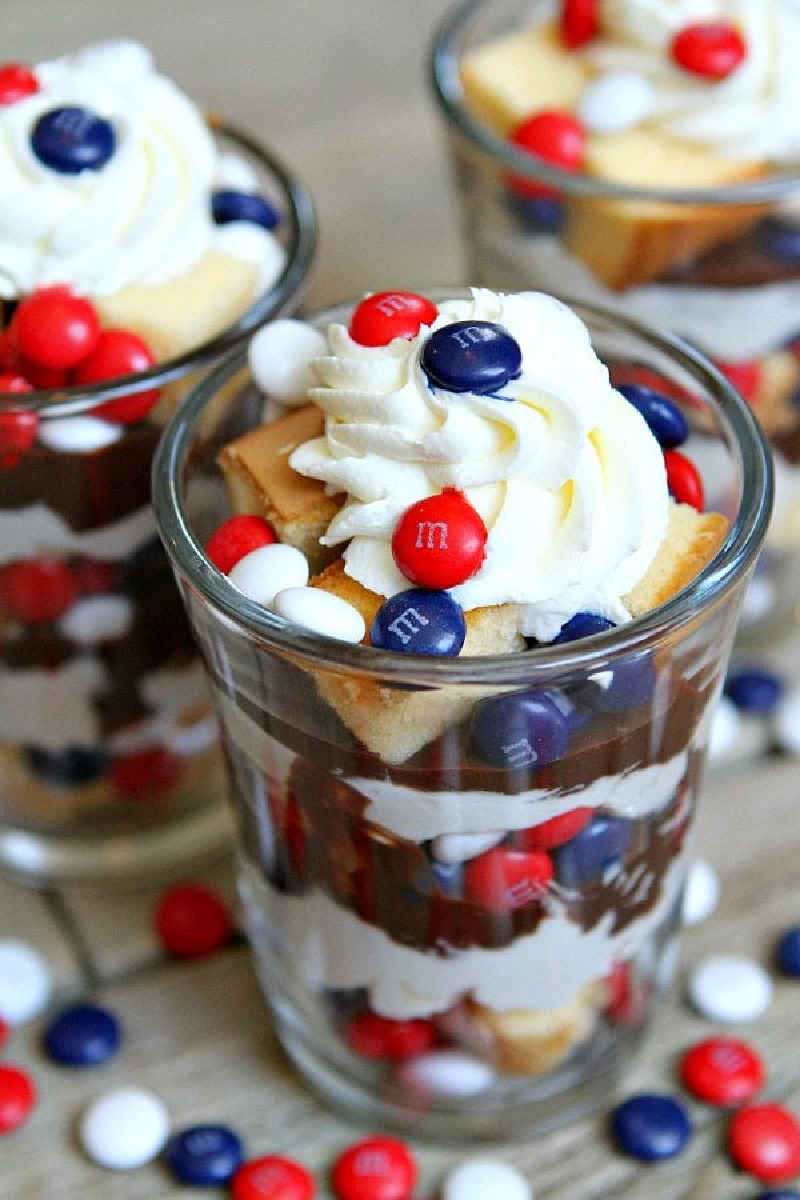 No Bake Patriotic Hot Fudge Cheesecake Trifles by Recipe Girl. The crunch of chocolatey M&M'S is a perfect pairing with cake, whipped cream and hot fudge.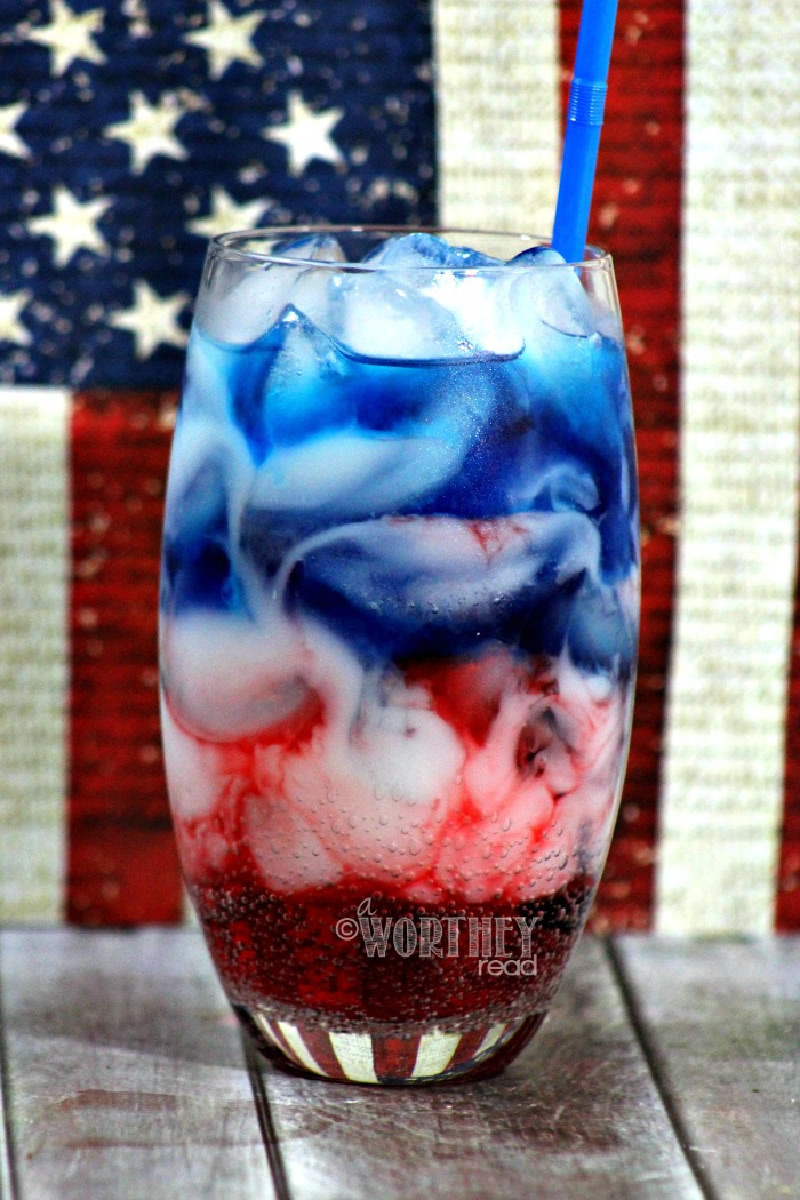 Captain America Kids Drink by This Worthey Life. Layering red, white and blue colors makes this a fun drink for a summer party!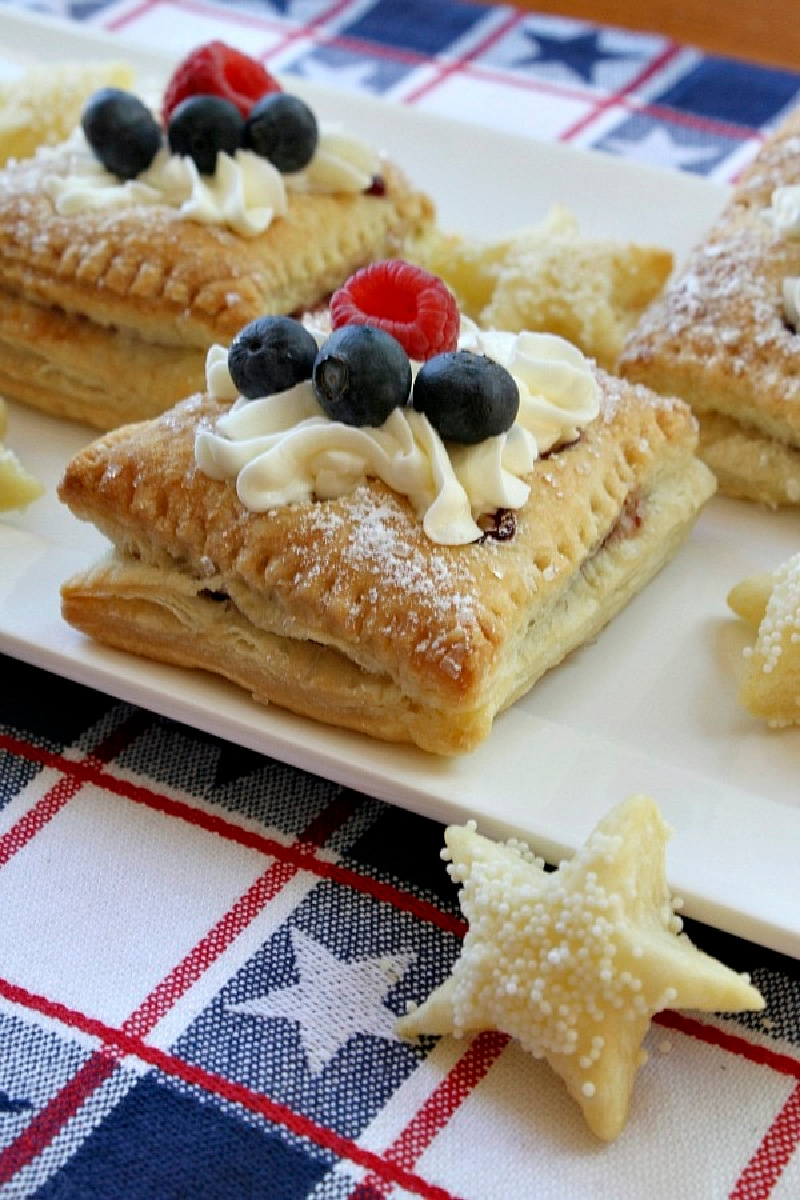 Patriotic Red, White and Blue Pastries by Recipe Girl. These puff pastry pockets are filled with jam and a sweetened cream cheese, and then they're topped with fresh berries. They're for breakfast, they're for lunch, and they're for dessert!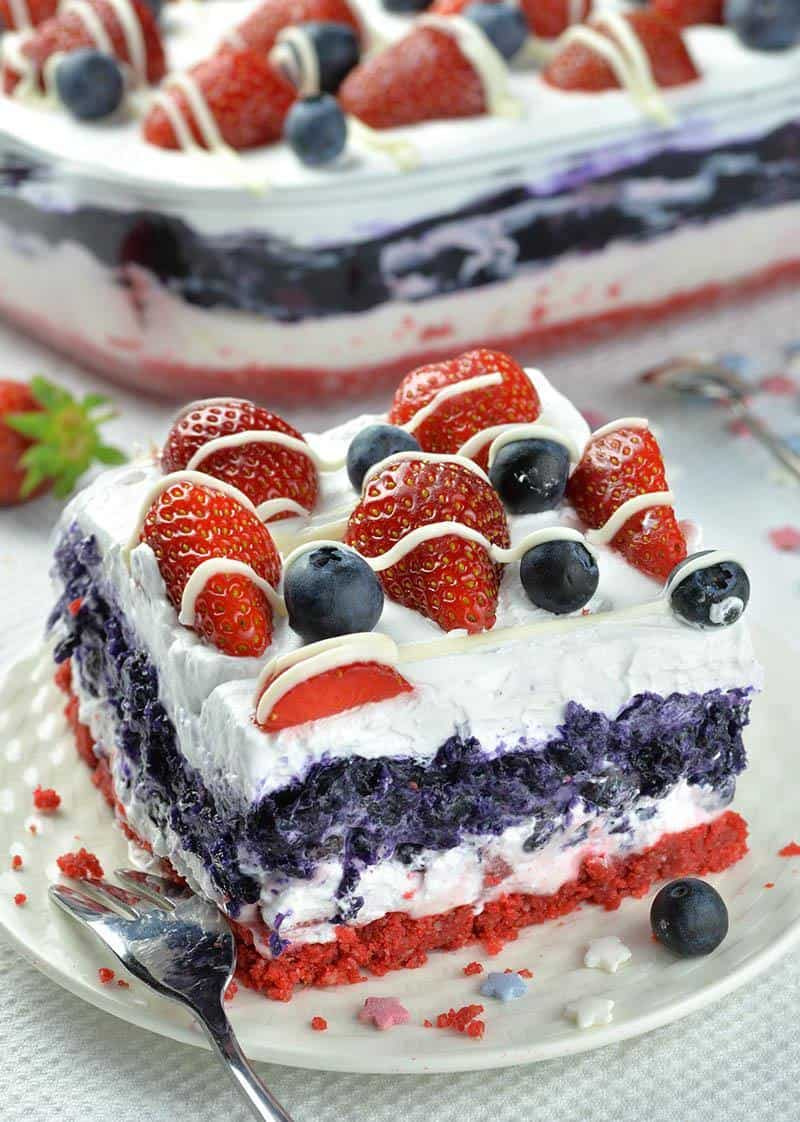 No Bake Summer Berry Lasagna by OMG Chocolate Desserts. This is an easy red, white and blue recipe for a refreshing sweet treat. This is the perfect idea for Memorial Day and 4th of July dessert.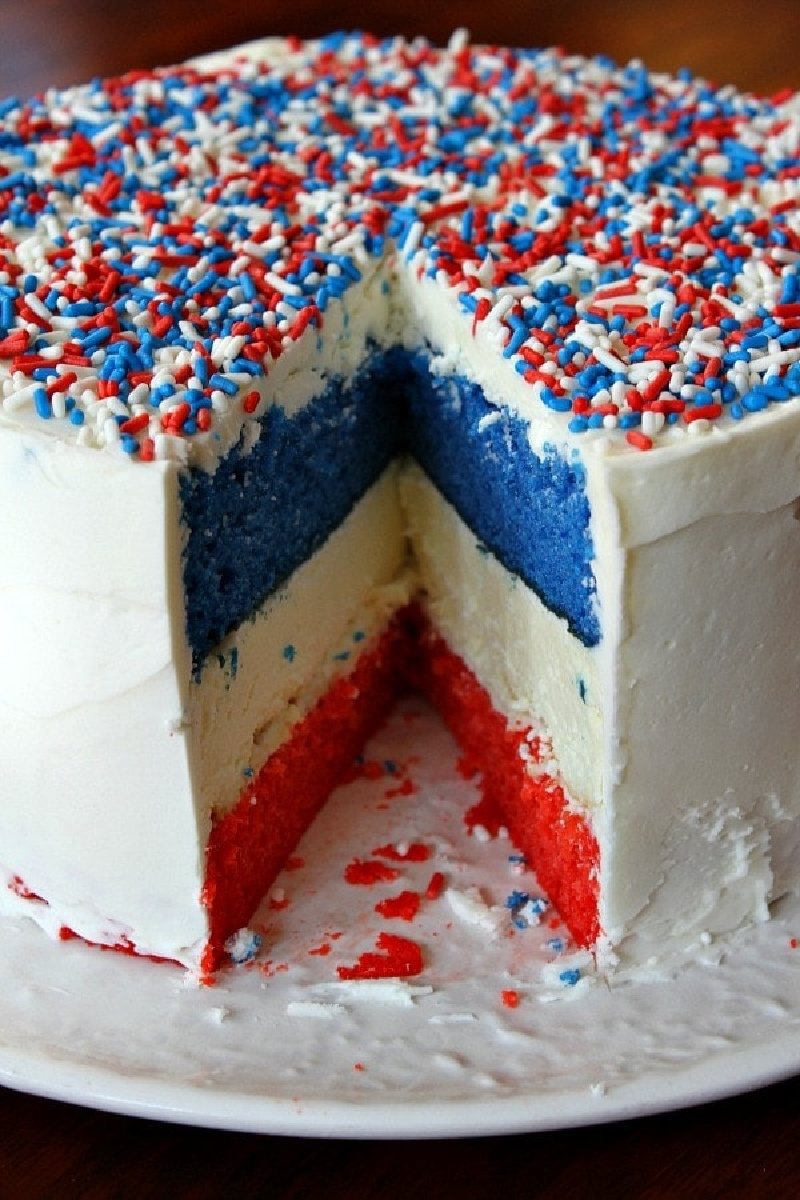 Red, White and Blue Cheesecake Cake by Recipe Girl. It's a layer of vanilla cheesecake sandwiched between two layers of vanilla cake that have been colored festively for 4th of July or Memorial Day weekend.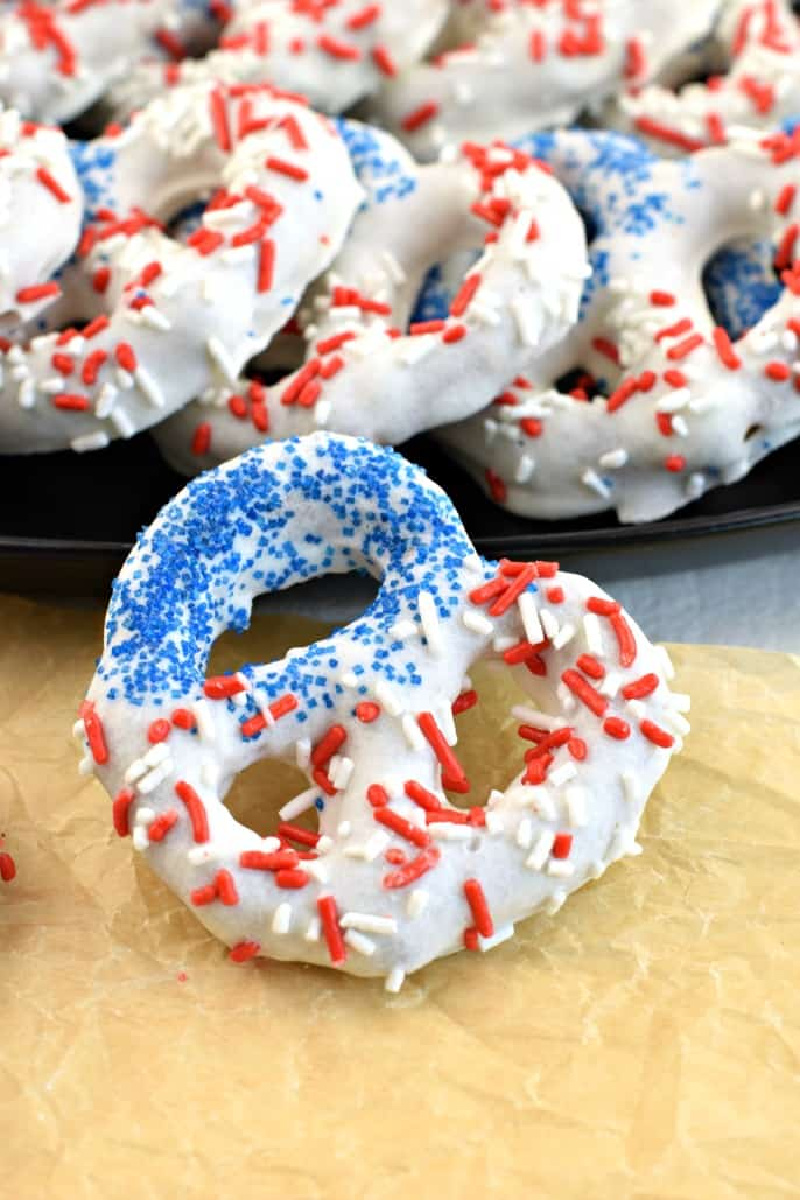 Red, White and Blue Pretzels by Shugary Sweets. White chocolate covered pretzels with red and blue sprinkles make adorable 4th of July desserts!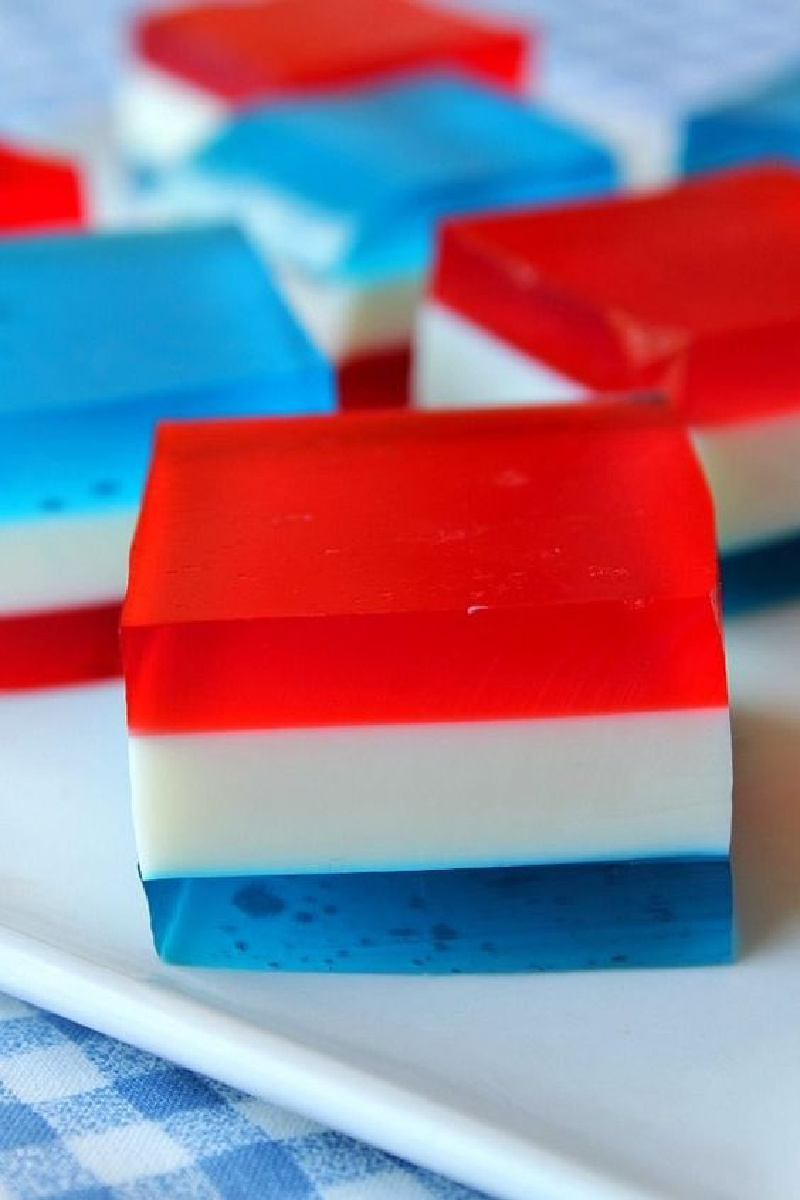 Red, White and Blue Finger Jello by Recipe Girl. Layers of red, white and blue jello make up this handheld goodie!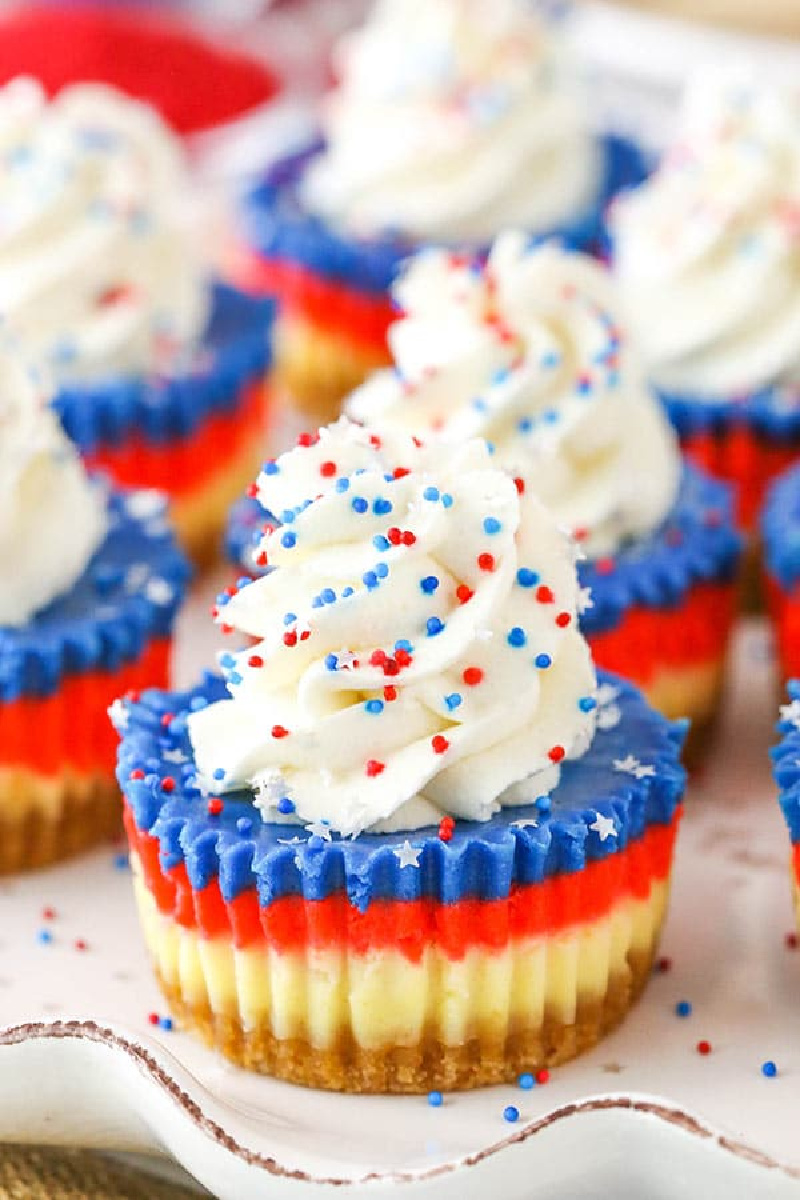 Red, White and Blue Mini Cheesecakes by Life, Love and Sugar. These cheesecakes are smooth and creamy and would also be great served with some fresh fruit! Such a great summer treat!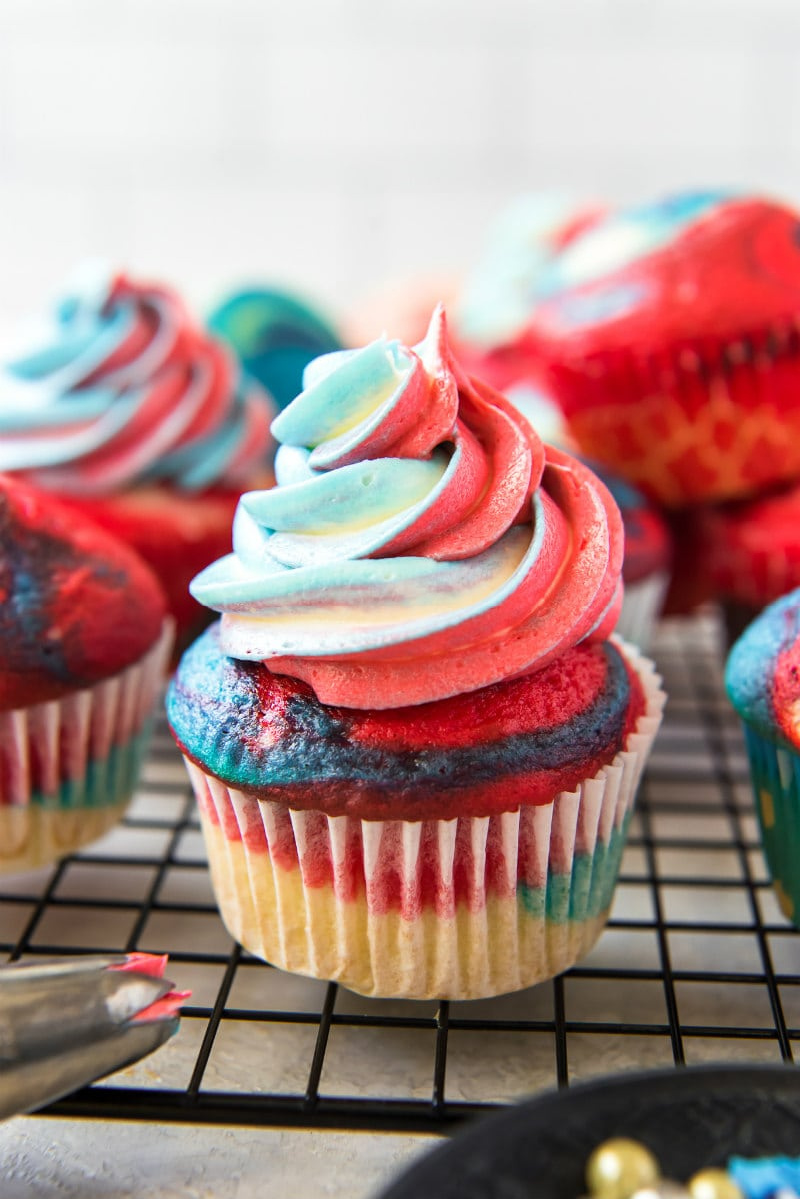 Red, White and Blue Cupcakes by Recipe Girl. These are so pretty with red, white and blue swirled throughout the cupcake and swirled into the buttercream frosting too.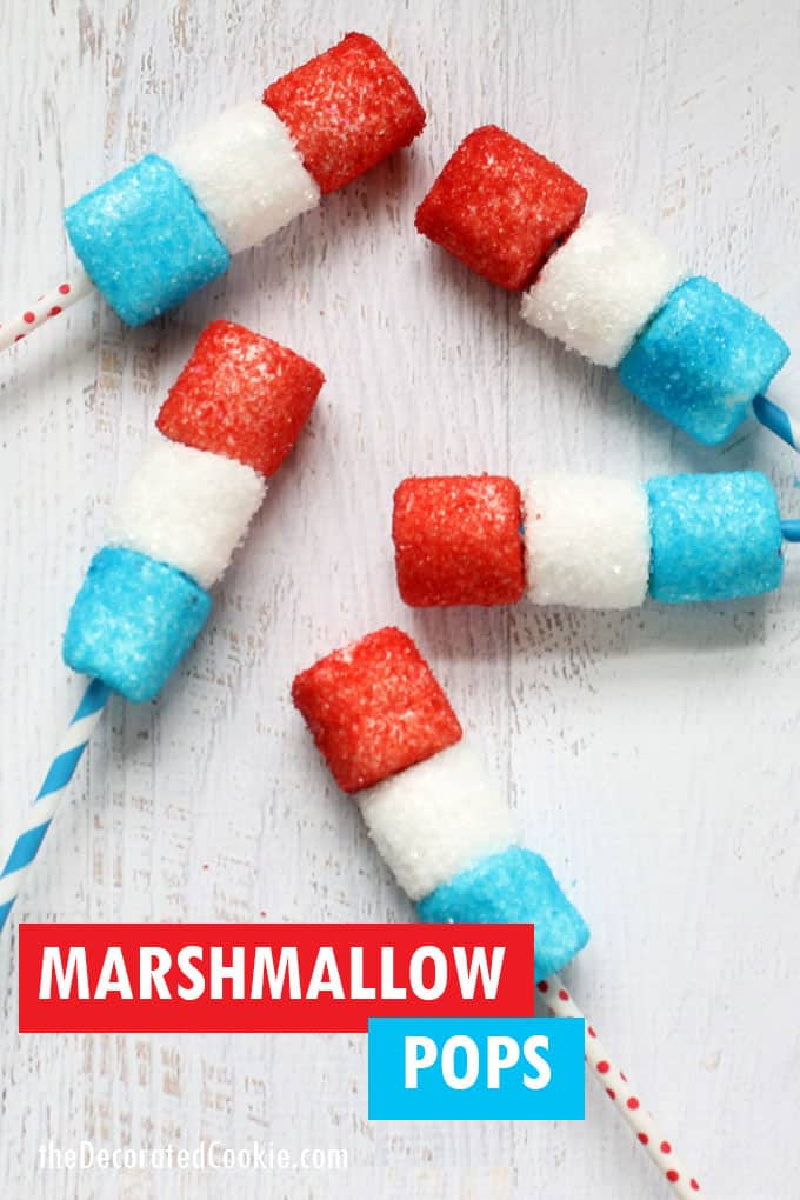 Red, White and Blue Marshmallow Pops by The Decorated Cookie. Sprinkles and marshmallows. What's not to love?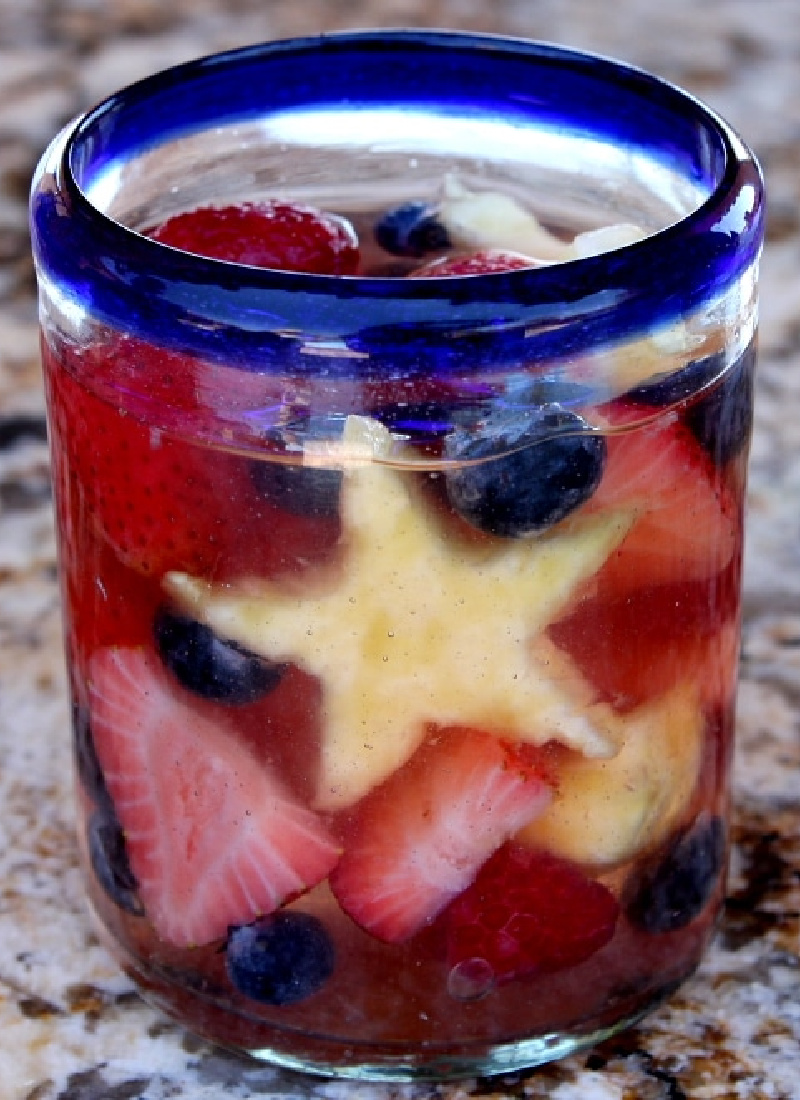 Red, White and Blue Sangria by Recipe Girl. It's the perfect summer cocktail recipe with white wine, vodka, triple sec and plenty of fresh fruit.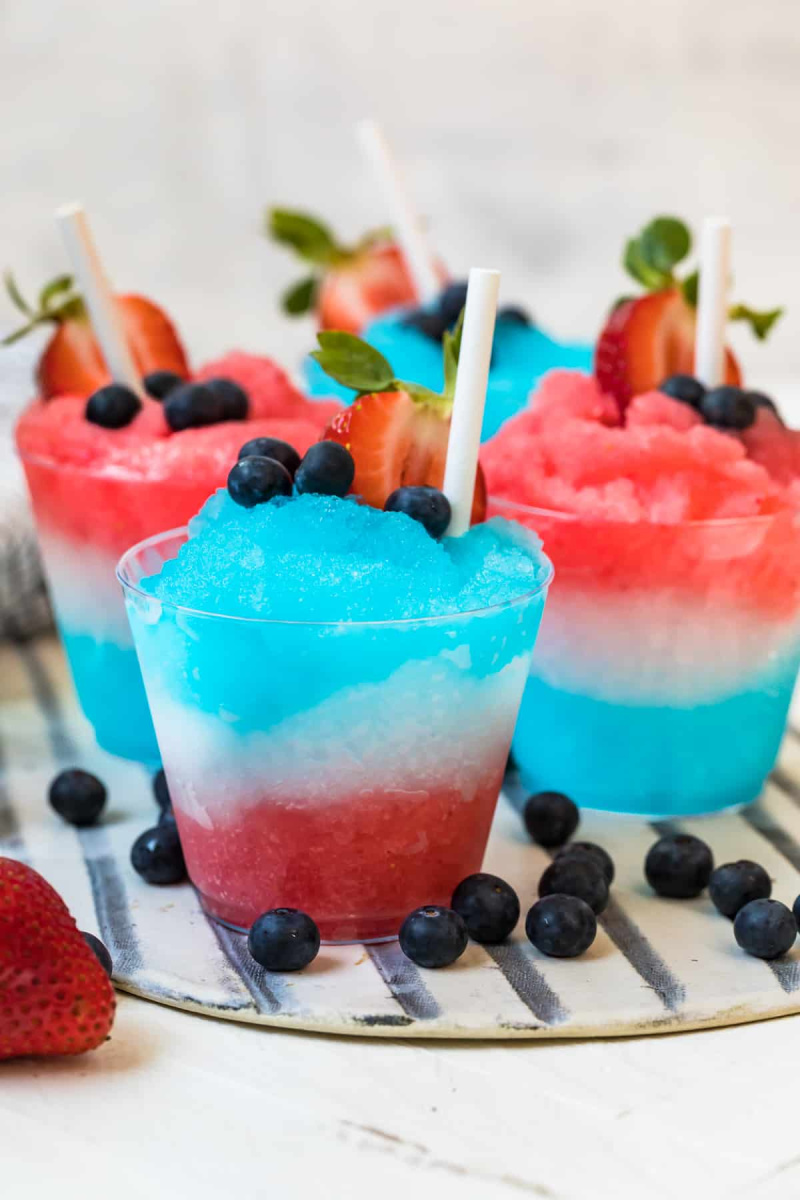 Red, White and Blue Margarita Slushies by The Cookie Rookie. Tequila, lime, cointreau and a host of other goodies are blended together to turn these frozen margarita cocktails into a flavor fiesta!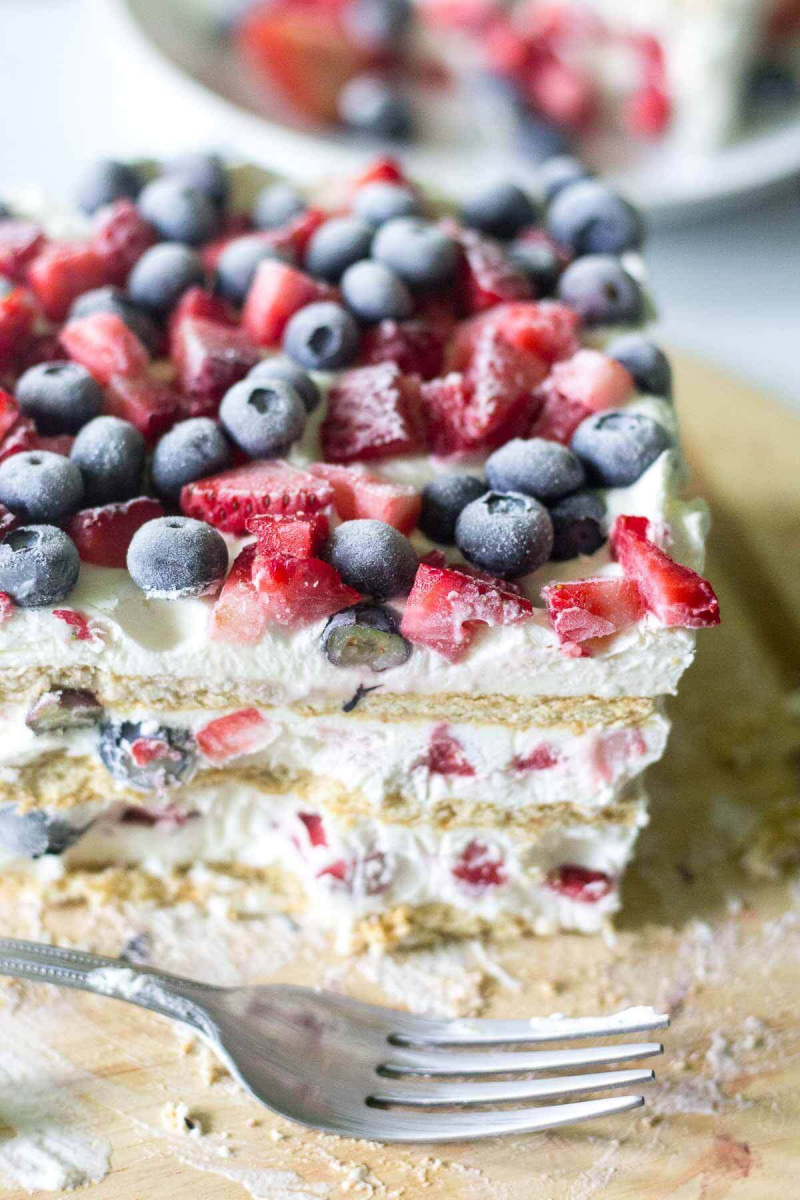 Red, White and Blue Icebox Cake by Oh Sweet Basil. In this dessert, no baking is required and you only need to gather a few ingredients to layer and put this icebox cake together!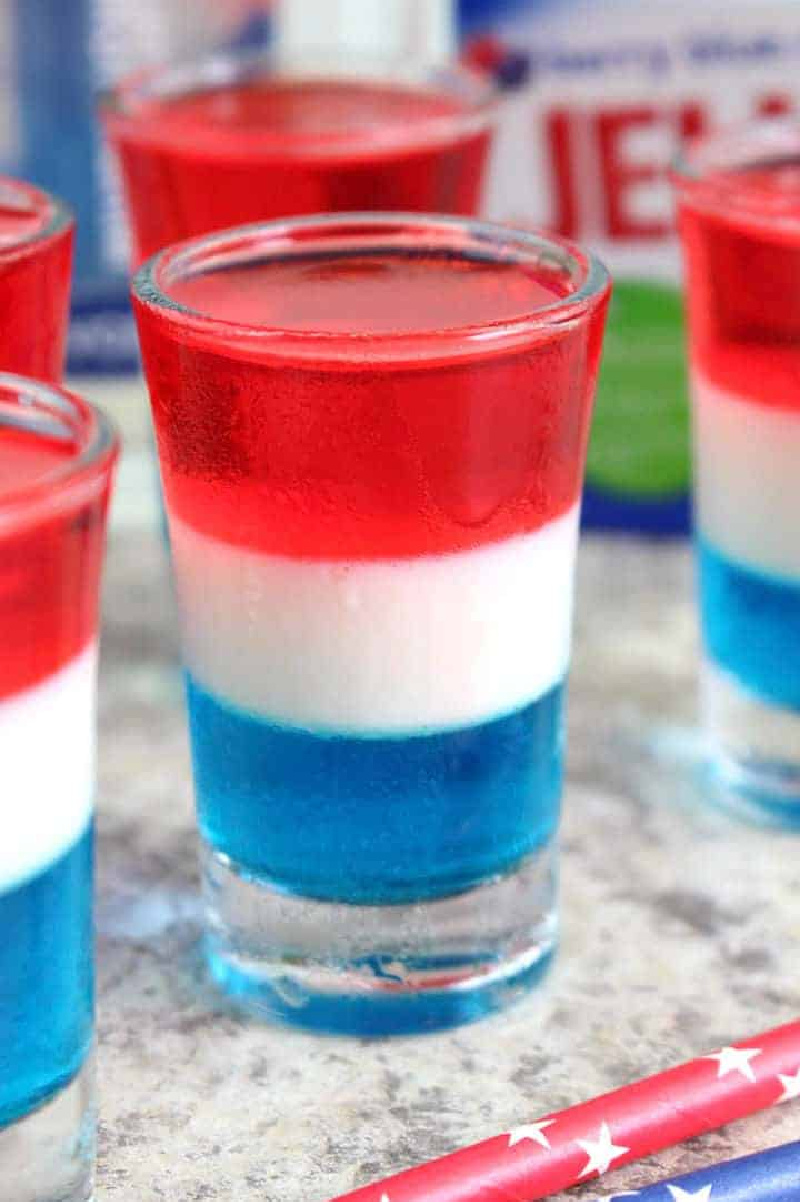 Red, White and Blue Jello Shots by Princess Pinky Girl. These adult jello shots will be the hit of your summer party!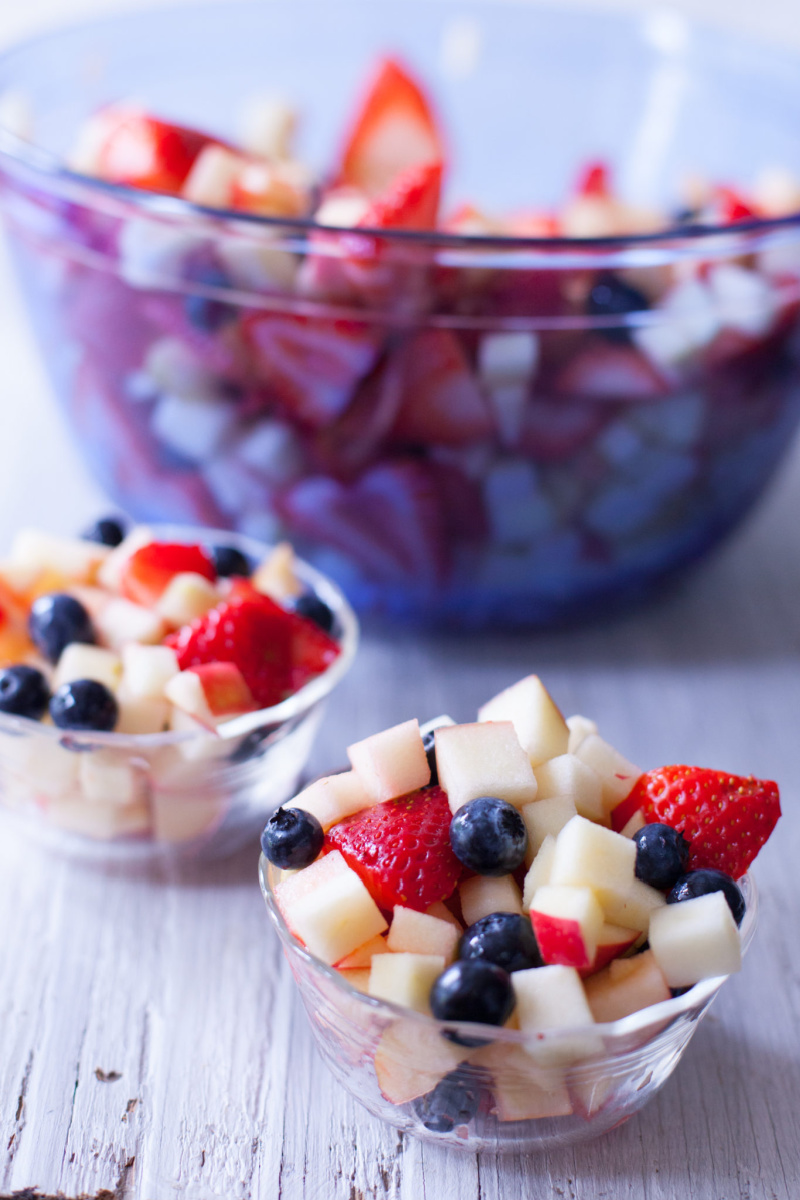 Red, White and Blue Fruit Salad by Eating Richly. This salad is a sweet mix of blueberries, strawberries, and apples. It makes a fun patriotic salad, or even a healthy dessert.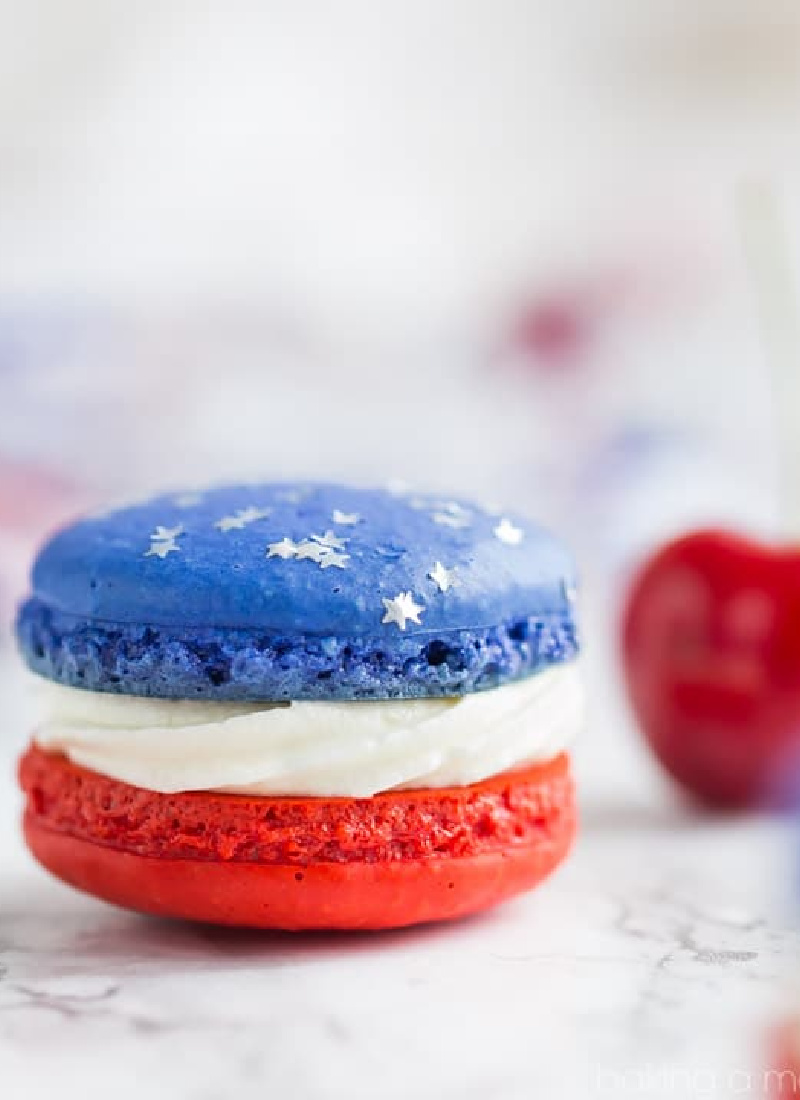 Red, White and Blue Cherry Cheesecake Macarons by Baking a Moment. You'll love the combination of sweet almond, tangy cream cheese, and fresh summer cherries!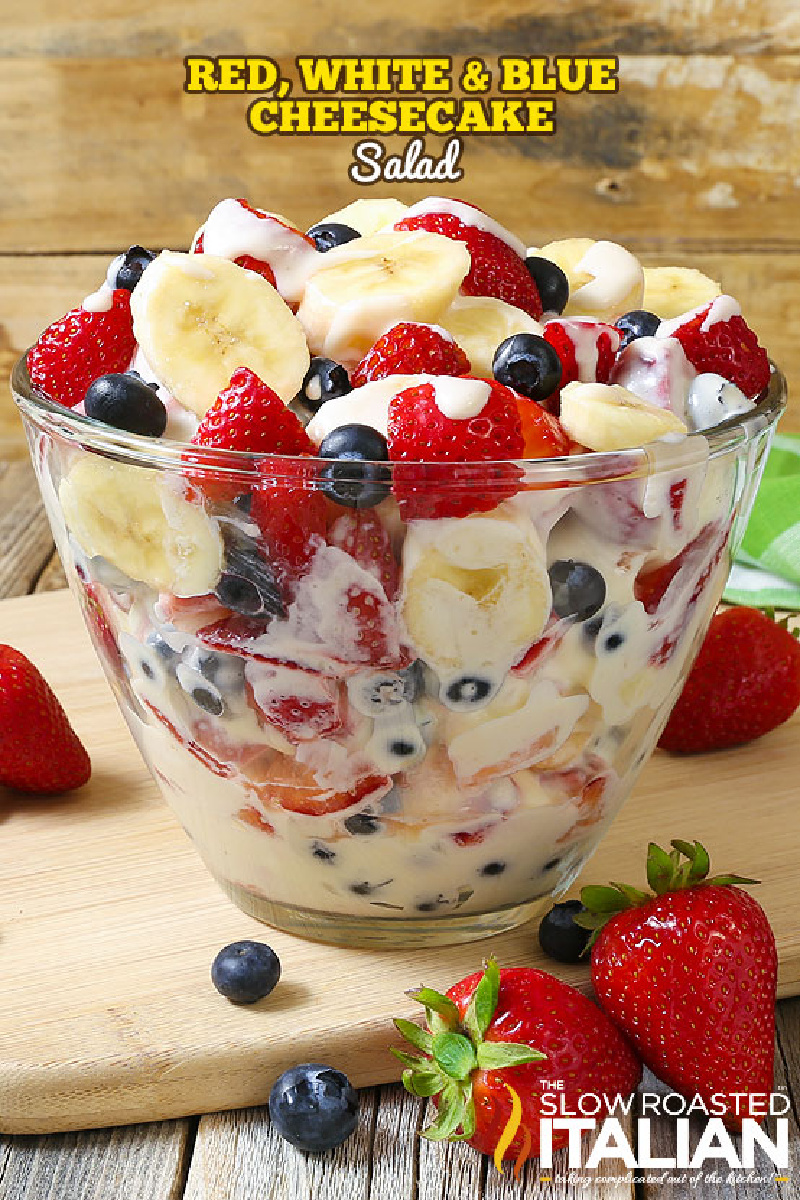 Red, White and Blue Cheesecake Salad by The Slow Roasted Italian. This salad comes together so easy with fresh fruit and a rich and creamy cheesecake filling to create the most glorious fruit salad ever!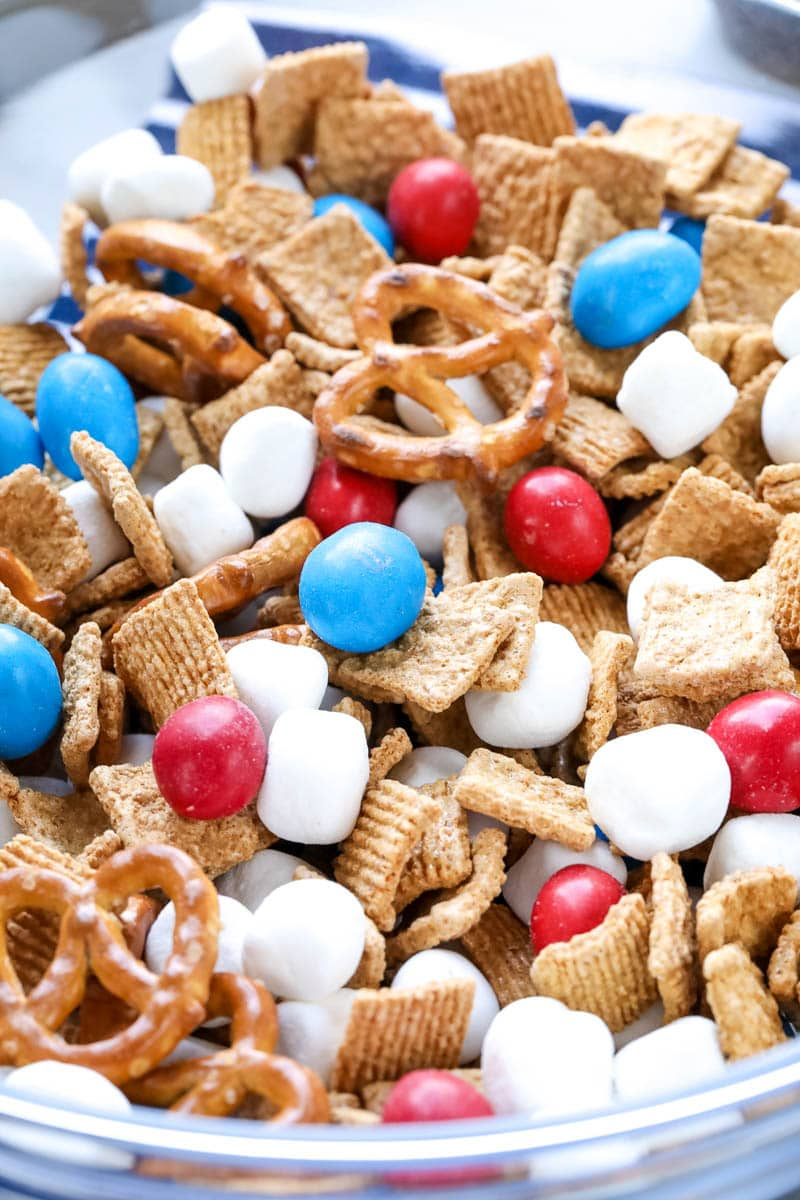 Red, White and Blue Trail Mix by All Things Mamma. A festive, easy-to-make snack!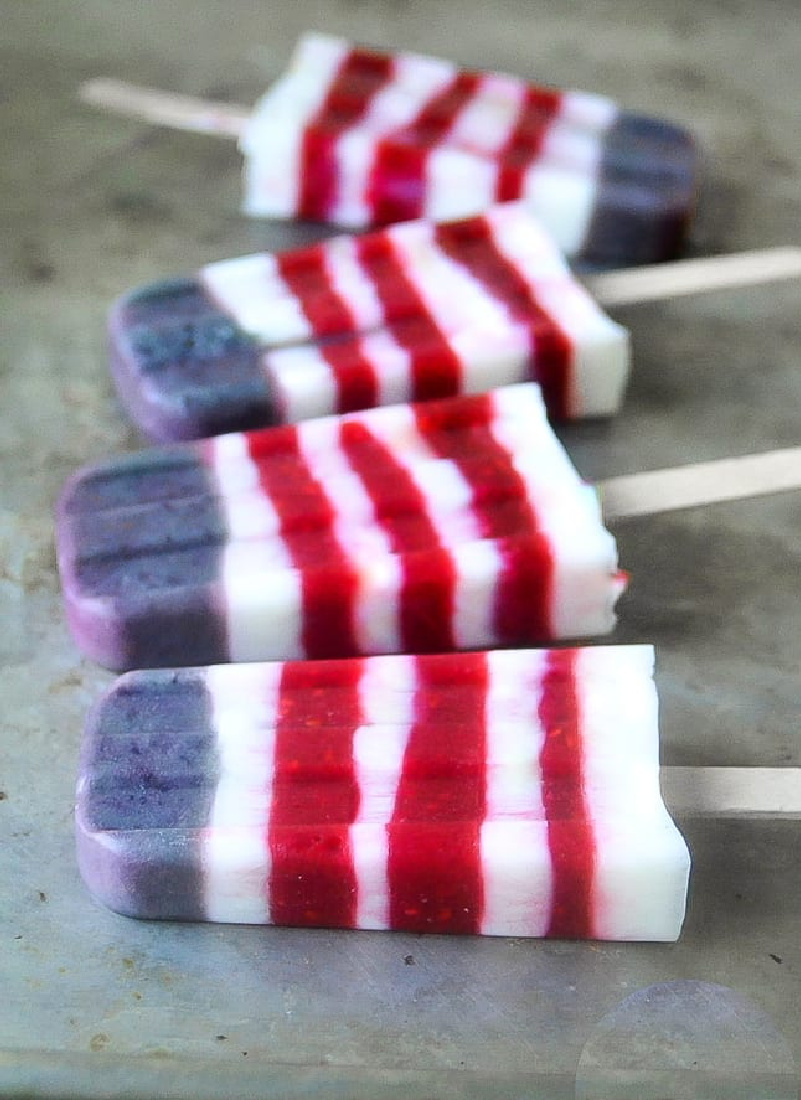 Red, White and Blueberry Popsicles by The View From Great Island. Kids of all ages love these berry-licious frozen treats