In this collection of the 25 Best Guacamole Recipes, you'll find classic, authentic guacamole, loaded, fruit-added, bacon, corn and much more!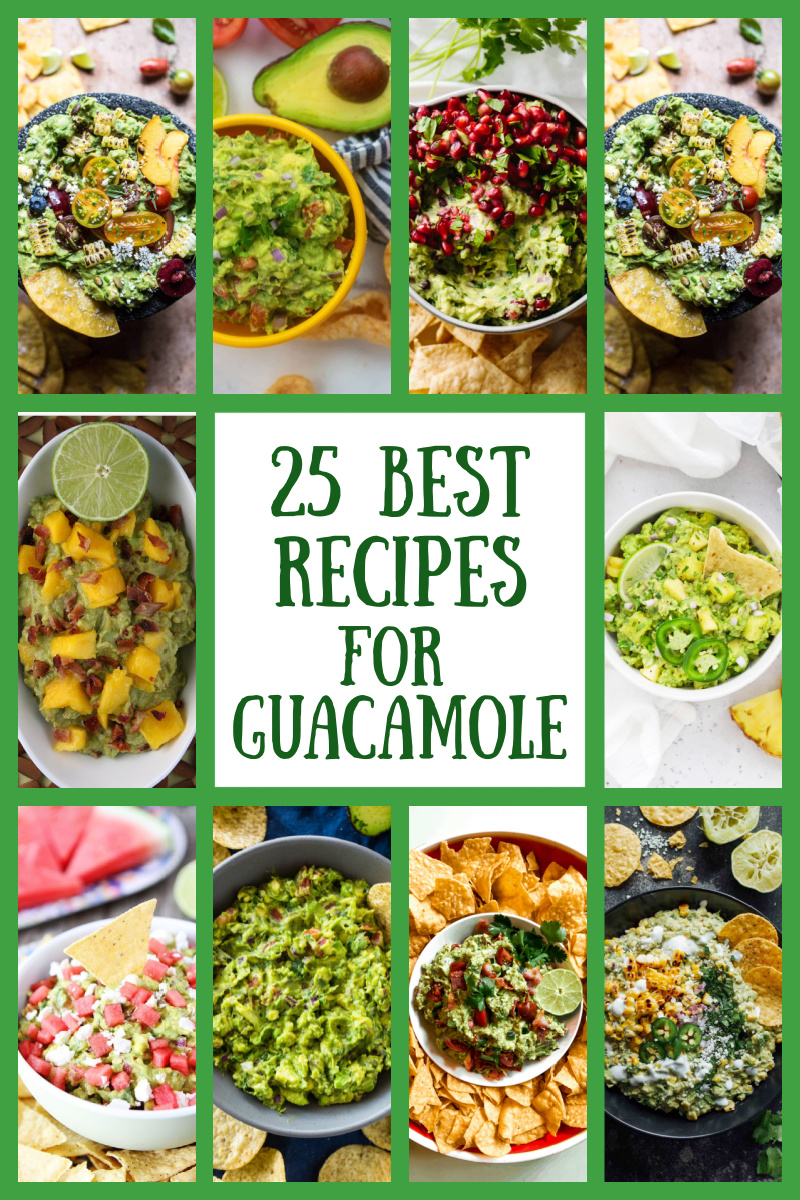 September 16th is National Guacamole Day! Celebrate this day by making one of these 25 best guacamole recipes. Or visit your favorite Mexican restaurant and order some chips and guacamole. It's a delicious day! Celebrate your guacamole by sharing it on social media using the hashtag #NationalGuacamoleDay, #GuacamoleDay and #RecipesForHolidays. Be sure to check out my September Food Holidays page so you can follow along with all the food holidays in the month of September.
The History of Guacamole:
Prior to the 16th century, guacamole (mashed avocado) was eaten by the Aztecs. They considered guacamole to be an aphrodisiac! Spaniards who visited the region became enamored with it. They tried to re-create guacamole when they were back in Spain, but since avocados didn't grow well in Spain, they had a tough time with that.
The name, "guacamole" comes from the Nahuati word, āhuacamolli. Āhuacamolli literally translates to "avocado sauce". Spaniards eventually changed the name to "guacamole." They also added onion, cilantro and lime juice- to create more of the guacamole we know of today.
In 1493, guacamole was introduced to the America's by Columbus.
Guacamole was fairly rare in the United States for most of the 20th century. The U.S. had a ban on Mexican avocado imports from the 1910's to 1997. As soon as the ban ended and avocados came into the country again, the popularity of guacamole exploded.
The rise in the popularity of guacamole corresponds with a rise in the Latin population. The average American now eat 8 pounds of avocados per year. Guacamole is one of the most widely consumed foods during the Super Bowl.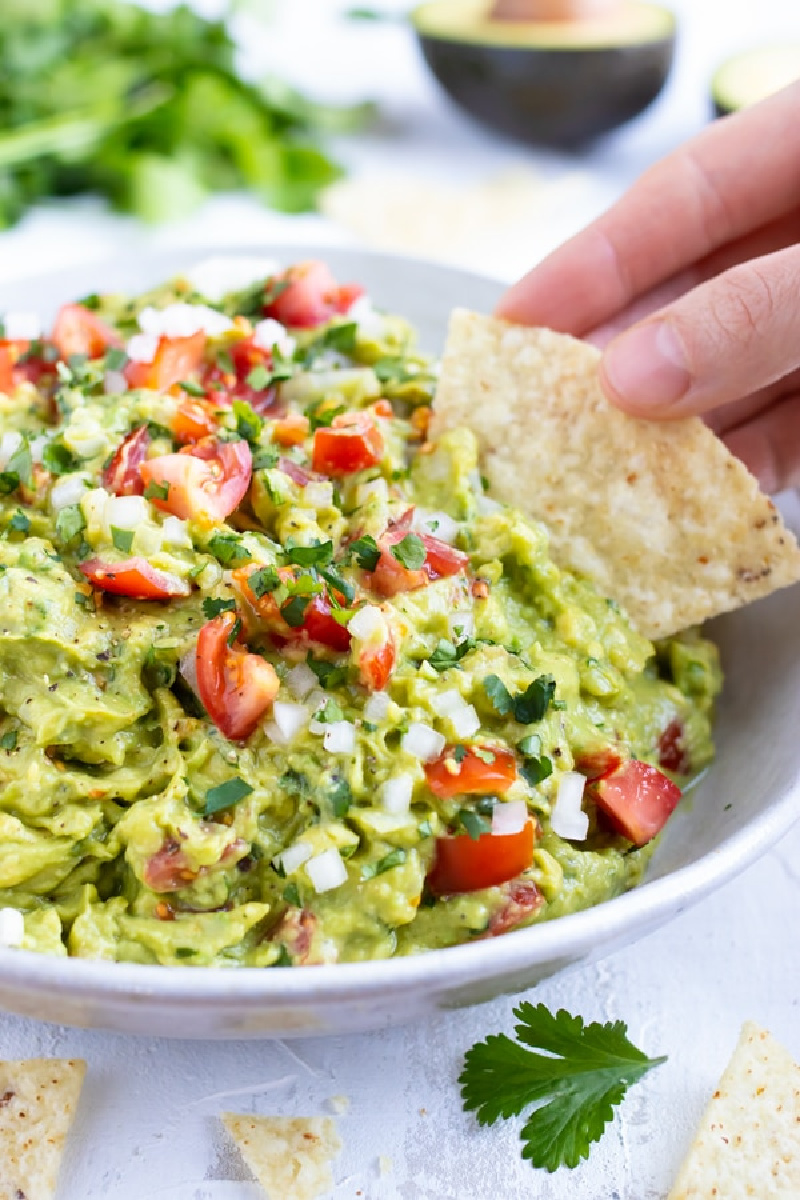 Easy, Homemade Guacamole by Evolving Table. Learn how simple it is to make guacamole with ripened avocados and a few other easy-to-find ingredients!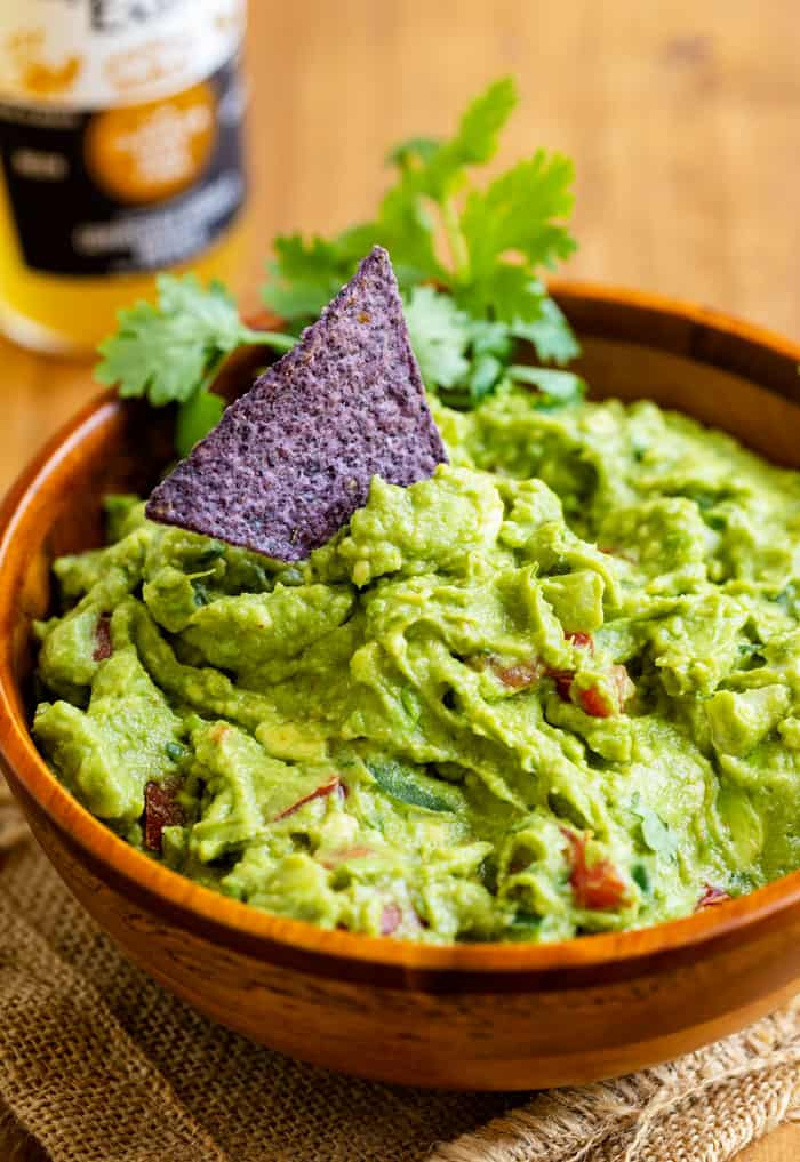 Alton Brown's Guacamole Recipe by The Cozy Cook. An easy, homemade guacamole recipe to pair with salsa and crunchy tortilla chips for dipping.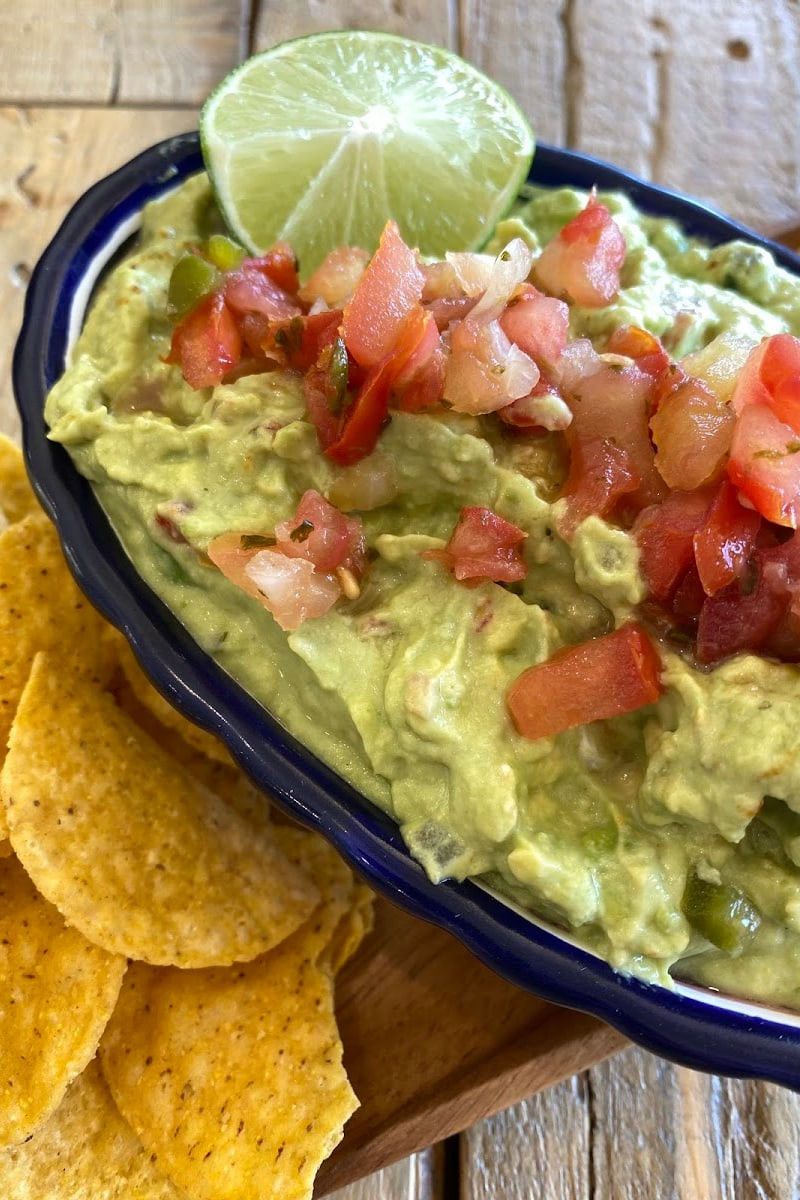 RecipeGirl's Guacamole by Recipe Girl. This is a simple, creamy guacamole recipe that is loved by many!
Bacon and Blue Cheese Guacamole by Simply Recipes. Blue cheese and bacon are a match made in heaven, and here they're mixed with avocado for a party-ready guacamole.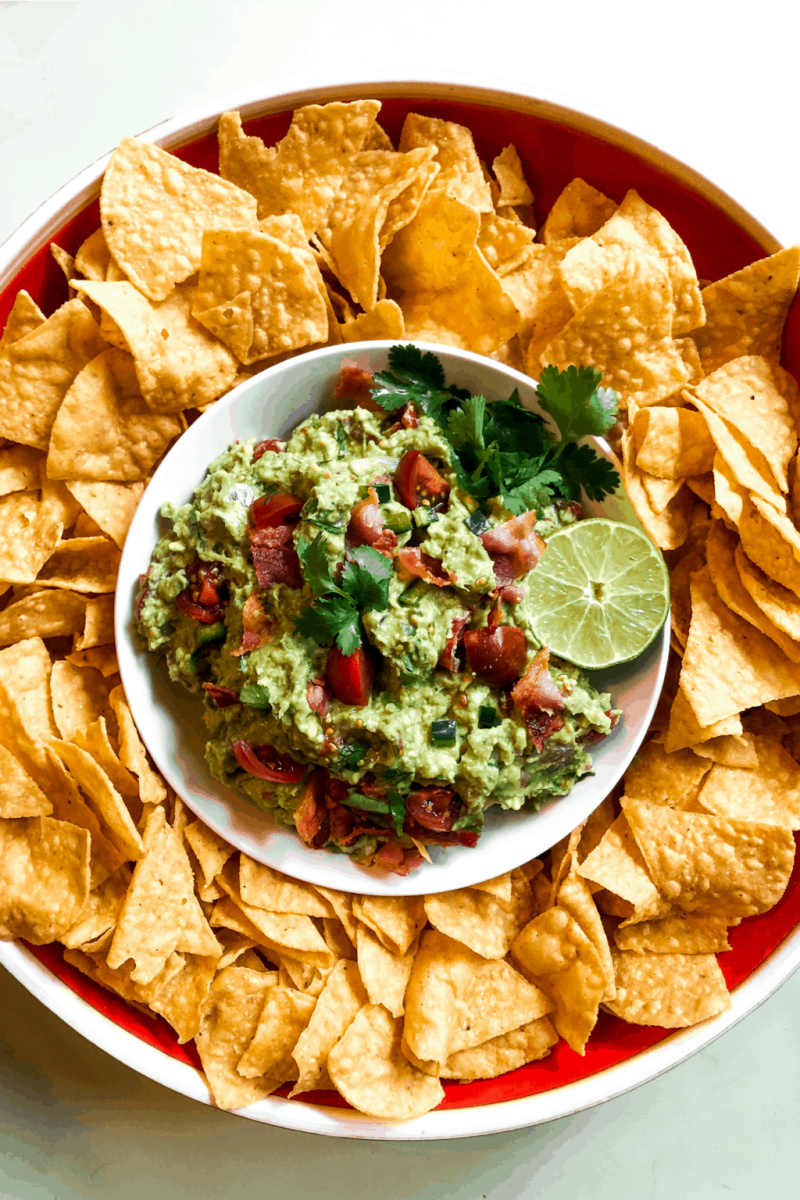 Bacon Guacamole by Reluctant Entertainer. This guacamole is a spin on the traditional recipe by adding poblano peppers, shallots and bacon!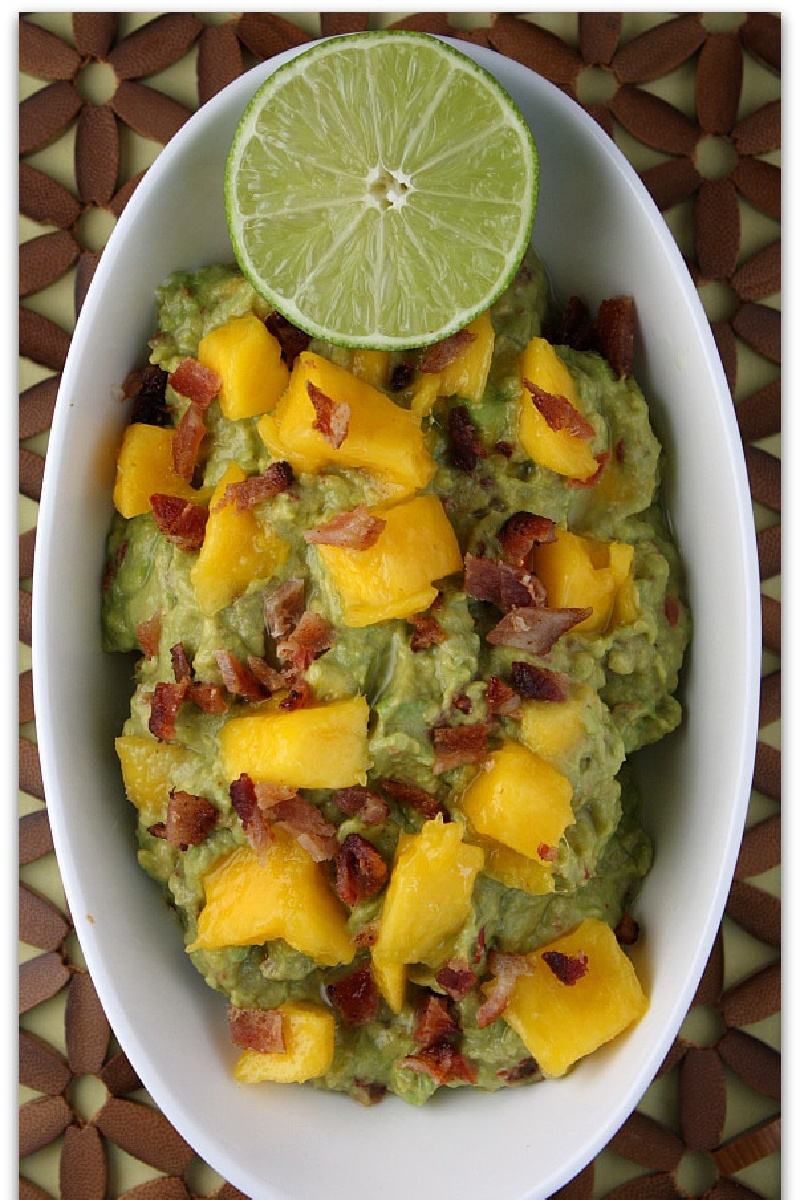 Sweet Smokin' Hot Mango Chipotle Guacamole by Recipe Girl. All kinds of great flavors are going on in this delicious guacamole recipe.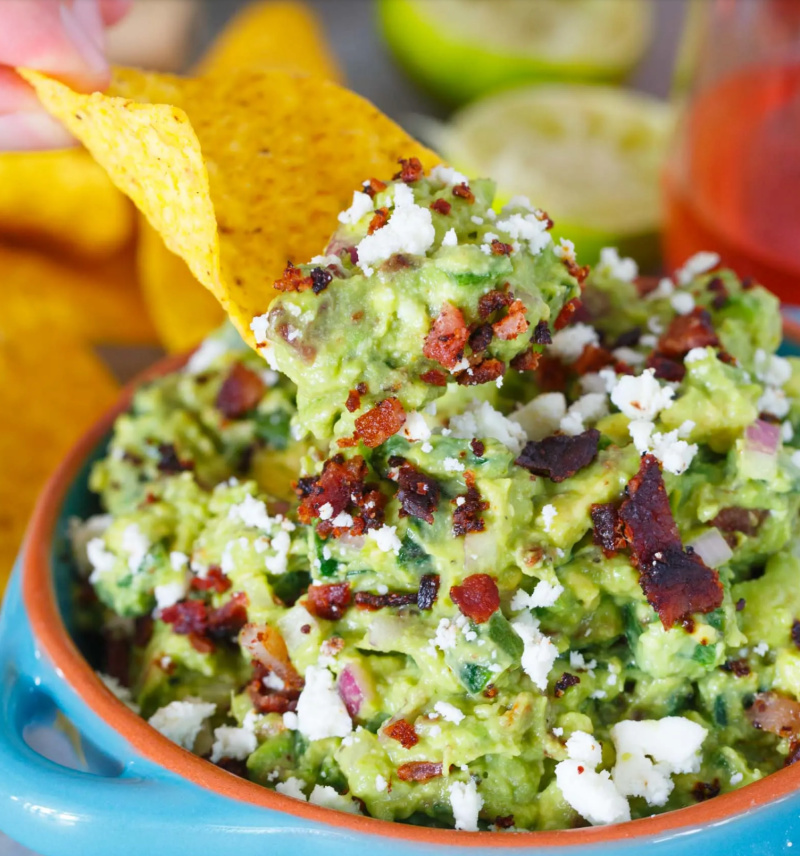 Charred Poblano and Peppered Bacon Guacamole by Table for Two. All in one bite, you get spicy, salty, and creamy.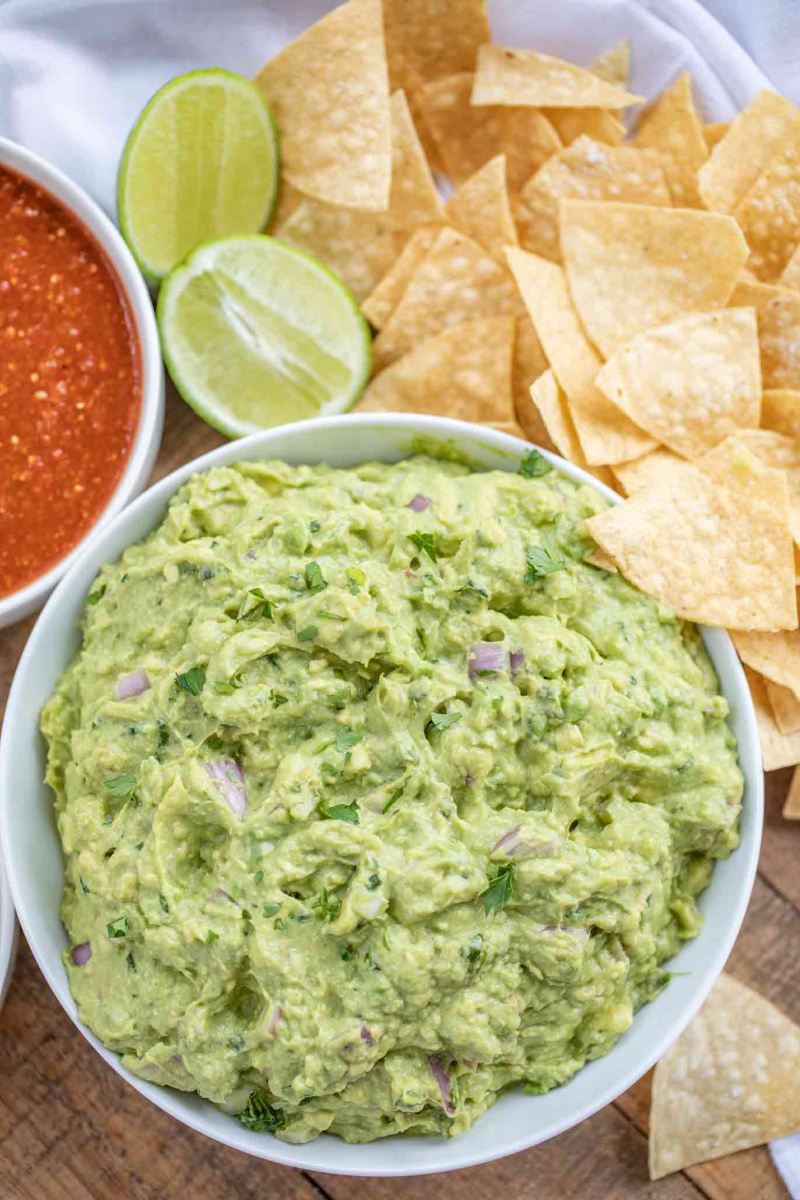 Copycat Chipotle Guacamole by Dinner Then Dessert. This guac is made with the authentic Chipotle recipe- including lime juice, cilantro, red onions and jalapeños. It takes guacamole to a new level at home in 15 minutes!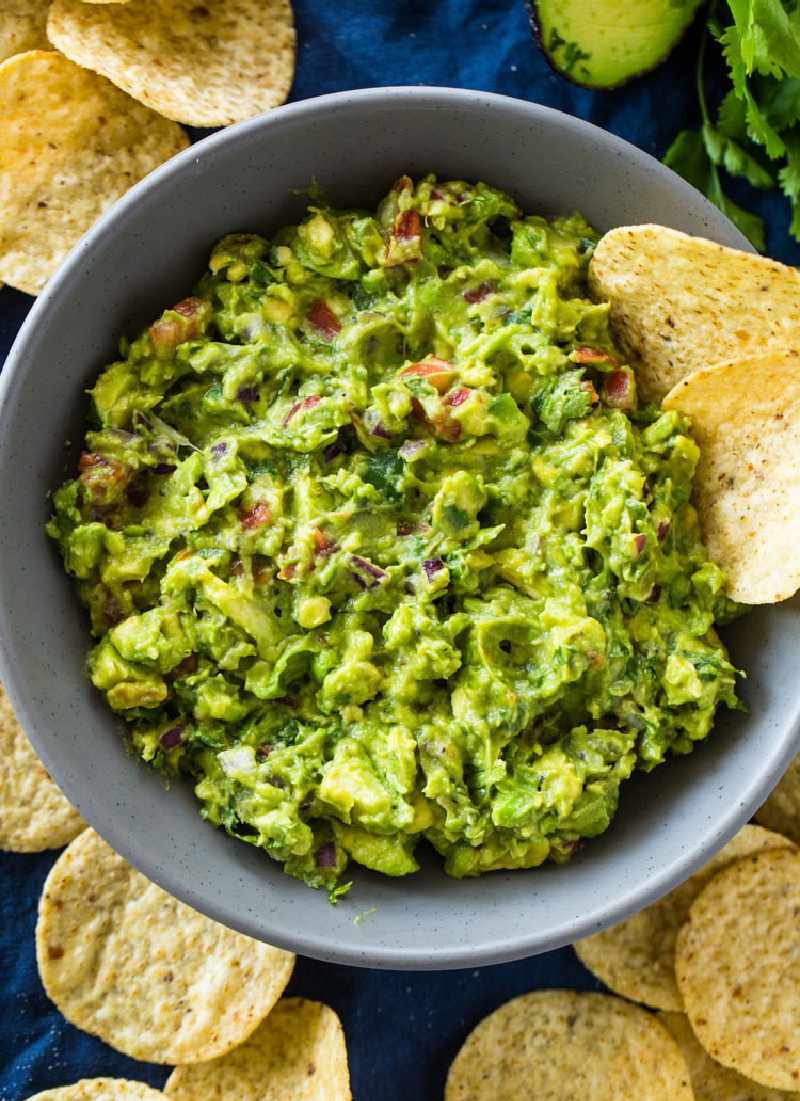 Chunky Guacamole by Gimme Delicious. Ripe avocado, tomatoes, onion, jalapeño, cilantro and lots of lime juice, makes the BEST chunky guacamole!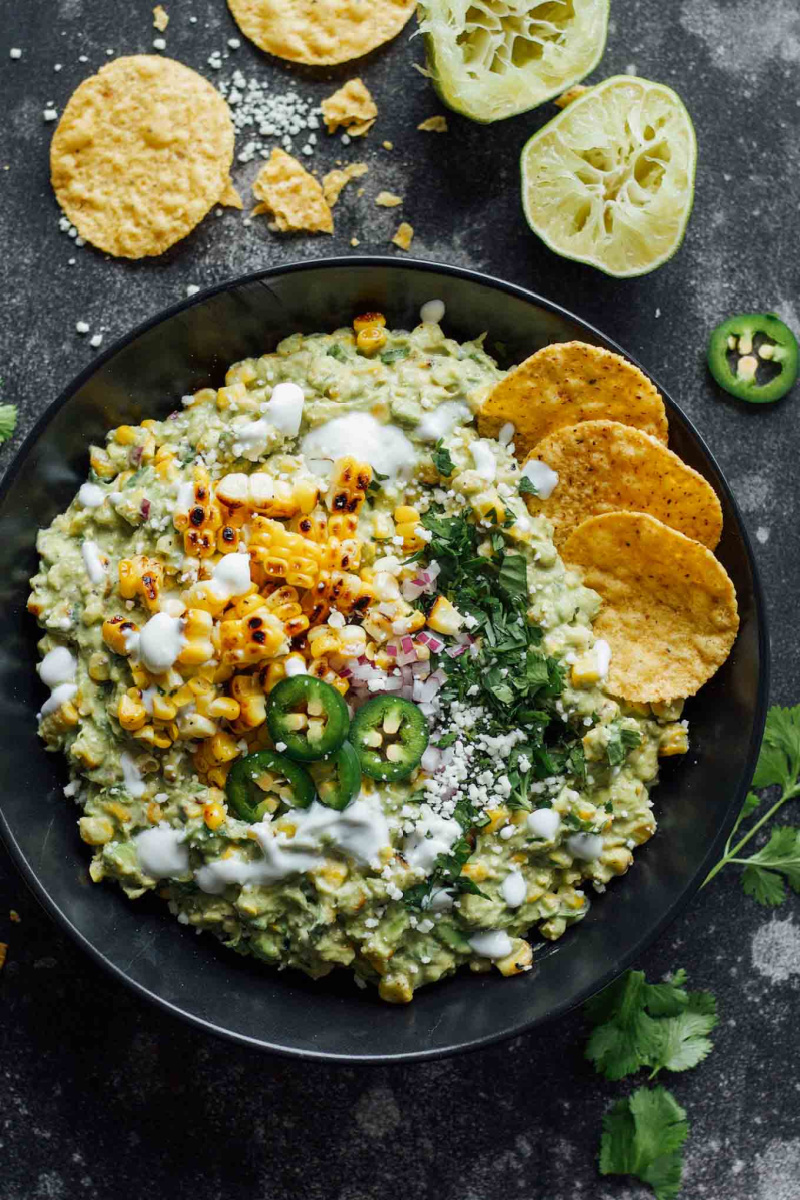 Elote Guacamole by Destination Delish. Tangy, sweet corn dip gets folded into guacamole to create the most amazing combination of flavors and textures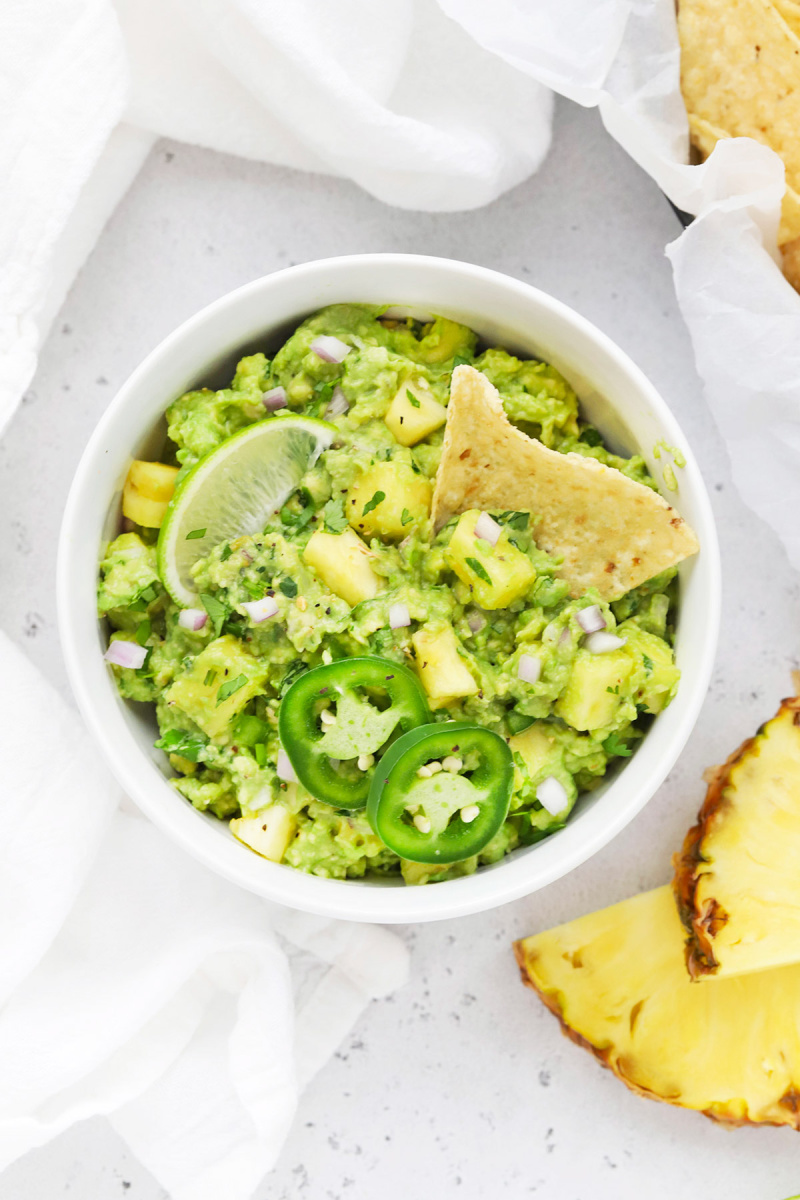 Pineapple Guacamole by One Lovely Life. This is a sweet and spicy guacamole with a tropical twist.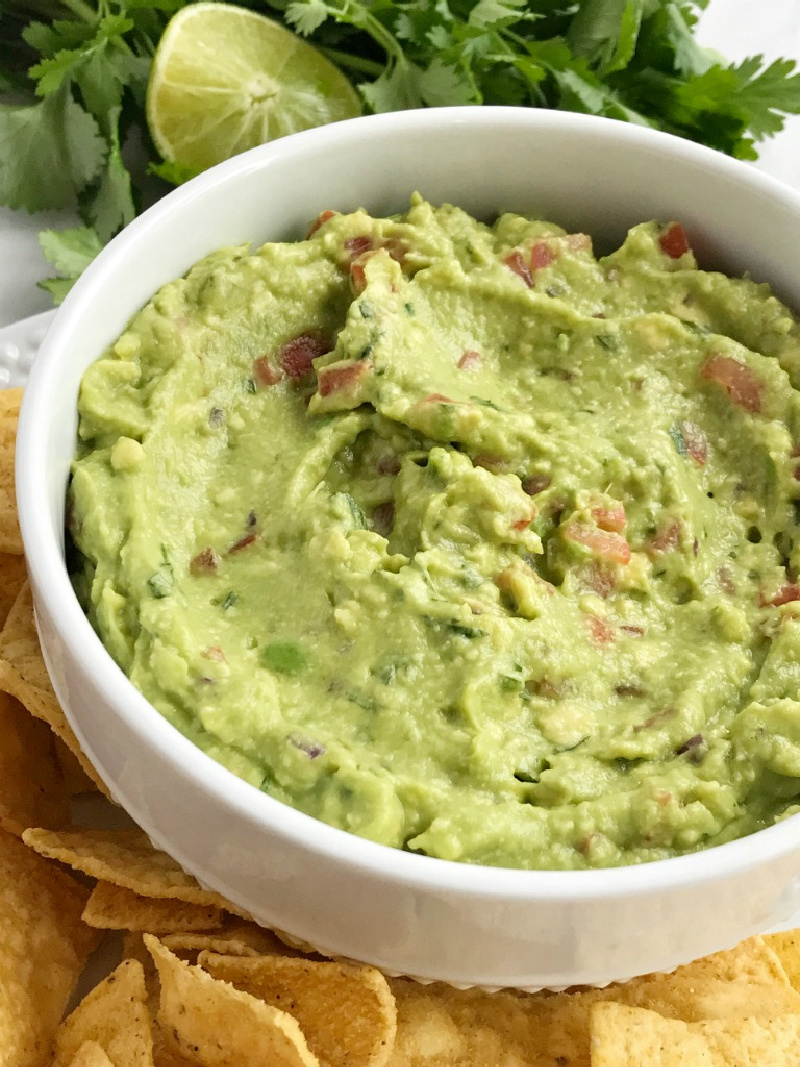 Salsa Verde Guacamole by Together as a Family. Everything you love about guacamole plus the huge flavor from salsa verde.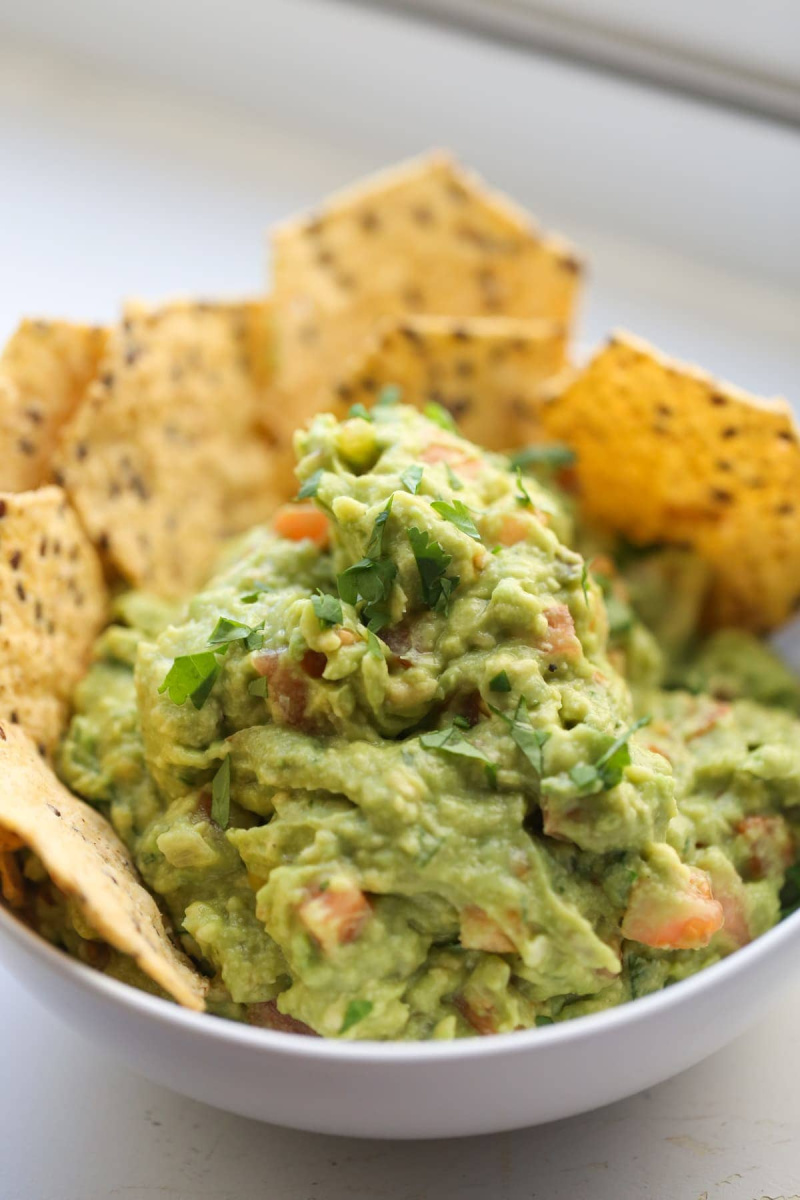 Rosa Mexicano Guacamole by Lauren's Latest. Re-created from the very popular Rosa Mexicano restaurant in New York City.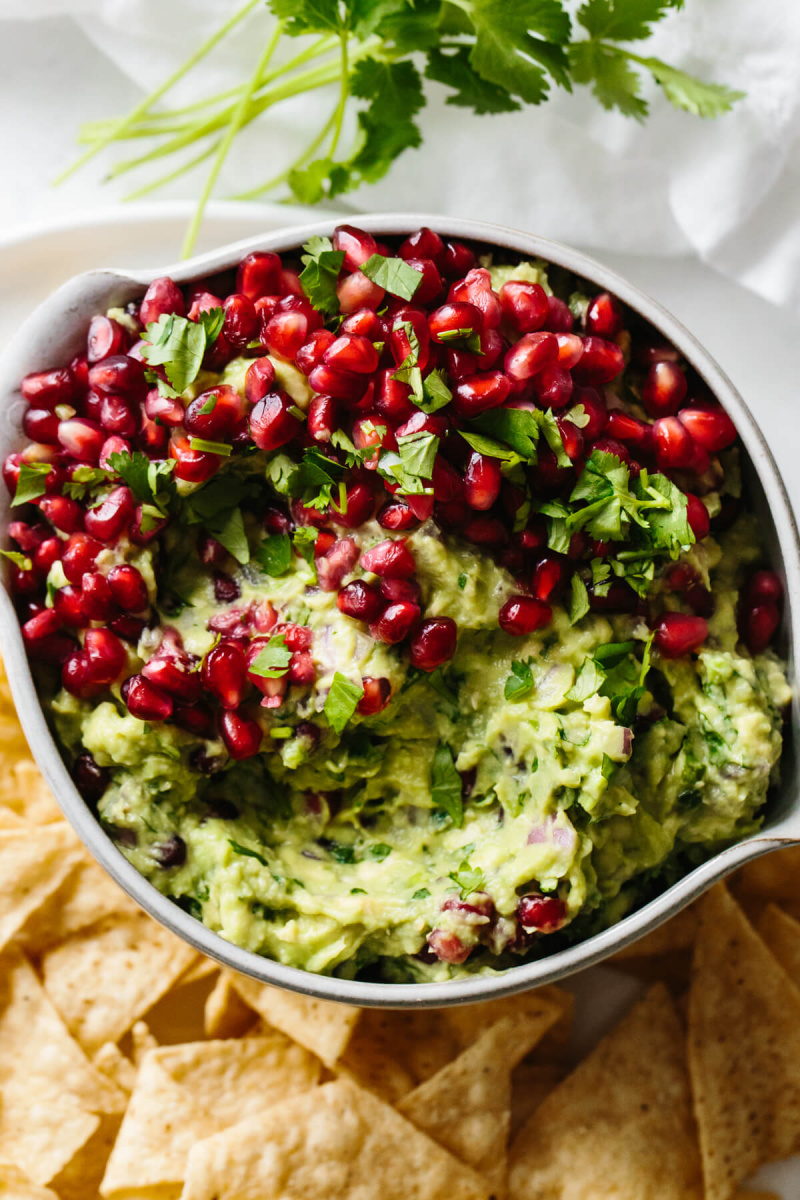 Pomegranate Guacamole by Downshiftology. This guacamole has a festive, holiday spin!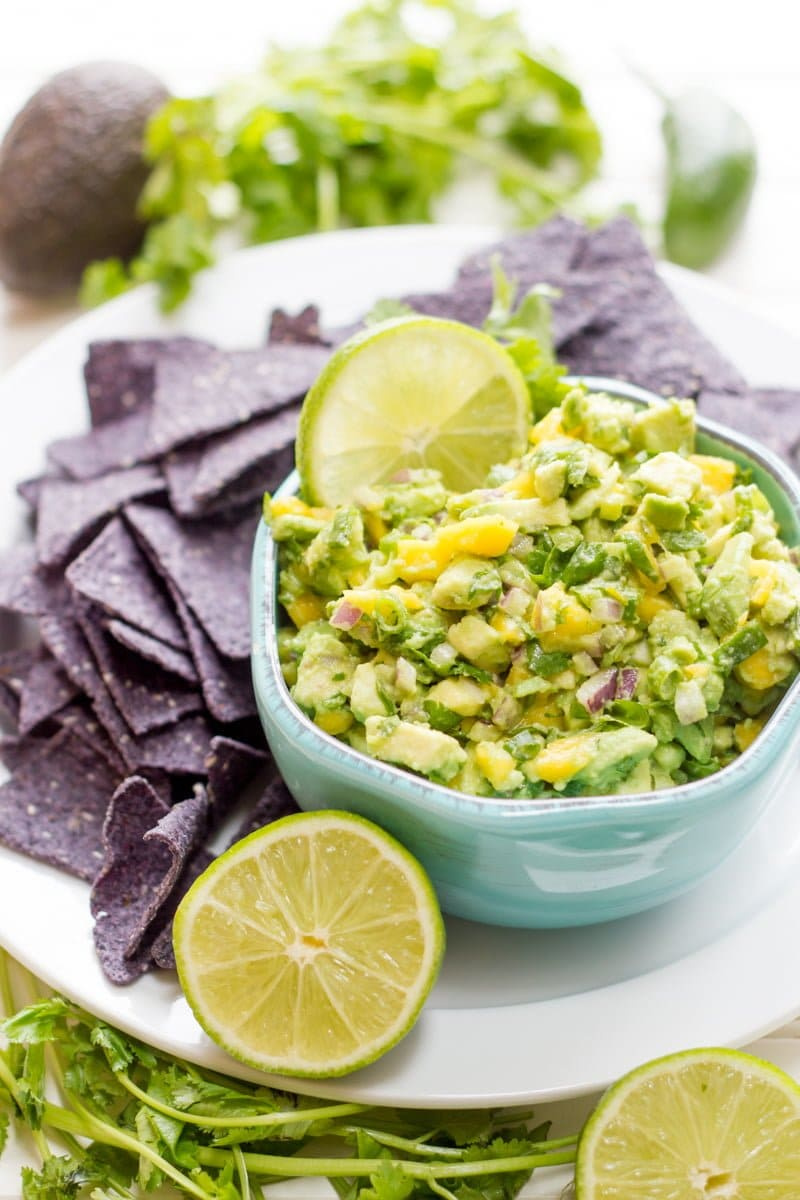 Mango Guacamole by Wholefully. A sweet and fruity twist on the traditional party dip.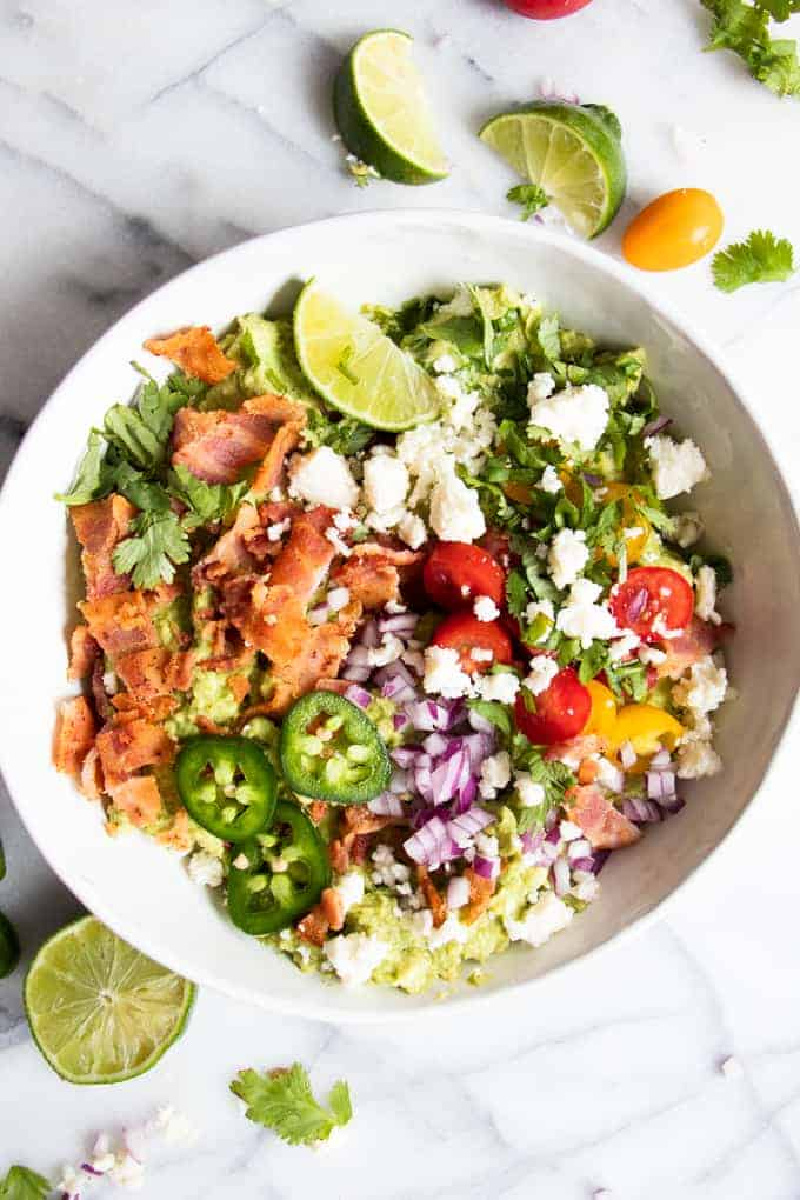 Loaded Guacamole by House of Yumm. This easy guacamole recipe is topped off with all the fixings!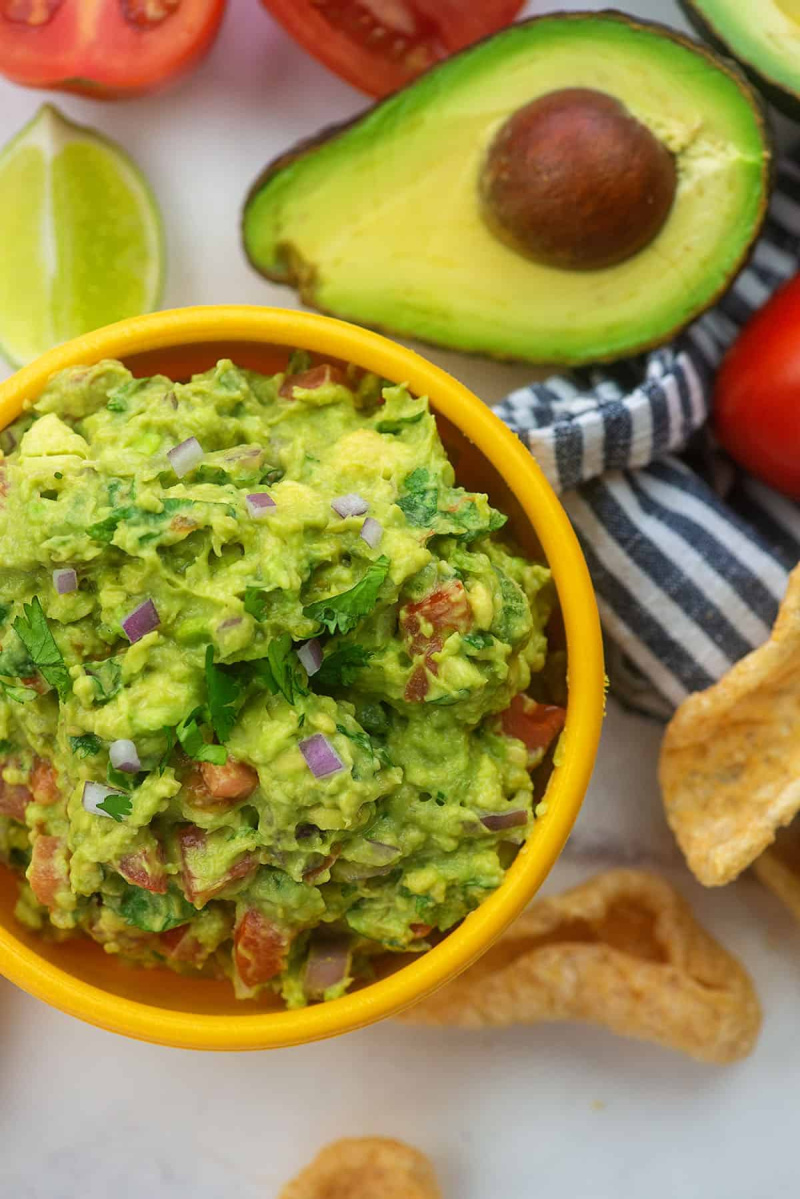 Keto Guacamole by That Low Carb Life. This guac is the perfect mixture of smooth, creamy, and chunky!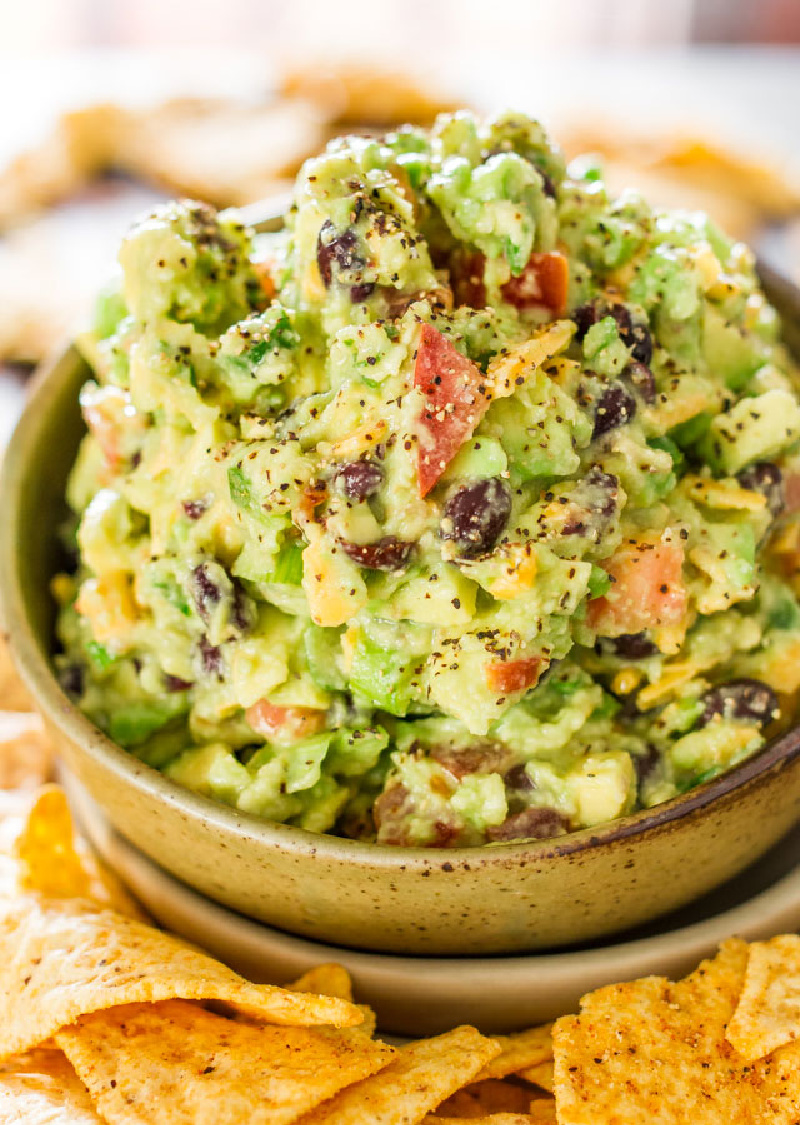 Joe Montana's Touchdown Guacamole by Jo Cooks. Cheese, black beans and bold flavors are added to this recipe to make a really delicious guacamole!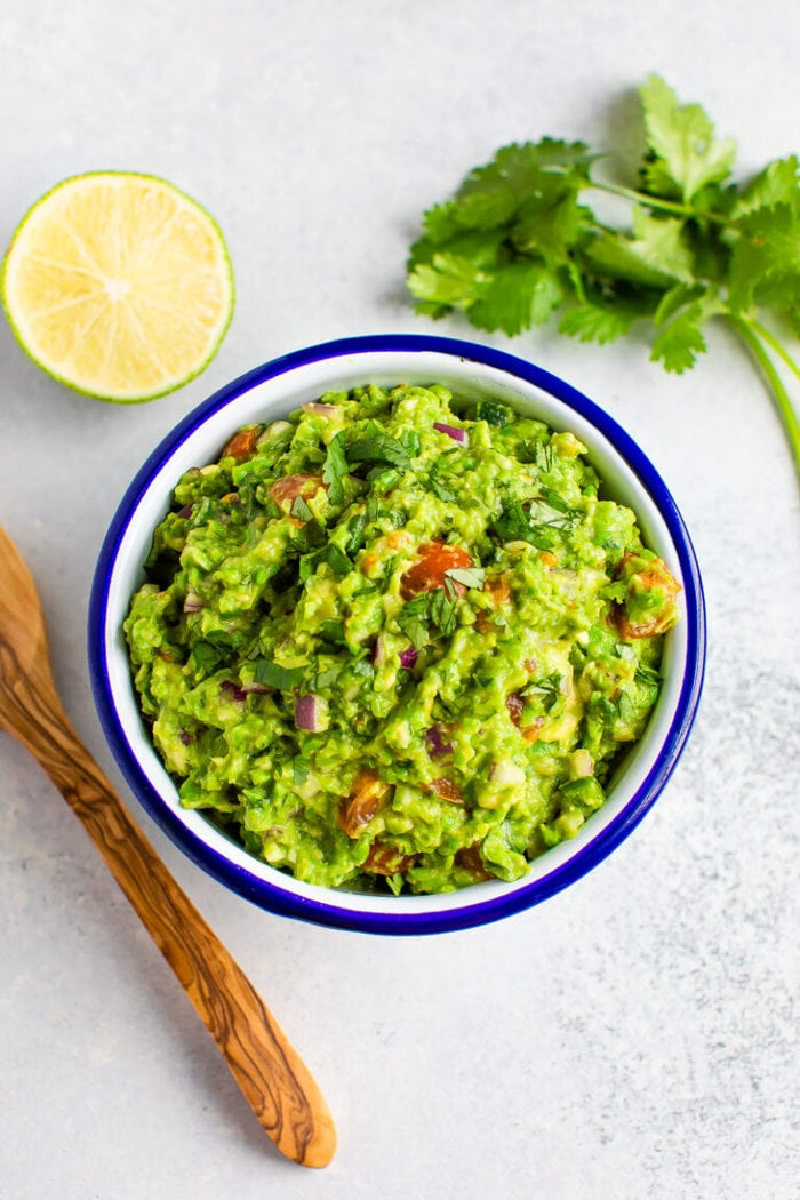 Healthy Guacamole with Frozen Peas by Eating Bird Food. This guacamole is lower in fat and calories, but tastes just as delicious as the real deal.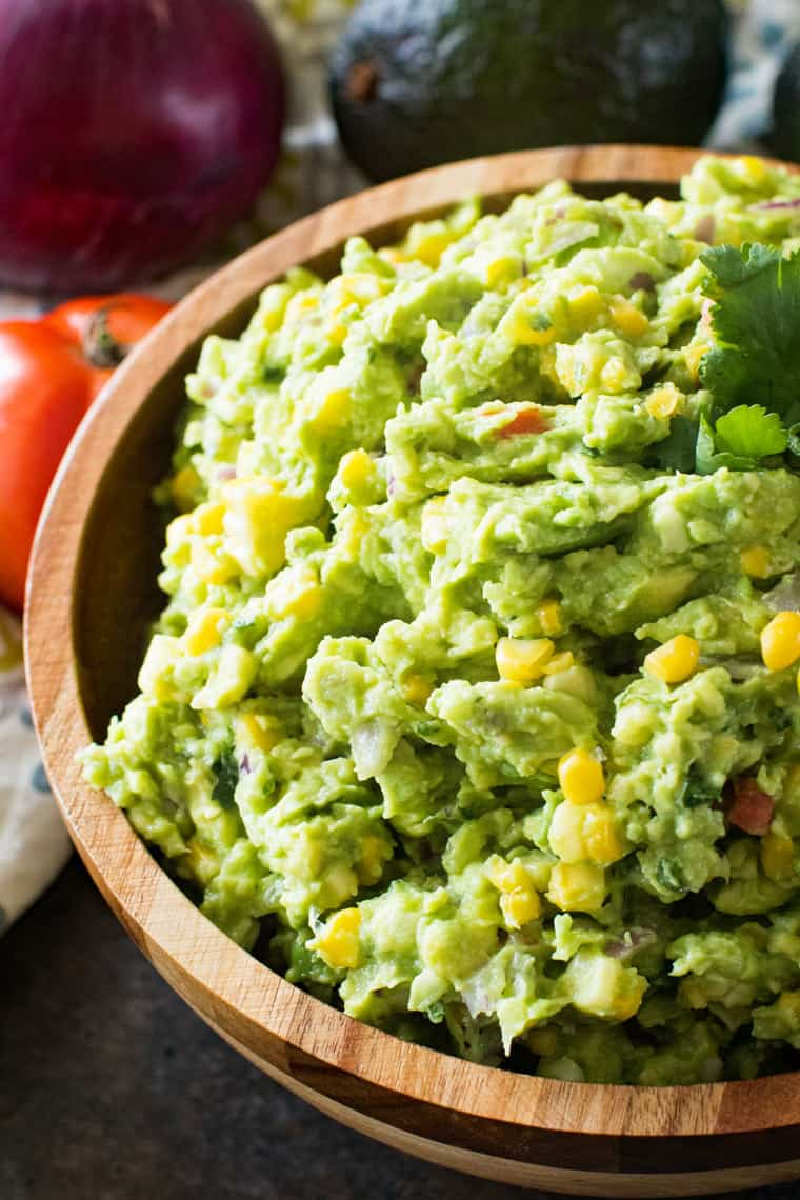 Grilled Corn Guacamole by Gimme Some Grilling. This guacamole is healthy and bursting with flavor.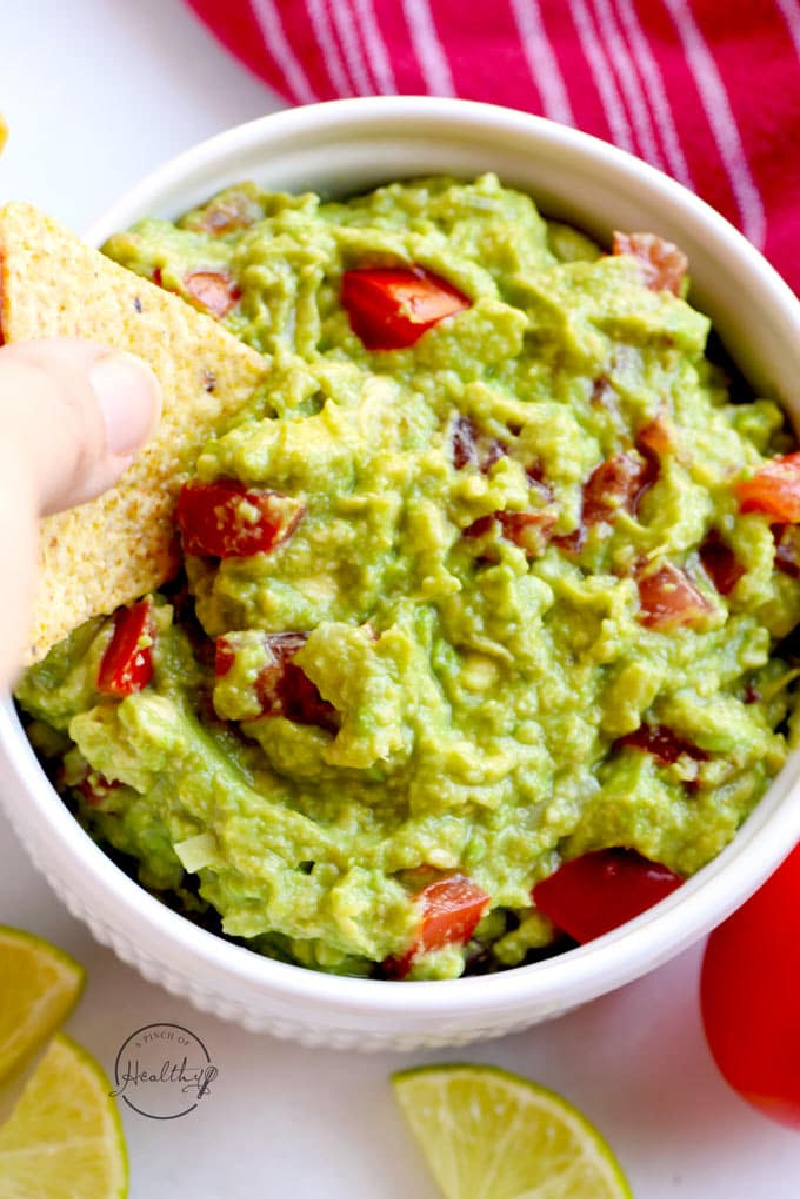 Secret Ingredient Guacamole by A Pinch of Healthy. This guacamole has amazing flavor thanks to a super secret, game-changing ingredient.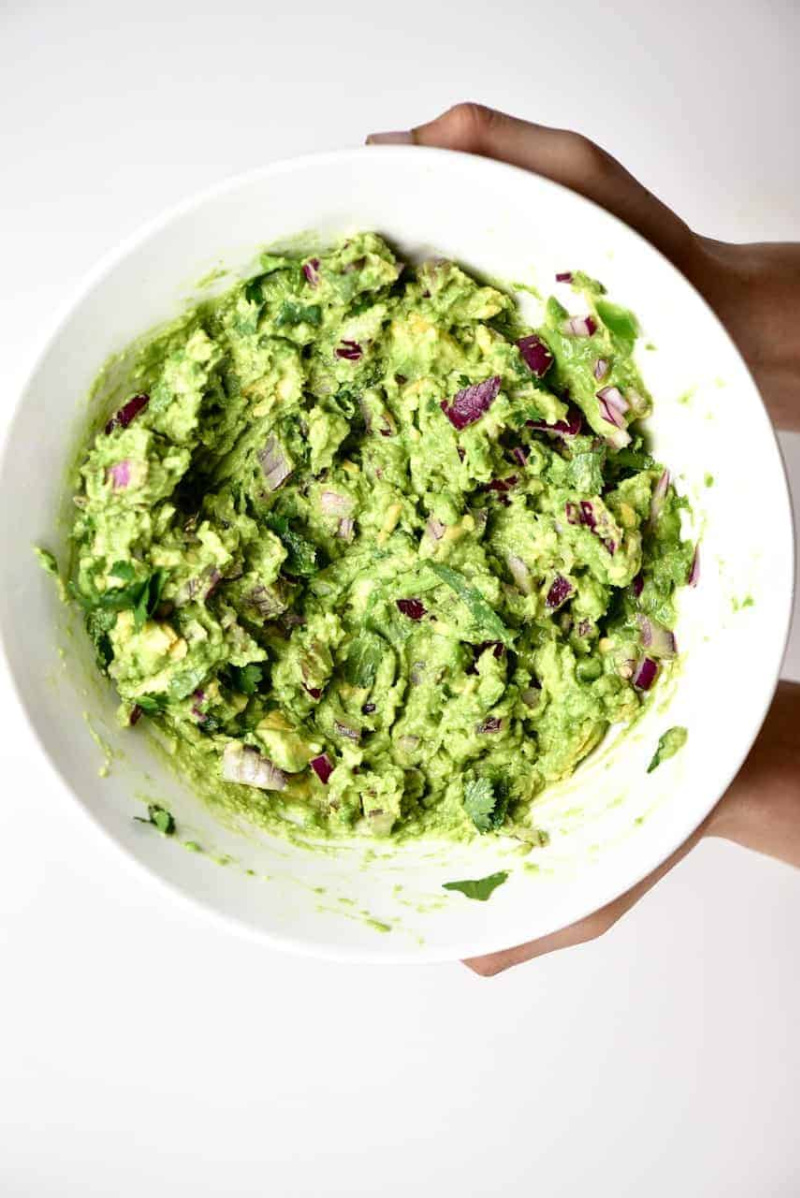 Simple, Fresh, Authentic Mexican Guacamole by Alpha Foodie. This guac is made up of only a few ingredients; avocado, onion, salt and lime – with optional added tomato, coriander and chilli.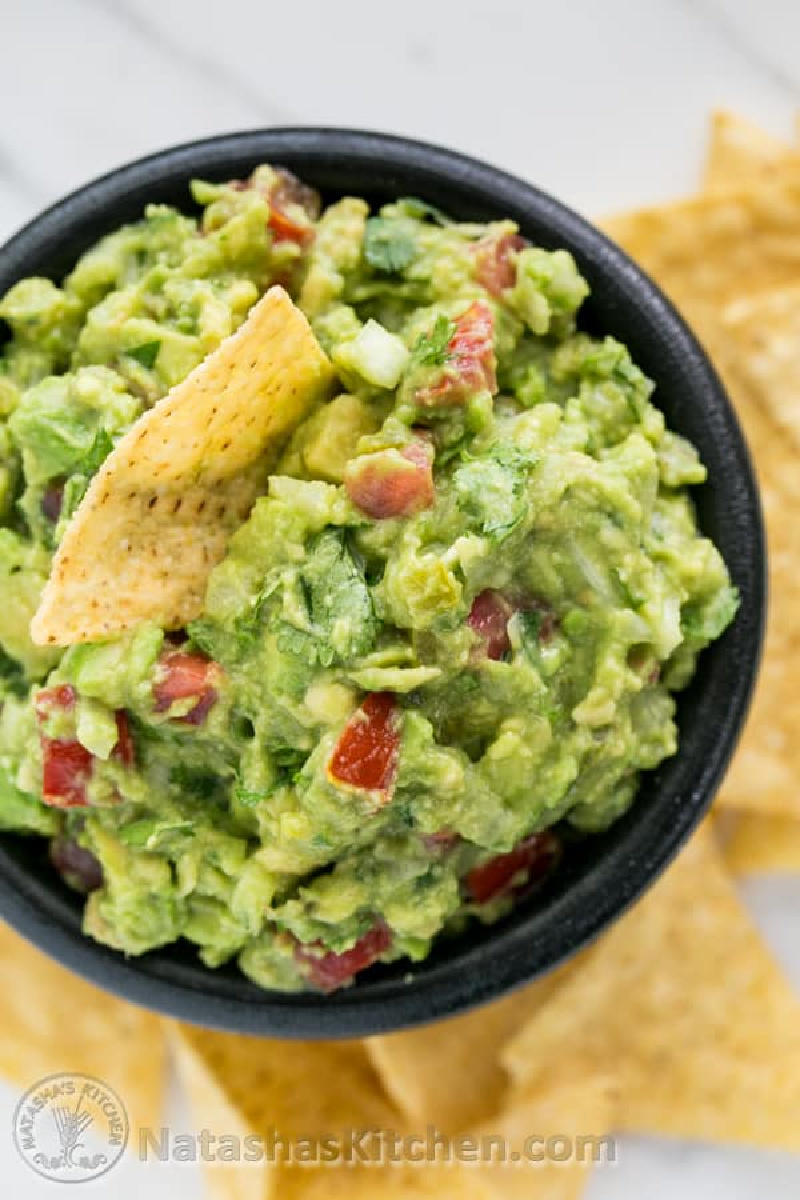 Spicy Guacamole by Natasha's Kitchen. This guacamole lights a small fire in your mouth, forcing you to eat it slowly and savor each bite.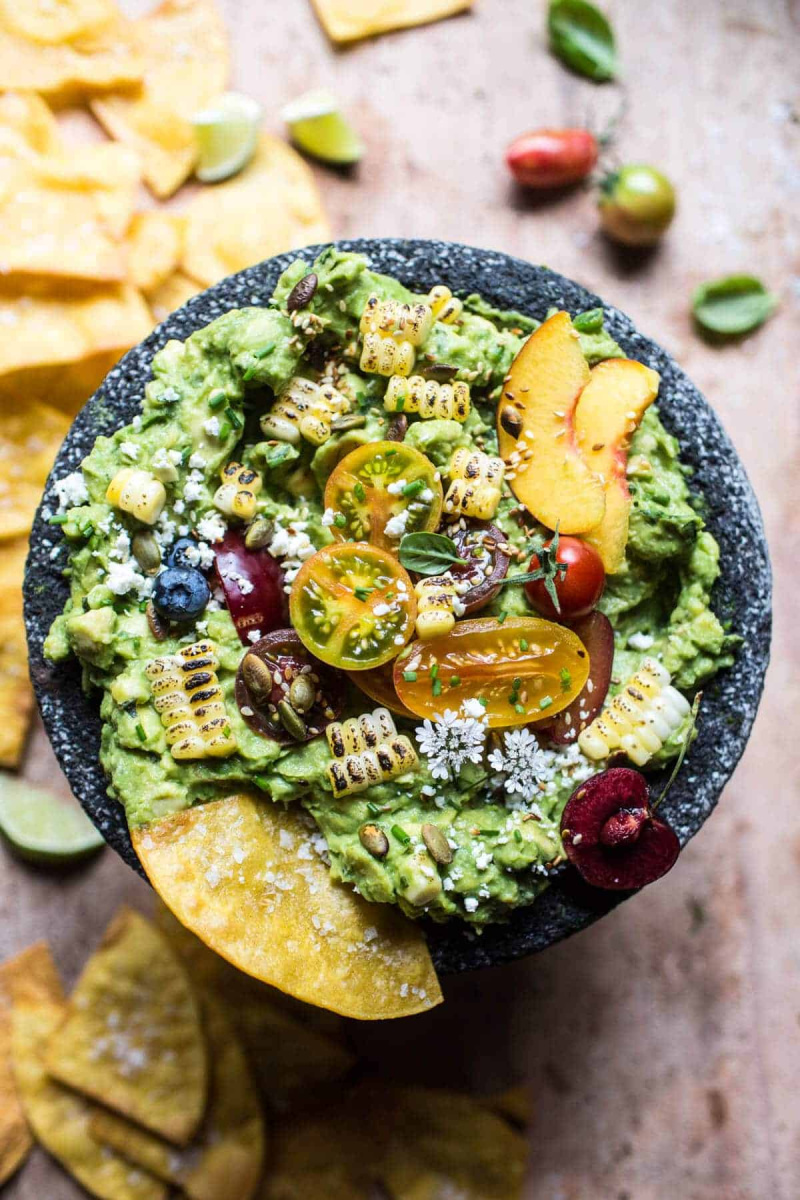 Summer Garden Guacamole by Half Baked Harvest. This guacamole is loaded with everything summer has to offer.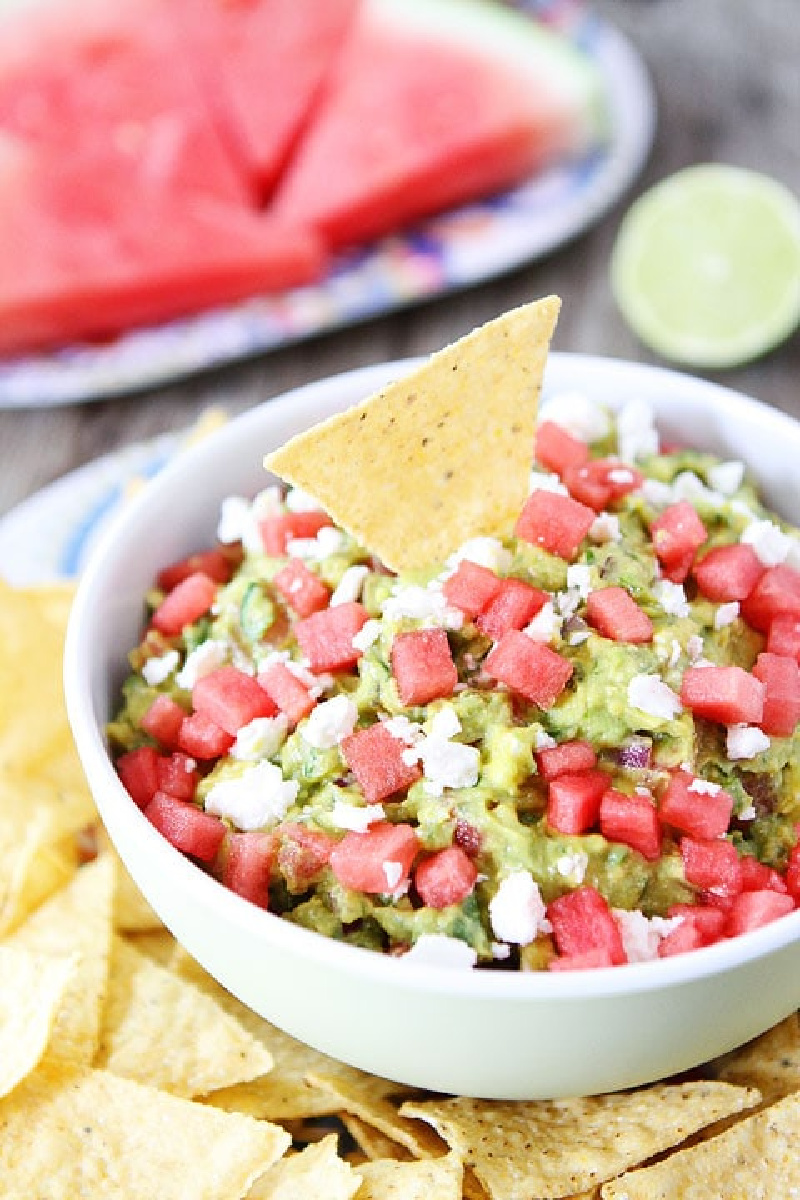 Watermelon Feta Guacamole by Two Peas and Their Pod. A refreshing and flavorful guacamole recipe is perfect for summertime!
Fun Facts About Guacamole and Avocados:
An avocado is considered a fruit. It has a seed inside!
There are more than 500 varieties of avocados in the world.
Avocados are good for you. They have nutrients like fiber, B vitamins, vitamin K, vitamin E, potassium, saturated fat, monounsaturated fat and some phytosterols.
Avocados were once called, "alligator pears" because their bumpy green skin resembled reptile skin.
The Hass avocado dates back to the 1920's. Rudolph Hass (a postman) bought regular avocado seeds and planted them with other varieties of avocado. He created (what is now called) the Hass avocado. 95% of avocados consumed today are Hass avocados.
The oldest avocado pit ever found was about 10,000 years old. It was found in a cave in Puebla, Mexico.
Most of the world's avocados are produced in Mexico.
3 million photos of avocados and guacamole are shared daily on Instagram.
London has an annual celebration called, "Avolution." It's a day dedicated to everything avocado.