Spicy Tomato Grilled Cheese is an easy, 4-ingredient grilled sandwich recipe with amazing flavors. Traditional grilled cheese is made using two slices of buttered bread toasted in a skillet with lots of gooey cheese inside. This version steps things up a notch!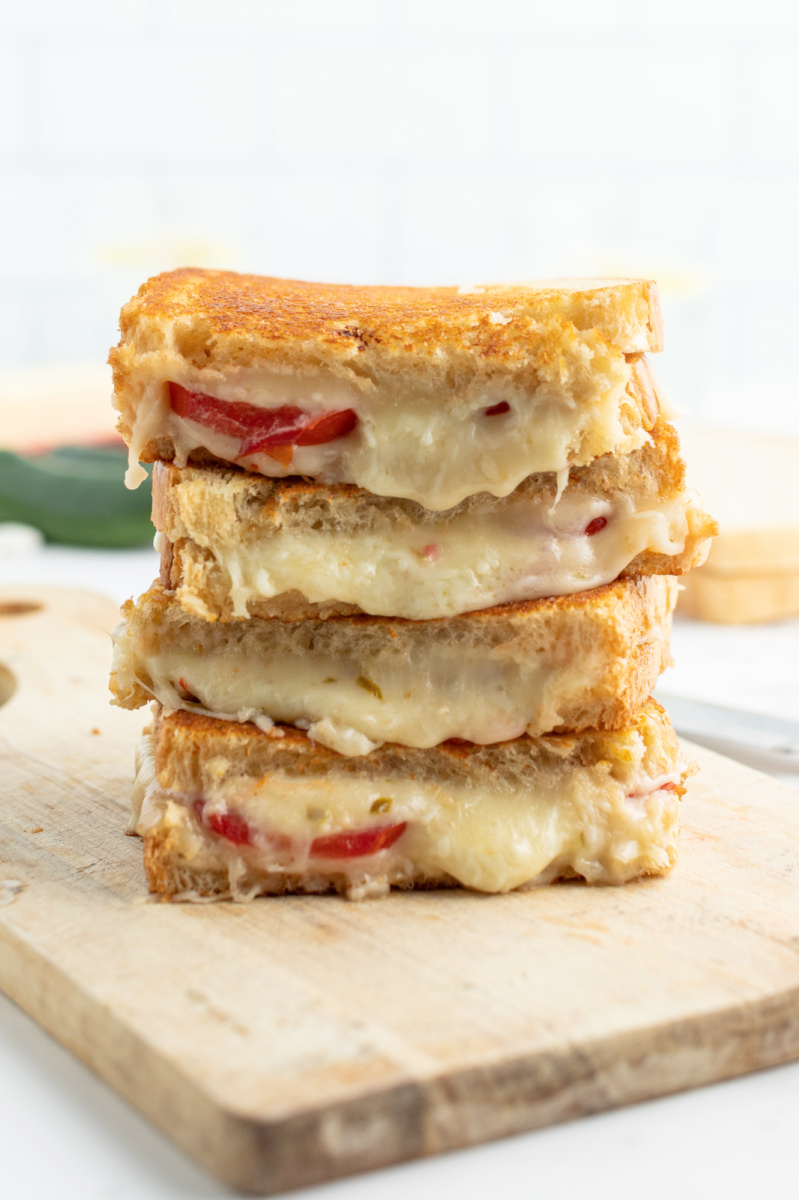 April 12th is National Grilled Cheese Sandwich Day! Celebrate by making a grilled cheese for lunch today! Experiment using different kinds of cheeses and breads. Or take my cue and make this excellent and easy Spicy Tomato Grilled Cheese Sandwich. Share your creation on social media using the hashtag #nationalgrilledcheeesesandwichday or #grilledcheesesandwich day.
The History of Grilled Cheese:
Early Roman cookbooks referred to combining bread and cheese to eat for dinner.
The French have been making croque monsieurs (grilled ham and cheese sandwiches) with their good cheese since the early 1900's!
In 1902, a "melted cheese sandwich" first appeared in an American cookbook.
James Kraft invented, patented and started selling the first processed "American" cheese in 1916 when he discovered that it was beneficial to sell a cheese that had a long shelf life. In the 1920's, the bread slicer was invented. This started paving the way for melted cheese sandwiches. During WWII, Navy chefs prepared cheese sandwiches, but they were open-faced with shredded cheese on top.
In 1949, Kraft American singles were introduced. Supermarkets began stocking them in the 60's. It was around this time that the term "grilled cheese" began appearing in print. Adding a second slice of bread on top, and cooking the sandwich in a pan with butter became a popular way to make a grilled cheese sandwich.
Nowadays, grilled cheese sandwiches are made with every kind of cheese imaginable. Other goodies are added in to grilled cheese sandwiches too, creating gourmet versions of this much-loved sandwich, like this spicy tomato grilled cheese!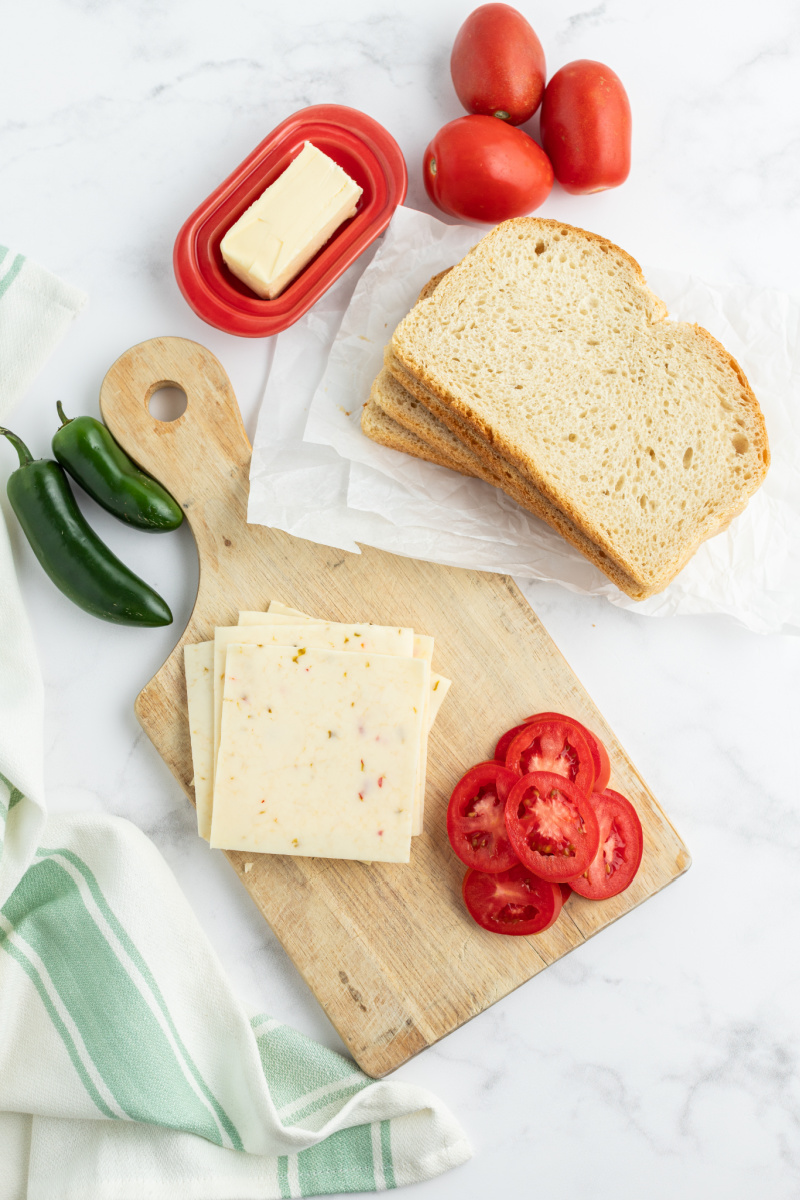 Ingredients needed:
bread (use your favorite variety)
salted butter
pepper jack cheese
thinly sliced tomato
This recipe comes from a new cookbook: The Best 3-Ingredient Cookbook- 100 Fast and Easy Recipes for Everyone. This super easy grilled cheese sandwich recipe caught my eye since National Grilled Cheese Sandwich Day was approaching! The 4th ingredient (butter) is something that you likely already have in your kitchen. This is a great book to have on your cookbook shelf when you want some ideas for easy recipes!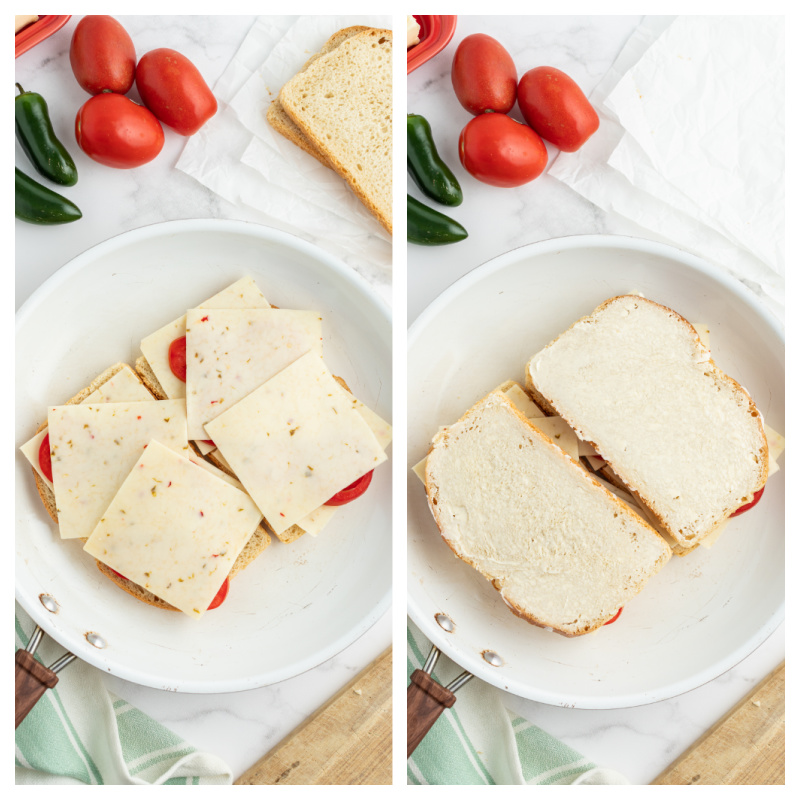 How to make Spicy Tomato Grilled Cheese:
Butter one side of each of the bread slices. Layer cheese, tomato and then another slice of cheese on top of the bread. Top with the other slice.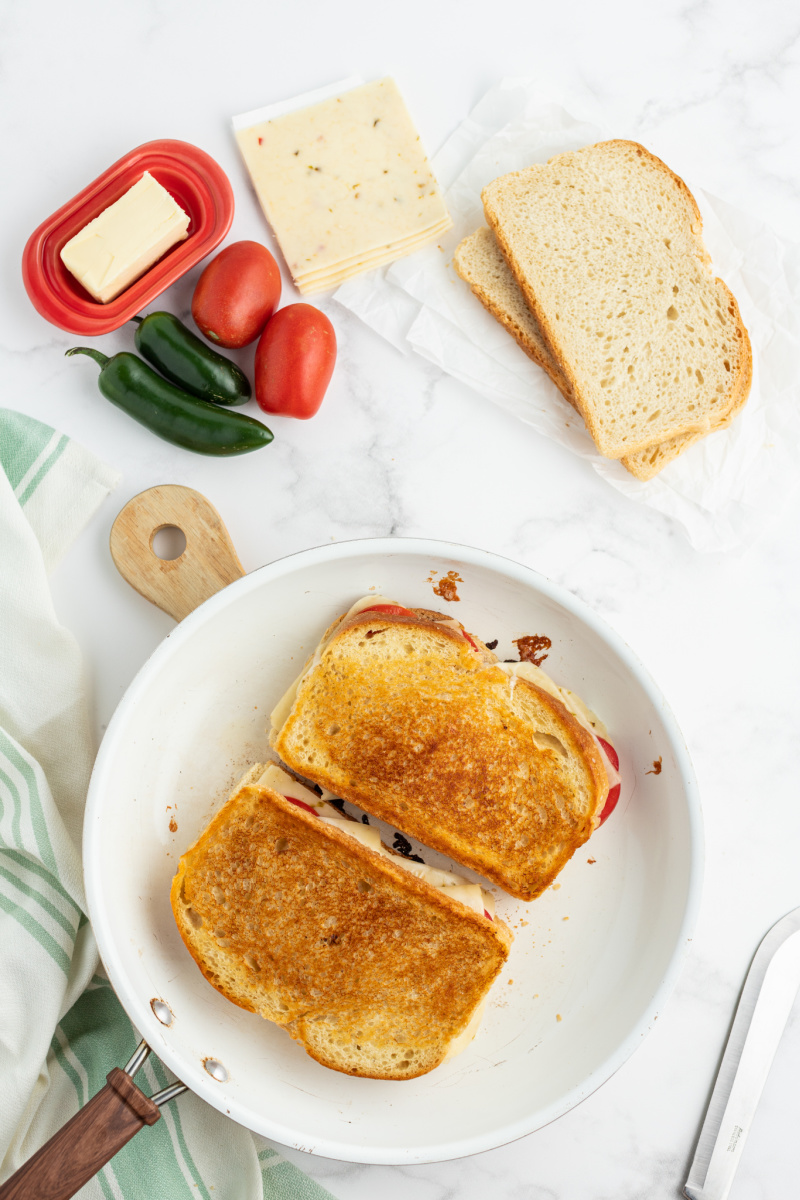 Grill in a skillet until the sandwiches are golden on both sides and the cheese inside is good and melted.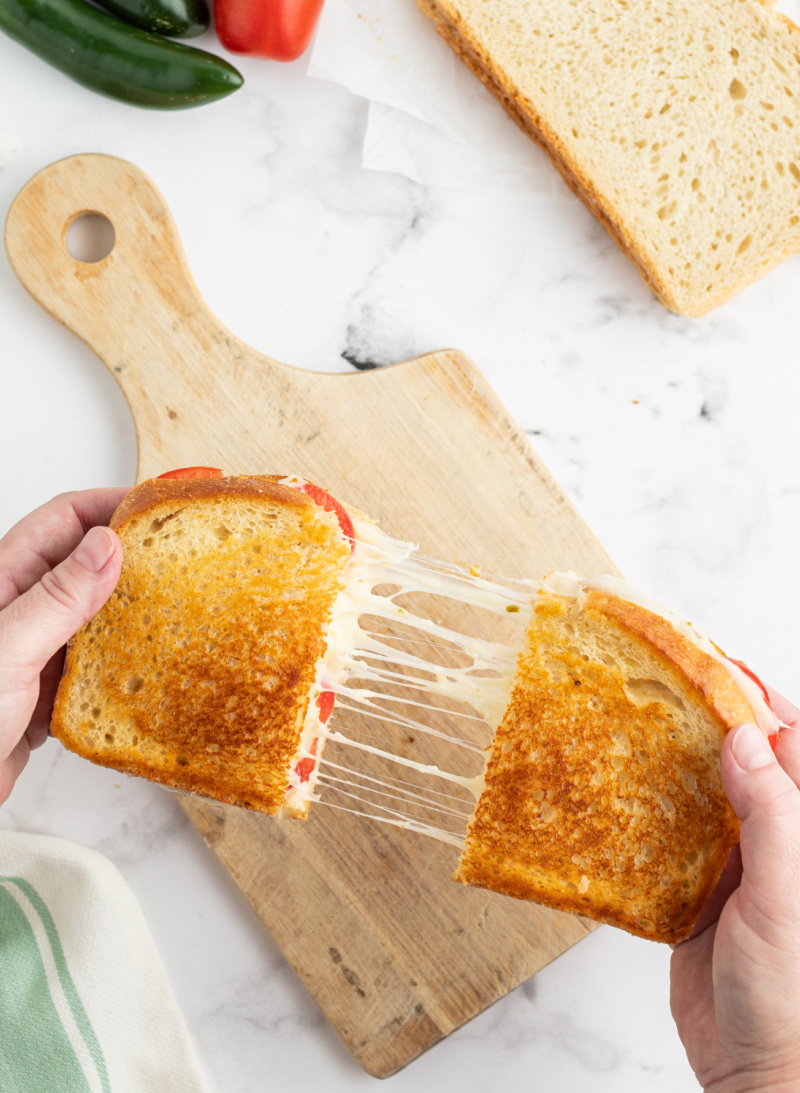 Remove the sandwiches from the skillet and cut each sandwich in half. The cheese will be melted and perfect, so plan to eat your spicy tomato grilled cheese immediately!
The pepper jack cheese adds a nice little kick of spicy flavor to the sandwich, but it's not overwhelmingly spicy. You can always go with making a traditional grilled cheese and tomato sandwich with a more mild cheese like cheddar or American.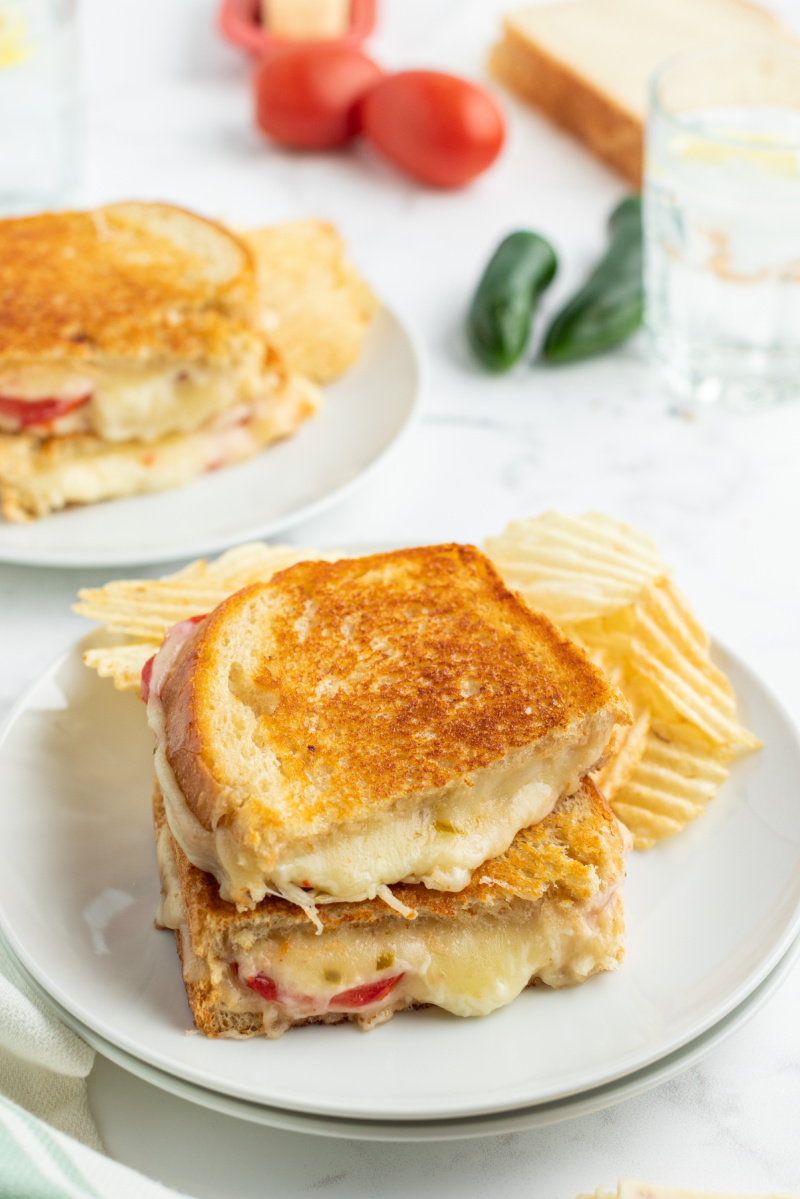 Serve your grilled cheese with chips, potato salad or soup. Sweet potato fries are another favorite to add to lunch.
Fun Facts About Grilled Cheese:
In the United States, cheddar cheese is the most popular cheese to use in a grilled cheese sandwich.
3/4 of people who buy sliced cheese make at least one grilled cheese sandwich per month.
In the 1993 film "Benny and Joon," Johnny Depp's character makes a stack of grilled cheese sandwiches using a clothes iron.
In 2009, Los Angeles hosted the first grilled cheese cooking competition.
Using mayonnaise instead of butter on your grilled cheese is an option that can give it a crisp exterior and more fluffy interior.
School cafeterias served tomato soup alongside toasted cheese sandwiches to help satisfy the nutritional requirements. This helped create the perfect combination of grilled cheese and tomato soup that everyone loves today!
Grilled cheese can be served today in both delicatessens and high-end restaurants.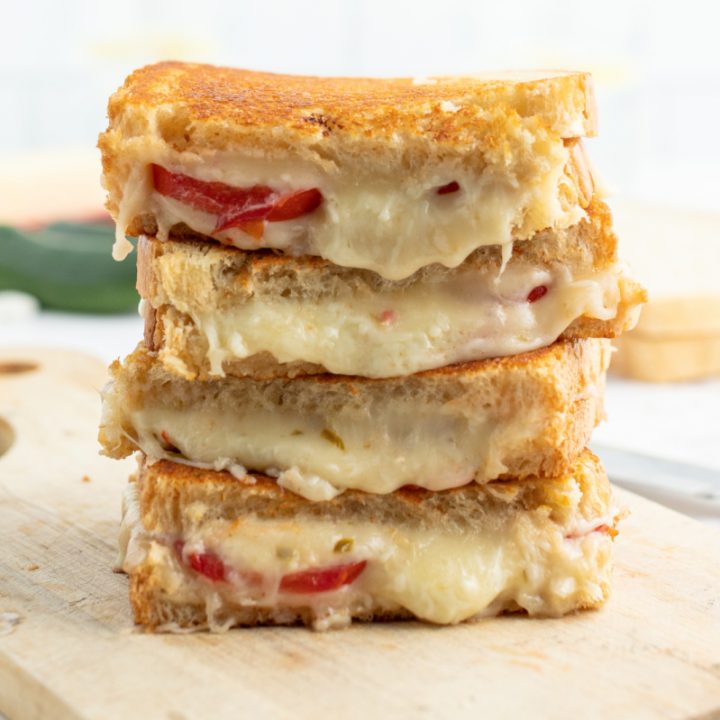 Spicy Tomato Grilled Cheese
An easy grilled cheese sandwich recipe with amazing flavor!
Ingredients
4 slices good bread (sourdough is great!)
2 tablespoons salted butter
4 slices pepper jack cheese
1 Roma tomato, sliced thinly
Instructions
Butter one side of each of the bread slices.
Heat a large, nonstick skillet over medium-high heat. Add two bread slices, butter-side-down. Layer cheese, tomato and a second slice of cheese on the bread slices. Top with the other bread slice, butter-side-up.
Cook until golden brown, then flip and cook until golden brown on the other side.
Slice each sandwich in half, and serve immediately.
Nutrition Information:
Yield:

2
Serving Size:

1
Amount Per Serving:
Calories:

487
Total Fat:

31g
Saturated Fat:

18g
Trans Fat:

0g
Unsaturated Fat:

10g
Cholesterol:

80mg
Sodium:

735mg
Carbohydrates:

33g
Fiber:

2g
Sugar:

5g
Protein:

20g
Nutritional information is estimated using a nutrition calculator.