Trail Mix Cookies are hearty and delicious peanut butter and oatmeal cookies that are packed with Trail Mix and extra M&M candies.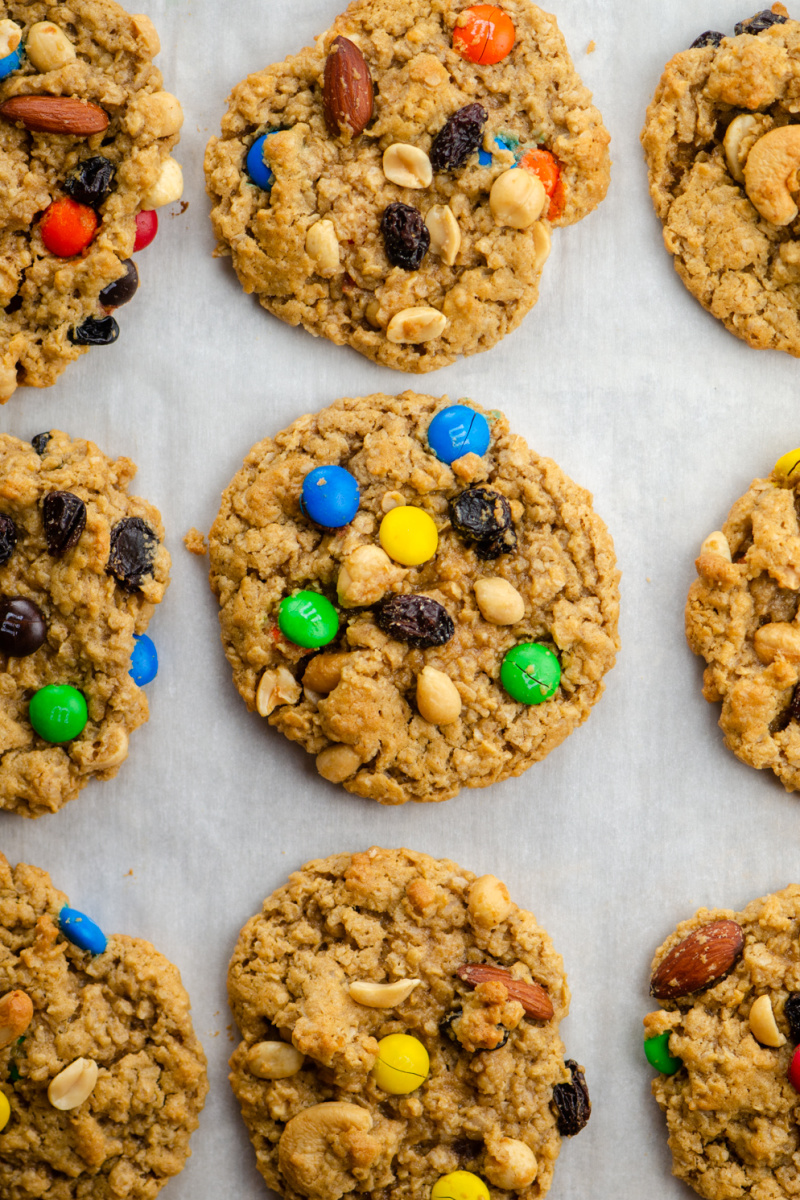 August 31st is National Trail Mix Day! Celebrate by eating Trail Mix all day long, and then baking these Trail Mix Cookies! Share your Trail Mix goodies on social media today by using the hashtag #NationalTrailMixDay, #TrailMixDay and #RecipesForHolidays. Be sure to keep an eye on my September Food Holidays page so you can follow along on all of the food holidays for the month of September.
The History of Trail Mix:
Trail mix is a combination of dried fruit, grains, nuts, and sometimes chocolate, developed as a snack food to be taken along on outdoor hikes.
Trail mix is likely European in origin. Similar snacks have been described (under different names) since the 17th century.
The combination of nuts, raisins and chocolate as a trail snack dates at least to the 1910s, when outdoorsman Horace Kephart recommended it in his popular camping guide.
Jack Kerouac mentioned trail mix in his 1958 novel, "The Dharma Bums" as the two main characters describe their planned meals in their preparation for a hiking trip.
Some say that trail mix was invented in 1968 by two California surfers who blended peanuts and raisins together for an energy snack.
Although trail mix is an ideal snack to bring on a hike because it's both light in weight and nutritious, most of today's consumers of trail mix do not hike on trails. They just enjoy eating trail mix.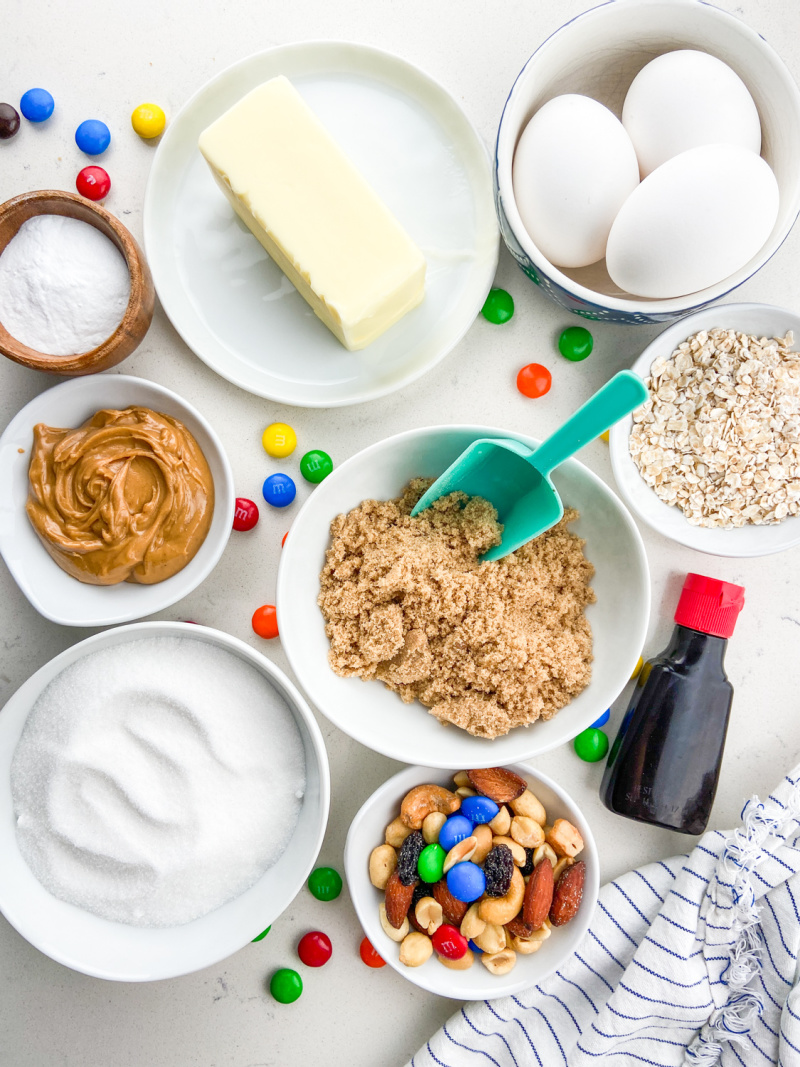 Ingredients needed:
peanut butter
brown sugar
white sugar
butter
eggs
vanilla extract
oats
baking soda
trail mix
M&M's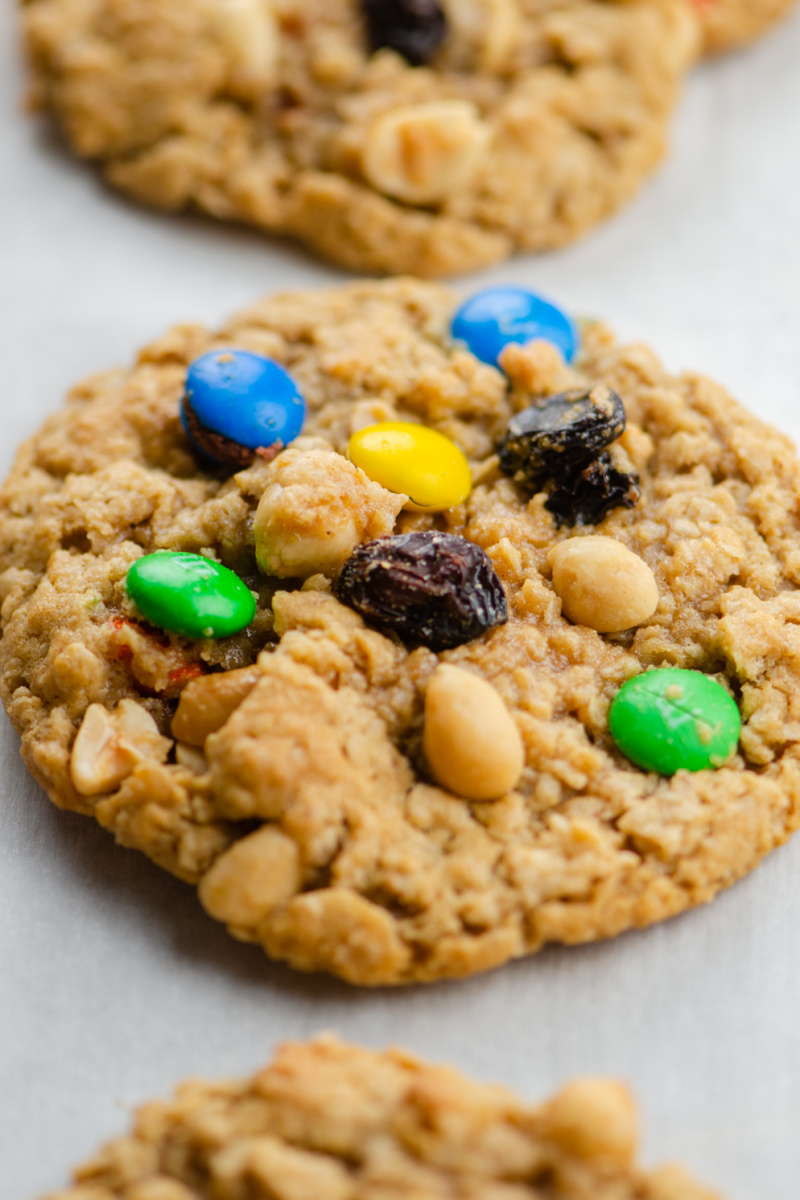 How to make Trail Mix Cookies:
This recipe was easily adapted from the best Monster Cookies recipe ever from Recipe Girl. It's a peanut butter- oatmeal cookie dough. Trail mix is mixed in. And then (because everyone loves them so much), extra M&M's are mixed in too.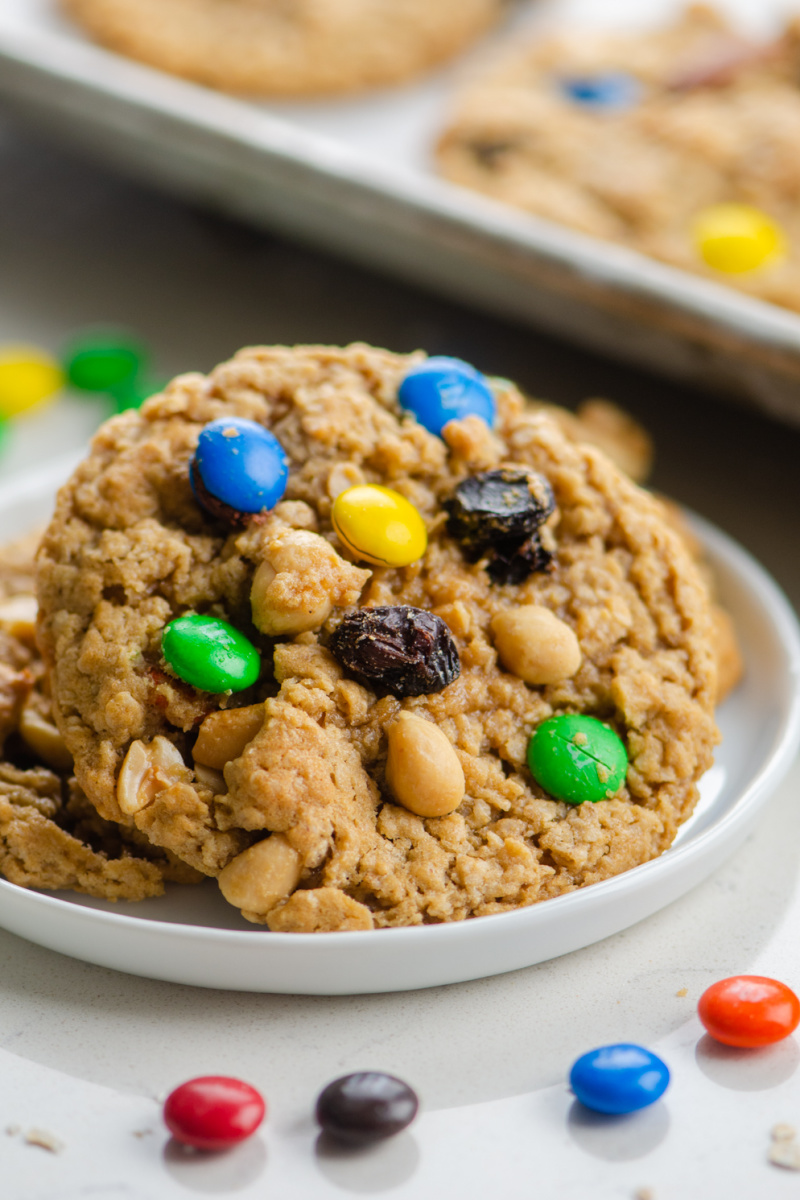 Because I like to make cookies look pretty, I suggest you add some extra trail mix and M&M's on top of each cookie dough blob before baking. These Trail Mix Cookies turn out so delicious!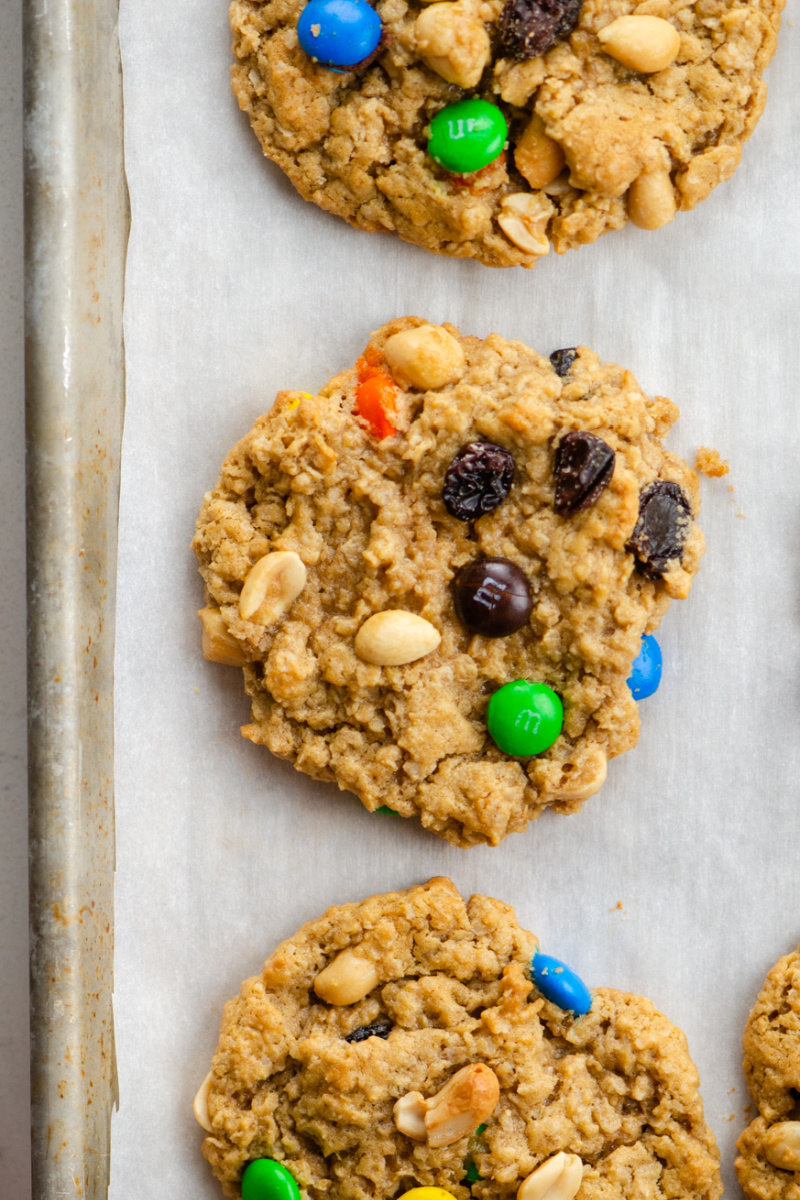 Why bake plain 'ol chocolate chip cookies when you can bake these ingredient-packed, delicious Trail Mix Cookies? Enjoy!
The History of Trail Mix:
The American word gorp, a term for trail mix often used by hikers in North America, is typically said to be an acronym for "good ol' raisins and peanuts"
The reason why trail mix is considered a good mix to bring hiking is because the mix of ingredients in trail mix can give you a burst of energy and nutrition from the nuts, seeds and dried fruit.
You can personalize trail mix to include all kinds of things, including M&M's, pretzels, grains, yogurt covered raisins and even dried corn!
For thousands of years, Native Americans ate a version of "trail mix" that included dried buffalo meat.
In Australia and New Zealand they call trail mix Scroggin.
There is a growing demand for nuts and seeds as a part of healthy snacking. The trend of consumers who are looking for trail mix type snacks as a meal replacement or weight management is growing at a fast rate.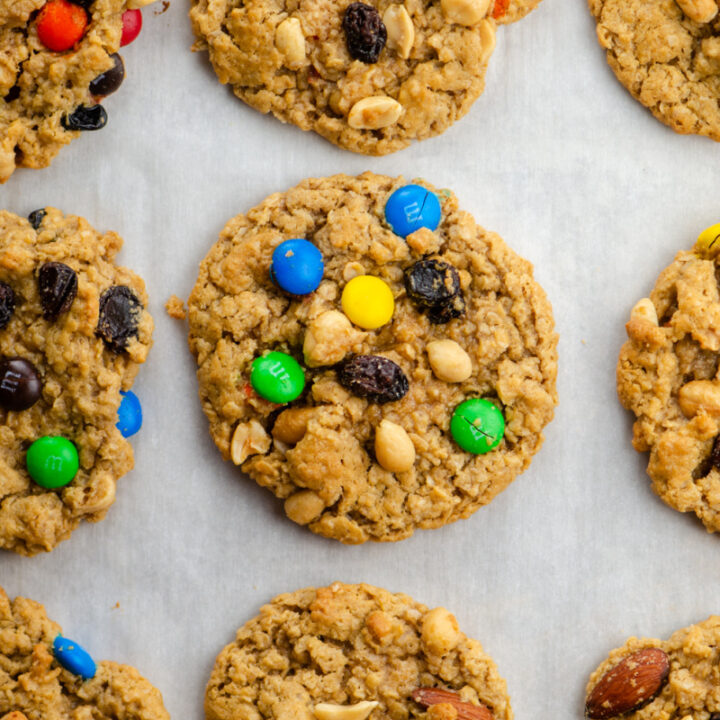 Trail Mix Cookies
Fabulous peanut butter- oatmeal cookies with Trail Mix mixed in!
Ingredients
1½ cups creamy or chunky peanut butter
1 cup packed light brown sugar
1 cup granulated white sugar
1/2 cup (1 stick) unsalted butter, at room temperature
3 large eggs
1 tablespoon vanilla extract
4½ cups quick cooking oats
2 teaspoons baking soda
1 1/2 cups Trail Mix
1/2 cup M&M's plain chocolate candies
Instructions
Preheat the oven to 350°F. Spray baking sheets with nonstick spray, or line with parchment paper or a silpat mats.
In a large bowl, combine the peanut butter with the sugars and butter. Use an electric mixer to mix until well combined. Mix in the eggs and vanilla. Mix in the oats and baking soda. Then stir in the Trail Mix and M&M's.
Drop the cookies by heaping spoonfuls onto the prepared cookie sheets. If you'd like your cookies to look pretty (like the photos), dot a few extra M&M's and pieces of Trail Mix on each mound of dough before baking.
Bake 10 to 12 minutes. Do not overbake. Cool for 5 minutes on cookie sheets until cookies are set. Transfer to wire racks; cool completely before storing in an airtight container.
Notes
If you are preparing this cookie as gluten-free, just be sure to make sure you are using brands of the following items that are known to be GF: peanut butter, vanilla, oats, Trail Mix and M&M's.
If you'd prefer to make giant cookies, use an ice cream scoop instead to scoop the dough onto the cookie sheet. They'll need to bake for 18 to 20 minutes, and you'll end up with about 22 cookies.
Nutrition Information:
Yield:

36
Serving Size:

1
Amount Per Serving:
Calories:

216
Total Fat:

12g
Saturated Fat:

4g
Trans Fat:

0g
Unsaturated Fat:

7g
Cholesterol:

23mg
Sodium:

139mg
Carbohydrates:

25g
Fiber:

2g
Sugar:

15g
Protein:

5g
Nutritional information is estimated using a nutrition calculator and is not likely to be 100% accurate.