This Lemon Pound Cake has a delicious, tangy, tender crumb and a perfect, sweet icing drizzled on top.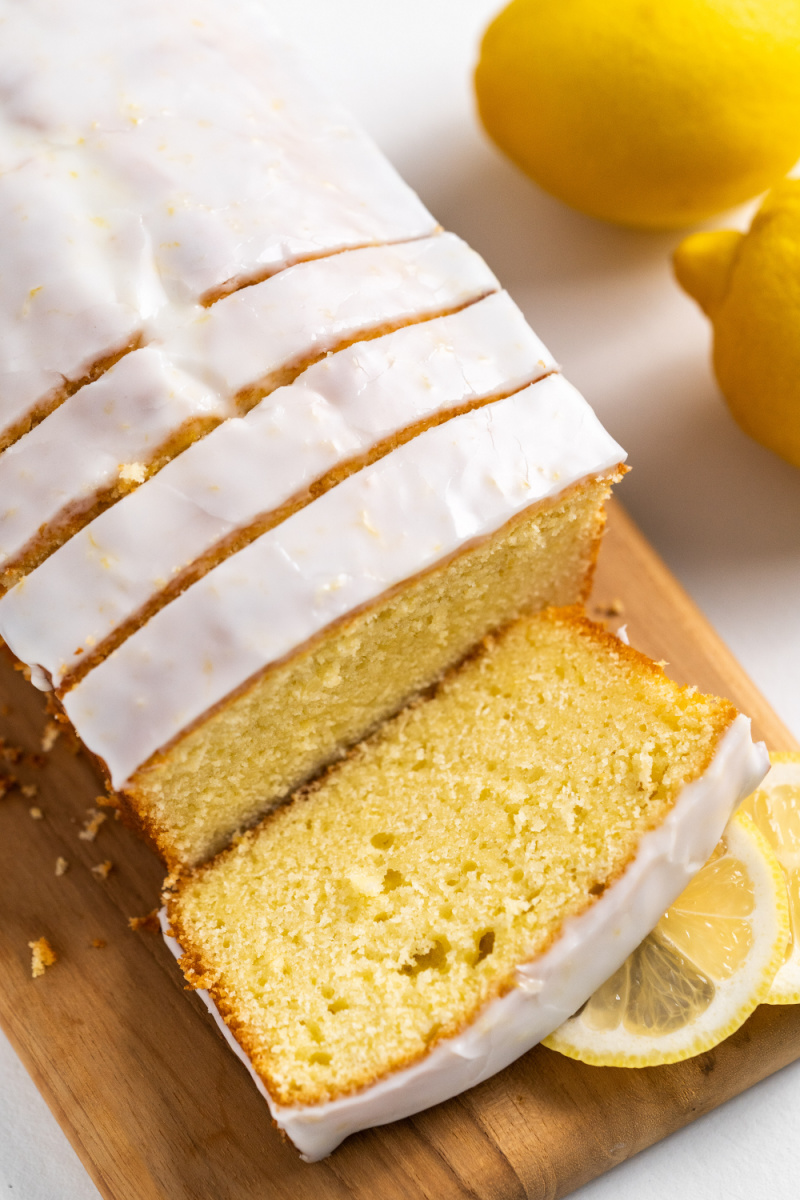 March 4th is National Pound Cake Day! Celebrate by making your favorite pound cake recipe or picking up a pound cake at the store. Better yet, set your favorite chocolate cake recipe aside, and bake this delicious lemon pound cake. Share your pound cake on social media today by using the hashtag #NationalPoundCakeDay, #PoundCakeDay and #RecipesForHolidays. Be sure to check out my March food holidays page so you never miss a food holiday in the month of March.
The History of Pound Cake:
Anne Byrn writes in her book American Cake that the first mention of the cake, which came to the U.S. from England, is in a recipe dated 1754 from Wicomico Church, Virginia. Though she must have missed the Art of Cookery Made Plain and Easy by Hannah Glasse (1747,) which includes a recipe for pound cake.
The 1796 cookbook, American Cookery contained two recipes for pound cake.
Traditionally, the pound cake got its name from the ingredients that were used: one pound each of butter, flour, sugar and eggs. In the days when many people couldn't read or write, a pound cake was an easy recipe to remember.
The pound cake has always been traditionally popular in the Southern states. Slaves baked pound cakes for the families they worked for. In 1881, African American slave Abby Fisher published the first known African American cookbook: What Mrs. Fisher Knows About Old Southern Cooking. Fisher couldn't read or write, so others wrote down her recipes and helped her publish the book. She had two recipes for pound cake in her book.
In the 1900's, baking powder and baking soda were incorporated into pound cake recipes to create a lighter cake. And the invention of the electric mixer in the 1920's also helped create a lighter pound cake since it was much easier to beat the batter to become light and fluffy.
Modern day pound cakes don't typically use a pound of each of the four main ingredients. Instead, the ingredient amounts have been altered and there are so many recipes for all different types of pound cakes.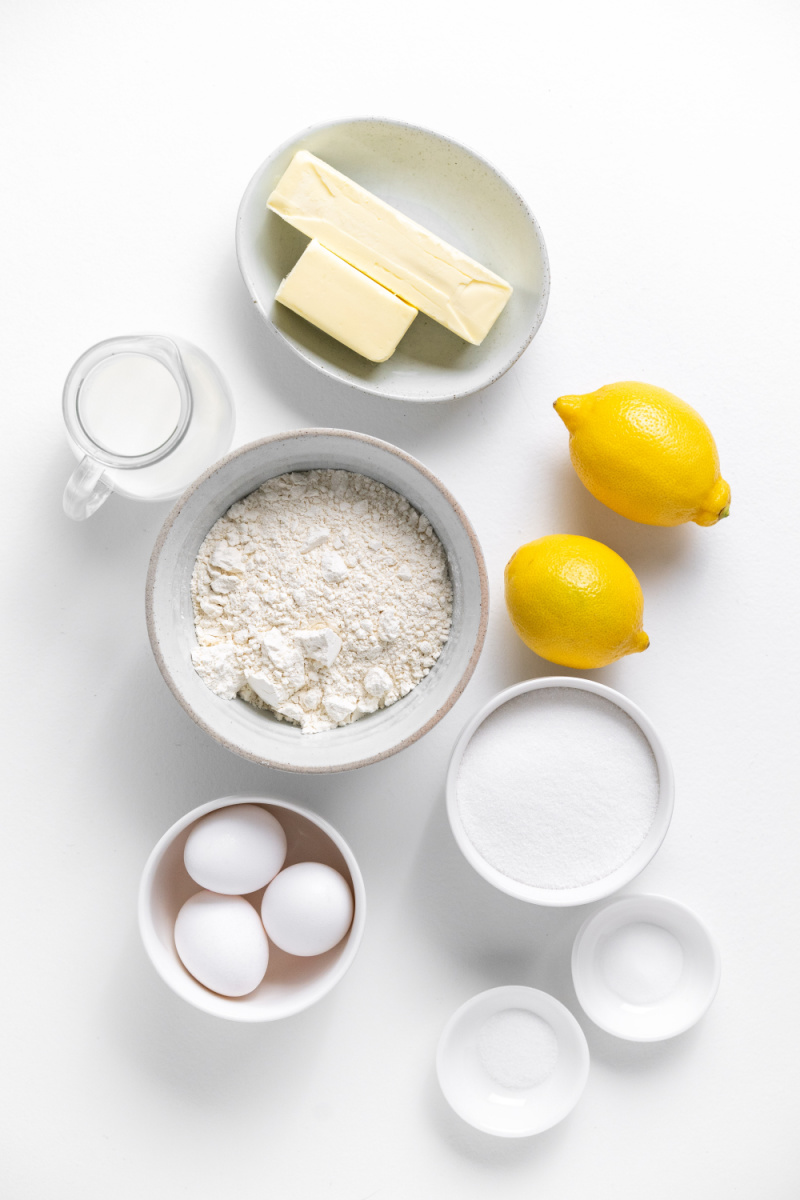 Ingredients needed:
all purpose flour
salt
baking soda
butter
sugar
eggs
whole milk
lemon juice
lemon zest
powdered sugar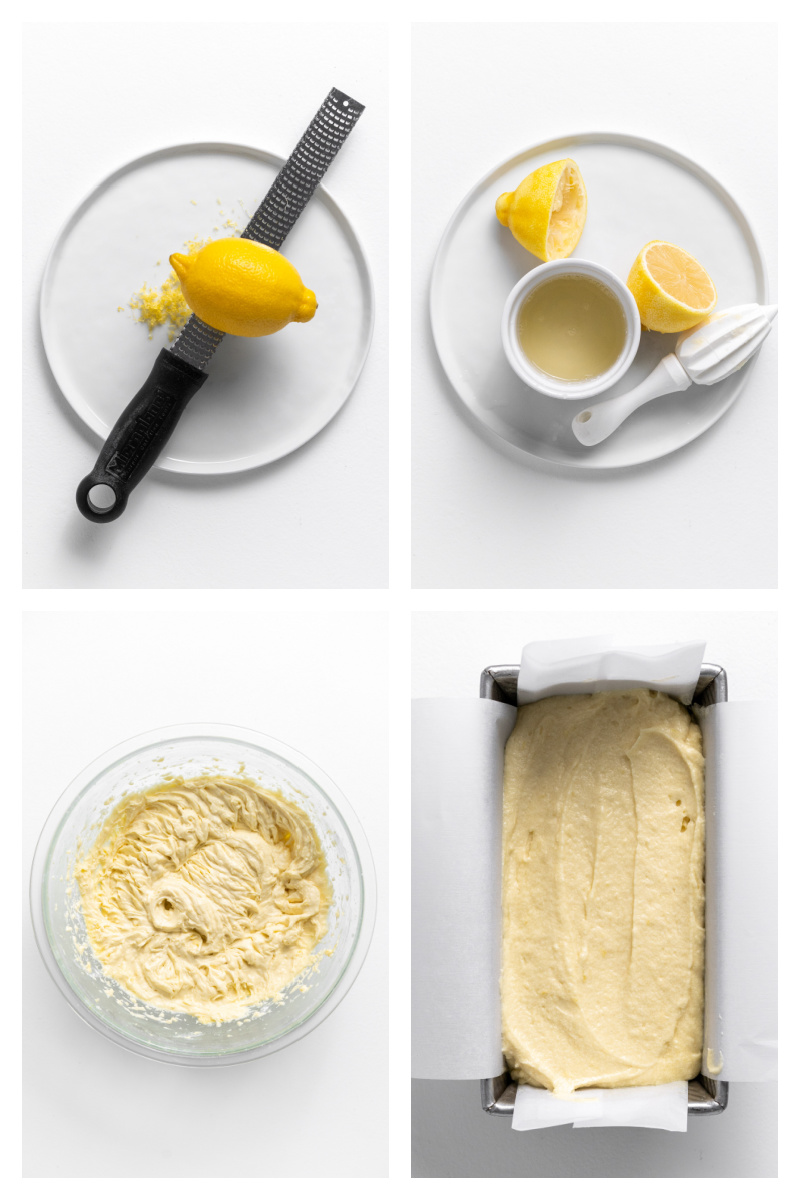 How to make Lemon Pound Cake:
The full, printable recipe is at the end of this post. Preheat the oven to 350 degrees F. Line a loaf pan with parchment paper.
Zest your lemons. Then use a citrus juicer to extract the lemon juice.
Whisk the dry ingredients together in a bowl. In a separate bowl, use an electric mixer to cream the butter and sugar. Beat in the eggs, milk, lemon juice and lemon zest. The mixture will look curdled. That's normal!
Add the dry ingredients to the bowl, and beat to combine. Scrape the batter into the prepared pan, and spread to even out the top.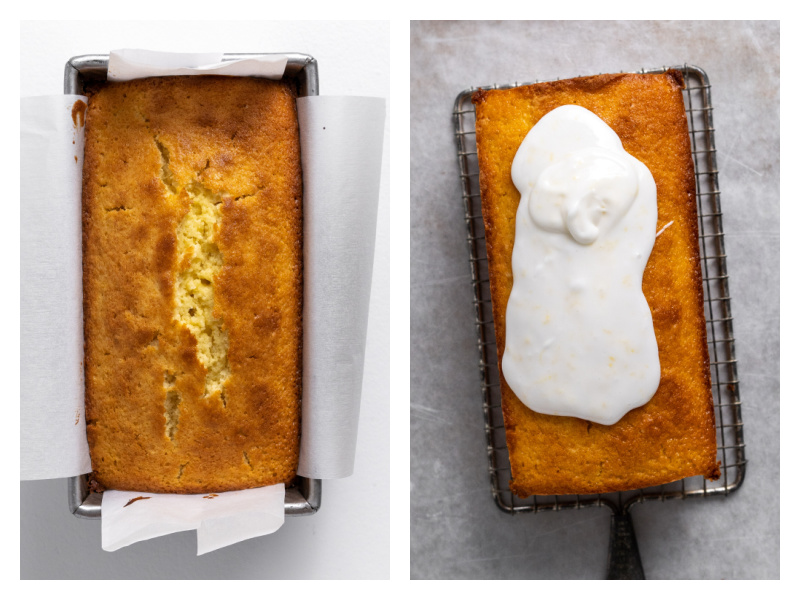 Bake the lemon pound cake for about an hour. Then let it cool 15 minutes in the pan before transferring to a rack. When cooled completely, mix the glaze ingredients together. Add a little water to thin it out, as needed. Pour the glaze over the pound cake and spread it so it covers the top and runs down the sides. Let the glaze set before slicing.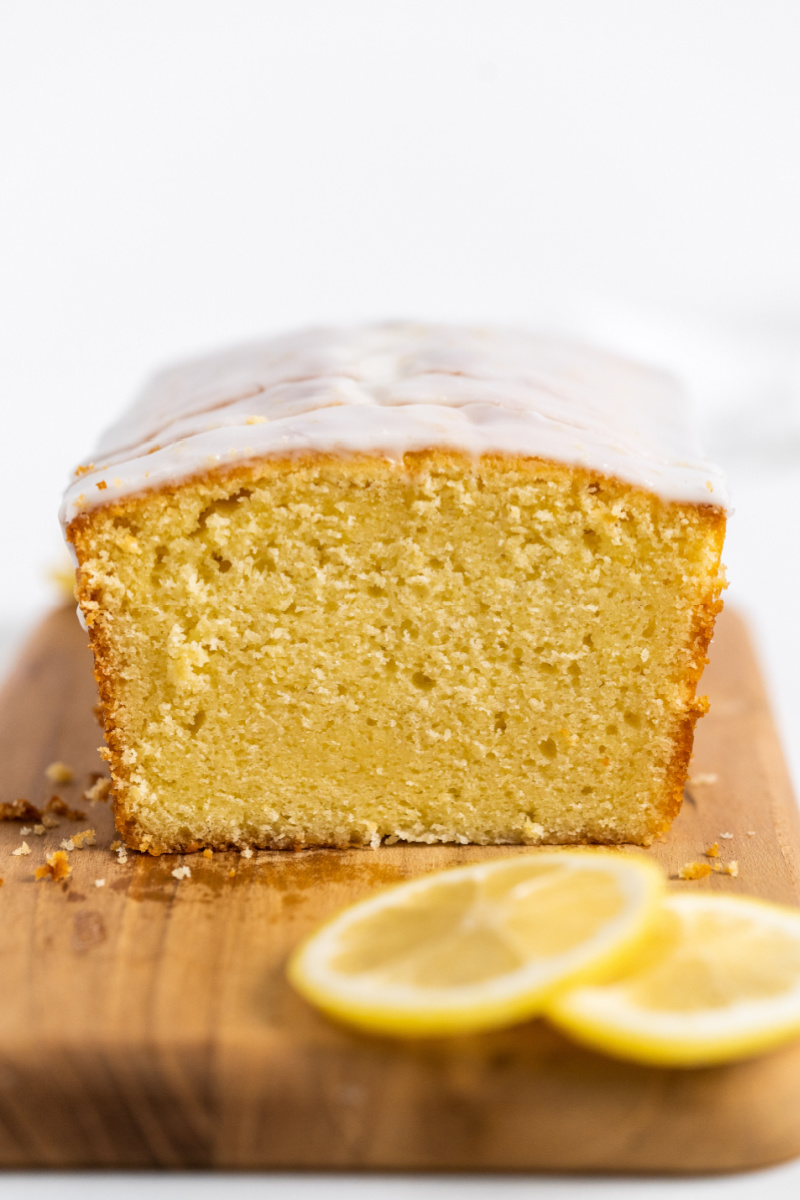 The flavor of this lemon pound cake is amazing. Because it's a pound cake, the texture is a little more dense than traditional cake. We like to serve slices topped with whipped cream and fresh berries. Enjoy!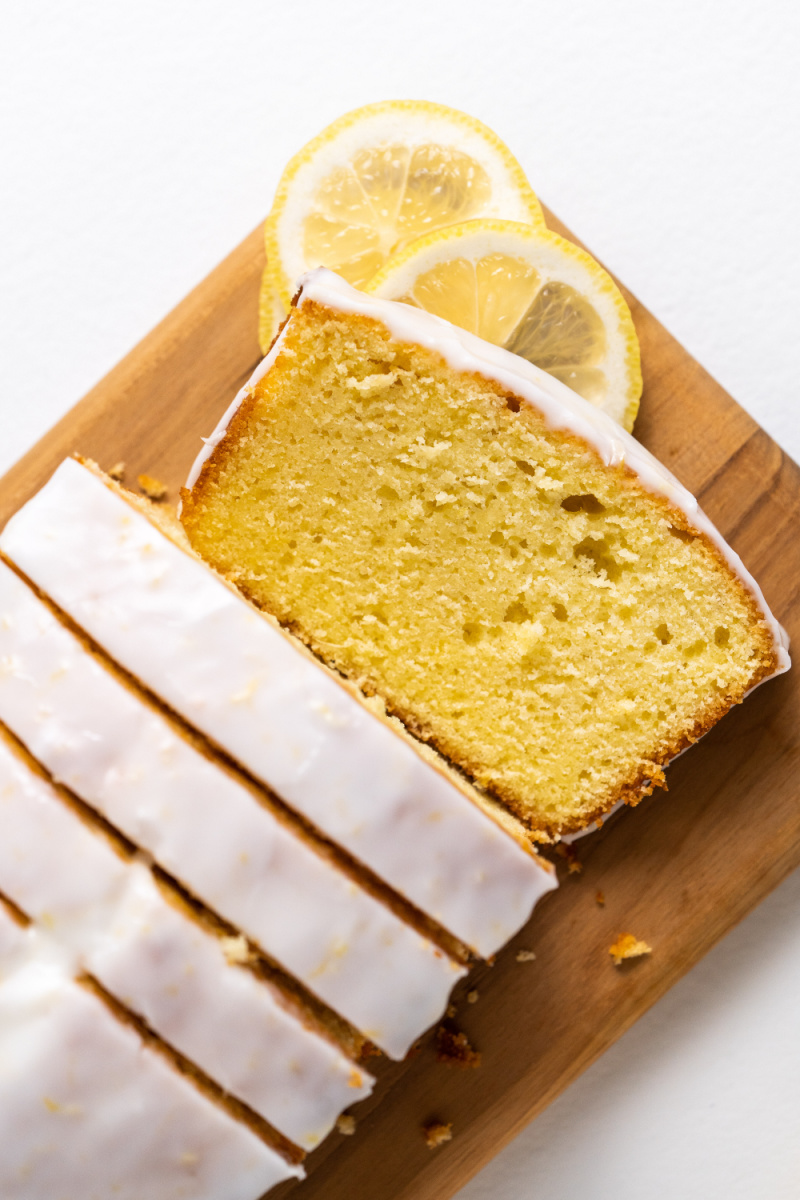 How to store pound cake:
Once the glaze has set, wrap the cake in plastic wrap or add it to a sealed container. Keep it at room temperature, and finish eating it within a week.
Alternately, you can freeze pound cake. Wrap in plastic wrap and then wrap again in foil. Freeze for up to three months.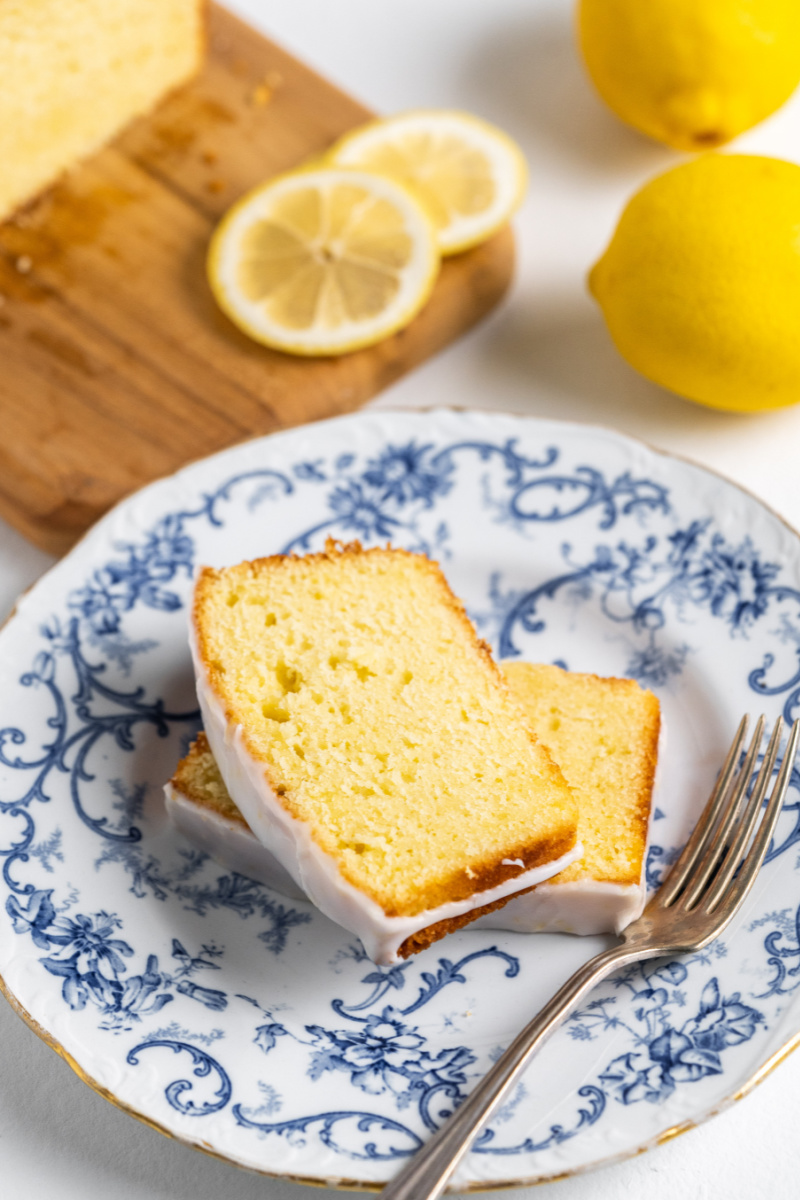 Fun Facts About Pound Cake:
In Hannah Glasse's Art of Cookery (1747), she includes an instruction for making pound cake: "beat it all well together for an hour with your hand." That's so crazy.
Pound cakes are generally baked in a loaf pan or a bundt cake pan.
A pound cake is usually either dusted with powdered sugar or topped with glaze.
In the Caribbean, a popular Christmas Eve dessert is a pound cake made with mashed banana and rum.
Ponque is a Venezuelan and Columbian pound cake that is drenched with wine.
In Mexico, a pound cake is called, panque.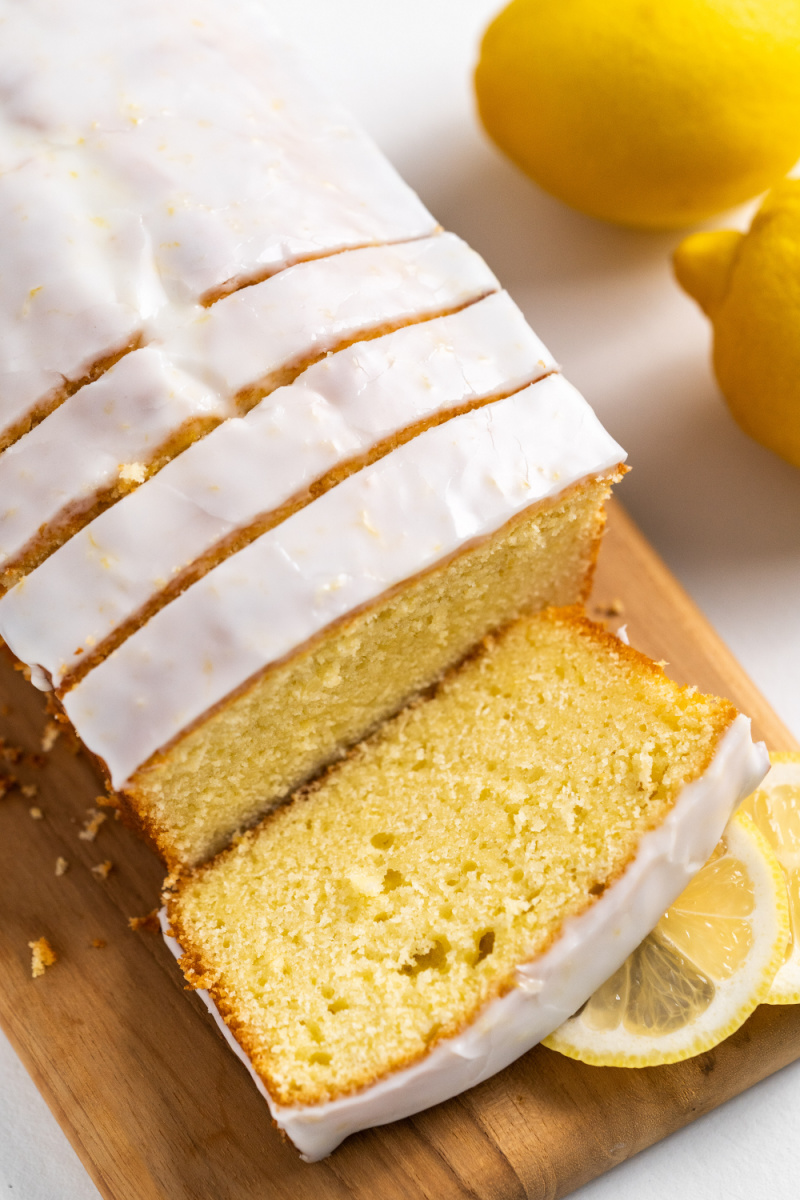 Lemon Pound Cake
Cook Time:
1 hour
15 minutes
Total Time:
1 hour
40 minutes
A delicious pound cake with tangy lemon flavor and a tender crumb.
Ingredients
CAKE:
1 1/2 cups all purpose flour
1/2 teaspoon salt
1/4 teaspoon baking soda
3/4 cup (1 1/2 sticks) unsalted butter, at room temperature
1 cup granulated white sugar
3 large eggs
1/2 cup whole milk
2 tablespoons freshly squeezed lemon juice
1 tablespoon finely grated lemon zest
GLAZE:
1 cup powdered sugar
1 tablespoon freshly squeezed lemon juice
1 teaspoon lemon zest
1 teaspoon water
Instructions
Preheat the oven to 350 degrees F. Line an 8.5 x 4.5-inch loaf pan with 2 pieces of parchment paper so that it hangs over all 4 sides. Spray the inside with nonstick spray.
In a medium bowl, whisk or sift together the flour, salt, and baking soda.
In a large bowl, use an electric mixer to combine the butter and sugar. Beat in the eggs until the batter is light and fluffy. Add the milk, lemon juice, and lemon zest, and beat to combine (the mixture will look curdled).
Add the dry ingredients and beat to combine, being careful not to over-mix.
Pour the batter into the prepared loaf pan, and spread it out evenly.
Bake until a toothpick inserted in the center comes out clean, about 1 hour, to 1 hour 15 minutes.
Let the cake cool for 15 minutes in the loaf pan, and then transfer it to a wire rack to finish cooling. Let the cake cool completely before glazing.
Once the cake is cooled, add the powdered sugar, lemon juice and lemon zest to a bowl and stir to combine. Add enough water to form a glaze, about 1 teaspoon.
Pour the glaze on top of the cake so that it covers the top and runs down the sides. Let the glaze set before slicing.
Nutrition Information:
Yield:

10
Serving Size:

1 slice
Amount Per Serving:
Calories:

341
Total Fat:

16g
Saturated Fat:

9g
Trans Fat:

0g
Unsaturated Fat:

6g
Cholesterol:

94mg
Sodium:

168mg
Carbohydrates:

46g
Fiber:

1g
Sugar:

32g
Protein:

4g
Nutritional information is estimated using a nutrition calculator. It is not likely to be 100% accurate.