Here are 36 Stuffing Recipes you won't want to miss for Thanksgiving, Christmas or any holiday meal. Included are classic stuffing, traditional stuffing, gluten free stuffing, cornbread stuffing, sausage stuffing, vegan stuffing and more.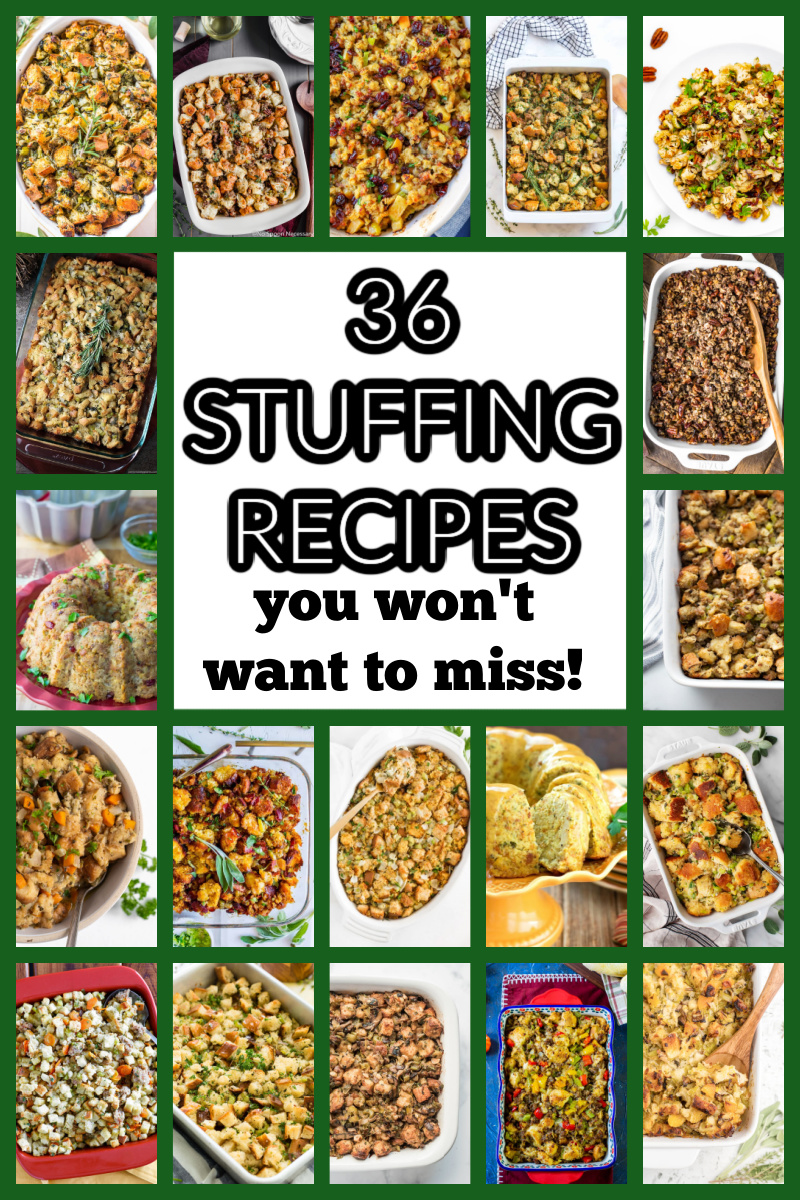 Stuffing is a favorite Thanksgiving side dish, so it makes sense that we'd round up the very best stuffing recipes here! There are so many delicious varieties to choose from, so I know you'll find a new favorite in this bunch.
Share your stuffing creation on social media using the hashtags #stuffingrecipe and #recipesforholidays. Be sure to check out my November Food Holidays page so you never miss a food holiday in the month of November.
The History of Stuffing
A 3700 year old clay tablet dug up in Lara (Iraq) contained several poultry recipes. One was for a roasted bird with a side dish of soft bread. This may have been the earliest precursor to Thanksgiving stuffing.
Between the 2nd century BC and the 1st century AD, a chef named Apicus shared recipes for stuffed chicken, rabbit and pig in his cookbook. Ingredients included vegetables, herbs, nuts, liver and brain).
We don't know if the Pilgrims had stuffing at the first Thanksgiving. We do know that they had access to wild game and rice. So they may have stuffed birds with rice!
Written records dated back to 1836 suggest that it was around that time that stuffing became part of the traditional Thanksgiving meal.
In 1972, the introduction of Stovetop Stuffing in a box appeared. Nowadays, Stovetop sells about 60 million of those boxes around Thanksgiving.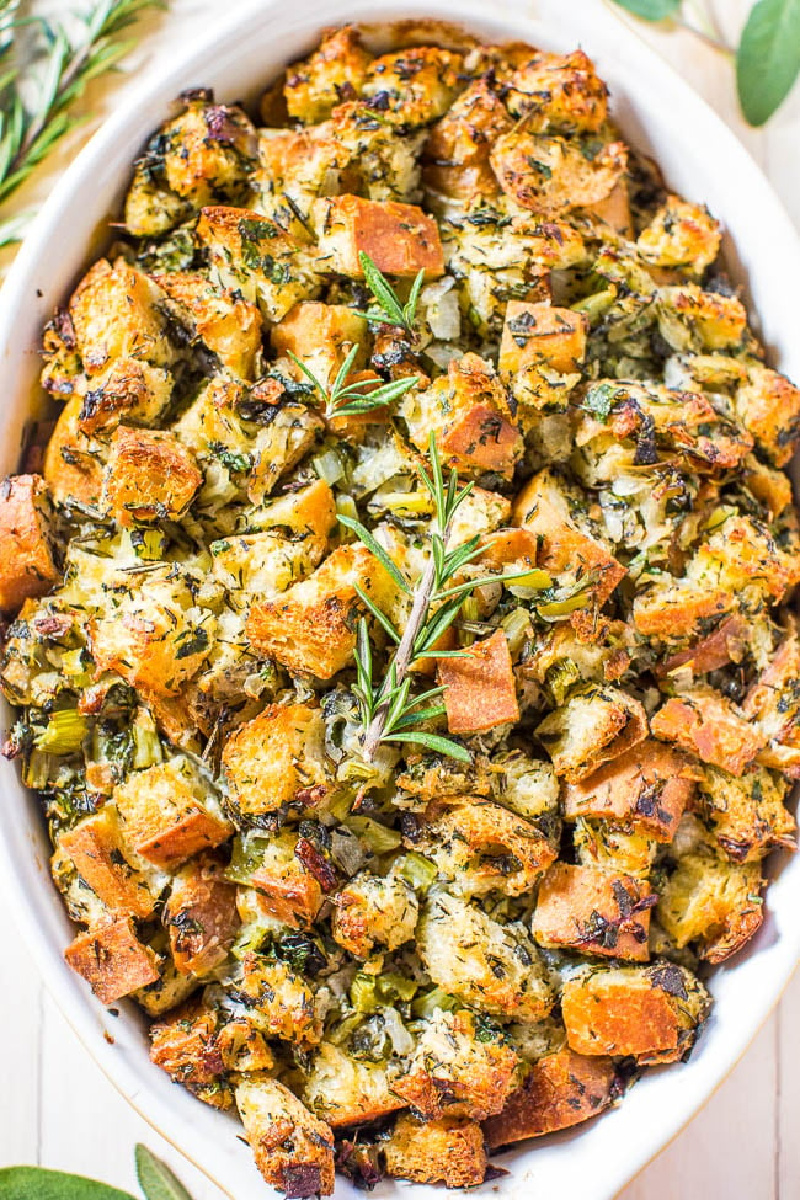 There is nothing frilly or trendy about this Traditional Thanksgiving Stuffing recipe. It's a classic, amazing, easy, homemade stuffing that everyone loves! Simple ingredients with stellar results!
Slow Cooker Stuffing is the perfect stuffing recipe to make when you have limited space in the oven. Making slow cooker stuffing allows you to let it cook all on its own for several hours while you're getting the rest of your meal ready.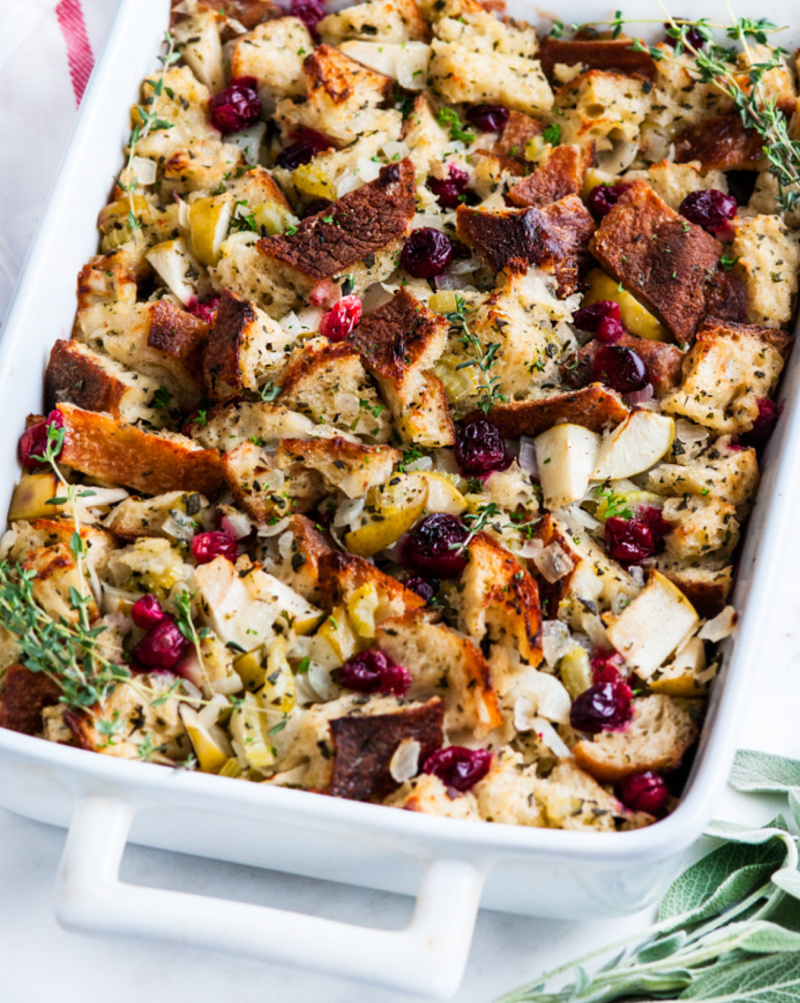 Packed with crispy apples, tart cranberries, fresh herbs, onions, celery, butter and chicken broth, you're going to LOVE this recipe. Just as easy as regular, out of the box stuffing, this Cranberry Apple Sage Stuffing will really add some extra oomph to your Thanksgiving table this year!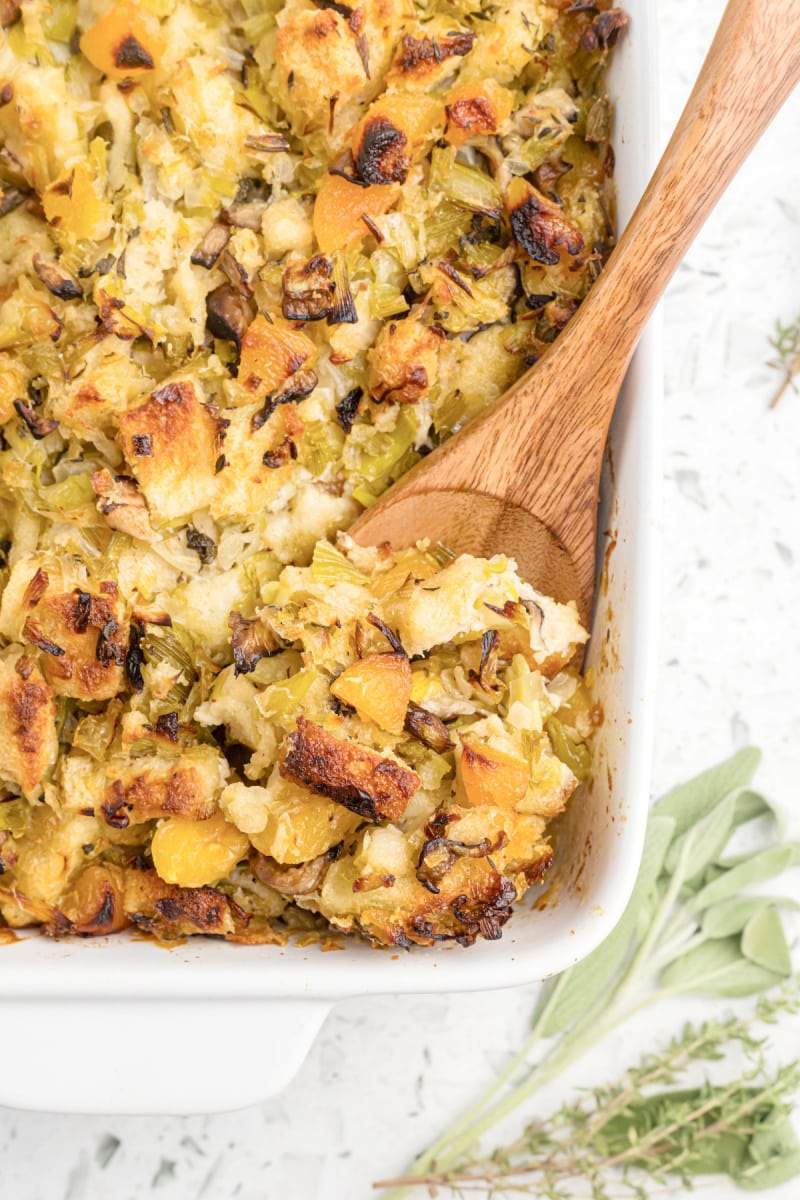 This Shiitake Mushroom Stuffing is my favorite stuffing recipe! It's so good and so moist, and it's full of the flavors of mushrooms, dried apricots and sage.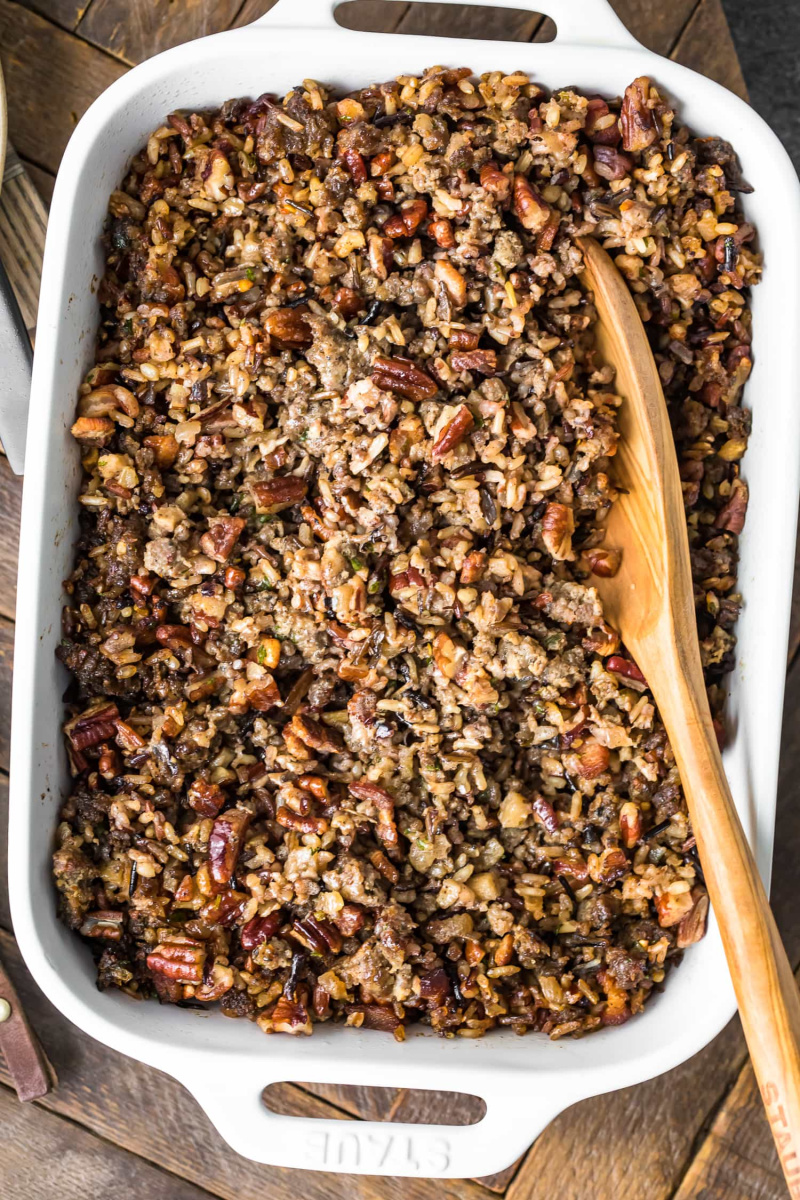 This Wild Rice Sausage Stuffing is the perfect side dish for a large family meal, Thanksgiving or Christmas. Easy to make and baked in the oven, this hearty stuffing is perfect to serve with chicken, Cornish hens, turkey or ham.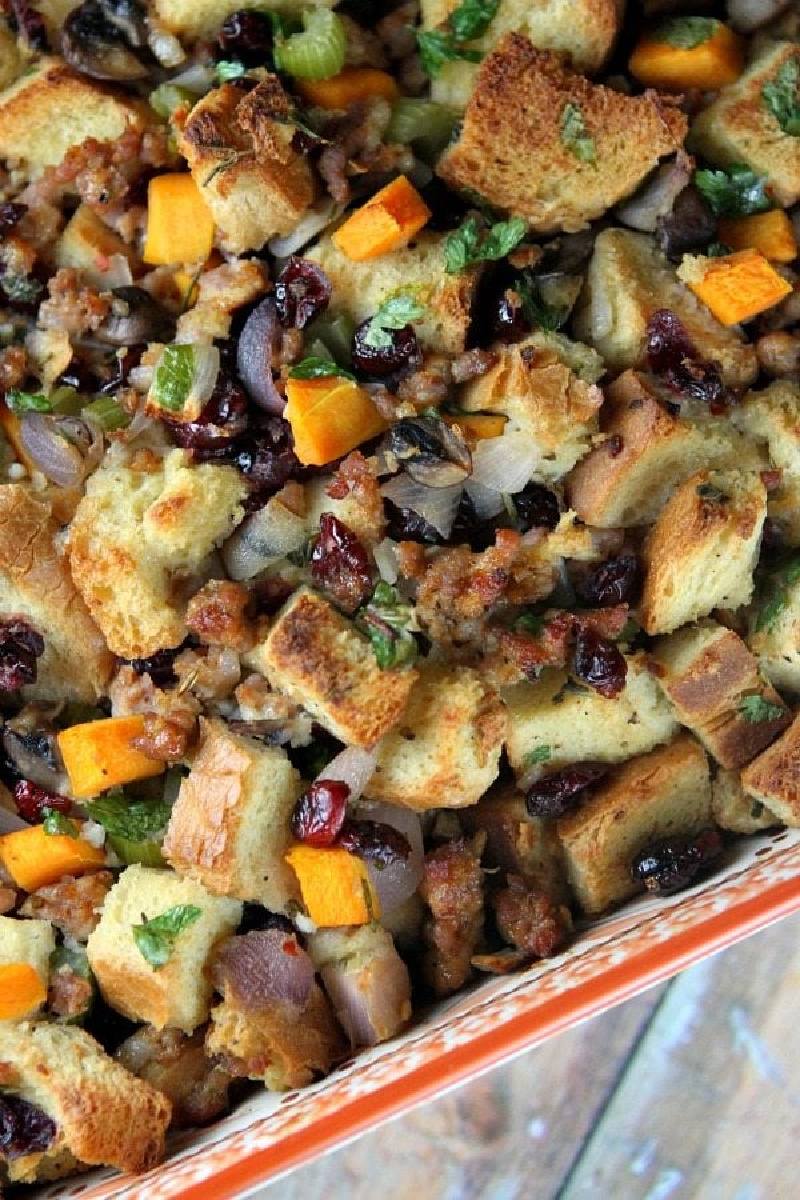 This Sausage Herb Stuffing with Butternut Squash and Cranberries is a hit-out-of-the-park, grand-slam stuffing recipe. The sausage and fresh herbs help boost the flavor, the butternut squash + other vegetables add interest and nutrition, and the dried cranberries add a pop of sweetness.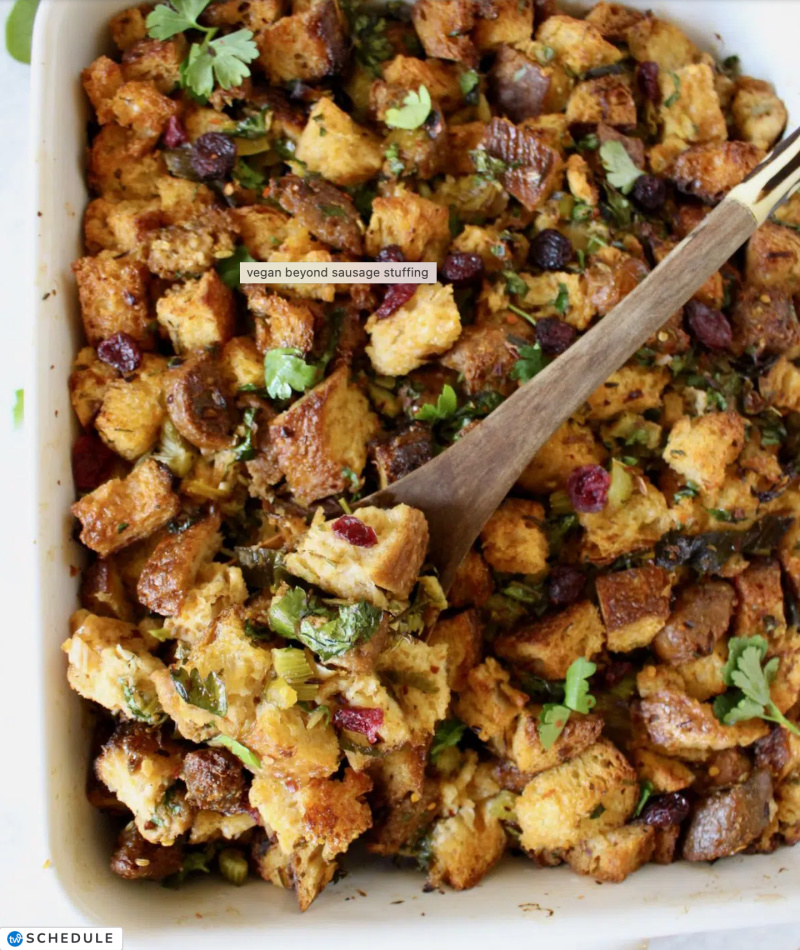 This delicious Vegan Stuffing Recipe is brimming with the most wonderful holiday flavors from vegetables, sage and rosemary. It's eggless, and there is no butter needed.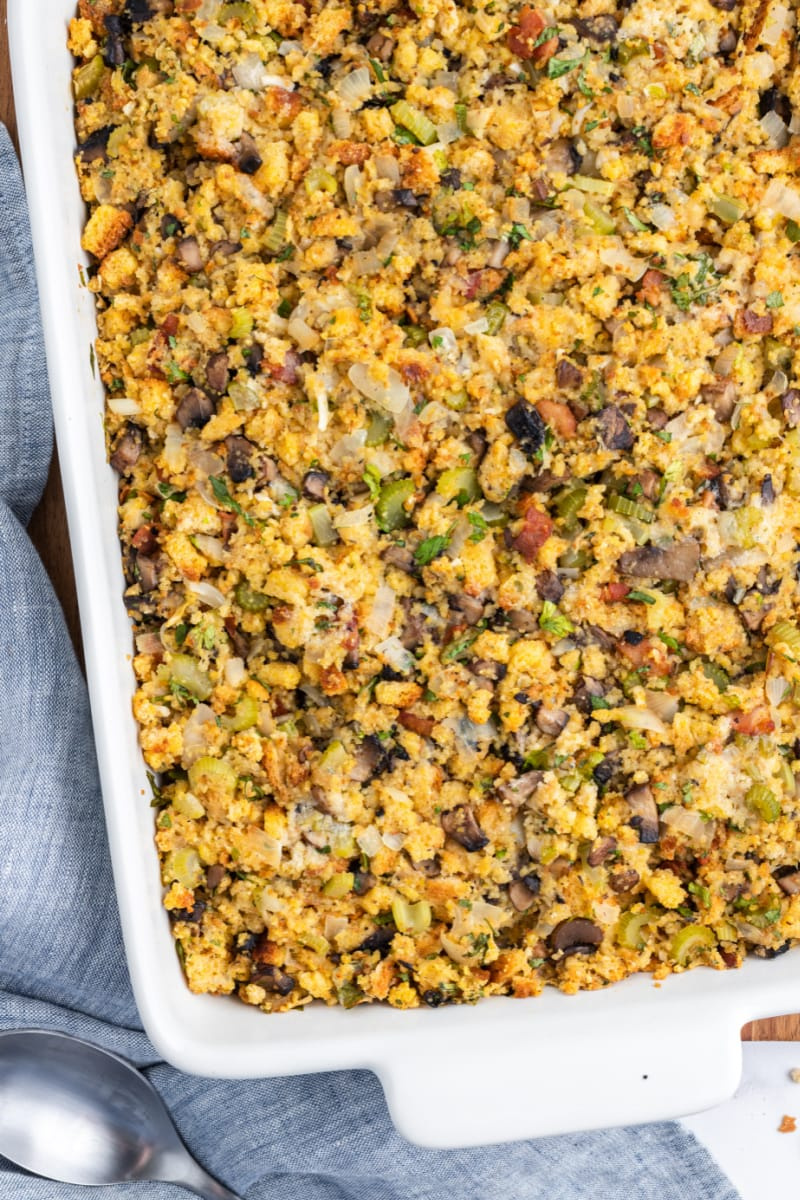 This Portobello Stuffing recipe is a great holiday side dish for mushroom lovers! Bacon and plenty of mushrooms are added to this delicious cornbread stuffing recipe.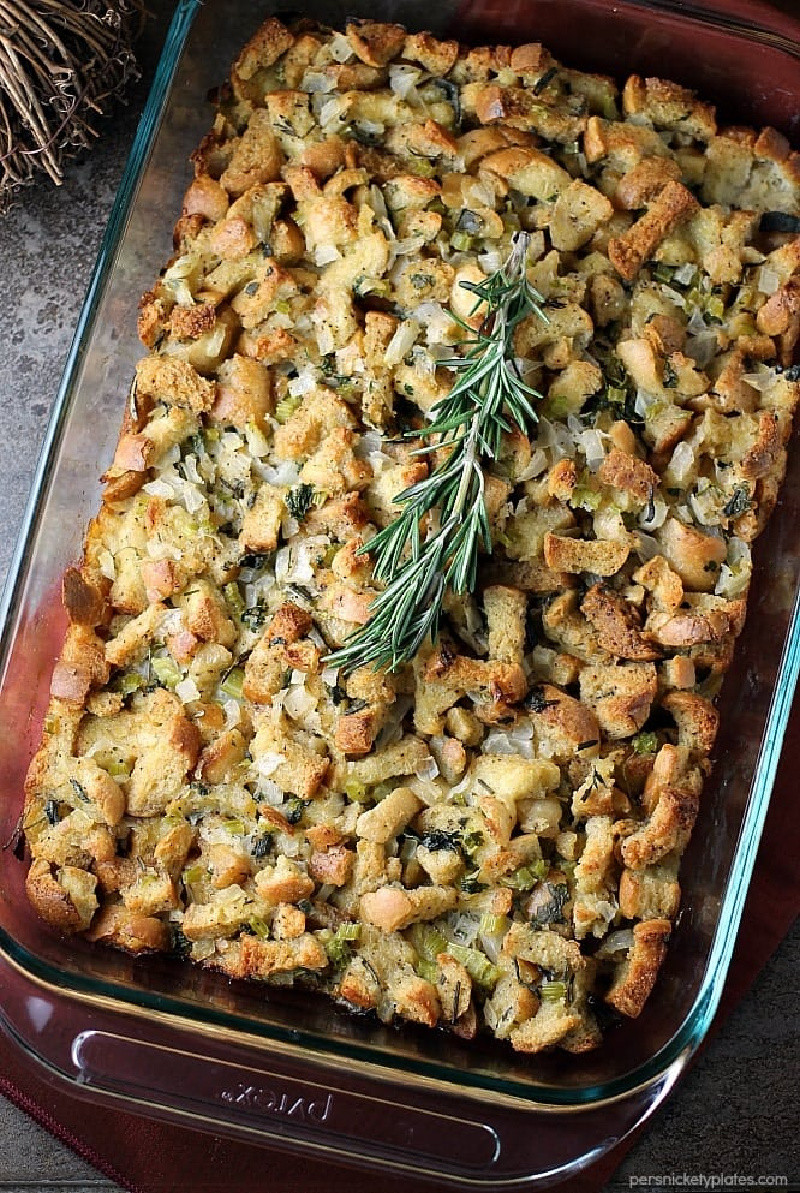 Traditional Herb Stuffing is very easy to make and filled with fresh, flavorful herbs. It'll be a hit on any Thanksgiving table!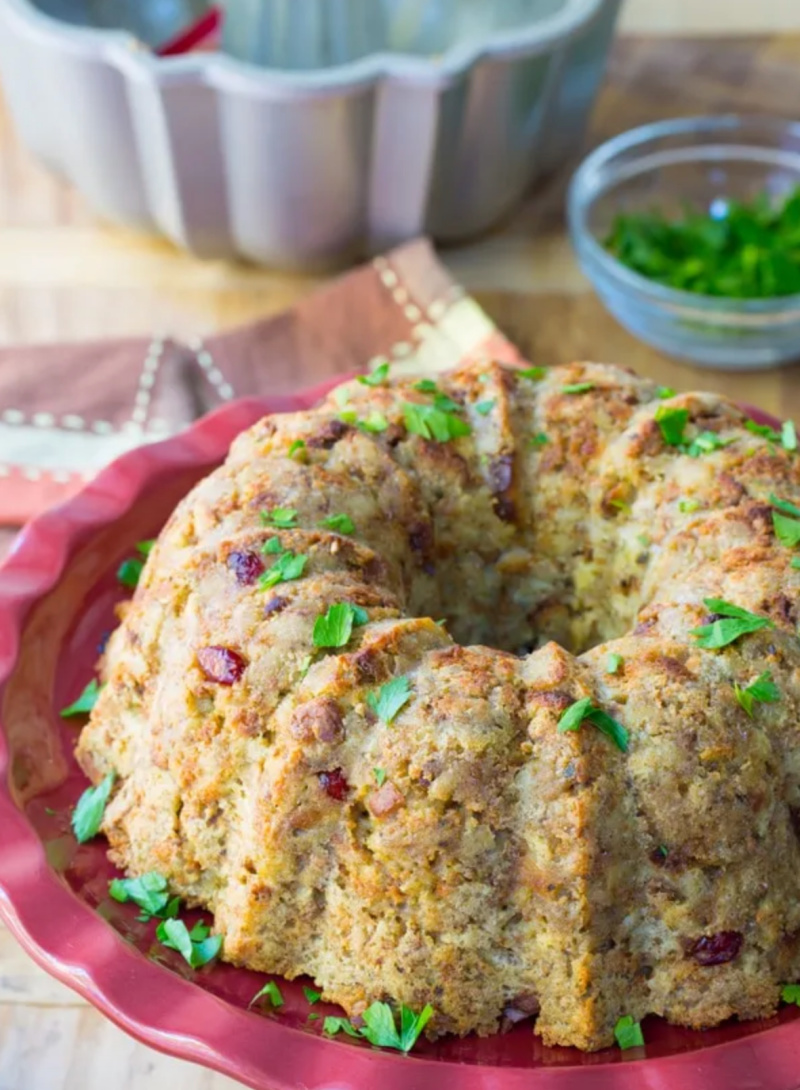 Stuffing in a Bundt Pan is an easy and beautiful way to prepare your Thanksgiving Stuffing Recipe! Use one of our stuffing recipes, or use your favorite stuffing recipe to create this gorgeous tasty centerpiece for your Thanksgiving table.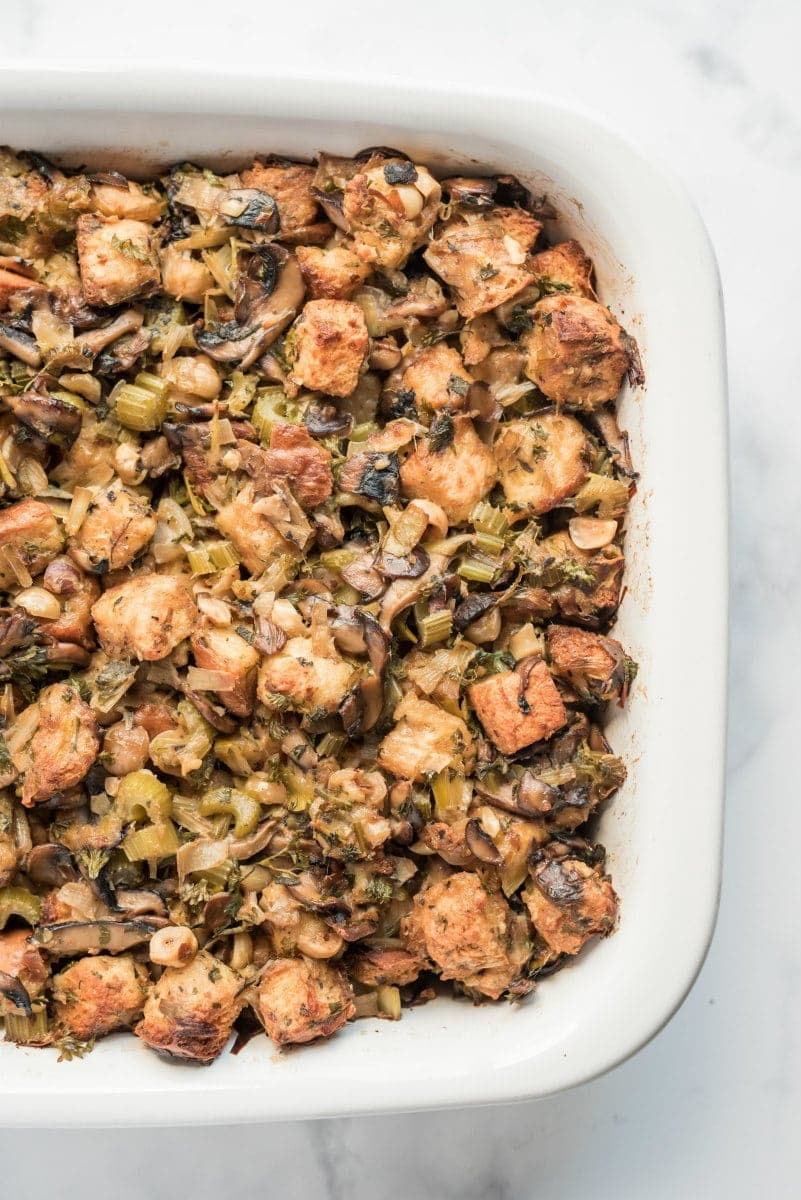 This is a stuffing recipe for major mushroom lovers. There are loads of mushrooms in this stuffing- porcini, cremini and shiitake! This Wild Mushroom Stuffing recipe also calls for using egg bread instead of plain 'ol French bread.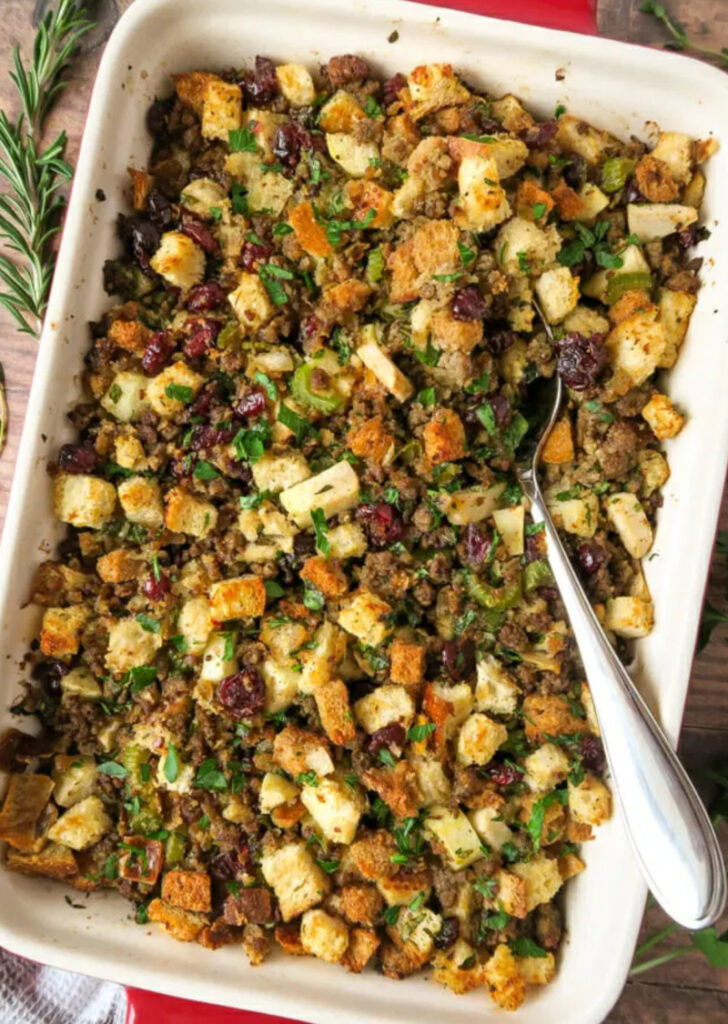 This Sausage Stuffing with Apples, Cranberry and Herbs is not too mushy or soggy! It's a mixture of Sage Pork Sausage, veggies, homemade bread cubes, fresh herbs, apples, and dried cranberries.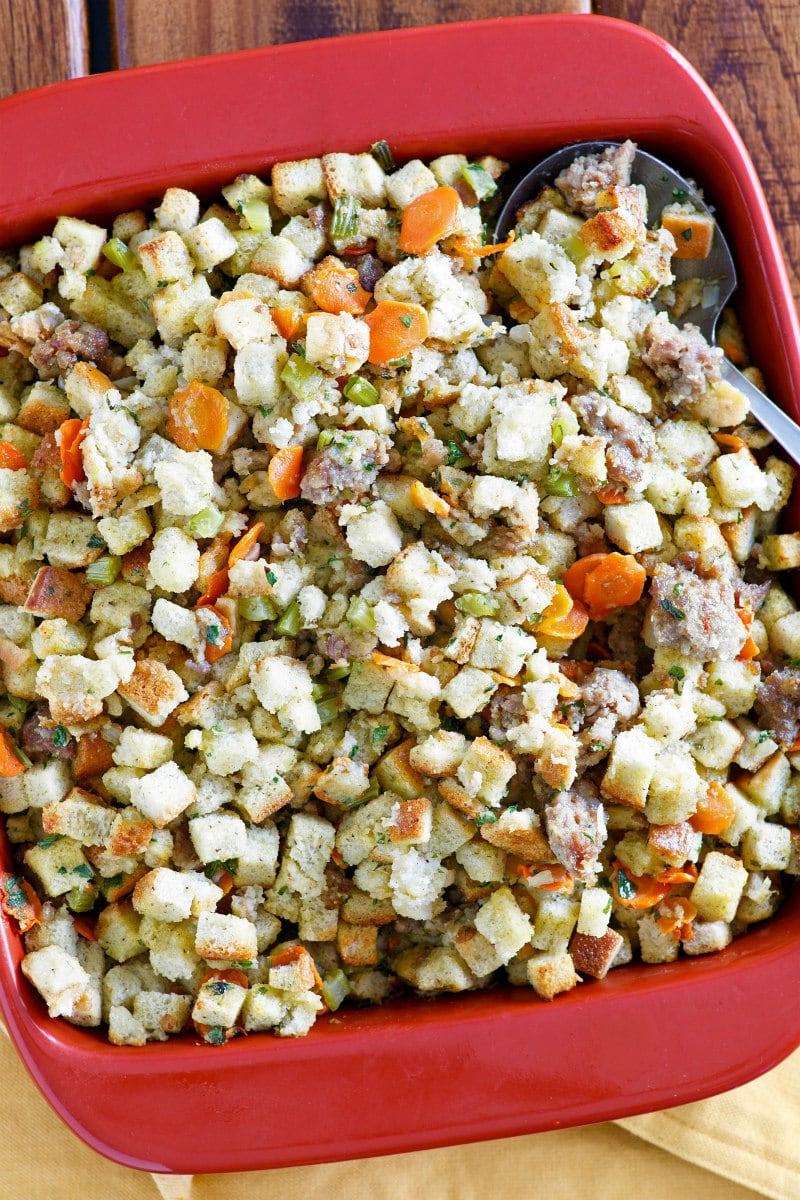 This Low Fat Sausage Stuffing recipe is one way to try and lighten things up a little for your holiday dinner.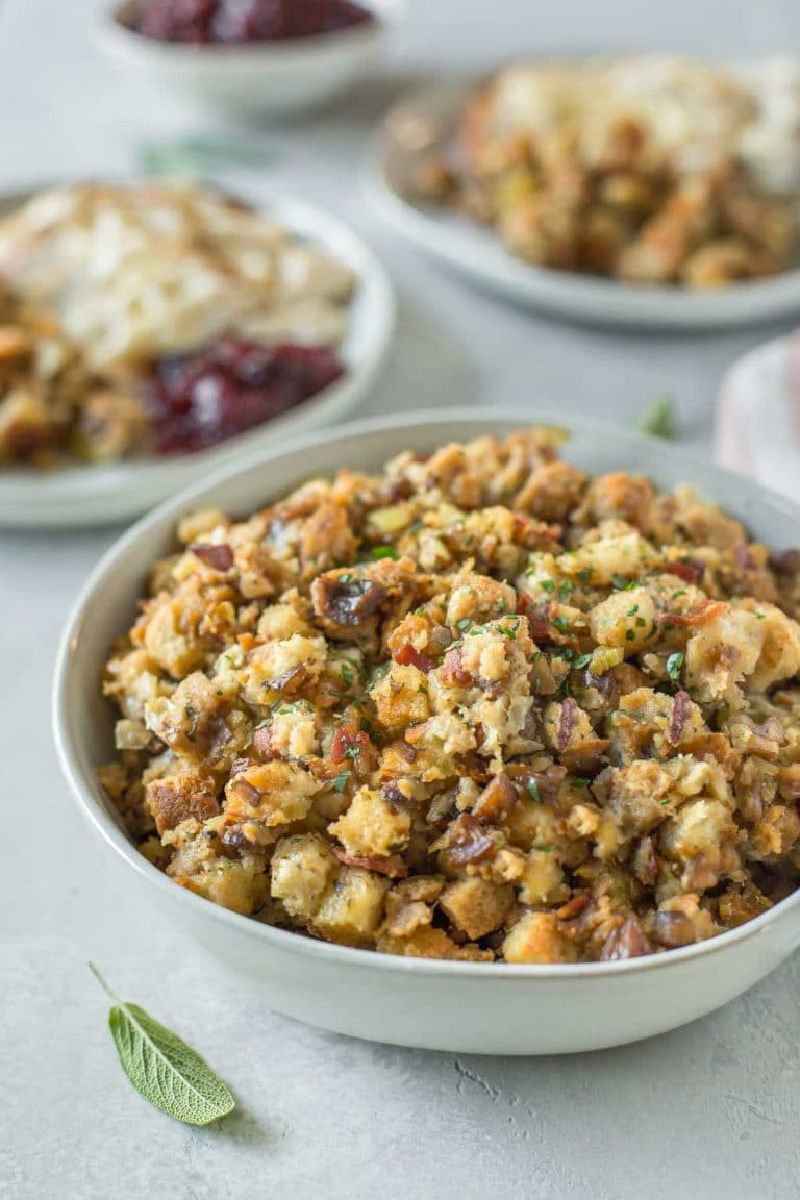 This savory Pancetta Chestnut Stuffing is perfect for Thanksgiving and Christmas dinners. Plus, it's dairy free and can be made ahead of time.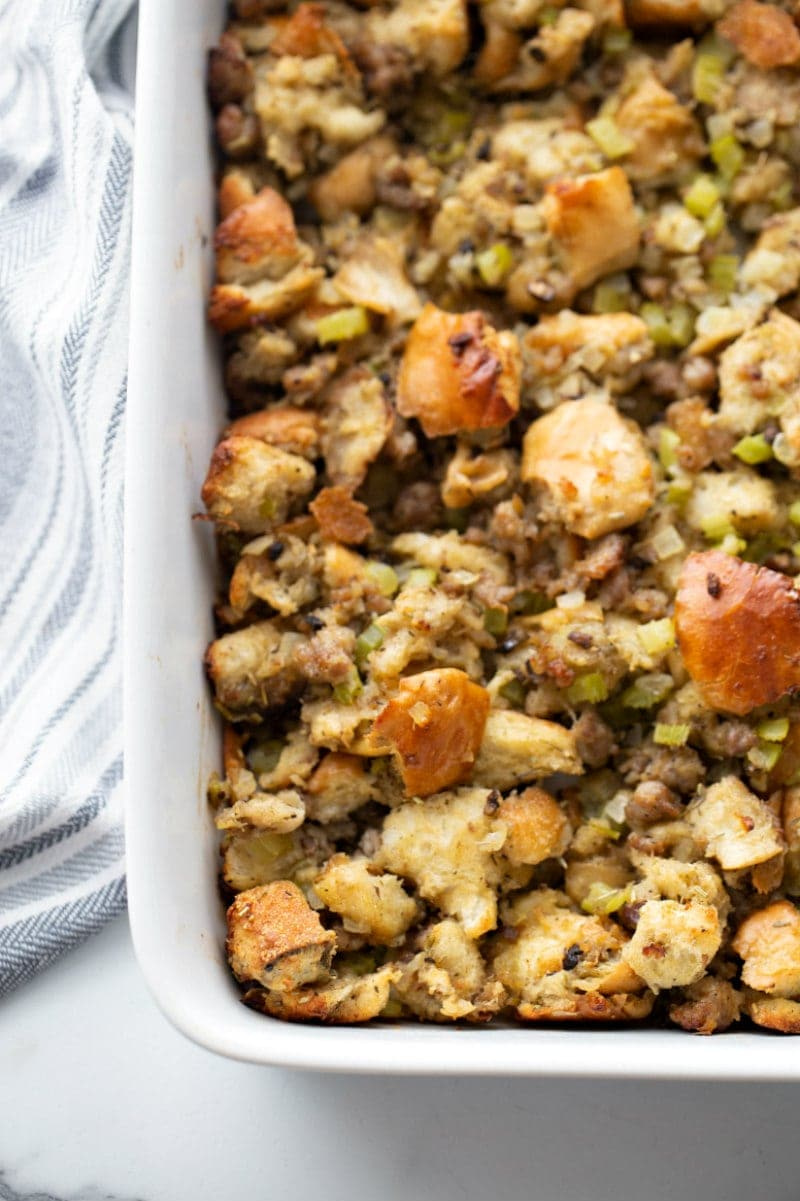 My Mom's stuffing recipe from so long ago, this Classic Stuffing recipe is the one I always make. Mom had a couple of secrets, and those are shared in the recipe!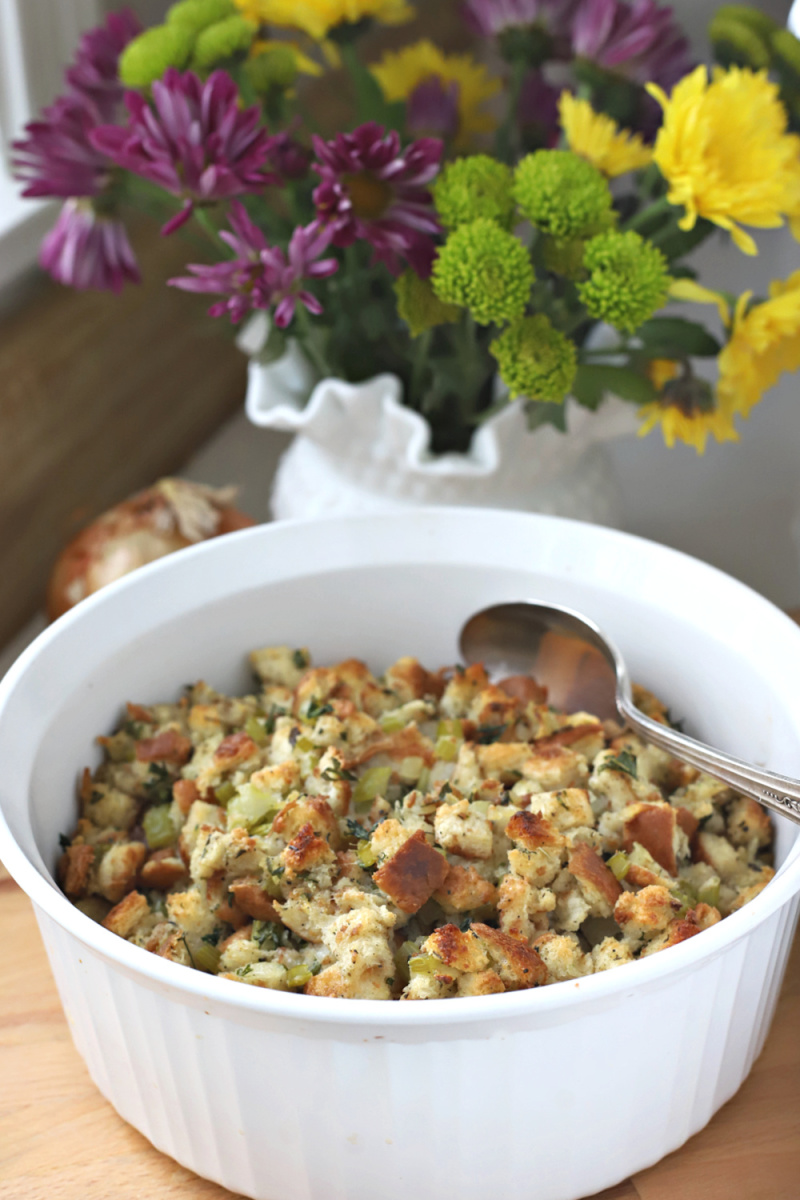 Old Time Stuffing is a recipe found many years ago on a grocery store sale flyer! It is buttery and filled with the sweet crunch of sautéed onions and celery.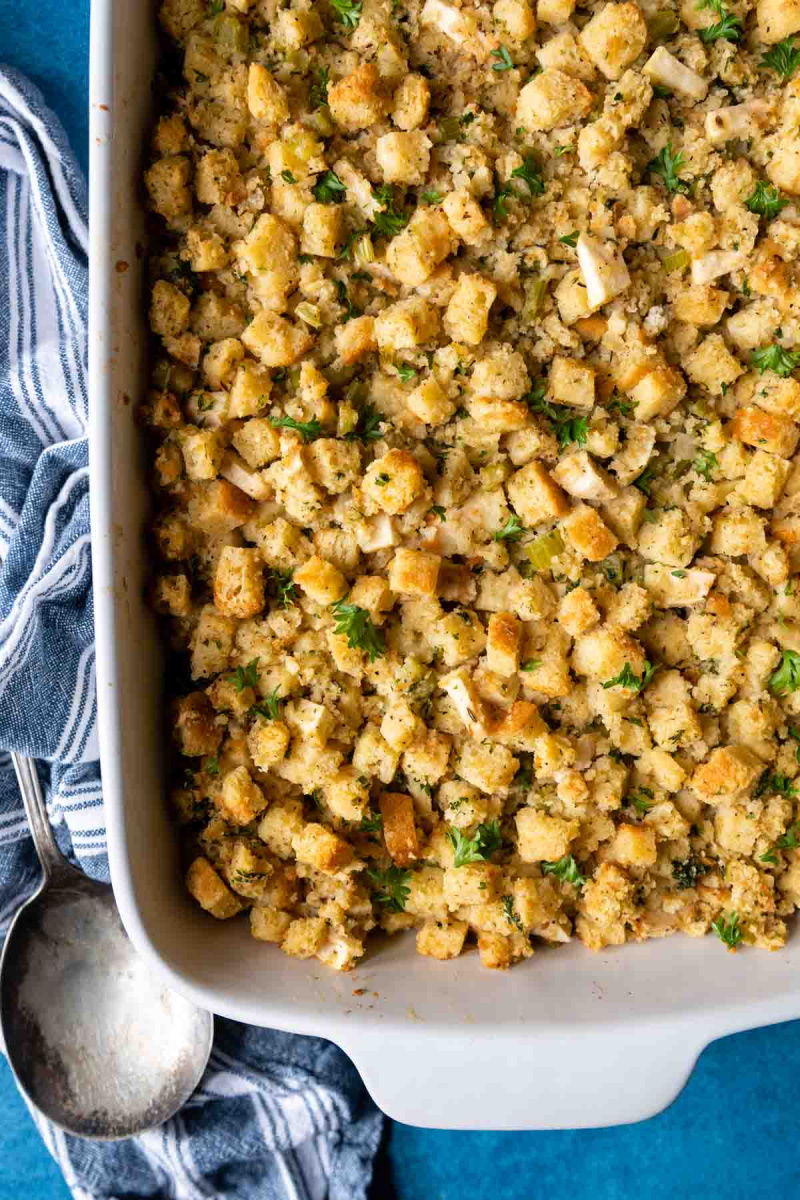 Learn how to make Gluten-Free Stuffing with this moist, delicious, and easy recipe that tastes just like Mom used to make! Experience classic, traditional herb stuffing just like the Thanksgiving dressing you grew up on.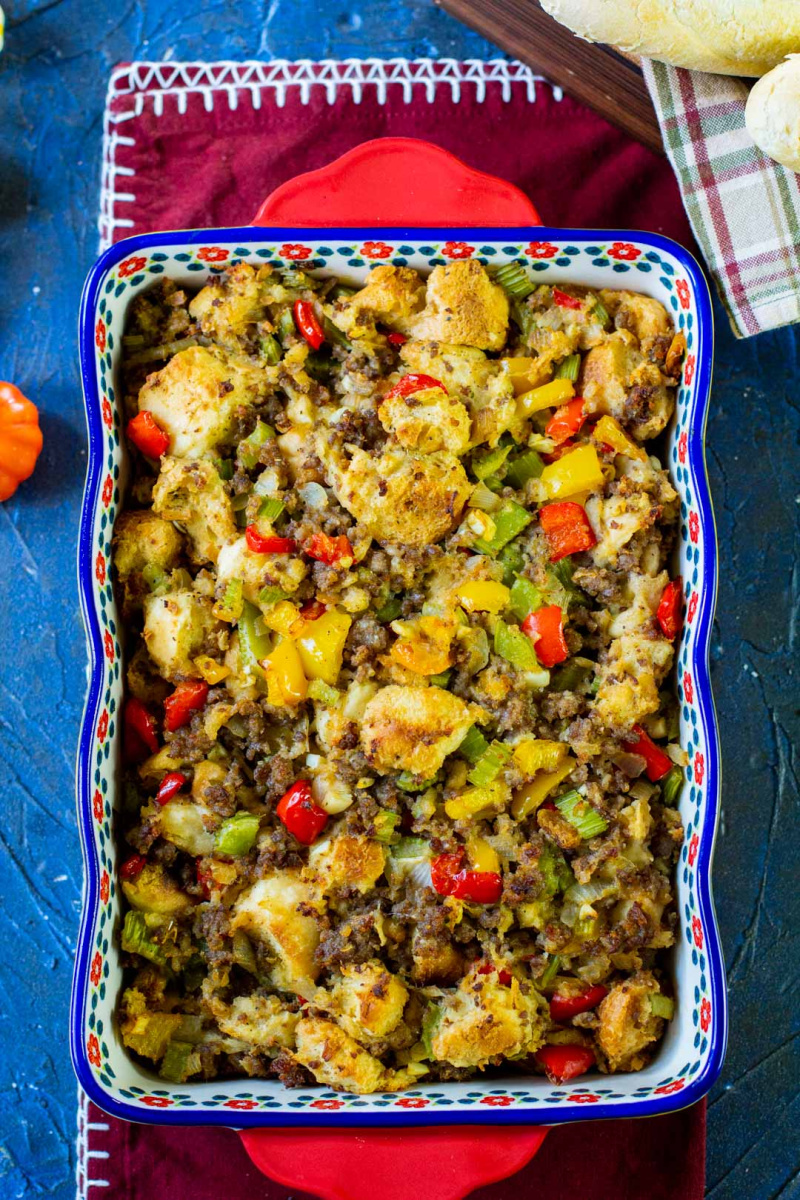 This easy Maple Sausage Stuffing is made with French baguette, peppers, garlic, and maple sausage.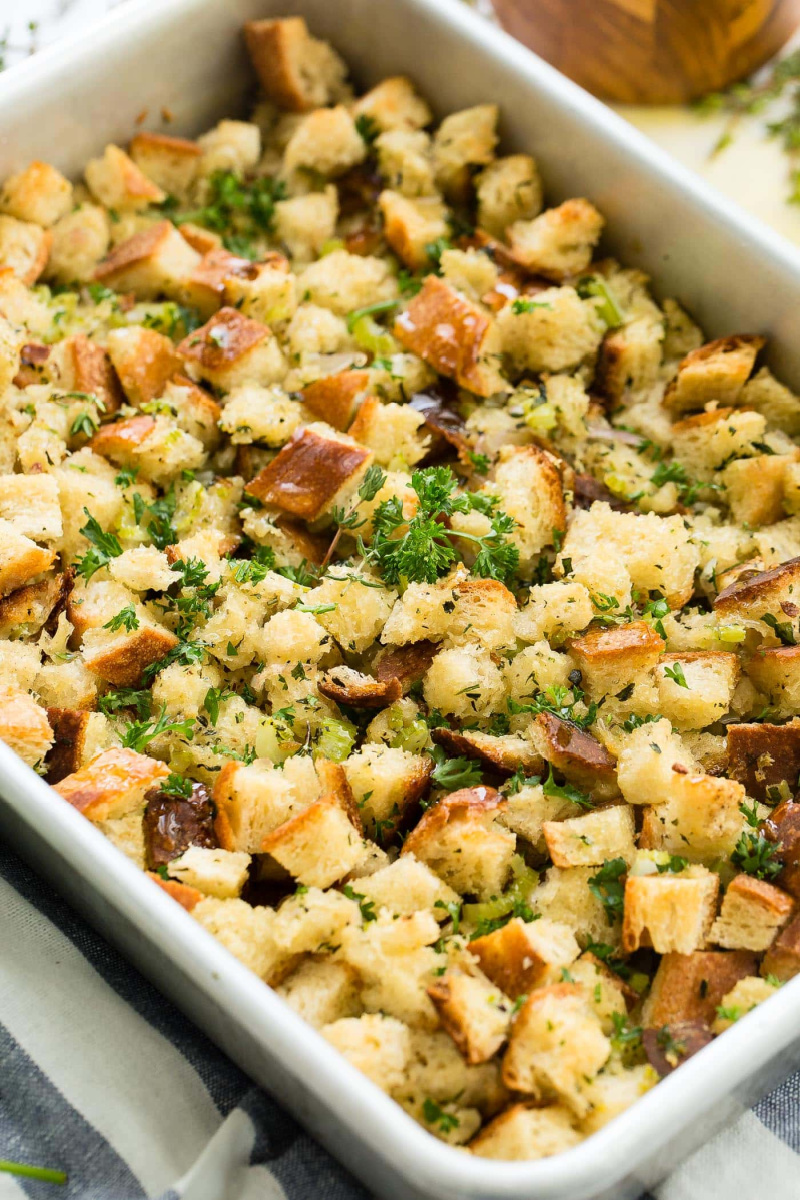 Make-Ahead No-Fuss Stuffing is so easy to make! Forget the boxed stuff and make it from scratch. It is full of fresh herbs and all the classic stuffing ingredients.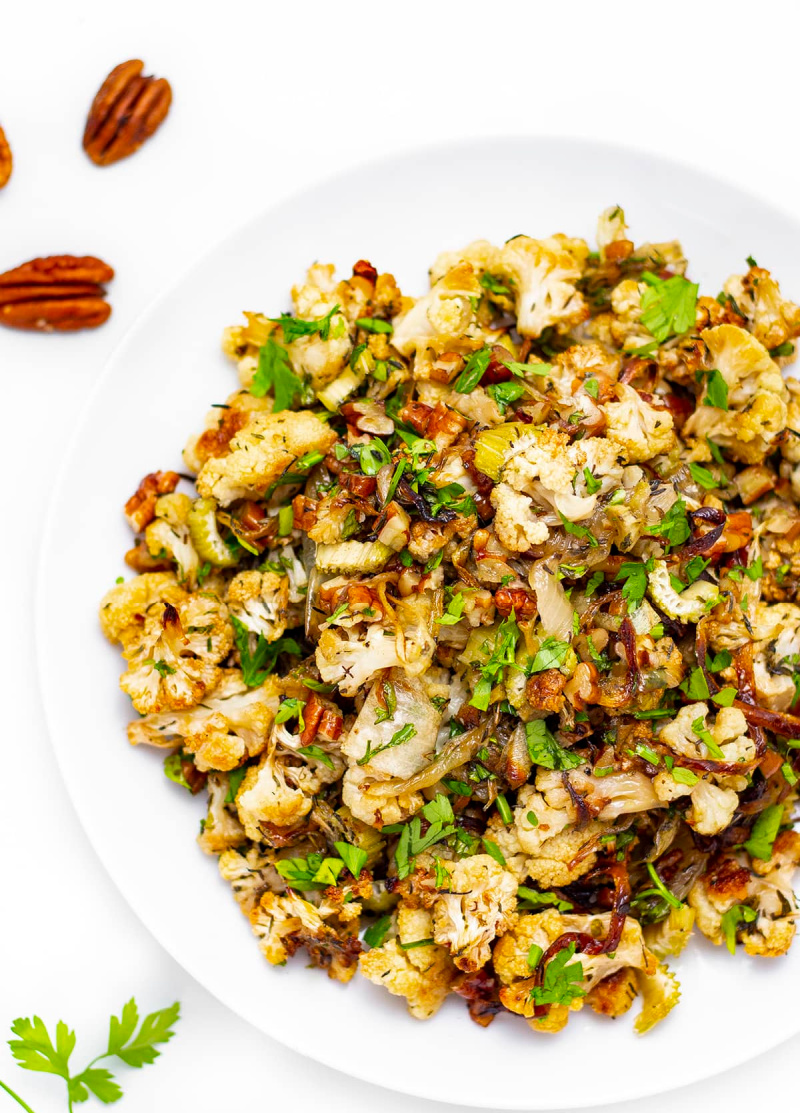 Easy Keto Cauliflower Stuffing is flavorful, caramelized, herby and savory. With 10 minutes of prep, it's perfect for your Thanksgiving table!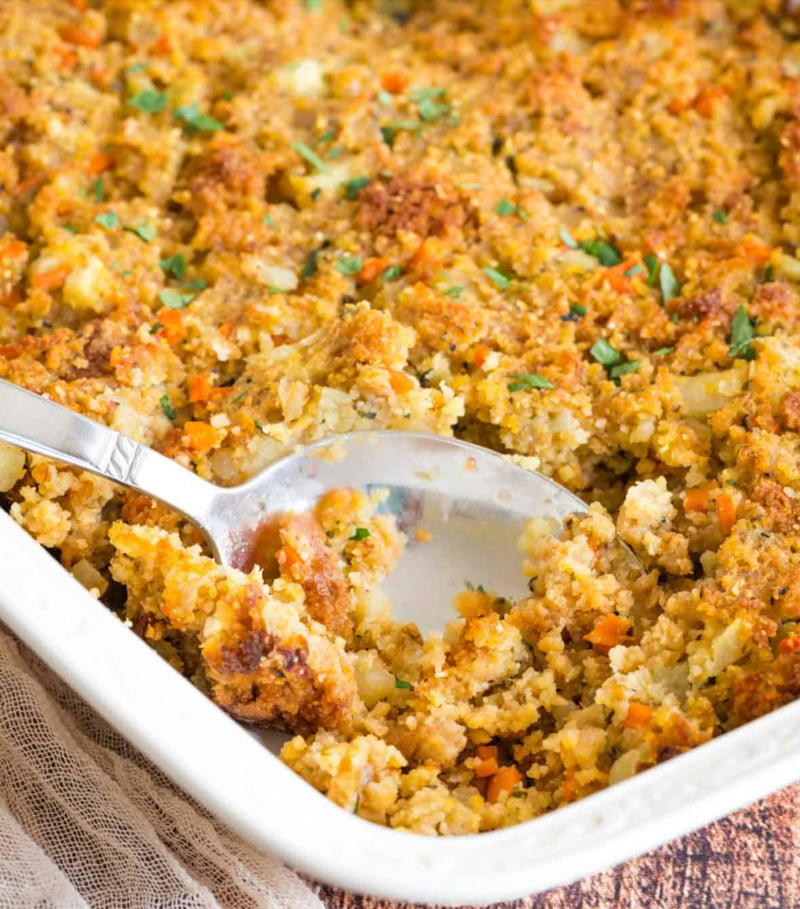 This easy Gluten Free Cornbread Stuffing is a popular Thanksgiving side dish with comforting classic flavors from fresh thyme and sage, along with apples, carrots, and celery. It's moist and fluffy in the center with perfectly crispy edges.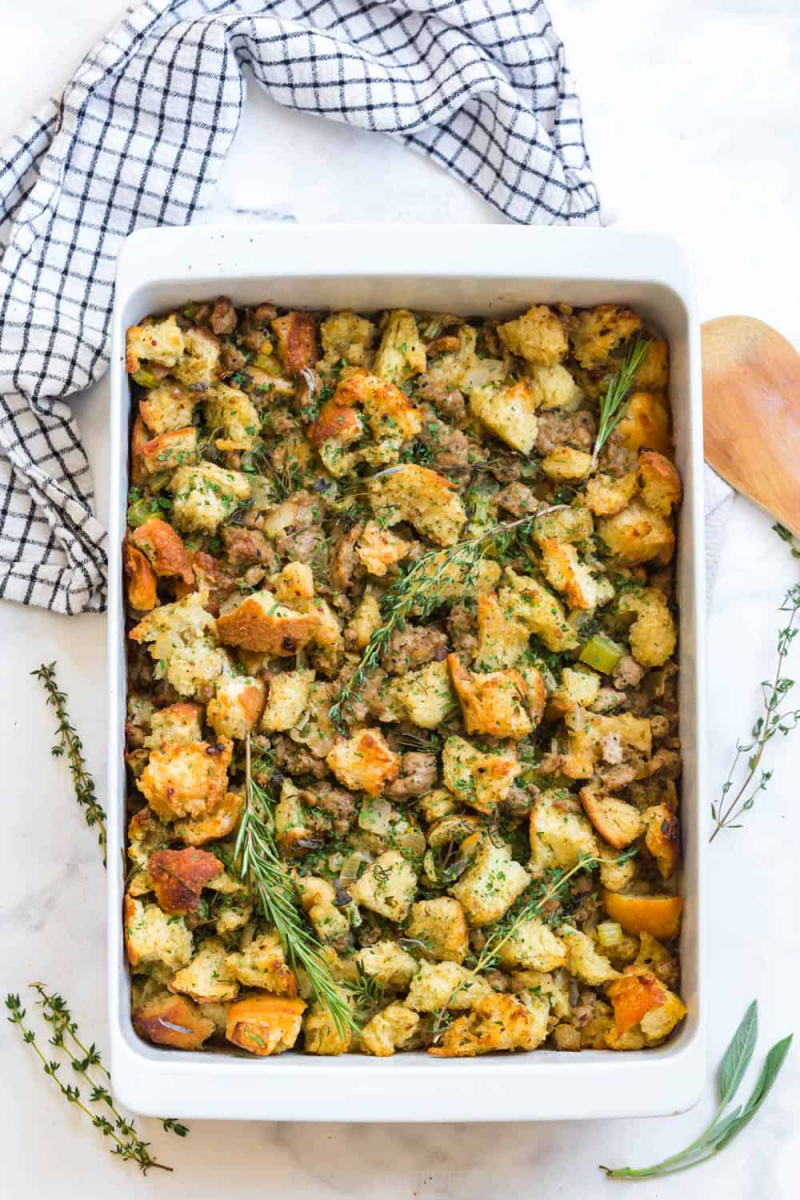 This Easy Sourdough Stuffing recipe uses sourdough bread, herbs and spices to create a moist turkey dinner side dish.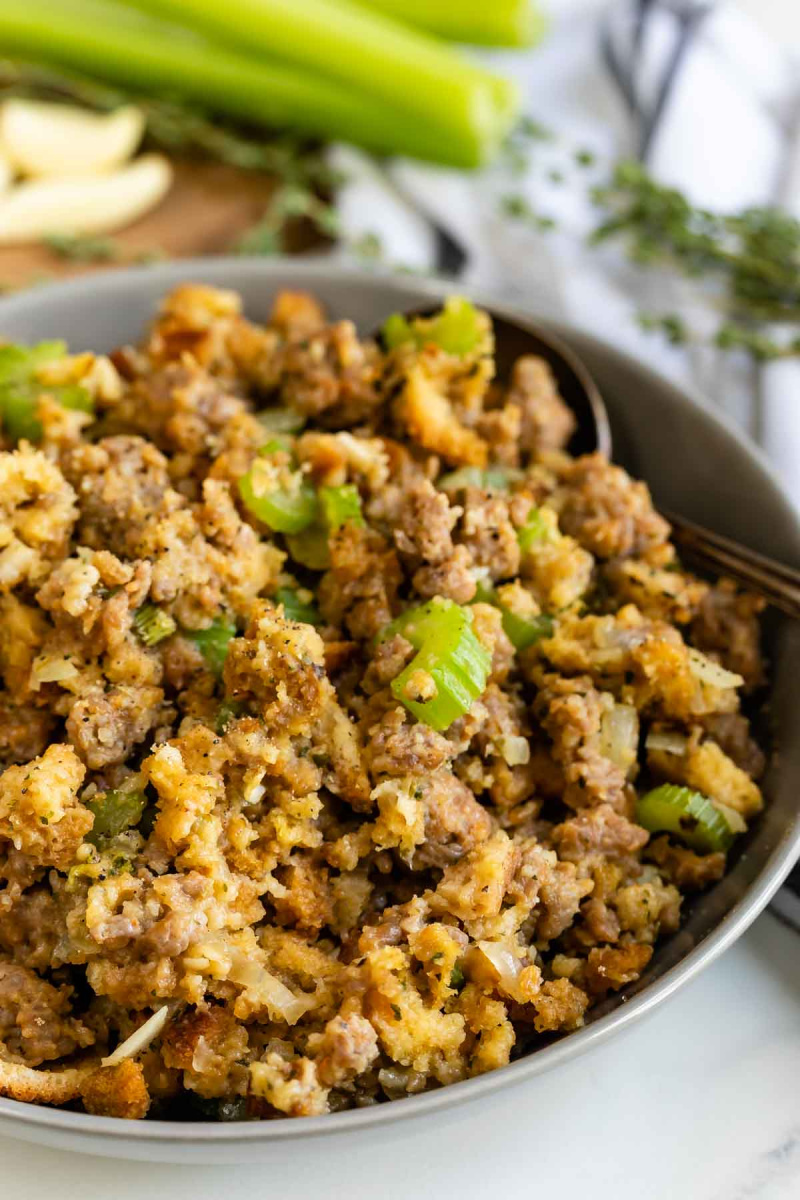 This Easy Sausage Stuffing recipe takes just 15 minutes and is the perfect addition to any meal, but especially Thanksgiving. It's semi-homemade but you'd never know it – it tastes like it's made from scratch!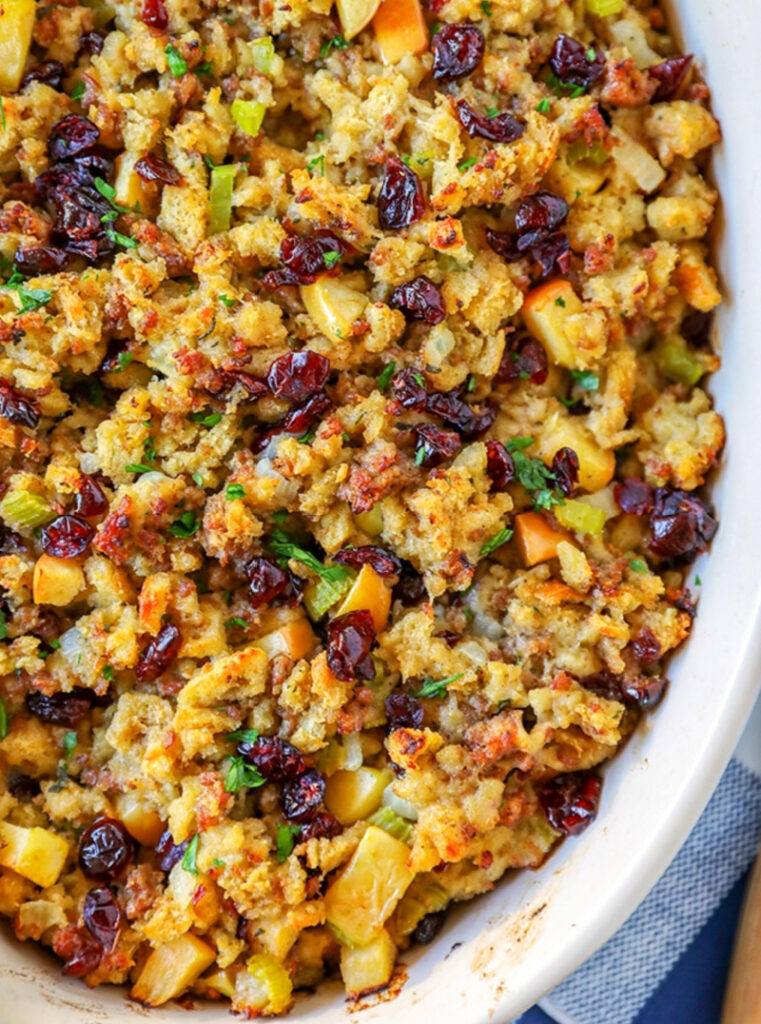 This Apple Cranberry Sausage Stuffing recipe is so easy. Sausage, apples and cranberry are combined with fresh herbs and buttery toasted bread crumbs!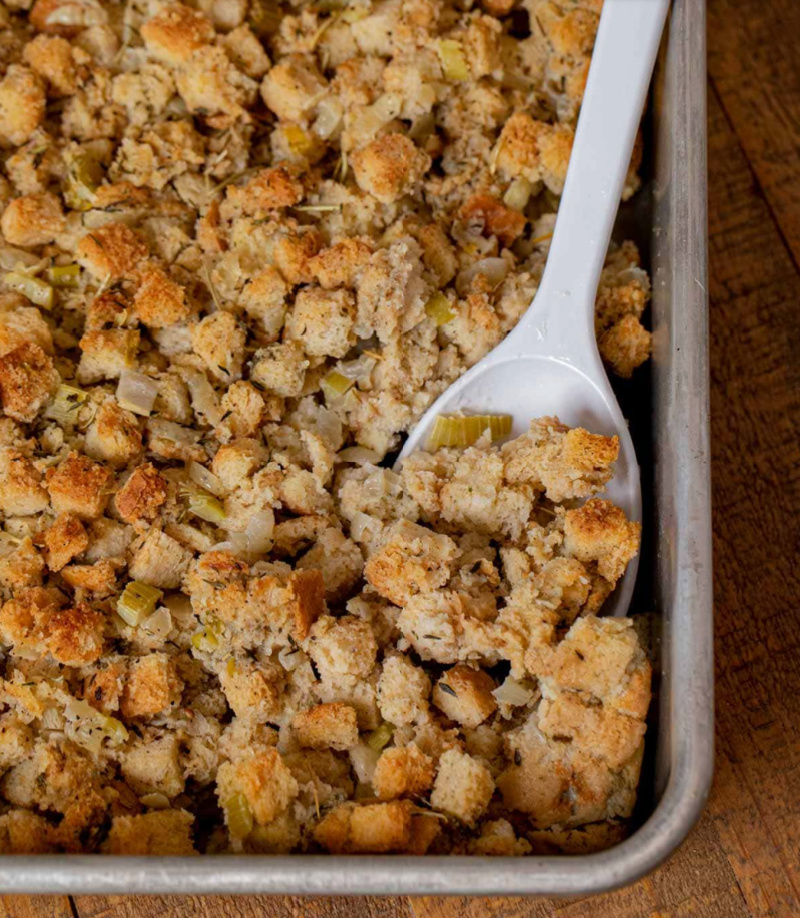 Easy Cube Stuffing is the simplest side for Thanksgiving dinner. Made with comforting flavors from rosemary, sage, thyme, and chicken broth.
This Pecan Sausage Croissant Stuffing is savory, herbaceous, slightly rich and completely delicious! It features cubes of buttery croissants, crunchy pecans, salty sausage, and sweet caramelized onions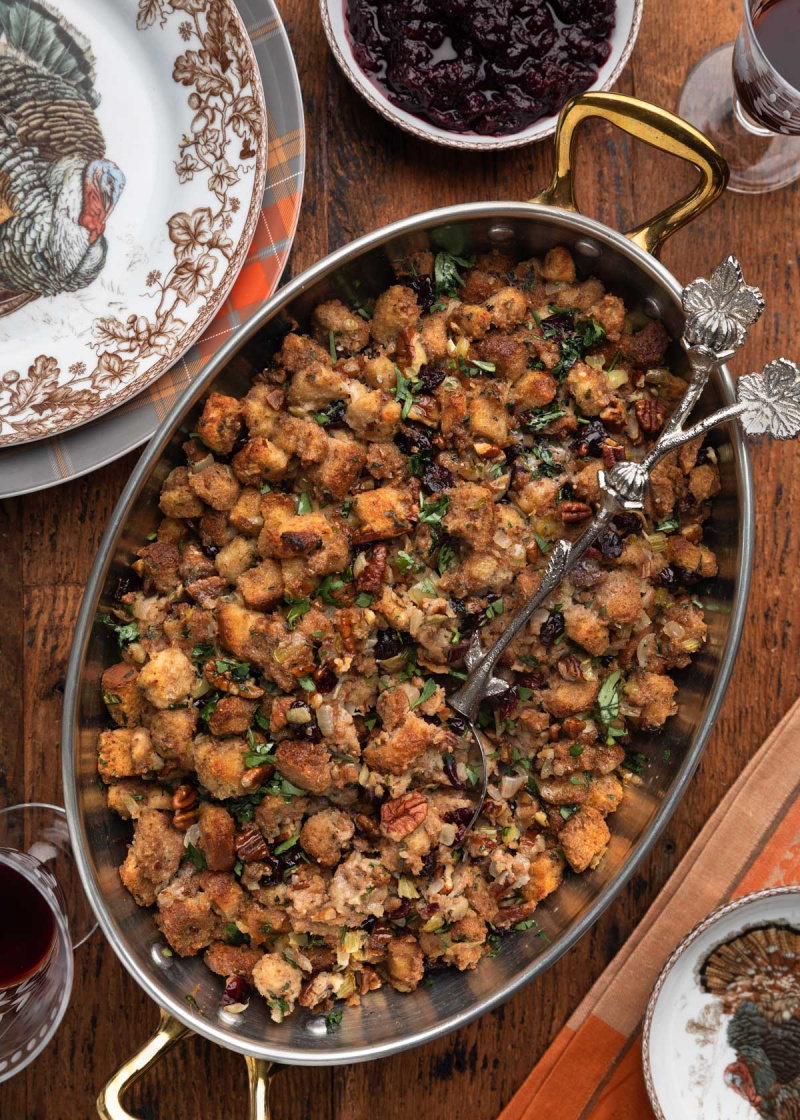 This Cranberry Pecan Stuffing blends whole wheat and country croutons with sweet-tart cranberries, toasted pecans, and herbs.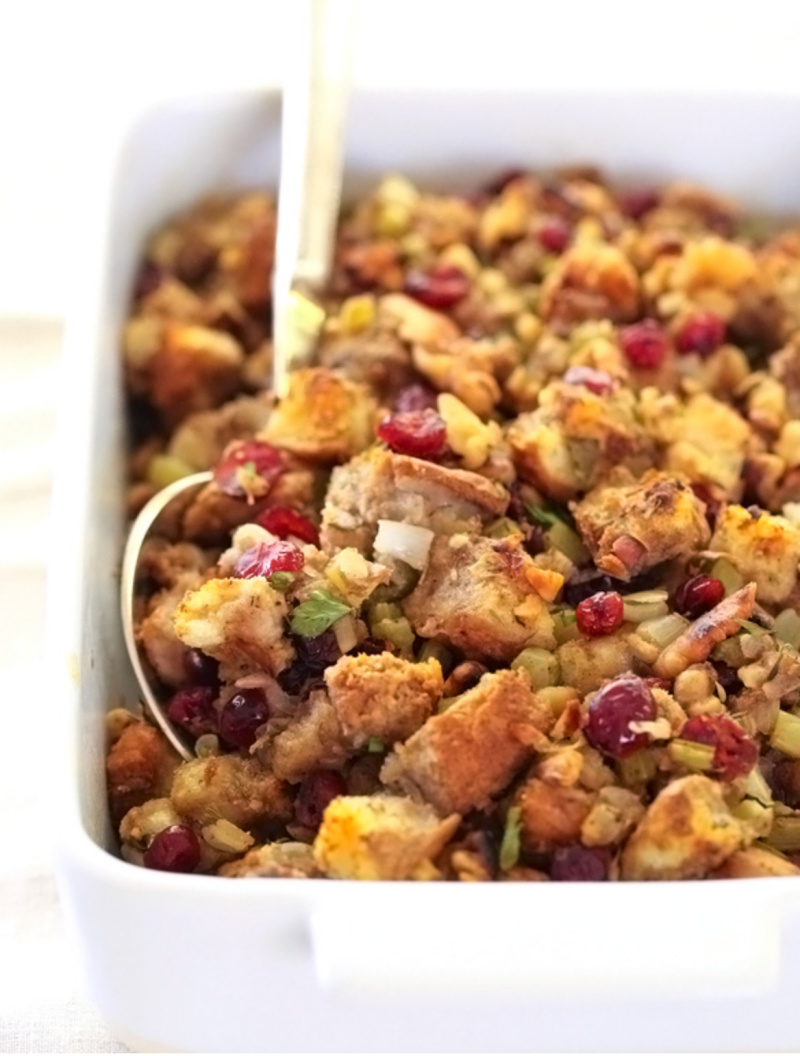 Cranberry and Walnut Stuffing is a simple turkey stuffing recipe is studded with dried cranberries, walnuts, celery, and onions, and scented with a mix of fresh herbs, for an easy and comforting addition to your Thanksgiving table.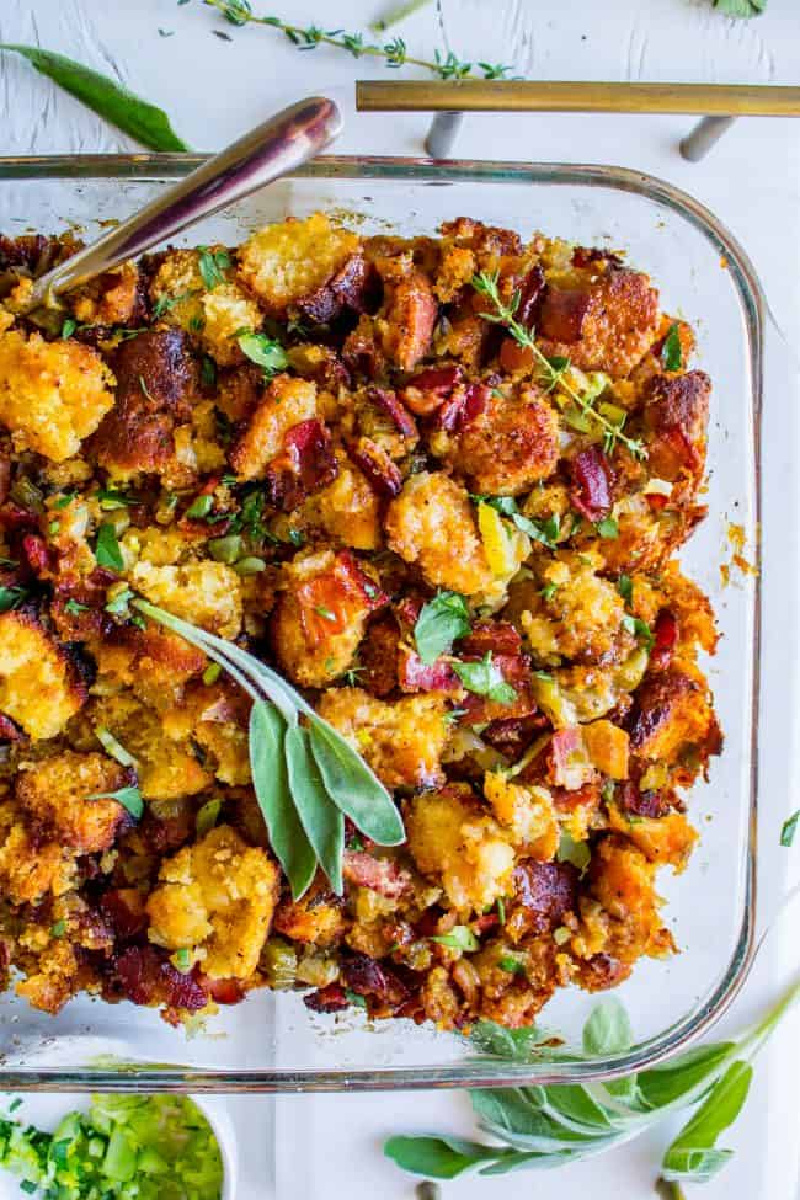 This recipe for Cornbread Stuffing with Bacon and Sage has tons of bacon as well as sage and thyme to get those classic Thanksgiving aromas going on. It's the perfect side dish to go with turkey and gravy!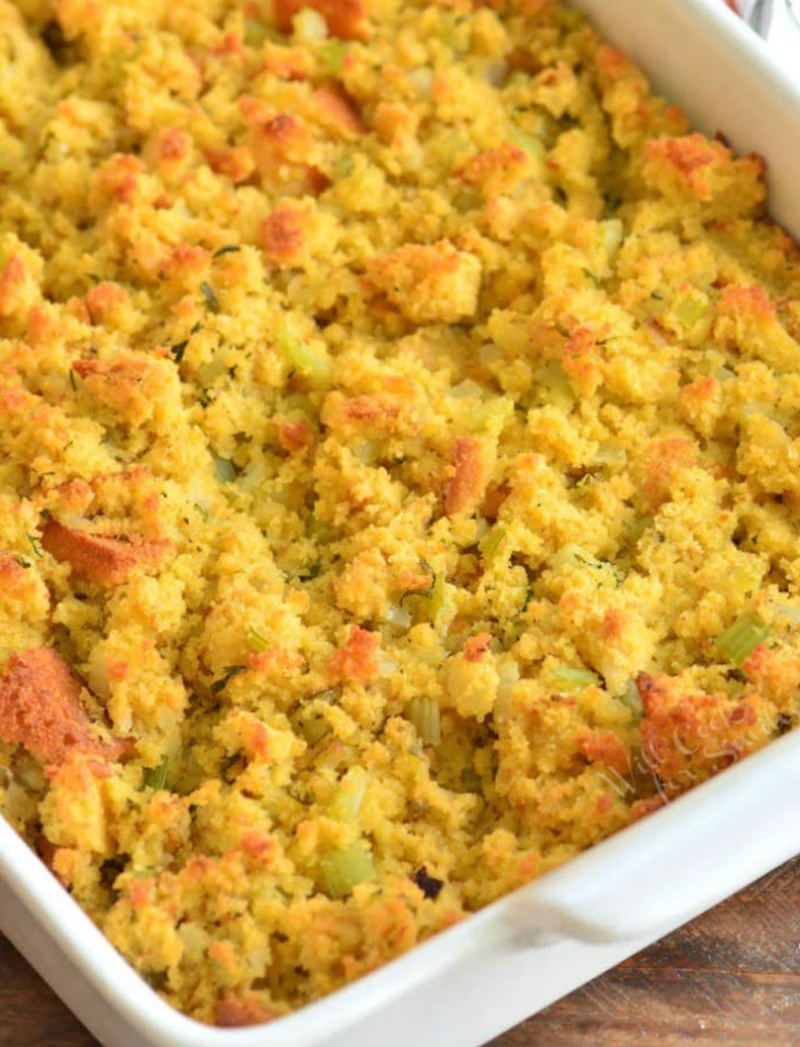 Southern Cornbread Dressing is a classic side dish perfect for Thanksgiving dinner and many other holidays. The best cornbread dressing is made from scratch with homemade cornbread and classic combination of onion, celery, and sage.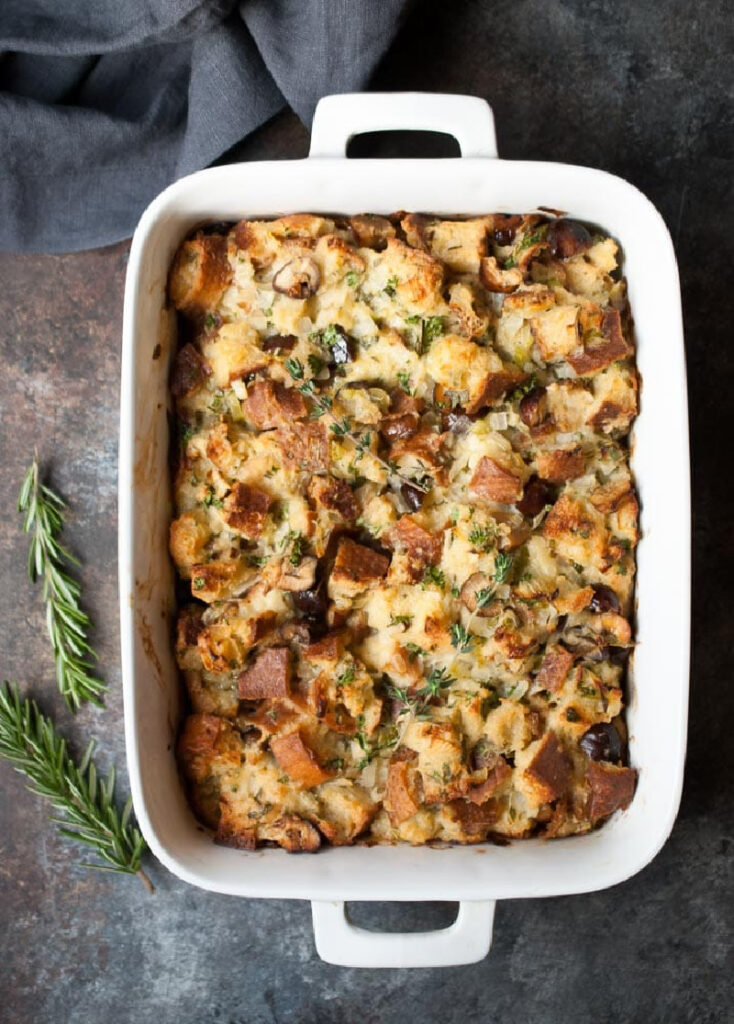 Chestnut Herb Stuffing is rustic, flavorful, and packed with fresh herbs!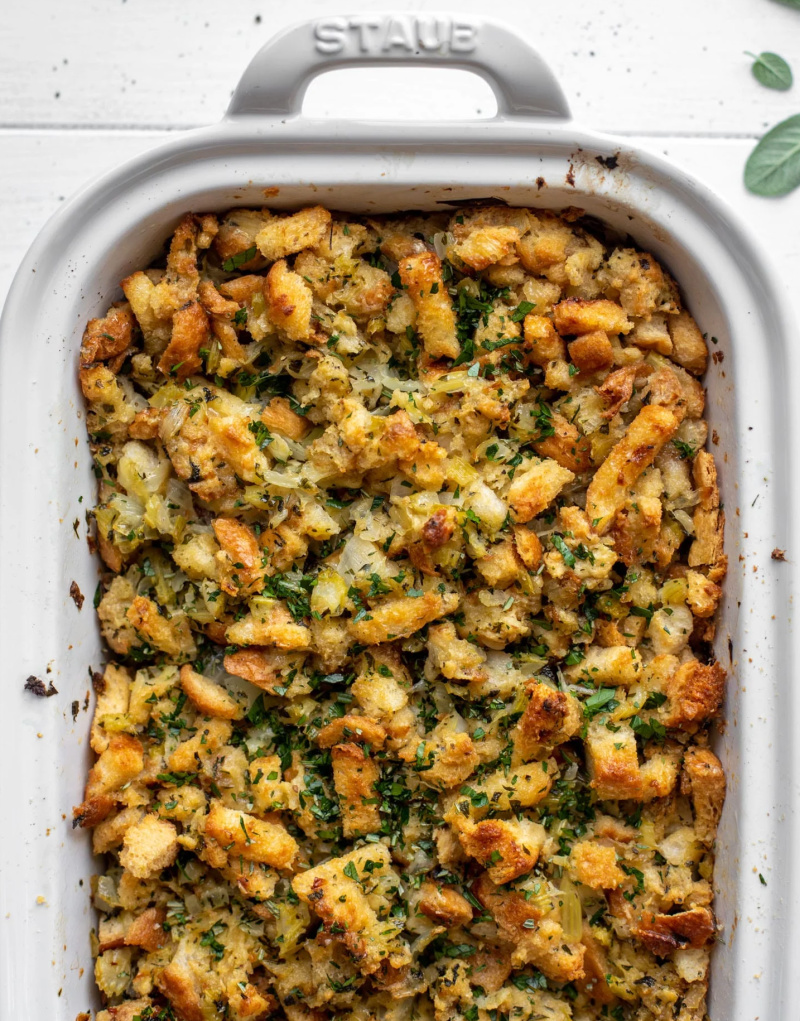 In this Buttery Herb Stuffing, the edges are golden and crunchy, the inside is soft. It's wildly flavorful and buttery and filled with herbs and most importantly, it's a delicious neutral flavor that truly goes with any meal.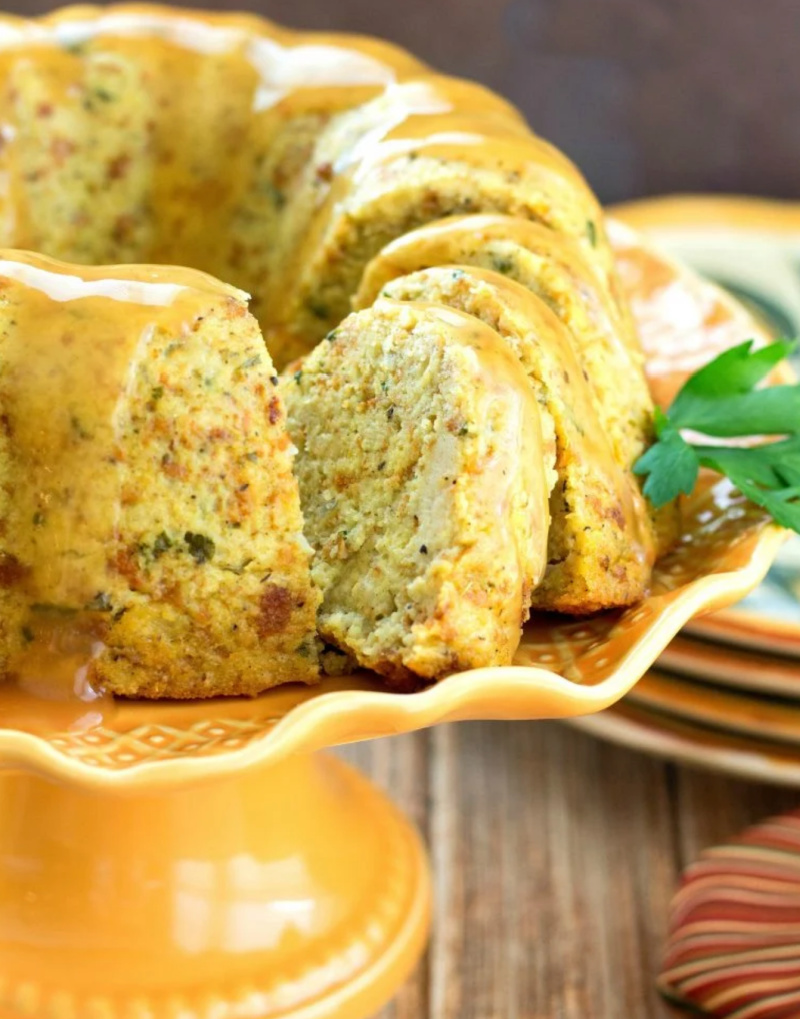 This Bundt Pan Herbed Corn Bread Dressing is a spectacular visual update on classic dressing. Serve it on a decorative cake stand drizzled with warm turkey gravy then stand back and enjoy the "oohs" and aaahs."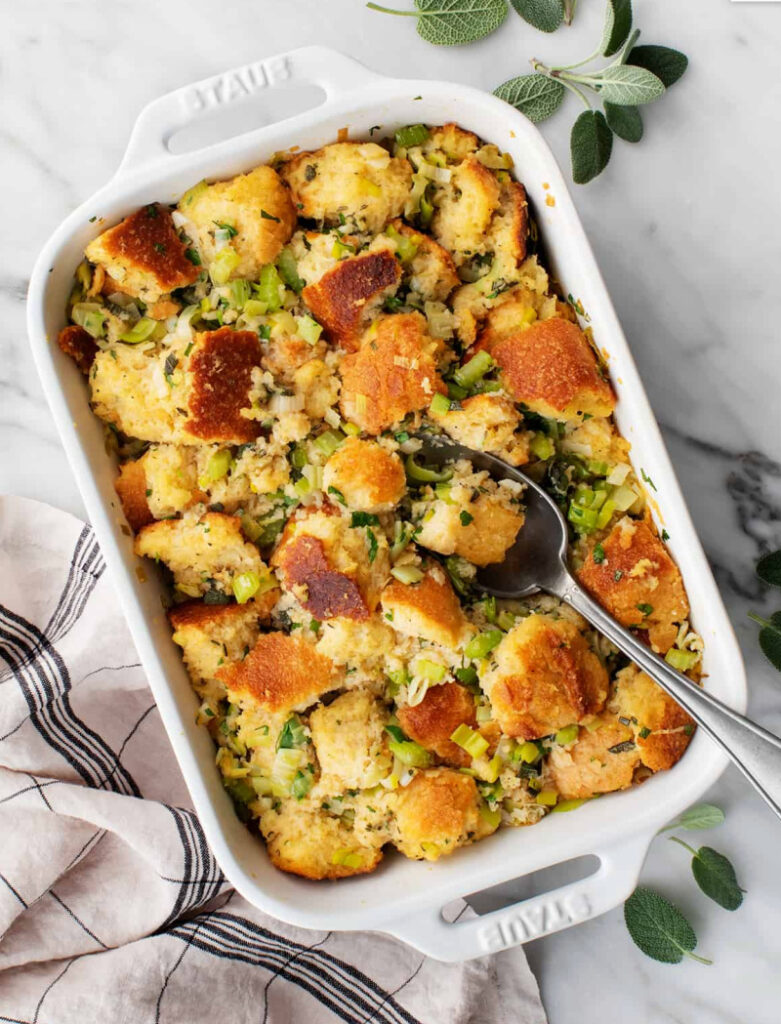 The Best Thanksgiving Stuffing! Based on a family recipe, it's rich and savory, made with fresh herbs, celery, butter, and leeks.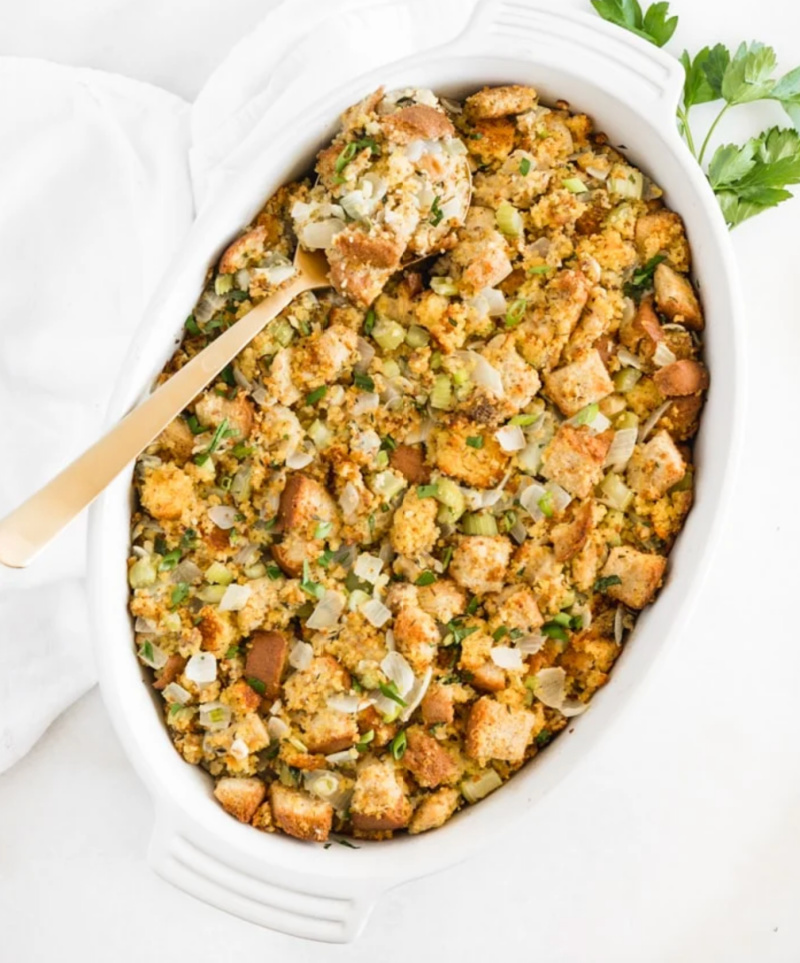 This is the Best Southern Cornbread Stuffing recipe for Thanksgiving. It's rich, savory and full of flavor without using a pound of butter.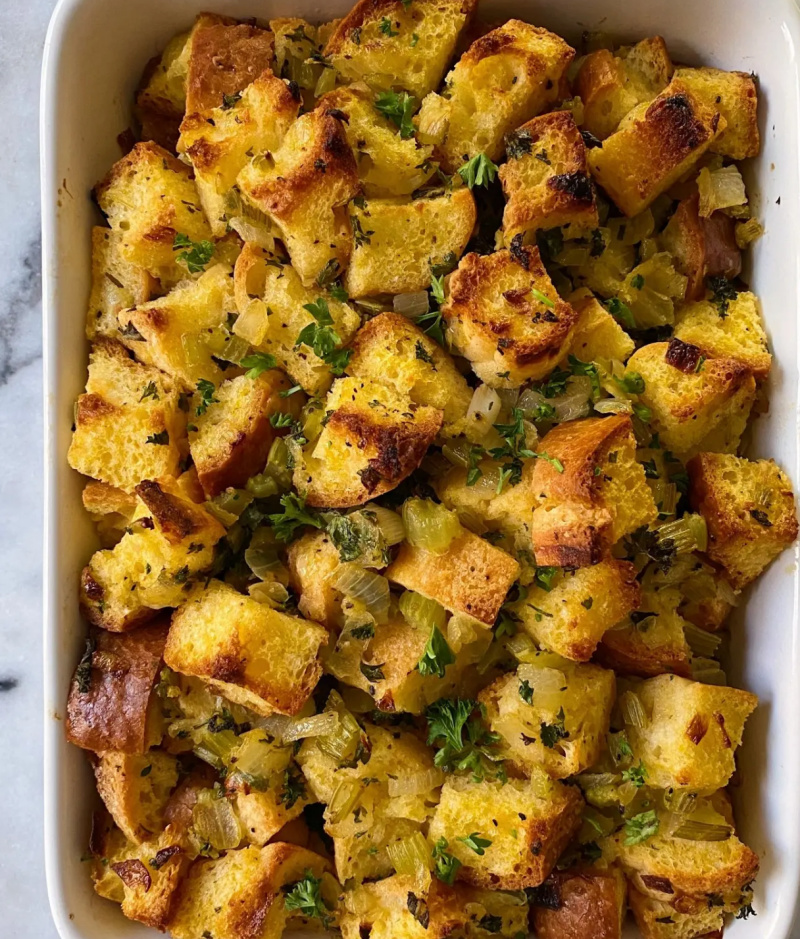 This is the Best Gluten Free Stuffing recipe! It's so tasty it will be the most requested dish at your table… even by people who don't have to eat gluten-free! It's moist and tender, with a crispy top and amazing flavor!
Fun Facts about Stuffing:
The names for stuffing have changed throughout the years. In 1390, it was called "farce." In 1538, it was called "stuffing." In 1688, it was called "forcemeat." And in 1850, it was called "dressing."
50% of Americans stuff their Thanksgiving turkey.
The USDA states that cooking animals with a body cavity filled with stuffing can cause safety hazards. Even when a safe temperature is reached, the stuffing can still harbor bacteria.
New Englanders add oysters to their stuffing. Southerns make cornbread stuffing. In the Northwest, wild rice stuffing is popular.
The Pennsylvania Dutch call stuffing "filling."
Southerners call it "dressing," regardless of whether or not the stuffing is cooked in the bird.
In 2010, the Guinness Book of World Records listed a Bedouin wedding dish of roasted camel stuffed with sheep, chickens, fish and eggs the largest item on any menu in the world.