Baked Tortellini Casserole is a family favorite pasta meal that is made with only four main ingredients.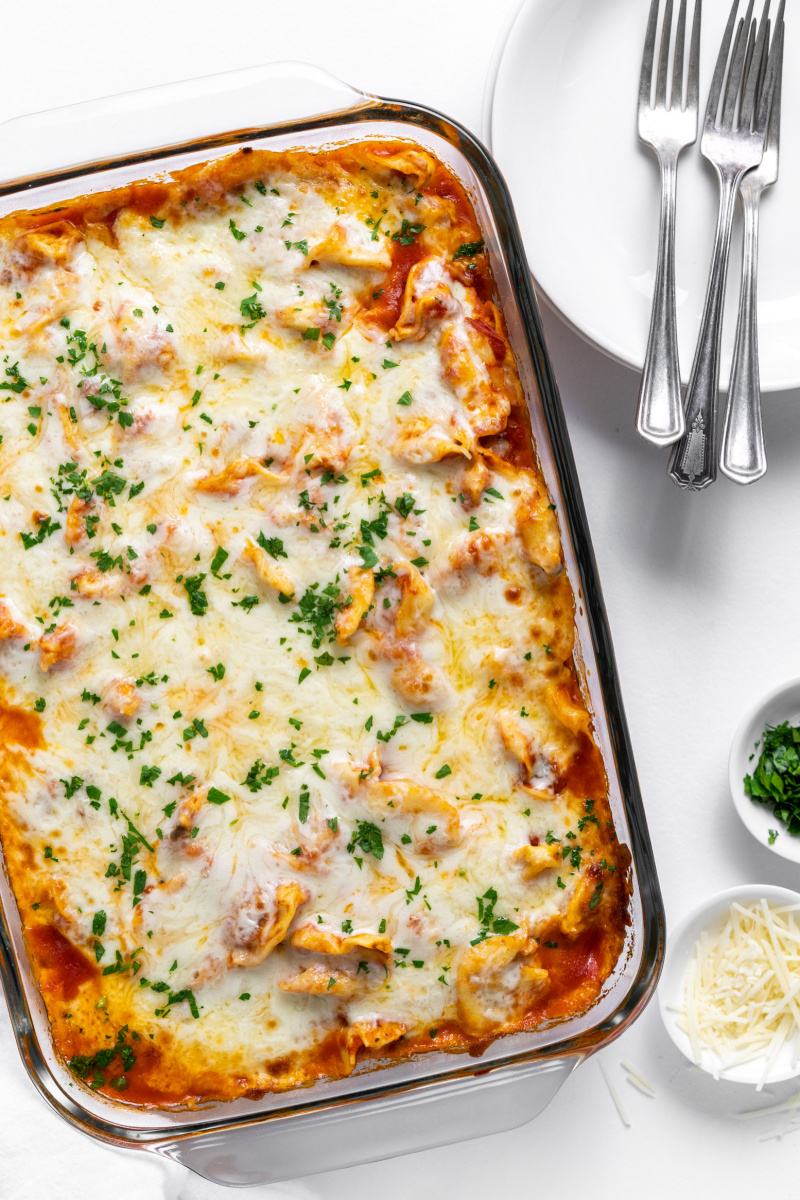 February 13th is National Tortellini Day. Obviously, you must celebrate by eating tortellini! Make this Baked Tortellini Casserole, or pick up some tortellini at the store and top it with marinara sauce or alfredo sauce. Share your tortellini on social media today using the hashtags #NationalTortelliniDay, #TortelliniDay and #RecipesForHolidays. Be sure to follow my February Food Holidays page so you never miss a food holiday in the month of February!
The History of Tortellini:
From Barilla.com:
Legend claims that Tortellini was inspired by the goddess Venus' navel. An Italian medieval legend tells how Venus and Zeus, weary one night after their involvement in a battle between Bologna and Modena, arrive at a tavern in a small town on the outskirts of Bologna. After eating a hearty dinner and becoming slightly drunk, they decide to share a bedroom. The innkeeper, captivated after watching them, creeps to their room and peeks through the keyhole of the bedroom door. However, all he can see through the keyhole is the naval of Venus. This vision leaves him spellbound – so much so that he immediately rushes to the kitchen and creates a pasta inspired by Venus' navel…and so was born the Tortellini.
Another legend claims that tortellini were created to look like turtles instead of navels.
In any case, it was most likely created sometime during the Middle Ages in Italy in an effort to encase pasta filling so it would not leak into the cooking water.
Today, tortellini is a traditional pasta of the Bologna region of Italy. It's often served in broth or with cream or red sauces.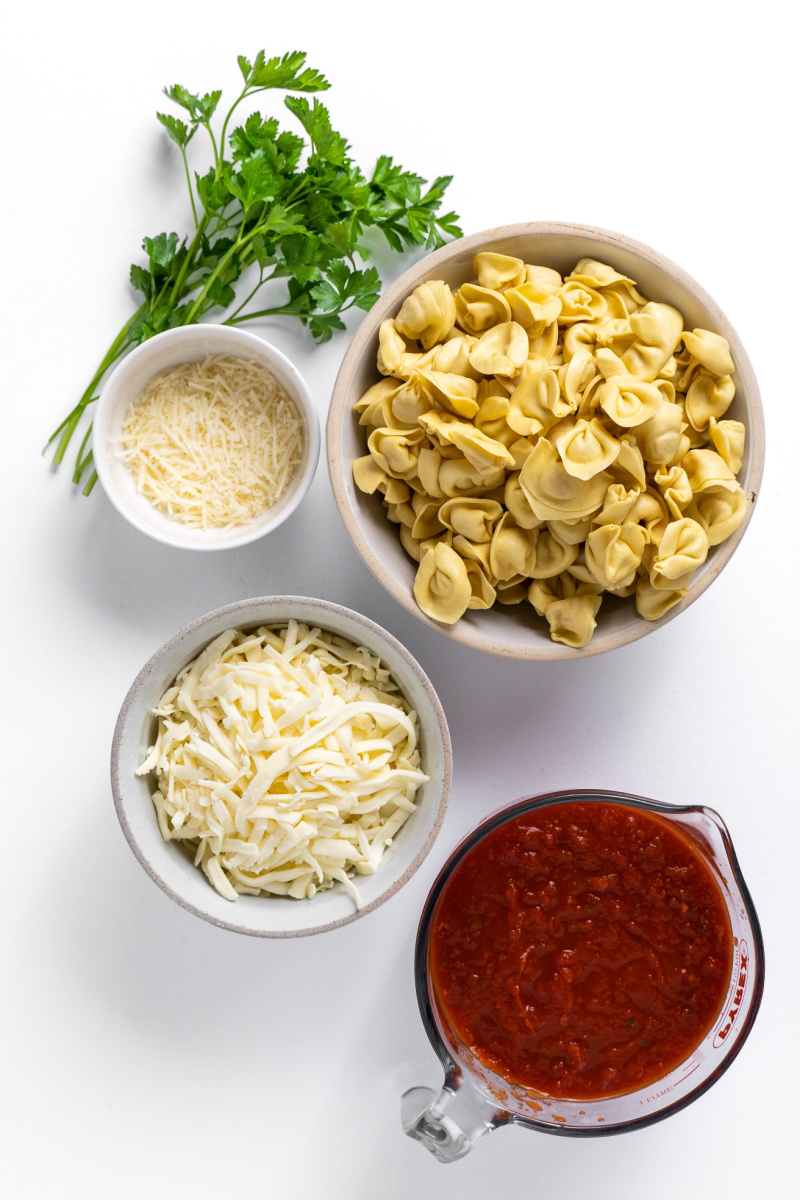 Ingredients needed:
fresh tortellini
jarred marinara sauce
shredded mozzarella cheese
grated Parmesan cheese
fresh parsley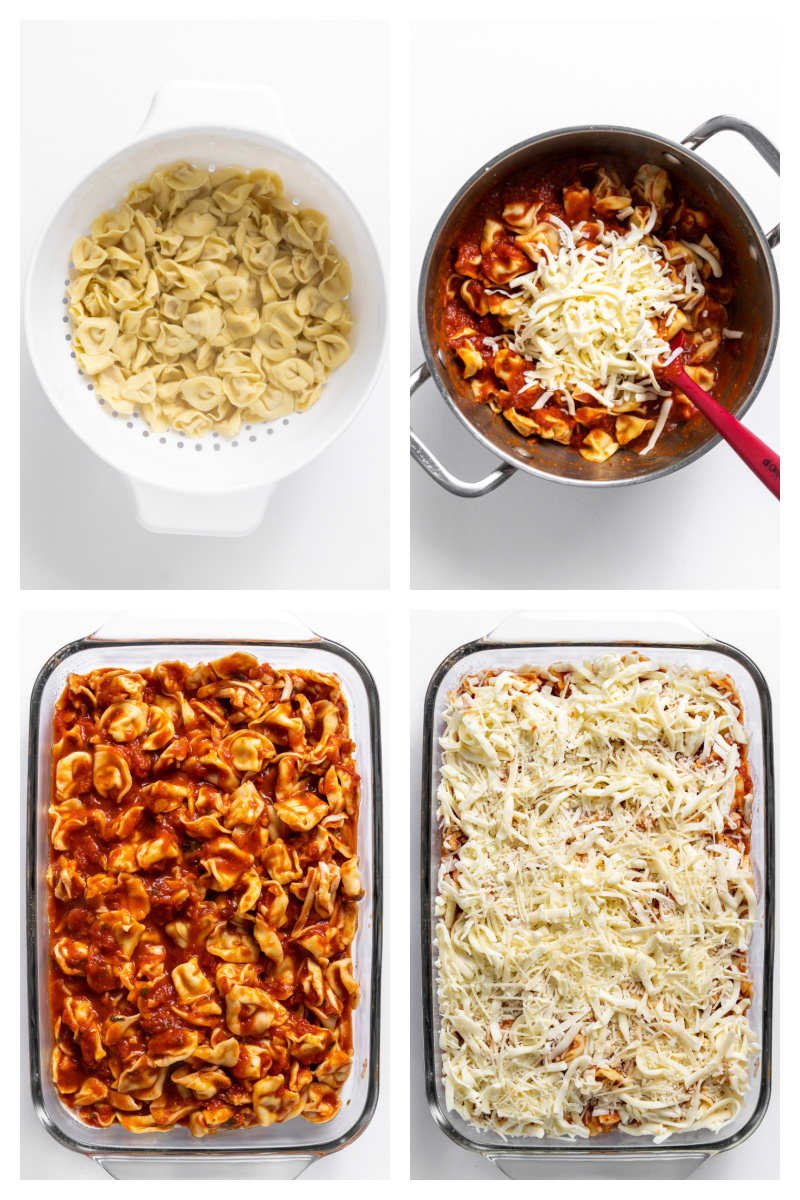 How to make Baked Tortellini Casserole:
The full, printable recipe is at the end of this post. Preheat the oven to 400 degrees F. Spray a 9×13-inch casserole dish with nonstick spray.
Cook tortellini according to package instructions; drain. Put the pasta back into the pot, and add marinara sauce and 1 cup of the mozzarella cheese. Stir to combine.
Spread the tortellini evenly into the prepared baking dish. Top with mozzarella and Parmesan cheeses.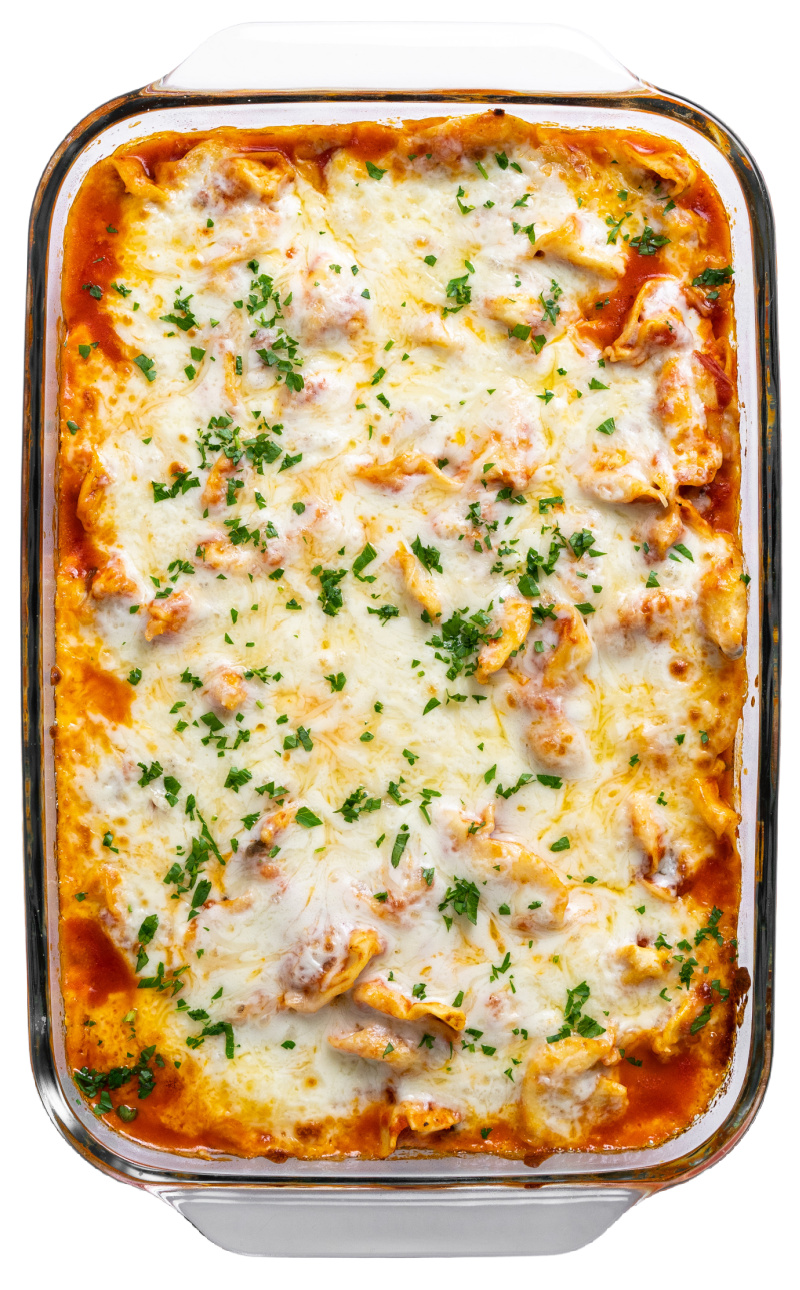 Cover the dish with foil, and bake until the cheese is nice and melted- 20 to 25 minutes. Use the broiler to brown the top a little bit. Sprinkle fresh parsley on top to make it pretty.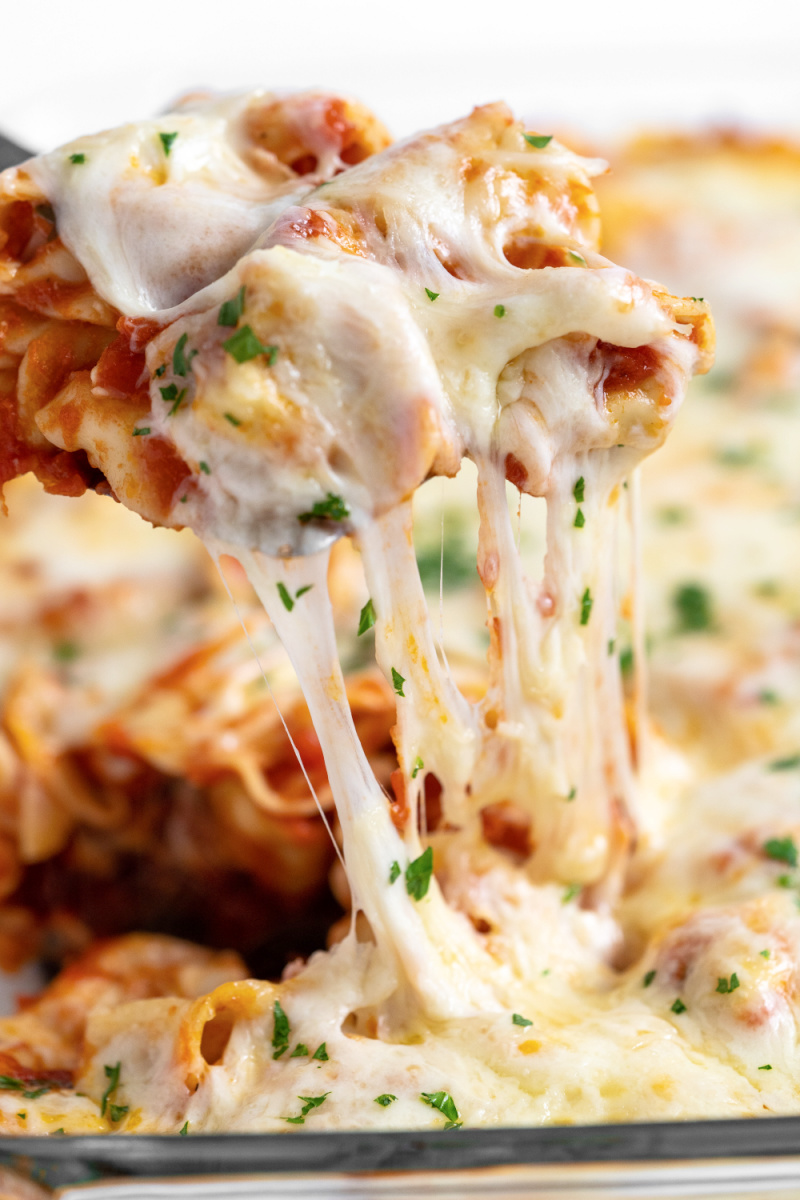 Dig a spoon into your baked tortellini casserole and serve!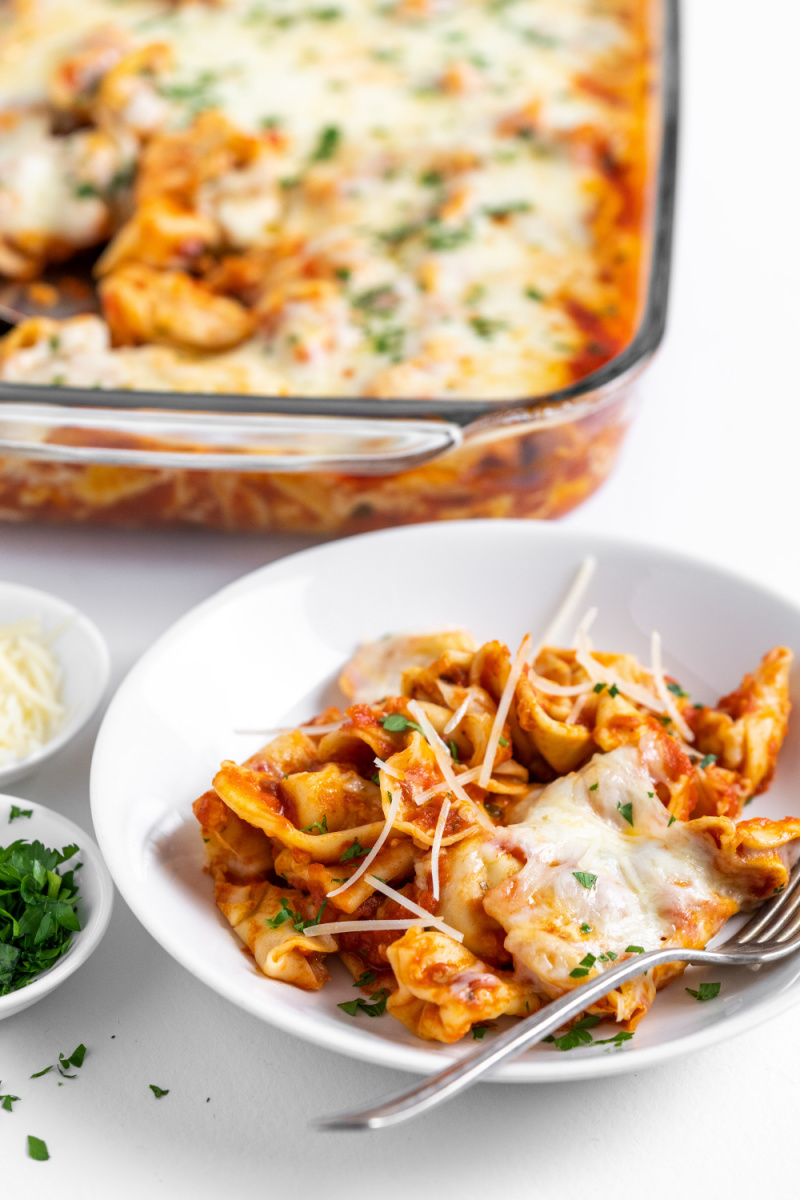 Pasta is the ultimate comfort food, and this tortellini casserole is no exception. It's cheesy and wonderful and delicious!
Serve with a good green salad, a hunk of French bread and a favorite red wine (for the adults). And if you like this recipe, you'll most definitely like my baked spaghetti casserole too. Enjoy!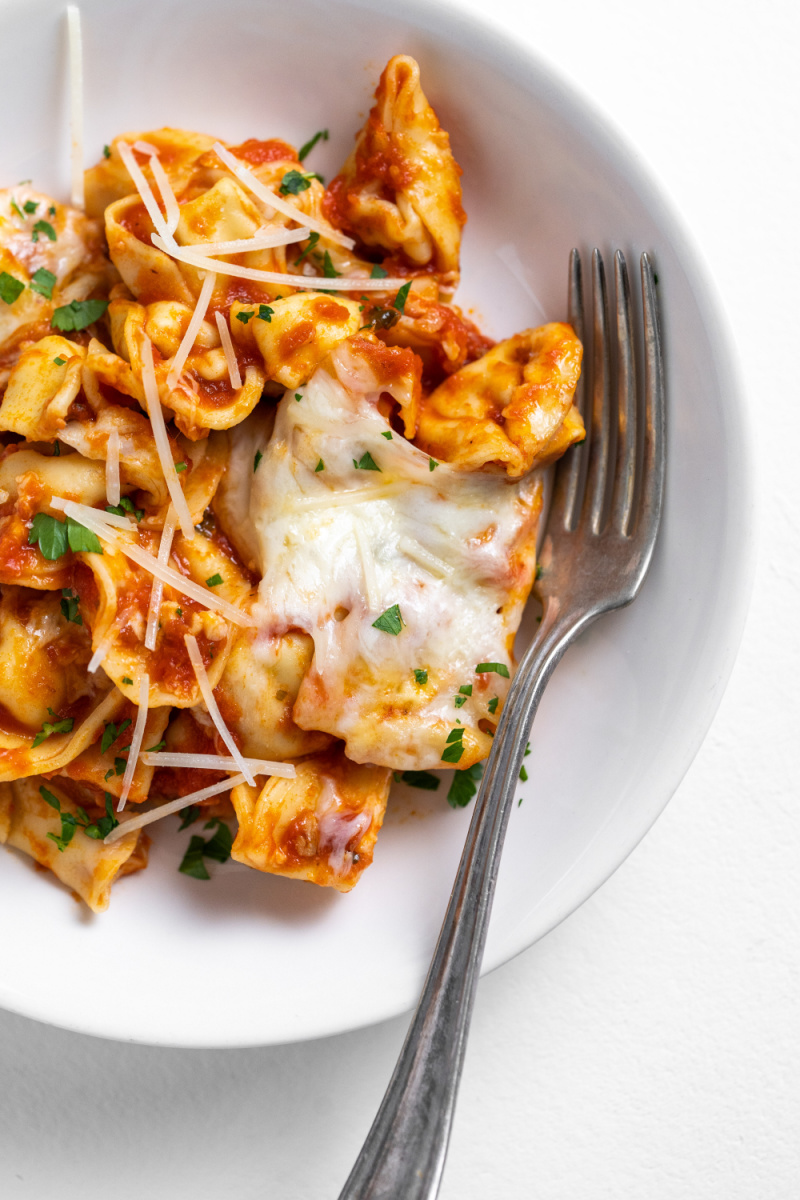 Fun Facts About Tortellini:
Before the 19th century, tortellini was a dish served only to the rich.
Favorite fillings for tortellini are cheese, spinach and cheese and Italian sausage.
39% of Americans believe that tortellini is a fancy pasta.
18% of Americans don't even know what tortellini is!
Tortelloni are larger than tortellini.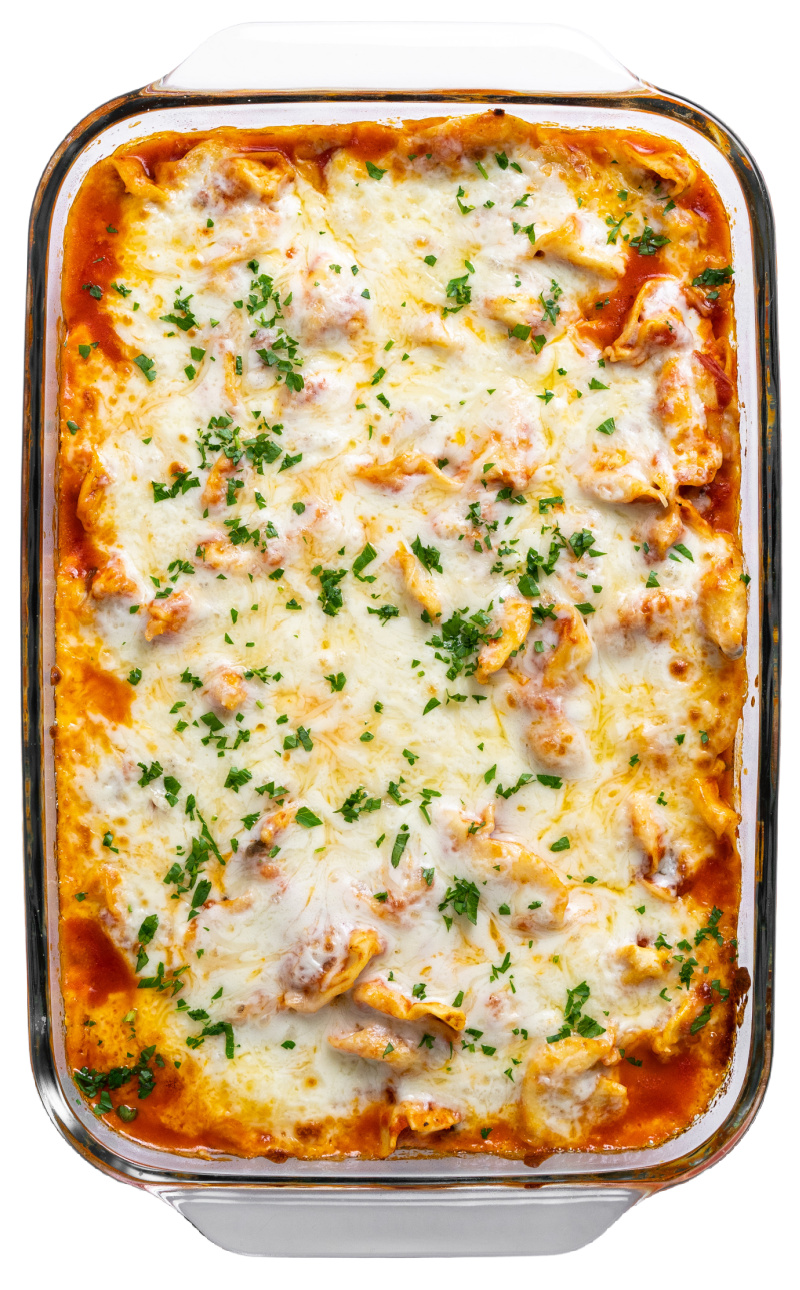 Baked Tortellini Casserole
Super easy, four-ingredient recipe!
Ingredients
Olive oil cooking spray
One 20-ounce package fresh tortellini
One 32-ounce jar marinara sauce
4 cups shredded mozzarella cheese, divided
1/4 cup grated parmesan cheese, plus more for serving if desired
1 tablespoon minced fresh parsley, for garnish
Instructions
Preheat the oven to 400 degrees F. Spray the inside of a 9 by 13-inch casserole dish with olive oil cooking spray.
Cook the tortellini according to the package directions. Drain well.
Add the drained tortellini and marinara back to the pot that you cooked the tortellini in. Toss to coat the tortellini with the sauce. Stir in 1 cup of the shredded mozzarella.
Transfer the tortellini mixture to the prepared casserole dish, and spread it out in an even layer.
Top the tortellini with the remaining 3 cups shredded mozzarella and the grated parmesan.
Cover the dish with foil. Bake until the cheese is melted, about 20 to 25 minutes.
To brown the top a bit, remove the foil and broil a couple minutes.
Sprinkle the parsley on top, and serve.
Nutrition Information:
Yield:

8
Serving Size:

1 serving
Amount Per Serving:
Calories:

428
Total Fat:

17g
Saturated Fat:

8g
Trans Fat:

0g
Unsaturated Fat:

6g
Cholesterol:

63mg
Sodium:

1214mg
Carbohydrates:

47g
Fiber:

4g
Sugar:

8g
Protein:

22g
Nutritional information is figured using a nutrition calculator. It's not likely to be 100% accurate.