This recipe for Classic Cheese Pizza is the best traditional cheese pizza with pizza dough, sauce, two cheeses, oregano and basil.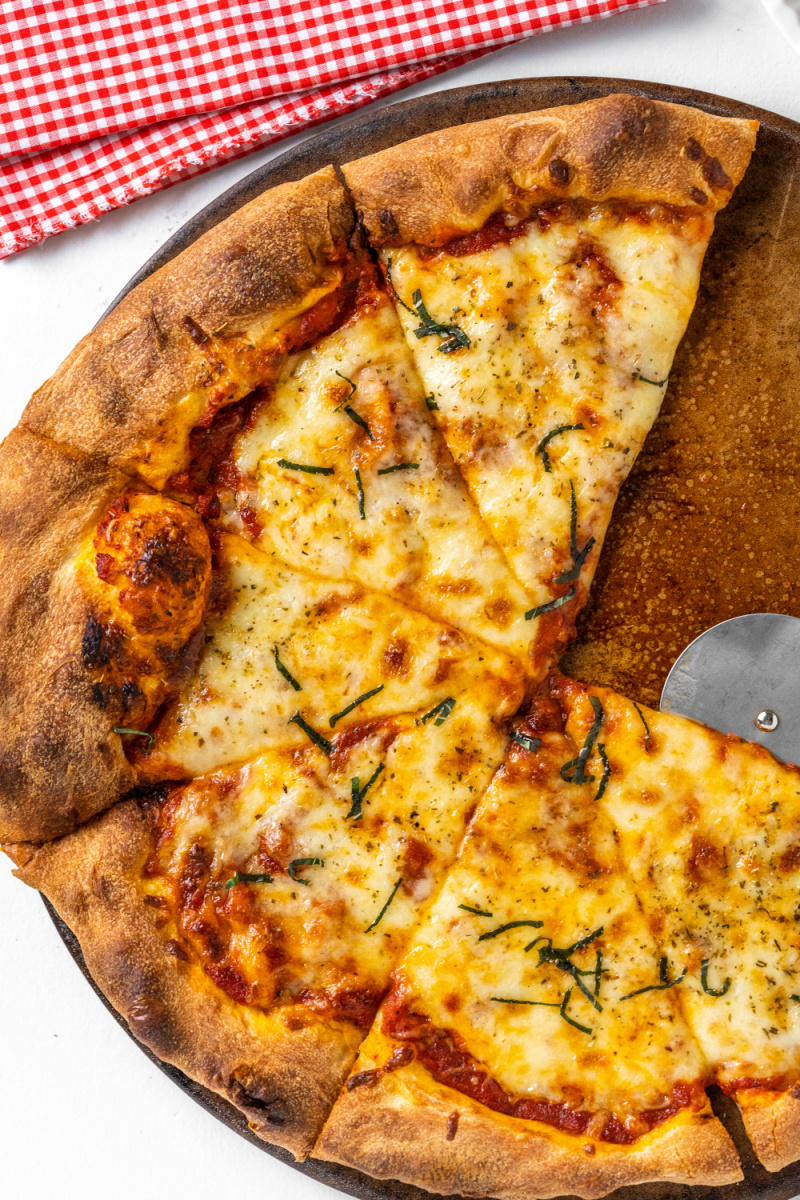 February 9th is National Pizza Day! Celebrate by visiting your favorite pizzeria and ordering a pizza pie! Or make a pizza at home. Great choices are this classic cheese pizza, pepperoni pizza, meat lover's pizza or pizza with cauliflower crust! Share the pizza love on social media today using the hashtags #NationalPizzaDay, #PizzaDay and #RecipesForHolidays. Be sure to follow my February Food Holidays page so you never miss a food holiday in the month of February!
The History of Pizza:
Pizza was probably preceded by focaccia- a flatbread the Romans made where toppings were added. The Greeks and Egyptians topped their flatbreads with olive oil and spices.
The pizza we know as "pizza" today evolved and appeared in Naples, Italy in the 18th or early 19th century. It was a fast, affordable, tasty meal for working class Neapolitans.
Pizza was mainly eaten in Italy and by emigrants from Italy. That all changed in WWII (1940's)when allied troops stationed in Italy came to enjoy pizza and other Italian foods. It was popular in areas with large Italian populations: New York City, Chicago, Philadelphia and St. Louis.
The first frozen pizza appeared in 1962 (by Totino's).
In present day, pizza is a 37 billion dollar industry. The average American eats 46 slices of pizza per year.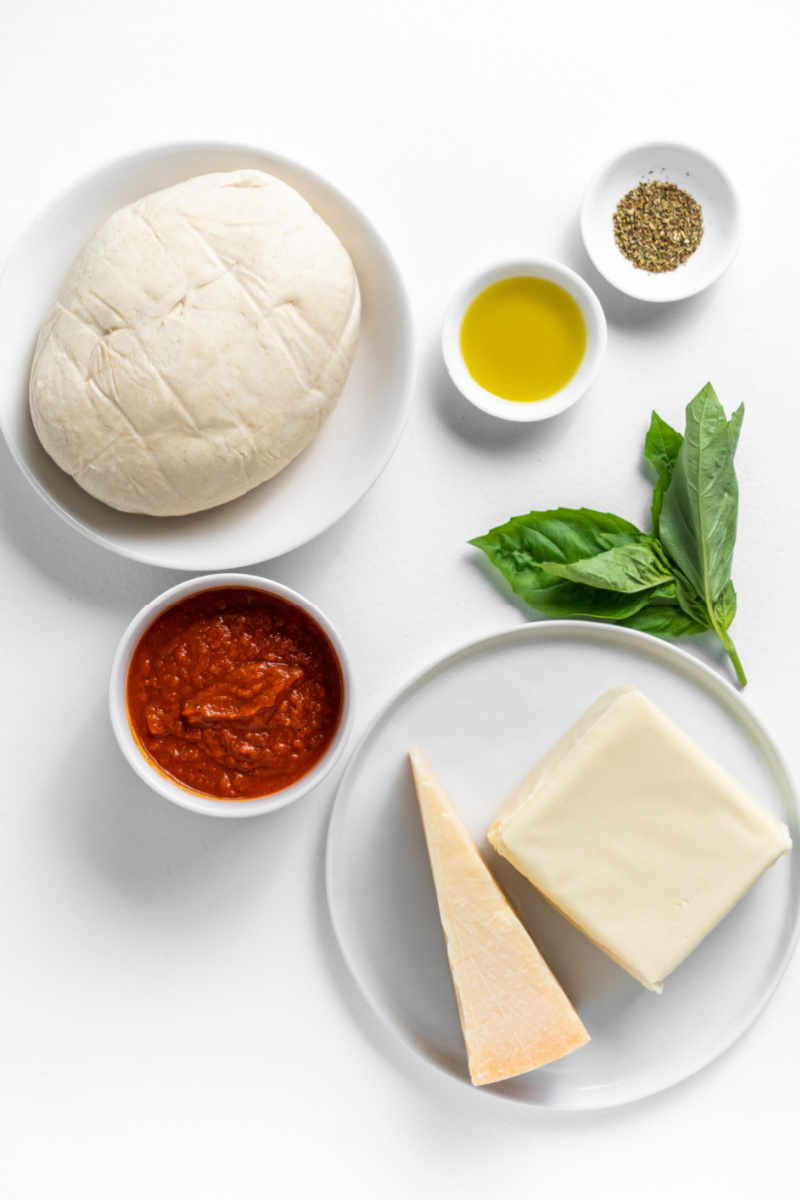 Ingredients needed:
extra virgin olive oil
ball of pizza dough
pizza sauce
shredded mozzarella cheese
grated Parmesan cheese
dried oregano
fresh basil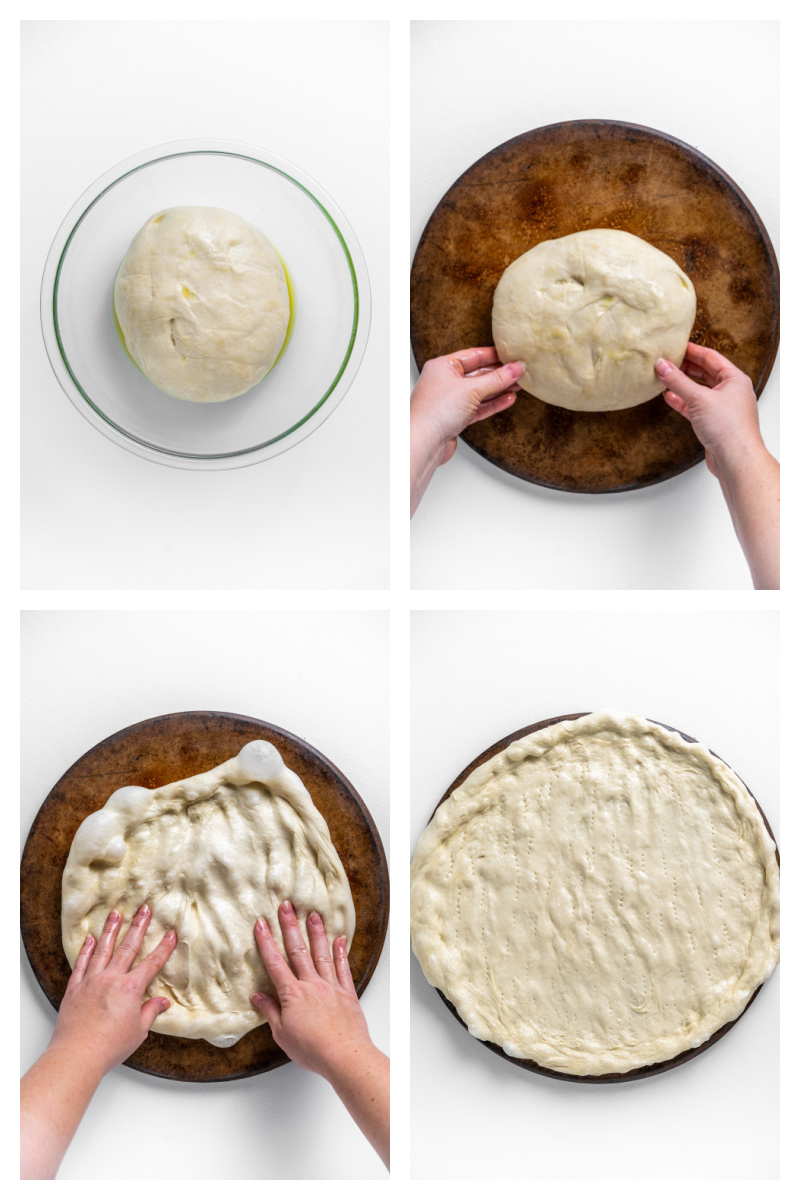 How to make Classic Cheese Pizza:
The full, printable recipe is at the end of this post. You will need a pizza pan or pizza stone for this recipe.
Find a ball of pizza dough. You can buy one at Trader Joe's. They usually have a ball of dough in regular grocery stores. Or you can visit your favorite pizza place and ask them if they will sell you a ball of their dough. Place it in an oiled bowl, toss it around a bit and cover it with a clean dishtowel to rest for one hour.
Preheat the oven to 500 degrees F. Place the ball of dough on your pizza pan or stone. Use your fingers to spread it out into a flat crust that goes to the edges of the pan or stone. Poke the pizza dough with a fork.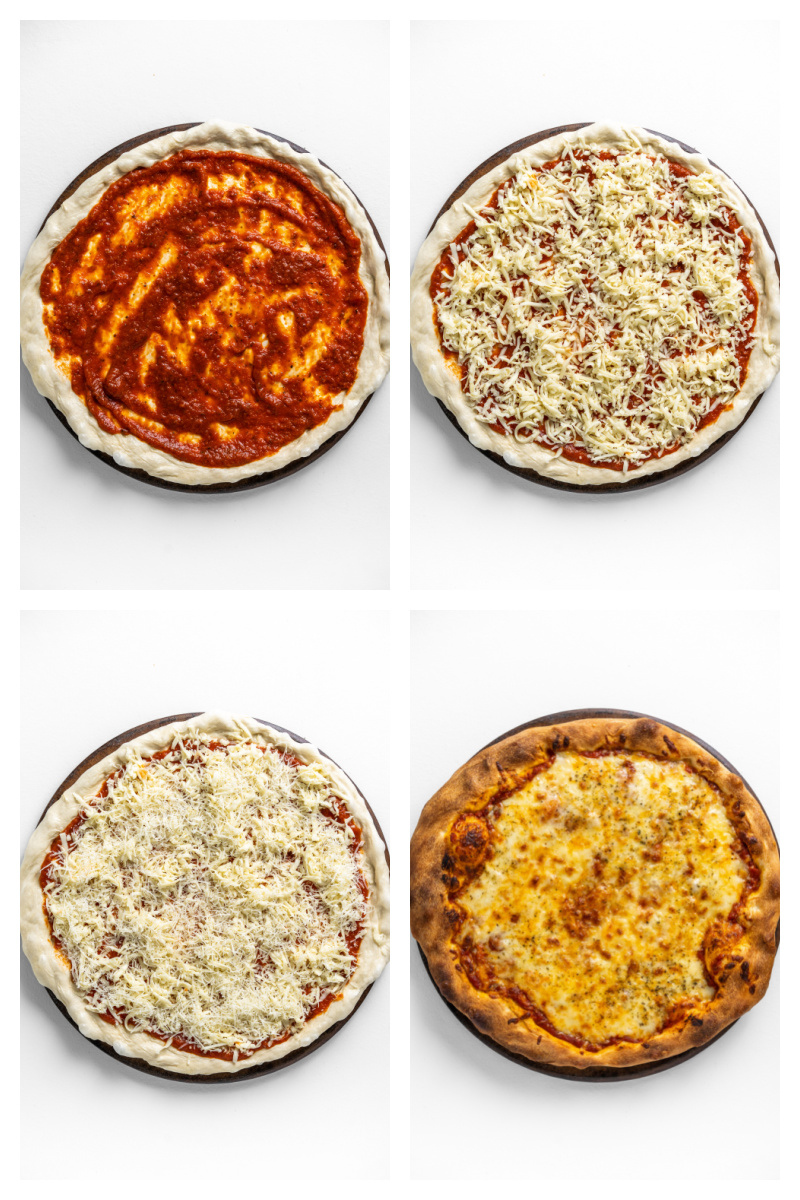 Add sauce to the dough. Then add the two cheeses and dried oregano. Bake for about 10 minutes, until the crust is golden and the cheese is melted.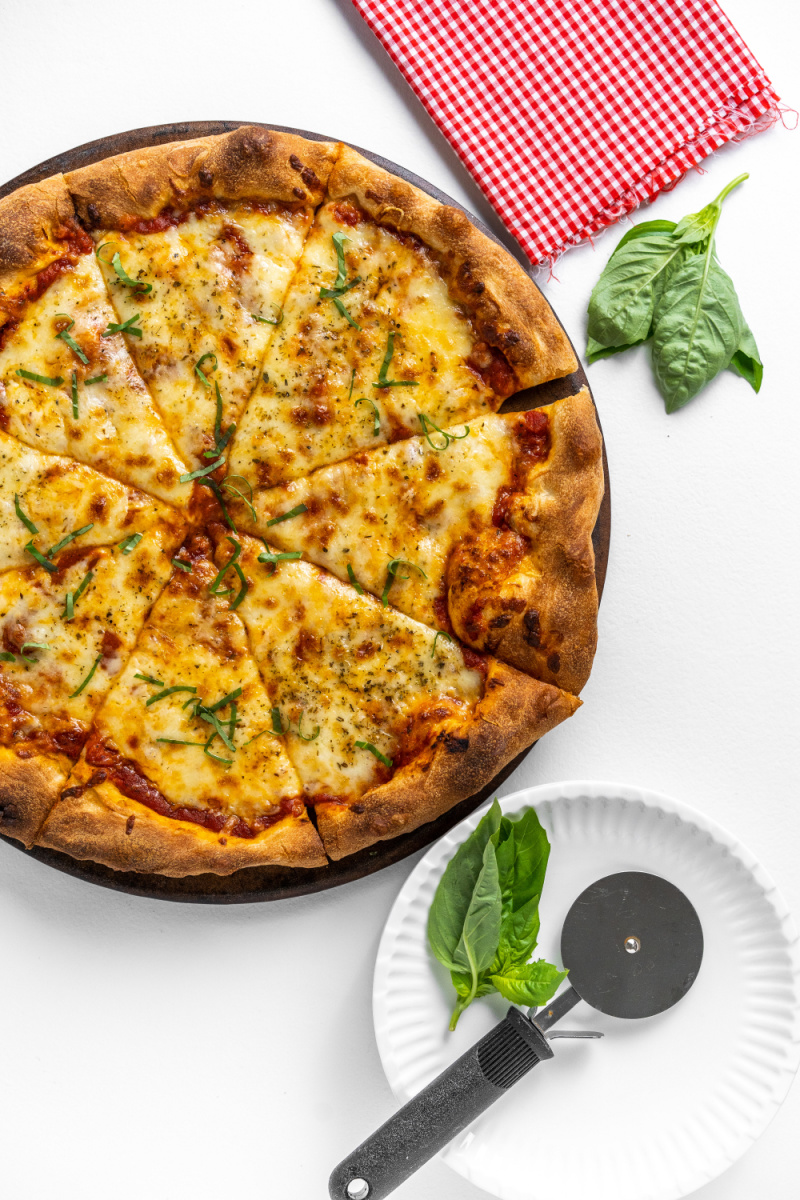 Top it with a bit of chopped fresh basil (optional). Use a pizza cutter to cut it into slices.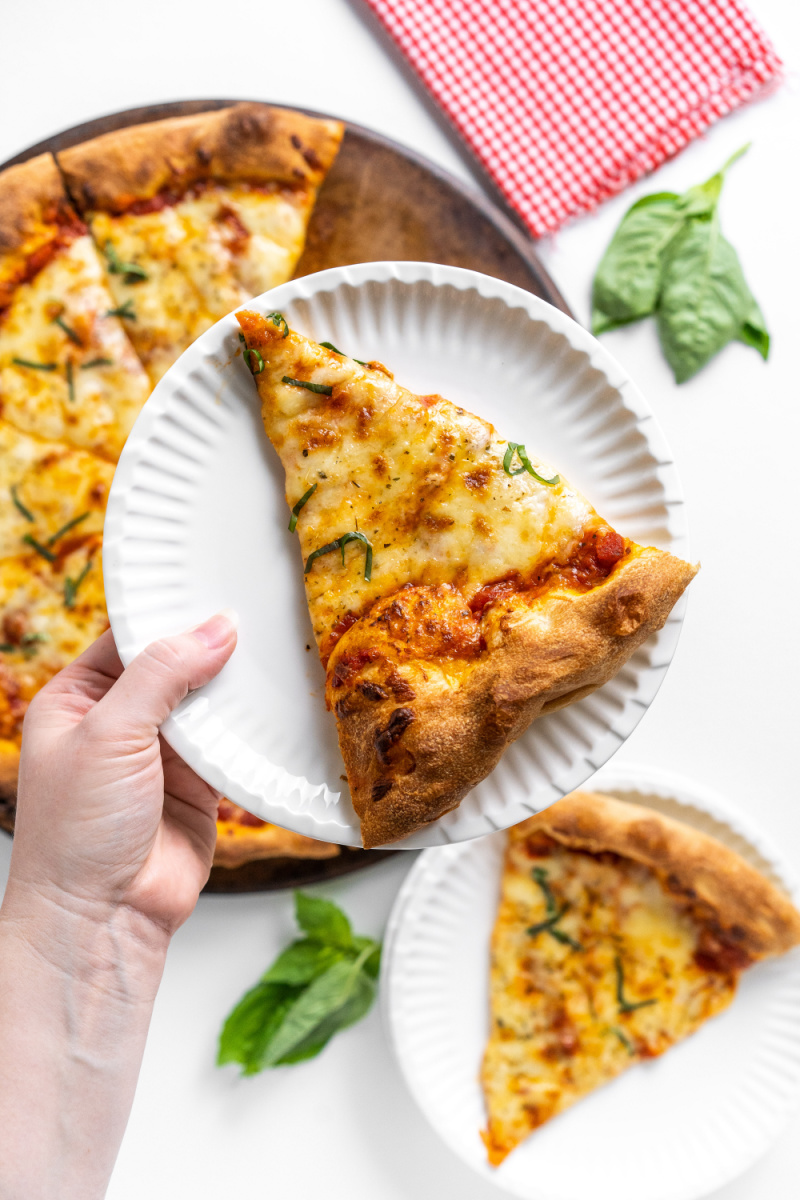 It's time to eat your classic cheese pizza!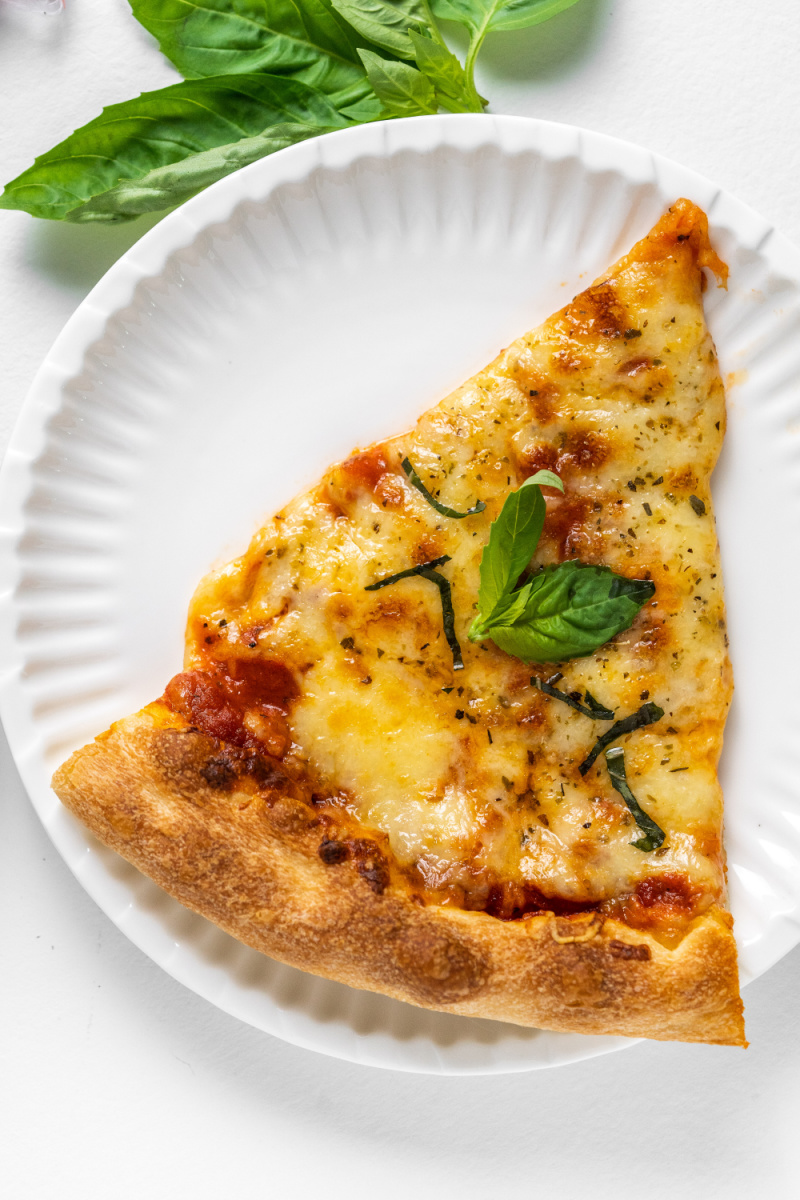 Fun Facts About Pizza:
In the United States, 350 slices of pizza are eaten per second.
93% of American pizza eaters eat pizza once per month.
The most popular pizza topping is pepperoni. The least popular pizza topping is anchovies.
Super Bowl Sunday is the biggest day of the year for pizza deliver in the United States.
In 2001, the Russian Space Agency was paid more than 1 million dollars to deliver a 6-inch pizza to the International Space Station.
The Japanese put mayonnaise on their pizza.
Bill Murray and Jean Claude Van Damme both worked at pizza restaurants before they became famous.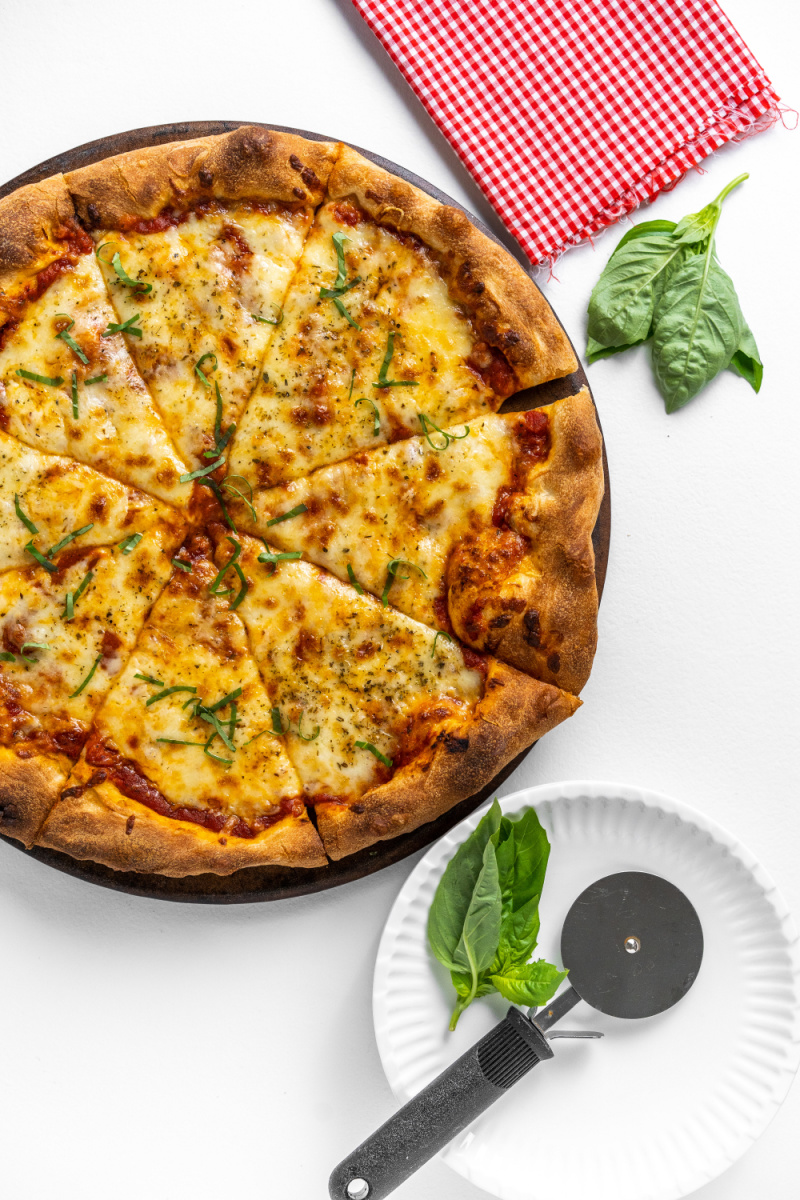 Classic Cheese Pizza
Total Time:
1 hour
20 minutes
The best traditional cheese pizza recipe!
Ingredients
1/2 tablespoon extra-virgin olive oil
1 pound pizza dough ball, thawed if frozen (look for it at your local grocery store or pizzeria)
3/4 cup pizza sauce
2 1/2 cups shredded mozzarella cheese
1/4 cup freshly-grated parmesan cheese
1/4 teaspoon dried oregano
Fresh basil leaves, for garnish (optional)
Instructions
Drizzle the oil inside a large bowl. Place the dough in the bowl and toss it around to coat in oil. Cover the bowl with a kitchen towel and let it sit at room temperature for 1 hour.

Preheat the oven to 500 degrees F.

Spread the dough out onto a 12-inch pizza stone or similar sized baking sheet, pressing it out with your fingers.

Spread the pizza sauce evenly out on the dough, leaving a border of about 1/2-inch all around.

Sprinkle the mozzarella and parmesan cheeses on top, spreading them out evenly. Sprinkle on the dried oregano.

Bake until the crust is golden and the cheese is melted, about 10 minutes.

Top with fresh basil leaves and serve.
Nutrition Information:
Yield:

8
Serving Size:

1 slice
Amount Per Serving:
Calories:

258
Total Fat:

10g
Saturated Fat:

4g
Trans Fat:

0g
Unsaturated Fat:

5g
Cholesterol:

20mg
Sodium:

525mg
Carbohydrates:

30g
Fiber:

1g
Sugar:

3g
Protein:

11g
Nutritional information is figured using a nutrition calculator. It's not likely to be 100% accurate.