Baked Spaghetti Casserole is a comforting, delicious way to serve up classic spaghetti. With the addition of cheeses, ground beef, sauce and cream, this favorite casserole recipe will be a family favorite. Be sure to watch the video in the recipe card at the end of this post to see how to make this recipe.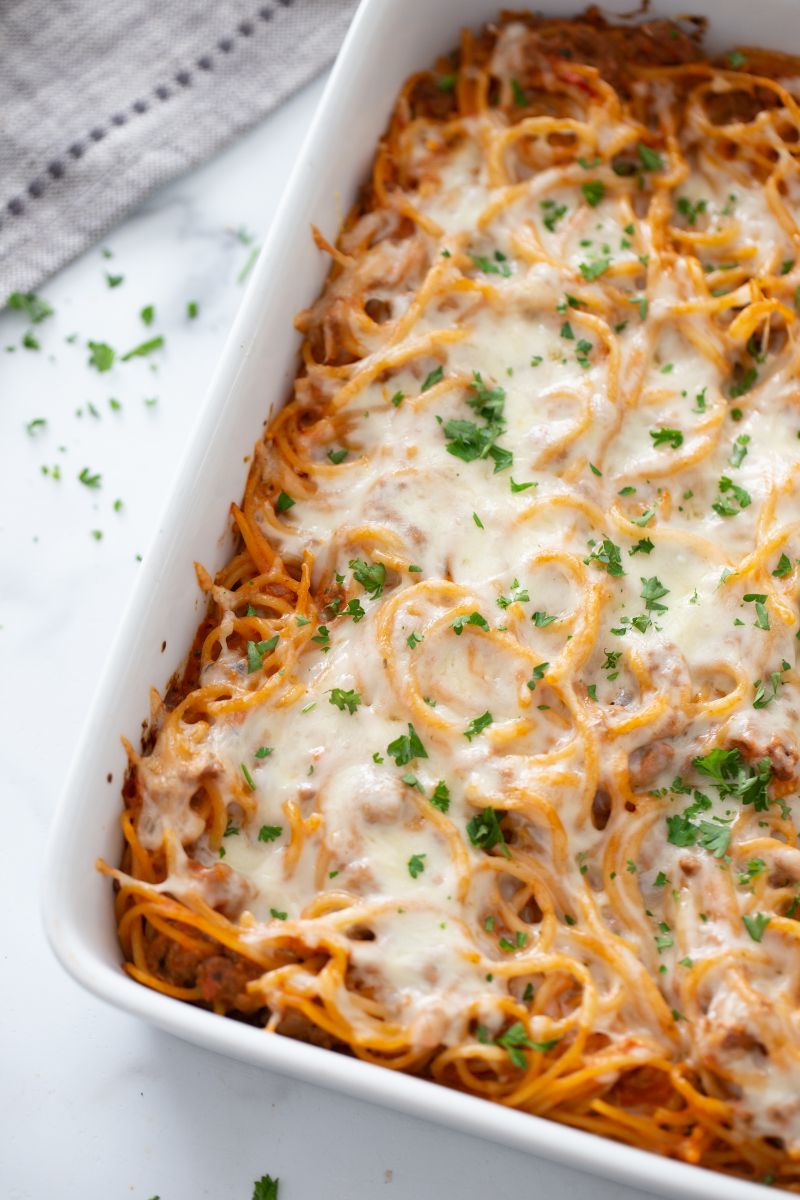 National Spaghetti Day is January 4th. It's a day to celebrate the long, cylindrical pasta noodles that are so well-loved. Take advantage of this food holiday and serve up this this easy-to-prepare baked spaghetti casserole, or make your own favorite spaghetti recipe.
Spaghetti has its roots in Italian cuisine. It's made from flour and water, and it's cooked in a pot of salted, boiling water. Variations of spaghetti have evolved over the years: capellini (thin spaghetti) and spaghettoni (thick spaghetti) are most common. Fun fact: The root word of spaghetti is "spago," which means "thin string."
Traditional spaghetti is served simply with tomato sauce and cheese. You can also add beef, vegetables, cream, garlic and olive oil. Topping spaghetti with marinara sauce and meatballs is very popular way to serve it. We like to turn ours into baked spaghetti casserole!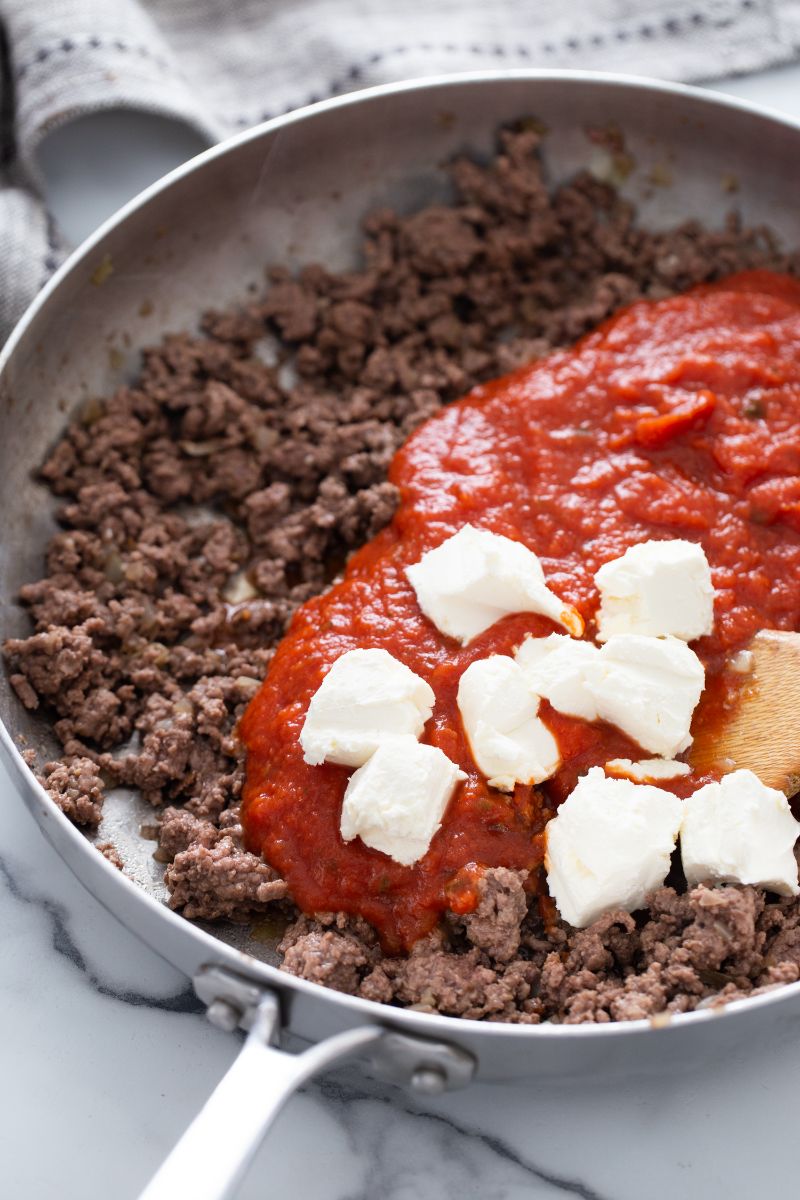 How to make Baked Spaghetti Casserole:
Cook the spaghetti according to package instructions (al dente for this recipe).
In a skillet, heat oil and cook onion and garlic together. Add in ground beef and cook until browned. Spoon out and discard the fat. Then add in marinara sauce (your favorite jarred version is fine) and cream cheese. Simmer until the cream cheese has melted into the sauce.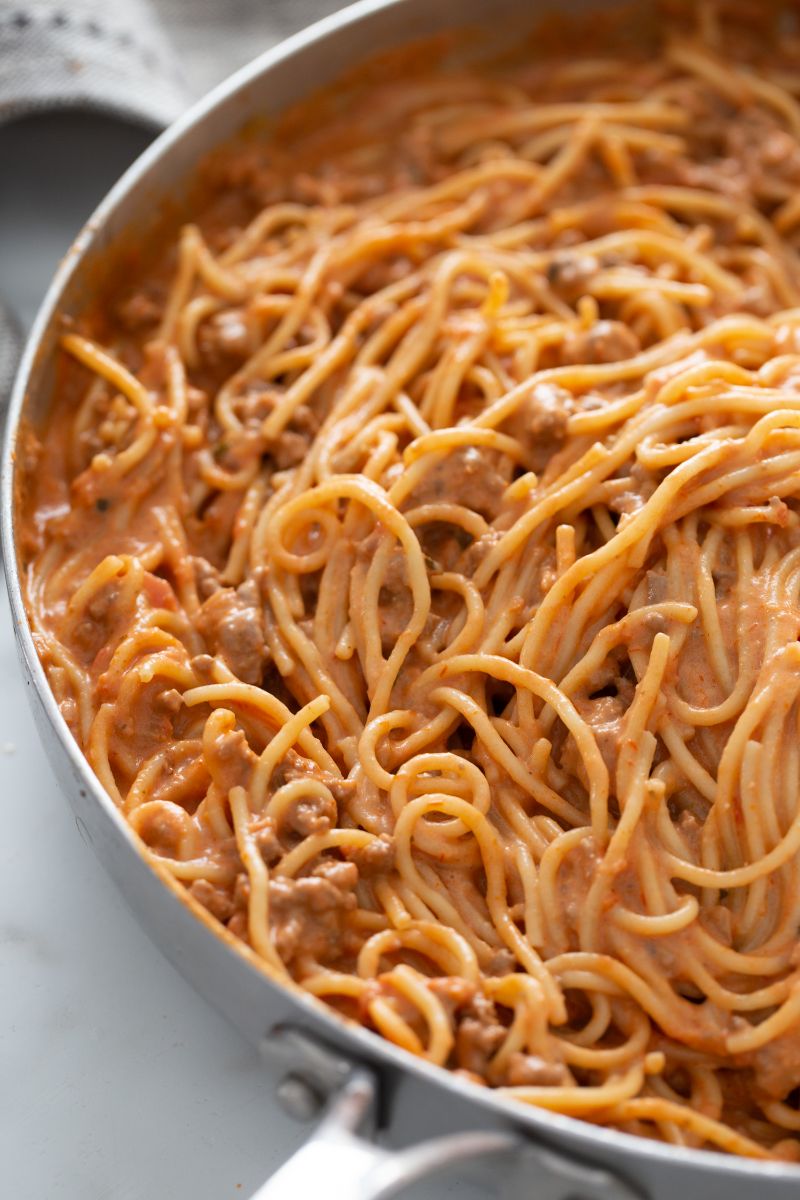 Stir in cream and the cooked spaghetti.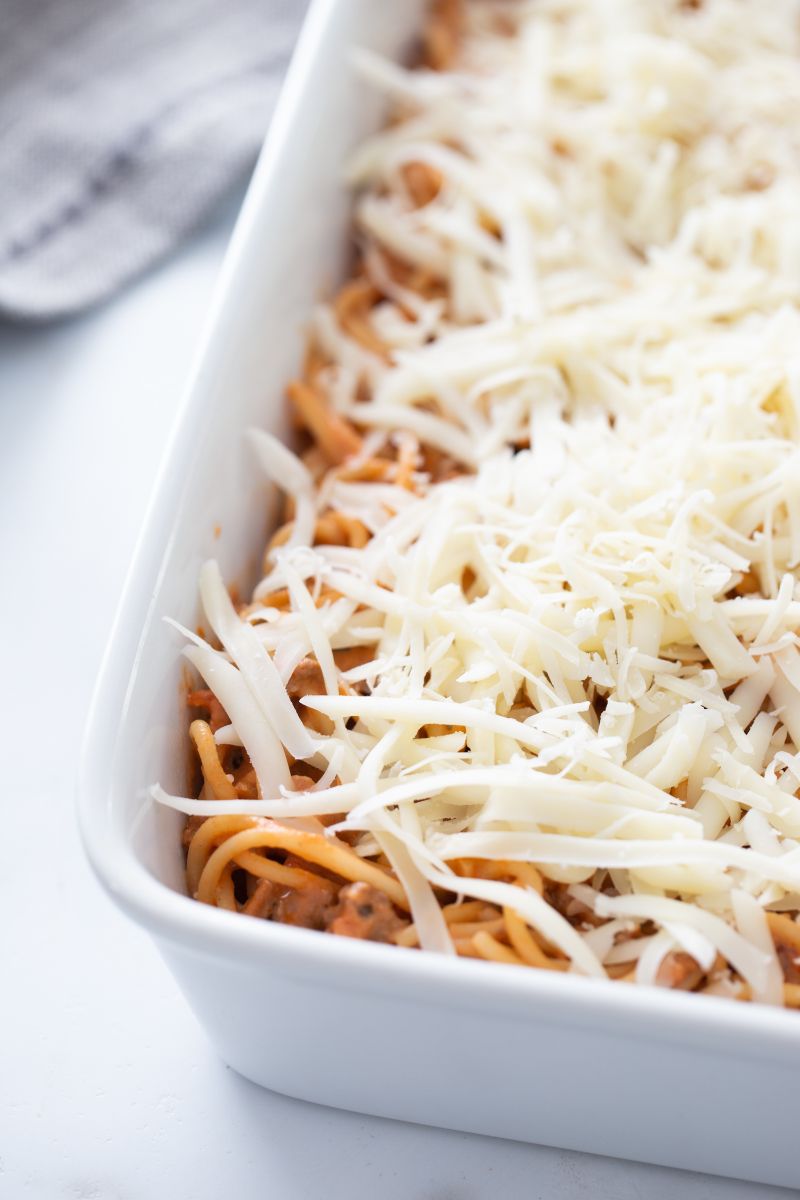 Transfer the spaghetti mixture to a baking dish and top with mozzarella and Parmesan cheeses. Bake until the casserole is piping hot- about 25 minutes.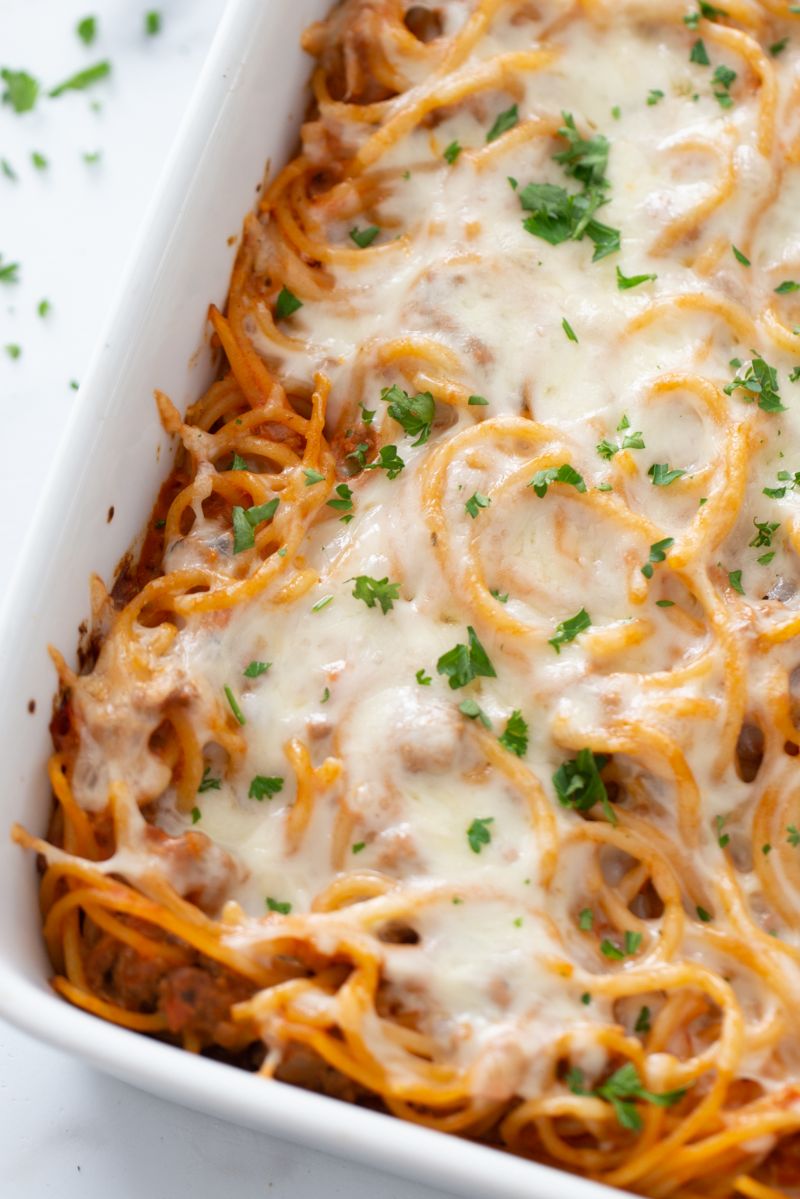 Sprinkle freshly chopped Italian parsley on top, and your baked spaghetti casserole is ready to serve!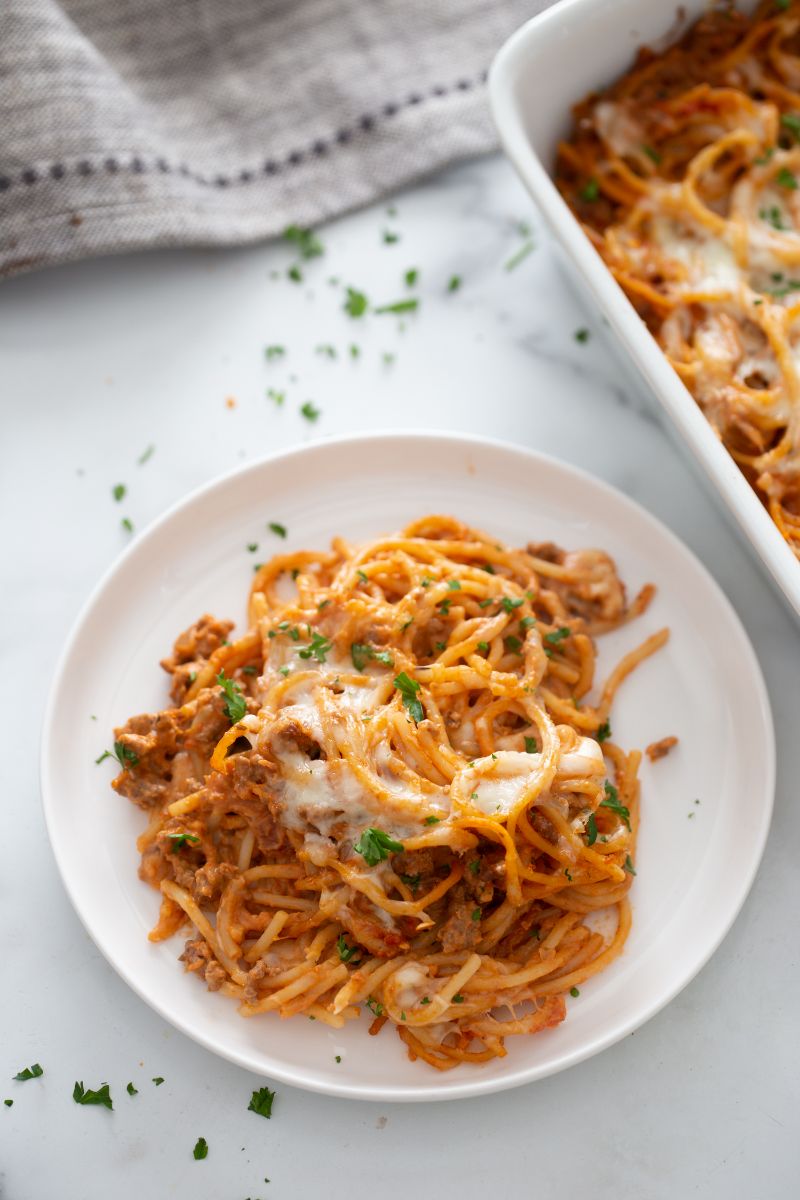 Since you celebrated the New Year by making Hoppin' John, it's now time to celebrate National Spaghetti Day with this delicious baked spaghetti recipe. Enjoy!
Questions about Baked Spaghetti Casserole:
What does "al dente" mean?
"Chewy and firm." For this recipe, it's important not to cook the pasta to a soft stage. The noodles will continue to cook in the baked casserole.
Can I use a different type of noodles for this recipe?
Yes, you can try using a short noodle such as rotini or rigatoni.
What type of marinara sauce should be used?
Use your favorite! We like to use a basic tomato-basil, such as Classico brand.
Can I change up the cheeses in this recipe?
Mozzarella and Parmesan are traditional Italian cheeses, but you can experiment with other cheeses such as Provolone and Romano.
Do I have to top it with fresh parsley?
No. Parsley just makes it look pretty.
Can this recipe be made ahead?
This is a great recipe to make ahead. Just prepare everything and put it in the casserole dish. Cover with plastic wrap and refrigerate until ready to bake. This makes it a good dish to bring to a sick friend or to someone who just had a baby.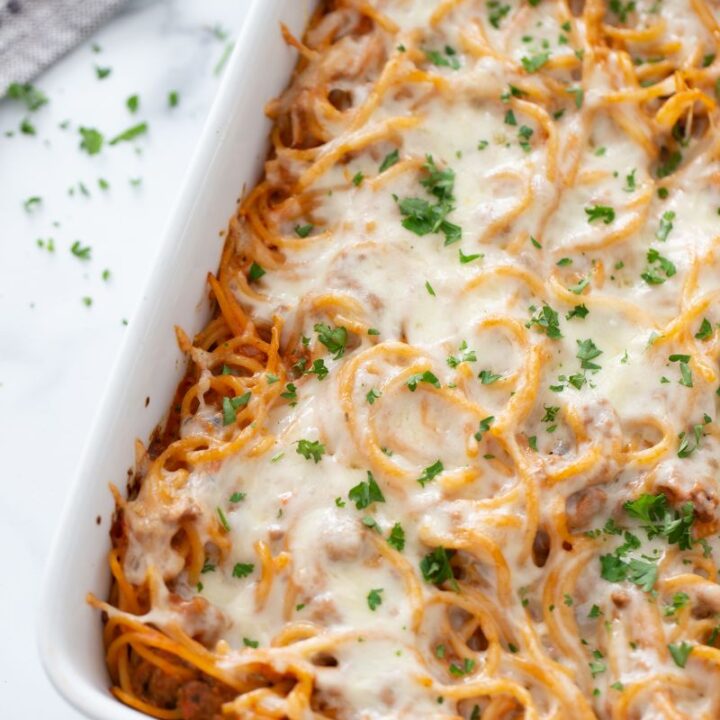 Baked Spaghetti Casserole
Total Time:
1 hour
10 minutes
A delicious dish of spaghetti baked until melted and perfect!
Ingredients
16 ounces spaghetti
1 tablespoon extra-virgin olive oil
1 small yellow onion, peeled and finely chopped
2 medium garlic cloves, minced
16 ounces ground beef
kosher salt and freshly ground black pepper
One 25-ounce jar tomato-basil marinara sauce
4 ounces cream cheese, cut into pieces
1/4 cup heavy whipping cream
8 ounces shredded mozzarella cheese
1/2 cup freshly grated Parmesan cheese
1/4 cup chopped fresh Italian parsley
Instructions
Preheat the oven to 350 degrees F. Spray a 9x13-inch baking dish with nonstick spray.
Cook the spaghetti according to package instructions, just until al dente (a little firm to the bite). Drain, rinse and set aside.
While the pasta is cooking, heat the oil in a large skillet over medium-heat. Add the onion and garlic and cook until the onions are softened- about 5 minutes. Add the ground beef and season lightly with salt and pepper. Cook until no longer pink, about 8 minutes. Tilt the pan and spoon out the fat to discard. Add the marinara sauce to the beef along with the cream cheese. Simmer for 10 minutes, until the cream cheese has melted into the sauce. Turn off the heat, and stir in the cream and the cooked spaghetti.
Transfer the spaghetti with meat sauce to the prepared baking dish. Sprinkle the mozzarella and Parmesan cheeses on top. Bake until the cheese is melted and the casserole is piping hot- 20 to 25 minutes. Sprinkle parsley on top and serve.
Nutrition Information:
Yield:

6 servings
Serving Size:

1
Amount Per Serving:
Calories:

663
Total Fat:

39g
Saturated Fat:

18g
Trans Fat:

1g
Unsaturated Fat:

16g
Cholesterol:

137mg
Sodium:

1174mg
Carbohydrates:

38g
Fiber:

4g
Sugar:

9g
Protein:

39g
Nutritional information is estimated.