Blender Pancakes are an easy way to whip up your favorite pancakes. And Banana Blueberry Blender Pancakes are a delicious version of this speedy, homemade breakfast treat.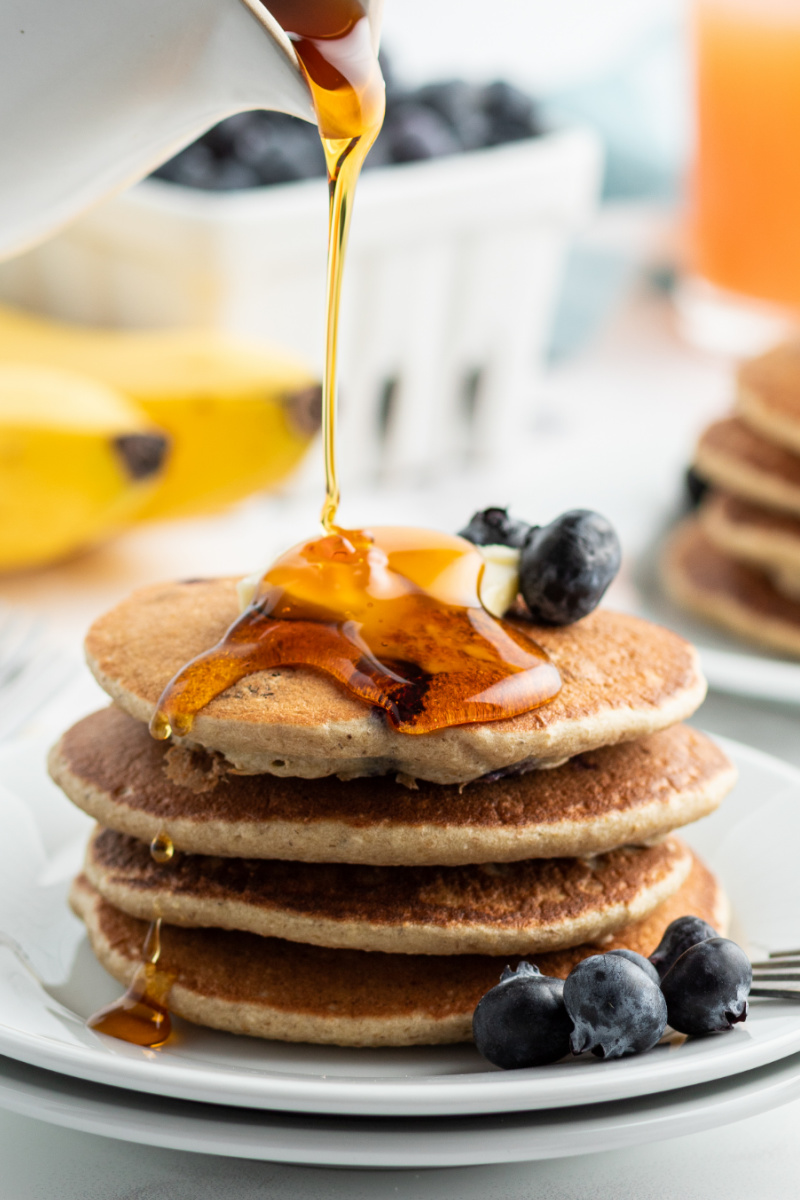 January 28th is National Blueberry Pancake Day! For lovers of pancakes who are also lovers of blueberries, this combination is simply too hard to resist. Blueberries are bright and juicy. Pancakes are light and fluffy. They're a match made in heaven.
Celebrate this food holiday by making blueberry pancakes for breakfast, an afternoon snack or breakfast-for-dinner. Make it fun and drop smiley faces or hearts on your pancakes with blueberries!
History of Pancakes:
According to archaeologists, pancakes are the oldest cereal food and were eaten in pre-historic societies. Scientists found signs of grains that possibly made up some sort of pancake in the stomach of Otzi the Iceman 5,300 years ago. WOW!
Early pancakes were a mix of flour and milk and were more like biscuits. In later years, eggs, baking powder and fat were added to the mix to create a fluffier, lighter pancake.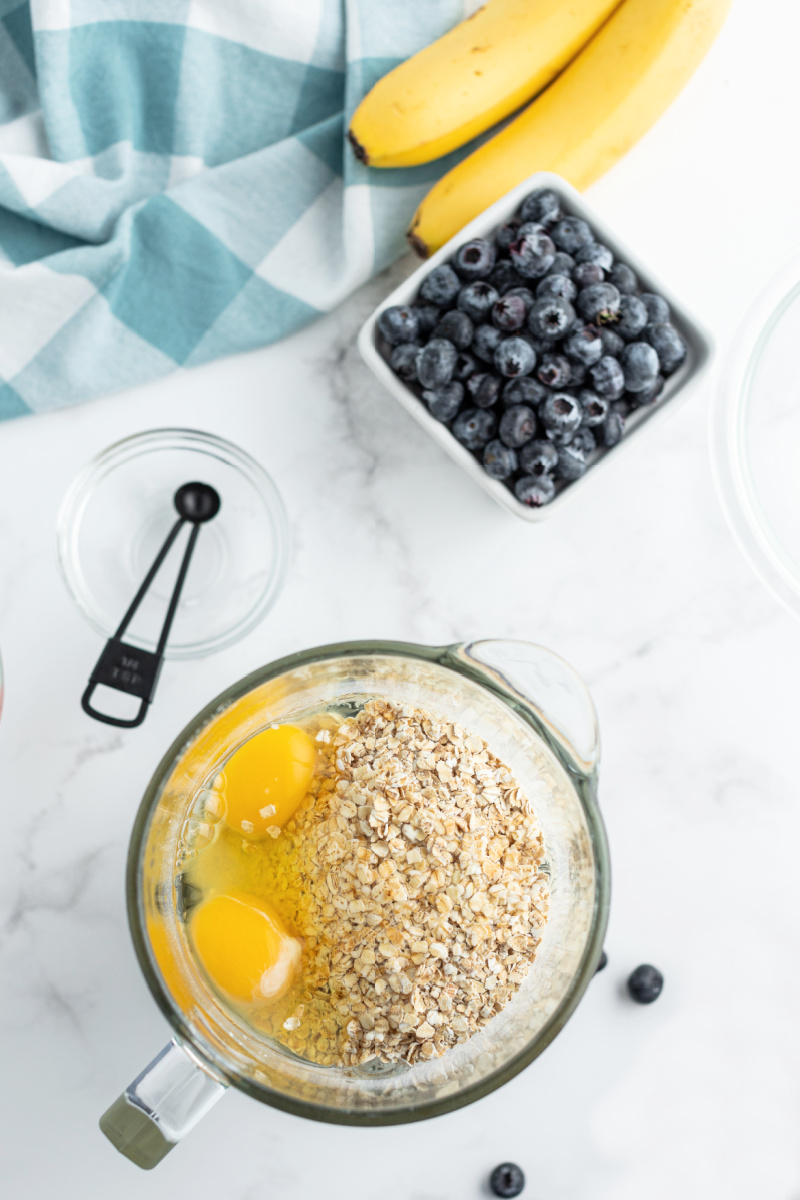 Ingredients needed:
ripe mashed bananas
eggs
vanilla almond milk
old fashioned oats
baking powder
salt
blueberries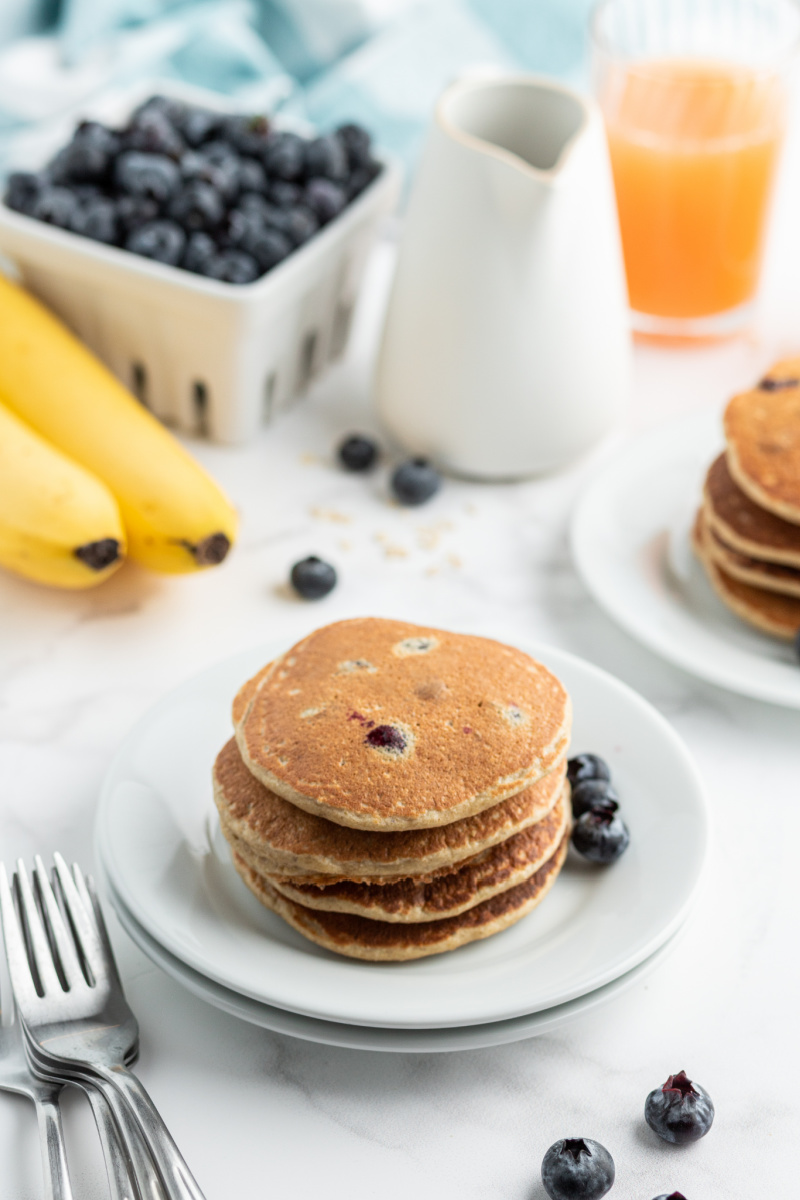 How to make Banana Blueberry Blender Pancakes:
I've always been fond of making pancakes that use bananas in the base batter (like these 4-Ingredient Pancakes), and this recipe is no exception. These are great, and they're really easy to make. This recipe comes from the Best of Bridge: 5-Ingredient Cooking cookbook (I added blueberries to the recipe).
To a blender, you will add mashed ripe banana, eggs, vanilla almond milk, oats, baking powder and salt. Give it a whirl until everything is nice and smooth. Then give the batter a chance to sit for a few minutes to let the oats soak up the liquid and thicken up the batter.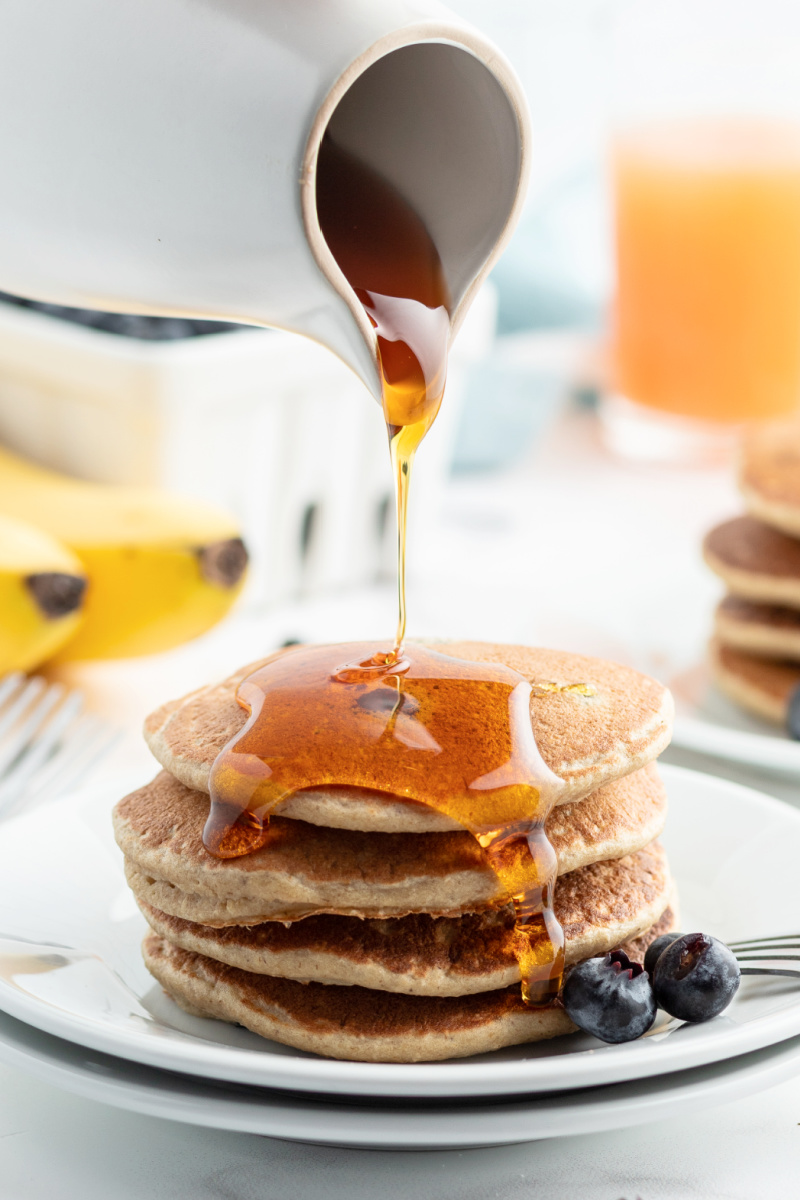 Scoop rounds of batter onto a hot, greased griddle and sprinkle blueberries on top of the batter. Cook until bubbles appear on top, and then flip and cook the other side.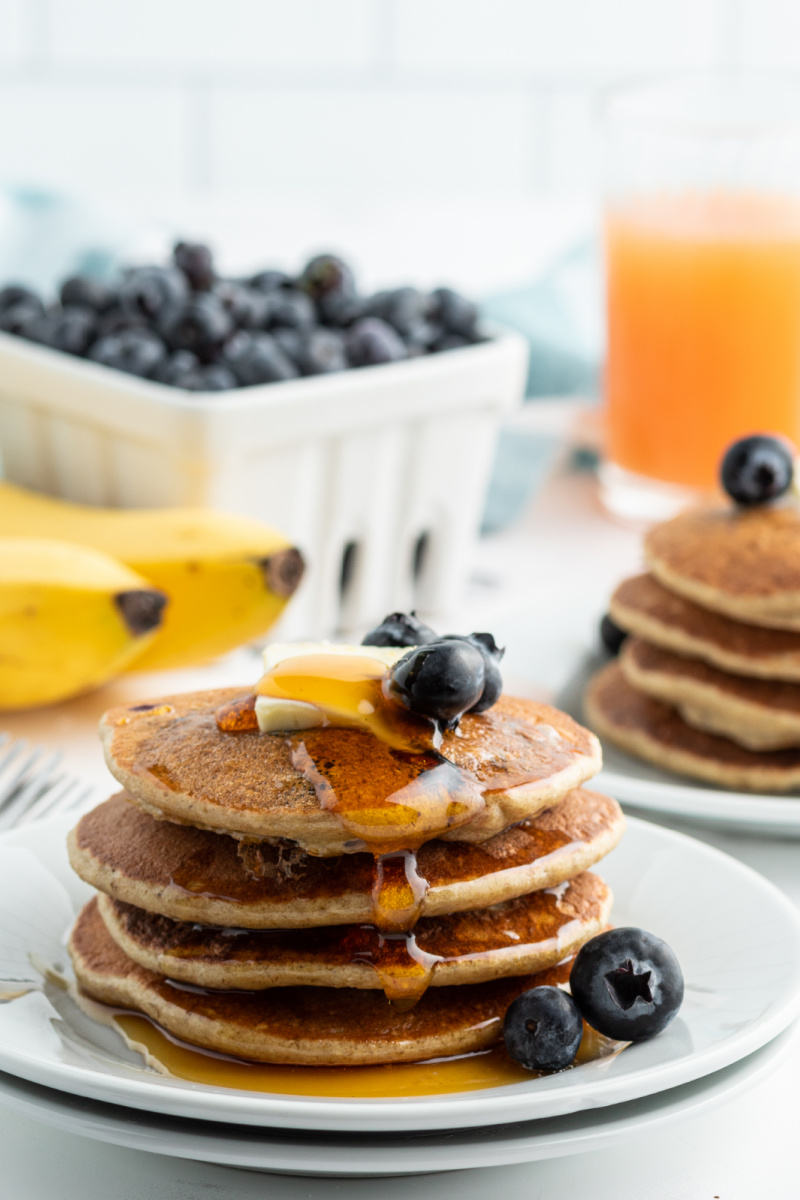 Stack your Banana Blueberry Blender Pancakes on a plate, and top with butter, warm maple syrup and more blueberries.
Ingredient notes for Blender Pancakes:
The more ripe your bananas are, the sweeter they will be. Dark brown/black spots are good!
Vanilla almond milk may be substituted with regular almond milk or regular milk.
Fresh or frozen blueberries may be used.
Leave out the blueberries to make plain banana- oat blender pancakes.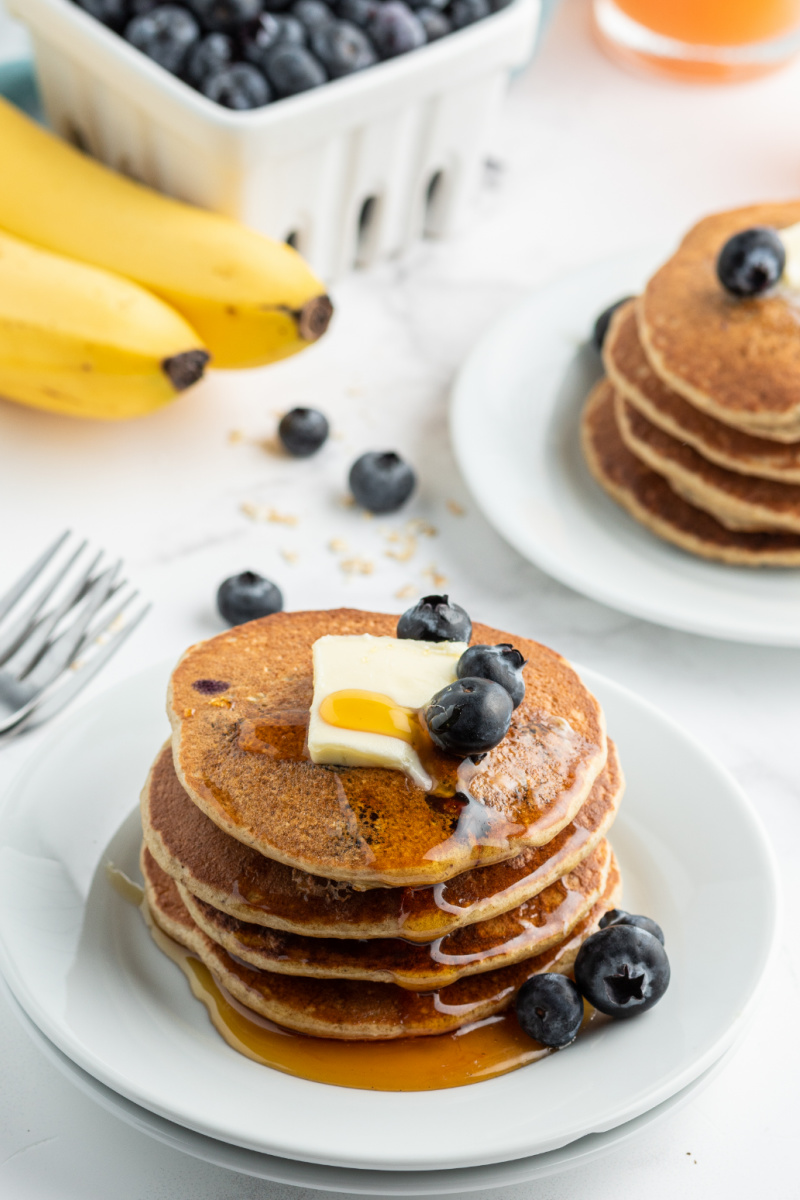 Why eat doughnuts today when you have a reason to celebrate by consuming a stack of delicious blueberry pancakes?
Fun facts about Blueberries:
People have been eating blueberries for more than 13,000 years.
Blueberries are considered a Superfood. They help reduce inflammation, they're good for your heart and circulation. And they have ample fiber that is good for your digestive system.
1 cup of blueberries contains 84 calories, 1.1g protein, 0.49g fat, 21.45g carbohydrate and 3.6g fiber.
Blueberries can be eaten year-round, but in the United States, blueberry season runs from April to September. South America (which experiences their summer during the USA winter) imports their blueberries to North America during the winter months.
Blueberries can be eaten fresh or frozen.
Add blueberries to pie, cake, pastries, breakfast and savory dishes, or eat them on their own.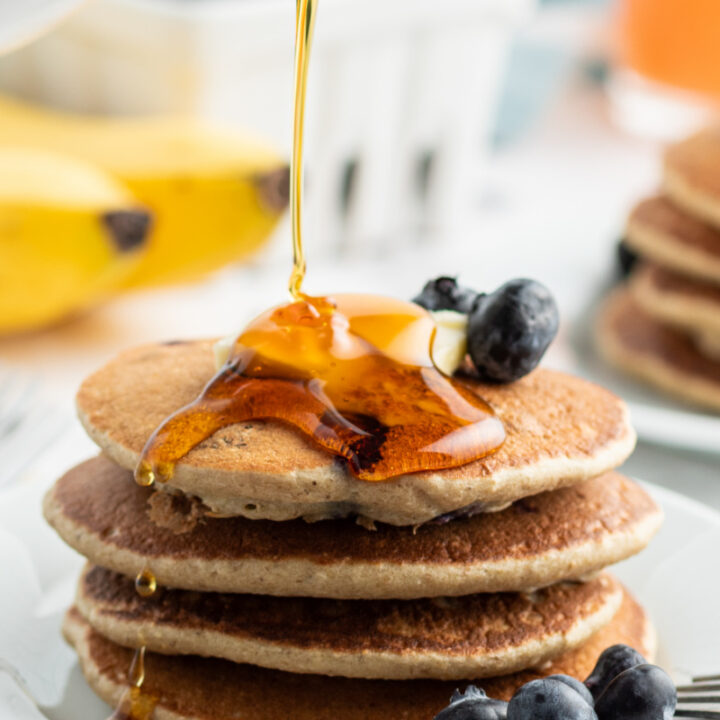 Banana Blueberry Blender Pancakes
These lighter pancakes are made with oats, banana and egg as the base. Added blueberries make them complete!
Ingredients
1 cup mashed banana
2 large eggs
1 cup vanilla almond milk
2 cups oats
2 teaspoons baking powder
1/4 teaspoon salt
1 1/2 cups blueberries
Instructions
In a blender, place the bananas, eggs, almond milk, oats, baking powder and salt. Blend on high until smooth, 1 to 2 minutes. Allow the batter to rest for 5 minutes to thicken slightly.
Meanwhile, spray a nonstick skillet or griddle with cooking spray and heat over medium-high heat. For each pancake, scoop ¼ cup of batter onto the skillet. Sprinkle blueberries on top of the batter.
Cook 2 to 3 minutes or until bubbles begin to appear on top. Flip the pancakes over and cook for 1 minute on the other side, or until golden brown.
Nutrition Information:
Yield:

4
Serving Size:

3 pancakes
Amount Per Serving:
Calories:

295
Total Fat:

6g
Saturated Fat:

1g
Trans Fat:

0g
Unsaturated Fat:

4g
Cholesterol:

93mg
Sodium:

453mg
Carbohydrates:

53g
Fiber:

7g
Sugar:

17g
Protein:

10g
Nutritional information is estimated.