Classic Spinach Salad has hard boiled egg, red onion, blue cheese and croutons, and it is tossed with a warm bacon dressing. Sometimes it contains slivered almonds or walnuts too.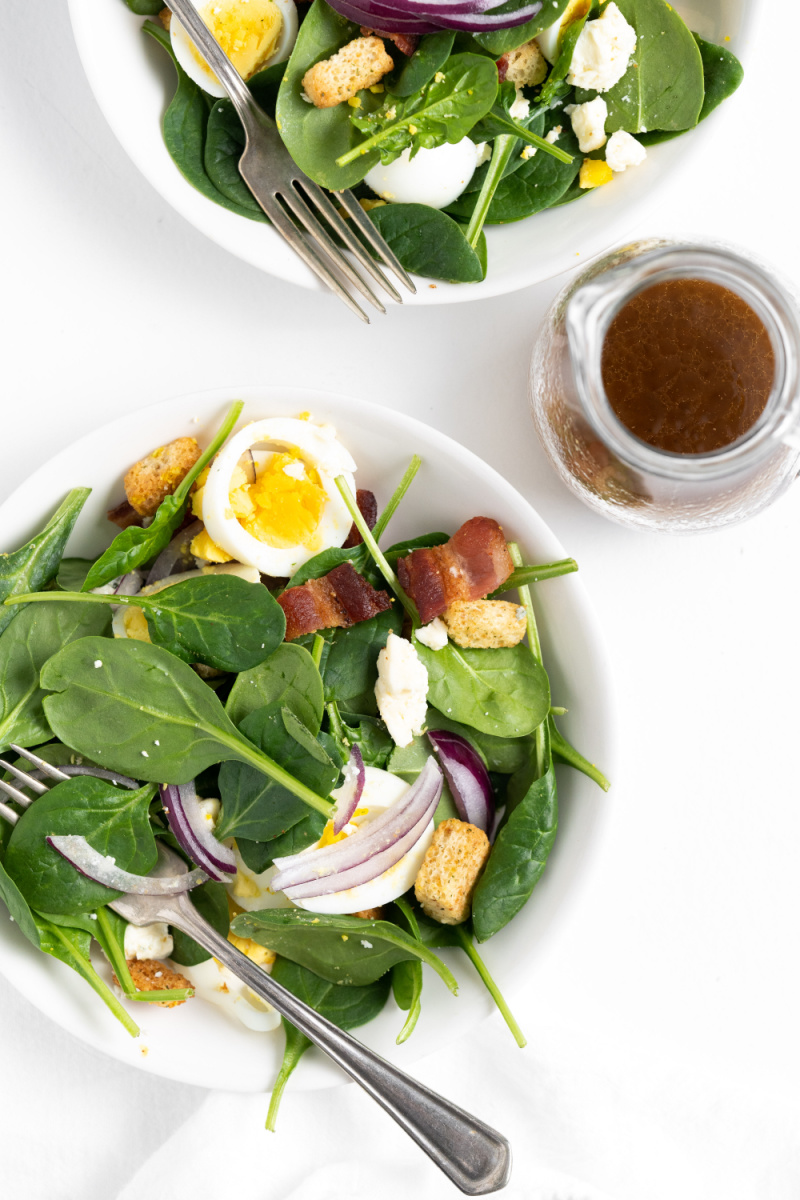 March 26th is National Spinach Day! Celebrate this healthy day by eating your favorite spinach recipe. I recommend making this Classic Spinach Salad, or you can make my favorite creamed spinach recipe (a more decadent choice). Share the spinach love on social media today using the hashtag #NationalSpinachDay, #SpinachDay and #RecipesForHolidays. Be sure to check out my March food holidays page so you never miss a food holiday in the month of March!
The History of Spinach Salad:
Oddly enough, it's pretty vague in terms of where the classic spinach salad originated.
Fresh spinach most likely originated in Person or modern day Iran. Spinach traveled to the United States with European settlers (likely German) in the 1700's. One of the dishes that the Germans brought over as immigrants was a salad. This was a special salad, served in springtime, composed of dandelions, bacon drippings and poached or hard-boiled eggs. It's possible that this salad eventually developed into the classic spinach salad that we know of today.
By 1806, spinach was becoming a very popular vegetable in the United States.
1962's The Joy of Cooking, which has recipes for pretty much everything, makes no mention of any kind of spinach salad.
Eventually spinach salad became quite a popular choice to make at home, and it appeared on restaurant menus too.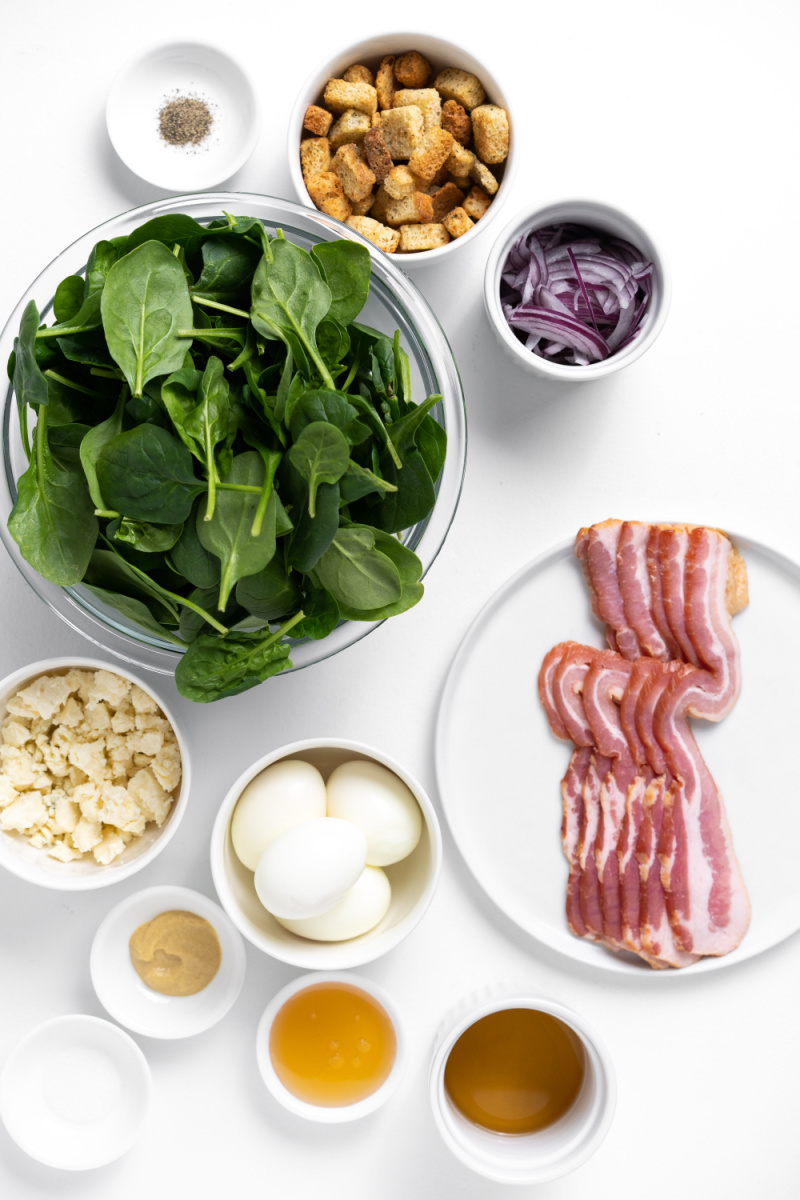 Ingredients needed:
bacon
apple cider vinegar
honey
Dijon mustard
salt and pepper
fresh baby spinach leaves
hard boiled eggs
sliced red onion
crumbled blue cheese
croutons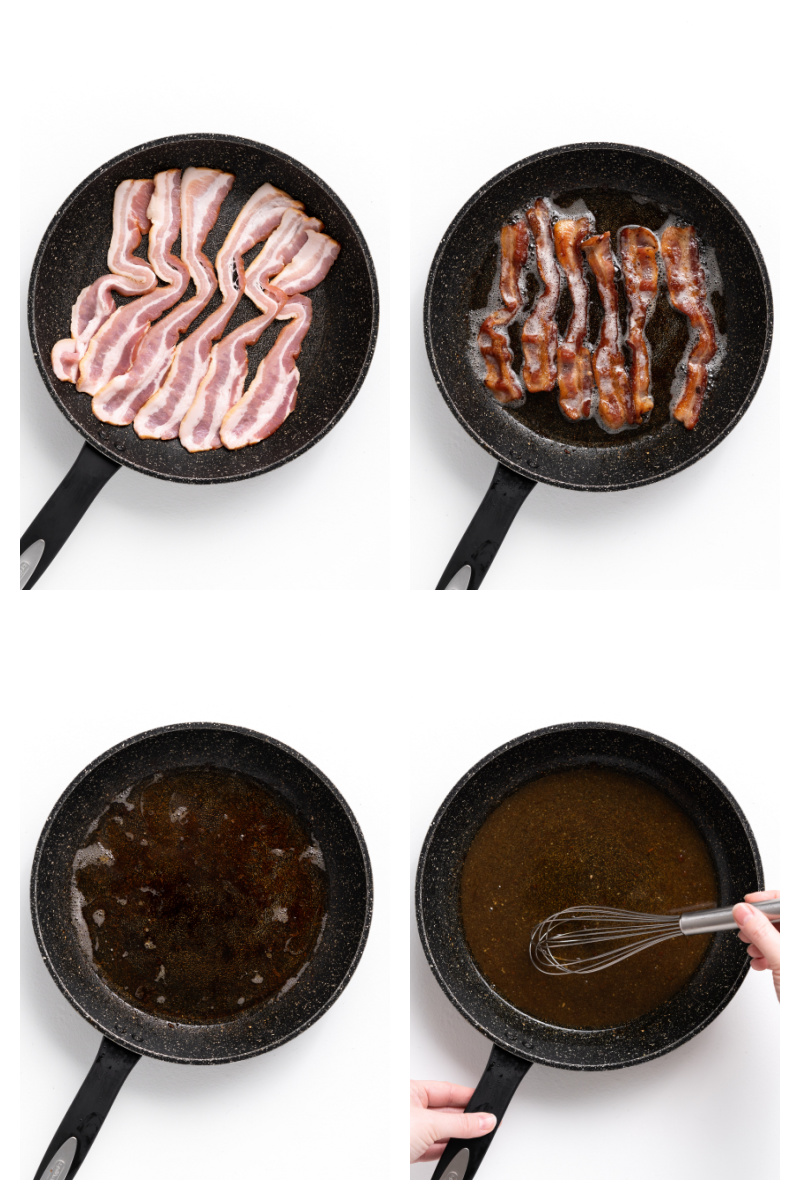 How do you make Classic Spinach Salad?
The full, printable recipe is at the end of this post.
The first step is cooking the bacon. Add it to a hot skillet, and cook until the bacon is crisp. Remove the bacon to paper towels to drain the fat. Cool, and then chop the bacon.
The next step is making the warm dressing. To the bacon drippings in the skillet, add the vinegar, honey, Dijon mustard, salt, and pepper. Whisk to combine, and then remove from the heat.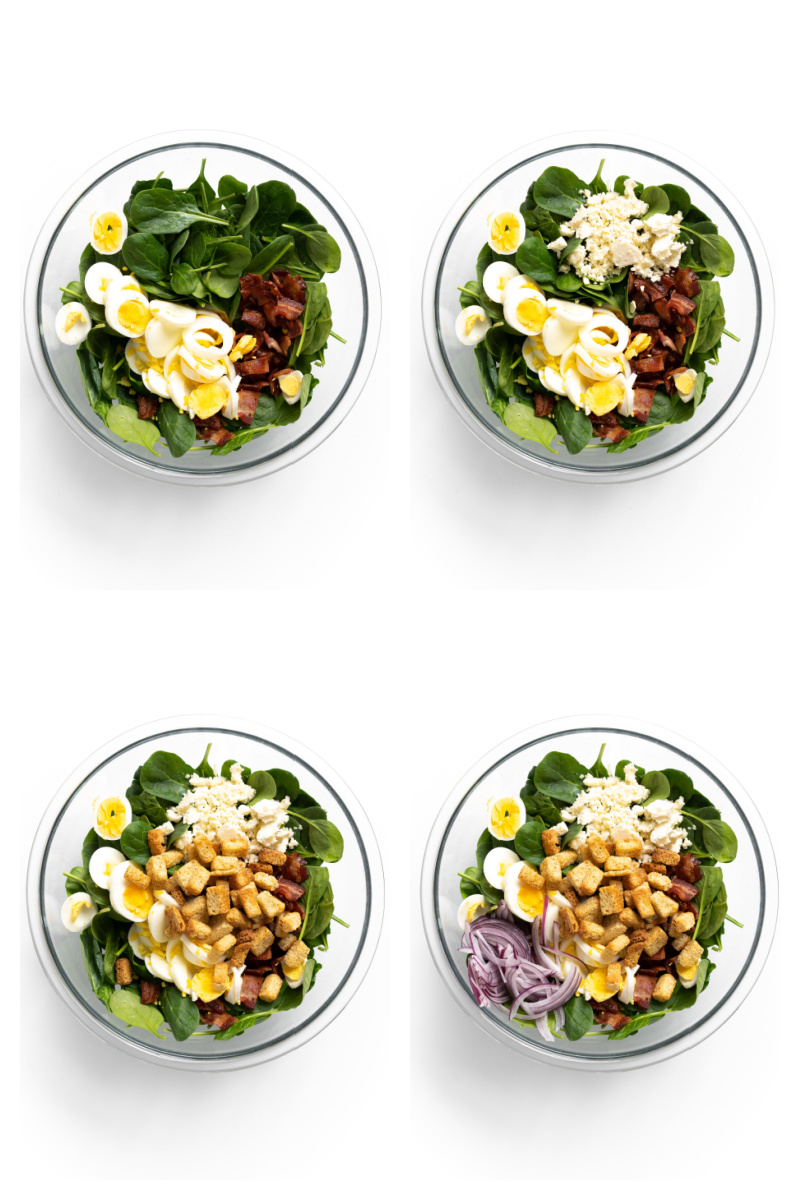 Add the spinach, egg, onion, cheese, croutons, and chopped bacon to a salad bowl.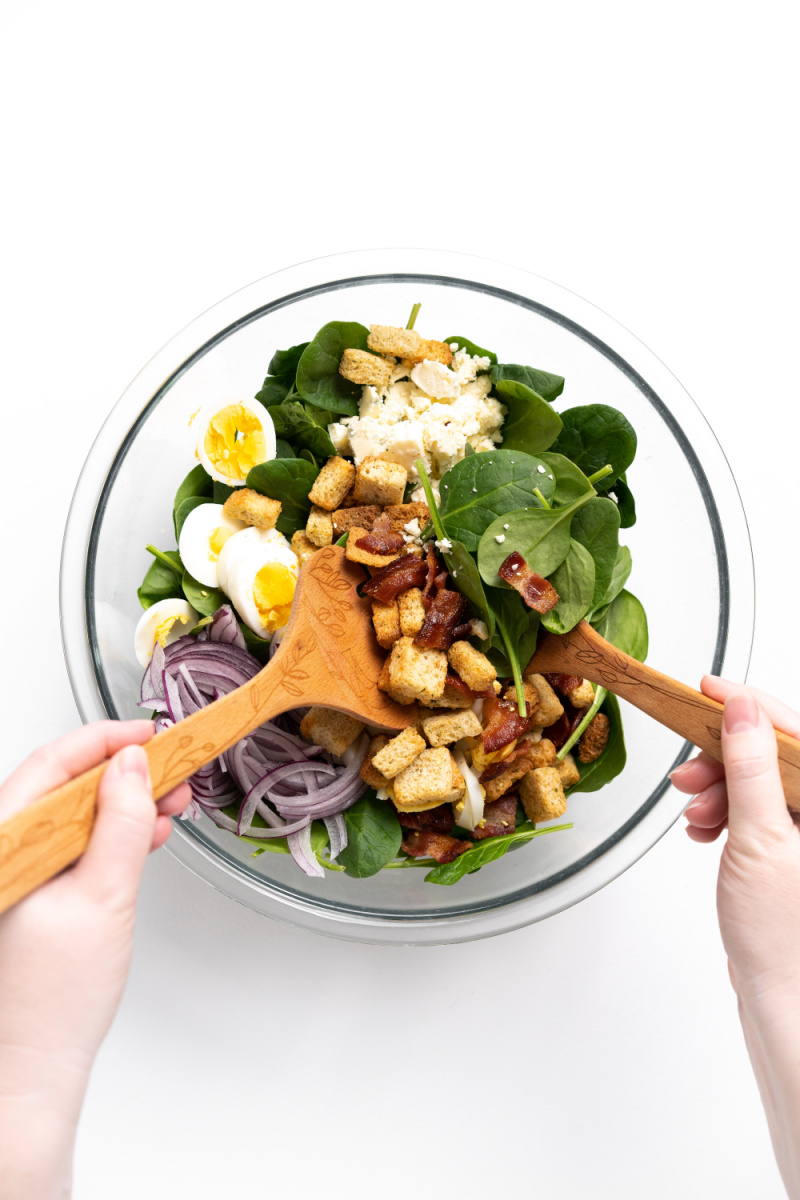 Toss gently to combine.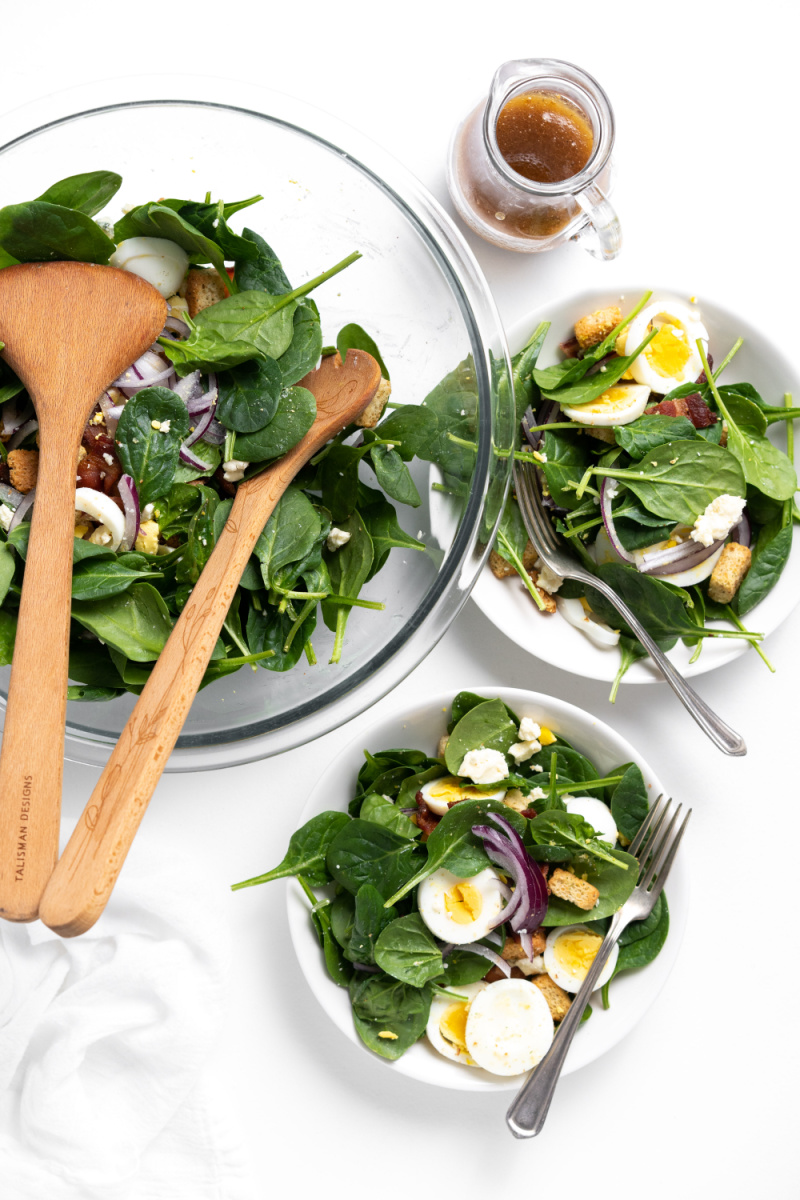 You can choose to toss the whole salad with dressing, and then plate individual servings. Or you can plate and let people add their own dressing.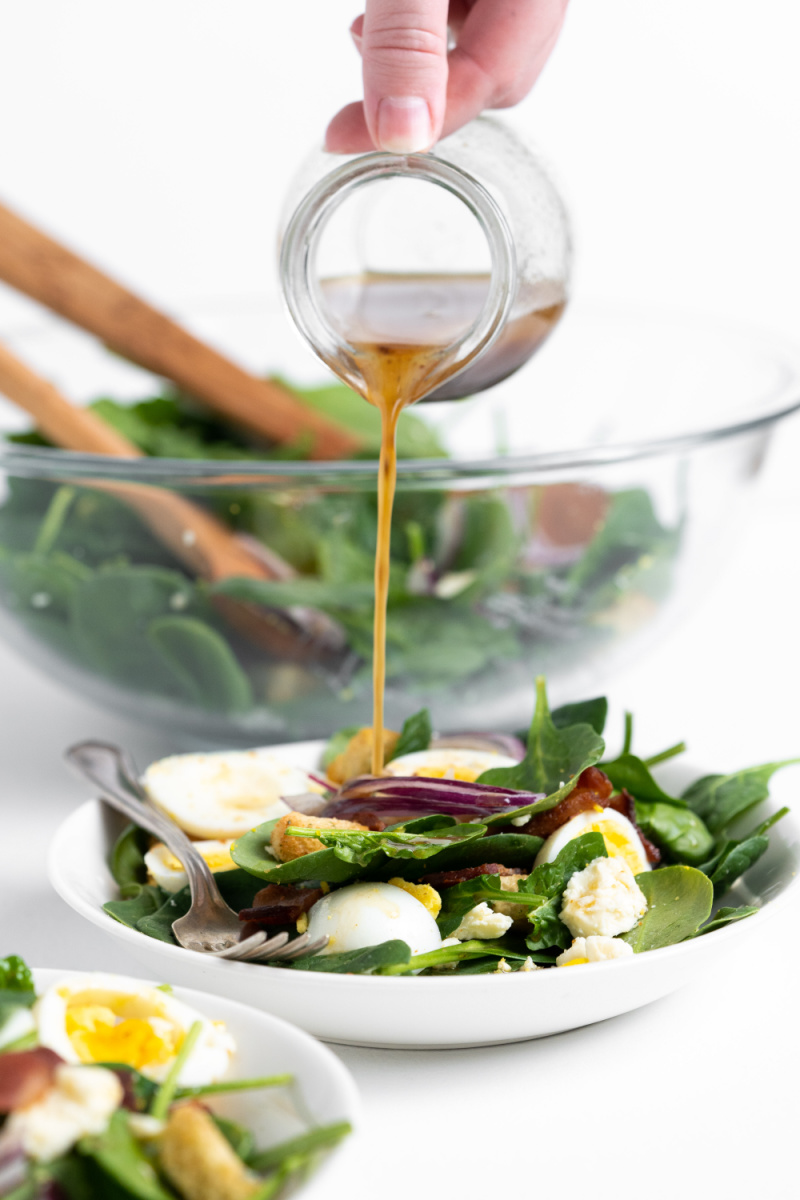 Drizzle the warm dressing on top.
Why would you want to put hot dressing on salad?
Hot dressing works great on any type of salad that has a heartier green (like kale or spinach). The hot dressing softens a tougher green, and gives it a better texture for eating.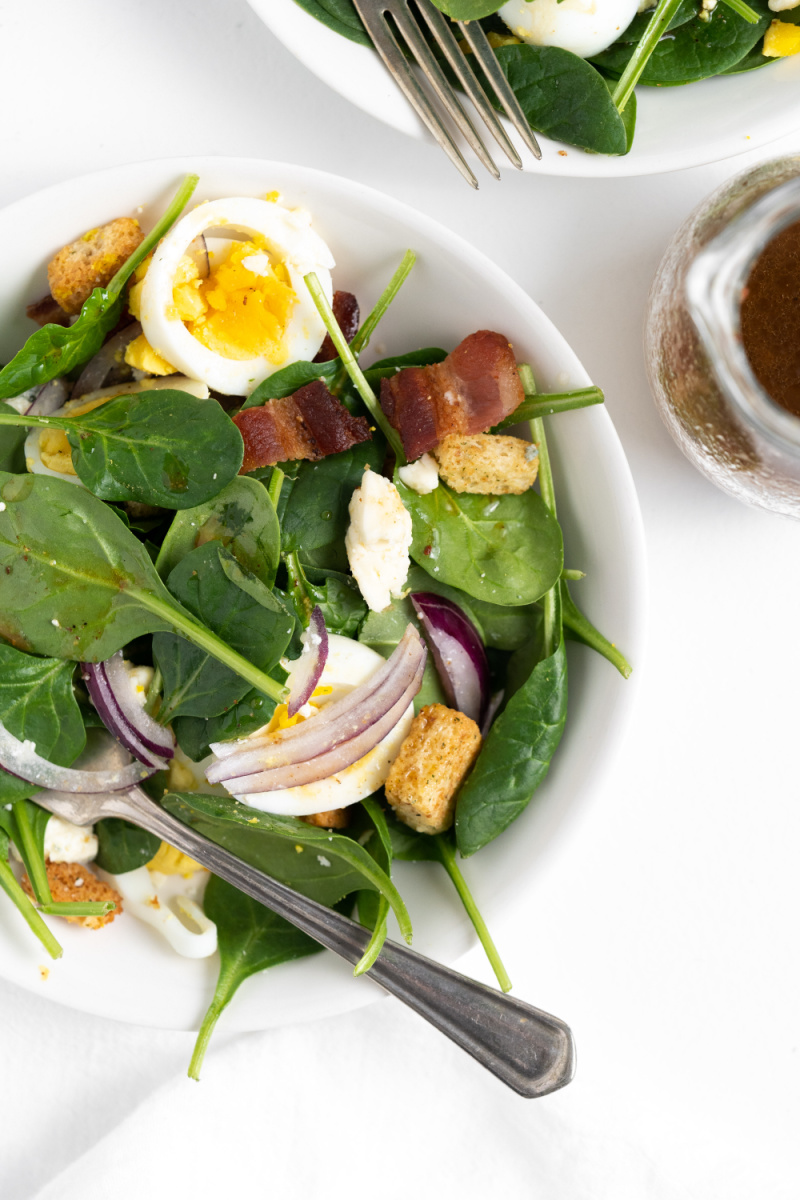 My Mom used to make spinach salads like this one all the time when I was growing up in the 70's and 80's. This version is just like Mom used to make. Enjoy!
Fun Facts About Spinach:
When Popeye cartoons debuted in the 1920's, the popularity of spinach soared.
Spinach is packed with vitamins C and K, and it also has decent amounts of folate, potassium and fiber.
Baby spinach is milder and softer than larger spinach leaves, so that makes it a better choice for salads.
When cooked, a 450g. bag of fresh spinach feeds just two people. Spinach shrinks dramatically when cooked.
No matter how washed you think your spinach is, there's always a chance it didn't get washed well. Give it a rinse to avoid the chance of your spinach containing salmonella or E. coli.
Store spinach in your refrigerator's crisper drawer for up to 10 days. Don't store it next to bananas or apples (unless it's in a sealed container). Apples and bananas contain ethylene gas, which can cause the spinach to go bad if it's stored right beside them.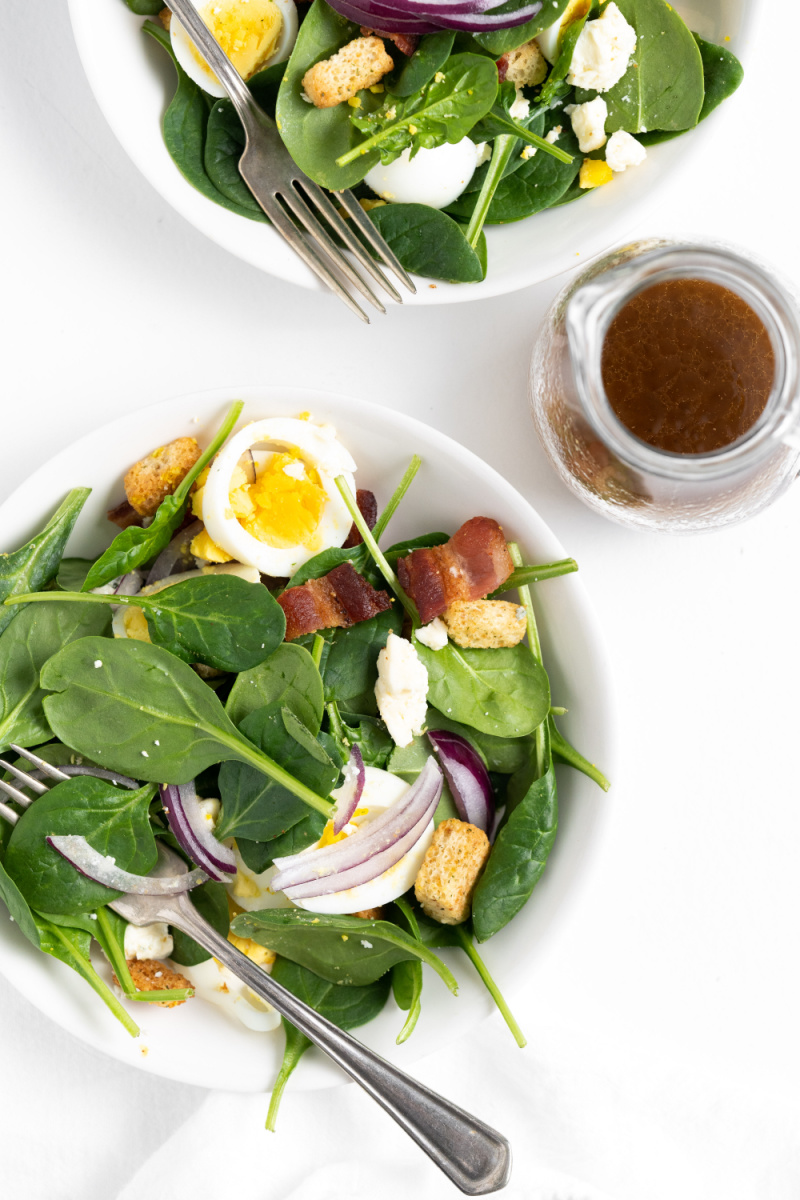 Classic Spinach Salad
Super easy to make spinach salad with hot bacon dressing!
Ingredients
6 slices thick center-cut bacon
3 tablespoons apple cider vinegar
1 tablespoon honey
1 teaspoon Dijon mustard
1/8 teaspoon salt
1/8 teaspoon black pepper
8 cups baby spinach leaves
4 hard-boiled eggs, peeled and sliced
1/2 cup thinly sliced red onion
2 ounces blue cheese, crumbled
1 cup croutons
Instructions
Cook the bacon in a large skillet until crispy.
Transfer the crispy bacon to a paper towel-lined plate to drain off the excess grease. Cool, and then chop or crumble the bacon into bite-sized pieces.
To the bacon drippings in the skillet, add the vinegar, honey, Dijon, salt, and pepper. Whisk to combine, and then remove from the heat.
Add the spinach, egg, onion, cheese, croutons, and chopped bacon to a salad bowl and toss gently to combine.
Drizzle the hot dressing on top.
Serve immediately.
Nutrition Information:
Yield:

6
Serving Size:

1 serving
Amount Per Serving:
Calories:

246
Total Fat:

12g
Saturated Fat:

5g
Trans Fat:

0g
Unsaturated Fat:

6g
Cholesterol:

143mg
Sodium:

650mg
Carbohydrates:

19g
Fiber:

6g
Sugar:

6g
Protein:

18g
Nutritional information is estimated using a nutrition calculator. It's not likely to be 100% accurate.