S'mores Brownies are the best fudgy brownies with all of the fixings of s'mores mixed in. A s'more is a campfire treat popular in the United States and Canada, consisting of one or more toasted marshmallows and a layer of chocolate sandwiched between two pieces of graham cracker.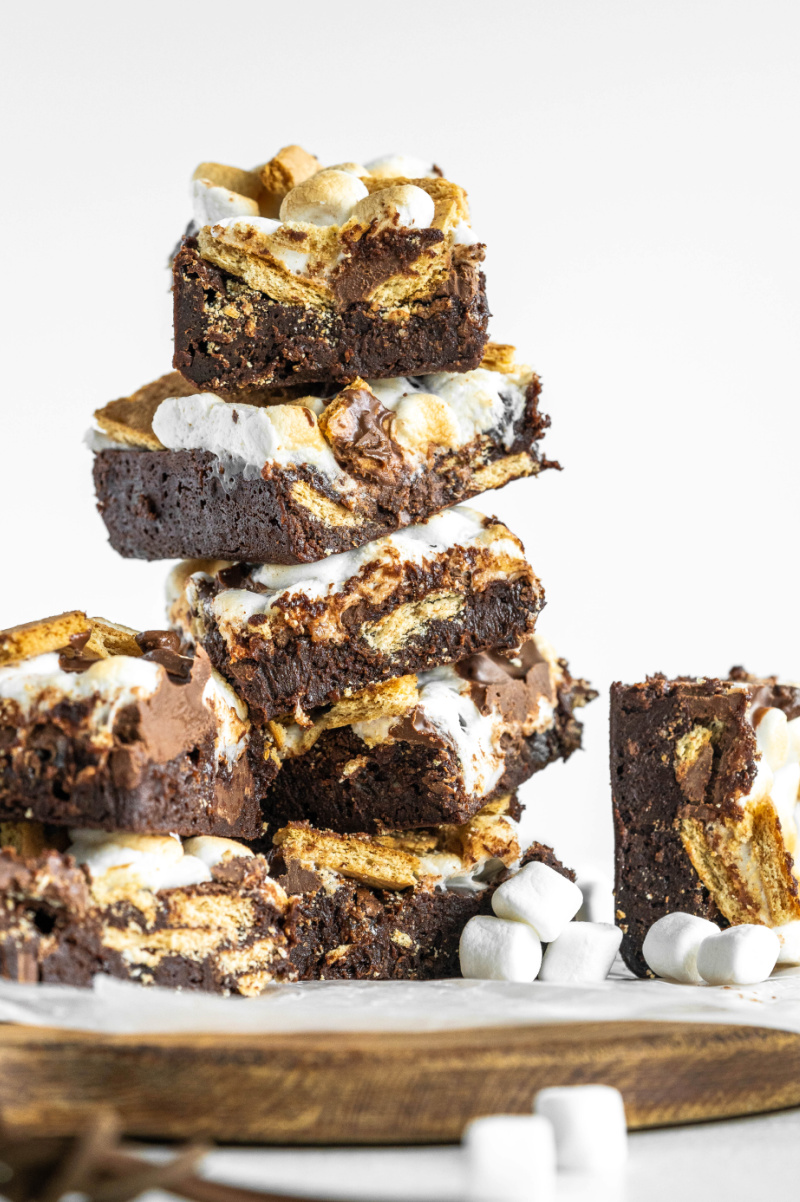 August 10th is National S'Mores Day! This is a day to make s'mores over the campfire or bake these S'Mores Brownies! Share your S'Mores creation on social media today by using the hashtag #NationalSmoresDay, #SmoresDay and #RecipesForHolidays. Be sure to check out my August Food Holidays page so you can follow along on all of the food holidays in the month of August!
The History of S'Mores:
The French were the first to create and market marshmallows. New Jersey minister Sylvester Graham invented the graham cracker to curb sex drive (he thought humanity was on its way to moral collapse with carnal desires).
In the Victorian era, funnel cakes often included chocolate and marshmallow. In the 1890's marshmallow roasting was a big-time fad in summer resort towns in the Northeast. The Hershey Bar was invented in 1900.
Mallomars (the cookie form of S'Mores) appeared on shelves in 1913. Moonpies (similar) were created a few years later.
According to Food and Wine, the first official recipe for a s'more came out in the 1927 Girl Scout guidebook called Tramping and Trailing with the Girl Scouts. While the book was meant to give advice on how to be a good Girl Scout (always getting a parent's permission before hiking!) it's lasting legacy was the "Some More."
Originally intending to feed 16 hungry scouts, the recipe, which was later credited to a troop leader named Loretta Scott Crew, calls for 16 graham crackers, eight bars of plain chocolate and 16 marshmallows. Next, it says to toast the marshmallows to a "crispy, gooey state." Then, put the marshmallow on top of a chocolate bar and in between two graham crackers and, viola, you got a "Some More." It's unclear when the name was shortened to simply "s'more," but various Girl Scout publications kept referring to the treat as "Some More" until at least 1971.
A 1956 recipe uses the name "S'Mores", and lists the ingredients as "a sandwich of two graham crackers, toasted marshmallow and 1⁄2 chocolate bar". A 1957 Betty Crocker cookbook contains a similar recipe under the name of "s'mores".
As the years progressed, this graham cracker, marshmallow and chocolate dessert became known as "S'Mores," and has become loved by campers, home cooks and backyard barbecuers everywhere!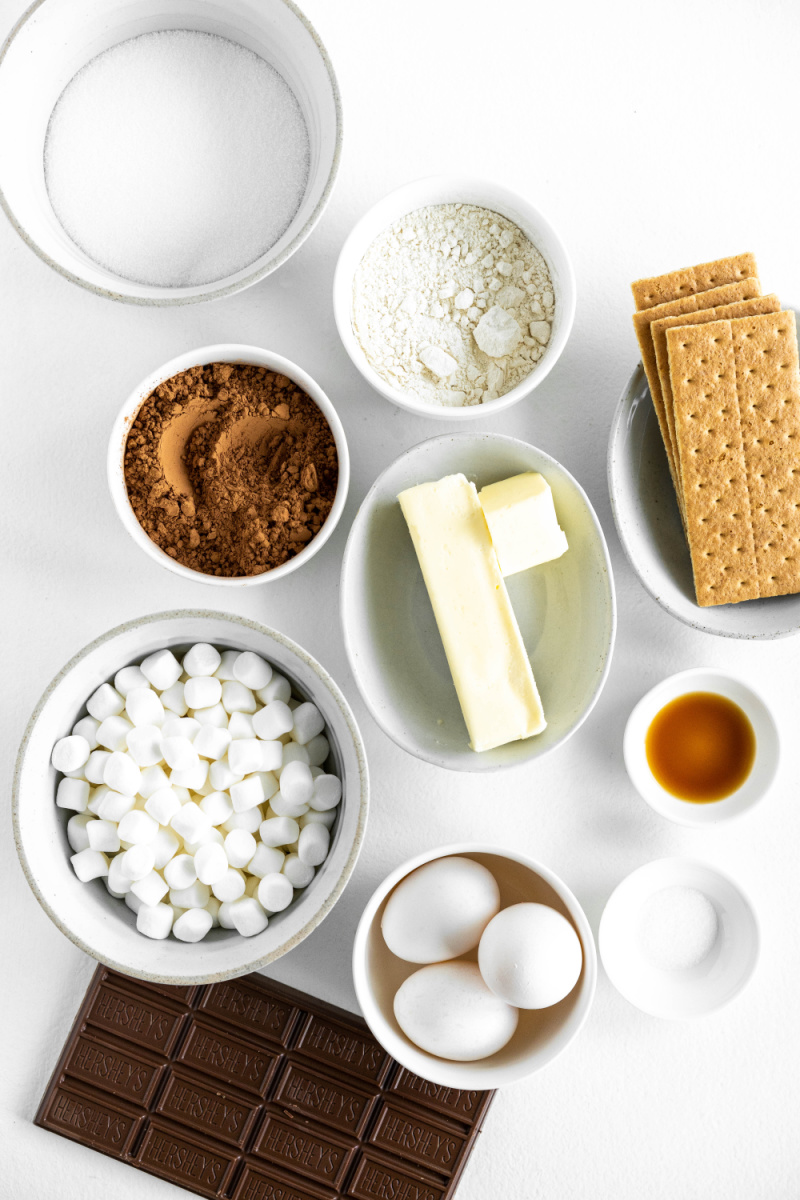 Ingredients needed:
mini marshmallows
graham crackers
Hershey's chocolate bars
unsalted butter
white sugar
vanilla extract
salt
eggs
unsweetened cocoa powder
all purpose flour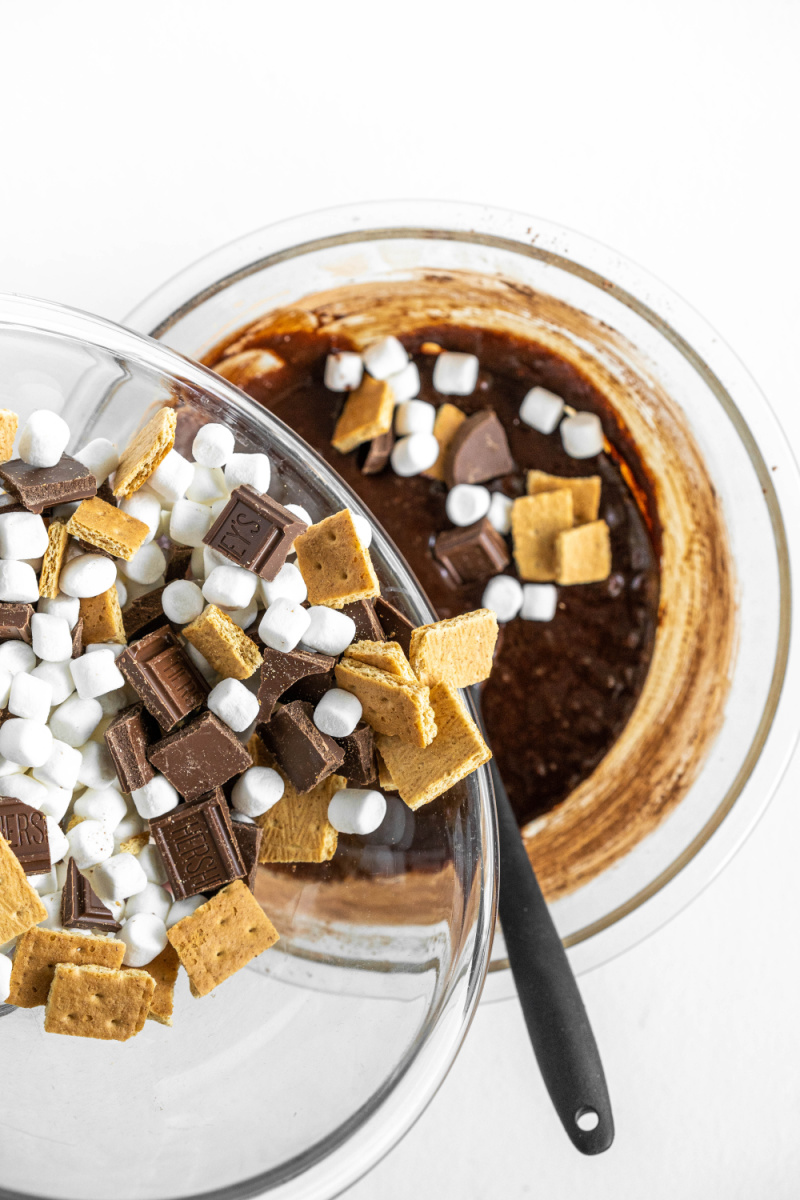 How to make S'Mores Brownies:
Add chopped graham crackers, mini marshmallows and chopped chocolate bars to a bowl.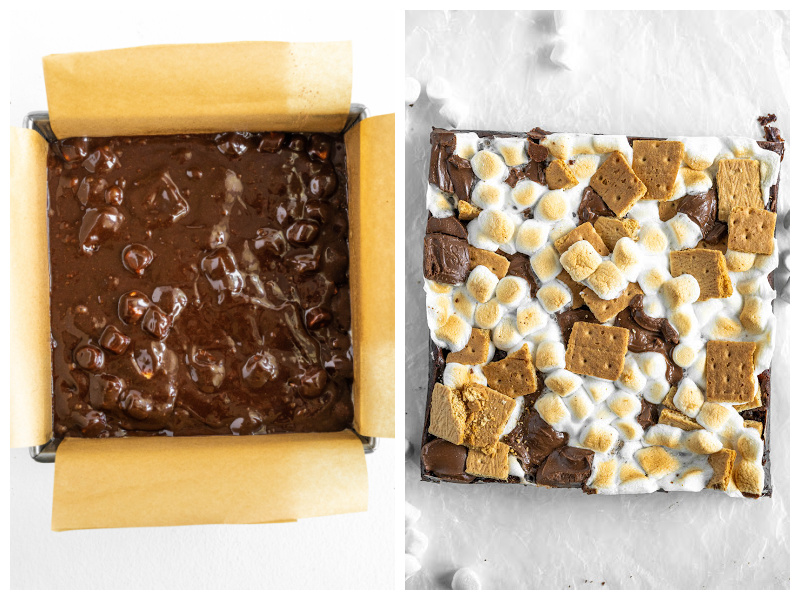 Combine the brownie batter ingredients, and then mix in half of the s'mores ingredients to the batter. Scrape the batter into a square pan and bake for 20 minutes. Then sprinkle the remaining s'mores ingredients on top and bake for a few more minutes.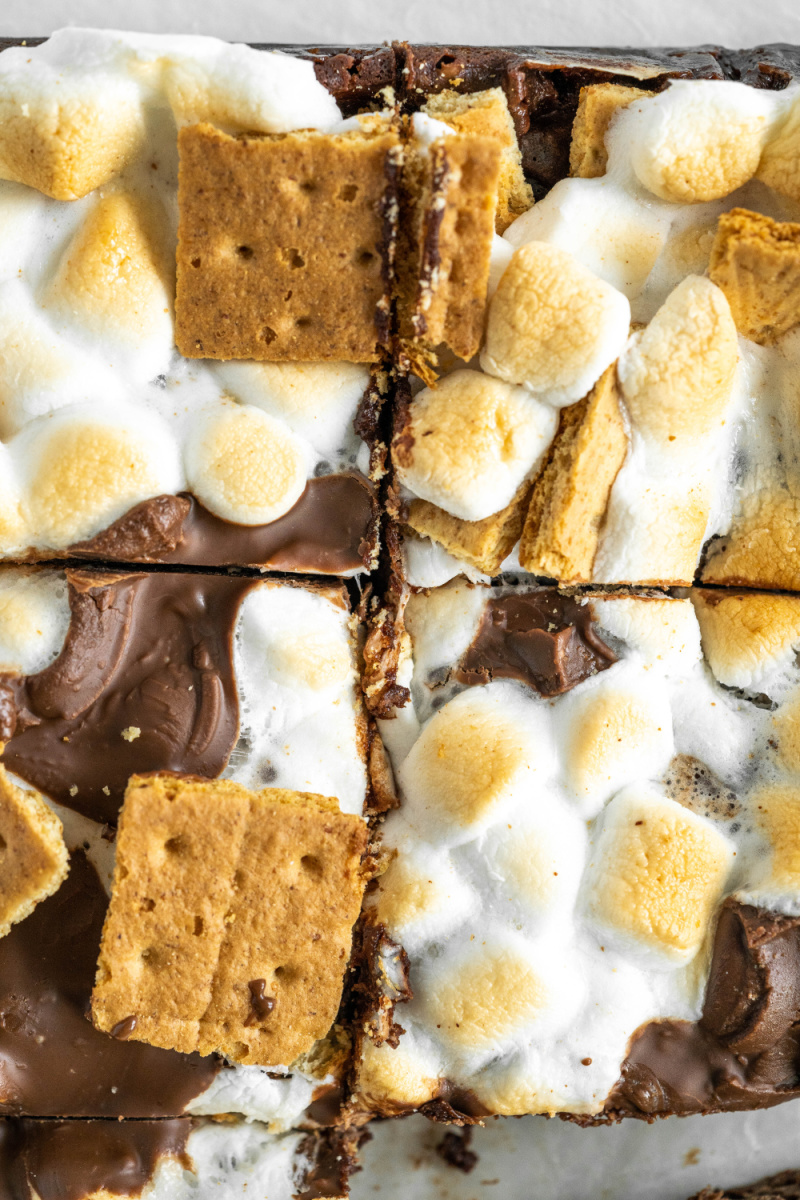 Let the brownies cool, and then take the cooled brownies out of the pan and place them on a cutting board. Cut into 9 slices.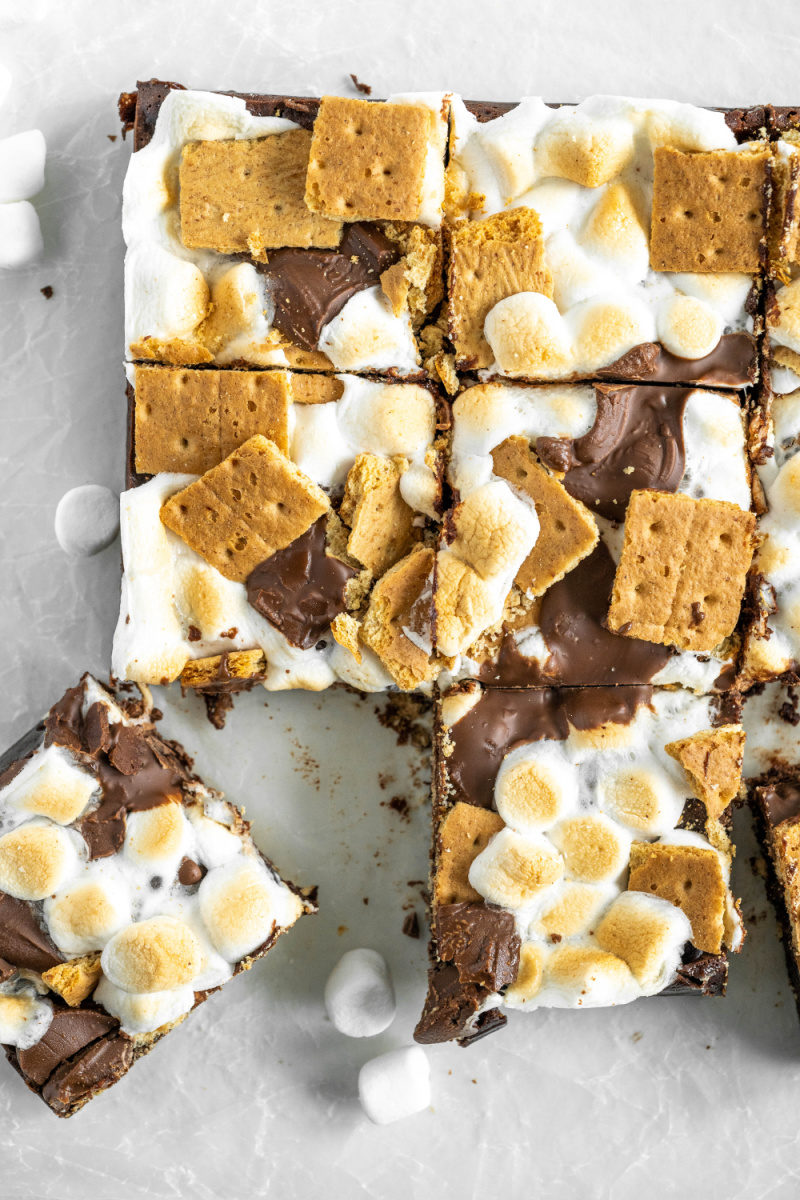 Serve immediately, or place in a sealed container to be served within a couple of days. The recipe makes 9 brownies, so it shouldn't be a problem for them to disappear in a couple days!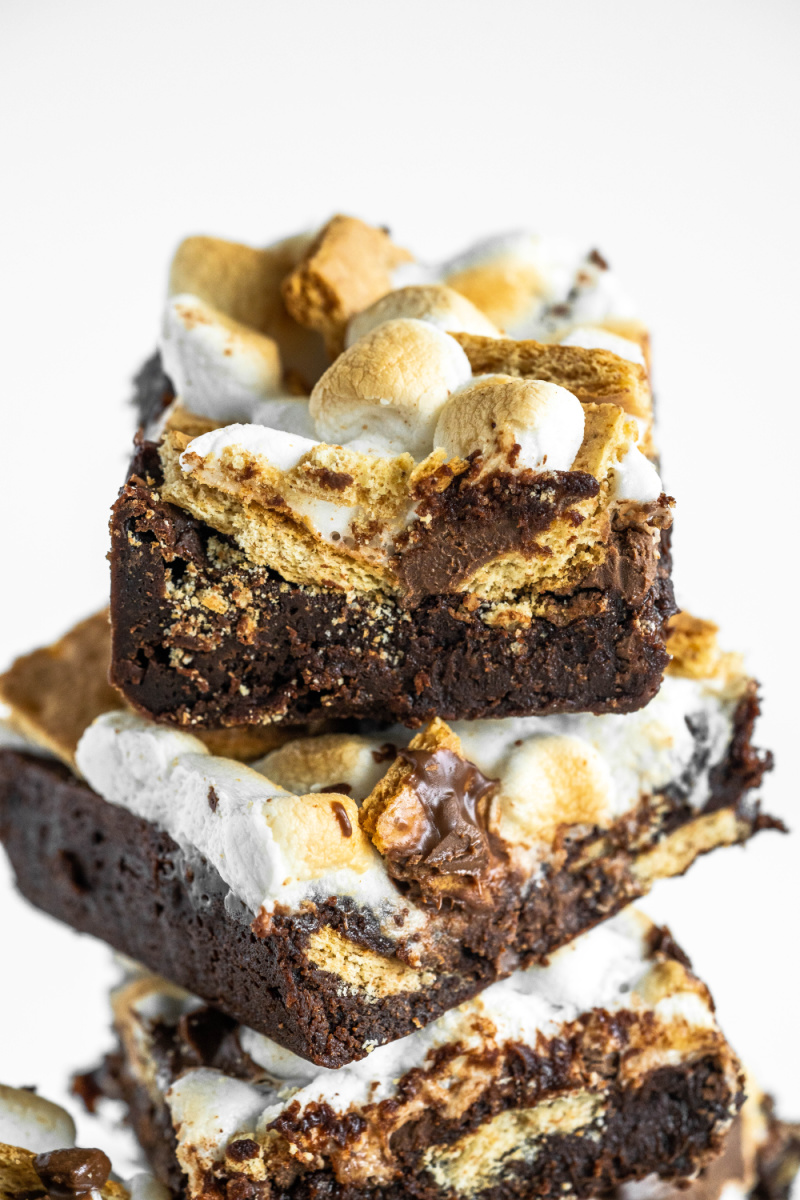 These brownies are fudgy and wonderful (much like my favorite fudgy brownies recipe!) The addition of graham crackers, marshmallows and chocolate bars will give you the feeling that you're sitting in front of an amazing campfire on a perfect summer evening. Enjoy!
Fun Facts About S'Mores:
According to The S'mores Cookbook, Americans buy 90 million pounds of marshmallows every year. It's estimated that, during the summer, approximately 50 percent of marshmallows sold are roasted for s'mores.
Manufacturers have jumped on the bandwagon of the popularity of s'mores by creating ice cream, cereal pop tarts, granola bars, cookies and more!
More s'mores are consumed in Grand Rapids, Michigan than any other place.
It's estimated that 50% of marshmallows are purchased to make s'mores!
The largest s'more was made at Deer Run Camping Resort in Pennsylvania at 267 pounds.
Lots of fun things can be added to s'mores: cookie dough s'mores, raspberry nutella s'mores, peanut butter cup s'mores and more!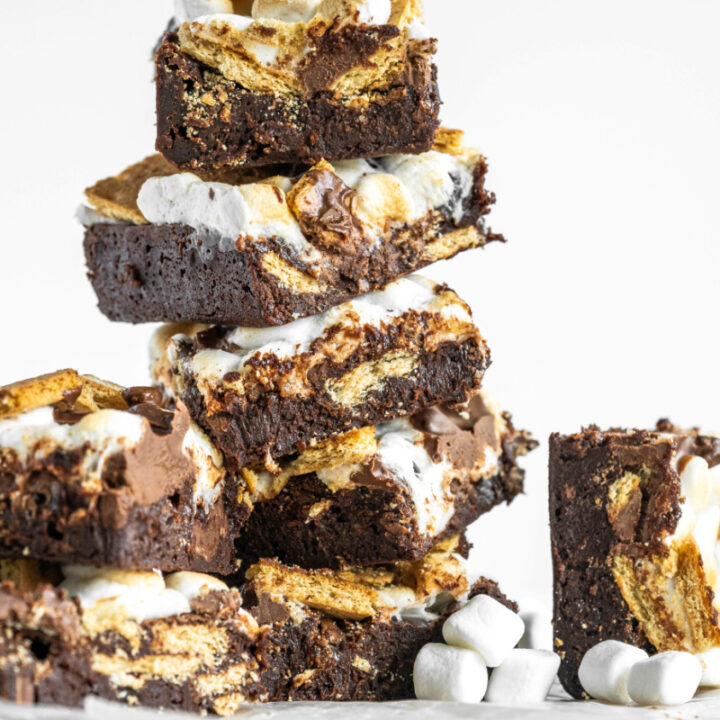 S'mores Brownies
Delicious, fudgy brownies with all of the fixings for s'mores!
Ingredients
S'MORES MIXTURE:
2 cups mini marshmallows
4 graham cracker sheets, cut into large, bite-sized chunks
7 ounces Hersheys Milk Chocolate Bar, chopped into large, bite-sized chunks
BROWNIES:
10 tablespoons unsalted butter
1 1/4 cups granulated white sugar
1 teaspoon vanilla extract
1/4 teaspoon salt
3 large eggs
3/4 cup + 2 tablespoons unsweetened cocoa powder
1/2 cup all purpose flour
Instructions
Preheat the oven to 325 degrees F. Line an 8x8-inch cake pan with 2 sheets of parchment paper so it hangs over all 4 sides. Spray the bottom and sides with nonstick spray.
Add the mini marshmallows, chopped graham cracker, and chopped chocolate to a large bowl and toss gently.
In a medium saucepan, combine the butter and sugar over medium-low heat. Heat until the butter is melted and the sugar is fully dissolved, stirring frequently. Pour the butter mixture into a large bowl and let it cool for 30 seconds to 1 minute. Whisk in the vanilla and salt, and then the eggs. Sift in the cocoa powder and all-purpose flour, and stir to combine. Stir 1/2 of the S'mores Mixture into the batter.
Transfer the batter to the prepared pan, and spread it out evenly. Bake 20 minutes. Remove the brownies from the oven and carefully spread the remaining 1/2 of the S'mores Mixture on top. Return the brownies to the oven and bake until a toothpick inserted in the center comes out a little moist, about 5 to 10 minutes longer. To brown the marshmallows, briefly broil the brownies once they're done baking.
Let the brownies cool before cutting.
Nutrition Information:
Yield:

9
Serving Size:

1
Amount Per Serving:
Calories:

485
Total Fat:

23g
Saturated Fat:

13g
Trans Fat:

0g
Unsaturated Fat:

8g
Cholesterol:

101mg
Sodium:

142mg
Carbohydrates:

65g
Fiber:

3g
Sugar:

47g
Protein:

7g
Nutritional information is estimated using a nutrition calculator. It's not likely to be 100% accurate.