This easy and delicious Blueberry Cheesecake Pie has a graham cracker crust, and it's topped with blueberry pie filling!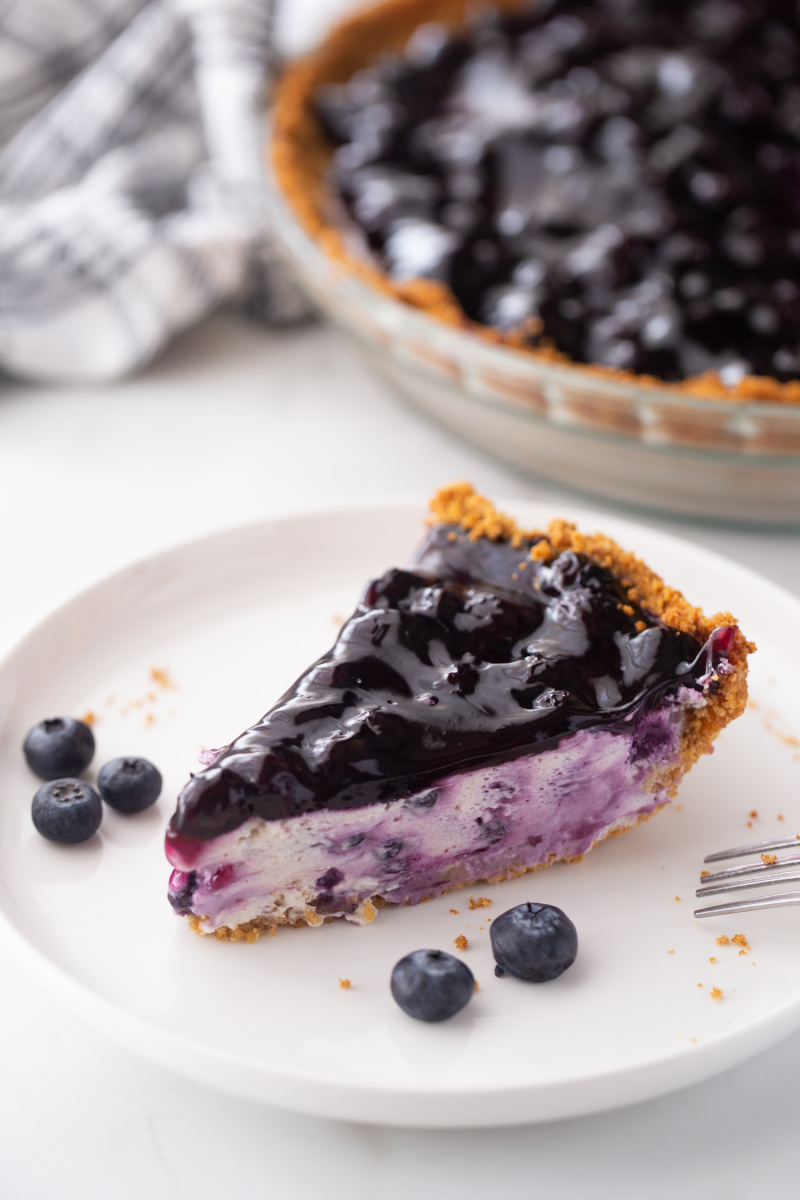 April 28th is National Blueberry Pie Day! This helps kick off blueberry season (May through September). Celebrate by eating some blueberry pie My Blueberry Cheesecake Pie is even better than the classic- especially if you love both pie AND cheesecake. It's an easy pie to bake. You could also bake blueberry lemon hand pies or make blueberry pie ice cream. Share your blueberry pie creation on social media by using the hashtag #NationalBlueberryPieDay or #BlueberryPieDay, along with #RecipesForHolidays. Be sure to also check out my April Food Holidays page, which lists every single food holiday for the month of April.
The History of Blueberries and Blueberry Pie:
Wild blueberries are native to North America and were discovered by Native Americans. They called blueberries "star fruits" because of the 5-pointed star that is formed at the blossom end of a blueberry.
Blueberries became popular during the Civil War (1861-1865). Northern sardine manufacturers lost access to southern markets, so they began canning blueberries instead. They sold them to union soldiers, who really came to love blueberries!
In 1872, the first documented recipe for blueberry pie appeared in the Appledore Cookbook. Production of blueberries to be planted, grown and sold began in the early 1900's. Europe didn't get their hands on blueberries until the 1930's. USA remains the biggest producer of blueberries in the world. Today, Blueberry Pie is one of the most popular pie flavors in the United States.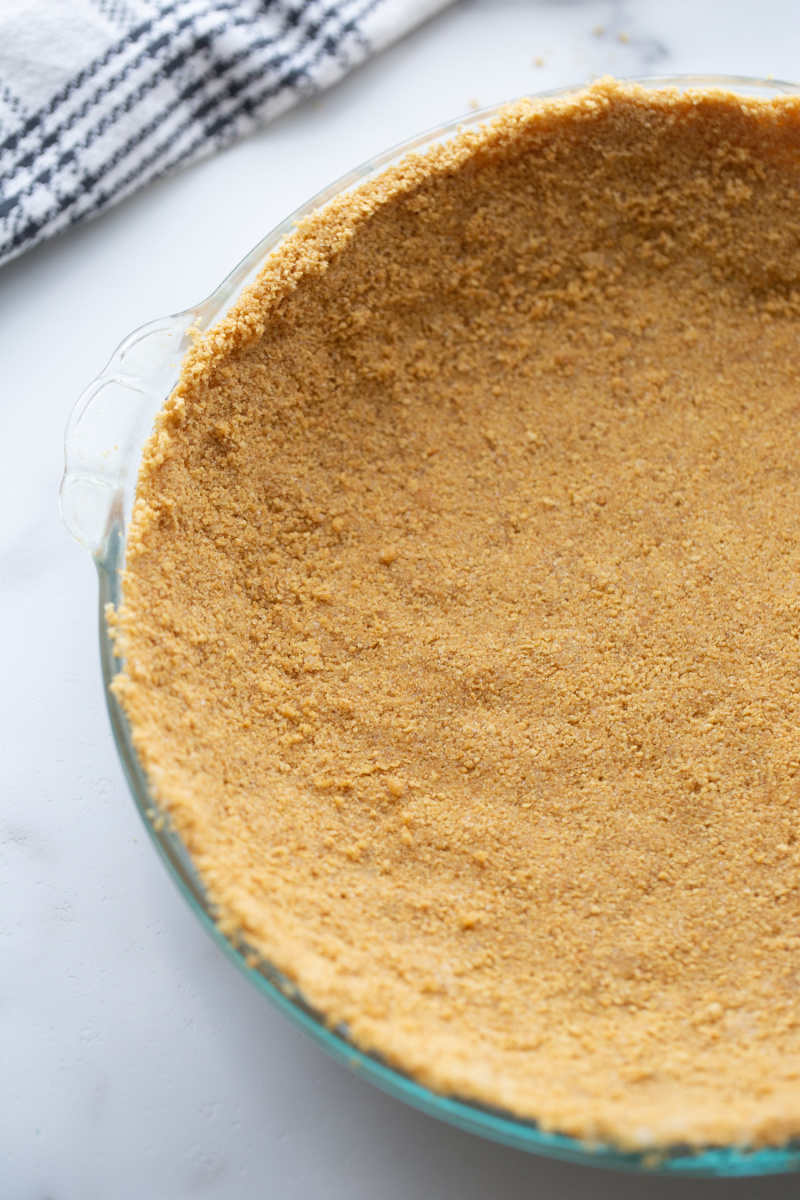 How to make Blueberry Cheesecake Pie:
Unlike traditional blueberry pie, this blueberry cheesecake pie begins with a graham cracker crust. It's a simple mix of graham cracker crumbs, melted butter and sugar. The mixture is pressed into the bottom and up the sides of a pie plate. Then the pie plate with the crust is placed into the freezer while the filling is made.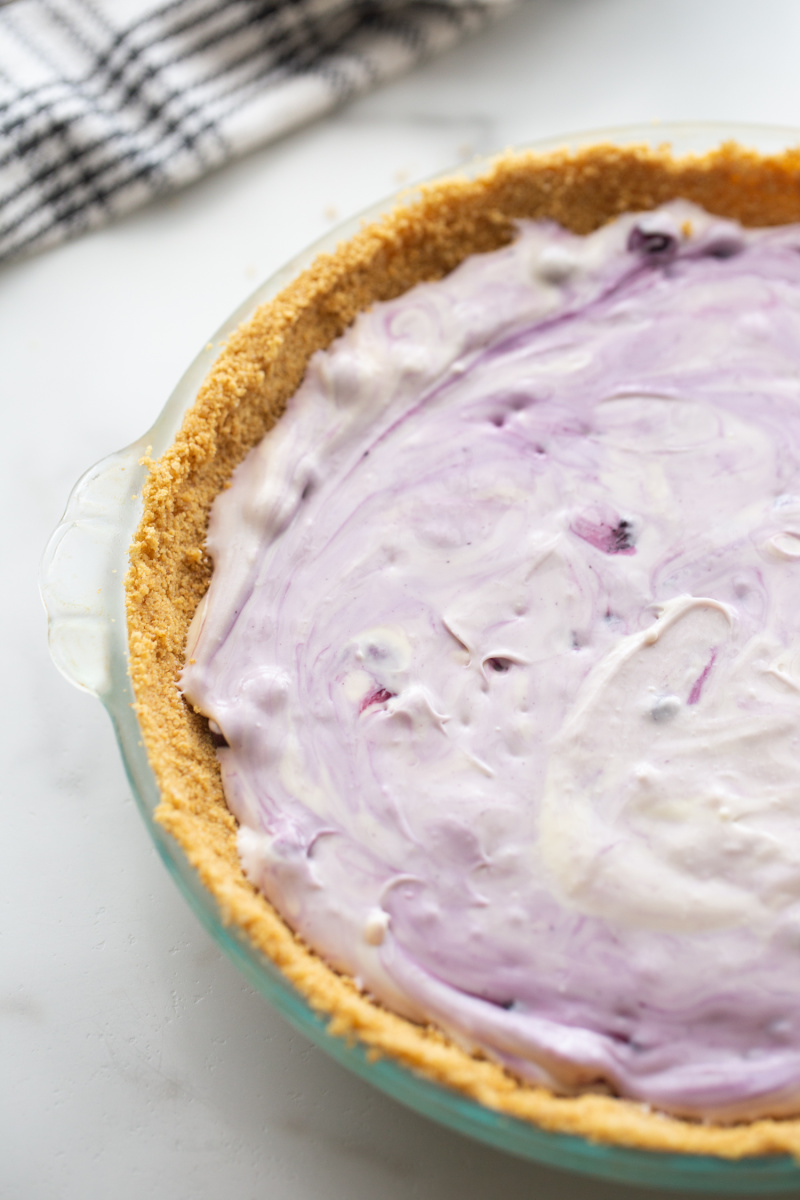 The filling is fabulous. It's a mix of cream cheese, sugar, eggs, lemon zest, vanilla extract and blueberries. It's spooned on top of the frozen graham cracker crust.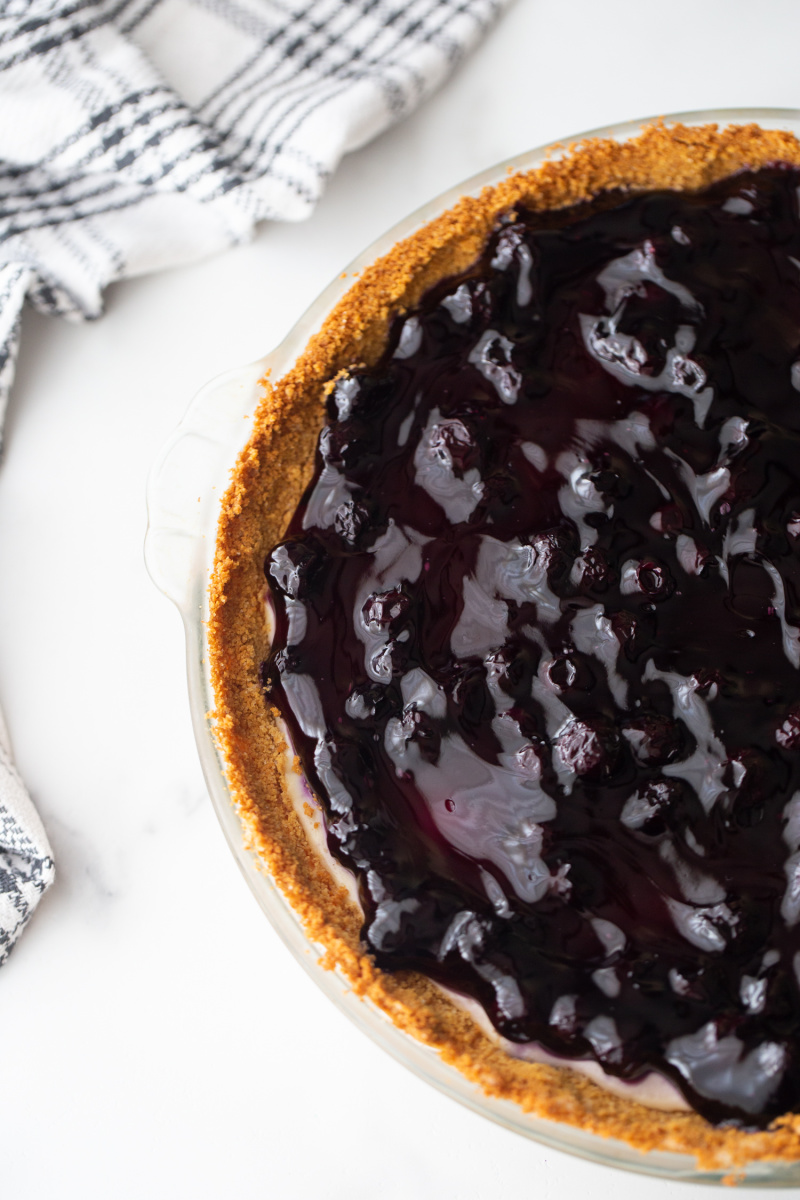 The pie is baked for about 35 minutes. Once cooled, blueberry pie filling is spooned on top. Into the refrigerator it goes to chill for a few hours.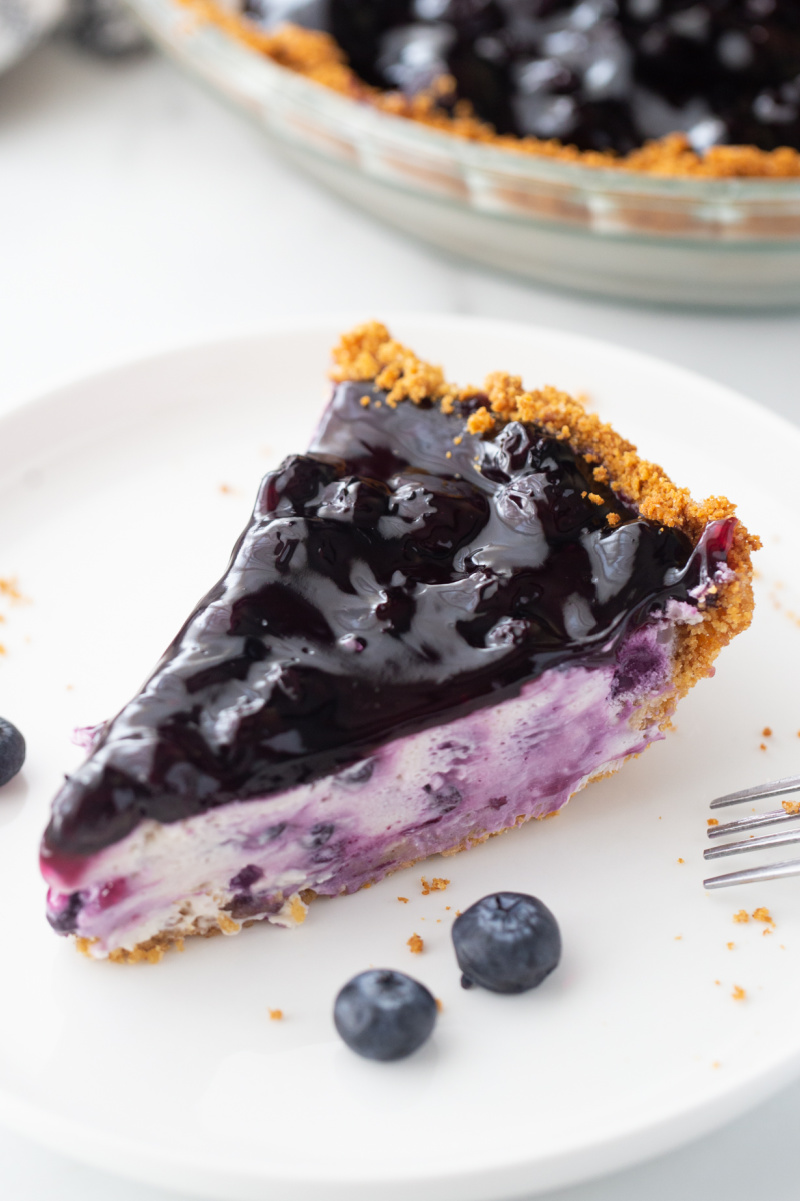 This is such a delicious and easy pie recipe to make for dessert. You can change things up and add chopped cherries to the cheesecake and add cherry pie filling on top (or do the same thing with peaches). Enjoy!
Fun Facts About Blueberries:
The states of Washington and Oregon compete for being the states who are the largest producers of blueberries in the USA.
Maine is the largest producer of wild blueberries.
Blueberry Pie is the state of Maine's official dessert.
A blueberry plant can live up to 60 years.
There are two types of blueberry plants. Highbush blueberries are the blueberries sold in grocery stores. Lowbush blueberries are smaller and sweeter, and they're used for making juices, jams, etc.
Blueberries are high in antioxidants and have great health benefits.
There are 80 calories in 1 cup of blueberries.
Blueberries are one of the only foods that are naturally blue in color.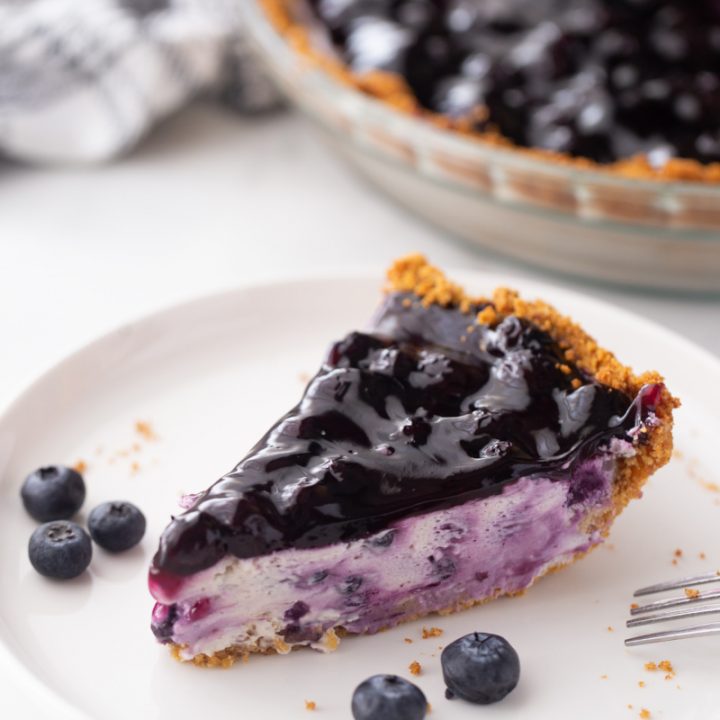 Blueberry Cheesecake Pie
Additional Time:
30 minutes
Total Time:
1 hour
25 minutes
An easy and delicious blueberry cheesecake pie with a graham cracker crust, and it's topped with blueberry pie filling!
Ingredients
CRUST:
1½ cups graham cracker crumbs
6 tablespoons melted butter
¼ cup granulated white sugar
FILLING:
Two 8-ounce packages cream cheese, at room temperature
½ cup granulated white sugar
2 large eggs
1 teaspoon finely grated lemon zest
1 teaspoon vanilla extract
1/8 teaspoon salt
1 cup frozen blueberries (small, wild blueberries are best)
TOPPING:
21 ounces canned blueberry pie filling, chilled
Instructions
PREPARE THE CRUST:
In a medium bowl, combine the crust ingredients. Use clean hands to press into a 9-inch pie plate; place into the freezer for about 30 minutes, or until firm.
PREPARE THE FILLING:
Preheat the oven to 325 degrees F. In a large bowl, use an electric mixer to combine the cream cheese with the sugar, eggs, lemon zest, vanilla and salt until the mixture is smooth. Stir in the frozen blueberries. Scrape the filling into the frozen pie crust. Bake until set, 35 to 40 minutes; let cool.
When the pie is completely cooled, spoon the pie filling on top. Chill for 4 hours or more, and then slice and serve.
Nutrition Information:
Yield:

8
Serving Size:

1
Amount Per Serving:
Calories:

626
Total Fat:

40g
Saturated Fat:

20g
Trans Fat:

0g
Unsaturated Fat:

17g
Cholesterol:

127mg
Sodium:

475mg
Carbohydrates:

62g
Fiber:

1g
Sugar:

27g
Protein:

8g