Oatmeal Lace Cookies are wafer-thin, crunchy oatmeal cookies with holes in them for a see-through appearance, which is how they got their name.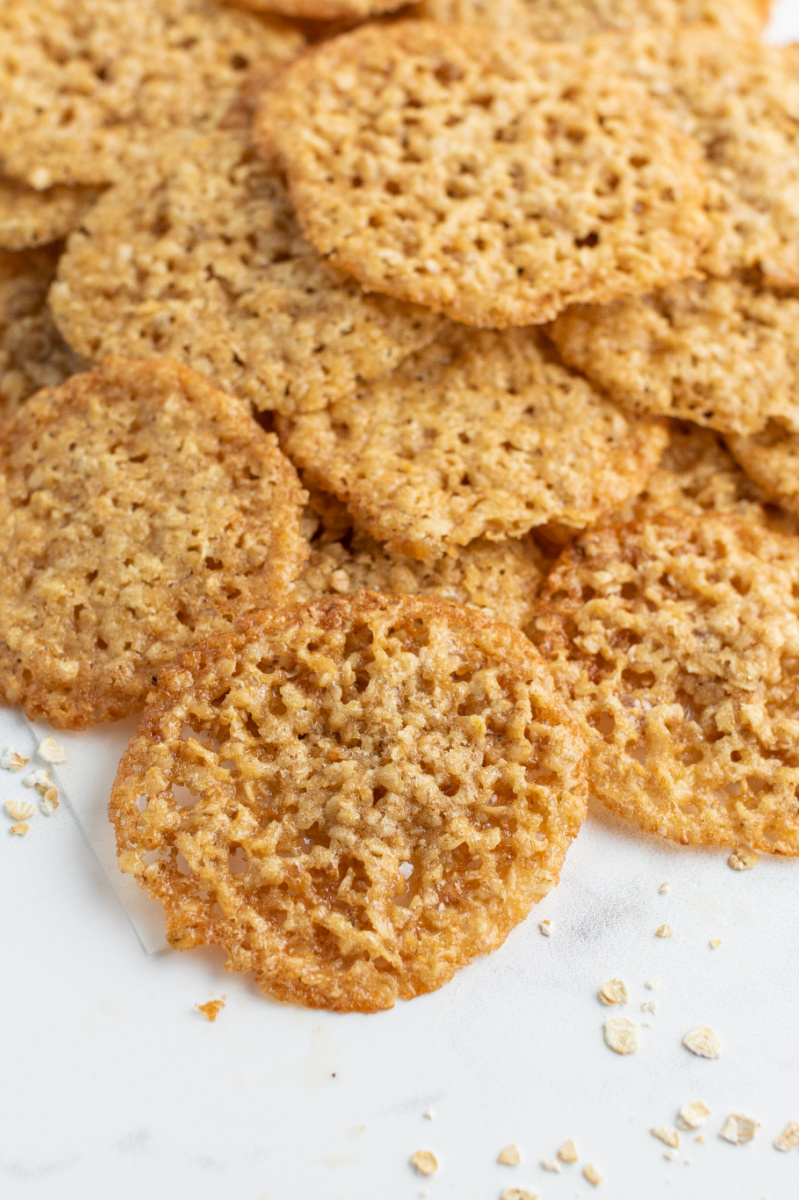 March 18th is National Lacy Oatmeal Cookie Day! Oatmeal Lace Cookies can be made in a variety of ways. Some are made with only oats, others are made with both oats and flour, and there are varieties made with chopped almonds too. Celebrate by baking a batch of Oatmeal Lace Cookies and sharing your baking success on social media using the hashtag #LacyOatmealCookieDay.
Sometimes these cookies are served with a scoop of ice cream. You may also find that people drizzle icing or chocolate on their lace cookies. And because they're unique and pretty, they can be used to decorate cakes and other baked goods too.
History of Oatmeal Cookies:
Oatmeal cookies originated in England in the 1800's. The first known oatmeal cookie recipe was published in Fannie Farmer's Boston Cooking-School Cookbook in 1896. Her version did not contain raisins, but the addition of raisins to oatmeal cookies followed in the early 1900's. Because oatmeal raisin cookies contained vitamin and fiber-rich oats and raisins, they were originally considered "health food." My research didn't come up with any findings that talked specifically about the origin of Oatmeal Lace Cookies.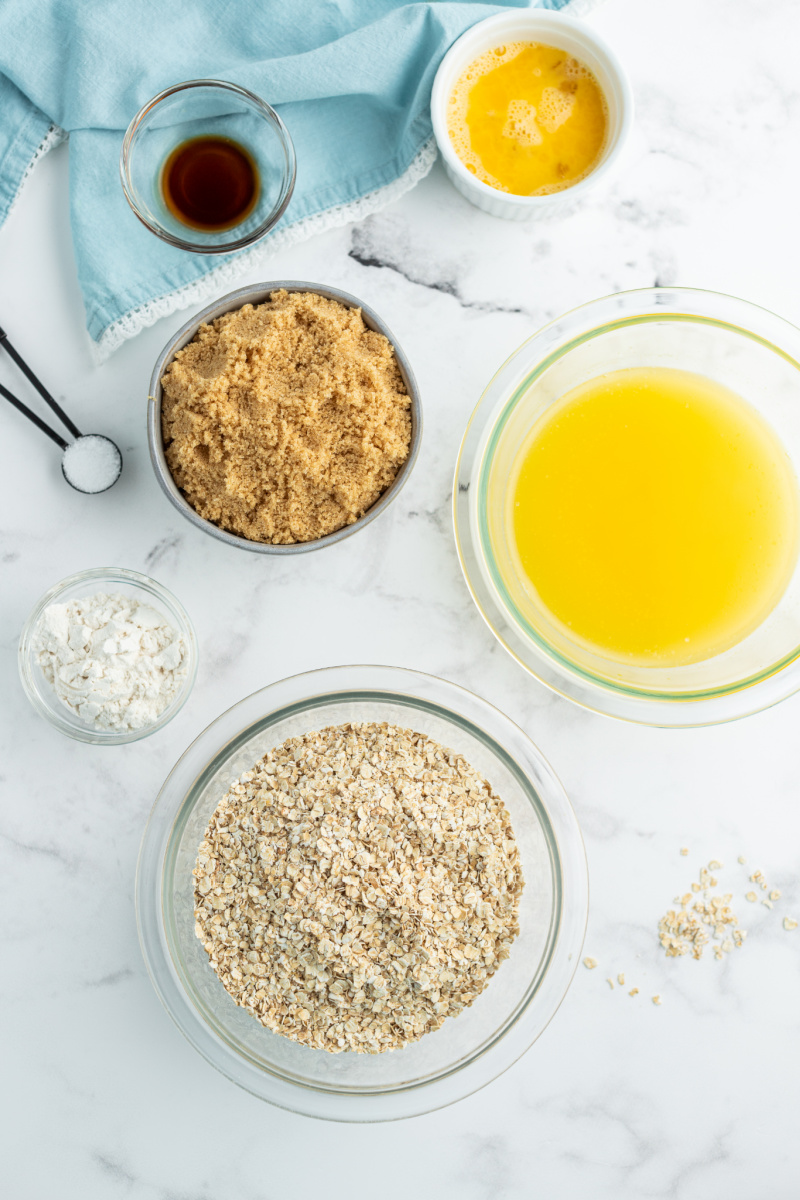 Ingredients needed:
butter
brown sugar
rolled oats
salt
all purpose flour
egg
vanilla extract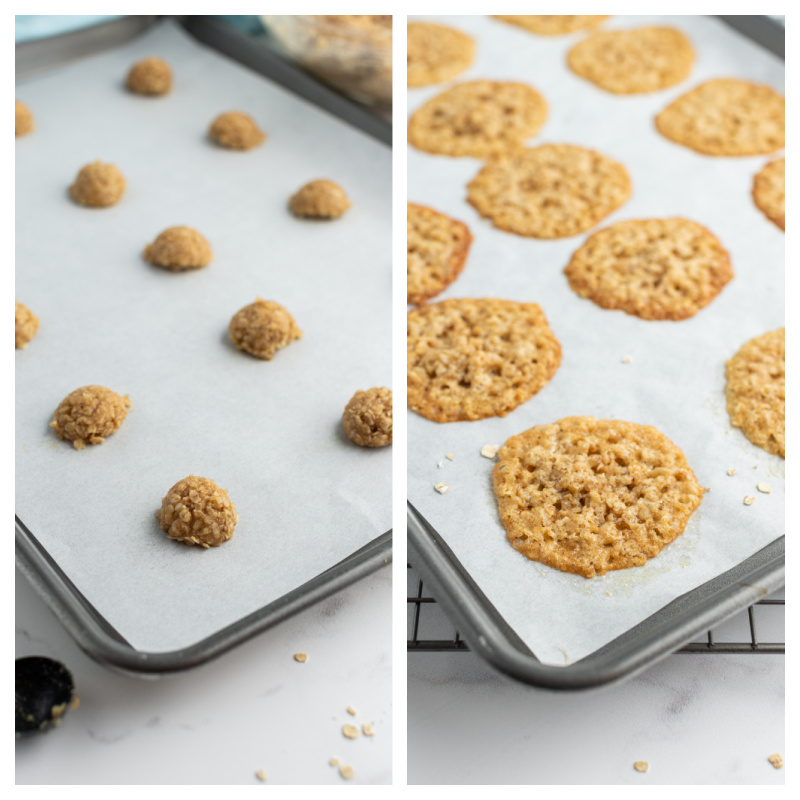 How to make Oatmeal Lace Cookies:
In a bowl, combine melted butter, sugar and oats. Let that mixture stand at room temperature for 2 hours to allow the oats soften and absorb the moisture. The soaking process is one that is recommended by an old Betty Crocker cookbook. You can probably use quick-cooking oats if baking right away, but I have a feeling that the rolled oats give the cookies a nicer texture.
Then add flour, salt, egg and vanilla extract. Stir to combine. Drop level teaspoonfuls of the dough 2-inches apart on parchment or silpat-lined baking sheets. Bake 5 to 7 minutes, until the are brown around the edges. Let them cool until they're firm, then transfer to a cooling rack to cool completely.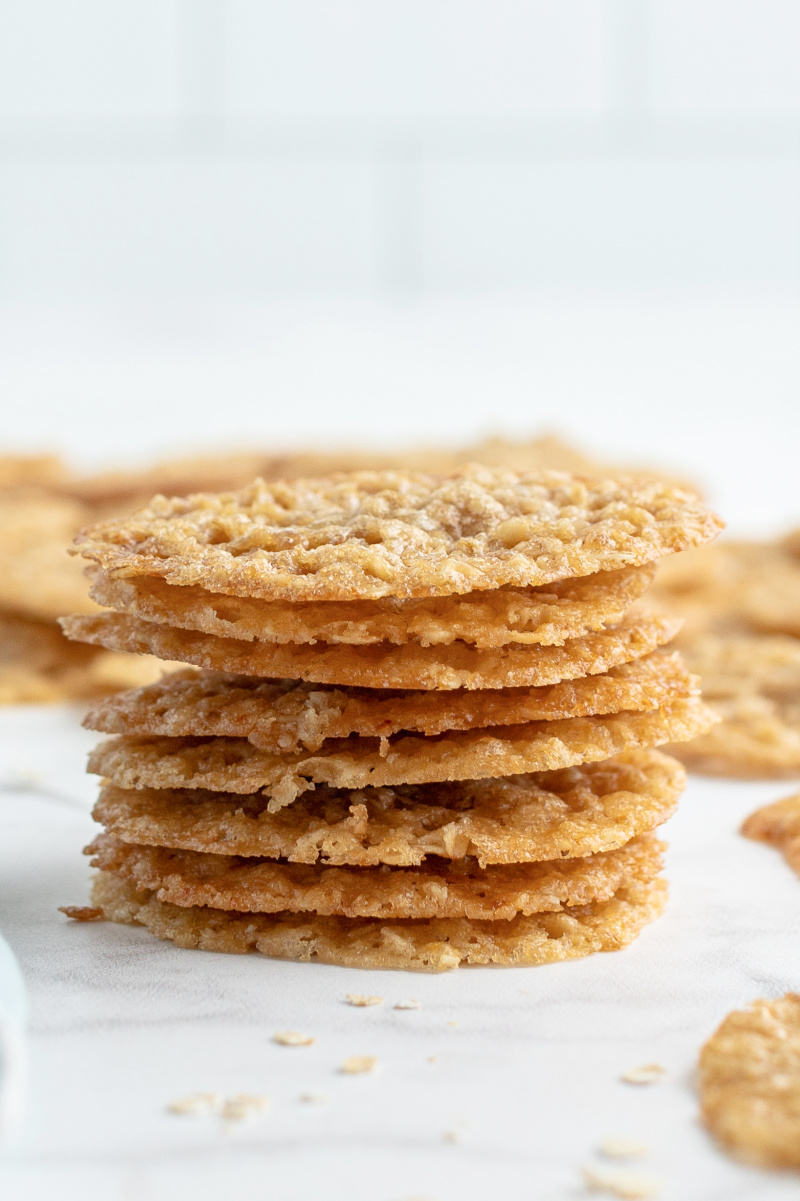 These cookies are thin and crisp. The brown sugar and butter in the recipe gives them a caramel- butterscotch flavor.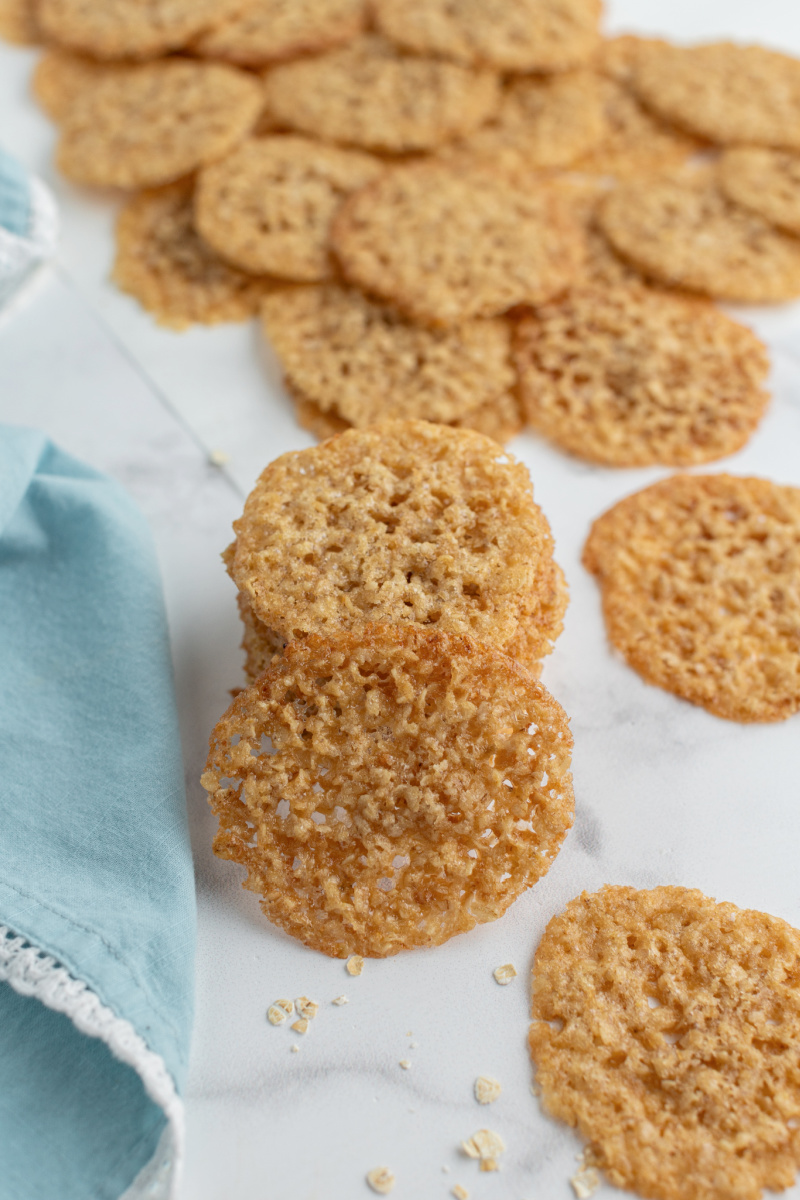 This recipe makes a lot of cookies- 6 dozen! Plan to share with others. Stack them and wrap in a bag to gift to friends and neighbors!
How to store Oatmeal Lace Cookies:
Keep these cookies stored in a sealed container, dividing layers by wax paper. They'll stay fresh at room temperature for up to three days. Alternately, freeze the container and they'll stay good in the freezer for up to one month.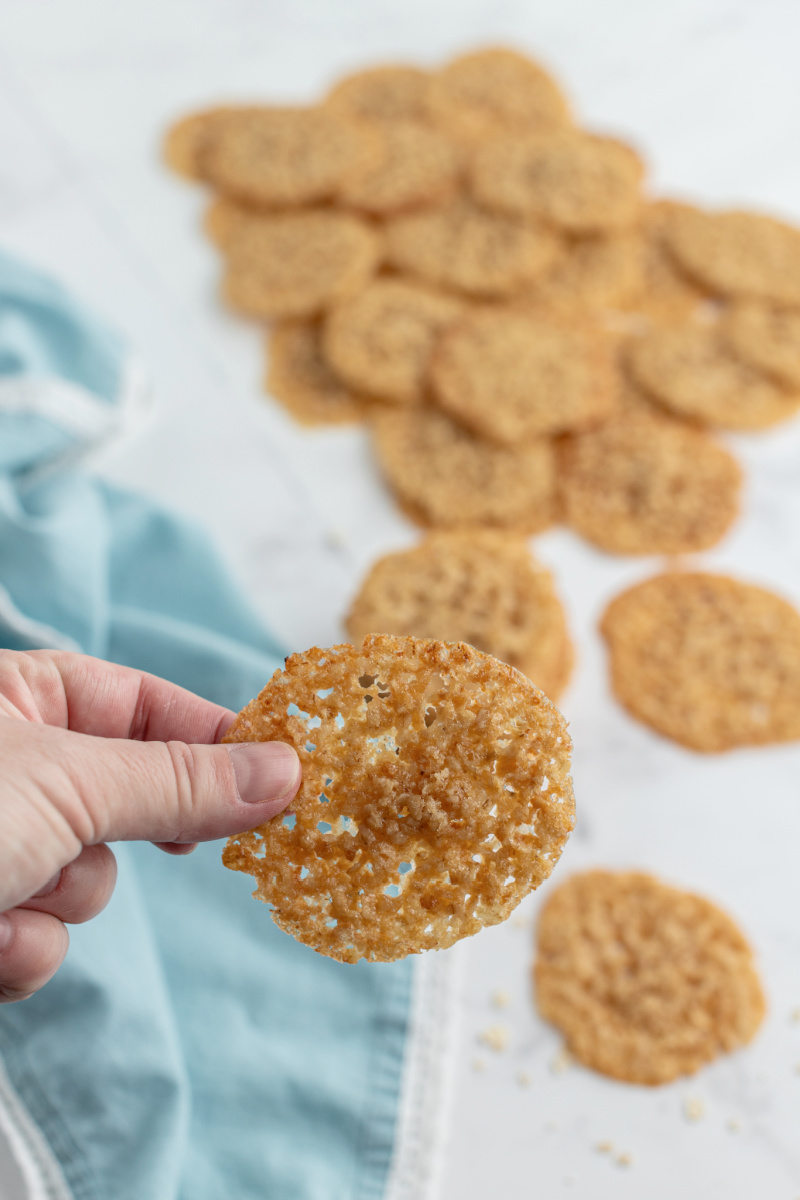 Add this recipe to your collection of cookie recipes, and you'll want to bake them often. They're a great cookie for a holiday cookie exchange too!
Variations of Oatmeal Lace Cookies:
Drizzle white or dark chocolate on top.
Dip half of the cookie in chocolate.
Use almond extract instead of vanilla.
Make Florentine Lace Cookies instead (the chopped almond version of oatmeal lace cookies).
Add in orange or lemon zest.
Crumble any broken cookies, and use them as a topping for ice cream.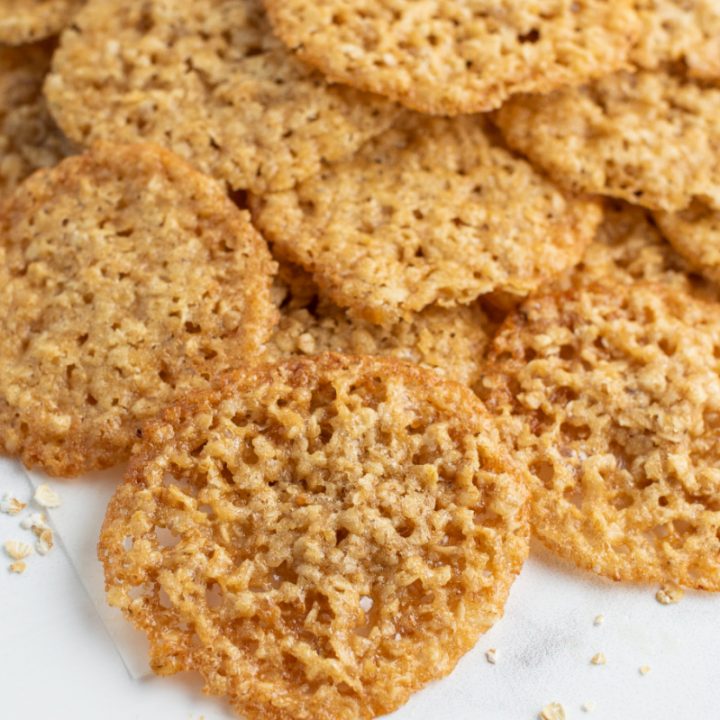 Oatmeal Lace Cookies
Total Time:
2 hours
21 minutes
These thin cookies are light and crisp!
Ingredients
1 cup (2 sticks) butter, melted
1 ½ cups packed brown sugar
2 ¼ cups rolled (old fashioned) oats
3 tablespoons all purpose flour
½ teaspoon salt
1 large egg, beaten
1 teaspoon vanilla extract
Instructions
In a large bowl, add the sugar to the butter and stir to combine. Add the oats and let stand at room temperature for at least 2 hours so the oats have a chance to absorb the butter.

Preheat the oven to 375 degrees F. Line a baking sheet with parchment paper or silpat mats.

Add the remaining ingredients to the bowl and stir to combine. Drop level teaspoonfuls of the dough 2-inch apart on the prepared baking sheets. Bake 5 to 7 minutes, or until the cookies are brown around the edges. Allow the cookies to cool for a few minutes until they are firm, and then move them to a cooling rack to cool completely.
Nutrition Information:
Yield:

72
Serving Size:

1 cookie
Amount Per Serving:
Calories:

49
Total Fat:

3g
Saturated Fat:

2g
Trans Fat:

0g
Unsaturated Fat:

1g
Cholesterol:

9mg
Sodium:

37mg
Carbohydrates:

6g
Fiber:

0g
Sugar:

4g
Protein:

0g
Nutritional information is estimated using a nutrition calculator.