Amaretto Bundt Cake is a delicious bundt cake with the fabulous flavor of Amaretto and a sweet Amaretto glaze.
Amaretto is an almond flavored liqueur that is often used in baked goods or cocktails. This liqueur may or may not contain actual almonds (it can be made from apricot pits, peach stones or almonds). Amaretto means "a little bitter" in Italian.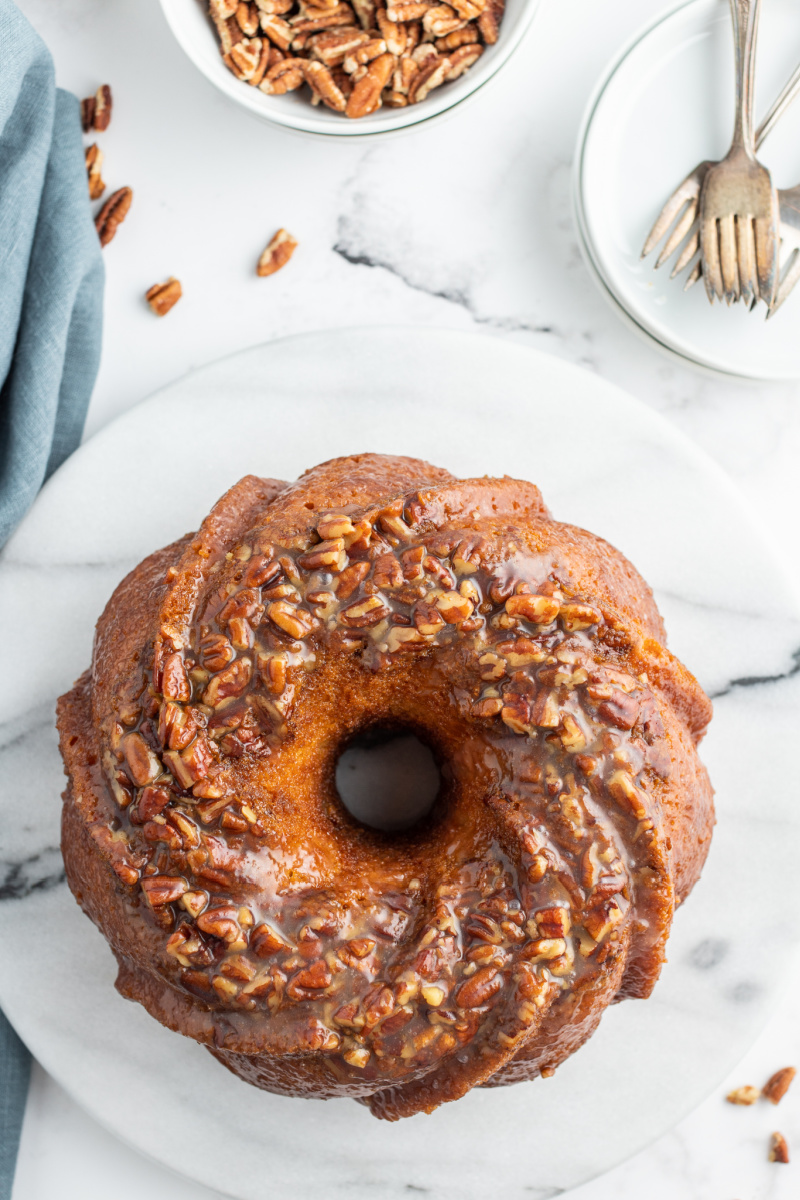 April 19th is National Amaretto Day. Celebrate by drinking a glass of Amaretto liqueur, make your favorite cocktail with Amaretto, add it to your coffee or food preparation, or bake this Amaretto Bundt Cake! Share your Amaretto treat on social media using the hashtag #NationalAmarettoDay or #AmarettoDay.
The History of Amaretto:
In 1525, an artist was commissioned to paint the Virgin Mary in a Soronno (Italian) church. He used a young widow in the town as his muse. She fell madly in love with the artist during the project, and gave him a flask of liqueur as a gift (apricot kernels steeped in brandy with added spices). In 1600, Giovanni Reina discovered the young widow's recipe, and began passing it down in his family from generation to generation. In the early 20th century, a member of the Reina family began producing Amaretto di Soronno. The company is still owned and operated by the Reina family to this day.
The same family that created Amaretto cookies (the Lazzaroni family) also claimed fame to having been the creators of Amaretto. They made Amaretto cookies for the King of the region in 1786. In 1851, they created an Amaretto liqueur. Their version, however, was very different- the liqueur was created by steeping Amaretto cookies in alcohol.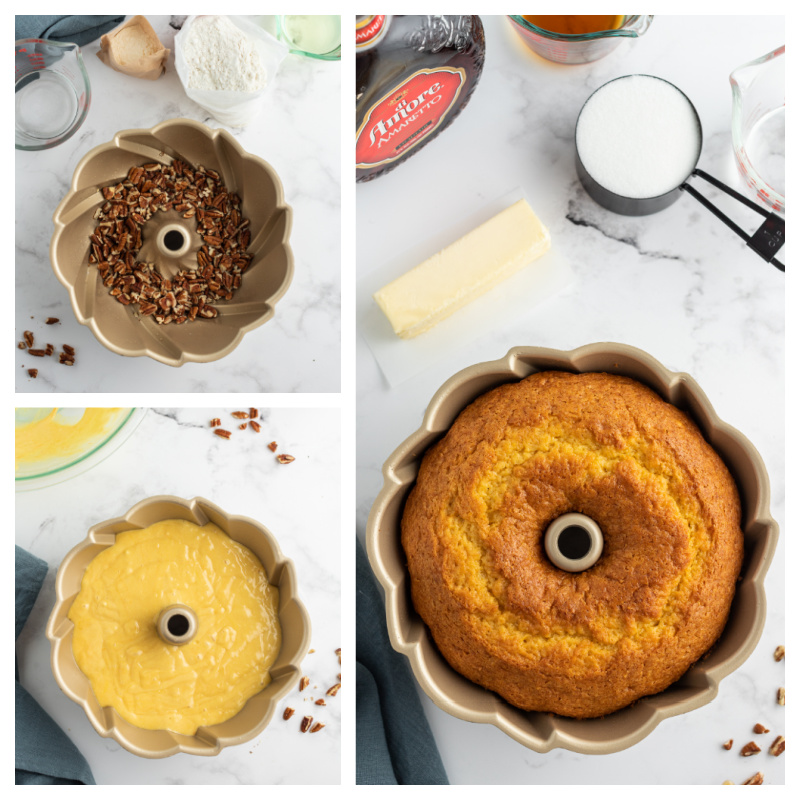 How to make Amaretto Bundt Cake:
Place chopped nuts in the bottom of a bundt pan. Amaretto is an almond liqueur, so you can certainly use chopped almonds. We used chopped pecans in the photos for this cake. It's good with both almonds or pecans!
The batter is made using a yellow cake mix combined with a box of vanilla pudding, eggs, oil, water and Amaretto. The batter is poured right over the nuts in the pan, and then the cake is baked until golden.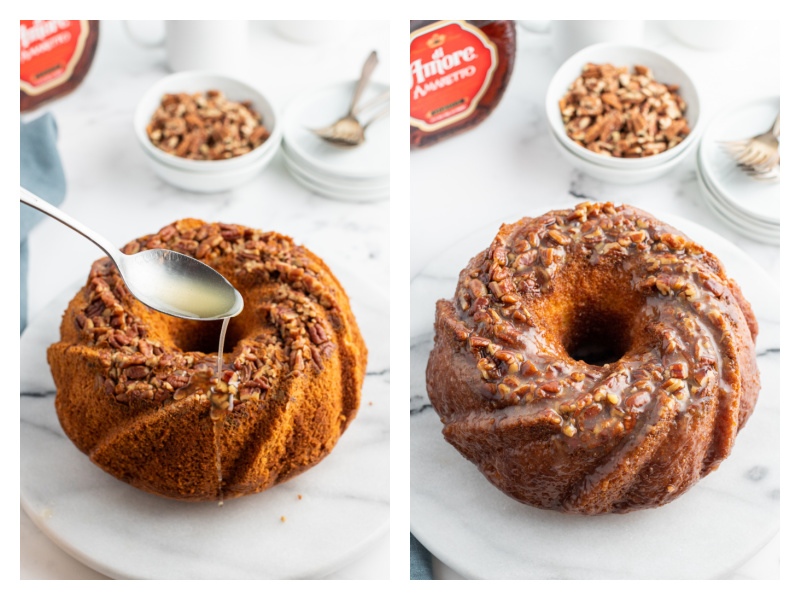 When you pop the cake onto a rack, the nuts will be on top of the cake! Then you'll mix up the glaze. It's a mix of butter, water, sugar and Amaretto. The glaze is spooned over the top of the cake.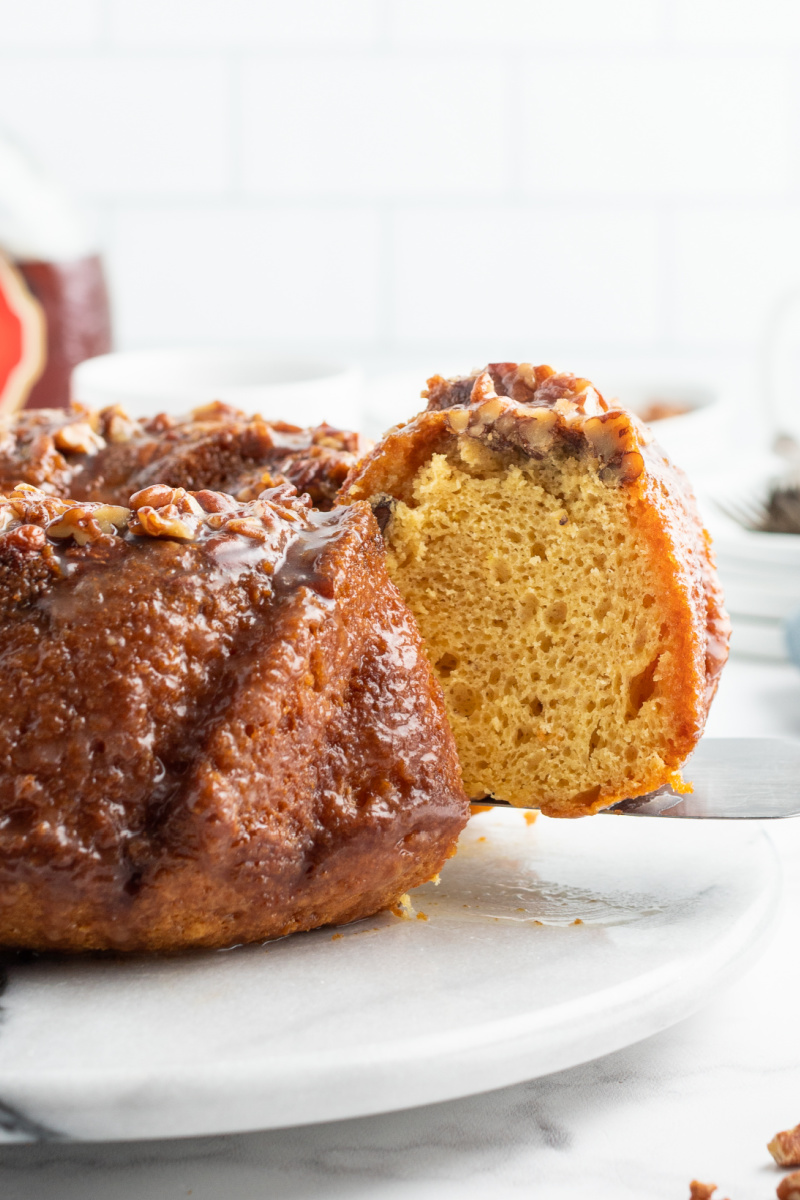 The result is a sweet and very moist cake with the delicious flavor of Amaretto liqueur.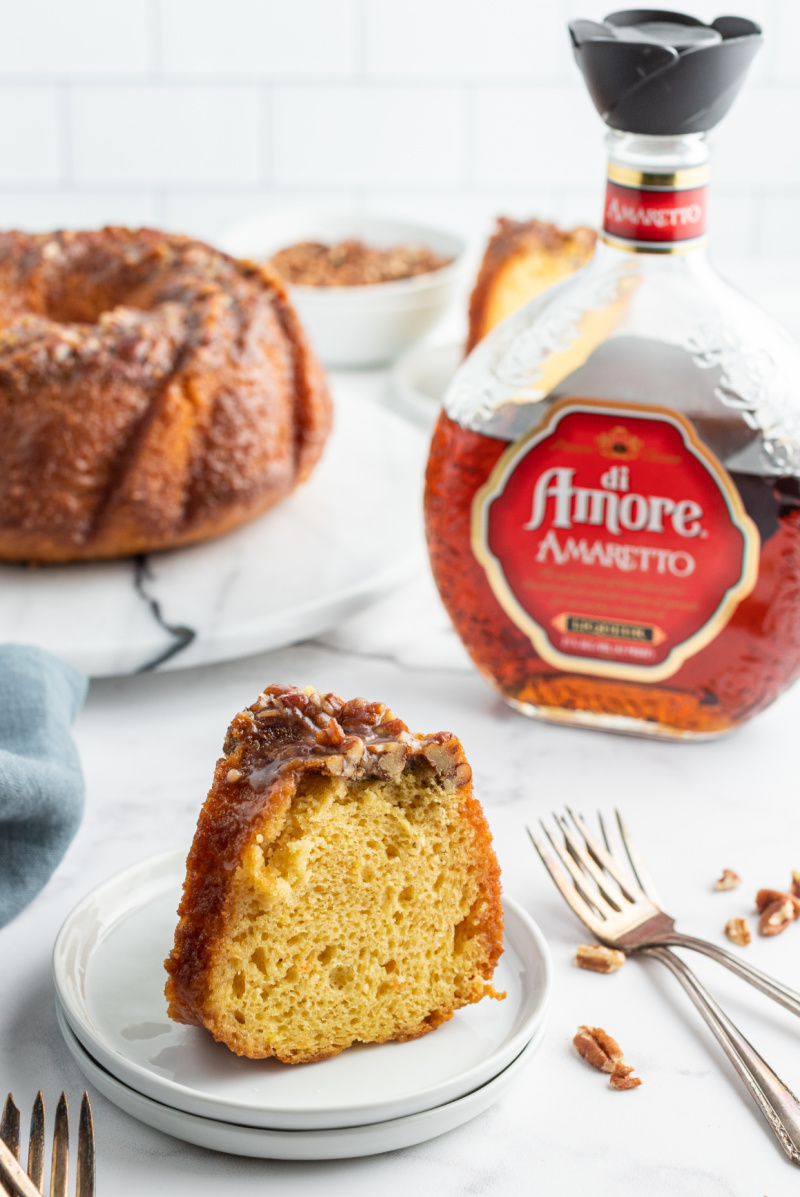 Of course, I suggest serving it with a little bit of the liqueur itself, if you wish. Or add it to coffee!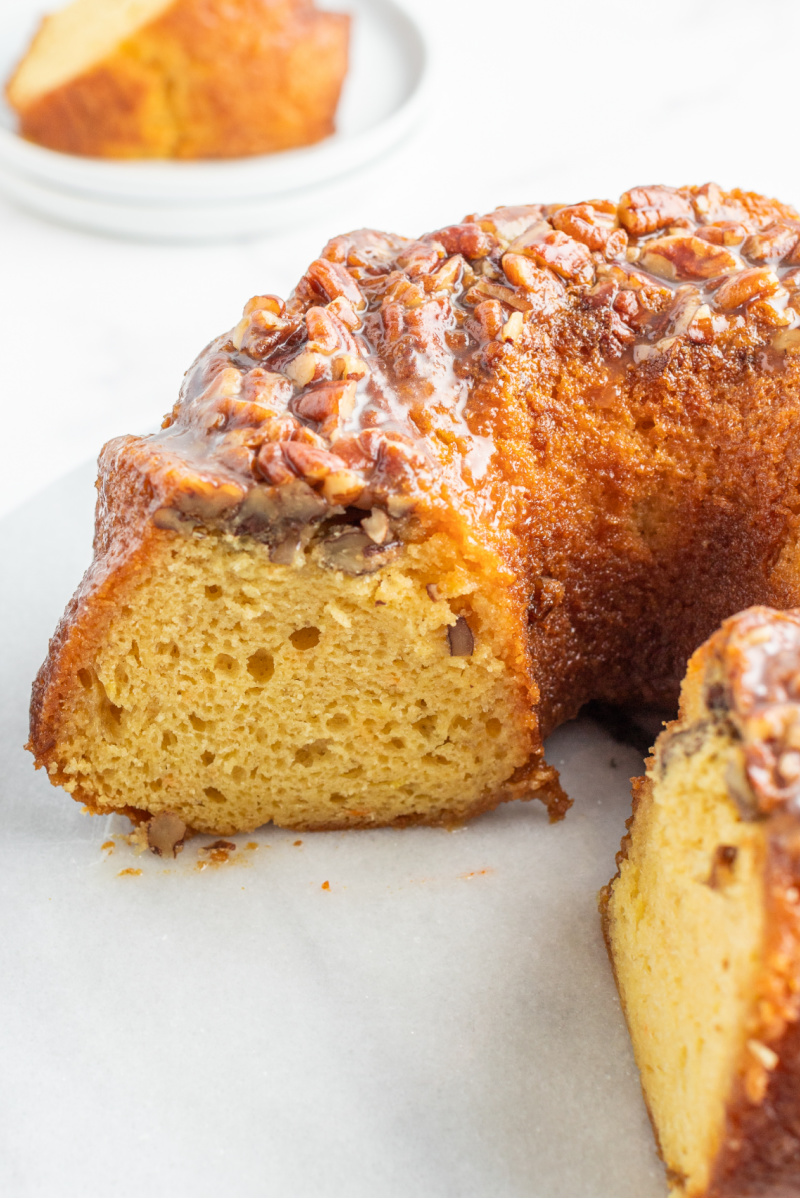 Keep leftovers wrapped or in a well-sealed container. Everyone will love this cake. Enjoy!
10 Ways to use Amaretto:
Make a cocktail (like an Amaretto Sour), or add it to coffee.
Use Amaretto as a flavoring for chocolate truffles.
Add it to sautéed bananas, and use those to top ice cream.
Use Amaretto in dessert sauces, like butterscotch or caramel.
Bake Amaretto cookies.
Use it to make an almondine sauce for fish and vegetables.
Steep cherries with Amaretto to add to cocktails.
Add it to jam.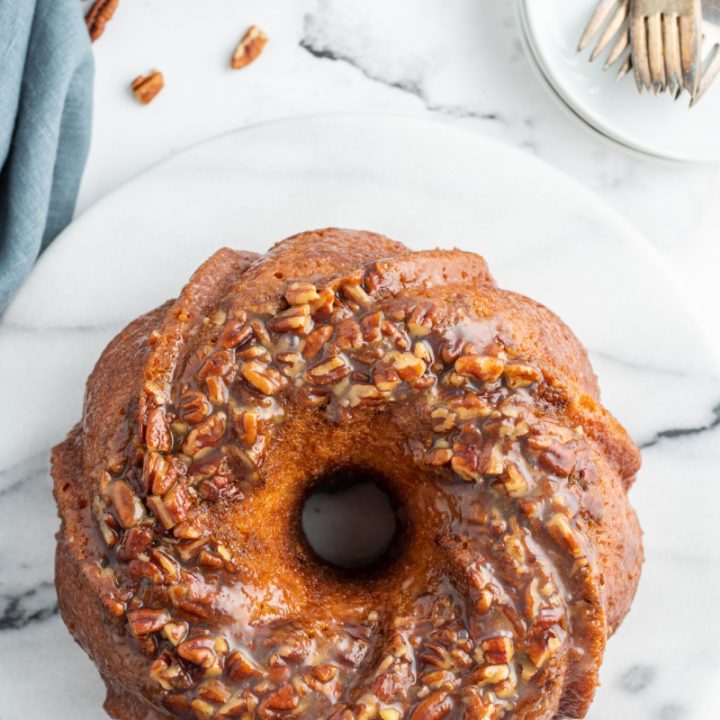 Amaretto Bundt Cake
Total Time:
1 hour
15 minutes
A delicious bundt cake with the fabulous flavor of Amaretto with a sweet Amaretto glaze.
Ingredients
CAKE
1 cup chopped almonds or pecans
One 15.25-ounce box yellow cake mix
One 3.4-ounce box instant vanilla pudding
4 large eggs
1/4 cup water
1/2 cup vegetable or canola oil
3/4 cup Amaretto liqueur
GLAZE:
1/2 cup (1 stick) salted butter
1/4 cup water
1 cup granulated white sugar
1/4 cup Amaretto liqueur
Instructions
MAKE THE CAKE:
Preheat oven to 325°F. Grease and flour 10-inch bundt pan.
Sprinkle chopped nuts evenly over the bottom of the pan.
In a large bowl, combine the cake and pudding mixes. Add the eggs, water, oil and liqueur. Beat for 5 minutes at high speed. Pour the batter over the nuts in pan.
Bake 60 minutes, or until a toothpick inserted into the center of the cake comes out clean. Cool for 10 minutes in the pan.
MAKE THE GLAZE:
Prepare the glaze while the cake is cooling in the pan. Combine the butter, water and sugar in small saucepan. Bring to a boil, then reduce the heat to simmer and stir until the sugar is dissolved. Remove from heat and stir in the Amaretto.
Invert the cake onto a serving dish. Prick the top and sides of the cake. Spoon the glaze over the top and brush onto the sides of the cake. Allow the cake to absorb the glaze; repeat until all glaze is used.
Nutrition Information:
Yield:

12 servings
Serving Size:

1
Amount Per Serving:
Calories:

525
Total Fat:

25g
Saturated Fat:

7g
Trans Fat:

1g
Unsaturated Fat:

16g
Cholesterol:

82mg
Sodium:

431mg
Carbohydrates:

60g
Fiber:

2g
Sugar:

43g
Protein:

6g
Nutritional information is figured using a nutrition calculator and may not be 100% accurate.