Classic Vanilla Cupcakes are the most delicious homemade cupcakes with a tender crumb. They are topped with a simple, wonderful vanilla frosting too.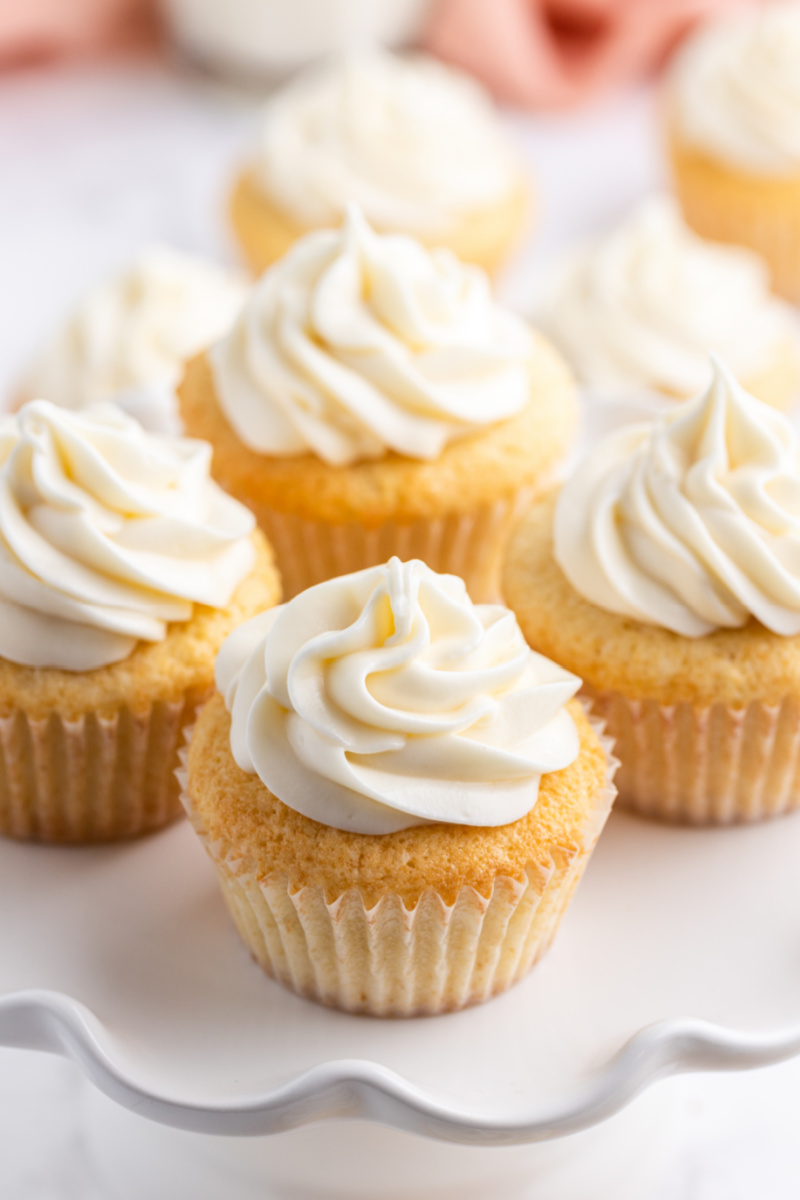 November 10th is National Vanilla Cupcake Day! Celebrate by visiting your favorite bakery and ordering the best vanilla cupcake they have. Or you can bake these Classic Vanilla Cupcakes at home and share them with those around you! Share on social media and use the hashtags #NationalVanillaCupcakeDay, #VanillaCupcakeDay and #RecipesForHolidays. Be sure to follow my November Food Holidays page so you don't miss any food holidays for the month of November!
The History of Cupcakes:
The first cupcake was invented in 1776. It was a light cake baked in small cups. Back in those days, cupcakes were called 1234 cakes. The basic cupcake recipe called for 1 cup butter, 2 cups sugar, 3 cups flour and 4 eggs (plus 1 cup milk and a spoonful of baking soda).
Cupcakes gained in popularity in 1919 when Hostess began production of cupcakes.
Frosting wasn't added to cupcakes until the 1920's. Cupcakes were frosted with chocolate or vanilla frosting.
Cupcakes surged in popularity in the early 2000's when cupcake bakeries like Magnolia started popping up. The TV show, Sex and the City featured Magnolia Bakery on their show… and all of the sudden there was a cupcake craze!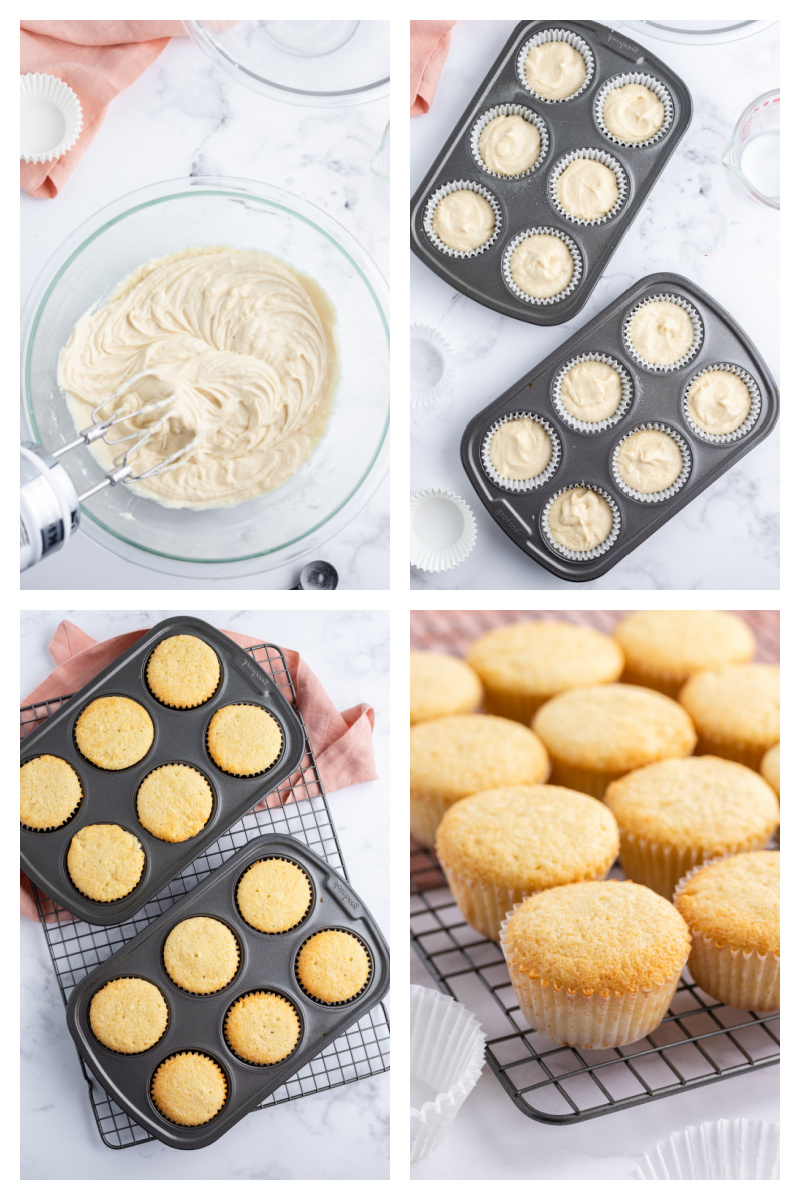 How to make Classic Vanilla Cupcakes:
Mix up the batter, and divide it between 12 paper-lined muffin cups. Bake for 20 minutes. Let them cool completely.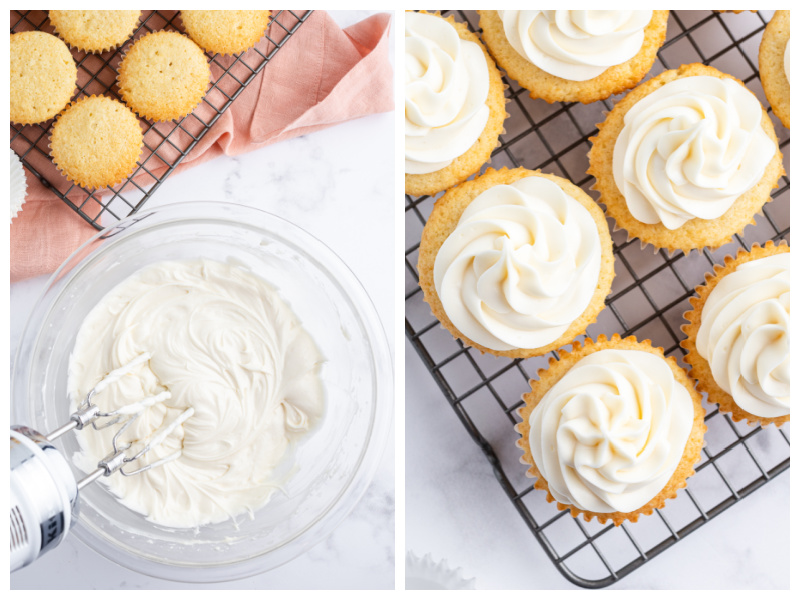 Use a hand mixer to combine the frosting ingredients. Frost the cupcakes! Spread it on top, or use a piping bag to apply the frosting decoratively.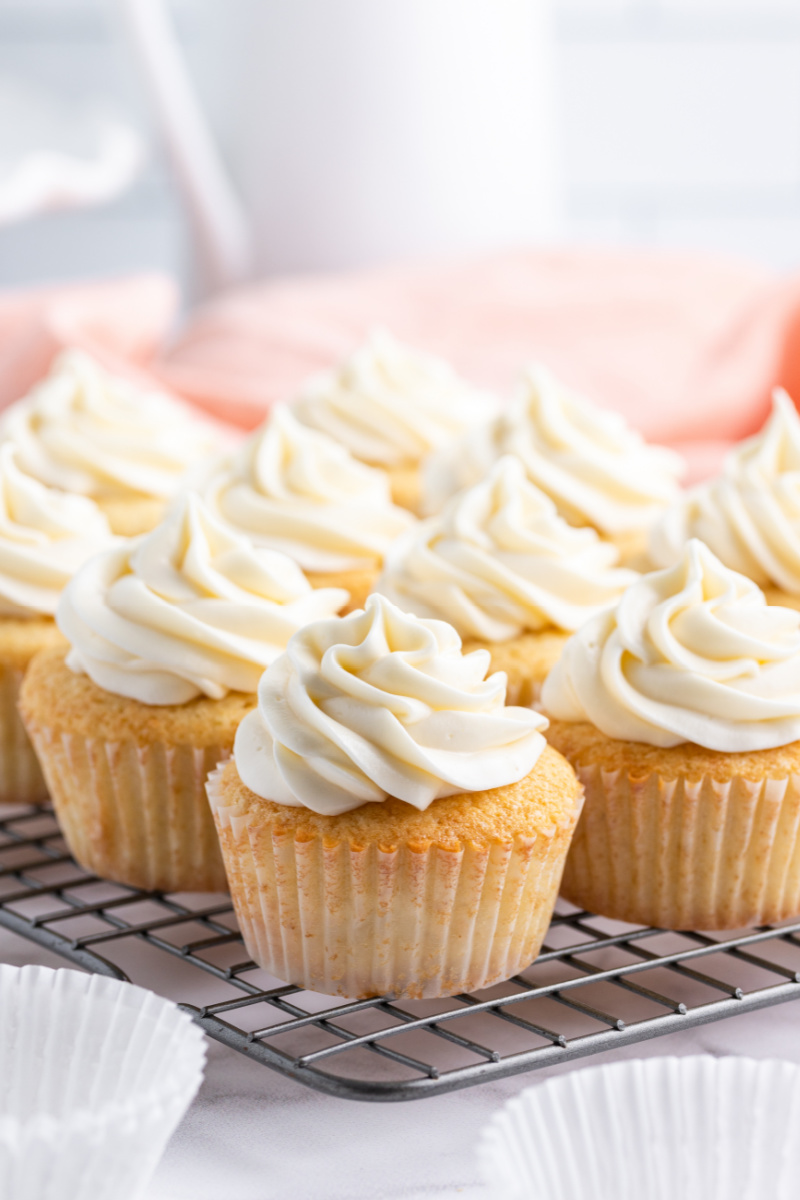 The result is delicious classic vanilla cupcakes with vanilla frosting. The vanilla flavor is good all around!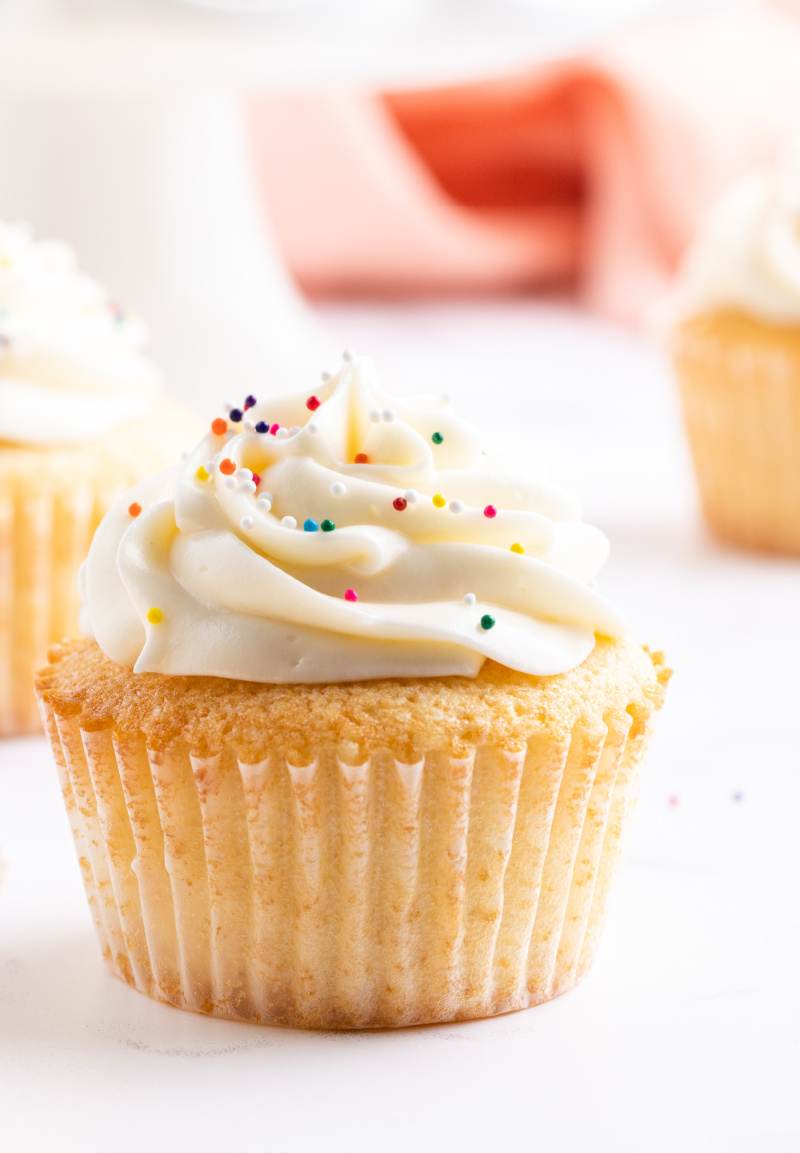 Add sprinkles if you want your vanilla cupcakes to be be more festive.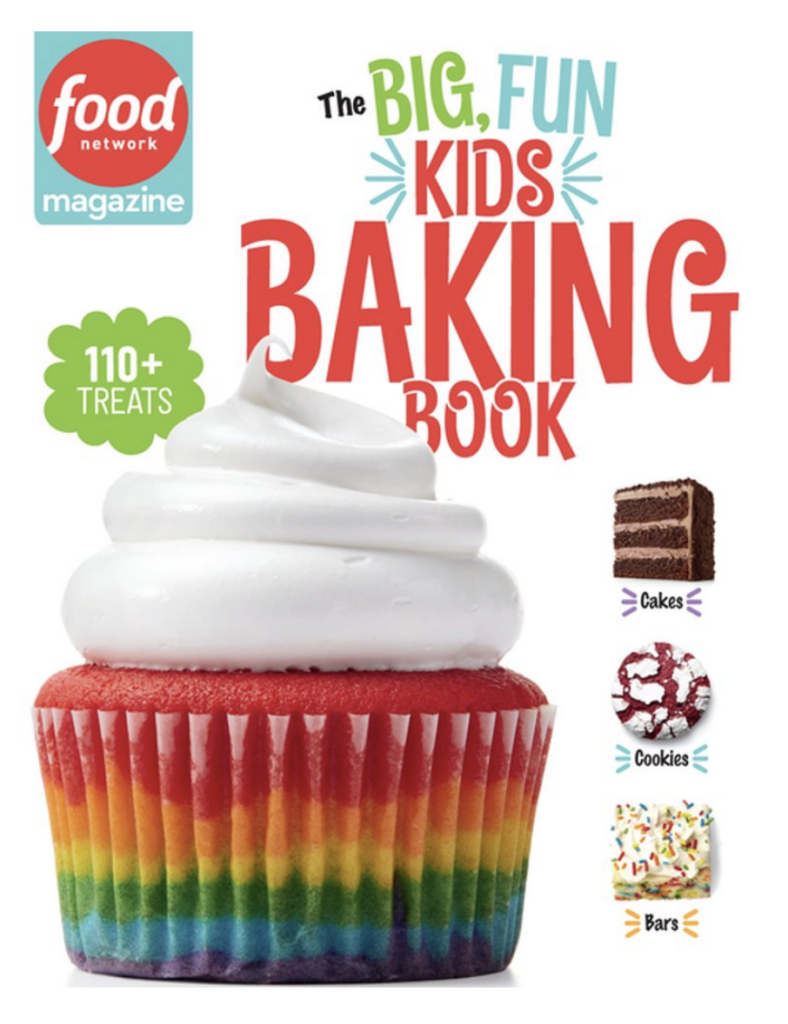 This recipe comes from The Big Fun Kids Baking Book by Food Network Magazine. This book is full of all kinds of fun baking recipes that kids can make at home. Get your kids into the kitchen and teach them how to bake! You'll find recipes in the book for things like Strawberry Corn Muffins, Pumpkin Spice Chocolate Chip Cookies, Chunky Monkey Bars, Rainbow Sheet Cake, Chocolate Whoopie Pies and so much more! There are beautiful photos to accompany every recipe, and the instructions are written well for kids to follow.
Fun Facts About Cupcakes:
Over 800 million cupcakes are eaten in the United States every year.
Chocolate is the most popular cupcake flavor.
The world's largest cupcake ever created was 1,200 pounds and had 2 million calories.
The record for eating the most cupcakes is 29 cupcakes eaten in 30 seconds.
Although Hostess cupcakes were invented in 1919, the man responsible for the seven-looped curlicue – which was added to Hostess cupcakes more than 30 years later – was DR 'Doc' Rice.
During the 1950's, paper baking cups for cupcakes became popular.
In 2012, Sprinkles Cupcake Bakery opened the 1st cupcake ATM machine in Beverly Hills, dispensing cupcakes 24 hours per day. Cupcake lovers were able to satisfy their cupcake cravings immediately at this machine!
13% of brides choose to serve cupcakes at their weddings instead of traditional wedding cake.
In Britain, cupcakes are called "fairy cakes," and in Australia they are called "patty cakes."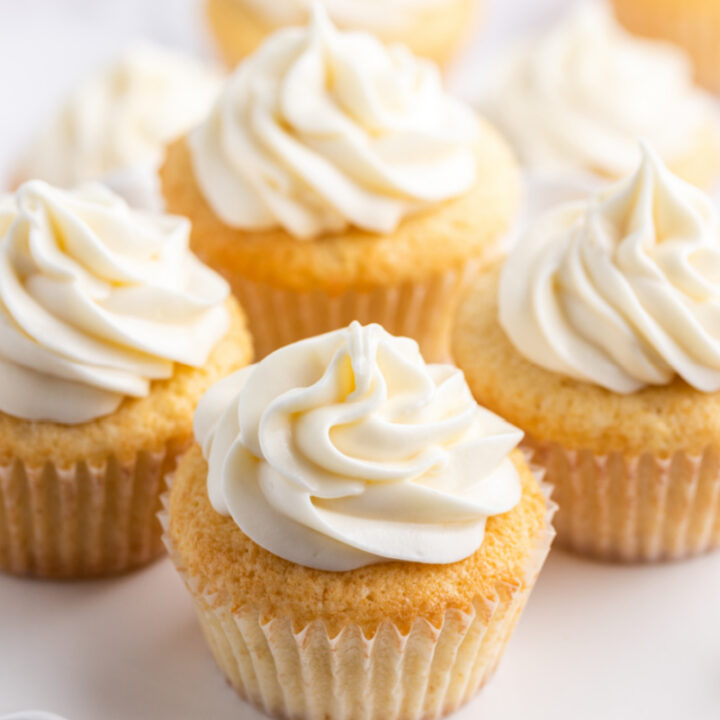 Classic Vanilla Cupcakes
These are some totally delicious vanilla cupcakes with vanilla frosting too!
Ingredients
CUPCAKES
1 1/3 cups all purpose flour
1 teaspoon baking powder
1/2 teaspoon salt
1/2 cup (1 stick) unsalted butter, at room temperature
1 cup granulated white sugar
2 large eggs
2 teaspoons vanilla extract
1/2 cup milk
FROSTING:
6 ounces cream cheese, at room temperature
4 tablespoons unsalted butter, at room temperature
1 teaspoon vanilla extract
pinch of salt
2 cups powdered sugar
Instructions
PREPARE THE CUPCAKES:
Preheat the oven to 350 degrees F. Line a 12-cup muffin pan with paper liners. In a medium bowl, whisk together the flour, baking powder and salt.
In a large bowl, use an electric mixer to beat the butter on medium-high speed until smooth (about 1 minute). Add the sugar and beat until creamy, about 4 more minutes. Beat in the eggs, one at a time, then the vanilla. With the mixer on low speed, beat in the flour mixture in 3 batches, alternating with the milk in 2 batches. Increase the speed to medium high and beat until just combined.
Spoon the batter into the muffin cups, filling each 3/4-full. Bake until the tops of the cupcakes spring back when pressed gently, 20 to 25 minutes. Remove the pan from the oven with oven mitts. Let the cupcakes cool 5 minutes in the pan, then remove from the pan and let cool completely on a rack.
MAKE THE FROSTING:
In a large bowl, use an electric mixer to combine the cream cheese, butter, vanilla and salt on medium-speed until creamy, 1 to 2 minutes. Gradually beat in the powdered sugar on medium-low speed until smooth, then beat on medium-high until thick and fluffy- 1 to 2 more minutes.
Spoon the frosting into a piping bag, snip a corner and pipe the frosting on to the cupcakes (or spread the frosting on top). Decorate with sprinkles, if you wish!
Nutrition Information:
Yield:

12
Serving Size:

1
Amount Per Serving:
Calories:

358
Total Fat:

18g
Saturated Fat:

10g
Trans Fat:

0g
Unsaturated Fat:

6g
Cholesterol:

77mg
Sodium:

203mg
Carbohydrates:

47g
Fiber:

0g
Sugar:

36g
Protein:

4g
Nutritional information for this recipe was computed using a nutrition calculator. It is not likely to be 100% accurate.