33 Amazing Bourbon Cocktail Recipes including Bourbon Smash, Manhattan, Old Fashioned, Whiskey Sour, Bourbon Martinis and much more!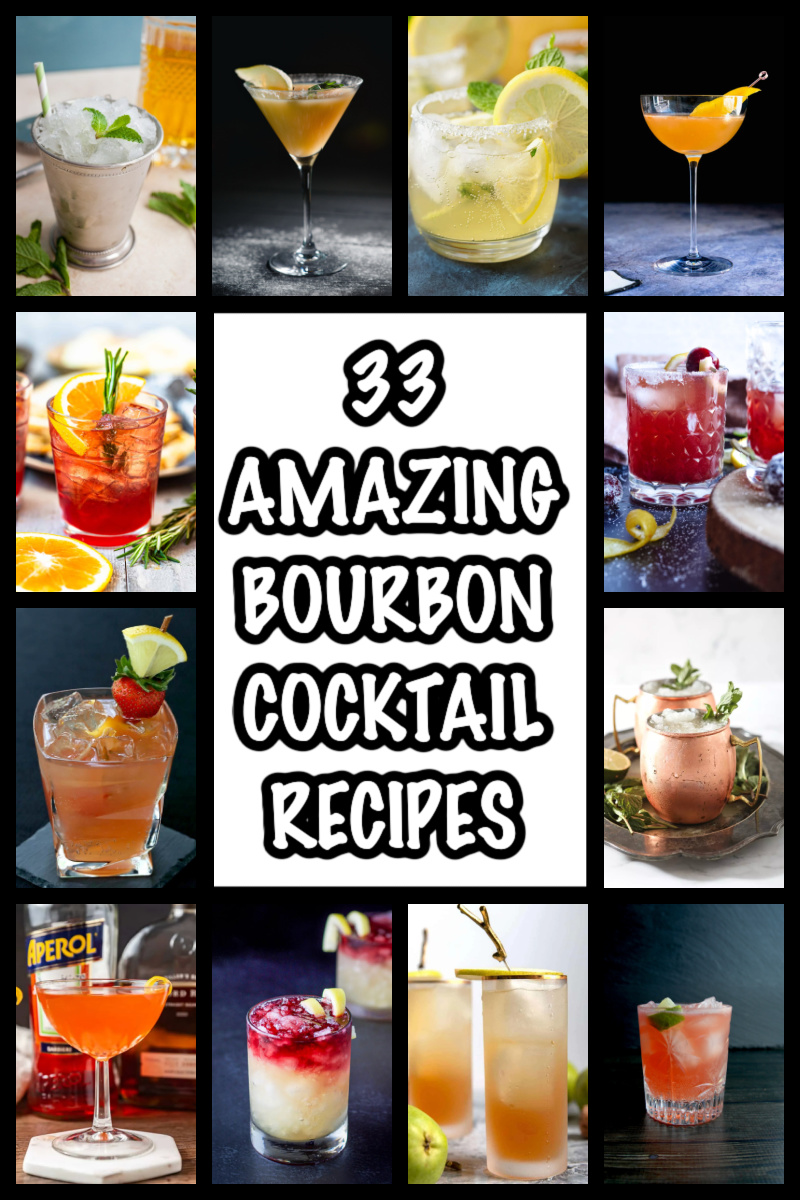 June 14th is National Bourbon Day! You must celebrate with your favorite bourbon cocktail. I've gathered the best bourbon cocktail recipes, so check out 33 amazing bourbon cocktail recipes below to find some of your favorites. Choose one to make today, and share it on social media using the hashtags #NationalBourbonDay, #BourbonDay and #RecipesForHolidays. Alternatively, make my fabulous Kentucky Bourbon Blondies!
Be sure to follow my June Food Holidays page so you never miss a food holiday in the month of June.
The History of Bourbon:
Bourbon is a barrel-aged whiskey made primarily from corn. The name derives from the French bourbon dynasty. Distilling was likely brought to the (now know as the) Kentucky region in the late 18th century by the Scots.
There is likely no single inventor of bourbon, but there are a couple of stories. Elijah Craig, a baptist minister and distiller, is often credited as being the inventor of bourbon. He was the first to age bourbon in charred oak casks, a process that gives bourbon its brownish color and distinctive taste. There was another early distiller named Jacob Spears. He is credited with being the first to label his product as "bourbon whiskey."
Bourbon can be made anywhere, but Kentucky is responsible for 95% of all bourbon production. There are more barrels of bourbon in Kentucky than there are people. Today, sales of bourbon are more than 5.7 billion dollars per year in the U.S.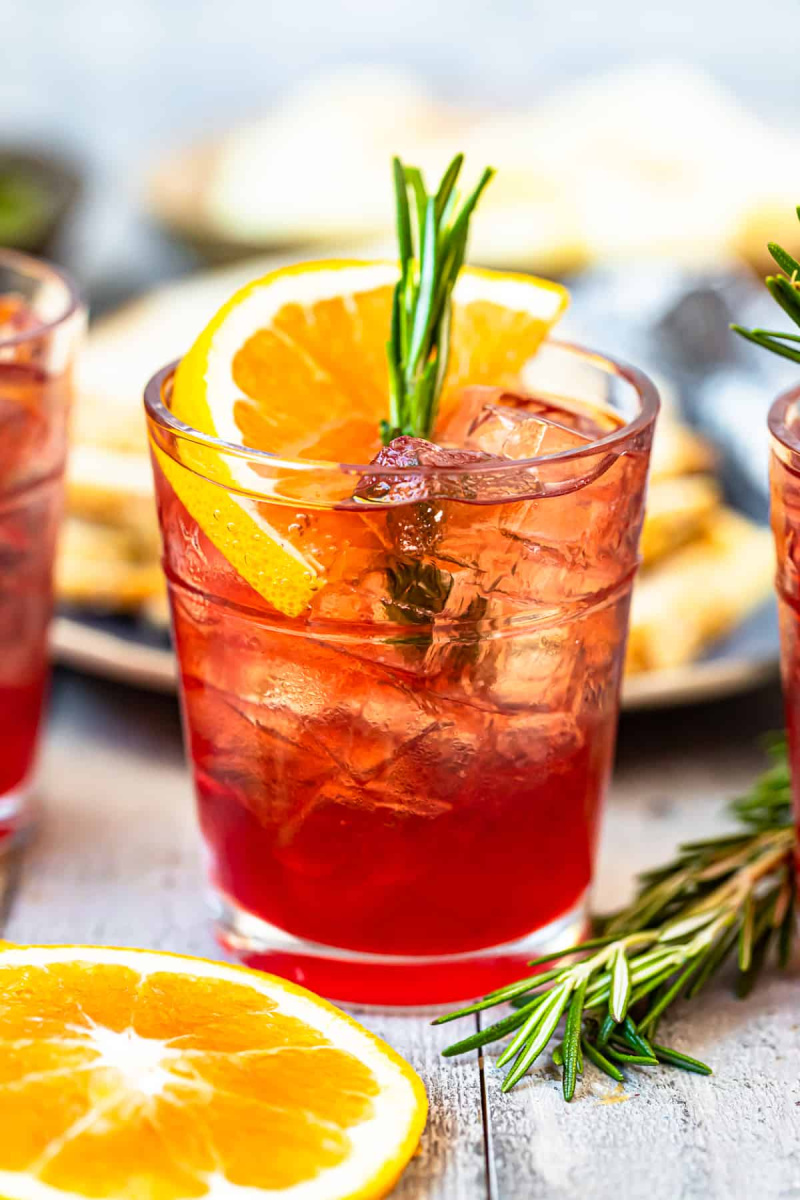 Orange- Cranberry Bourbon Smash by The Cookie Rookie: This delicious cocktail is perfect for the festive holiday season! Easy and quick to make, it's a warming drink filled with flavors of cranberry and orange.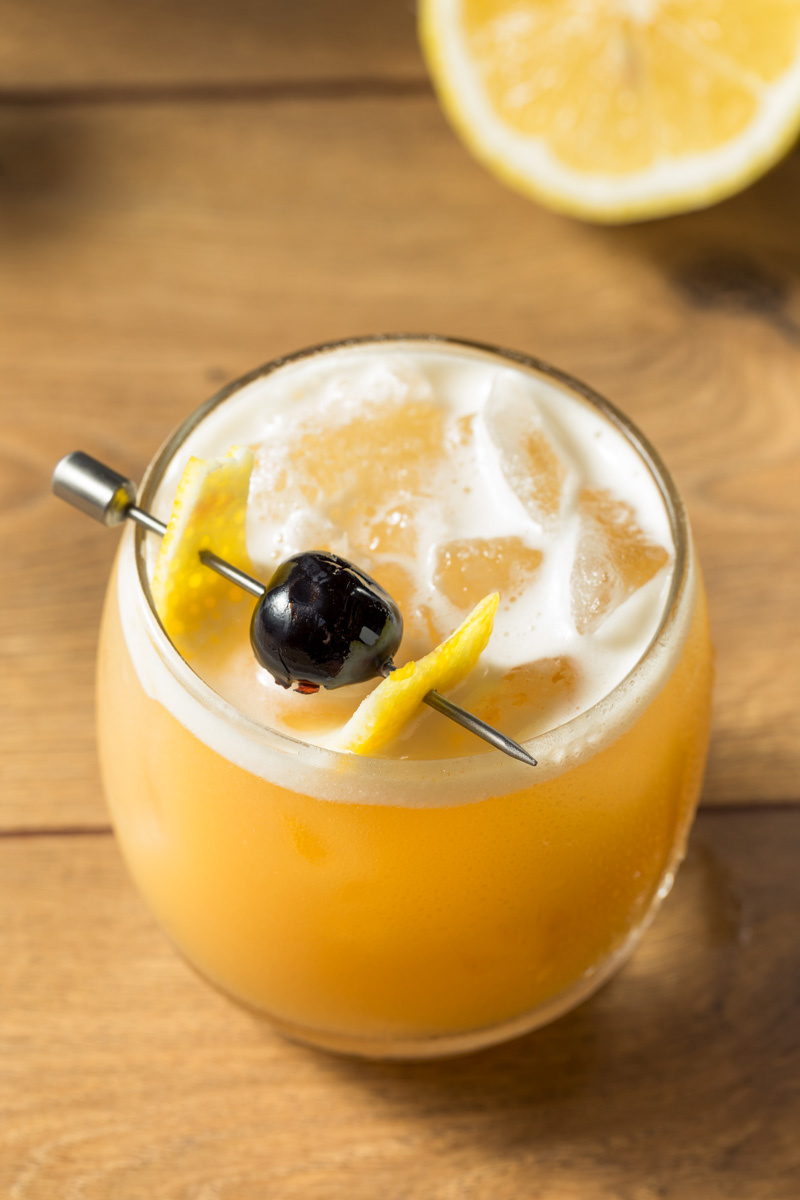 Amaretto Sour with Bourbon by Savored Sips: If you like a classic sour, you must try this new version that combines the almond flavor of Amaretto with Whiskey, lemon and simple syrup.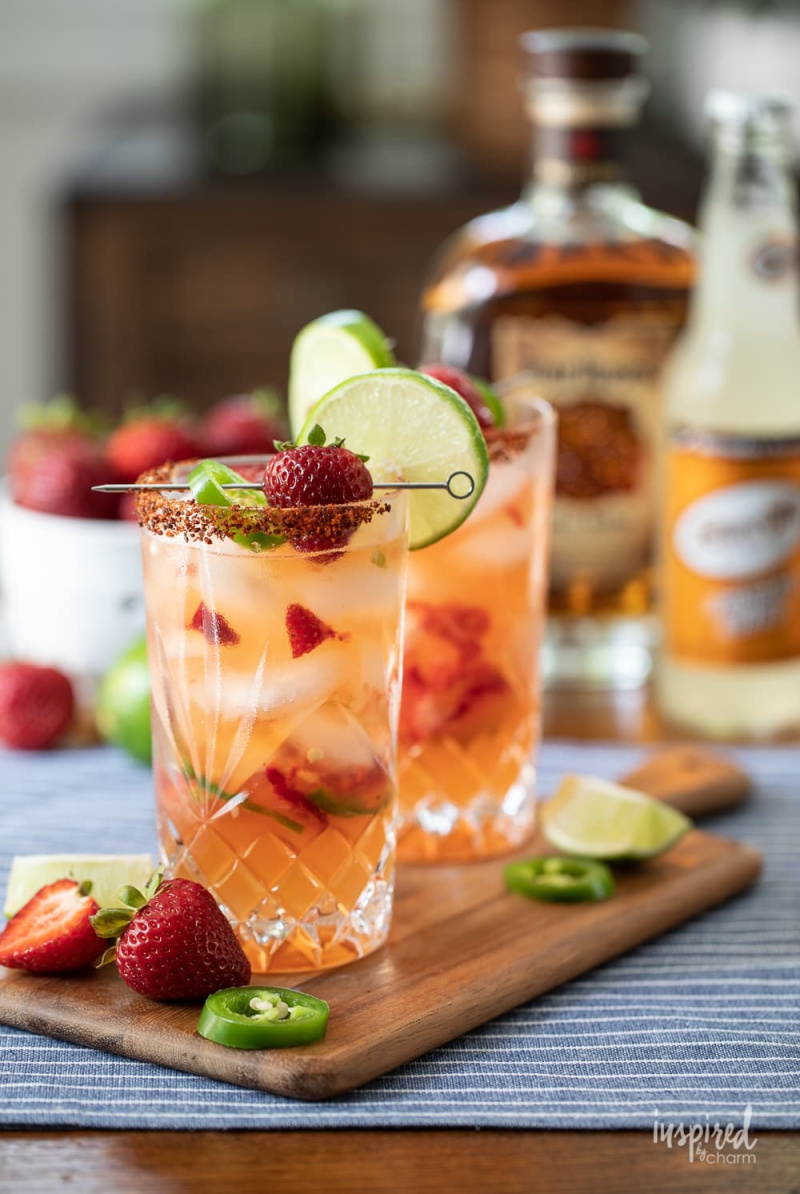 Sweet and Spicy Bourbon Cocktail by Inspired by Charm: Muddled with fresh strawberries, lime, jalapeño slices, and topped with ginger beer, this cocktail is a winning combination of flavors to beat the summer heat.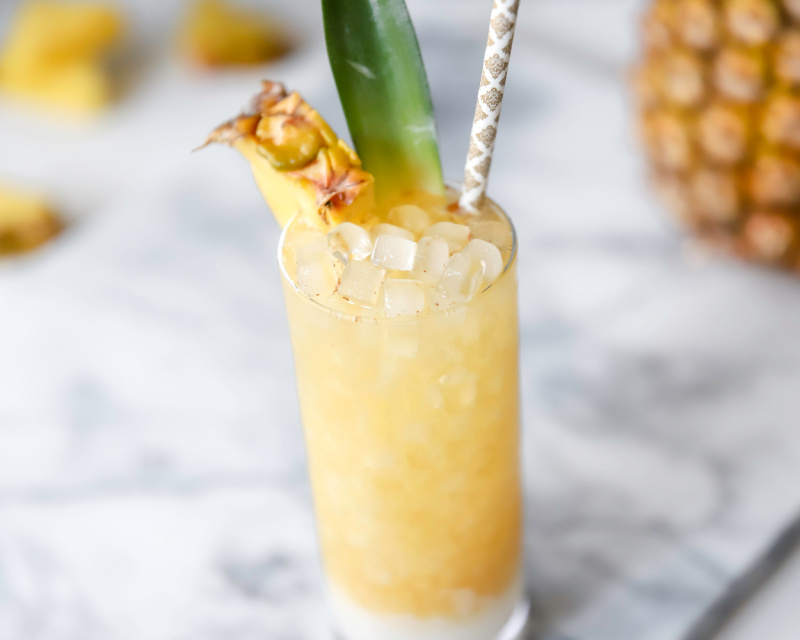 Twisted Painkiller by No One Leaves Hungry: This isn't your traditional Painkiller since it's made with Bourbon and added Orgeat (almond liqueur), but it gives the same tropical vibes.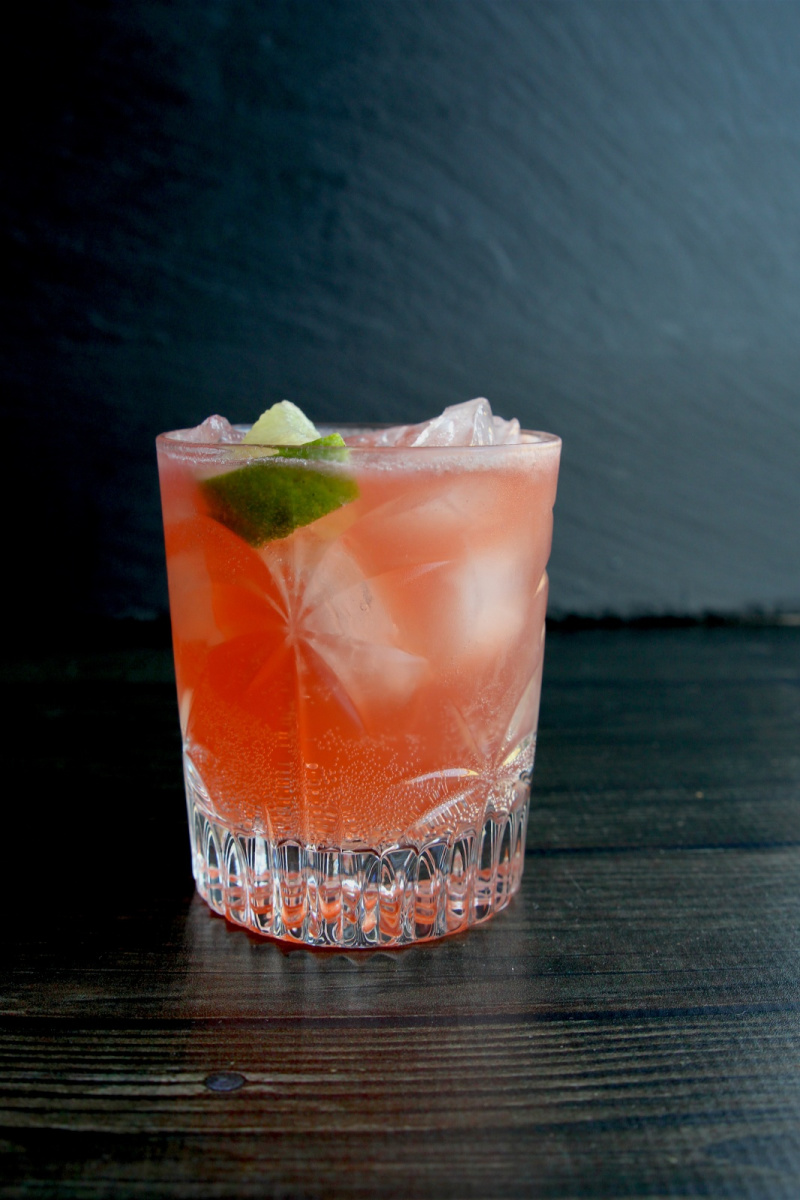 Beachy Bourbon Cocktail by Zenbelly: In this drink, you'll combine bourbon with ingredients that brighten it up and make it as refreshing as ice cold lemonade on a hot day.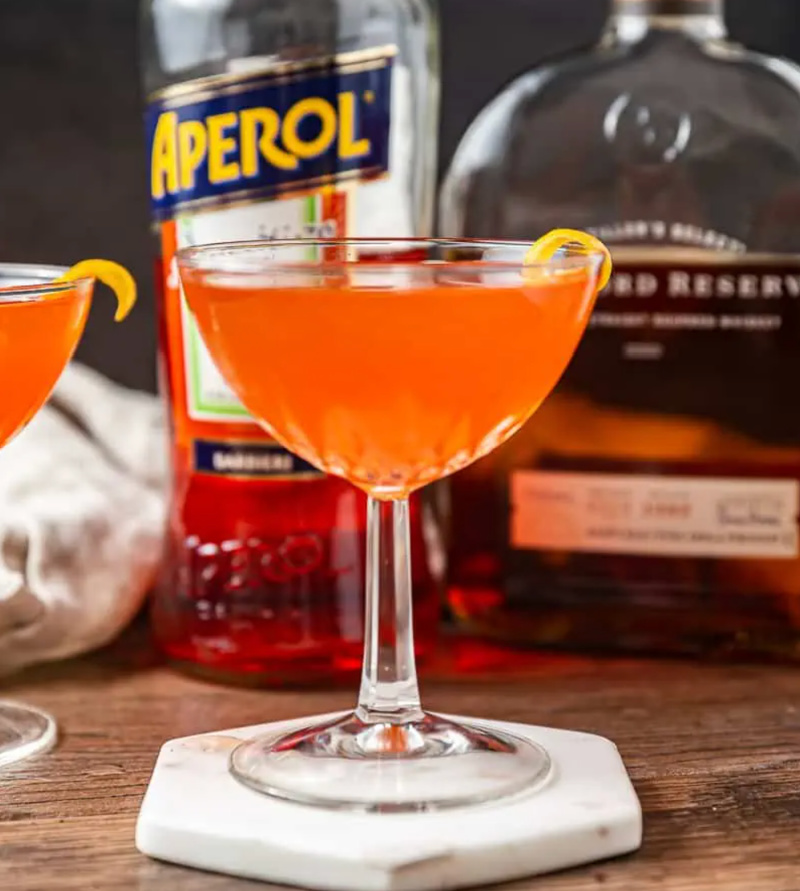 Paper Plane Cocktail by Basil and Bubbly: This drink is made with equal parts of the Italian aperitif, bourbon, Amaro, and fresh squeezed lemon juice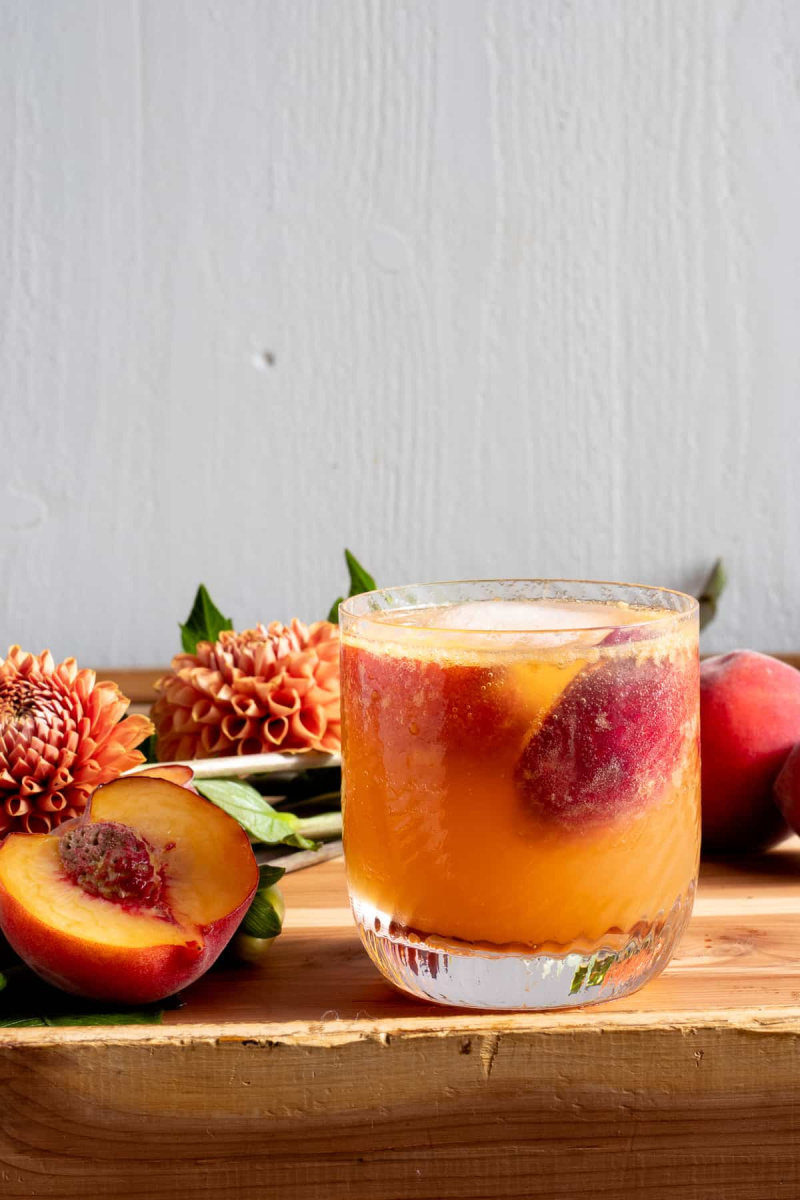 Sweet Bourbon Peach Smash by Home Cooked Roots: Made with the juiciest, sweetest summer peaches, this is the best Bourbon Peach Cocktail.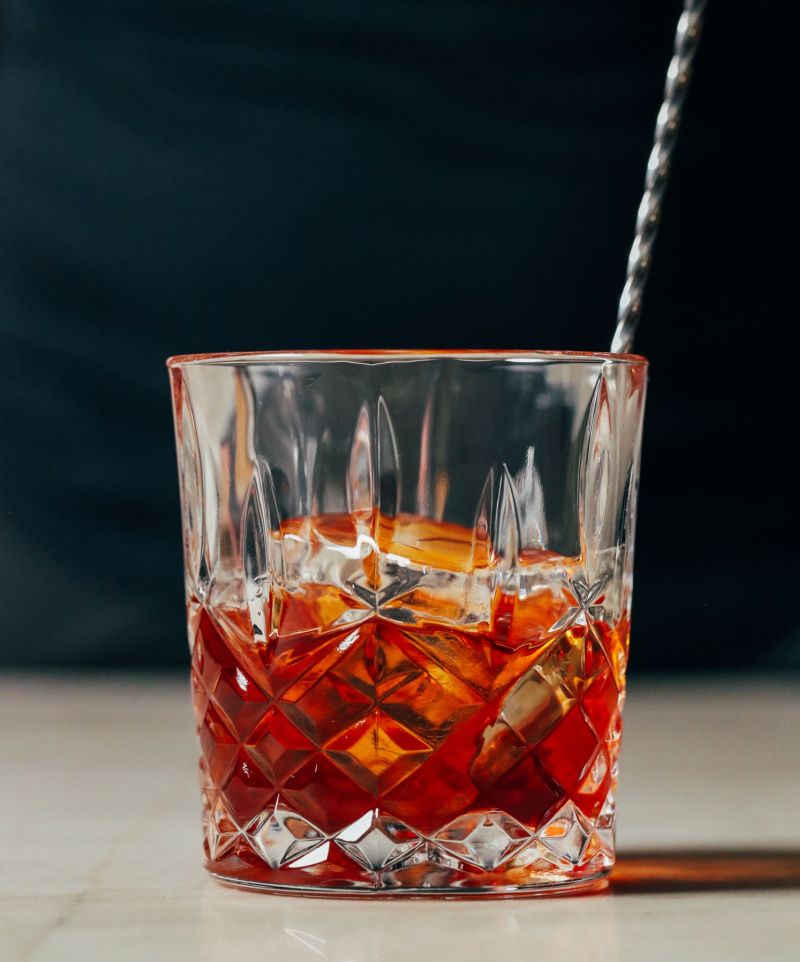 The Best Bourbon Old-Fashioned by Minimalist Baker: This is the perfected recipe for how to make this bar-quality classic cocktail at home, every time. You'll need just 6 ingredients and try these simple methods.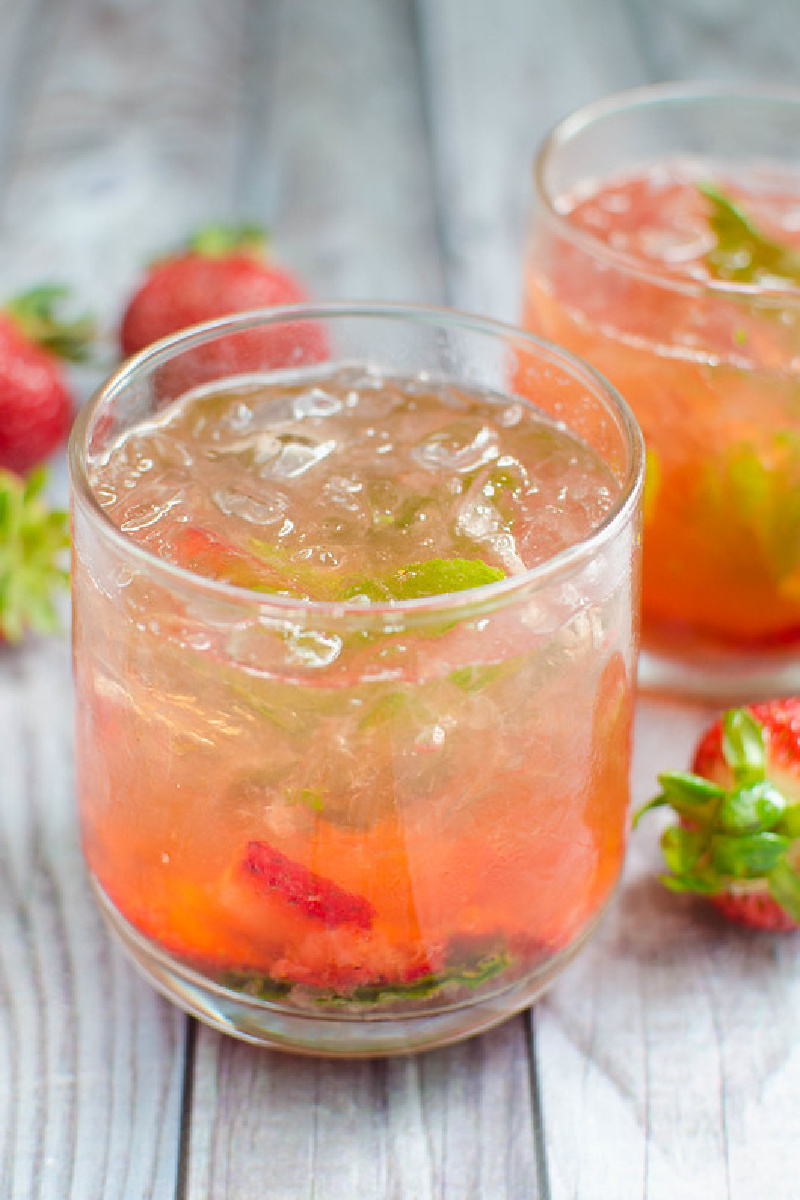 Strawberry- Basil Bourbon Smash by Fake Ginger: Juicy strawberries and fresh basil are the perfect pair in this bourbon cocktail recipe!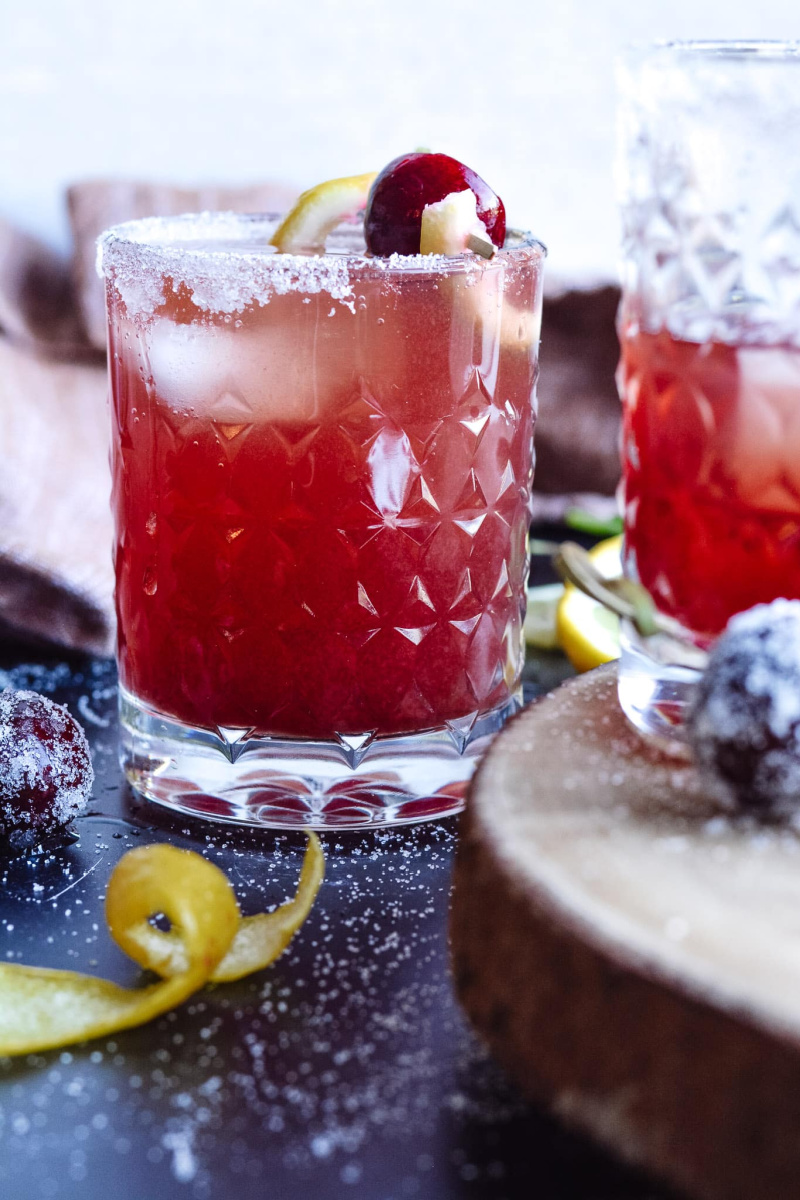 Black Cherry Whiskey Sour by The Oven Light: With a handful of smooth, simple ingredients, you'll be sipping this tempting concoction in mere minutes.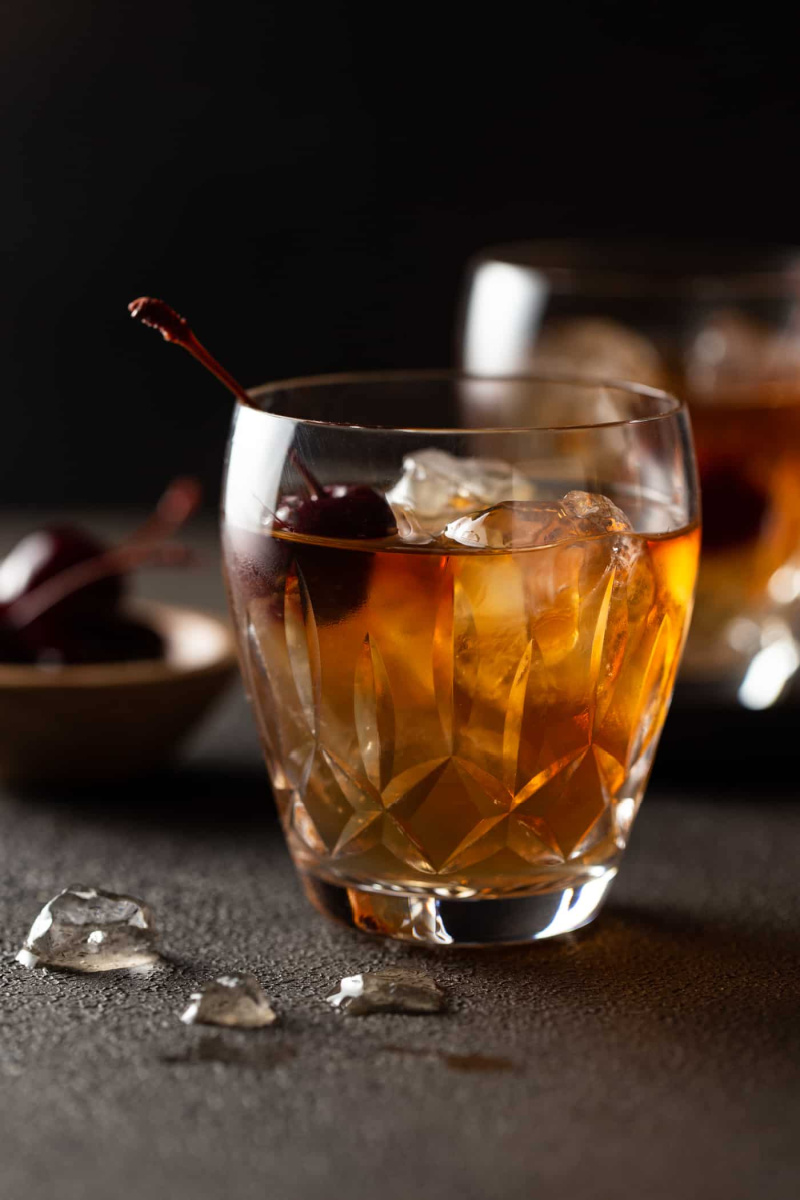 The Perfect Manhattan by Garnish with Lemon: You can never go wrong with a classic drink!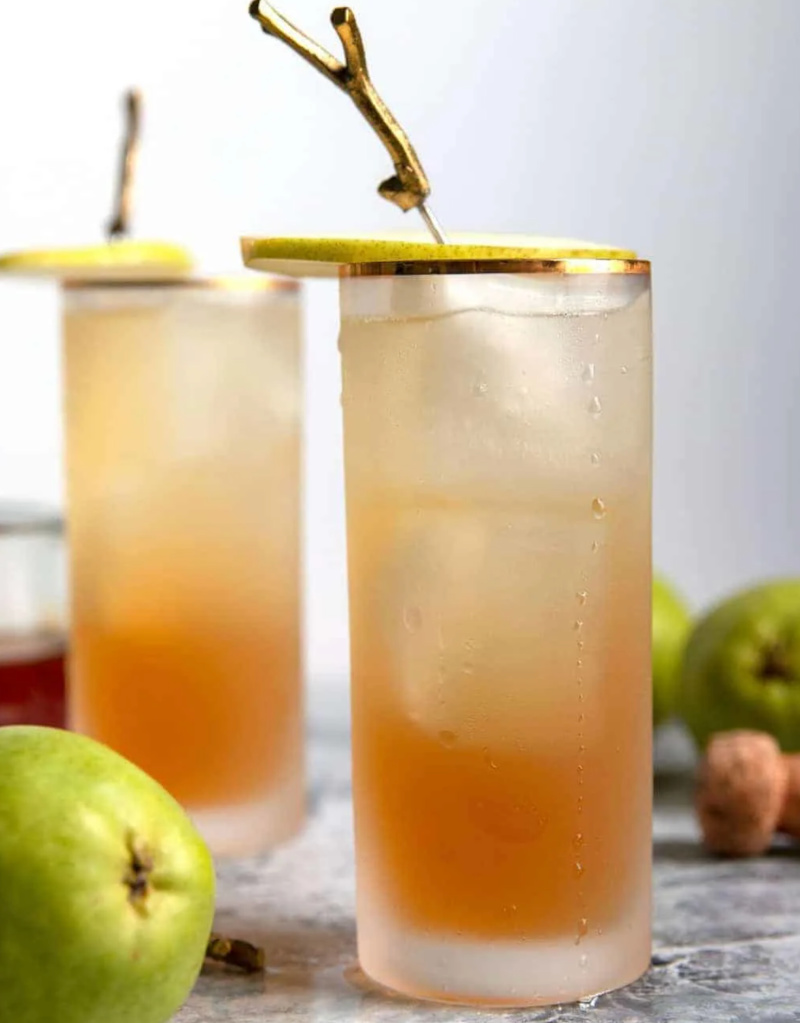 Sparkling Bourbon Pear Cocktail by The Thirsty Feast: This cocktail is a delicious combination of champagne, bourbon and pear juice. It's easy to make and perfect for any day of the week!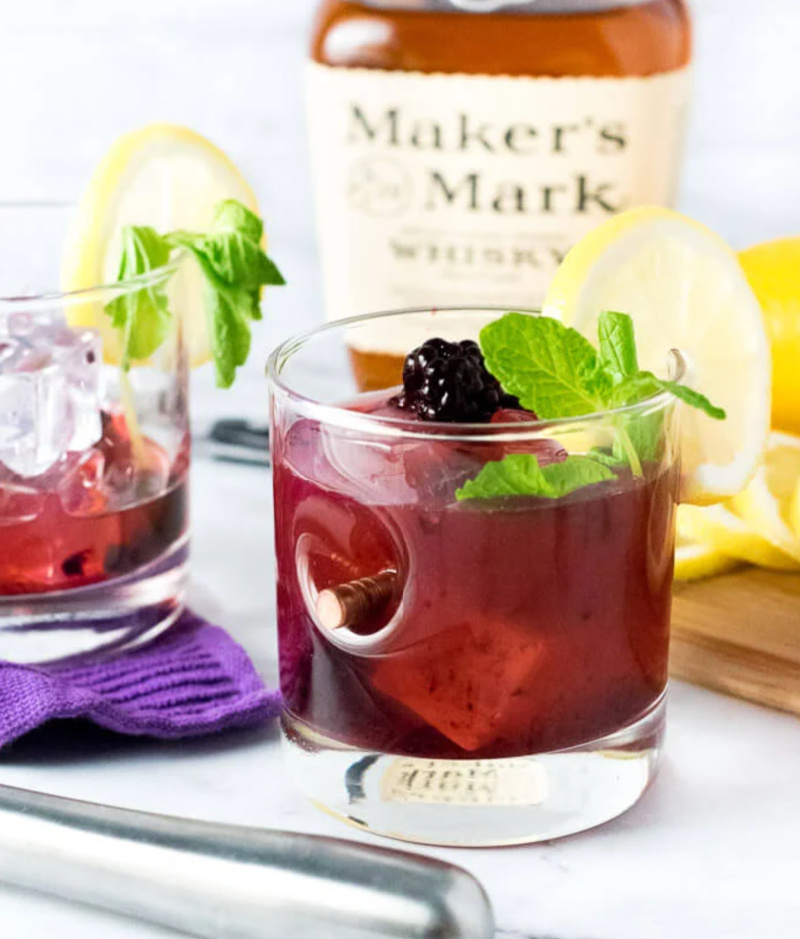 Blackberry Bourbon Lemonade by Fox Valley Foodie: This is the perfect summer cocktail featuring fresh berries, tart lemonade, and the subtle flavor of mint!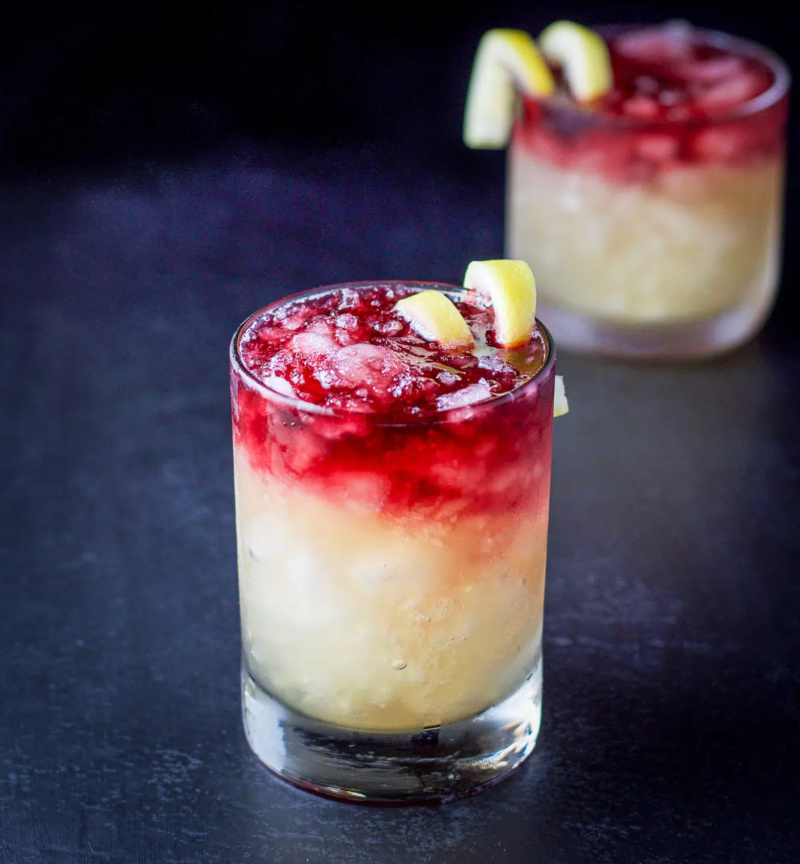 New York Sour by Dishes Delish: This is a fruity twist on the classic whiskey sour cocktail. The addition of red wine deepens the beautiful flavors and adds a stunning layered effect to this refreshing cocktail.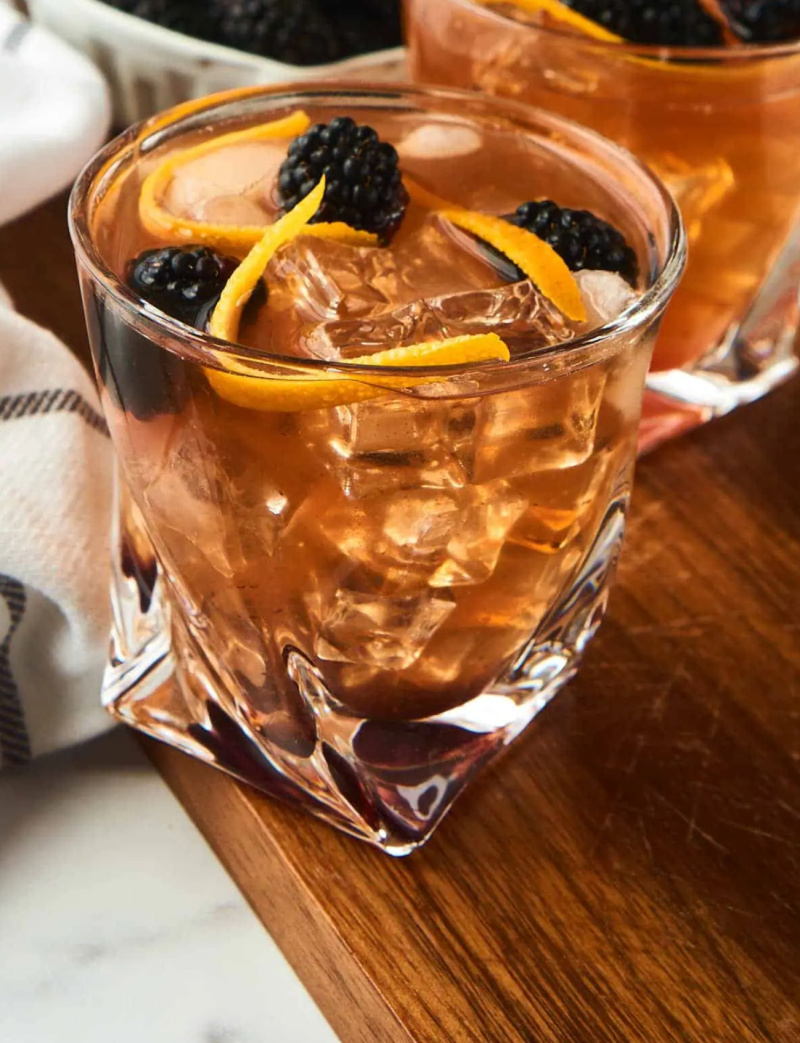 Blackberry Old-Fashioned Cocktail by Heart's Content Farmhouse: This summer drink takes just a few minutes to mix up. You'll love the blackberry syrup for how easy it is to make and how it changes your cocktail into something sweeter.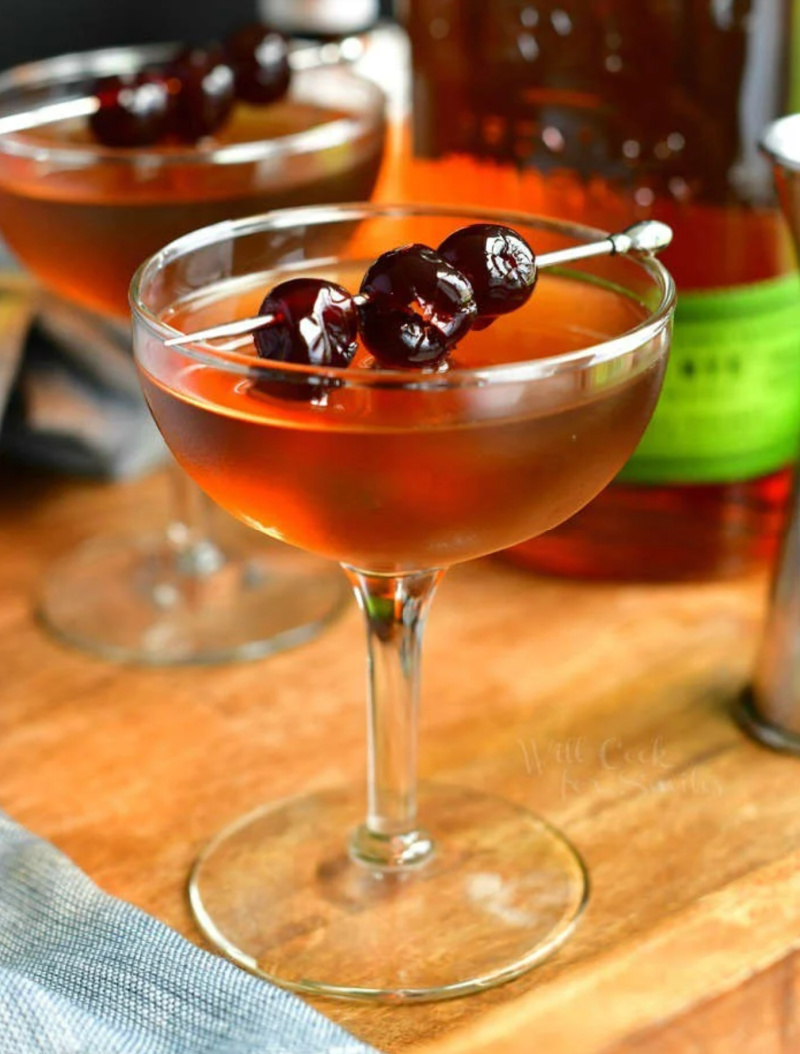 Manhattan by Will Cook for Smiles: This cocktail is a simple combination of rye whiskey, sweet vermouth, and Angostura bitters in a smooth and aromatic blend of flavors with a touch of sweetness.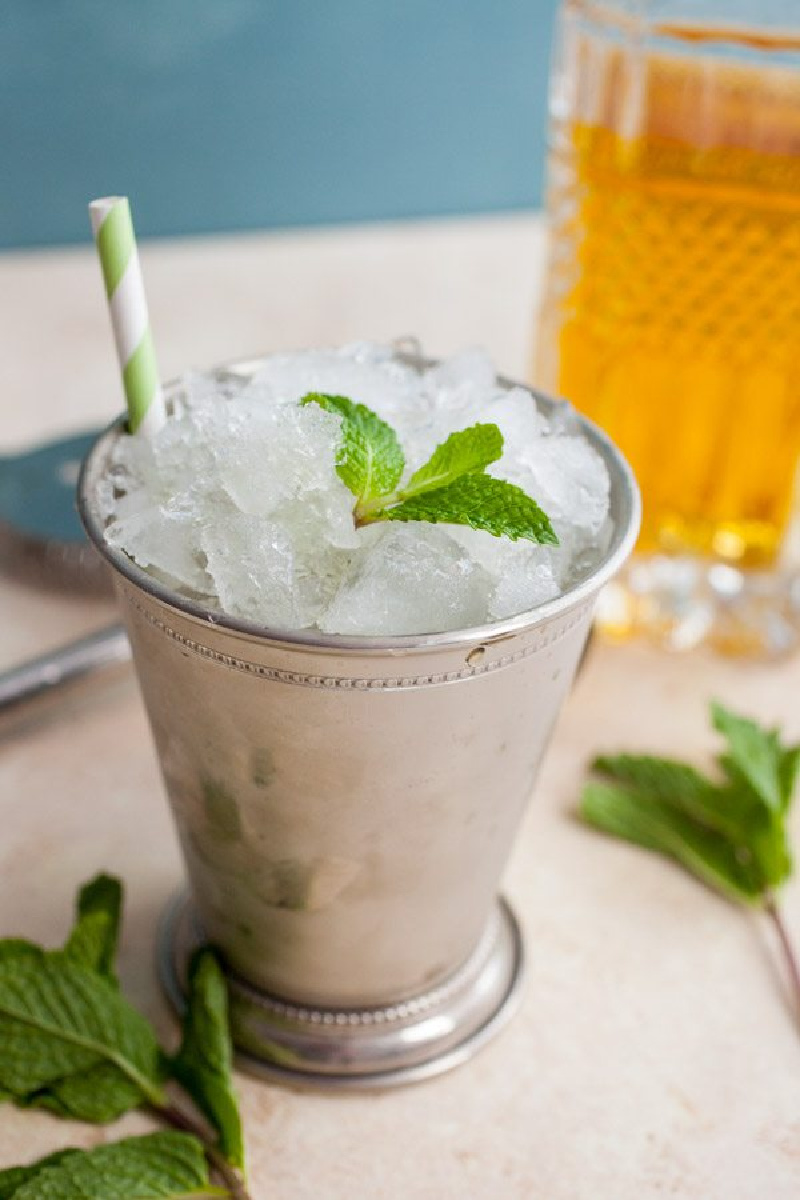 Mint Julep by RecipeGirl: If you've ever been to the Kentucky Derby, or just watched it on TV, you've probably seen people in large hats carrying around big metal cups overflowing with ice and bourbon. Say hello to the Mint Julep!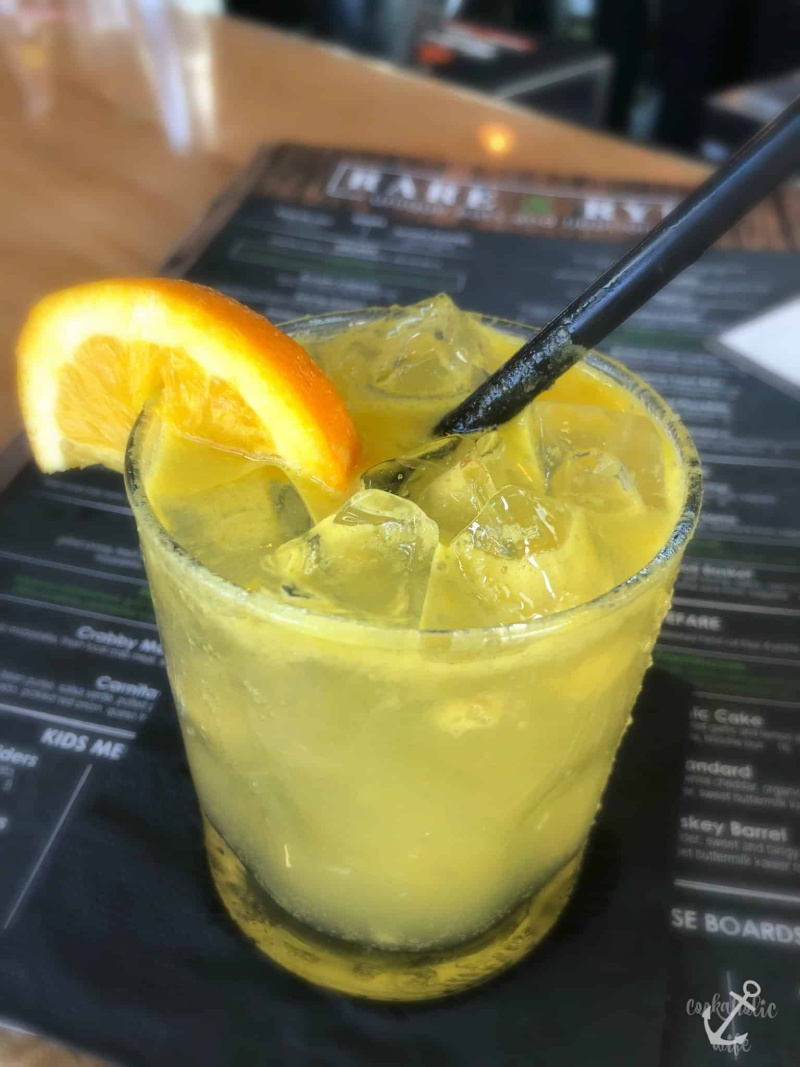 Bulleit Bourbon Orange Crush by Cookaholic Wife: This cocktail is a take on the Maryland beach classic summer drink – the orange crush – made with Bulleit bourbon, Triple Sec and freshly squeeze orange juice.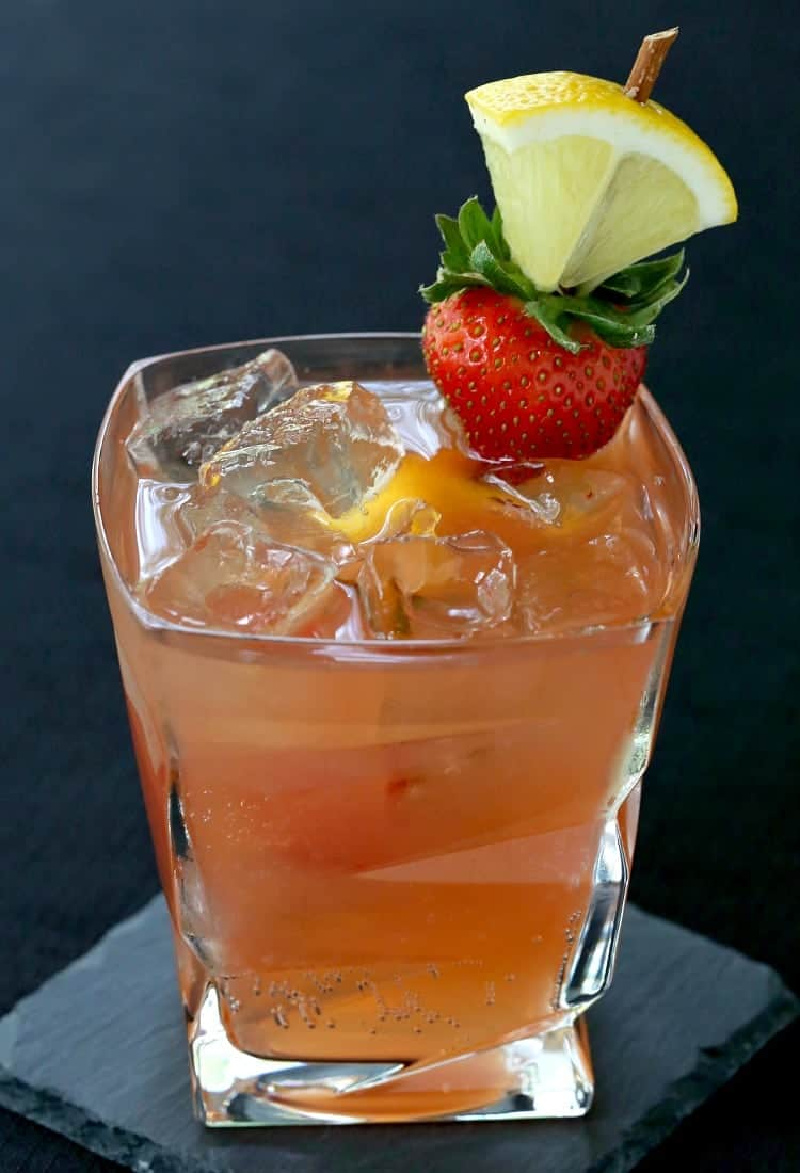 Kentucky Sunset by Mantitlement: This tasty and strong bourbon cocktail is made with bitters and topped with ginger beer.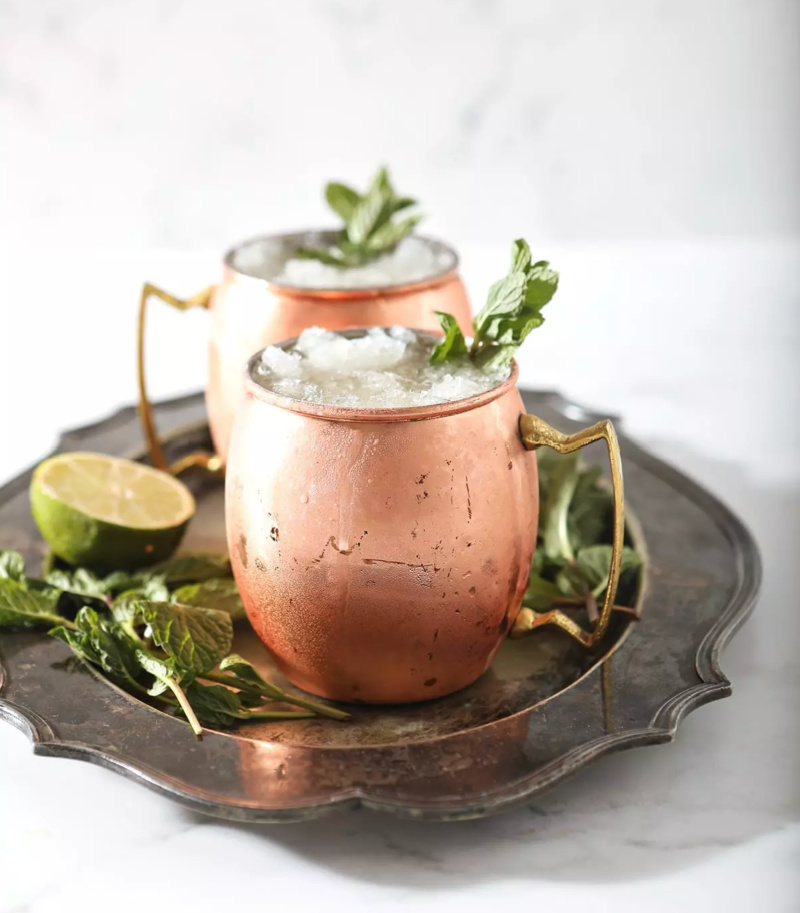 Kentucky Mule by The Speckled Palate: Singing with oak and spicy ginger, this cocktail is a perfect Derby Day drink.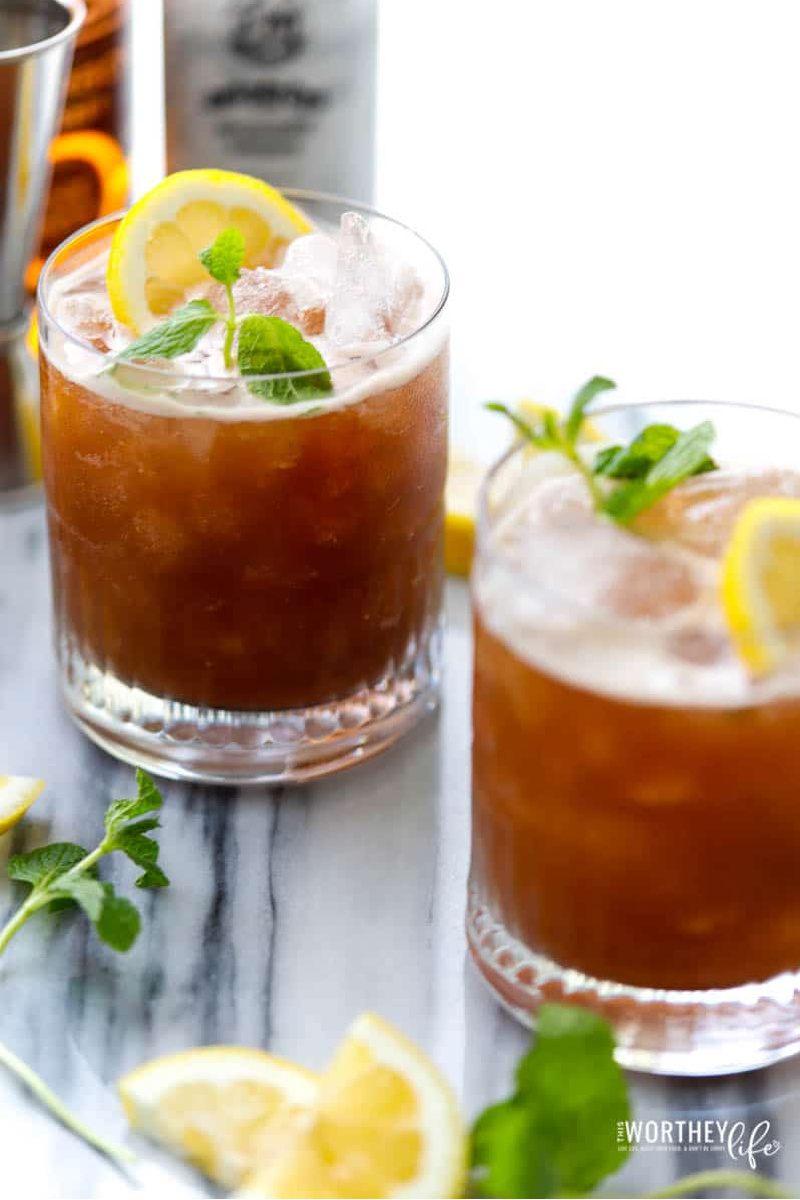 Bourbon Sweet Tea Cocktail by This Worthey Life: This is a perfect example of the bourbon lover's desire to mix bourbon with the familiar and the new. And if you're a fan of the Long Island Iced Tea, then you'll enjoy this bourbon recipe.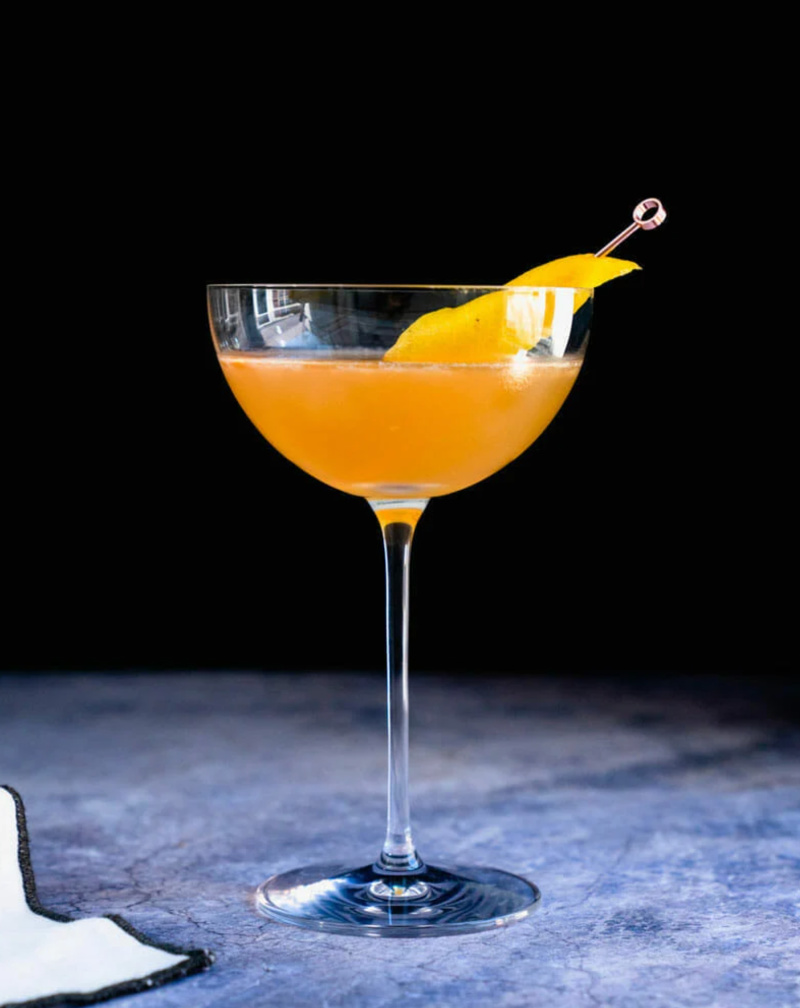 Bourbon Sidecar by A Couple Cooks: This is bright and classy cocktail, a variation on the classic sour cocktail that swaps brandy for bourbon. It's citrus forward with a spicy whisky finish!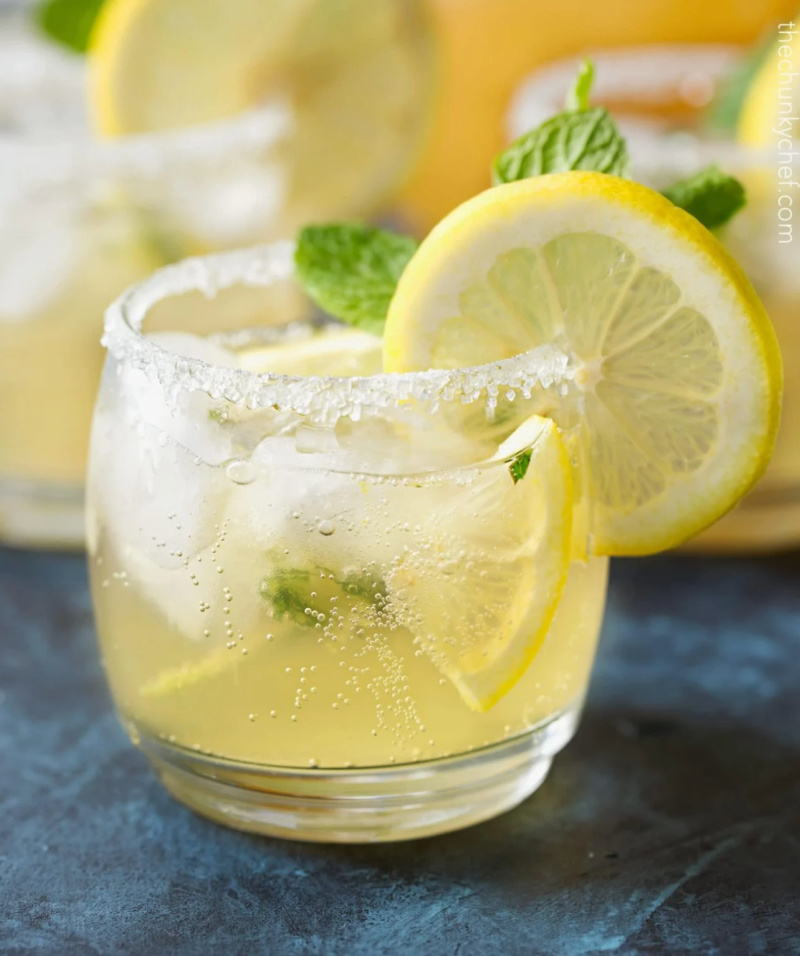 Kentucky Lemonade by The Chunky Chef: Sweet, tart, and refreshing with a bourbon kick, this cocktail is everything you could want in a drink.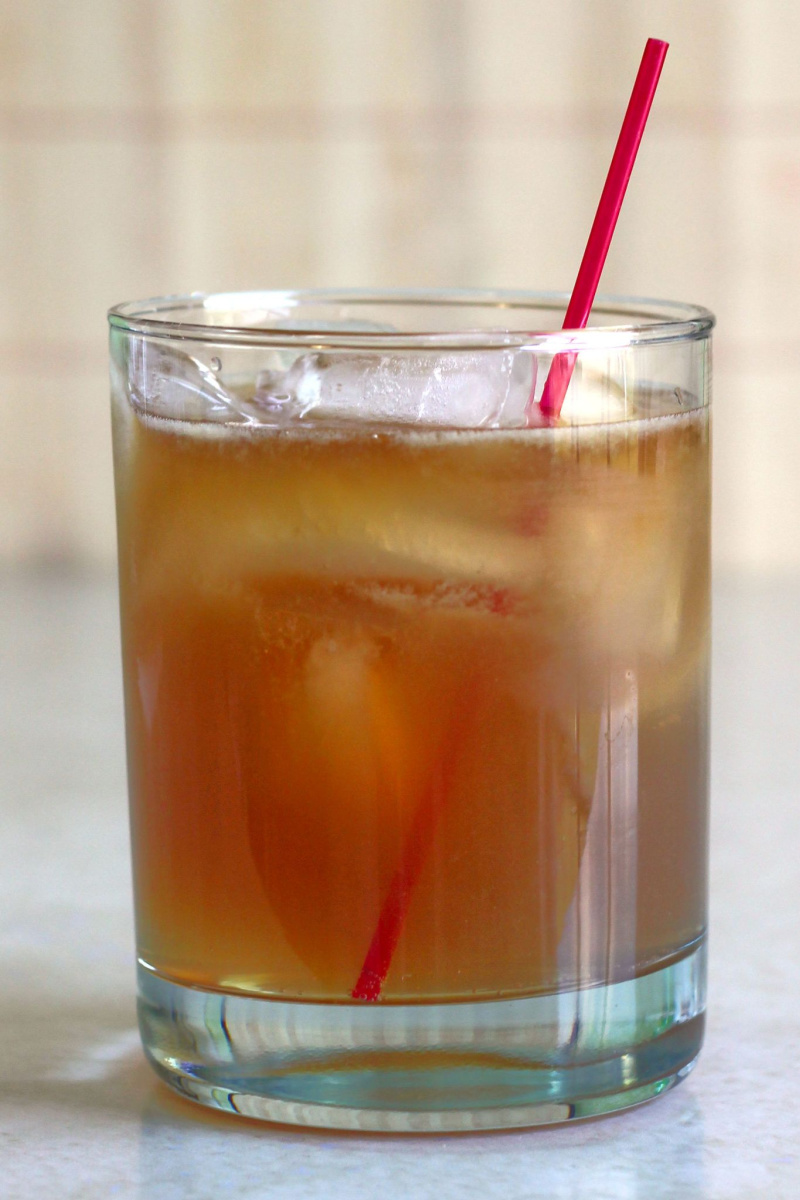 Grumpy Old Man by Mix That Drink: This drink adds a healthy portion of bourbon to a glass of ginger ale and lime juice. It tastes wonderful, especially with a spicier ginger ale such as Vernor's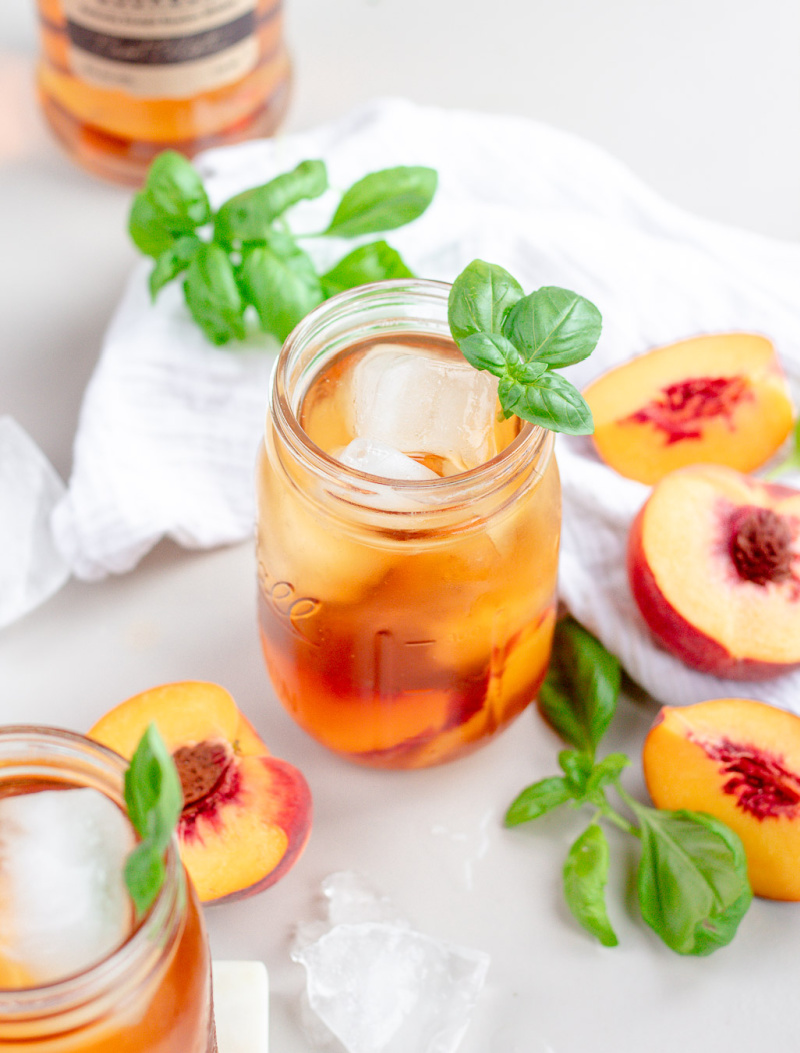 Bourbon Peach Tea Cocktail by Bits and Bites: This is the perfect summer night cocktail!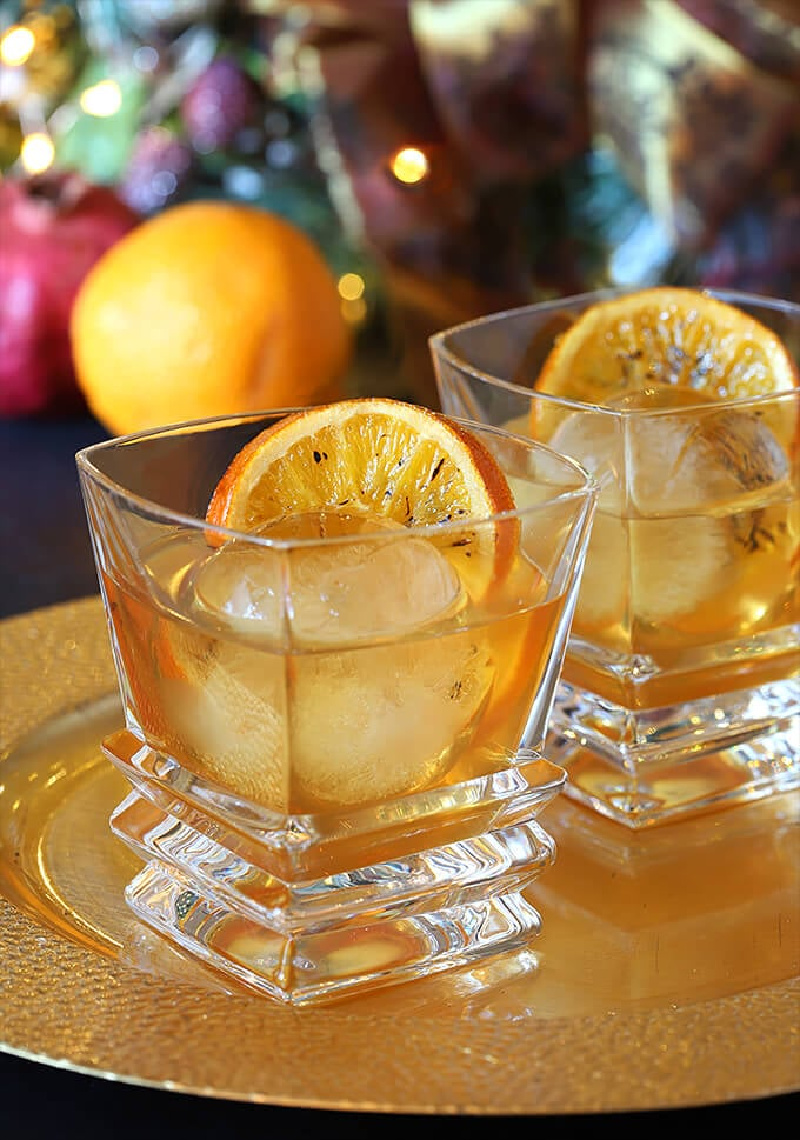 Bourbon Orange Brûlée Cocktail by Creative Culinary: It's a wonderful combination of bourbon, orange liqueur, and ginger syrup with a brûléed orange for garnish; a nice garnish but also a sweet treat to eat.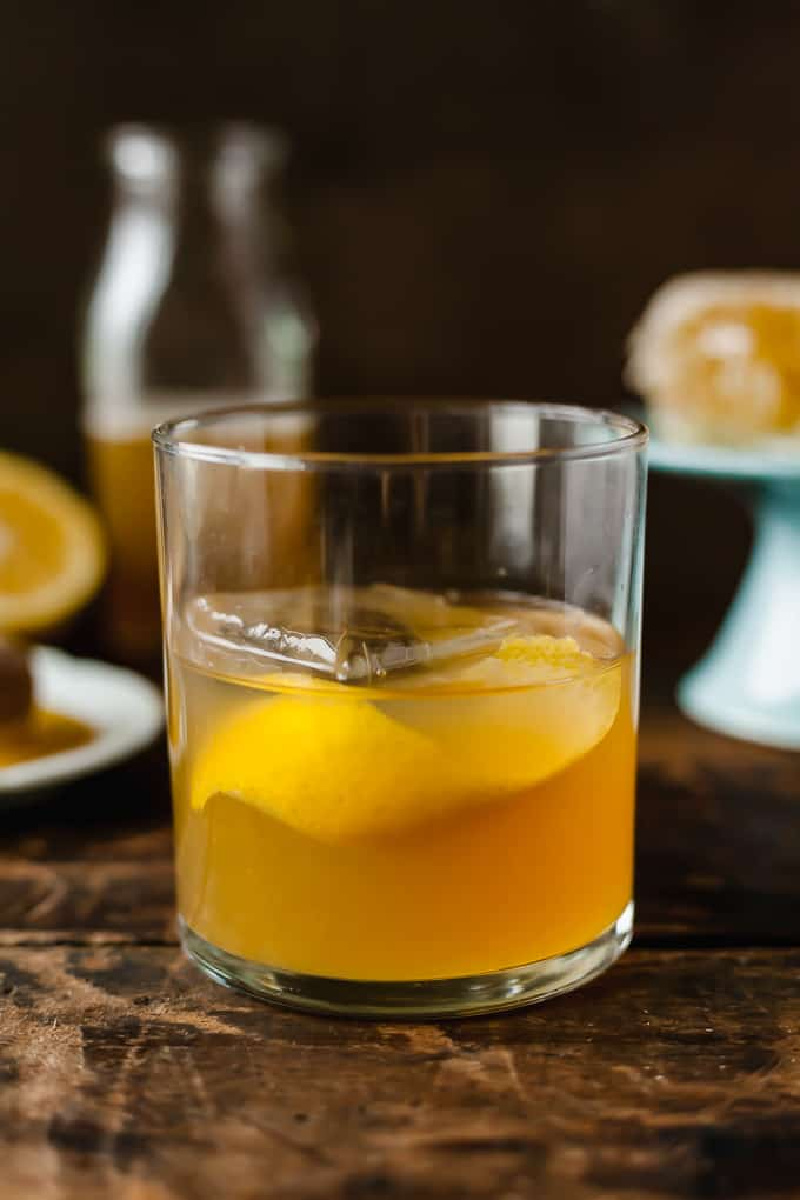 Gold Rush Cocktail by The Live-In Kitchen: This drink uses bourbon, honey, and lemon juice to make a smooth, simple, and easy to make cocktail!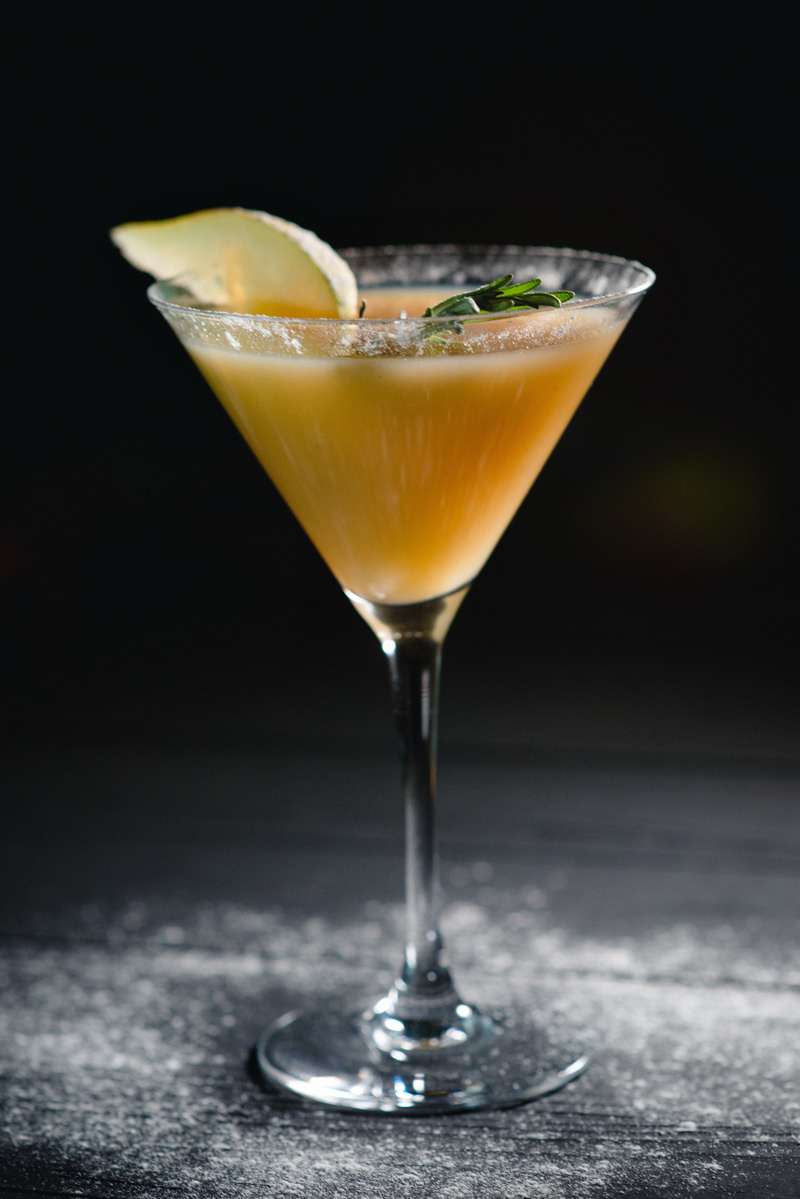 Ginger Pear Bourbon Martini by Savored Sips: Homemade simple syrup, pear and bourbon turn this cocktail into a seasonal favorite.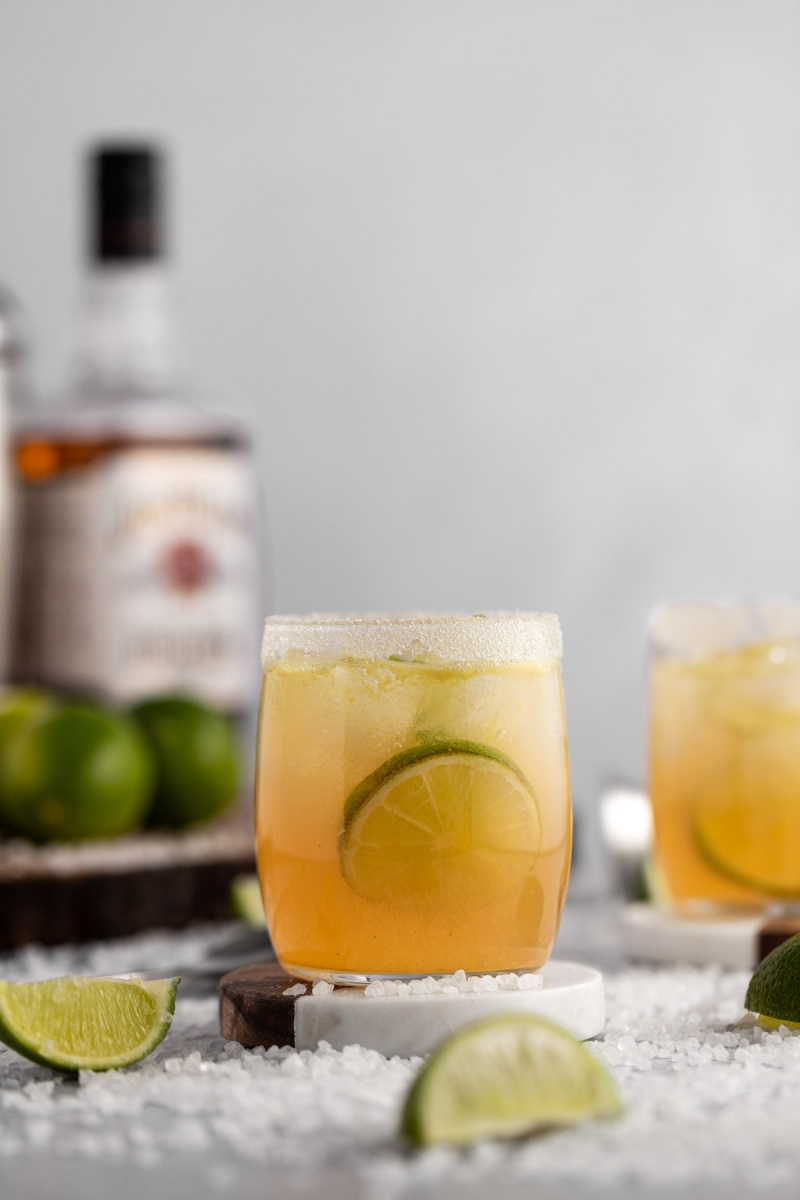 Bourbon Margarita by The Littlest Crumb: This drink is just like a regular margarita but with a whiskey twist.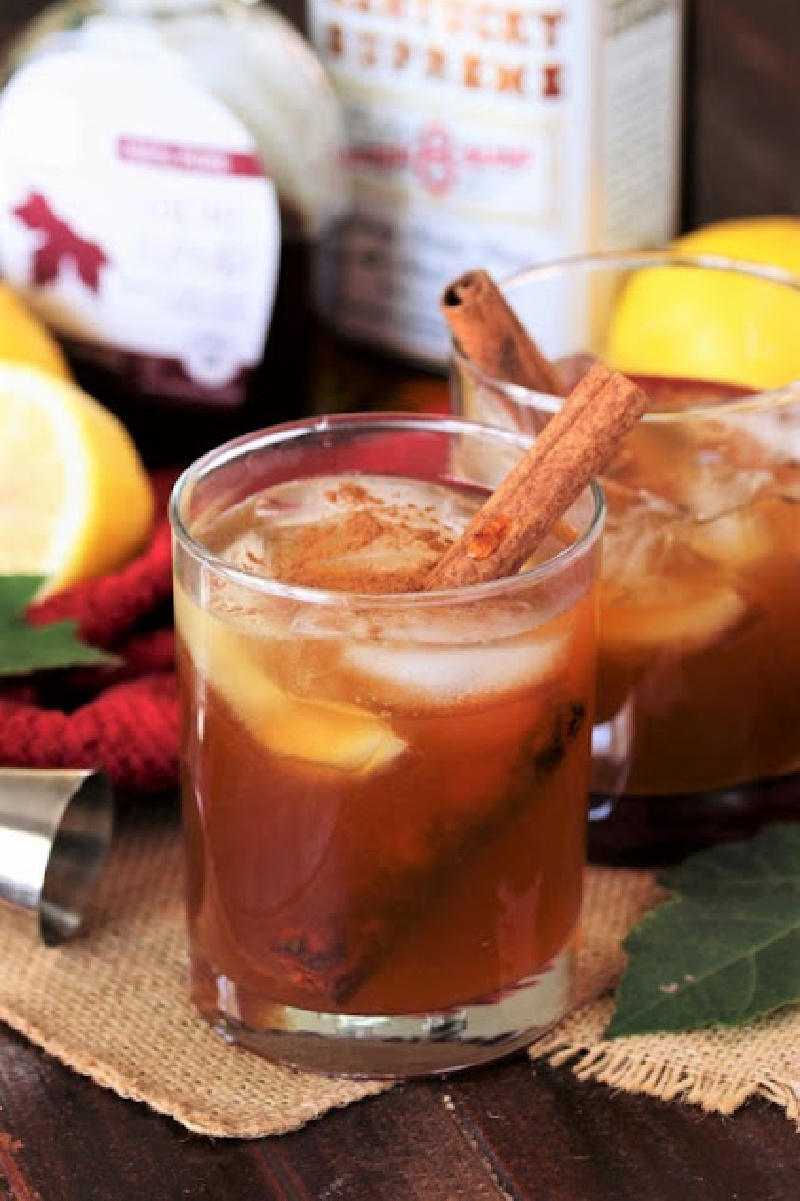 Bourbon Maple Leaf Cocktail by The Kitchen is My Playground: Bourbon and pure maple syrup pair up beautifully in this tasty cocktail.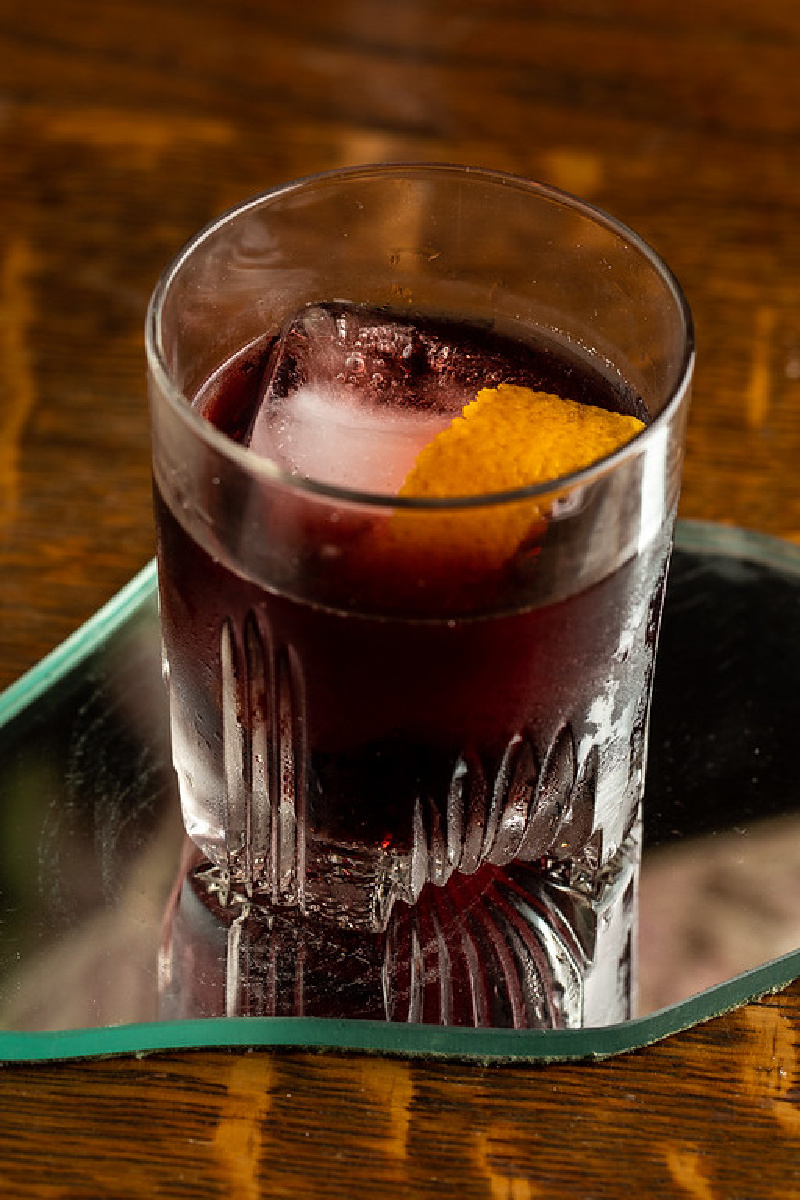 Double Cherry Old-Fashioned by Sidewalk Shoes: The classic cocktail gets a delicious fruity twist. It's not too sweet, with just the right amount of lush cherry flavor!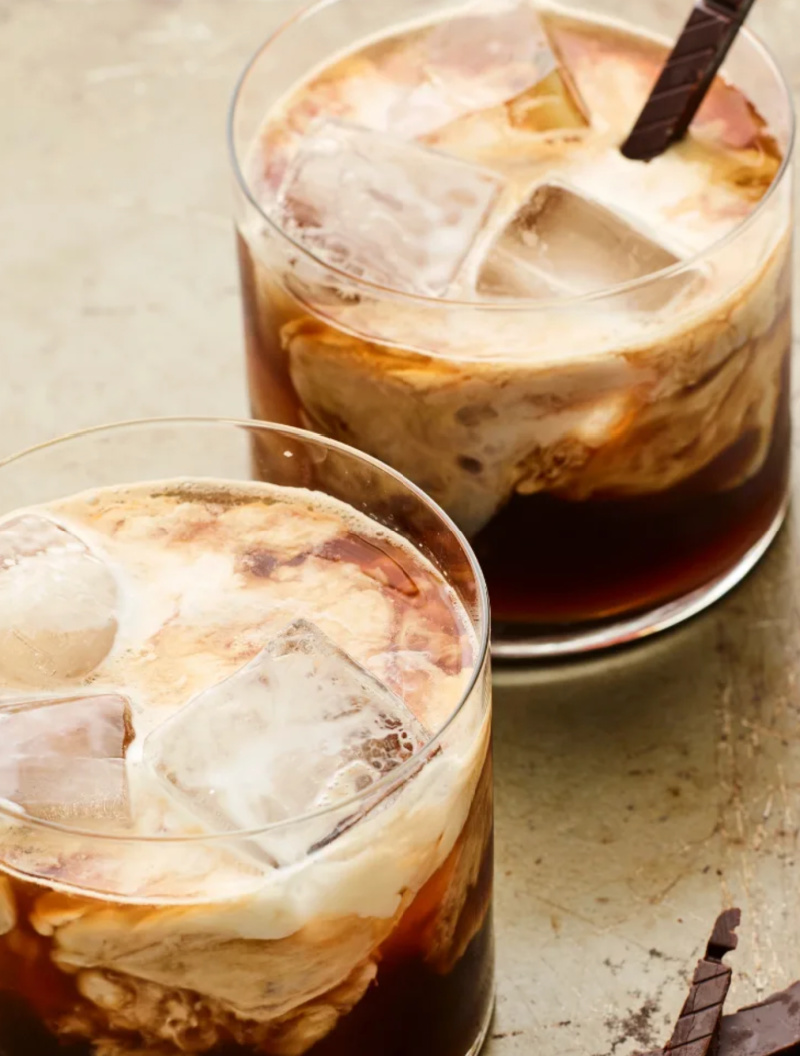 Coffee Bourbon Cocktail by Jamie Geller: This sophisticated after-dinner drink is fun, whether you are going out with friends or hanging out at home with your family.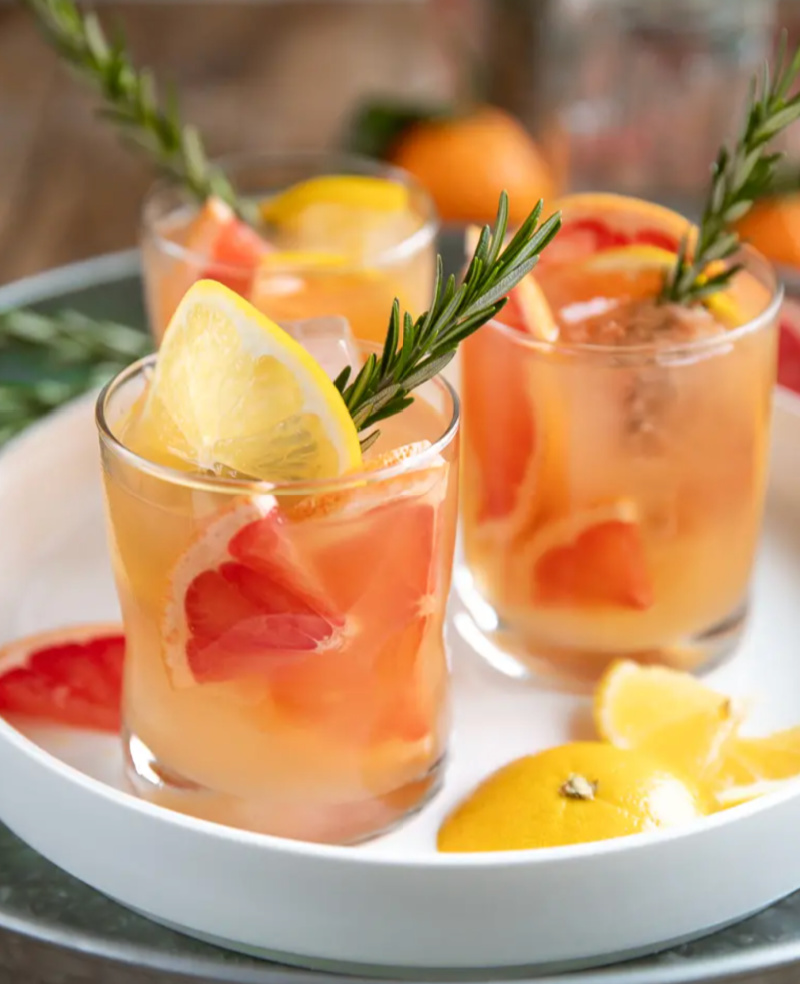 Rosemary Brown Derby by The Forked Spoon: This is a smooth and refreshing bourbon and grapefruit cocktail made with bourbon, honey, fresh grapefruit juice, and fresh rosemary.
Fun Facts About Bourbon:
Bourbon distilleries made Penicillin during WWII to help soldiers with wound infection.
There is a Bourbon County in Kentucky and a Bourbon Street in New Orleans.
Bardstown, Kentucky is the bourbon capital of the world. They host an annual bourbon festival in September.
In Kentucky, the Bourbon Trail has 37 distilleries, bourbon-themed restaurants and hotels.
Bourbon is used for cocktails, but it's also very popular to use in cooking. Historically, it was used for medicinal purposes.
Mint Juleps were created to disguise bad bourbon.
The largest selling bourbon in the world is Jim Beam.